January, 31, 2014
Jan 31
12:14
AM ET
By
Brian Campbell
| ESPN.com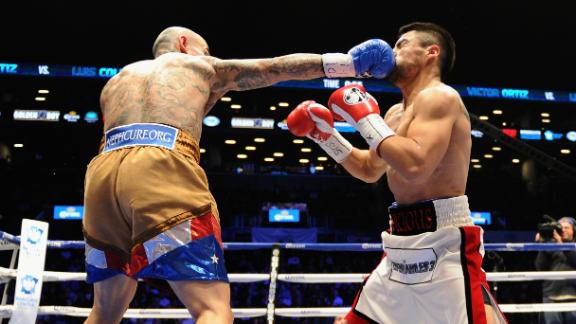 You just never know what's going to happen in a Victor Ortiz fight.
Throughout a 10-year career of highs and lows -- from spectacular knockdowns to unforgettable meltdowns -- Ortiz, a former welterweight titlist, has worn his heart on his sleeve throughout one action fight after another.
But even as unpredictable as Ortiz's biggest moments inside the ring have been, Thursday's outcome was as surprising as any his career has seen.
In his first fight since breaking his jaw in an upset loss to Josesito Lopez in June 2012, Ortiz was knocked out by one punch against veteran Luis Collazo in Round 2 at the Barclays Center in Brooklyn, N.Y.
Collazo (35-5, 18 KOs), 32, who entered the fight eight years removed from his 13-month run as a welterweight titlist, is best regarded as a slick boxer who once gave then-unbeaten fighters Ricky Hatton and Andre Berto all they can handle in close, yet disputed, defeats.
One thing Collazo has never been known as, however, is a big puncher. But his textbook counter right hook at close range caught Ortiz firmly on the jaw and slowly spun him around before Ortiz took refuge on the canvas with seconds to go in the round.
"I knew that he was going to have to come out aggressively and I had to stay focused," Collazo said. "I could see the shots coming out wide. I'm not a big puncher but I'm a hooker. They say I can't punch but I guess they're wrong."
Ortiz (29-5-2, 22 KOs) failed to beat the count of referee Benji Estevez, nor did it appear as if he necessarily wanted to after succumbing to such a shocking and damaging blow.
"I got caught, no big deal. It happens," Ortiz said. "I'm just one of the fighters and I put my heart out there."
As an emotional Collazo celebrated with his back to the canvas, it wasn't long before Ortiz was back on his feet with a smile on his face. The former can't-miss prospect's uncanny ability to shake off defeat so quickly in the midst of his darkest moments is nothing new.
But this time, following a third straight disastrous defeat, the feeling of despair in terms of his career's future was deeper than ever, even if Ortiz refused to acknowledge its existence.
One day short of his 27th birthday, Ortiz's fifth career defeat brought with it a feeling of finality that his days of competing with the sport's elite are behind him. Yet, considering the unpredictable nature of the fighter in question, even a statement such as that might be hard to make with complete authority.
Regardless of what his future holds, Ortiz's fall was certainly Collazo's gain. After his career fell on hard times following his 2011 loss to Freddy Hernandez, the Brooklyn native suddenly finds himself in the midst of a four-fight win streak with an opportunity to crash the party in an already crowded welterweight division under the Golden Boy banner.
"I had no doubt in my mind I was going to win," Collazo said. "I went through hard times and maybe I wasn't ready. But today I was ready. In the locker room it hit me, all this joy and happiness. I was so excited to perform in front of my fans I grew up with here. I want Floyd [Mayweather Jr.] here in New York and I want to make it happen."
July, 14, 2013
7/14/13
1:41
PM ET
By
Salvador Rodriguez
| ESPN.com

MEXICO CITY -- Saul "Canelo" Alvarez departed Mexico last week as a world titlist, and when he finally returns home, it could be as boxing's new pound-by-pound king.

On Monday, Alvarez boarded a private jet bound for Los Angeles, where he is stopping over before setting up camp in Big Bear, Calif. He'll train at the popular high-elevation destination for the next 55 days in advance of his Sept. 14 challenge of Floyd Mayweather Jr. in Las Vegas.

Alvarez was joined by Jose "Chepo" Reynoso, Eddy Reynoso, Canelo's brother Ricardo Alvarez and a trainer for the trip.

"We are really excited, thrilled, and for good reason -- because we are confident about Saul's capacity and quality, besides the hard work that we will do to get the victory," Reynoso told ESPNDeportes.com. "It is the fight of our lives. Not only for Canelo, but for all of us."

Team Alvarez spent the week in L.A. evaluating potential sparring partners who can join the group for sessions in Big Bear and replicate Mayweather's style. When asked about the strategy Alvarez's team is outlining for the fight, Reynoso said that it's Mayweather who should be worried most.

"You'd better ask Mayweather how is he planning to beat Canelo -- that's the more accurate question," Reynoso said. "Because Canelo is not [Juan Manuel] Marquez, [Victor] Ortiz, [Robert] Guerrero or [Miguel] Cotto. He is a different fighter. Ask him how he is going to defeat Canelo, because we already have figured out how to win."

Reynoso believes that Canelo will have extra motivation against Mayweather, in addition to an opportunity to face the world's best fighter: the chance to earn a spot in Mexico's boxing lore, alongside the names of Julio Cesar Chavez, Marco Antonio Barrera and Erik Morales. He says Canelo has a chance to become a new national icon.

"It comes at the right time," Reynoso said. "Saul is the top draw in Mexican boxing right now, and he's also earned his spot in the international boxing world, like he did in the United States, because that's where the top boxing material is. Mexico is eager for a new icon, and it's the right time since all the big names like Chavez, [Oscar] De La Hoya, Barrera, Morales are long gone.

"Many people say that Saul needed two or three more fights, but we've known him for a long time, and we are sure it's the right time to show the world that on Sept. 14 there will be a new king. We are looking forward to ending Mayweather's reign and letting Canelo start his own."
June, 9, 2013
6/09/13
5:36
PM ET
By
Brin-Jonathan Butler
| ESPN.com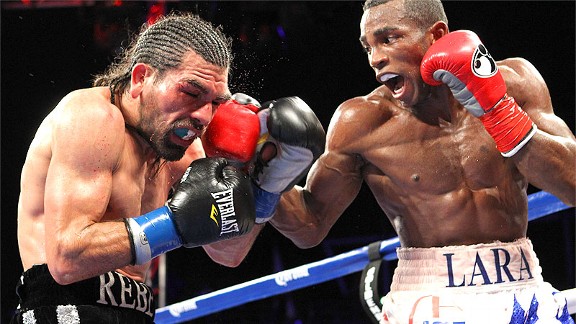 Tom Hogan/Hoganphotos/Golden Boy PromotionsAlfredo Angulo had Erislandy Lara on the ropes before suffering an injury and calling it quits.
CARSON, Calif. -- Cus D'Amato once said, "When two men are fighting, what you're watching is more a contest of wills than of skills, with the stronger will usually overcoming the skill."
On Saturday night in Carson, Calif., Erislandy Lara's demonstrative advantage of skill over Alfredo Angulo only served to inflame Angulo's reserve of willpower. The elegance of Lara's skills simply weren't capable of removing Angulo's will from the equation of the fight. Then, in the fourth round, Angulo's fiendish efforts were rewarded when he dropped Lara, the first knockdown Lara has suffered as a professional. For the duration of the round, every fan in attendance stood to roar approval. Round after round, Angulo took even more risks, applying pressure and striving to close out the fight while eating enough leather to reconfigure his face. Again Angulo dropped Lara, yet the Cuban got off the deck to continue.
In the 10th round, Angulo ate nearly everything Lara threw at him in order to land something meaningful of his own. Then a crisp left hand from Lara struck the swelling over Angulo's eye. Angulo grimaced as another left followed, then another, and finally the referee called off the bout, fearing a broken orbital bone.
Boos. Beer tossed into the ring. "Tijuana style!" a writer next to me laughed. Everywhere you looked, aggrieved faces contorted in expressions of betrayal.
It was all a little incomprehensible to me. Everyone on hand had enjoyed a brilliant fight stopped only after one fighter's health was gravely in danger.
Boos?
Wait a minute. When exactly was enough
enough
? What was the expectation here?
Victor Ortiz quit against
both
of Saturday's headliners, Marcos Maidana and Josesito Lopez. Were those unreasonable decisions? In one of those fights, Ortiz's jaw was broken in two places. Should he have been booed for not fighting on with a broken jaw, as Muhammad Ali did against Ken Norton? Ali was praised for such courage. Oscar De La Hoya was fully capable of getting off his stool to continue against Manny Pacquiao, yet sensibly recognized the futility. Does he get a pass? At the time, his corner asked if he felt like continuing, and Oscar didn't launch much of a protest when it was suggested he not bother. Joe Frazier was legally blind in the only good eye he had left against Ali in the "Thrilla in Manilla." Was his trainer, Eddie Futch, right to call off the fight? Did Futch betray his fighter?
What about the most famous quitter in boxing history? Is Duran's "No Mas" a more defining moment in his career than his victory over Sugar Ray Leonard in their first fight? For many, it is. Mike Tyson notoriously looked for a way out against Evander Holyfield when it was clear Holyfield had his number. Suddenly, Tyson's cowardice in gnawing off Holyfield's ear overshadowed nearly everything he had accomplished as a fighter. Twice, Andrew Golota snatched defeat from the jaws of victory against Riddick Bowe when he swung gratuitously low. His career never recovered.
So in boxing, when is it acceptable to quit? How much abuse is a fighter expected to endure before he can be allowed to show some concern for his own welfare? Anyone who has been around fighters knows they all share the same secret: They are more afraid of embarrassment and humiliation than injury. Do fans and writers use this fact against them in what we celebrate or criticize?
In the documentary "Facing Ali," nearly half the fighters involved required subtitles despite speaking English, their speech slurred by the physical toll of their ring lives. This was their reward for testing their furthermost physical and mental boundaries.
As Guillero Rigondeaux's recent near-shutout of 2012 ESPN.com fighter of the year Nonito Donaire demonstrated, the days of fans cheering Willie Pep for winning a round without throwing a punch are long over. Arturo Gatti's induction into the Boxing Hall of Fame is further testament of boxing giving fans what they clearly reserve their loudest cheers for: fighters who lay their lives on the line at every possible moment of every fight. The truth is, fighters have always done this. We just didn't used to boo the ones who committed the cardinal sin of trying to minimize some of the risk.
June, 5, 2013
6/05/13
4:08
PM ET
By
Brian Campbell
| ESPN.com
In boxing, just as in all sports, there's nothing quite like a fresh set of rankings to stir debate and help bring order to the subject at hand.
We use
pound-for-pound rankings
as a method of classifying the best and most skillful fighters regardless of weight. We've seen lists similar to the
Grantland Relevance Rankings
, which aggregates superiority based on a combination of ability, marketability and importance. Heck, even HBO's Jim Lampley has his "Gatti List," named after the late Arturo Gatti, which attempts to order the best blood-and-guts warriors who lay it all on the line.
But what about a set of rankings aimed at the very reason why we watch fights? Which major-network attractions -- superseding in some cases titles won, drawing power and even likeability -- are the most entertaining, compelling and watchable fighters on any given Saturday?
This isn't a list of simply the best all-action brawlers or most artistically beautiful fighters, but in some ways a marriage of both, with a chunk of personality thrown in -- a nod to the fighters who do a better job than others of selling their brand through creative sound bites and flamboyant antics.
Without any further ado, here are boxing's current top 10 most entertaining fighters, with a tip of the cap to honorable mentions Julio Cesar Chavez Jr., Abner Mares, Sergio Martinez, Miguel Cotto and Carl Froch, who just missed the cut:
10. Leo Santa Cruz
Pros:
Fights at an absurdly relentless pace behind a high guard, using his long arms to punish with hooks to the body. He's as exciting on a minute-by-minute basis as any fighter in the sport. In his May 4 victory over Alexander Munoz, he became the first boxer in history to have both the Watson brothers and Mariachi Skull Guy in his corner at the same time during the prefight introductions. Now that's some serious representation.
Cons:
Even with an ambitious five appearances on television in 2012, Santa Cruz needs a bit more time to build a bigger following and audience.
9. Victor Ortiz
Pros:
It's getting to the point where fans can expect one of two scenarios each time Ortiz steps into the ring: It's either going to be a toe-to-toe battle or it'll end in a Tyson-esque meltdown. Sometimes we even get both. Interviews with Ortiz can be an equally bizarre ride. He is at times painfully honest -- such as following his loss to Marcos Maidana when, at 22, he openly contemplated retirement -- and at other times detached and almost unaware of the gravity of what just took place. He added to his fan base with a surprising appearance on ABC's "Dancing With The Stars" and never fails to entertain in some fashion.
Cons:
Oritz is the kind of personality you can only take in occasional doses, unlike other polarizing fighters who draw you to the screen time and again, regardless of your level of loathing. And, of course, there's always that
VO FaceLube commercial
.
8. Canelo Alvarez
Pros:
The red-haired and freckled Mexican warrior with the matinee idol looks is, despite having 43 pro fights under his belt, still just 22. Not only does he have an Oscar De La Hoya-like ability to attract mainstream female fans due to his smile, he brings in casual male fans with his exciting style. There's a certain star quality to Canelo that you can't teach, let alone describe, and few fighters his age have looked as comfortable as he does in the spotlight.
Cons:
Up until this year, he had been brought along far too slowly for a fighter of his popularity and potential, feasting on an unexciting mix of faded names and journeyman contenders. Although he has made strides, he still isn't fluent enough in English to give his own interviews.
7. Gennady Golovkin
Pros:
Has the face of a 12-year-old boy, but punches like Wreck-It Ralph. He also once endearingly referred to opponent Gabriel Rosado as "a good boy" in a postfight interview after stopping him. Such a polite fellow. In fact, you'd be hard-pressed to find another fighter who is as efficiently violent inside the ring and almost naively sweet outside of it. That contrast is compelling enough on its own, never mind his crushing right hand.
Cons:
Despite the fact that he's been a middleweight titlist for three years and is a featured player on HBO, the only thing holding back Golovkin's ability to entertain is the fact that he's too dangerous for his own good and could end up having difficulty finding big-name opponents -- same as Martinez did. But will it ever really get boring watching him knock out middle-of-the-road competition?
6. Amir Khan
Pros:
The combination of his dynamic and top-end offensive talents mixed with his shaky chin make the vulnerable Khan, who fights with a tremendous amount of courage, a must-see attraction. He also has a way of speaking with a confidence that defies the reality of his own limitations, which is encouraging to some and tremendously irritating to others. Either way, we keep watching.
Cons:
He's somehow equally overrated and underrated at the same time, making it impossible to get a grasp at any point on just how good he really is.
5. Manny Pacquiao
Pros:
Still brings a very exciting style to the table and has arguably the most recognizable name among active fighters. Also, the expectant drama that should come as he attempts to recover from a brutal one-punch knockout against Juan Manuel Marquez while navigating the twilight of his career could be interesting. And, you know, there's always Buboy Fernandez.
Cons:
Outside of a pair of recent bouts with Marquez, we really haven't seen Pacquiao in a competitive and evenly matched fight since 2009. The storylines in his personal life have also been played out ad nauseam in the various documentary series leading up to his fights.
4. Brandon Rios
Pros:
There might not be another fighter in the sport who loves brawling at close range and testing his manhood more than Rios, who not only doesn't know how to make a bad fight, but might actually be crazy. Rios very well may have more talent and potential inside the ring than his style lets on, meaning he doesn't go to war each fight because he has to, but does so instead because it's too much fun for him not to. He's got the Gatti gene.
Cons:
Only a lack of one-punch knockout power really separates Rios from becoming a breakout star and topping this list.
3. Lucas Matthysse
Pros:
He has the best nickname in the sport -- "The Machine" -- and an explosive, wrecking-ball style to match. Oh yeah, and he don't need no stinking judges. (How does an 86.5 percent knockout rate grab ya?) Throw in the rat tail, tattoos and the raw emotion with which he fights, and Matthysse has become appointment viewing. The power in his hands, even on grazing shots, is frightening.
Cons:
With his stock at the moment being as hot as a fighter's could be, Matthysse has a window to make a crossover leap. But although you could argue that his fists do enough talking for him, the opportunity to address the masses in English after one of his spectacular knockouts would greatly improve his value to the casual American audience.
2. Adrien Broner
Pros:
If you find yourself irritated at the end of a Broner interview, it means he's doing it right. Although some say the fighter owes too much of his style and swagger to Floyd Mayweather Jr., Broner is slowly carving out his own niche with his intentionally polarizing persona outside of the ring and his spectacular potential inside of it. By standing right in front of his opponents and sitting down on his power punches, all the while with a smirk on his face, viewers will be tuning in to see Broner knock people out -- or end up the victim of one -- for years to come.
Cons:
Even if you're sick of the postfight hairbrush already, no one provides a sound bite quite like the self-proclaimed "Can Man." But Broner often steps too far over the line of decency. See his recent comments during the buildup to his welterweight debut against titlist Paulie Malignaggi.
1. Floyd Mayweather Jr.
Pros:
The greatest reality star the sport has ever seen, Mayweather dominates the spotlight he helped create and does so despite a defensive style that is appreciated but not always considered entertaining. Along with his brilliant ability to market fights and the general buzz he creates by making claims that he is the best fighter in history, "Money" never fails to deliver inside of the ring despite his advancing age and multiple layoffs. His pursuit of perfection and the ongoing debates about his legacy remain boxing's biggest storylines. There isn't a more consistently compelling figure in the sport who demands our attention and keeps us watching.
Cons:
Outside of any differences you might have with his lifestyle or opinions, the only criticism anyone can rightfully hurl at Mayweather relates to the fights he failed to provide fans when the opportunity was there. His September bout with Alvarez should help quiet the critical chatter.
May, 1, 2013
5/01/13
2:51
PM ET
LAS VEGAS -- There are elements of Floyd Mayweather's welterweight title fight with Robert Guerrero on Saturday that bring to mind his 2011 tilt against Victor Ortiz. Both Guerrero and Ortiz earned their shots on the back of impressive victories over Andre Berto, for one. Mayweather gives the impression of being as dismissive of Guerrero's chances as he was contemptuous of what Ortiz brought to the table, for another. (In contrast, the build-up to his contest with Miguel Cotto last year was marked by mutual respect from both sides.)

There's something else, too. Mayweather couldn't abide the constant prefight references to Ortiz's famously difficult childhood -- in which first his mother and then his father deserted he and his siblings. Mayweather hinted that there was less to the story than met the eye and even promised to invite Ortiz's father to the fight. He also fumed at the attention the Ortiz upbringing received on HBO's 24/7 series.

It appears he feels much the same way about the seminal element of the Robert Guerrero story -- in which he took time out from the ring to help care for his ailing wife Casey, as she battled and ultimately defeated leukemia.

"Do I feel bad about the situation his wife went through? Absolutely," Mayweather said on Tuesday. "But trying to gain fans by having the sympathy story every week, I don't think that's a good thing. I'm glad that his wife was able to beat the leukemia. I don't feel anyone should have to go through a situation like that. But we all go through certain things. But I think just to gain fans, you're using your wife's story, you're using a sympathy story. I'm glad she was able to beat leukemia, that's a great thing. And I'm glad those two have such a great bond. But I don't like every week they keep selling the same story."

And then, in typical Mayweather style, he took the opportunity to take one more dig, a riposte to Guerrero's arrest after he declared and attempted to check a handgun at New York's JFK Airport -- an arrest that came after Guerrero had pointedly referred to Mayweather's incarceration for assault last year. It is possible, although unlikely, that Guerrero may himself face jail time for the firearm charge.

"The main thing that he really needs to focus on at this time is that he's going away to do time after the fight," smiled Mayweather with apparent satisfaction. "He was pointing the finger and talking trash about me, and now you have to go and do time."

September, 28, 2012
9/28/12
12:19
AM ET
By
Diego Morilla
| ESPN.com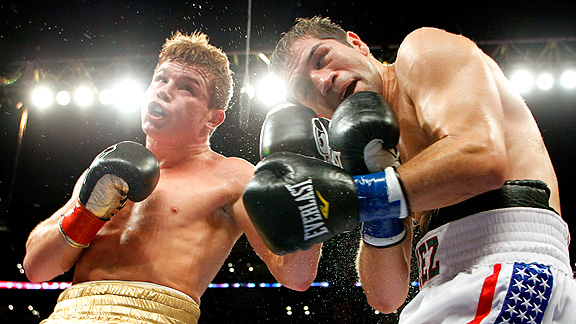 AP Photo/Danny MoloshokWith his style, looks and roots, Canelo Alvarez is the best pick for Floyd Mayweather Jr.'s next foe.
The boxing calendar for 2012 is almost full, and recent history has taught us that Floyd Mayweather Jr. rarely fights more than once a year. With a tough fight against Miguel Cotto and a brief jail stint behind him, Mayweather might have accumulated just the right amount of excuses to call it a year and start drumming up interest in a big fight for early 2013.
With that in mind, and with the most logical opponents (Cotto, Sergio Martinez and -- dare we say it? -- Manny Pacquiao) already headed in different directions, Mayweather's choices are now limited. But there is one natural fit. All things considered, given his energy, youth and huge appeal to fans of both sexes, his enormous (and growing) Mexican fan base and an unbeaten record to boot, Saul "Canelo" Alvarez is the obvious choice.
Here are five reasons why Alvarez should be the leading candidate to pull the winning number in the latest Mayweather sweepstakes:
1. A crossroads fight for the ages:
A young and feisty undefeated lion versus a crafty, experienced unbeaten fox? The meshing of styles is so apparent that it needs little elaboration. Alvarez, 22, is a freight train of a fighter who has power in both hands and the heart of a warrior, always charging forward with little regard for his safety. Mayweather is the lightning-fast consummate technician with seemingly unlimited resources and the boxing equivalent of Wikipedia downloaded to his brain. It's the old matador-versus-raging bull paradigm, and people have always paid to watch it. You can bet they'll pony up to witness this one.
2. Canelo has muchos amigos:
Floyd always echoes the sentiments expressed in Muhammad Ali's famous analysis on the composition of his audience: "I think 100 percent of the people will come to see me," Ali used to say, "but 99 percent of those people will come to see me get beat because they think I talk too much." Whatever the percentages, there's a similar split with regard to Canelo. Most women come to see him win. A lot of guys watch to see him get his butt kicked. But the vast majority of Mexico will be watching, rooting for either cause. In any case, the likelihood of a new PPV record for a Mayweather-Canelo matchup is very high, and when the guy who has the final say on his opponent goes by the nickname "Money," that's a factor in Alvarez's favor.
3. A true fiesta for Cinco de Mayo:
May 5 is a national holiday in Mexico and traditionally a blowout weekend for boxing. If you're a fight fan, you can circle that Saturday on your calendar and know you'll get to take in at least one of the year's biggest bouts that night. But at the risk of sounding jingoistic, last year's Mayweather-Cotto matchup -- an American against a Puerto Rican -- was like serving tacos, burritos and tequila at a St. Patrick's Day party. Give the fans what they want, when they want it. Mayweather versus Alvarez on Cinco de Mayo weekend will surely draw one of the biggest TV audiences in boxing history, in no small part due to its timing.
4. The grass is not greener on the other side:
A lack of options shouldn't serve as an endorsement for Alvarez, but it's impossible to get around: Mayweather's alternatives
really
strengthen Canelo's case. The question is, if you don't pick the kid from Jalisco, who
do
you pick? Martinez is banking on milking whatever is left of the Julio Cesar Chavez Jr. business while Junior is still marketable. Pacquiao still has who-knows-how-many-more fights with Marquez, plus a rematch with Timothy Bradley Jr., left to cash in. And Cotto will keep pricing (and maybe weighing) his way out of a Mayweather rematch until no one cares anymore. And with Amir Khan and Victor Ortiz on the rocks (and Roberto Guerrero still green at 147), Canelo is just what the doctor ordered.
5. Great possible card names:
"The Young and the Restless" is already taken, but there are plenty of directions this one could be taken. "Sugar and Spice" clicked better for Canelo's bout with Shane Mosley, but it's apt here, too. And the pairing could lead to scores of clever headlines from the always-imaginative press row. "Money Talks, Cinnamon Swirls" could trumpet a Mayweather victory. Not enough reason on its own to put together a multi-million dollar boxing card, but it always helps to have some built-in entertainment value, eh?
July, 2, 2012
7/02/12
2:59
PM ET
By
ESPN.com staff
| ESPN.com

No one will confuse Victor Ortiz with Muhammad Ali, so why is the former welterweight champ -- who was upset by Josesito Lopez on June 23 -- being held to a standard set by "The Greatest"? In the video above, ESPN's Bernardo Osuna weighs in with the last word on Ortiz's calling it quits.
May, 3, 2012
5/03/12
5:43
PM ET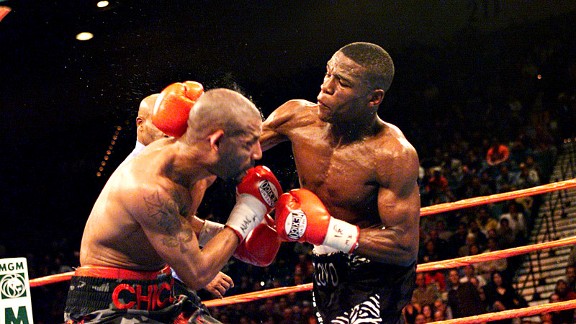 Tom Hauck/Getty ImagesDiego Corrales gave Floyd Mayweather Jr. a run at the MGM Grand in 2001 before falling late.
Saturday's challenge of junior middleweight champ Miguel Cotto will be Floyd Mayweather Jr.'s sixth successive fight at the MGM Grand and his ninth overall. Here's one man's take on Mayweather's five most memorable appearances at what has become boxing's marquee venue:
5. Sept. 17, 2011: Victor Ortiz
Ortiz was at a high point, coming off his dramatic win over Andre Berto, but he was no match for either Mayweather or his own lack of judgment. Frustrated by his inability to pierce Mayweather's defense, Ortiz launched his head into his opponent's in Round 4, prompting referee Joe Cortez to call time out and deduct a point. When Cortez called time in, Ortiz was focused more on hugging Mayweather to apologize than on defending himself; Mayweather clocked an unprepared Ortiz with a left and a right, putting him down for the count.
4. April 20, 2002: Jose Luis Castillo
Notable for being a fight that, in the eyes of many observers, Mayweather lost. Mexico's Castillo was able to pressure Mayweather for periods and take him out of his comfort zone, but the American won a unanimous decision on the judges' scorecards, and he did so again in the rematch across the street at Mandalay Bay.
3. Dec. 8, 2007: Ricky Hatton
Unforgettable. An estimated 30,000 Brits descended on the Strip, all but emptying the MGM of beer and constantly reminding everyone that there was "only
onnnne
Ricky Hatton." That one Ricky Hatton was likely seeing two Floyd Mayweathers after walking into a check hook that sent him face-first into the ring post in the 10th. And still the Brits kept singing ...
2. May 5, 2007: Oscar De La Hoya
Was this really five years ago already? Overdramatically dubbed "The Fight to Save Boxing," this was the event that turned Mayweather into a superstar. Overcoming early resistance from a stiff Golden Boy jab, Mayweather scored a split decision win in a contest that secured a record 2.4 million pay-per-view buys.
1. Jan. 20, 2001: Diego Corrales
Like Mayweather, Corrales was an undefeated 130-pound titlist, and there were plenty of prognosticators who expected him to prove too strong. But you can't hurt what you can't hit, and in what remains Mayweather's most sublime performance, Corrales could hardly lay a glove on his rival. Mayweather, by contrast, couldn't miss his, dropping Corrales five times before Chico's corner stopped the contest in the 10th.