March, 12, 2014
Mar 12
6:43
PM ET
By
Brian Campbell
| ESPN.com
As Tomasz Adamek enters Saturday's title eliminator against unbeaten Vyacheslav "Czar" Glazkov, it's fair to speculate whether the rugged veteran is coming or going as a heavyweight contender.
It's no secret Adamek (49-2, 29 KOs) is navigating the twilight of an exciting 15-year career as he enters Saturday's crossroads fight (NBC Sports Network, 9 p.m. ET) at the Sands Casino in Bethlehem, Penn.
But the key question staring him in the face after multiple -- and often memorable -- ring wars is simple: At 37, how much does Adamek have left?
On one hand, the former light heavyweight and cruiserweight titlist is 5-0 since being stopped in a 2011 heavyweight title loss to Vitali Klitschko and maintains a glossy résumé featuring just two defeats (he lost his 175-pound title to unbeaten Chad Dawson in 2007).
But digging a little deeper on his recent run exposes a different theory regarding Adamek's current state. He not only received the benefit of the doubt on the scorecards in contentious 2012 decision wins over Eddie Chambers and Steve Cunningham, he went life-and-death for five rounds before stopping journeyman Travis Walker.
Regardless of which version of Adamek enters the ring against Glazkov (16-0-1, 11 KOs), a victory places the native of Poland, who fights out of Jersey City, N.J., firmly back into the title picture. But despite the must-win scenario he faces on Saturday, Adamek isn't concerned about what a loss means to his future.
"I never think about losing, because I'm a warrior," Adamek said. "If you start thinking about it, you better not go to the ring. Every fight is very important. If you want to be a challenger for title fights, you have to win every fight."
[+] Enlarge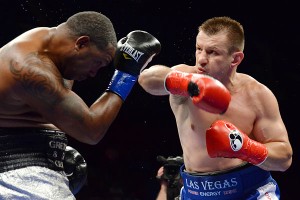 George Jimenez/MSportsimages.com A victory for Tomasz Adamek, right, over unbeaten Vyacheslav "Czar" Glazkov will put him back into the title picture.
The fight was originally scheduled for last November but was called off days before, when Adamek came down with the flu. What that meant for the typically active Adamek, who fought four times in a nine-month span in 2012, was a long layoff. He will enter Saturday's fight having fought just once -- an August 2013 decision win over Dominick Guinn -- in the past 16 months.
Adamek's trainer, Roger Bloodworth, looks at Adamek's time away as a blessing instead of a curse.
"I'm not concerned," Bloodworth said. "He's a fighter with a lot of experience, and if you notice, most of your world champions don't fight every month. I think as a fighter gets more years on him and gets more experience on him, he needs rest. Rest is as important as work."
An added wrinkle to the storyline for Saturday's fight is that Glazkov, 29, not only once served as a sparring partner for Adamek, he reportedly hurt the veteran fighter and gave him all he could handle.
"My feelings is sparring is sparring. A fight is a different story," Adamek said. "You have small gloves and no hat and many people are watching you. It's a different game. I'm looking for not what once was in sparring, I'm looking for the future and how I can show my class and my experience and win this fight."
For a fighter like Adamek, whose best defense has always been his offense, predicting Saturday's heavyweight tilt will be an all-action affair isn't much of a stretch. In fact, Adamek was upfront regarding his thoughts on the topic when he said: "I'm ready for war."
But that's where the debate regarding Adamek's true stock comes back into play. As an undersized heavyweight, will his experience and unrivaled toughness be enough to overcome yet another hungry young fighter in a likely action bout?
For Bloodworth, his focus is centered more on Adamek's evolution away from that of a full-time brawler to more of a well-rounded fighter, who he said is just as good at 37 as he ever was.
"He's just as dedicated. He wants to learn. He keeps improving," Bloodworth said. "If you remember when he was fighting at light heavyweight and cruiserweight, he mainly just stood in front of you and threw punches. It was last man standing. I think he showed in his last bout [against Guinn] that he is becoming a boxer and a bit of a puncher. We've been practicing that, and we will see what happens [on Saturday]."
April, 17, 2013
4/17/13
1:17
PM ET
By
Chris Lees
| ESPN Stats & Information
On Saturday, Canelo Alvarez will be fighting for more than a couple of leather belts. He'll be fighting for family pride, and he hopes to reel in a big fish -- specifically, a Trout.

Two years ago, Austin Trout won his junior middleweight title with a one-sided unanimous decision victory over Rigoberto Alvarez, who just happens to be the older brother of Canelo.

This won't be the first time a professional fighter will have sought to avenge a sibling's defeat.

The Baers vs. Joe Louis

Rising heavyweight star Joe Louis faced Max Baer in 1935 in the Livermore Larruper's first fight since dropping the heavyweight title to Jim Braddock. Louis dispatched Baer with a fourth-round knockout. Six years later, Louis, now the champion, was challenged by Maxie's younger brother Buddy. In a wild, action-packed encounter, Baer knocked Louis through the ropes in the first round. The Brown Bomber was unfazed as he knocked down Baer three times in the sixth round. The last time came after the bell, and when Baer's manager refused to leave the ring while arguing the knockdown, Baer was disqualified. Baer received a rematch in 1942 only to be knocked out in the first round.

The Spinks brothers vs. Larry Holmes

In June 1981, heavyweight champion Larry Holmes defeated former champ Leon Spinks in a devastating third-round knockout. In 1985, Holmes was 48-0 and on the verge of tying Rocky Marciano's perfect record. Standing in his way was light heavyweight kingpin Michael Spinks. Leon's little brother stood up to Holmes and took the title with a 15-round unanimous decision. According to CompuBox, Spinks outworked the older Holmes, throwing 130 more punches (697 to 567). He also outlanded Holmes 318-248. To add insult to injury, Michael Spinks beat Holmes again the following year.

The Klitschkos vs. Corrie Sanders

In March 2003, South African Corrie Sanders shocked the world with his stunning second-round stoppage of Wladimir Klitschko, temporarily derailing the Ukrainian's rise to heavyweight dominance. Witnessing the upset was Wladimir's big brother Vitali. The elder Klitschko would get his chance at revenge the following year. In front of 17,000-plus at Los Angeles' Staples Center, Klitschko exacted his family's revenge, stopping Sanders in the eighth round. Klitschko was dominant, outlanding Sanders 230-51 in total punches, according to CompuBox. Before that, in 2000, little brother avenged Vitali's loss to Chris Byrd.
November, 30, 2012
11/30/12
6:15
PM ET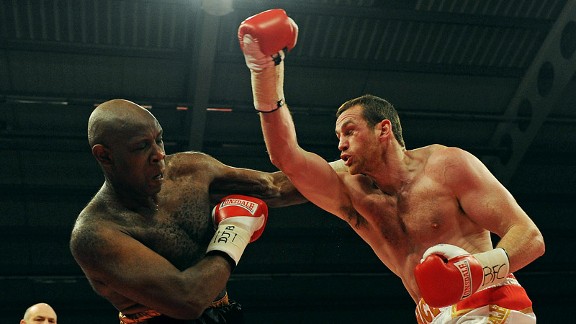 Chris Brunskill/Getty ImagesDavid Price, right, again displayed his prodigious power in Friday's second-round TKO of Matt Skelton.
LIVERPOOL, England -- David Price has earmarked Tony Thompson as his first big-name American opponent on his way to what he hopes will be a world heavyweight title fight in 2013.
Price and manager Frank Maloney were quick to call out Thompson on Friday night, just minutes after the British heavyweight champion had smashed his way through yet another former world title contender in fellow Brit Matt Skelton.
Already dubbed a sensation on this side of the Atlantic -- where he has now racked up 13 stoppages in 15 straight victories since handing in his amateur headguard following a bronze medal-winning performance at the Olympic Games in 2004 -- Price proved once again that he's a real-deal contender.
The 29-year-old effectively ended Skelton's career just 2 minutes, 56 seconds into the second round, and now the 6-foot-8, 250-pound wrecking machine has his sights set on lighting up rings stateside. Although Skelton (28-7, 23 KOs) lasted far longer than Price's last victim, Audley Harrison (who was KO'd in 62 seconds), Price maintains that he's ready for the next level.
"Next year, for sure, I want to crack America. That's high on the agenda," Price told ESPN.com. "I've done a lot of rounds in U.S. gyms already, but it's certainly not the same as competitive rounds. We had a date in Atlantic City this past summer, but it never made sense in the end. But tonight's fight went out on U.S. TV once more, and next I want to fight there live."
And Thompson is the opponent of choice for the contender's camp, and fits in with the step up that Price is pushing for.
"Thompson is a big, tall, awkward southpaw -- a bit like Harrison," Price said. "But again, it just proves that I'm not looking to do things the easy way. If he was good enough to fight [Wladimir] Klitschko six months ago, then he's a good next opponent for me."
Price (15-0, 13 KOs) is no stranger to U.S. shores. He presently divides his training camps between trips across Eastern Europe and regular working vacations in Philadelphia, New York and Las Vegas. But he clearly has a burning desire to prove himself in front of American fans too.
Skelton did manage to land a scuffing right hand Friday at Aintree Racecourse, along with more than a number of stray head-butts. But in the end, he was no different than any of the other opponents bulldozed by Price, who has displayed exciting power in both hands and, perhaps most satisfyingly, a predatory taste for the finish.
It's clear the domestic leash needs to come off now, however, and Price wants and needs to be tested on foreign shores. And with Maloney at the helm of the ship -- the same diminutive London businessman who took Britain's greatest heavyweight champion, Lennox Lewis, to the top of the sport -- Price's world title crusade is well and truly on track.
Said Maloney of his charge: "I've seen heavyweights of all shapes and sizes from all over the world, and it's just about getting this fella into the right place now.
"Tony Thompson is another step towards a world title fight, and that's a fight we are currently negotiating. I hear one of the Klitschkos will retire next year, and when he does we'll be ready to pounce. Seth Mitchell has been exposed; believe me, there is only one heavyweight champion in waiting in the world right now, and he's from Liverpool."
October, 13, 2012
10/13/12
7:37
PM ET
By
Brian Campbell
| ESPN.com
It wasn't so much the fact that towering British heavyweight prospect David Price was able to get past his long-faded countryman Audley Harrison on Saturday that was surprising. Nor, even, that he was able to do it by first-round knockout.
[+] Enlarge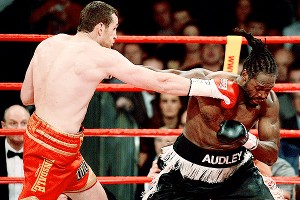 Andrew Yates/AFP/GettyImagesDavid Price didn't prove a great deal against Audley Harrison on Saturday, but we're running out of time for potential rivals to warm up for the Klitschkos.
But when you factor in the few things we learned from Price's 87-second demolition at the Echo Arena in his native Liverpool, what stood out was the ease and destructive nature with which Price took out the former Olympic gold medalist.
And that, boxing fans, was impressive.
After both fighters pawed with jabs throughout the first minute of the round, the 6-foot-8 Price rocked the southpaw Harrison with the first punches on which he connected -- a sidearm left hook followed by a right cross. Price (14-0, 12 KOs) followed with a right uppercut against the ropes before adding a left to the body and a right hook upstairs to finish the job.
Harrison (28-6, 21 KOs), 40, who said before the bout he would retire if he lost, was out on his feet before crumbling to the canvas, giving referee Howard John Foster no reason to deliver a count.
So what did we learn about Price? The lean, muscular giant showed good movement and frightening power. He also sat down well on his punches, violently finishing an opponent he had hurt.
Unfortunately, what we learned pales in comparison to what we still don't know about the green Price, who has never gone past seven rounds as a professional. Does he have the stamina to go the distance against a top opponent? Will he break under the pressure of a prolonged attack? What about his chin?
To think that Price, who turned pro in 2009, is ready for the likes of champions Wladimir and Vitali Klitschko is a bit of a stretch -- especially in his next bout.
But consider this: When will
any
heavyweight prospect feel completely prepared for the kind of challenges presented by the two accurate and powerful Ukrainian technicians? Sometimes, there's no other way to find out than to actually take the plunge.
The window is closing fast for either Klitschko to truly be tested before calling an end to each's impressive -- yet unceasingly incomplete -- career.
Most likely, promising unbeatens such as Price, Alexander Povetkin, Tyson Fury and Robert Helenius won't be the ones to provide the Klitschkos with the enduring rivalries their careers have lacked up to this point (a criticism, it should be noted, that is completely out of their control).
But finding out firsthand that these fighters aren't ready is incredibly more entertaining (if not more important historically) than watching the Klitschkos batter retreads such as Tony Thompson, Hasim Rahman and Jean Marc Mormeck, who lately have provided the kind of opposition that screams they were there for nothing more than a paycheck.
Those fights have been a waste of time, combining of late with Povetkin's reluctance to take his swing (and David Haye's refusal to do the same once inside the ring), leaving both the Klitschkos and heavyweight fans completely bored with the sport's glamour division.
Maybe Price will never be ready. But at the very least, he possesses a rare combination for a Klitschko opponent: size, power and movement. It's the kind of package that just might entice viewers into thinking Price is about as equipped as any to try to do the unthinkable.
With his hometown fans rocking with delight Saturday -- and Price happy to play along by flexing to the Liverpool crowd after the fight -- it had the feel of a tight-knit community joining together in celebration before sending one of its own off to war.
And if you think about it, that's just what it might have been. For Price, it's time to head off to battle.
May, 23, 2012
5/23/12
3:28
PM ET
With the David Haye-Dereck Chisora heavyweight clash coming to full fruition, it sure seems like bad behavior is being rewarded.

You'll recall that after Chisora gave a decent account of himself against Vitali Klitschko on Feb. 18 in Munich, dropping a 12-round decision, he got into it at the postfight news conference with David Haye. Party-crasher Haye had become something of a laughingstock after he set an unofficial record for talking a big game and then not coming close to backing it up when he went into scaredy-cat mode in his scrap with Wladimir Klitschko in Hamburg last July, losing a lopsided decision. Haye started yapping at Chisora at the presser, apparently to lure him into a tilt, and it looks like it worked. The yapping turned into a full-blown brawl, with Haye smashing a beer bottle on Chisora's mug. The authorities looked into the event afterward, and boxing received its trillionth black eye.

But guess what? That display of idiotic thuggishness will probably result in a massive payday for the two miscreants. A square-off between Haye and Chisora is slated for July 14 in London, although uncertainty remains on the specifics because neither Haye nor Chisora has a license to box in England. Haye gave his up when he "retired" last October, while Chisora's was yanked for his unruly behavior prior to and after the Vitali fight. Most likely, things will get ironed out, because tickets have gone on sale. In fact, 17,000 were sold on the first day of release. No surprise, interest is high in a clash between the two bad actors.

Wladimir Klitschko (57-3, 50 KOs), the 36-year-old heavyweight champion, was asked if he is distressed that the fighters' poor behavior is being rewarded.

"All of the champions since Joe Louis, Max Schmeling, Muhammad Ali and Rocky Marciano have tried to polish the sport of boxing, and make it as glamorous as it is, and the behavior of Dereck Chisora is sending the wrong message to the youth -- that means, the worse you behave, the more money you are going to make, and you're going to be known for it," he said. "So it's definitely sending a wrong message, and I totally disagree with the decision from the Luxembourg Boxing Federation to give permission and license. And by the way, promoters are promoting this fight as the fight of the century, which is totally nonsense, because they both lost to [the Klitschko brothers]."

No word yet on whether any U.S. entity will televise the bout. I'm guessing none will, so if anyone in the States was thinking they could boycott the fight to show their displeasure that Haye and Chisora will benefit despite representing boxing in such a degrading fashion, that option likely won't be available.
February, 20, 2012
2/20/12
11:57
AM ET
By
Igor Guryashkin
| ESPN.com

On Saturday night in Munich, a game Dereck Chisora fought bravely against Vitali Klitschko.

Fact.

In fact, "brave" is the tag journalists so often use to describe the litany of outmatched, outpunched fighters who fail miserably in the Herculean task of even troubling a member of the dominant heavyweight Klitschko family.

Chisora was different. He was outclassed, sure, but he also marched relentlessly forward in the heat of a lost battle to emerge as one of the few fighters not to be rendered unconscious by a leatherbound Klitschko fist.

Still, to look at Saturday's fight in this vacuum and through such a narrow lens would be ignoring the fact that Chisora, alongside former heavyweight champion David Haye, are currently ranked in the upper echelons of moronic, classless fools who soil the good but increasingly tarnished name of boxing -- a sport that provides them with a lifestyle few could ever hope to enjoy.

During Friday's weigh-in, Chisora slapped Klitschko. Yes, you read that correctly: Dereck Chisora slapped Vitali Klitschko. The same Vitali Klitschko who, along with his brother, Wladimir, are two of the nicest, gentlemanly, philanthropic ambassadors a sport could wish for. The slap was an act of desperation from a man who knew he would lose like all the others. It was a slap, both literal and figurative, to the same Klitschko who gave Chisora his highest payday.

And what did Vitali Klitschko do?

Nothing. Class act.

Then, when both fighters had entered the ring on Saturday, Chisora decided to spit water in the face of Vitali's brother. In the confines of the hostile, jeer-filled partisan cauldron in Munich, Wladimir could be expected to retaliate. What did he do?

Nothing. Class act.

Then came the cherry on this most delicious of trifles. At the postfight news conference, Chisora, goaded by Haye, a fellow Brit, started a brawl in the middle of the media room. Haye, holding a bottle in his hand, threw the first punch, after Chisora had left his seat to confront him. A scuffle ensued that involved Haye throwing a photographer's tripod. Haye's manager and trainer, Adam Booth, emerged with blood trickling down his face, while Haye brawled with Chisora's trainer, to boot.

It was then that Chisora crossed the line of being a mere madcap "British eccentric." He left that tag as a dot on the horizon when, in front of hundreds of people, he threatened to track down Haye and shoot and burn him.

Class act.

Boxers aren't known for their intellect, often unfairly so. Beneath its widely preconceived brutish image, the pugilistic fraternity is awash with sharp, insightful and colorful characters more welcoming at times than any other sporting family.

But boxing is also a sport that owes its entire existence to a controlled and regulated form of violence that is more susceptible than most to the antics of rancid bad eggs like Chisora and Haye. They spoil what is otherwise a consistently good batch.

Haye is adamant in his desire for a fight with Vitali Klitschko. Of course he is: It's the biggest payday available to him in his weight class. But this is the same David Haye who spent two years goading Wladimir into a fight, including wearing T-shirts depicting Haye in the pose of a conqueror holding the decapitated heads of the Ukrainian heavyweight siblings. On fight night, Haye lost in embarrassing fashion, laying blame on a broken toe. His stock depreciated to a laughable level.

Meanwhile, his pride may hurt, but his wallet doesn't. And after Saturday's debacle, neither Haye nor Chisora deserves a fight with either of the Klitschkos. At this point, a Chisora-Haye fight would generate huge interest in their homeland. But their homeland is where they should remain -- far away from the global platform on which they so consistently sully the sport that rewards them so highly.

It's acts like these that make people believe such behavior is part and parcel of boxing. This is not true. It's part and parcel of degenerates like Haye and Chisora, not the sport with which they are unfortunately and inextricably linked.