January, 9, 2014
Jan 9
12:04
PM ET
By
Bernardo Pilatti
| ESPNDeportes.com
A night of pure action could be in the works when junior lightweights Juan Antonio Rodriguez and Yenifel Vicente headline ESPN's "Friday Night Fights" at the Emerald Queen Hotel & Casino in Tacoma, Wash.

Mexico's Rodriguez (25-4, 23 KOs), 25, will make his debut on American soil against Vicente (25-1-2, 17 KOs), 27, of the Dominican Republic, a late replacement for 130-pound contender Arash Usmanee who suffered an ankle injury.

The main event has been reduced to eight rounds because Vicente, who is based in Miami, is moving up two weight classes to take the fight. He enters having won his last two fights, including a June knockout of Jorge Diaz, following an August 2012 decision loss to fringe contender Chris Avalos.

"[The fight] is short notice -- one-week notice -- but we were training and we're ready," said Herman Caicedo, the trainer and co-manager of Vicente. "Yenifel is already at 130 pounds. He didn't go home for Christmas, didn't go home for New Year's. He hasn't left Miami since the June fight."

Rodriguez, a southpaw, comes into the bout riding a four-fight winning streak since suffering a July 2012 decision loss to former featherweight titlist Billy Dib in Australia. Caicedo believes Vicente will be ready for Rodriguez, despite the late notice.

"I saw a fight or two of Rodriguez on YouTube," Caicedo said. "He's going to come forward and doesn't know any other way. He has no shortage of guts.

"[Rodriguez] is left-handed, but my entire team is left-handed. That's all the sparring we've got here -- Juan Carlos Payano, Claudio Marrero. They're all left-handed and Yenifel is constantly tuning up with those guys at the gym."

The bout figures to be an all-out war due to the similar characteristics of both fighters.

Rodriguez is a high-guard southpaw who uses his jab very carefully, is a generally accurate striker and is very dangerous in short range, especially with jab-hook combinations to the body. This was how he finished Sergio Torres in four rounds in June.

Vicente, meanwhile, is fast, aggressive and throws a lot of punches. That's how he surprised and defeated experienced former world title contender Francisco Lorenzo in 2009.

"It's time for Yenifel to get a big fight," Caicedo said. "He has proven himself. Yenifel comes and he brings it. There's no holding back on his part. I'd like to see him get some good opportunities this year and step up."

Former world title contender Zahir Raheem (34-3, 21 KOs) continues his comeback at junior welterweight in the 10-round co-feature against Bayan Jargal (17-4-3, 11 KOs) of Mongolia.

Raheem, 37, has revitalized his career with a five-fight win streak and is in search of a victory that could open the door to a new world title opportunity. In November, he stopped the experienced Tim Coleman in the second round.

At the height of his career in 2005, Raheem defeated Erik Morales by split decision. He has also suffered defeats against the likes of Rocky Juarez, Acelino Freitas and Ali Funeka. Jargal, 31, who fights out of Arlington, Virginia, will look to bounce back from suffering four defeats in his last six fights.

In the televised opener, former cruiserweight contender Lateef Kayode (19-0, 15 KOs) will fight for the second time as a heavyweight against Jonte Willis (9-7-1, 3 KOs).


January, 9, 2014
Jan 9
10:50
AM ET
By
Salvador Rodriguez
| ESPNDeportes.com
Juan Antonio Rodriguez had been waiting for this opportunity for a long time, to step into the ring and show what he's capable of in the main event of a nationally televised card to kick off what he expects to be a big year for him.
It didn't unfold quite the way Rodriguez -- or anyone -- expected, but his moment will arrive on this week's "Friday Night Fights" (ESPN2/ESPN3, 9 ET) from Tacoma, Wash., where he'll take on Yenifel Vicente in an eight-round matchup of junior lightweights.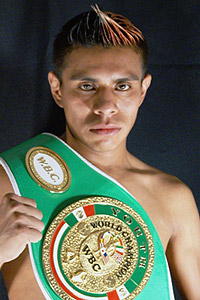 Courtesy of Team RodriguezJunior lightweight Juan Antonio Rodriguez makes his U.S. debut against Yenifel Vicente on Friday.
Rodriguez (24-4, 22 KOs) has bounced back in a big way, with four consecutive wins -- all by knockout -- since a July 2012 setback against former titleholder Billy Dib. That winning streak has led Rodriguez (somehwat circuitously) to a showdown with Vicente (25-1-2, 1 NC, 17 KOs),
who stepped in as a last-minute replacement
for the injured Arash Usmanee (ankle).
"I never thought that something like [Usmanee's injury] could happen, but I kept training the same way regardless," said Rodriguez, a 25-year-old from Mexico City who will be making his U.S. debut. "We had to make a couple of adjustments, but that's OK."
"2014 will be a year full of wins that will lead to a world championship. I have realized what I have to offer because of the fights I've had recently. I hit Billy Dib hard, and even then I wasn't awarded the win. [But] my power speaks volumes on its own."
Rodriguez, who arrived in Tacoma on Wednesday, said his eight weeks of preparation with trainer Tony Flores in Puebla, Mexico (where he now resides) and Mexico City were phenomenal. He said they worked on a variety of skills but focused mostly on his accuracy, so there weren't many adjustments to be made when Vicente, a 27-year-old from the Dominican Republic, was revealed as his new opponent.
"My preparation is what helps me improve. I always spar against the heaviest opponents, and that challenge allows my punches to be stronger and my speed to be greater when it's time to fight," Rodriguez said. "That's why I'm not worried about who my opponent may be, because I can knock [any of them] out.
"I am still fighting in the main event," Rodriguez said, "and this is a good opportunity to take advantage of all the sacrifices we made during the holidays."
August, 10, 2012
8/10/12
7:15
PM ET
By
Diego Morilla
| ESPN.com
Undefeated Colombian fighters with glossy records are a dime a dozen, but they tend to unveil their true potential -- or lack thereof -- as soon as they bring their game to the big leagues. And even though the disappointments tend to outnumber the real deals, an occasional gem can be worth the wait.

The moment of truth has arrived for lightweight contender Darley Perez (25-0, 19 KOs), who will put his unblemished record on the line against the also-undefeated Bahodir Mamadjonov (11-0, 7 KOs) in a scheduled 10-rounder this week on "Friday Night Fights" at the Morongo Resort and Casino in Cabazon, Calif.

Only three opponents had managed to go the distance with Perez before he arrived in the U.S. in December 2010 to stop Ramesis Gil in four rounds and begin verifying his power. Since then, the 28-year-old veteran has racked up seven more wins -- most by KO and in the state of California -- to earn wider recognition. Perez, a former Olympian who had a prolific amateur career (more than 220 fights), is being moved aggressively after having turned pro late, at age 25.

"I'm not a flashy boxer. I'm very calm in the ring," Perez said. "I keep the distance and walk my opponents down."

Born and raised in the area of Barranquilla, a Colombian boxing hotbed, Perez still often trains there before completing his camp at the Santa Fe Springs Boxing Club in California. Amazingly, he has never been knocked down or even penalized in the ring, as an amateur or pro. Perez is coming off a second-round knockout win over Alain Hernandez on April 6, and previously fought on a Showtime card in September 2011, when he TKO'd Oscar Meza in the sixth round in a step-up bout.

Perez now gets the chance to turn it up yet another notch against Mamadjonov, 25, a tricky fighter with decent power and lots of ambition. Mamadjonov comes in as a late substitute for former champion-turned-trial horse Michael Katsidis, a right-hander who would have posed a great threat to Perez's own ambitions. But Mamadjonov has an agenda of his own, and his stance as a converted southpaw will complicate things for Perez.

"I'm naturally right-handed," said Mamadjonov in broken but clear English for a man who claims he didn't speak the language before arriving in the States three months ago. "I used to fight both ways. My first coach was always, 'Both hands -- right hand and left hand.' I did that for nine years. Then, when I went to boxing college, there my coaches say, 'No, you need to learn one thing -- only southpaw. When you're southpaw, you can move good, you punching good. You have power punch with both hands."

The Uzbekistan native is trained by Ken Richardson and former middleweight champ Frank Tate in Houston. Mamadjonov has barely past the two-digit professional fight mark, but he defeated notable fringe contenders Michael Clark (42-8-1, 18 KOs) and Archie Ray Marquez (12-2, 8 KOs) in two of his most recent outings.

Perez and Mamadjonov, who claim to have seen each other duking it out in the unpaid ranks a few times (which is possible given their extensive experience there), will probably clash head-on from the opening bell, trying to make a war out of the fight and to add a valuable knockout in the early stages of their careers. If Perez is as good as expected, he should handle Mamadjonov's onslaughts and come out on top to put his name in the mix at 135 pounds, where he will have his hands full at the next level of competition. Should be a tough fight, with at least eight rounds of solid action and an open ending.

In the earlier TV fight, another scheduled 10-rounder will pit Chris Avalos, 22, against Yenifel Vicente, 26, in the junior featherweight division.

Avalos (19-2, 15 KOs), sandwiched a three-fight winning streak (including a points victory against unbeaten Khabir Suleymanov) between losing his undefeated status to Christopher Martin two years ago and, most recently, dropping a split decision to unbeaten former Olympian Jhonatan Romero in December. But Avalos' solid boxing skills and the guidance of former light heavyweight champion Eddie Mustapha Muhammad could help set him back on track.

He'll first have to get past Vicente (23-0-2, 15 KOs), a Dominican Republic native who has fought only twice outside his island nation (in Aruba and Nicaragua) and against a pool of opponents who are mostly unrecognizable and nursing records below .500. If Avalos steps up his defensive game and brings the heat as he did in his failed bid against Romero, he'll be on his way toward turning his young career around.