October, 15, 2013
10/15/13
6:37
PM ET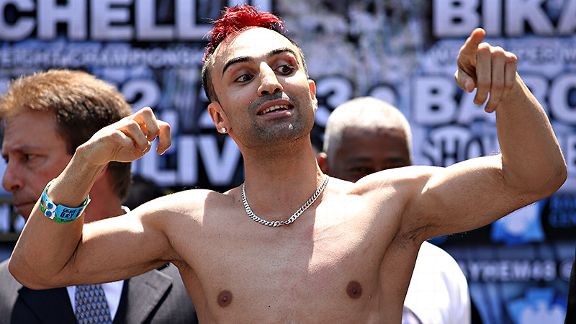 Nick Laham/Getty ImagesPaul Malignaggi could get another title opportunity ... if he defeat Zab Judah on Dec. 7.
Floyd Mayweather Jr. has emerged as the face of boxing this year. His Sept. 14 bout against Canelo Alvarez vaulted him to another level of awareness in the minds of folks outside the hardcore fight crowd, including casual viewers of boxing. After last month's win, he was booked on "The Colbert Report," and even MSNBC, if you need proof that "Money" has transcended the narrow channel of boxing stardom to something a bit beyond that.
Paul Malignaggi and Zab Judah -- talented pugilists who have toiled as professionals since 1996 and 2001, respectively -- face off, in a battle of Brooklyn, at Barclays Center, on Dec. 7.
No title will be at stake, but "bragging rights" will be on the line, as Barclays (and Nets) CEO Brett Yormark noted during Tuesday's news conference to hype the Golden Boy promoted clash, which will run on Showtime. And maybe more than bragging rights will be at stake.
The bout will take place at 147 pounds, which is Mayweather's territory. Do not be surprised, boxing fans, if the winner of this bout gets kicked up a notch higher in the Floyd-stakes, that short list of boxers who could be Floyd's opponent in the near future (Floyd has had two fights in his six-fight deal with Showtime, and is booked to fight next May, and September).
Judah said he'd be keen to tangle again with Mayweather. They battled in 2006, and fought some tight rounds before the bout dissolved in disarray (Mayweather won a unanimous decision after 12 rounds, but the flow was interrupted when a fracas, involving both corners, broke out in round ten).
"That sounds great, where the check at?," Judah said when I asked him about that prospect. "I'd like some of that Mayweather money. They call him 'Money May,' check it out, let's work," he said.
As for Malignaggi, he's proven himself to be one of the best self-managers in the game. He has the incredible ability to mix severe candor -- when he excoriated the boxing press, or portions of it, at Tuesday's news conference for being "fanboys" instead of real-deal journalists -- and activist trash-talking (a couple times, he publicly chided promoter Golden Boy for low-ball monetary offers), yet he retains a seat as a Showtime analyst and secures himself high-profile bouts. I have zero doubt that he'd love to finish out his professional run with a clash against Mayweather, the desired IRA bout for practically every world-class boxer from 140 to 160 pounds.
Showtime executive Stephen Espinoza agreed that this bout could in fact be something of a Mayweather eliminator.
"If the winner gets some solid wins, why not?" he told me.
September, 12, 2013
9/12/13
10:07
AM ET
By
Joseph Kilduff
| ESPN Stats & Information

Floyd Mayweather versus Canelo Alvarez on Saturday night at the MGM Grand in Las Vegas might be the super-fight, but it is not the only fight of interest on the card. On the undercard, the undefeated unified junior welterweight (140 pounds) champion Danny Garcia (26-0-0) will defend his titles against knockout artist Lucas Matthysse (34-2-0, 1 NC). Here are the numbers you need to know about Saturday's fight.

(32) Fights Matthysse has won by knockout. This includes knockout victories in his most recent six fights, and his 89 percent knockout rate exceeds that of Garcia, who has won by knockout 16 times in 26 fights (62 percent).

(1) Common opponents of Garcia and Matthysse. Zab Judah won a controversial split decision against Matthysse three years ago and lost by unanimous decision to Garcia in April of this year.

(19) Jabs Garcia has thrown per round, on average, in his last six fights. According to CompuBox, Garcia has landed an average of three jabs per round in his last six fights. Matthysse has thrown an average of 17 jabs per round and landed an average of two.

(73) Percentage Matthysse's punches that are power punches. According to CompuBox, this percentage is fifth-highest among qualified boxers, and his 17 power punches landed per round ranks seventh.

(28) Percentage of power punches Garcia's opponents land. According to CompuBox, this is the eight-lowest among qualified fighters.

(60) Average number of punches thrown per round among junior welterweights. According to CompuBox, the average punches landed per round in the junior welterweight division is 18. Garcia has thrown an average of 54 punches per round in his most recent six fights and has connected on an average of 17 of them. Matthysse has thrown and average of 63 punches per round and has connected on an average 19 in his last seven fights. Of the combined 36 punches landed per round by Garcia and Matthysse, 31 (86 percent) are power punches.

(5) Fights Danny Garcia has fought at the MGM Grand in Las Vegas. Matthysse has never fought at the MGM Grand; in fact, only eight of his fights --including both of his losses -- have been held in the United States. All but one of Garcia's fights has taken place in the United States.

(6) Streak of fights for Garcia against current or former world titleholders.

Top-Ranked junior welterweight boxers according to The RING:
Champion: Danny Garcia
1. Lucas Matthysse
2. Amir Khan *
3. Mike Alvarado
4. Lamont Peterson **
5. Zab Judah *

* Lost to Danny Garcia
** Lost to Lucas Matthysse

-- Statistical data provided by CompuBox
September, 11, 2013
9/11/13
5:31
PM ET
By
Chris Lees
| ESPN Stats & Information
April 27, 2013, versus Zab Judah
--Garcia once again proved himself as the top 140-pound fighter on the planet with a unanimous decision victory over former two-division titleholder Judah. Garcia, who had a 189-77 edge in power punches, dropped Judah with right-hand counter in Round 8. Judah came on strong in the later rounds, but Garcia weathered the storm in making his third title defense.

October 20, 2012, versus Erik Morales II
--After his dismantling of Amir Khan, Garcia took on four-division champion and Mexican icon Morales in a rematch of their meeting in March 2012. In their first meeting, Garcia out-pointed Morales to claim a vacant title. Garcia stepped up his game in the rematch, ending the fight in the fourth round with a counter left hook which sent Morales to the canvas. Morales' corner had seen enough and stopped the fight.

July 14, 2012, versus Amir Khan
--Everything was looking good for Khan through two rounds. He out-landed Garcia 56-18 in total punches. Then, he ran into a counter left hook toward the end of the third round. Khan survived the round, but Garcia pounced on him in the fourth, dropping the Brit two more times before referee Kenny Bayless stopped the fight. Garcia unified the WBC and WBA titles and ascended to the top of the 140-pound rankings.

-- Statistical data provided by CompuBox
September, 11, 2013
9/11/13
10:51
AM ET
By
Chris Lees
| ESPN Stats & Information
May 18, 2013, versus Lamont Peterson
In what was his most impressive performance as a professional, Lucas Matthysse dismantled IBF 140-pound titlist Lamont Peterson in a nontitle fight with a third-round TKO. Peterson, who was coming off victories over Amir Khan and Kendall Holt, was dropped three times before referee Steve Smoger called a halt at the 2:14 mark. Matthysse improved his impressive KO percentage to 87 percent, which is higher than any of the current titleholders in the junior welterweight division, including Danny Garcia.

June 25, 2011, versus Devon Alexander
Seven months after his controversial loss to Zab Judah, Matthysse faced former 140-pound titleholder Devon Alexander on his home turf just outside St. Louis. Despite outlanding Alexander in total punches (139-116) and scoring the first-ever knockdown of Alexander in the fourth round, Matthysse was on the wrong end of a split decision. Both Larry Merchant and Harold Lederman, who were ringside, scored the fight for Matthysse.

Nov. 6, 2010, versus Zab Judah
Matthysse took on former two-division champion Zab Judah in a title eliminator. In a close battle, Judah eked out a split-decision victory and went to capture the IBF 140-pound title in his next fight. Matthysse impressed many as he stalked Judah all night, eventually knocking him down in the 10th round. The "Machine" was a plus-15 in punches landed and had a sizeable edge in power punches (147-63).

-- Statistical data provided by CompuBox
May, 9, 2013
5/09/13
1:06
PM ET
There's a pretty strong possibility you've never heard of Cleotis "Mookie" Pendarvis. And even if you have, there's an equally strong likelihood that you've never seen him fight. But one seasoned observer thinks that Pendarvis, who makes his television debut in Friday's "ShoBox" main event against undefeated Dierry Jean, can go all the way: Shane Mosley.
"He just keeps telling me to keep working like a champ," said Pendarvis to ESPN.com during a phone conversation from Big Bear, Calif., where he was in training for the Jean fight. "He speaks to me about my vision and hand speed and power. He truly believes I will be world champion. He told me straight out that he's passing the torch."
"

I used to fight a lot when I was little because I had to. I had no choice growing up. Most of my family is from the streets, so it was all around me.

"

-- Cleotis Pendarvis on growing up in South Central Los Angeles.
Pendarvis, a junior welterweight who with a victory over Jean would become the No. 1 contender for the belt held by Lamont Peterson, first met Mosley when helping the future Hall of Famer prepare for his 2008 bout against Zab Judah. An encounter between Judah and his shower door put paid to that matchup, but, recounts Pendarvis, "Although that fight never happened, I was up there with him for almost two months."
Recently, Pendarvis (17-3-1, 6 KOs) encountered Mosley while both men were out running. The end result of the chance meeting was that Mosley and Pendarvis sparred with each other in camp in Big Bear -- quality work for a young man about to make his first appearance on TV.
"It's been real good work," Pendarvis said. "Shane is Shane. He still can fight. He's still a crafty veteran, he's still got pop, he's still fast. He's going down in the game as one of the best."
Jean may be portrayed as the favorite in their contest, not least due to his undefeated record, but, notes Showtime's Steve Farhood, "Dierry Jean is undefeated but untested at the highest level. Pendarvis has three losses but has more impressive wins than Jean does."
Outside of an early stoppage defeat, Pendarvis' losses, too, have been close and against solid opposition -- by split decision to veteran Terrance Cauthen in 2010 and by majority decision to Maurico Herrera, who went on to beat Ruslan Provodnikov and give Mike Alvarado a tough test.
Pendarvis admits that he feels disrespected by what he sees as a condescending tone coming from Jean and his camp, but if he has to struggle to be taken seriously, well, that's OK, he says. His whole life has been a struggle.
"I grew up in Los Angeles, Calif. -- South Central," he said. "There's a lot of beasts out there, nothing but Bloods, drugs, pimps and all kinds of things to steer a young man away from becoming someone. I used to fight a lot when I was little because I had to. I had no choice growing up. Most of my family is from the streets, so it was all around me."
As a child, he was plucked from his mother and placed into foster care -- a decision with which he did not agree and that continues to grate on him.
"I had to deal with losing contact with my family, having my mom taken away from me at a young age," he said. "It was rough. My mom wasn't a bad lady; she was really a good mom. It's just that she made some mistakes, and it was unfortunate that some people really hated on my mom and they didn't want us to be happy. It was my family that hated on my mom. I have to be honest, a lot of my heartache and pain came from those closest to me. They said that they loved me, and they betrayed me. So I went out into the world and just got caught up sometimes."
Eventually, he channeled his aggression into boxing. Although he was a promising amateur, his professional career took a while to ignite, not least because he did not have much in the way of promotion.
Over the last two years, however, a supportive team has coalesced around him in the form of manager Warren Wilkerson and Herb Hudson, owner of the L.A. staple Roscoe's House of Chicken and Waffles and Pitbull Energy Drink. Hudson has placed Pendarvis at the center of his new Pitbull Boxing Promotions, which takes its bow with Friday's contest and is headed by Rachel Charles, former publicist for Goossen Tutor, Star Boxing and Diane Vara.
Pendarvis reunited with his mother, but tragedy, it seems, is rarely far from his life. She is paralyzed following an automobile accident in 2010. And his little brother is gone, shot dead at age 22 in 2009, shortly before Pendarvis somehow had to focus on fighting Herrera.
Win or lose, though, his tone is charmingly and relentlessly philosophical and upbeat.
"We all have struggles within us. We all have to go through things that are part of life," he said. "Life is not a journey, it's a not a rat race, it's not a marathon, it's not a sprint. It's a journey until it's over. So I just want to give a shout-out to the people who really believe and who really understand. To the kids out there who think their dream has been killed or it's over: It's not. Just keep on waking up and keep on believing in yourself. Whatever happens, you've got to stay strong."
March, 13, 2013
3/13/13
10:48
AM ET
By
Carlos Narvaez Rosario
| Special to ESPNdeportes.com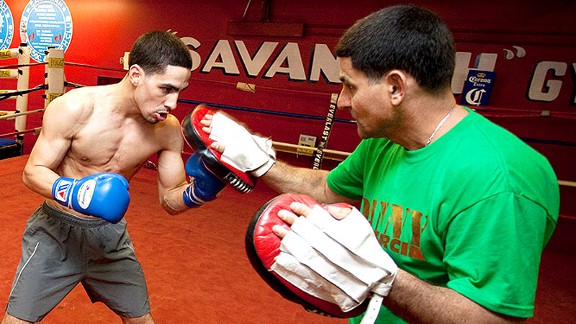 Jon Elits/Hoganphotos/Golden Boy PromotionsUnbeaten Danny Garcia is ready to begin training for his April 27 fight against Zab Judah in Brooklyn.
A month after an injury forced him to postpone his bout against former champion Zab Judah, unbeaten junior welterweight titlist Danny "Swift" Garcia said he's fully recovered and ahead of schedule for the April 27 fight at the Barclays Center in Brooklyn, N.Y.
Garcia had planned to defend his crown on February 9 at the same venue, but a broken rib suffered during a sparring session forced him to stop training.
"Now I feel 100 percent and I still have seven weeks to improve my conditioning," Garcia said to ESPNdepotes.com.
Garcia (25-0, 16 KO's), is coming off a spectacular year with two victories against veteran Erik Morales and another against former 140-pound champion Amir Khan. His last two -- the rematch with Morales and his clash with Khan -- were TKO victories in the fourth round.
"The injury affected me for three weeks. It also affected me a little bit mentally," Garcia said. "I didn't feel the injury until I finished sparring. Hey, I broke a rib. I could not believe it. But this is part of the sport. An injury can occur to anyone, regardless of the sport."
Garcia, who is managed by Al Haymon and promoted by Golden Boy, said that he will resume training this week.
"I'll start this week with sparring sessions. I feel very good, I'm ready," Garcia said. "As I said, I still have seven weeks [to the fight] and that will be enough to be in [good physical] condition. I have a great team that is helping me with that."
Garcia, 23, became a sensation in professional boxing when he won a vacant junior welterweight title against Morales -- a former champion in four different weight classes -- in March 2012. He added another junior welterweight belt when he knocked out Khan in July.
Judah (42-7, 29 KOs), 35, a former junior welterweight and welterweight champion, is coming off a win by TKO in the ninth round over Vernon Paris last March.
July, 10, 2012
7/10/12
11:02
PM ET
By
Brian Campbell
| ESPN.com

There hasn't been much separating Amir Khan over the past few years from the pound-for-pound adulations that his outstanding talent has merited.

With a rare exception: the element of doubt.

From the self-doubt following a shocking first-round knockout loss to Breidis Prescott in 2008 to the increased critical skepticism of his chin in the wake of a hazardous victory over Marcos Maidana two years later, the exact appraisal of Khan's stock has been in flux for years.

Down it went again in the wake of a controversial split-decision loss to Lamont Peterson in November, igniting mainstream doubt whether Khan, 25, will ever be truly ready to make the leap.

As Khan (26-2, 18 KOs) readies for Saturday's fight against unbeaten junior welterweight titlist Danny Garcia (23-0, 14 KOs) in Las Vegas, that familiar uncertainty follows him.

There's little question that Khan is the favorite to dispatch the 24-year-old Garcia, a game yet still somewhat green fighter. But it could be argued that the pressure has never been higher, because a dominant victory would offer Khan a unique opportunity at a time when the landscape surrounding him appears more ripe for the taking than ever.

With nearly every marketable fighter outside of Canelo Alvarez in boxing's "glamour" divisions (140 to 154 pounds) in a state of damage control following a defeat, controversial victory, jail term or drug suspension, the door is wide open for Khan to crack the P4P top 10 and likely place himself in line for a meeting with boxing royalty (e.g., Floyd Mayweather Jr.) within the next 12 months.

The Peterson loss was dismally ill-timed in light of Khan's projected career arc, and was equally undeserved given the fight's gratuitous point deductions and questionable scorecards (not to mention, Peterson's failed drug test). But what the loss did was provide Khan the invaluable opportunity to see his shortcomings so brightly illuminated.

The hard-charging Peterson consistently pushed Khan outside of his comfort zones, exposing vulnerabilities to aggressive, volume punching -- particularly to the body -- and an almost allergic (and at times incompetent) reaction when forced to fight on the inside.

Khan's fastball is well-regarded as elite, fueling the flashy combinations that combine with genetic advantages in height and reach to make for a dangerous package. But a closer look reveals an inability to harness that breathtaking sparkle -- Khan is probably the most sensational opening-round fighter in the sport -- and iron out a level of consistency for a full 12 rounds.

The fact that Khan was able to ward off Peterson with pockets of inspired counterattacks late in the bout -- sandwiched around alternating rounds of inactivity -- showed maturity and an ability to adapt on the fly under pressure.

Khan also tempered questions about his ability to take a punch by standing and trading with Peterson for sustained periods. Although it would be disingenuous to imply that a good chin is a skill that can be acquired, an increase in self-confidence and maturity never hurts (see: Wladimir Klitschko).

Had Khan won the Peterson bout, he would have been in line for a good deal of praise for gutting out a victory in the face of an unexpectedly dire challenge. The fact that he received nothing but criticism shows the tenuous nature of his reputation, specifically in the eyes of American fans who often view him as pompous and overrated, the same way they once saw fellow Brits Lennox Lewis and Naseem Hamed.

When Khan commits to attacking the body -- a strategy that produced knockdowns against Maidana and Zab Judah -- he is at his most dangerous. But until he balances the same athleticism that allows him to shine offensively and puts it to use on the defensive end, Khan will be considered a vulnerable, incomplete fighter.

Khan has shown a tendency to be a front-runner, able to put fighters away with an arsenal of lethal methods when things are going his way, only to panic when the chips are down. But even that assessment doesn't get it entirely right.

Those who criticized Khan for getting rocked by Maidana failed to properly credit him for the way he stood his ground, forcing his opponent back on his heels by the end of the final round.

Where Khan's loss to Prescott forced him to rededicate himself and seek the full-time services of trainer Freddie Roach, the Maidana victory similarly helped him cross an internal threshold of self-belief. Considering those trends, it wouldn't be foolish to believe Khan can reap similar stores of career-altering wisdom from the Peterson fight.

It's very unlikely that Khan will have to endure the same level of impassioned blitzkrieg from Garcia that Peterson unleashed in front of his hometown crowd. But if there was ever a time for Khan to fulfill the promise that began with him winning silver at the 2004 Athens Olympics, this is it.

His path to validation begins Saturday, when we'll begin to discover whether or not Khan was ever truly fit to be king.