February, 22, 2014
Feb 22
8:26
PM ET
By
Brian Campbell
| ESPN.com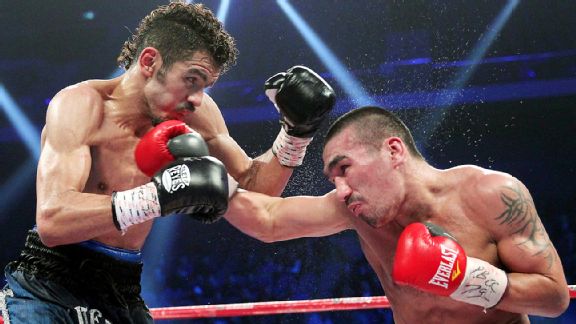 Chris Farina/Top RankMiguel Vazquez, left, defended his lightweight belt against Denis Shafikov in Macau.
You can say what you will about Miguel Vazquez's fighting style, but make sure you remember to include how difficult it is to beat.
Vazquez, the long-armed, 5-foot-10 lightweight titlist from Mexico, employed a typical amount of frustrating tools within his arsenal in Saturday's title defense against Denis Shafikov.
But in between the running and holding that has long frustrated the majority of fight fans, Vazquez (34-3, 13 KOs) did what he normally does -- land more punches than his opponent thanks to his awkward style while taking away their biggest offensive weapon by controlling the pace.
Vazquez made the sixth defense of his 135-pound title by scoring a unanimous decision (115-113, 116-112, 119-109) over Shafikov (33-1-1, 18 KOs), a southpaw from Russia, at the Venetian Resort's Cotai Arena in Macau, China.
The victory brought an end to a 14-month layoff for Vazquez, 27, who took all of 2013 off after pulling out of a scheduled title unification bout with Ricky Burns of Scotland. It also, like most of his victories, wasn't the most pleasing to the eyes -- to both the viewers at home and the fighters, who were each cut thanks to a series of accidental head-butts.
But it's hard to argue with the success of Vazquez, who has remained on top since winning an interim title from Ji-Hoon Kim in August 2010 and has endured all three losses against top competition. Vazquez, who has never been stopped, lost to Timothy Bradley Jr. in 2007 and twice to Canelo Alvarez, including once at welterweight in 2008 and once in Vazquez's pro debut by split decision.
Vazquez controlled the early rounds Saturday by landing punches while circling away from Shafikov, turning the bout into a sparring session. But action picked up in Round 4, when a head-butt opened up a gash above Vazquez's left eye, giving room for Shafikov to land heavy shots on the inside.
His success, however, was short-lived thanks to a key adjustment from Vazquez, who used his long reach to land a series of uppercuts from distance each time Shafikov got low and prepared to rush forward. From there, the bout devolved into a clinchfest initiated by Vazquez, who consistently beat Shafikov to the punch by darting inside, landing combinations and tying him up.
Blood began to flow from the right eye of Shafikov in Round 7, leading to some of Vazquez's best moments offensively with a series of uppercuts and sidearm punches on the inside.
Vazquez might not be as exciting or as naturally talented as some of the biggest names at or around 135 pounds, but it's hard to argue against him being in possession of the division's best résumé. While getting past him will be no easy task for any of his fellow titlists, Vazquez remains a necessary hurdle to clear for any lightweight hoping to declare himself the best in the world.
Zou Shiming scores first knockout of career
Two-time Olympic gold medalist Zou Shiming of China remained unbeaten and scored the first stoppage victory of his career on Saturday.
[+] Enlarge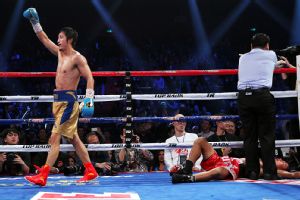 Chris Farina/Top RankZou Shiming scored another impressive win, stopping Yokthong Kokietgym in seven rounds.
Zou (4-0, 1 KO), 32, scored three knockdowns en route to a 7th-round, TKO win over Thailand's Yokthong Kokietgym while headlining another main event in Macau.
While it's no question Zou's fame has progressed faster than his in-ring ability, the victory over Kokietgym (15-4, 11 KOs) was another positive step forward. Zou was as flashy and offensive-minded as ever, but he also sat down well on his punches and eventually hurt his determined, yet overmatched, opponent.
Zou caught Kokietgym with a short right hand that floored him in Round 7 before going on to score two more clean, and particularly destructive, knockdowns on hard and flush shots before the fight was stopped.
The questions regarding Zou's chin and punching power likely won't go away any time soon, meaning it might be tough to hail him as a future title threat until you see him in that spot with your own eyes. But he's certainly an attraction, competing in a division with a number of equally exciting and fan-friendly names.
July, 16, 2013
7/16/13
4:49
PM ET
By
Rodrigo Azurmendi
| Special to ESPNDeportes.com

LOS ANGELES -- Apparently the breakdown in the working relationship between Julio Cesar Chavez Jr. and Freddie Roach has been a one-sided issue. Roach recently spoke to ESPNDeportes.com about the subject, providing further explanation about the lack of communication between the trainer and his former pupil.

"He called me and asked if I wanted to work with him, and I said, 'I would love to do that,'" Roach said. "But after that, I never heard from him again."

Roach, who is currently working with two-time Olympic gold medalist Zou Shiming for his July 27 fight in Macau, said that he wasn't totally sure about his current status with Chavez. He did, however, all but rule out the possibility of working with the 27-year-old former middleweight titlist for his comeback fight against Brian Vera on Sept. 7 in Los Angeles.

"Sometimes I read the reports on the Internet about us being cool, and others that say that I'm out," Roach said. "I really have no idea about what's going on; he is not being consistent. I wish him the best because he is a great kid. I don't think that I will train him for the Vera fight, because it's such short notice and Julio is not here."

Despite their differences, Roach said he's open to a reunion with Chavez. "I would work with him again, sure," Roach said. "Our first four fights together were really good -- he never said no, he worked really hard and looked outstanding. However, suddenly, he wanted to change everything and be the man in charge, and he fought horribly."

Roach, a 2012 International Boxing Hall of Fame inductee and five-time trainer of the year, offered a succinct take on Chavez's performance in his most recent fight, last September's decision loss to Argentina's Sergio Martinez.

"He almost won by knockout in the end, but it would have been pure luck," Roach said. "You really don't want to fight based on luck; Julio could have easily won that fight if he had trained properly."

Roach also made sure to set the record straight about who would be in charge if he and Chavez work together again.

"If that happens," Roach said, "the very first day he is a no-show, I will go home."
April, 9, 2013
4/09/13
8:03
PM ET
Freddie Roach -- who was in the corner of Top Rank prospect Zou Shiming, the two-time gold medalist from China, last Saturday in Macau -- chatted with NYFightblog about the faceoff between Nonito Donaire and Guillermo Rigondeaux, which unfolds Saturday night at Radio City Music Hall.

Roach trained the Cuban-born Rigo for a couple fights in 2010, but that boxer has a tendency to switch support personnel more than most people change toothbrushes.

Who does Roach see getting his hand raised in the showdown between the two super-bantam aces?

"I like both guys," he said. "It's a tossup, 50-50. Whoever lands the most clean punches. ... It'll be a thinking-man's fight, with both countering. I see someone being knocked down, I'm not sure which one. I'm down the middle that one."
April, 6, 2013
4/06/13
2:31
PM ET
By
Brian Campbell
| ESPN.com

In what amounted to an impressive and entertaining night of boxing Saturday in Macau, here are five things we learned:

1. Zou is worthy of hype as exciting attraction
If basing the pro debut of two-time Chinese Olympic gold medalist Zou Shiming as a success solely upon the criteria of winning in entertaining fashion and drawing a massive crowd, consider his four-round flyweight bout a victory.

Zou, the first Chinese fighter to win an Olympic medal, proved a scintillating showman as he played to the adoring crowd in and out of the ring at the CotaiArena at The Venetian Macao Resort Hotel. And considering how popular the 31-year-old fighter, who medaled in three separate Olympic games, is within his native country of nearly 1.4 billion people, there were plenty of estimates (including ring announcer Michael Buffer's ambitious notion of 300 million viewers) that Zou's first professional fight could end up being the most-watched boxing match in history.

Despite that kind of pressure on his shoulders, Zou failed to disappoint against limited Eleazar Valenzuela (2-2-1, 1 KO), 18, who never stopped coming forward. Zou's speed and deceptive style -- adapted to the pro game by trainer Freddie Roach -- proved way too much to handle as he cruised to scores of 40-36 on all three scorecards.

After firing up the home crowd by extending his arms outward and pumping his fists during his ring walk into the arena, Zou unveiled his marketable fighting style by repeatedly dropping his hands in the opening round and countering with quick, flush jabs and looping counter right hands that routinely slapped Valenzuela on the side of the head.

Dressed in gold trunks, Zou showed tremendous footwork when Valenzuela amped up his pressure in the second round by sidestepping his opponent's advances and tagging him with counter hooks at unpredictable angles. In Round 3, Zou stepped on the gas pedal and made a run at stopping his opponent by darting in and out to land a series of clean shots to the head of Valenzuela.

Promoter Top Rank will likely have little trouble turning Zou into an attraction thanks to his popularity and flashy style. And with Zou turning pro at such a late age, there is already talk of potentially fast-tracking him to a title shot at the end of his first professional year.

2. But don't go fitting Zou for a title belt just yet
Decorated amateur fighters typically make their pro debuts in showcase bouts to announce their arrival. By headlining a loaded card ahead of two compelling world title bouts, Zou's victory over Valenzuela was all of that and then some.

But as little as one can take from what amounted to a flashy exhibition of artistry against a hand-picked opponent, Zou created just as many questions regarding his long-term potential as he provided answers.

He often toyed with Valenzuela by switching stances and using a varied offensive style borrowed from exciting fighters "Prince" Naseem Hamed, Sergio Martinez and Manny Pacquiao -- with the latter being of little surprise considering the two fighters now share the same trainer. But fighting so regularly with your guard down can be a dangerous proposition when turning pro at 31 with little experience fighting without headgear.

Despite showing what appeared to be above-average speed and reflexes, Zou was still able to be found by Valenzuela's punches at various moments, creating obvious questions of how he will react against a dangerous puncher. It's a question that probably won't be answered until it absolutely has to -- if at all -- as Top Rank can be selective in the matchmaking of Zou, even up to and beyond the point of challenging for a flyweight title.

Zou, whose defense was sloppy at times, also routinely slapped Valenzuela with well-timed yet grazing hooks that did little to slow his opponent's advance. When Zou did land the harder, direct shots that appeared to hurt Valenzuela in Round 3, he was unable to come back over the top with anything powerful enough to take his opponent out.

Although it's hard to be so critical of such a short audition at the pro level, it's equally hard to imagine Zou becoming a dominant force on the highest level, thus making it interesting to see just how quickly and aggressively he will be matched within his relatively short window in the next 12-18 months.

If Zou, however, is being used as nothing more than a key to open the door to China's potentially profitable marketplace for American promoters, none of that might end up mattering.

3. Martinez showed championship mettle with redemptive victory
There's just something about the exciting, relentless style of Roman "Rocky" Martinez that produces close fights on the scorecards.

But after winning his super featherweight title by split decision over Miguel Beltran Jr. in a fight of the year candidate from November 2012, Martinez returned with a comparatively underwhelming performance in his first title defense in January. Martinez retained his belt with a contentious split draw against Juan Carlos Burgos, a bout in which most felt Burgos had done enough to win.

So it was clear Martinez had something to prove in Saturday's bout with unbeaten prospect Diego Magdaleno. And despite another close call on the scorecards, Martinez (27-1-2, 16 KOs) rebounded with a statement effort in a split-decision win. Judges scored the bout 115-112 and 114-113 for Martinez and 116-111 for Magdaleno. ESPN.com also had it 114-113 for Martinez.

Although Martinez had issues at times with the speed and craftiness of southpaw Magdaleno (23-1, 9 KOs), it was the adjustments he made at key junctures that won him the fight. Martinez not only peaked in the championship rounds but answered each of Magdaleno's attempts at gaining control with his best rounds of the fight by increasing his stalking pressure and landing heavy right hands.

4. End of the road for Viloria as a topflight action star?
Racking up a record of 13-1 since 2007 with a string of memorable action bouts, Brian Viloria proved to be one of boxing's most exciting fighters and toughest champions in the lower weight classes.

But his run at the very highest end of the sport might have come to an end in Saturday's split-decision loss to a determined Juan Francisco Estrada.

Despite a questionable third scorecard of 115-113 in favor of Viloria, it was Estrada (23-2, 17 KOs), 22, who surged over the second half of the fight to earn scores of 116-111 and 117-111 and capture a pair of flyweight titles. ESPN.com also had it 117-111 for Estrada.

Viloria (32-4, 19 KOs), 32, never stopped coming forward and was game until the final bell, but the wars might have added up over time as the younger fighter showed better body language and piled up a series of rounds by landing the harder, more accurate shots despite suffering a cut midway through the fight.

5. Macau takes positive step forward as boxing destination
With China having been an untapped market for American boxing, Top Rank's move into the country appeared to be a successful one thanks to the much-anticipated debut of Zou in front of his home fans and an action-packed undercard of title fights, upsets and toe-to-toe action.

With the long-term goal of turning places such as Macau and possibly Singapore -- where casino profits dwarf those of Las Vegas -- into destination cities for major American boxing cards, the immediate fallout of how Saturday's card affects the future will be interesting, especially if Top Rank can lure a fifth fight between Pacquiao and rival Juan Manuel Marquez to a major Asian port of call.

Figuring out the best time to televise a major fight live will always be a juggling act for any bout halfway across the globe, but Saturday's card in Macau was a successful opening statement.
March, 31, 2013
3/31/13
2:52
PM ET

LAS VEGAS -- It was an eventful night of boxing on two continents on Saturday, from an impressive knockout by Gennady Golovkin in Monaco to a war at the Mandalay Bay. Here are five thoughts on what we saw and learned:

1. Despite itself, boxing continues to amaze
Far too often, boxing coverage and chatter dwells on the negative: fights that don't get made or don't live up to the hype; judging decisions that seem improbable at best or larcenous at worst; promoters not talking to networks and vice versa; ear bitings and Fan Man; boxers getting arrested, publicly burying their faces into very private parts or otherwise acting like buffoons.

And yet, when boxing gets it right, all that even the most cynical observer can do is stand back, applaud and acknowledge that professional prizefighters are athletes like no other. Think of the endlessly cycled "SportsCenter" highlights when a shortstop suffers a nose bleed after a seemingly routine grounder bounces into his face; and then look at a picture of Brandon Rios and, especially, Mike Alvarado at the end of their 12-round war. Grueling doesn't begin to describe their combat. The physical conditioning of both men has to have been off the charts for them to have dished out and withstood what they did, to say nothing of their extraordinary heart and courage.

There were times during Saturday night's battle in Las Vegas when the punches were flowing with such speed and ferocity and the momentum was shifting with such whiplash rapidity, that there was no hope of keeping up and making accurate, detailed notes; there was nothing to be done except to sit slack-jawed in amazement at it all. And although the attention will rightfully be on the punishment each man meted out, there was subtlety, as well -- boxing brains as well as brawn, particularly on the part of Alvarado, whose success came not just from his right hands and left hooks but from his feet and his ability to move laterally, shift position and reduce his opponent's effectiveness.

It was one of those truly remarkable nights when it was a privilege to be able to sit ringside. And at the risk of returning to the extra-curricular shenanigans touched on earlier, with this war coming on the heels of Timothy Bradley Jr.-Ruslan Provodnikov, do you really think HBO is missing Adrien Broner or Bernard Hopkins right now?

2. Being respectful outside the ring doesn't preclude going to war inside it
Forget the tension in the ring in the immediate aftermath of the fight, which came when adrenaline was pumping and Rios, having had his brain rattled around in his skull for 12 rounds, was coming to terms with his first loss. Focus instead on the build-up to this contest and the mutual respect from both men. They had been to war once and were about to do so again, but in the interim they smiled, shook hands, even hugged on the weigh-in stage. At the end of the night, they both went to the same trauma center at the same hospital. What do you want to bet that, a la Arturo Gatti and Micky Ward, they at one point found themselves in adjacent beds and, in the small hours of the morning, exchanged compliments about what they had just done to each other?

3. GGG keeps rolling
Granted, nobody expected Nobuhiro Ishida to defeat Gennady Golovkin. It's doubtful many people not called Mrs. Ishida even expected him to make it an especially close contest. And Ishida himself didn't aid his own cause by eschewing his jab and reach, and choosing instead to stand in Golovkin's wheelhouse and fight.

But if there aren't official style points awarded in boxing, the way in which a boxer wins a fight still counts for a lot, and the spectacular right hand that dropped Ishida onto his back and out in the third round added to the growing Golovkin mythology. Golovkin combines the pressuring, stalking, suffocating style of a python with the sudden, vicious finishing strike of a rattlesnake. He is as much of a beast inside the ring as he is a gentleman outside of it. Once Dmitry Pirog heals from a back injury, his postponed clash with Golovkin is aching to take place. And the prospect of GGG ultimately colliding with Sergio Martinez to see who truly is the best middleweight in the world is something to savor.

4. There are few things to match British fight crowds
In the grand scheme of things, there is nothing extraordinary about either Derry Mathews or Anthony Crolla. Crolla, by way of illustration, was previously stopped by Mathews, who was in turn halted by Gavin Rees, who was swatted aside with contempt by Adrien Broner. Matthews and Crolla had 12 losses between them as they walked to the ring in the Liverpool Echo Arena in the co-main event for Tony Bellew's light heavyweight battle with Isaac Chilemba, but the British fans roared them into the ring as if Lennox Lewis were fighting the ghost of Henry Cooper.

Part of that came down to the fact Mathews is from Merseyside and Crolla from Liverpool's hated local rival, Manchester. But as anyone who will recall Ricky Hatton's magical nights in Las Vegas can verify, British fight fans display a genuine passion that few, if any, North American cities outside Montreal can match.

5. Macau awaits its turn on the stage
This week Monte Carlo, Liverpool and Las Vegas. Next week, the boxing world turns its eye to Macau for what promises to be both an entertaining card and, potentially, the first of many to come. Top Rank's Bob Arum has long talked of staging a fight in Macau, and now circumstances have conspired to make it possible. The signing of Chinese amateur standout Zou Shiming is an important key to unlocking the door. At the same time, Macau itself brings increasing riches to the table, with the territory's casinos generating more income in January this year than all of the Las Vegas strip's properties average in six months.

Over dinner with media members on Friday night, Arum sounded confident that Manny Pacquiao's next bout -- slated for Sept. 14 -- would be at the same venue as next Saturday's card, unless its sister property in Singapore proves able to wrest it away. None of which is to say that the MGM Grand will go without a fight. Nor does it mean that Sin City's position as the undisputed fight capital of the world is under any imminent threat just yet; a number of factors, including geography and TV money, will see to that. And plenty of other rivals -- Atlantic City, Cowboys Stadium in Dallas, even Madison Square Garden -- have come and gone or continue to fall short of what the MGM Grand and Mandalay Bay offer. But if the trial balloon floats as planned next week, then with the right boxers and the right cards, catering to the right demographics and fighting for the right money, Macau may place itself in contention as a major stop on the global boxing circuit.