October, 31, 2013
Oct 31
5:45
PM ET
By
Brian Campbell
| ESPN.com
Any talk of Curtis Stevens upsetting unbeaten middleweight titlist Gennady Golovkin this weekend has been met with a predictable level of opposition.
Sure, most are willing to give the heavy-hitting Brooklyn, N.Y., native at least a puncher's chance when he steps into the ring Saturday at New York's Madison Square Garden Theater (HBO, 10 p.m. ET/PT). But outside of that, the responses have been typical: Stevens doesn't have the skills to win a decision against Golovkin. He doesn't have the chin to withstand his power. And, wait a second, isn't Stevens the same guy who lost -- badly -- to Jesse Brinkley a few years back?
At the first two points, Stevens just shakes his head. In fact, any talk of Golovkin's supposed superhuman powers draws a villainous laugh from Stevens, who believes HBO has sold the general public "a facade" of Golovkin's true talent, thanks to careful matchmaking.
But bring up the Brinkley fight with Stevens, and you've hit a serious nerve. Stevens, once considered a top prospect at 168 pounds, was knocked down twice by the former "Contender" participant en route to a wide decision loss in their 2010 title eliminator.
The defeat was devastating for Stevens, a heavy favorite who turned in an admittedly dreadful performance. But, he says, it's also far behind him. After the loss, he was out of the ring for two years due to a contractual dispute. But he has recently undergone a rebirth at middleweight, recording four straight wins, albeit against limited competition, including three by first-round knockout.
The problem for Stevens (25-3, 18 KOs) is that most boxing observers haven't forgotten the Brinkley fight and, in a fickle way, likely will hold it against him until he produces a big enough win to erase the memory.
[+] Enlarge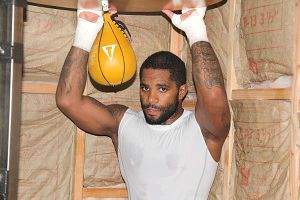 Courtesy Art NatalinoCurtis Stevens can't understand why skeptics still point to his 2010 loss to Jesse Brinkley: "Is that the only thing y'all have to talk about?"
"That loss has already been erased, but the thing about it is, I don't understand people," Stevens told ESPN.com. "I already told them that I was in there looking for the knockout. It was my wrong game plan. So once I can admit to myself what I did wrong, I don't understand how anyone else can't say, 'He admits he did wrong. Let's move on from it.'
"I believe they're so scared to want me to excel, to achieve, to be great and meet the potential they know I have, they still want to downgrade me from the Brinkley fight. That was three years ago! And I had four fights after that. How you still living on the Brinkley fight? I know I lost. I said I lost. I said it was a learning lesson. So why y'all still just ... is that the only thing y'all have to talk about?"
Stevens, 28, credits his time away from the ring for improving his focus and drive, especially after he was forced to sit and watch fighters he came up with through the amateur ranks suddenly winning world titles.
"I believe I became a little more humble," Stevens said. "I was always mature, but I just humbled myself a little more. I had a son, and suddenly it wasn't for me anymore. It was for him, so he has a great life and has everything he wants in life when he grows up."
It's clear Stevens' punching power is what gives him the best shot at knocking Golovkin (27-0, 24 KOs) off his lofty perch as boxing's next big thing. But just as many have questioned the recent string of opponents Stevens has torn through, he believes Golovkin's competition deserves the same level of scrutiny.
"He's not all what they're making him out to be," Stevens said. "He's knocking out 154-pounders. Then they're saying he has the highest KO ratio. OK. Knockouts is what I did to Saul Roman. Knockouts is what I did to [Elvin] Ayala. Knockouts aren't the corner throwing in the towel because they seen too much damn blood."
Stevens says most of Golovkin's opponents, including Matthew Macklin in June, already had lost by the time they enter the ring to face him. He guarantees that won't be the case for him. In fact, during the months leading up to their fight being made, Stevens was the only fighter who publicly called out GGG.
"Macklin was scared s---less going into that fight," Stevens said of Golovkin's third-round KO win, on a one-punch body blow. "That's the thing I think people are always misunderstanding with me. I'm not scared in this thing called boxing of someone else. You can't be scared of someone. For me, I always have super confidence. I asked for this fight. They didn't offer me the fight, I asked for it."
Just as Stevens was humbled during his initial rise up the ranks, he is confident he can help provide Golovkin with the same humility, potentially giving the former Olympic medalist his own Brinkley moment.
"I'm just letting the world know that after Nov. 2, his ass is going to be over," Stevens said. "His little reign of terror on HBO, that everyone thinks he is this or that, is going to be dead because that's what happens to fighters when you try to make them a superstar when they haven't fought no one. Then they finally get in there and fight someone and they get beaten badly. What happens to them? They come back to where they started."
Stevens has already been there and back. Saturday will mark his chance to leave his setbacks permanently in the past, while providing a new performance for former skeptics to think about when they hear his name.
October, 18, 2013
Oct 18
2:46
PM ET
Gennady Golovkin is smiling.
As the middleweight titleholder, he smiles a lot. Between the ropes, he is 160 pounds of intense focus and heavy-handed beatdown, but when the contest is over and -- as has been the case following every one of his 27 professional contests so far -- his hand is raised in victory, Golovkin's other side comes out.
[+] Enlarge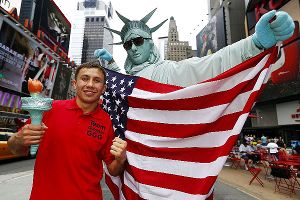 Will Hart/K2 PromotionsGennady Golovkin and his team have had plenty to be happy about since his campaign to storm the shores of U.S. boxing began in earnest in little more than a year ago.
The transition is easy for him to make, his trainer Abel Sanchez said, because, "this is a sport to him. He isn't mad at anybody."
That combination of devastating, in-ring presence and approachable, outside-the-ring demeanor has helped Golovkin rapidly evolve, in a remarkably short space of time, from a YouTube curiosity to one of the sport's rising stars. He's gone from a life of anonymity to one in which his ringside presence results in cries of "G-G-G!" and in which he can commandeer a corner of a Las Vegas hotel on a Saturday afternoon and play host to one journalist after another over the course of several hours.
Suggest to him that it must feel good to be recognized, to be appreciated for his personality as well as his boxing, to have become so popular so swiftly, and he gives a humble nod, shrugs his shoulders self-deprecatingly and then, unable to stop himself, breaks into that broad, beaming smile.
And yet, his arrival at this point has not been happenstance. It is the culmination of a plan that was set in motion years ago in Kazakhstan, when Golovkin elected to assert his authority as a result of being fractionally older than his twin brother, Max.
"From what I heard in Kazakhstan, this young man," said Sanchez, nodding toward Max, who is sitting next to his sibling, "was a better boxer growing up than Gennady. But because Gennady is the oldest ..."
"By 20 minutes," the slightly older Golovkin chimed in, with a grin.
"They would get to the finals of all these tournaments, and of course they wouldn't fight each other," Sanchez continued. "So Gennady decided that he would go on, and Max would go home and take care of their parents."
"The last seven years, I live with my family in Germany, and he lives with our parents in Kazakhstan," Gennady said.
The amateur experience that Golovkin (and his brother) gained in his homeland has proven -- literally -- fundamental to his success as a professional, Sanchez argues.
"One time, we fought in Kazakhstan, about three years ago," Sanchez said. "We knocked some guy [Nilson Julio Tapia] out in the third round. We're sitting at a luncheon the next day, and not counting Gennady, there were six ex-amateur world champions. There's no professional program in Kazakhstan, which is why he moved to Germany to pursue his professional career. But the schooling in Kazakhstan is incredible, and that's why he is who he is."
"Many different styles," Golovkin said. "Kazakhstan is very good, because it's middle. Not Europe, and not Asia. Sometimes, you go to Asia, like Philippines or China; sometimes you go to England, Germany, Russia. It's a mix all the time."
Golovkin's promoter, Tom Loeffler of K2 Promotions, asserts that although his fighter has gained headlines for his ability to render his opponents incapacitated, it's his adaptability, honed from years of amateur experience, that has enabled him to set up those knockouts.
"In his first fight on HBO, he was supposed to fight [Dmitry] Pirog, who was considered one of the stronger middleweights at that time because he had knocked out Danny Jacobs," Loeffler said. "So he went from Pirog to fighting [Grzegorz] Proksa three or four weeks before the fight [after Pirog withdrew because of injury]. Completely different fighter: Proksa's a southpaw, he moves around a lot. But we felt that because of his amateur experience, fighting so many different styles -- tall fighters, short fighters, fast fighters, whatever it is -- he's so adaptable to whoever he faces."
That fight with Proksa was surpisingly only about 13 months ago. It was Golovkin's introduction to the mainstream U.S. boxing audience, and since then, he has scored emphatic wins over Gabriel Rosado, Nobuhiro Ishida and Matthew Macklin to establish himself as a must-see fixture on the scene. It might seem like an overnight success, but Sanchez reckons it has been a long time coming.
"It was all planned," he said. "I'm not going to say we knew what would happen, but it was all planned. Last year, we sat down as a team and discussed fighting regularly, because we needed to get the ball rolling. He had enough experience that we didn't have to baby him. And he was willing to do it, that's the whole thing. He spent 10 months out of the year in camp. He has a four-year-old son and a wife at home. So if the athlete is willing to do it, it's easier for us as a promoter, a publicist and a coach to be able to do the things that we do, because he's producing. We're having a helluva ride."
On the other side of the table, Gennady Golovkin is smiling.
July, 9, 2013
Jul 9
5:13
PM ET
By
Brian Campbell
| ESPN.com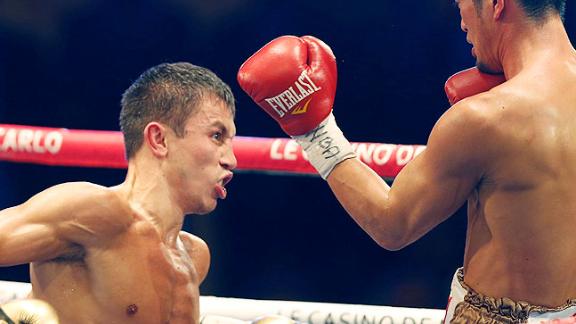 As the dog days of summer kick into low gear, we reach the midyear mark of the 2013 boxing calendar. So what have we learned from this small sample size of the sweet science? In a fun, taking-stock exercise to cure the summertime blues, this week we unveil our midyear awards for the categories of best boxer, fight, knockout and round through the year's midpoint.

Agree with our selections? Disagree? In any case, let your voice be heard and weigh in on each category in our SportsNation polls » and on Twitter.
Have you ever seen the perfect punch before in a boxing match?

I'm talking about the kind of shot so brilliantly executed in terms of mechanics and technique that it connects with a level of artistic beauty that perfectly contrasts the calamitous results left in its wake.
Basically, you know it when you see it.
A single punch that fit this description perfectly was thrown on March 30 when unbeaten slugger Gennady Golovkin traveled to Monte Carlo for a stay-busy fight with respected journeyman Nobuhiro Ishida. And by the time it connected late in the third round, the punch produced one of the most sublime and devastating one-punch knockouts that you will ever witness.
In fact, it was so impressive that it easily gets the nod as the best knockout of 2013 at the midyear point.
Golovkin, who was making the seventh defense of his middleweight title, extended his consecutive knockout streak to 13 with the victory. But this one was extra special, even when compared to the Kazakh KO King's ever-burgeoning career highlight reel.
The fight didn't carry any extra meaning, not with the 37-year-old Ishida having entered the bout with eight career defeats. But the fact the durable native of Japan had never been stopped in 35 pro fights raised the ante, especially considering the balance between the otherworldly hype Golovkin entered the fight with and the finality of what one right hand did to Ishida.
Golovkin set up the knockout shot -- the final blow in an immaculate three-punch combination -- with a level of aesthetic brilliance. After stalking forward and forcing the straight-up Ishida to backpedal toward the corner, Golovkin landed a flush jab before missing on a left uppercut attempt.
What the missed uppercut did, however, was distract Ishida and blind him to the fact a pivoting Golovkin was about to step forward and land a crushing overhand right for the ages. As Ishida stood helpless, with his hands low, Golovkin got full extension on the punch and threw him onto the mat with the force of a hurricane wind.
Not only was Ishida knocked cold by the impact of the punch, the top half of his body was catapulted under the ring ropes and nearly to the floor. Ishida's head had to be supported by a quick-responding official at ringside to prevent it from slamming back onto a table adjacent to the ring.
As far as visual devastation goes, it was about as good as it gets for a knockout punch. It wouldn't, however, be the last time a Golovkin finishing shot was in the conversation for best of the year.
Honorable mentions
Adonis Stevenson KO1 Chad Dawson:
By claiming the lineal light heavyweight title with one demolishing shot on June 8 in Montreal, 35-year-old Adonis Stevenson scored the biggest victory of his career and easily the most important knockout so far in 2013. The Haitian-born southpaw connected on a textbook 1-2 combination by slinging a right jab and coming right over the top with a missile left hand that landed flush to the right side of Dawson's head. The veteran champion reached his feet, but he was unable to show referee Michael Griffin enough signs that it was safe for him to continue.
Golovkin KO3 Matthew Macklin:
The knockout blow -- a pulverizing left hook to the body in the third round that crumpled Macklin like a house of cards -- was almost as exciting and eye-opening as what the punch represented. This was the much-hyped GGG's true coming-out moment, which proved that he was more than merely a must-see knockout attraction. The punishing body shot, which sounded like a shotgun blast from ringside, floored Macklin -- the first legitimate title contender that Golovkin has faced -- and left him writhing in pain on the canvas for minutes after the final bell was rung to end the fight.
Javier Fortuna KO1 Miguel Zamudio:
Fortuna, the unbeaten featherweight prospect from the Dominican Republic, unleashed a stunningly vicious knockout shot just 68 seconds into this bout against the overmatched Miguel Zamudio on April 19 in Atlantic City, N.J. The southpaw Fortuna had roughed up and floored Zamudio, a native of Mexico who had built up a mark of 25-1 against relatively soft opposition, early in the round before finishing him moments later on a short left cross. Zamudio was out cold and seemingly lifeless with his eyes open, and stayed down for an extended period as the medical staff examined him.
June, 27, 2013
Jun 27
6:16
PM ET
By
Brian Campbell
| ESPN.com

Despite what you hear and read, there's a very good chance middleweight titlist Gennady Golovkin might actually be human.

You wouldn't necessarily know that, however, by listening to boxing experts -- this one included -- who unleash a gluttony of adjectives to describe his otherworldly power and exciting style.

Golovkin (26-0, 23 KOs), the 31-year-old unbeaten destroyer from Kazakhstan who holds the highest knockout percentage among active titleholders, has reached a cartoon-cult status within the sport. There is such a mythology that follows him from fight to fight (and subsequently knockout to knockout) that he might as well change his nickname from the delightfully cheesy "GGG" to boxing's "God of Thunder."

The main reason for the surrounding cloud of hype is Golovkin's calamitous power in both hands -- a sort of Tyson-esque equalizer that all fighters dream of being born with. It's the kind of power that keeps you in every fight and, in Golovkin's case, causes opponents and ringside writers to marvel at just how much different it sounds and feels when his punches land.

And Golovkin is far from a one-trick pony when it comes to his five-star talent. He says he has never been knocked down, or even hurt, in his entire career. And with a decorated amateur background that features a 2004 Olympic silver medal, multiple world championships and a record of 345-5, he's just as likely to outbox the rare fighter who proves able to withstand his best punch.

But therein lies the problem: Not only are fighters unable to typically get past the early rounds against him -- Golovkin has seen the ninth round just once in his career and hasn't had a fight go to the scorecards since the George W. Bush administration -- he also continues to have trouble getting big-name opponents into the ring with him.

The big concern surrounding the myth of Golovkin is that, despite holding a middleweight title since 2010 and having made seven title defenses -- with all seven ending by knockout -- he is still untested at the highest level. In fact, it's fair to ask what we really know about Golovkin until we see him in with a myriad of high-end punchers and slick boxers.

The good news is, we should have a better handle on his stock by the end of Saturday night's fight against two-time middleweight title challenger Matthew Macklin (29-4, 20 KOs), by far the most experienced opponent Golovkin will have faced. And Macklin, who has taken both former titlist Felix Sturm and current middleweight world champion Sergio Martinez into deep waters in back-to-back fights, also happens to be the perfect opponent at this point in GGG's rise.

Golovkin said he likes the fight so much because he believes both fighters "have [the] same size, same power and same speed. [Macklin] is very serious and I think he's a great fighter." More important, Macklin will serve as a litmus test to gauge whether Golovkin is simply a power puncher with a lot of buzz or a true future pound-for-pound threat. Macklin clearly has the chin, power and inclination to brawl to make him an attractive opponent, but he also proved in his two title fights -- particularly against Martinez -- an ability to adapt his style by utilizing a level of defense and counterpunching we hadn't previously seen from him.

Macklin also has the disposition not to be intimidated by anything Golovkin brings to the table and a willingness to go out on his shield if that's what it takes to give him the best chance to win. He describes himself as a throwback fighter from a different era, and expects to expose Golovkin for being "the middleweight champion of the world fighting B- and C-level junior middleweights."

Young fighters on the rise such as Canelo Alvarez and Adrien Broner have been routinely called out for their soft résumés, a criticism Golovkin has somehow mostly escaped. Maybe it's due to his willingness to fight anyone across three weight classes or how active he has remained -- Saturday will mark his fifth appearance in 13 months -- despite being unable to land the opponents of his choice. Heck, it could be chalked up to his endearing, almost boyish demeanor.

Years from now, we may look back at Golovkin's fight with the straight-ahead Macklin as another stop on a long road of highlight-reel knockouts that ultimately carried him to the top of the sport. Or maybe this one goes down as the key moment when at least a little air was taken out of Golovkin's balloon.

Either way, it will be exciting to watch thanks to enough intrigue, and even doubt, to mark this as something of an early defining fight for Golovkin.

Just don't start sizing the superhero Kazakh KO King for a cape and pair of blue tights until we can confirm that either Golovkin is from another planet or that he's just like one of us.

Believe me, I know, it's not easy.
March, 16, 2012
3/16/12
2:16
AM ET

ESPN.com's Michael Woods caught up with middleweight champion Sergio Martinez at Thursday's media conference in New York City to promote Martinez's title fight against Matthew Macklin at the Madison Square Garden Theater on Saturday. When told that Macklin had suggested Martinez, at 37, might be primed for a loss, the Argentine champ responded through manager and translator Sampson Lewkowicz: "After I beat him by KO, definitely he will change his mind." Check out the whole interview above.
March, 16, 2012
3/16/12
2:06
AM ET

ESPN.com's Michael Woods joined middleweight challenger Matthew Macklin atop New York City's Empire State Building ahead of Macklin's title fight against champion Sergio Martinez on Saturday. Macklin called the matchup, which will be held at the Madison Square Garden Theater, "a life-changing fight." Watch the entire clip above.