May, 6, 2012
5/06/12
1:39
PM ET
LAS VEGAS -- Five things we learned from Saturday's Floyd Mayweather Jr.-Miguel Cotto card at the MGM Grand:
1. There's good, there's very good, and there's great
With every fight, Mayweather is moving up the all-time list. For years, one knock on his record was that, as good as he frequently looked, we didn't know how he would react when he was rocked or when he was in a real dogfight. We know now. When Shane Mosley hurt him badly in the second round of their fight two years ago, Mayweather turned it around and dominated every minute of every subsequent round. When Cotto dragged him into the trenches Saturday night, Mayweather engaged him, firing off the ropes; and when it looked like the effectiveness of that technique was waning after Cotto's blistering eighth round, Floyd changed strategies completely and sailed away with the final third of the bout.
There are plenty of reasons that those fans who don't like Mayweather will find to support their position. But his skills and ability shouldn't be among them. We are watching a genuinely great boxer in his pomp. Whatever our feelings of him as a person, we should allow ourselves to enjoy and marvel at his talent.
2. Seriously, enough's enough. It's time
For all the talk of "that" fight, for all the yapping from both sides, the prospect of Floyd Mayweather fighting Manny Pacquiao has, in the buildup to Saturday's contest, rarely if ever seemed more remote. But now, more than ever, it has to happen. Cotto was the best of the rest and he has been summarily dispatched. Outside of, say, Sergio Martinez or perhaps, in the case of Pacquiao, a fourth meeting with Juan Manuel Marquez, there's nobody left. Assuming Pacquiao makes it past Timothy Bradley Jr. on June 9, Mayweather-Pacquiao has to be next. Even as he poured cold water on the prospect of the fight ever happening, Mayweather admitted that "there's really nobody else out there for me."
3. Miguel Cotto was sold short
Even among those who gave Cotto credit for his skill and experience, who offered the caveat that against almost any other likely opponent, he would be favored, the Puerto Rican star was given next to no chance. One person who didn't sell him short, at least publicly, was Mayweather, and as he stood at the postfight news conference with his face uncharacteristically marked up, it was clear why. Cotto fought with enough intelligence and persistence that, through eight rounds, the outcome of a Mayweather fight was genuinely in doubt. He fought an almost perfect game plan; it's just that on this night, against this man, it wasn't enough.
4. Canelo Alvarez is a work in progress
There was much to be impressed with in Alvarez's victory over Mosley: He was unruffled, he was steady, he didn't panic when an accidental head-butt opened up a cut over his left eye. He planted his feet and threw compact punches with plenty of torque that thudded off Mosley's head with real impact. At the same time, there are still some areas for improvement, as is to be expected from such a young fighter. Alvarez could stand to be more active, to throw more punches, to start earlier. When he threw combinations, they were beautifully effective; he just didn't throw them enough. A case could be made that, after almost folding Mosley in half with body shots in the ninth, Alvarez should have taken it up a notch and tried to finish him. But for all the doubts and incomplete grades, this fight also highlighted the talent that is there, and the reception from the crowd underlined the stardom that assuredly awaits Alvarez as long as the wins keep coming.
5. The ride is over for Shane Mosley
Whatever doubts had been raised about Mosley's commitment to battle after the disappointing performances against Pacquiao and Mayweather, the 40-year-old erased them with his determined effort to stand and trade with the younger, stronger Alvarez. But while he was not afraid to pull the trigger, Mosley's punches lacked the speed and snap that were his trademark when he was at his peak. He looked at times almost as if he were punching through treacle. It is often said that the last thing a fighter loses is his punch, but Mosley had nothing in his arsenal with which to deter his younger foe. As Mosley admitted, when the young kids start beating you, maybe it's time to turn to promoting. Mosley has had a terrific career. It's time for that career to end on the relative high note of making a defiant last stand.
May, 6, 2012
5/06/12
4:02
AM ET

LAS VEGAS -- A single night at the MGM Grand Garden Arena on June 26, 2008, nearly ruined the boxing career of Miguel Cotto.

Nearly four years later, he proved to everyone it didn't take the best of him.

Cotto has rarely looked the same since suffering the worst loss of his career at the (perhaps loaded) hands of Antonio Margarito in that welterweight title bout, the first meeting between the fighters.

Cotto, 31, holds a strong belief that Margarito used illegal hand wraps during that fight, and he finally exacted his revenge late last year in the form of a stoppage win in the 10th round of their rematch. He then swore he would perform better after having closed the emotional chapter on Margarito.

Few believed him. Heading into Saturday's light middleweight fight against Floyd Mayweather Jr., Cotto was listed as more than a 4-to-1 underdog and was generally given no shot against his faster, more technical opponent.

Eventually, Cotto did succumb to Mayweather's speed and defensive skills. The result was familiar, with Mayweather claiming a decision win via fairly lopsided scores.

Those who witnessed the fight, however, saw the details not recorded in the scores. Cotto pushed Mayweather, more so than perhaps any of the 42 who came before him. He cut off the ring and bloodied Mayweather's nose with punches in the sixth.

He appeared the strongest, mentally, that he has since the Margarito loss. Although he still faded a bit late, as he has been known to do, that was more attributed to Mayweather's resiliency than any break in Cotto.

"I'm happy with my fight and with my performance," Cotto said. "So is my family. I can't ask for anything else."

The Las Vegas crowd went wild after the eighth round, when Cotto forced a few exchanges out of Mayweather in the corner of the ring.

The greatest surprise, though, occurred in the moments when Cotto had success in the middle of the ring. He was still at a disadvantage in that type of fight against the quicker, more mobile Mayweather, but he wasn't thoroughly dominated, as many would have expected him to be.

Defensively, Cotto seems to be improving under head trainer Pedro Diaz. He refused to be dictated by Mayweather's jab and effectively controlled the range at which the fight took place throughout.

"Cotto shocked me," Mayweather said. "He was slow, but he was awkward. Anybody who goes in with Cotto, you better be ready. His record reflects where he's at, and he deserved to fight me."

In a way, Cotto's record does reflect where he's at -- and then it doesn't.

A 5-3 showing over the course of his past eight bouts isn't typically the result associated with a boxing superstar. Cotto was beaten badly by Manny Pacquiao over the course of 12 rounds in 2009, and his latest wins have come against inferior competition.

Saturday, however, might be the best reflection of where Cotto truly is: a fighter still improving, finally over the heartache of the worst loss of his career and still capable of competing at the highest level.
May, 3, 2012
5/03/12
10:20
PM ET
On Saturday, boxing fans will celebrate the Mexican festival of Cinco de Mayo by watching an American and a Puerto Rican do battle in the Nevada desert. More than anybody else, Oscar De La Hoya -- an American of Mexican descent -- popularized Cinco de Mayo (or the Saturday nearest to it) as a big fight weekend in Las Vegas, but since his retirement, the aforementioned American (Floyd Mayweather Jr.) and the Philippines' Manny Pacquiao have been the date's biggest pugilistic stars. Hey, imagine how crazy it would be if the two of them ever ... no, let's not go there. We have an actual fight to look forward to this weekend, a title bout between Mayweather and Miguel Cotto, and in the meantime, here's a reminder of some of the best May 5(ish) fights in Sin City's recent history.

5. Julio Cesar Chavez TD8 Frankie Randall, May 7, 1994, MGM Grand
Earlier in the year, Randall's points victory in the same venue brought Chavez his first official loss, in his 91st professional bout. The rematch was closely fought, but when Chavez said he was unable to continue after being cut by an accidental clash of heads, he was declared the winner on a technical decision (aided by a WBC rule that the accidental butter always be deducted a point; without that stipulation, the result would have been a split-decision draw.) The fight was the main event of a Don King card called "Revenge: the Rematches" that featured Terry Norris, Simon Brown, Julian Jackson, Gerald McClellan, Azumah Nelson and Jesse James Leija in perhaps the most stacked pay-per-view broadcast in boxing history.

4. Oscar De La Hoya TKO6 Ricardo Mayorga, May 6, 2006, MGM Grand
De La Hoya's final victory on the Las Vegas stage, and what a stirring one it was. Mayorga had genuinely infuriated the Golden Boy with his prefight taunts, and the vastly superior former Olympian punished him for it, dropping him once in the first and twice in the sixth. At his peak, De La Hoya brought an unmatched electricity to fight crowds, and this night was no exception. The atmosphere was off the hook, and as De La Hoya climbed the ropes to salute his fans in victory, it felt at the time like the perfect coda to a Hall of Fame career.

3. Manny Pacquiao D12 Juan Manuel Marquez, May 8, 2004, MGM Grand
The first installment of an intense and ongoing rivalry almost didn't make it past the first round of this encounter. Pacquiao, fresh off his shocking annihilation of Marco Antonio Barrera, flattened Barrera's countryman three times in that opening frame. Somehow, Marquez survived and fought his way back into the contest. Two fights and eight years later, Marquez remains Pacquiao's nemesis, and vice versa.

2. Manny Pacquiao KO2 Ricky Hatton, May 2, 2009, MGM Grand
This year was Pacquiao's annus mirabilis, in which he followed his 2008 demolition of De La Hoya with stoppage wins over Cotto and, previously, Hatton. The Englishman was down twice in the first round, unable to escape Pacquiao's right hooks, but was working his way back into the contest until PacMan uncorked a thunderbolt of a left hand at the end of the second to leave him spread-eagle on the canvas.

1. Diego Corrales TKO10 Jose Luis Castillo, May 7, 2005, Mandalay Bay
One of the greatest fights of all time -- heck, one could make a case that it was the greatest fight of all time -- will be forever remembered for its conclusive 10th round. Castillo put down Corrales hard and seconds later knocked him down again. Corrales spat out his mouthpiece and earned a point deduction for doing so, but it bought him precious time while the mouthpiece was cleaned, time that trainer Joe Goossen used to tell Corrales, "You'd better f---ing get inside of him now." And so Corrales did, summoning the strength to crack Castillo with a perfect right hand and then tearing into him on the ropes until referee Tony Weeks stopped the contest.

Corrales never won another fight. Two years later, to the very day, he was dead. But his memory, and the memory of his greatest moment in a boxing ring, will live forever.
May, 3, 2012
5/03/12
5:43
PM ET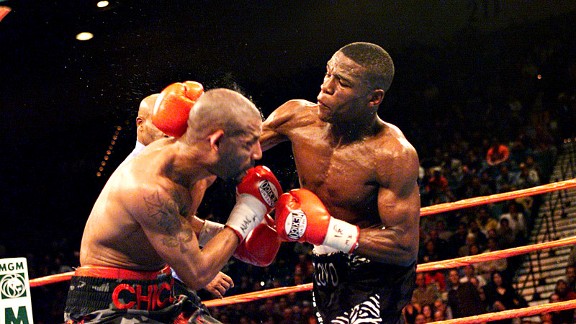 Tom Hauck/Getty ImagesDiego Corrales gave Floyd Mayweather Jr. a run at the MGM Grand in 2001 before falling late.
Saturday's challenge of junior middleweight champ Miguel Cotto will be Floyd Mayweather Jr.'s sixth successive fight at the MGM Grand and his ninth overall. Here's one man's take on Mayweather's five most memorable appearances at what has become boxing's marquee venue:
5. Sept. 17, 2011: Victor Ortiz
Ortiz was at a high point, coming off his dramatic win over Andre Berto, but he was no match for either Mayweather or his own lack of judgment. Frustrated by his inability to pierce Mayweather's defense, Ortiz launched his head into his opponent's in Round 4, prompting referee Joe Cortez to call time out and deduct a point. When Cortez called time in, Ortiz was focused more on hugging Mayweather to apologize than on defending himself; Mayweather clocked an unprepared Ortiz with a left and a right, putting him down for the count.
4. April 20, 2002: Jose Luis Castillo
Notable for being a fight that, in the eyes of many observers, Mayweather lost. Mexico's Castillo was able to pressure Mayweather for periods and take him out of his comfort zone, but the American won a unanimous decision on the judges' scorecards, and he did so again in the rematch across the street at Mandalay Bay.
3. Dec. 8, 2007: Ricky Hatton
Unforgettable. An estimated 30,000 Brits descended on the Strip, all but emptying the MGM of beer and constantly reminding everyone that there was "only
onnnne
Ricky Hatton." That one Ricky Hatton was likely seeing two Floyd Mayweathers after walking into a check hook that sent him face-first into the ring post in the 10th. And still the Brits kept singing ...
2. May 5, 2007: Oscar De La Hoya
Was this really five years ago already? Overdramatically dubbed "The Fight to Save Boxing," this was the event that turned Mayweather into a superstar. Overcoming early resistance from a stiff Golden Boy jab, Mayweather scored a split decision win in a contest that secured a record 2.4 million pay-per-view buys.
1. Jan. 20, 2001: Diego Corrales
Like Mayweather, Corrales was an undefeated 130-pound titlist, and there were plenty of prognosticators who expected him to prove too strong. But you can't hurt what you can't hit, and in what remains Mayweather's most sublime performance, Corrales could hardly lay a glove on his rival. Mayweather, by contrast, couldn't miss his, dropping Corrales five times before Chico's corner stopped the contest in the 10th.
May, 3, 2012
5/03/12
1:14
PM ET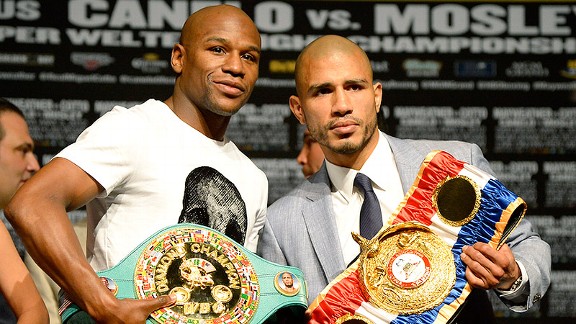 Gene Blevins/Hoganphotos/Golden Boy PromotionsThe mutual respect between Floyd Mayweather Jr. and Miguel Cotto has made for a quiet promotion.
When Miguel Cotto and Floyd Mayweather Jr. face off in the ring at the MGM Grand on Saturday night, it will be several years after a meeting between the two men was first mooted. According to Cotto, however, one person who wasn't entertaining the possibility when it was initially suggested, when both men were campaigning in and around the junior welterweight division, was Cotto himself.
"When I was at 140 pounds, I was an immature boxer, you know," he told reporters after the final prefight press conference on Wednesday. "I didn't think about him, because he was a great champion, he was a guy who was above me on all levels. But now we are in the same boat."
Asked what he will do to counter Mayweather's perceived advantages of speed and skill, Cotto offered no specifics, but merely the calm understated confidence that has long been his trademark.
"If nobody [has] found the way to beat Floyd Mayweather [so far], you're going to see how a person can beat Floyd Mayweather on Saturday," he said.
Mayweather, for his part, smiled at suggestions from journalists that perhaps Cotto might deploy his vaunted body attack or look to make their contest a brawl, and hinted at vulnerabilities in the Puerto Rican's defense.
"Even though Antonio Margarito got in trouble for loaded gloves, you've got to say to yourself: He's not that fast, so why was he even getting hit with those shots?" he asked rhetorically of Cotto's first professional defeat, which came in July 2008 in subsequently controversial circumstances. "I think I get to the target quicker because I throw straighter than some other fighters."
By and large, though, Mayweather remained, as he has been throughout the promotion, respectful toward his opponent.
"Miguel is a true warrior, a tough champion, and to go down in the Hall of Fame as one of the best, you have to face the true champions out there," Mayweather said.
Said Cotto: "He's been a gentleman the whole way with me. I've been a gentleman with him. That's the way it should be. You get paid to fight in the ring, not outside the ring."
May, 2, 2012
5/02/12
3:35
PM ET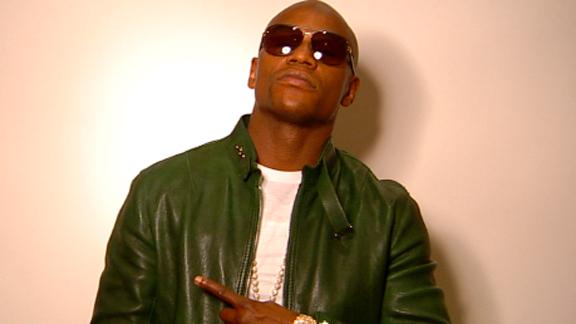 LAS VEGAS -- It wasn't the first time a crowd had gathered in the MGM Grand to welcome Floyd Mayweather Jr. during fight week, and it likely won't be the last.
Tuesday's throng wasn't nearly as large a gathering as the one that greeted him and Ricky Hatton almost five years ago, but the uniquely Mancunian tsunami that swept over Las Vegas that week defies comparison. Still, there was a sizable British contingent awaiting Mayweather this time, too, and when he looked out from the stage, he sensed their presence instantly, shouting out to them and leading them in a brief rendition of their version of "Winter Wonderland" -- with some slight adjustments, of course. ("There's only one May-weather," he began, and the fans seemed more than happy to play along.)
Saturday's card is dubbed "Ring Kings," and so, one by one, the main protagonists -- Shane Mosley and Saul Canelo Alvarez, who tangle in the co-main event, and Mayweather's opponent, Miguel Cotto -- took their turns upon arriving to sit atop a throne on a dais in the MGM Grand lobby. There, they answered questions from cruiserweight B.J. Flores, who was hosting a live stream of proceedings and who showed the poise and timing of a media veteran, before addressing some TV cameras and disappearing to sit with a phalanx of writers.
Mayweather was last to arrive, 45 minutes after the advertised time, and he took almost that long to make his way through the crowd, signing every autograph he could and soaking up the adoration. Instead of sitting on the stage, he commandeered it, a master showman in his element. And when it was his turn to talk to the TV crews, he wasn't hurried or anxious to move along. He knew full well that this was his show, that it was all about him and that it would move at whatever speed he wanted it to. I took up position behind ESPN's Bernardo Osuna, relaxed and confident that I would get my time to ask all the questions I wanted.
I hadn't counted on the fact that Mayweather might generously be described as having a low boredom threshold. Once Bernardo had finished, I moved into position, but Mayweather had gone, taking off across the stage to immerse himself once more in the adoring throng.
We watched his route through the crowd -- a task made considerably easier by the enormous specimens of humanity who were the bodyguards walking immediately behind him -- hopped down from the stage into his path, smiled and caught his attention. One never knows which Floyd will emerge in an interview: Will he be angry and petulant, happy and charming, thoughtful and expansive? Today, he was feeling too much love to be the former. Instead, he could be found a short distance from Column B and far off from Column C, not necessarily answering the questions he was asked, but holding forth in the way he wanted, the way that would best sell the pay-per-view.
He smiled his big smile into the camera and disappeared again into the crowd, his location easily determined by the wave of sound that greeted him from each new knot of fans, until the lobby fell quiet, and he was gone.
April, 30, 2012
4/30/12
10:58
AM ET
By
ESPN.com staff
| ESPN.com

The best way to celebrate a highly satisfying weekend of boxing action? How about a week's worth of killer coverage ahead of Saturday's Floyd Mayweather Jr.-Miguel Cotto junior middleweight title bout in Las Vegas?

To kick things off, "Friday Night Fights" previews Mayweather-Cotto in the clip above.