October, 10, 2013
10/10/13
7:01
PM ET
By
Carlos Narvaez
| Special to ESPNDeportes.com
LAS VEGAS -- Orlando Cruz will take his message of equality all the way to the ring on Saturday -- although the way he chose to do it was off-putting to some in his Puerto Rico homeland.
Cruz, who enters his first world title fight against Mexico's Orlando Salido for a vacant featherweight belt on the Timothy Bradley Jr.-Juan Manuel Marquez undercard in Las Vegas (HBO PPV, 9 p.m. ET), caused a stir after his outfit for the fight was revealed on promoter Top Rank's Facebook page.
[+] Enlarge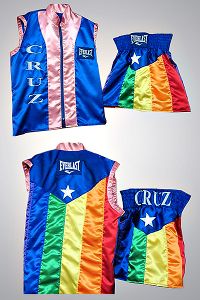 EverlastOrlando Cruz will honor the LGBT community and raise awareness for breast cancer in the color patterns on his trunks and gloves Saturday.
Last year, Cruz became the sport's first openly gay boxer. For the fight against Salido, Cruz replaced the colors of the Puerto Rico flag (red, white and blue) with those of the rainbow flag, the symbol of the LGBT community. He also plans to wear pink gloves to raise awareness for breast cancer.
Hundreds of fans commented on this subject, most of them voicing their disagreement by claiming he was altering the colors of his national flag. However, fans showed little rejection toward Cruz based upon his sexual orientation.
Cruz claims his plan wasn't to create any discomfort among his fans.
"I totally respect the Puerto Rican flag," Cruz said. "There are no bad intentions involved with this. I will always proudly represent my country and my fans. Please, accept my apologies if I made you feel offended. I didn't mean to create any controversies."
The Puerto Rican boxer, who will dedicate the fight to the memory of the late Emile Griffith -- a former two-division champion who late in life admitted that he was bisexual -- said he had no idea about who may have leaked the photo.
"I have no idea about who could have published the photo," Cruz said. "Maybe that person saw that the outfit was quite flashy, and just published it on Facebook. I'm calm, focused on the upcoming fight. I want Puerto Rico to know that I will proudly carry the flag on my chest."
June, 26, 2013
6/26/13
12:06
PM ET
By
Carlos Narvaez
| ESPN.com
SAN JUAN, Puerto Rico -- Orlando Cruz says he wants people to talk about him not because of his private life, but because of his boxing skills. He'll soon get a prime opportunity to create the buzz he seeks in the ring.
[+] Enlarge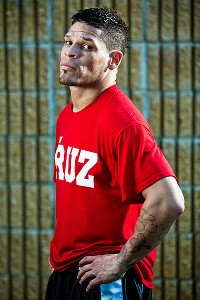 AP Photo/Dennis M. Rivera PichardoOrlando Cruz, the first openly gay boxer in history, is ready to become known as something more: a champion.
Puerto Rico's Cruz, who stole headlines last October by becoming the first boxer to publicly reveal that he is gay, appears to be on his way to fighting Orlando Salido for a vacant featherweight title.
Ranked the No. 1 126-pound contender by one of the alphabet organizations, Cruz (20-2-1) would likely take on Salido in Puerto Rico or New York City in August. He claims he is ready to become boxing's first openly gay titleholder.
"This crown is headed to Puerto Rico before the end of 2013," Cruz said. "I will be the first openly gay world champion in history, and it will be huge."
Cruz was lined up for the title shot when the belt was stripped from Mikey Garcia after he failed to make the featherweight limit at the weigh-in before his defense against Juan Manuel Lopez on June 15.
Lopez was still eligible to win the title, but he lost to Garcia by fourth-round TKO.
"I know that in boxing there are many people like me who haven't dared to take the step like I did, revealing that I'm gay," Cruz said. "Being the first gay champion will be a big accomplishment to all of them."
Cruz had been scheduled to fight Saturday in Kissimmee, Fla., but his promoter pulled him from the tune-up bout to avoid jeopardizing his shot at the title after the news broke that Garcia had vacated it.
"I was really surprised when I heard about the decision," Cruz said.
"But I am really happy for all the opportunities that have lined up. I have the ultimate respect for Orlando 'Siri' Salido, and I've had the chance to talk to him on several occasions."
Salido (39-12-5, 27 KOs) hasn't fought since he lost to Garcia by technical decision in January.
"I think he has never faced an opponent like me: slick, able to counter-attack and also a puncher," Cruz said. "I've got all the tools. I'm not underestimating him, but I've got some good skills and will give my best effort."
June, 13, 2013
6/13/13
2:04
PM ET
By
Carlos Narvaez
| ESPN.com
SAN JUAN, Puerto Rico -- Former two-division titlist Juan Manuel Lopez, like many others, has his opinions about boxing's Mexico-Puerto Rico rivalry -- including that it has been extremely favorable to his career.

Nearly half of Lopez's 35 professional bouts have come against Mexican fighters -- fourteen, to be precise. Four, specifically, have had a major impact on his path.

"Fighting against Mexicans has been a huge part of my career," Lopez said. "But I see it more as a competition between two countries with big fighting styles. Puerto Rico fighters move well, they are more technical. Mexico fighters like to clash, there are very few who like to counterattack. Juan Manuel Marquez is one of the few, and we might consider Oscar De La Hoya, since he is of Mexican origin but developed in the United States.

"If we want to talk about the topic, we have to divide it by eras. The [Wilfredo] Gomez era was huge. 'Tito' Trinidad and his 'Fight of the Millenium' against Oscar De La Hoya was huge. [Ivan] Calderon had two big clashes against [Hugo] Cazares. And back in the day, Hector Camacho was a headache to the Mexican boxers. They were all transitions."

Lopez won a junior featherweight title in 2008 when he defeated Mexico's Daniel Ponce De Leon by first-round TKO. He moved up to featherweight in 2010, winning a title in his first bout in the division, and later bested Rafael Marquez (yet another Mexican star) to run his record to 30-0.

But the prestige that came with those wins all but vanished in 2011 when Lopez put his belt on the line against another of Mexico's finest: Orlando Salido.

"Salido is the toughest fighter I've ever faced," Lopez said. "Sometimes, styles define the fights. Salido is a fighter who takes a lot of punches, and that's one of the factors that helped him beat me."

On Saturday, Lopez will face featherweight titlist Miguel Angel "Mikey" Garcia (who, like De La Hoya, is Mexican-American). In January, Garcia mostly had his way with Salido before winning a technical decision and grabbing the belt that Salido had lifted from Lopez.

"Mikey was a huge puzzle for Salido, but that won't be the case for me," Lopez said. "Styles make fights, and Mikey has the perfect style for me."
May, 17, 2013
5/17/13
12:16
PM ET
By
Carlos Nava
| ESPN.com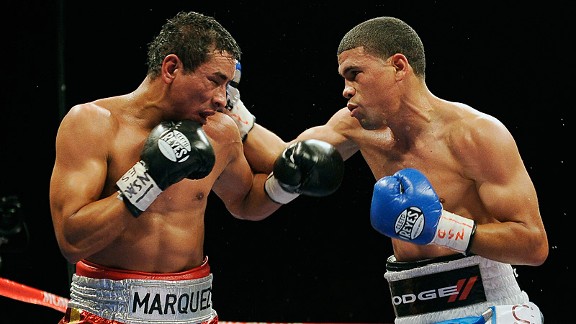 Robyn Beck/AFP/Getty ImagesJuan Manuel Lopez, right, says he has adjusted his style to take less punishment moving forward.
DALLAS -- Juan Manuel Lopez says he has learned his lesson.
Two defeats against Mexico's Orlando Salido -- and worse, the loss of his featherweight title -- left a mark that the Puerto Rican star hopes to carry with him as a reminder for the rest of his career.
"I realized that I'm not invincible," Lopez said. "At one point I think I felt invincible. I had never lost.
"But the fight with Salido helped me realize that I have to work harder and harder. It helped me to work with more vigor. I've learned to take things more calmly."
Lopez will have the opportunity to regain his 126-pound belt against current titleholder Mikey Garcia when the fighters meet on June 15 at American Airlines Center in Dallas.
Garcia won that title in January by beating Salido in a fight that he dominated before it was stopped in the eighth round by an accidental head-butt that had fractured Garcia's nose.
But as far as Lopez is concerned, there is nothing to read into Garcia's victory over Salido when it comes to predicting the outcome of his own bout with Garcia.
"Mikey faced a beaten Salido, who was coming off a very difficult fight against me," Lopez said. "Mikey is a great fighter with a style quite different from mine. I've always said that styles make fights, and Mikey has the style required to dominate a fighter like Salido.
"Many say that Mikey hurt [Salido's] right eye socket, and I am sure that I hurt his orbital [bone] fighting in Puerto Rico," Lopez added. "I really damaged Salido. I'm not taking anything away from Mikey -- he is a great fighter with a very fine style. But I helped him defeat Salido."
Lopez (33-2, 30 KOs) was knocked out by Salido in the eighth round of their first bout, in April 2011. Salido then repeated the feat with a 10th-round stoppage in their March 2012 rematch.
The second time around, a concussed Lopez, 29, cried fraud and accused the fight judges and organizers of gambling and was suspended from boxing for a year by the Puerto Rico Boxing Commision.
The punishment was lifted 11 months later. Since then, he has won by knockout in both of his matches, against Aldimar Silva Santos and Eugenio Lopez.
"The year I was inactive helped me recover, to think about boxing, to regain the hunger for the sport and for a world championship," Lopez said.
Garcia (31-0, 26 KOs), 25, expects a tough and experienced opponent in Lopez, one who is motivated to regain the title he won in January 2010 against Steve Luevano.
"I'm getting ready to fight the best JuanMa, which I think is going to surface that night -- a good fighter with good technique," Garcia said. "And nothing's going to have to do with my victory over Salido. It has nothing to do if I beat Salido and he beat JuanMa. I'm going to face a great fighter."
Lopez said he is going to show up in Dallas an improved boxer. He claims that he will continue to press forward in his fights -- which has long characterized his style -- but will also try to box more to avoid taking too much punishment.
"I'm going to move a little more and be a little more calm," he said. "Before, I was just a slugger, in search for action all the way.
"I'm going to keep my style but with some adjustments that you will see in front of Mikey. You will see me be aggressive, but I'll box at the same time."
Lopez, who has fought mostly in Puerto Rico and just once in the U.S. since beating Luevano for the title, recently visited American Airlines Center. He had been there just once before -- back in 2010 when he dropped in on an NBA game to see his friend, Mavericks guard Jose Juan Barea.
"And I hope that the third time around, it's to win a championship," he said.
February, 1, 2013
2/01/13
5:00
PM ET
By
Rigo Cervantez
| ESPN.com
LOS ANGELES -- After losing his perfect record and a featherweight belt and then being suspended for 11 months, Juan Manuel Lopez will return to action this Saturday against Brazil's Aldimar Silva Santos in a bout that could determine the Puerto Rican fighter's future plans within Top Rank Promotions.

"JuanMa wants a big fight [later in the year]," Ricardo Jimenez, a Top Rank spokesperson, told ESPNDeportesLosAngeles.com. "We'll see how he does against Silva Santos in a bout at 128 pounds."

Among Lopez's possible options, should he win Saturday -- a fight that has been adjusted to be competed at 130 pounds -- is a matchup with Miguel Angel "Mikey" Garcia for the featherweight belt that Lopez had held before losing it to Orlando Salido in April 2011.

"JuanMa is willing to make 126 pounds for a bout against Mikey," Jimenez said. "Another possibility for JuanMa would be fighting Wilfredo Vazquez Jr., also at 126."

Jimenez said that Garcia could return to the ring in either May or June, but that his opponent hasn't been chosen yet. But Garcia has already dismissed the notion of a rematch with Salido, who seems to be most interested in a challenge for Roman "Rocky" Martinez's junior lightweight belt.
March, 26, 2012
3/26/12
6:32
PM ET
By
ESPN.com staff
| ESPN.com

Maybe it shouldn't have surprised him that the judges in Puerto Rico disagreed, but Mexico's Orlando Salido thought he had won all but one round -- the fifth -- in his March 10 rematch against Juan Manuel Lopez in San Juan. As the featherweight champ told our Bernardo Osuna in last week's visit to the "Friday Night Fights" studios, though, it didn't matter. (Salido delivered Lopez another unexpected KO in P.R.)

Watch the above clip for more on Salido's thoughts about the Lopez win and to hear his future plans.
March, 13, 2012
3/13/12
1:52
AM ET

With about 40 seconds left on the clock in the spellbinding ninth round of Saturday's Orlando Salido-Juan Manuel Lopez rematch, Showtime analyst Al Bernstein asked, "Can you say Corrales-Castillo?"

Bernstein was, understandably, swept up in the moment and overstating the case. Only with the passage of time, with some distance and perspective, will the boxing world be able to accurately and unemotionally assess precisely where Salido-Lopez II ranks among the classics.

What we can say safely now is that it will at least be a contender for fight of the year. What we can also say with certainty is that the ninth round was the featherweight brawl's best stanza.

But what we most definitely should be saying is that the 10th round was the most indispensible round in terms of allowing Salido-Lopez II to possibly go down as a classic.

Was it as sensational as the ninth? No. But without the 10th, all 32 seconds of it, we wouldn't be talking about the thrills that Round 9 offered. We wouldn't be talking about the events of Saturday night in San Juan being good for boxing at all.

If not for Round 10, all we would be talking about is another atrocious decision soiling the night for a sport determined to sabotage itself at every turn.

Sixteen seconds into the 10th, Salido, his shoulders squared up after missing a left hand, connected with a right hook that stunned JuanMa. The Mexican followed up with a left uppercut, then a destructive right uppercut and finally a straight left hand that provided the directional force needed to send Lopez to the canvas. JuanMa's head rocked diagonally as he collided with the canvas, jolting from an alignment of left ear with left shoulder to right ear with right shoulder. The resilient Lopez got up immediately, but he was in a fog and referee Roberto Ramirez correctly waved off the contest.

Lopez was brave but outgunned, and for the second time in 11 months, Salido had TKO'd him. The right fighter had won.

And had Lopez survived the final three scheduled rounds, that almost certainly would not have been the case.

Through nine rounds, judge Denny Nelson had the fight even at 85-85. His colleagues, Michael Pernick and Cesar Ramos, both had the local fighter, popular Puerto Rican Lopez, leading 86-84. If Lopez had stayed on his feet and won just one of the final three rounds in the eyes of the judges, he was getting the decision. Yet he probably wouldn't have deserved it even if he'd swept all three of them.

A mere three weeks after Tavoris Cloud received a decision over Gabriel Campillo that was so astonishing that Cloud's mother fainted when Jimmy Lennon Jr. announced the winner's name, another major Saturday night fight on Showtime was tracking toward "everything you just watched means nothing" status.

Every sport has its controversies, its mistakes by officials that swing outcomes. But no sport promises as consistently as boxing does to suggest there is no link between performance and outcome.

Maybe Salido versus Lopez wasn't a total blowout. After all, Lopez scored the fight's only knockdown through nine rounds. But there was no doubt who was winning. At worst, Salido should have been ahead 86-84. Most observers had it more like 87-83 or 88-83. Yet on the judges' cards, Salido needed a dramatic rally to win. Good thing he delivered one.

The ninth round is the one we'll be talking about in December, come year-end awards time. But the 10th round is the reason we'll remember Salido-Lopez II as something other than a disturbing night for a periodically magnificent but perpetually mismanaged sport.