March, 4, 2015
Mar 4
5:15
PM ET
March, 4, 2015
Mar 4
2:30
PM ET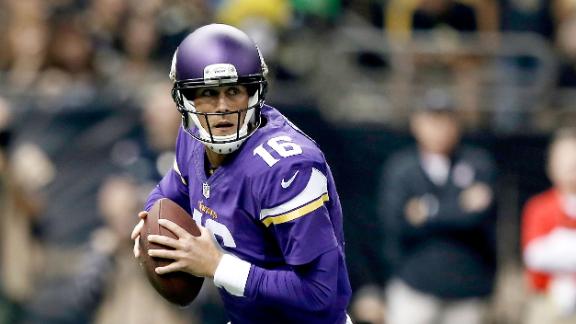 Well, nobody will accuse the
Buffalo Bills
of being boring this offseason.
Less than 24 hours after swinging a
headline-grabbing trade
to acquire
Philadelphia Eagles
running back
LeSean McCoy
, the Bills announced
another deal
Wednesday for
Minnesota Vikings
quarterback
Matt Cassel
.
Just think: We're still six days away from the start of free agency, when the NFL's hot stove will heat up for real.
By signing offensive lineman
Richie Incognito
last month and trading for McCoy and Cassel this week, the Bills have gotten a head start on the frenzy and have positioned themselves to make additional moves this March.
Cassel will undoubtedly compete with
EJ Manuel
this summer for the starting quarterback role, but there's no reason why it can't be a three-man race. Given the relatively cheap cost of acquiring Cassel and the lack of guaranteed money in his contract, which has one season remaining, the Bills could add another quarterback to the mix.
Might it be
Mark Sanchez
?
Brian Hoyer
?
Matt Moore
? That's still unclear, but I wouldn't expect the Bills to stop here. Whether it's the draft or free agency, throwing a third quarterback into the ring would only strengthen the chances of finding a suitable starter for the 2015 season.
No matter what they do next, there's been a clear pattern to the Bills' moves so far this offseason: They are at least trying to bolster their offense.
There's no guarantee Incognito will get his career back on the right path and become a full-time starter at guard, just as there's no guarantee Cassel will be able to win the starting job at quarterback. But they're both low-risk moves that prove the Bills are intent on improving one of the NFL's worst offenses last season.
Adding McCoy, who comes with a much steeper cost, was an aggressive move that gives the Bills more flexibility in this year's draft. With running back less of a need and another arm in the mix at quarterback, the Bills can focus on finding a tight end or helping their offensive line with their second- and third-round picks.
It's the right approach. It would be considerably premature to say the Bills have gotten over the hump and can topple the
New England Patriots
in the AFC East, but if they Bills are ever going to do that, this is how it will happen.
Are the Bills being aggressive? Yes. Will it work out for them? Who knows.
But you certainly can't accuse them of being boring.
March, 4, 2015
Mar 4
1:17
PM ET
By
Rick Drummond
| Pro Football Focus
Pro Football Focus will be providing analysis for every major signing and trade during the 2015 free-agency period, accounting primarily for the quality of player and his fit with his new team, and focusing less on the financial terms of the deal.
Here is a trade grade for the Buffalo Bills following their reported deal with the Minnesota Vikings.
Bills get: QB Matt Cassel
---

Buffalo Bills: C
March, 4, 2015
Mar 4
12:44
PM ET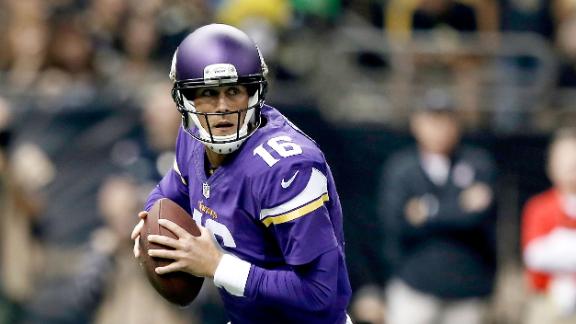 The Buffalo Bills continued their busy offseason Wednesday, agreeing to terms on a trade with the Minnesota Vikings for Matt Cassel.
The Bills will send two undisclosed draft choices to Minnesota, while the Vikings will send an undisclosed draft choice to the Bills with Cassel, the teams announced.
The trade, which comes one day after the Bills agreed to trade linebacker Kiko Alonso to the Philadelphia Eagles for running back LeSean McCoy, cannot be made official until the new league year begins Tuesday at 4 p.m. ET.
Cassel, 32, is expected to compete with EJ Manuel to become the Bills' starter at quarterback this season. Manuel was benched after four games last season in favor of Kyle Orton, who retired after the season.
"It's a great opportunity (for Cassel)," Vikings offensive coordinator Norv Turner told the St. Paul Pioneer Press. "He wants that opportunity to be a starter, and obviously we wish him the best."
The Bills entered the offseason wanting to acquire at least one veteran quarterback to compete with Manuel. They tried to sign free agent Josh McCown last month, but he decided to join the Cleveland Browns.
Cassel, who is entering the final season of his contract, will count for $4.75 million against the Bills' salary cap. He is due to make $4.15 million in 2015 and has a $500,000 roster bonus due on the seventh day of the league year.
His departure from Minnesota means the Vikings will be in the market for another backup quarterback behind Teddy Bridgewater
March, 4, 2015
Mar 4
10:00
AM ET
By
ESPN.com staff
| ESPN.com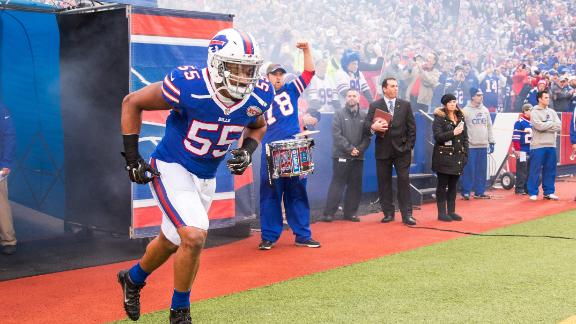 ESPN Bills reporter Mike Rodak says
Jerry Hughes
, who did not receive the franchise tag from Buffalo, has a chance to land a lucrative contract on the free-agent market as one of the best available pass-rushers.
March, 4, 2015
Mar 4
9:45
AM ET
March, 3, 2015
Mar 3
10:54
PM ET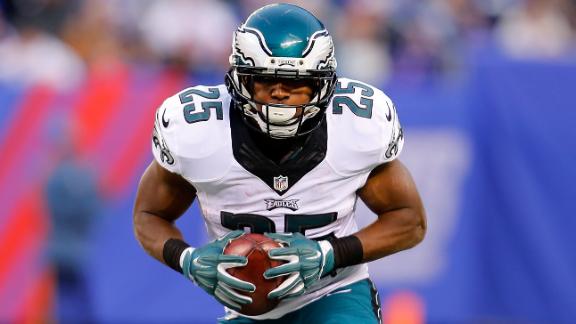 So much of the legend of
Kiko Alonso
.
Less than two years after Alonso burst out of the gate as a rookie and became a fan favorite for his carefree personality, the
Buffalo Bills
and
Philadelphia Eagles
worked out
a deal Tuesday
to swap Alonso for three-time Pro Bowl running back
LeSean McCoy
.
Rarely do player-for-player trades happen in the NFL, but this one makes plenty of sense for both sides, as long as McCoy is happy with the deal. A source to McCoy told ESPN's Josina Anderson that McCoy is "frustrated" and is "not going to make it easy. That's for sure." So stay tuned on that end of the story.
But assuming the deal is finalized next week, the Eagles will clear most of McCoy's $11.95 million cap hit off the books and will have a shot to find another stud running back in what's considered a deep draft class this April. Coach Chip Kelly is also reunited with Alonso -- one of his former players at
Oregon
-- who comes at a cheap price and brings plenty of upside to the Eagles' defense.
[+] Enlarge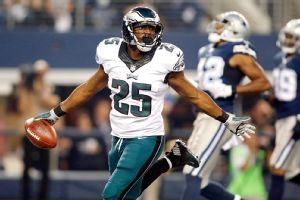 Tim Heitman/USA TODAY SportsLeSean McCoy should fill a huge hole in the Bills' offense assuming that Tuesday's reported trade is completed next week.
The Bills address one of their biggest offseason needs by adding McCoy. With
Fred Jackson
turning 34 last month and
C.J. Spiller
set to hit free agency this weekend, the Bills needed an infusion of talent at running back. McCoy is one of the most talented at his position in the NFL.
It just makes sense.
McCoy tallied nearly 1,500 all-purpose yards last season and eclipsed 2,100 all-purpose yards in 2013. He's only 26 and should have enough tread on his tires to play out the final three years of his current deal, and probably longer.
The question for the Bills will be their ability to block for McCoy. There were some issues with the Eagles' offensive line last season, which caused McCoy's average yards before contact per rush to drop from 3.59 in 2013 (second best in the NFL) to 2.71 last season.
The Bills' offensive line was a mess last season, and, even though they've already added
Richie Incognito
this offseason, they'll need to do more to upgrade that unit.
The good news is they'll have more flexibility in the draft to address their other needs. A week ago, I would have pegged running back as one of the Bills' top draft needs and considered it a serious possibility they'd take one with their second-round pick, their first of the draft.
Now, they don't need to draft a running back until the late rounds, if at all. That means quarterback, tight end and offensive line come to the forefront for the Bills' second- and third-round picks this April.
The Bills will take a $10.25 million cap hit by acquiring McCoy and save less than $1 million by trading Alonso, so the Bills' cap space -- which NFLPA records listed at $27.1 million earlier Tuesday -- will be cut considerably. Re-signing defensive end
Jerry Hughes
will put another dent in that number and limit what the Bills could do elsewhere in free agency.
Still, the point of free agency is to acquire good players. The Bills were able to do that Tuesday by agreeing to the deal for McCoy, so the fact that their spending power this March will be limited because of the trade is hardly a setback.
The impact on the Bills' defense shouldn't be substantial, either. They lose a cheap, rising young player in Alonso but they already have a replacement:
Preston Brown
, a 2014 third-round pick who played the second-most snaps of any defensive rookie in the NFL last season and held his own.
If there was any position at which the Bills could afford to lose a player such as Alonso, it was linebacker. And truth be told, the Bills got by just fine without Alonso last season. With strong performances from Brown and
Nigel Bradham
at linebacker, they were considerably better in run defense, jumping from 28th in yards allowed per game in 2013 to 11th last season.
Unless McCoy gives the Bills headaches all summer about coming to Buffalo, or if he drops off a cliff after posting four 1,000-yard rushing seasons in his first six years in the league, there is little reason to fret about this trade.
Savor the moment, Bills fans, because it's not often that teams can draw up player-for-player swaps that make this much sense for both sides.
March, 3, 2015
Mar 3
10:23
PM ET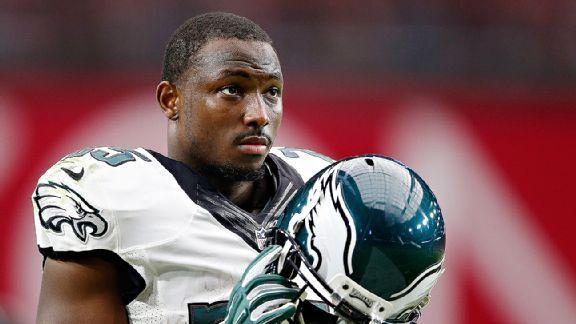 In what qualifies as the first truly huge fantasy football story of 2015, the Buffalo Bills have agreed to trade for LeSean McCoy. In return, the Philadelphia Eagles will acquire linebacker Kiko Alonso.
McCoy was a slight disappointment for the Eagles in 2014, and for his fantasy owners. After winning his first rushing title in '13 and racking up 2,146 yards from scrimmage to go with 11 touchdowns, Shady struggled in September behind the Eagles' badly depleted offensive line, and regularly tried to do too much as his mediocre runs mounted. As Philly's blockers started to return to health, McCoy's tape looked more representative of his skills and his numbers improved: He registered at least 80 yards rushing in nine of his team's final 12 games.
But Darren Sproles frustrated fantasy owners with several huge plays from scrimmage and siphoned a career-best six rushing TDs from McCoy. Later in the year, Shady suffered the ignominy of coming off the field in short-yardage situations so the immortal Chris Polk could come on and steal bunnies. McCoy wound up with a respectable 1,319 rushing yards (still third-most in the NFL), but dipped from 52 receptions in '13 to 28 in '14, and posted only 155 receiving yards. Plus, he found the end zone only five times. As a result, the consensus top-three overall fantasy pick finished as the league's No. 13 fantasy running back.
March, 3, 2015
Mar 3
10:20
PM ET
ESPN's Josina Anderson
tweeted the following
Tuesday night, hours after
news broke
of the
Buffalo Bills
' trade with the
Philadelphia Eagles
:
A source close to LeSean McCoy to me on how the
#Eagles
RB feels about news of an agreement to trade McCoy to Buffalo:
"He's a Pennsylvania kid. He's never played football outside of Pennsylvania—high school, college, pro. So of course he's not happy. Sounds like it's pretty final to me unless LeSean is refusing to go to Buffalo."
On whether the source believes McCoy will make a trade to Buffalo difficult, in light of McCoy's initial reaction to the news:
"It'll be interesting to see how this process plays itself out because he's an interesting individual. In your mind, when you think of Buffalo you think of cold and losing games. It's not like it's the Philadelphia market where you're always on t.v. and you're playing for like the division title or that type of thing…It was unexpected. I'll tell you that much."
The source on how McCoy is feeling at the moment:
"Honestly, he's frustrated ... It's alright. It's the league. I told him that. I guess he just never experienced that, but he was like 'why me.'"
The source said he thinks McCoy is "not going to make it easy, that's for sure."
The source on whether the trade news was a surprise:
"Honestly we were under the impression the whole time, that eventually at some point, Chip [Kelly] was going to ask LeSean to restructure his contract--not a pay cut, but convert some of his signing bonus."
March, 3, 2015
Mar 3
8:34
PM ET
By
ESPN Stats & Information
| ESPN.com
Last offseason, the
Buffalo Bills
traded a conditional draft pick to the
Philadelphia Eagles
for running back
Bryce Brown
.
This offseason, it looks like the Bills are going back to the Eagles to help their ground game, and they're netting a much more prominent running back.
They reportedly acquired
LeSean McCoy
from the Eagles for linebacker
Kiko Alonso
, who starred as a rookie in 2013 but missed all of 2014 with a torn ACL.
The deal can be announced after the new NFL year starts on March 10.
Bills boost their ground game
The Bills decided to give their running game a jolt. It posted the second fewest expected points added (EPA) on rushing plays in 2014. The only team to rank worse was the Cardinals.
The Bills averaged 3.7 yards per rush in 2014, 26th in the league. Bills rushers didn't get much room, averaging 2.0 yards before contact per rush (28th in the league).
The Bills have had only one 1,000-yard rusher in the past five seasons (C.J. Spiller - 1,244 in 2012). McCoy has rushed for 1,000 yards in four of the last five seasons.
McCoy will have the second-highest cap hit of any running back this season ($11.95 million, nearly $3.5 million less than
Adrian Peterson
).
Why McCoy might have struggled in 2014
McCoy went from ranking fifth in the NFL in yards per rush in 2013 (5.1) to ranking 22nd in 2014 (4.2).
Eagles right tackle Lane Johnson was suspended for the first four weeks of last season, and McCoy's play improved with Johnson's presence.
McCoy averaged only 48 rushing yards per game and 2.8 yards per rush the first four weeks of the season, then averaged 94 rushing yards and 4.6 yards per rush the rest of the season.
One possible reason for McCoy's down 2014 season was offensive line instability. Only the Titans and Falcons (10) had more linemen with at least 100 snaps than the Eagles (9). In 2013, the Eagles were one of five teams that had the minimum five different linemen record at least 100 snaps.
McCoy does have a lot of wear on his legs. His 626 carries over the last two seasons are the most in the NFL. His 1,566 rushes and receptions are tied with
Matt Forte
for the most in the NFL over the last five seasons. McCoy leaves the Eagles as their all-time rushing yardage leader (6,792).
What Alonso brings
Alonso's 159 tackles ranked third in the NFL in 2013, the third-most in a rookie season over the last 10 seasons. No Eagles player had more than 82 tackles in 2014.
Alonso had 117 tackles on rushing plays during his 2013 rookie season. Those 117 are the most for anyone in a season over the last three seasons.
Alonso and
Luke Kuechly
(2013) are the only two players to have a season with at least 150 tackles and four interceptions in the last 10 seasons.
Kelly gets his Ducks in a row
Alonso will become the ninth Oregon Duck on the Eagles roster. All nine played at Oregon under current Eagles coach Chip Kelly.