Buffalo Bills:

Kansas City Chiefs
November, 6, 2014
Nov 6
8:00
AM ET
They're not divisional opponents, but it sure feels like it: The
Buffalo Bills
and
Kansas City Chiefs
have met in every regular season since 2008.
The two teams will square off again Sunday at Ralph Wilson Stadium, the third consecutive year that the Bills (5-3) have hosted the Chiefs (5-3).
Both clubs are in the playoff hunt, adding importance to a game that kicks off the second half of the season. ESPN Bills reporter Mike Rodak and Chiefs reporter Adam Teicher break it all down:
Rodak:
The Chiefs are one of the NFL's hottest teams, having won five of their past six games. What's been going right for them? How, if at all, is this team different from the one that arrived in Buffalo undefeated last season?
Teicher:
After a tough start to their season, the Chiefs have done a nice job of playing to their strengths. They aren't a big-play offense and a lot of times they don't even try for a big play. Quarterback
Alex Smith
rarely takes a deep drop and throws down the field. But they run the ball well, they rarely commit turnovers and they move the chains. They are a great third-down team.
On defense, they still pressure the quarterback but -- and this is the big change from last year -- they don't blitz as much. They've been a lot more solid at the back end of their defense and they've cut back greatly on the number of big pass plays they've allowed.
The Bills have been playing without their top running backs,
Fred Jackson
and C.J. Spiller, because of injuries. Spiller won't play against the Chiefs but does Jackson have a chance? And give me a scouting report on
Anthony Dixon
, who has assumed the featured back role in their absence.
Rodak:
I'd say Jackson has a chance, but the odds are still against him playing Sunday. After he was injured in an Oct. 19 win over the
Minnesota Vikings
, he told WGR 550 radio that doctors expected a monthlong recovery process for a groin muscle that tore off the bone. Jackson, 33, is known as a quick healer and a tough player who can play through pain, so it wouldn't shock me if he played -- but the more prudent move might be to ensure he's healthy for the stretch run. The Bills will need him.
As for Dixon, he was known as more of a situational, short-yardage back in four seasons with the
San Francisco 49ers
. Given the opportunity to be the workhorse, he is out to prove that he's more of an all-around back. There are signs of that. He has shown the ability to catch the ball out of the backfield and make players miss, but the strength of his game is still to lower a shoulder into defenders and push for yardage. He's a bruiser.
In some ways, the Chiefs mirror the Bills' current approach: They have a quarterback over 30 years old who is known more as a game manager than a star, a run-first philosophy on offense and a stout defense led by a strong pass rush. How sustainable do observers of the Chiefs think that model is? Do they feel they need a long-term upgrade at quarterback? The Bills might soon face the same question with
Kyle Orton
, who turns 32 this month.
Teicher:
With Alex Smith at quarterback, the Chiefs have no choice but to build their team that way. Smith isn't the type of quarterback who will carry a team on his back like, say,
Ben Roethlisberger
is doing in Pittsburgh and
Andrew Luck
is doing in Indianapolis. They need to surround Smith with a solid defense and good, complementary players on offense. But they are committed to him. They signed him over the summer to a new long-term contract, and while they can get out of it relatively cheaply after a couple of seasons, that's not the plan. The plan is to coach Smith up to be the best player he can be and build the right team around him.
Orton has one of the NFL's best passer ratings since taking over as the starter from
EJ Manuel
. Can he maintain that over the rest of the season and particularly against the Chiefs, who pressure the quarterback consistently and don't allow a lot of big pass plays?
Rodak:
That's the million-dollar question for the Bills. If Orton continues to put up the numbers that he has since Manuel was benched, the Bills have a strong shot to make the playoffs. Orton is the NFL's fourth-most accurate quarterback on passes over 15 yards and the league's most accurate passer on third downs, when he throws for an NFL-high 11.3 yards per attempt. He has also been fantastic in the fourth quarter. If he can keep up his strong play in critical situations, the Bills will be in a good spot. The problem will be defenses like the Chiefs, who sack opposing quarterbacks on a league-high 10.8 percent of attempts. Meanwhile, the Bills' offense allows sacks on 8.4 percent of pass attempts, the fifth-worst mark in the NFL. That's a mismatch.
Over the past month of the season, the Bills rank third in yards per play allowed (4.76) while the Chiefs rank fourth (4.90). What's driving the Chiefs' success on defense?
Teicher:
They're getting strong play from unheralded players. End
Allen Bailey
is in his fourth season with the Chiefs but first as a starter. He's a three-down player who's defending the run and rushing the passer well. Inside linebacker
Josh Mauga
signed with the Chiefs the day before training camp started. When the Chiefs lost Pro Bowler
Derrick Johnson
for the season with an injury in the opener, Mauga stepped in and has played well. He, too, is a three-down player and leads the Chiefs in tackles. Free safety
Husain Abdullah
, a backup last season, won the starter's job in camp and has played well.
In tackle
Marcell Dareus
and ends
Mario Williams
and
Jerry Hughes
, the Bills have three players who are in the top 15 in the league in sacks. That doesn't include tackle
Kyle Williams
, who had 10.5 sacks last year. That should be of great concern to the Chiefs, who have had trouble protecting Smith. Do the Bills blitz much or do they try to get pressure mostly with their front four?
Rodak:
It's been mostly the front four, which is likely the league's best. The Bills blitz on just 22.6 percent of snaps, the sixth-lowest mark in the league. On plays when the Bills do blitz, they've been effective. Opposing quarterbacks have been held to a 25.2 QBR when faced with five or more Bills rushers, the third-worst mark in the NFL. The Bills register a sack on 10.5 percent of dropbacks when they blitz, compared to 7.7 percent when they don't. Both of those marks are in the top tier of the league.
October, 31, 2013
10/31/13
12:00
PM ET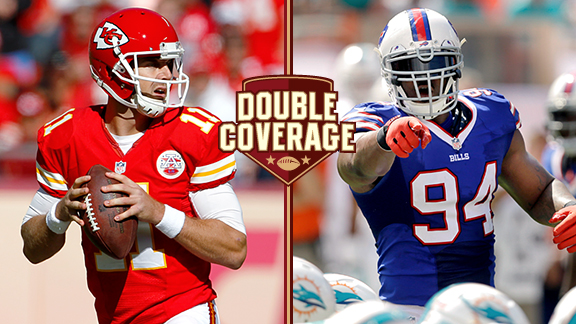 AP PhotosAlex Smith will face Mario Williams and a pass rush that have the second-most sacks in the league.
The 8-0
Kansas City Chiefs
have some big games upcoming, including showdowns for AFC West supremacy on Nov. 17 and Dec. 1 against the
Denver Broncos
. But first is Sunday's game against the 3-5 Bills in Buffalo.
ESPN Chiefs reporter Adam Teicher and Bills reporter Mike Rodak discuss the game:
Teicher
: With the exception of three lost fumbles, it looks like quarterback
Thad Lewis
is playing better than the Bills had a right to expect. For those of us who aren't familiar with his game, give us a little scouting report with regard to his strengths and weaknesses and things he might be able to do --
if he is able to play Sunday
-- that could give the Chiefs some trouble.
Rodak
: I think you nailed it. Even though Lewis is still in the bottom third of the league among quarterbacks, the Bills are more than happy with what they're getting from him. Most importantly, Lewis is a heady player with a real strong grasp of the offense. That's what impressed offensive coordinator Nate Hackett when they sat down with Lewis after
EJ Manuel
's injury and why they chose him. He's physically not the most gifted quarterback, but Hackett likes Lewis' arm strength. We've seen it on some deeper passes Lewis has completed in the past three games, and if he can get the protection, they're going to keep trying that. As a runner, Lewis isn't
Terrelle Pryor
, but he has the mobility to run the read-option the Bills like to mix in out of their no-huddle offense. The question is, how much will they run him? Lewis got drilled from behind on a designed run to begin the game Sunday, suffering bruised ribs, and his status against the Chiefs is still up in the air. If Lewis plays Sunday, the Chiefs shouldn't have to worry too much about him as a runner.
Adam, I'm sure you've been asked this plenty of times this season, but what has clicked for the Chiefs? Was it the move away from Scott Pioli and Todd Haley/Romeo Crennel to John Dorsey and Andy Reid, or were there personnel changes that made a bigger impact?
Teicher
: The coaching and administration moves were huge. For the previous four seasons the Chiefs had a lot of guys with their own agendas, pulling in different directions and focusing on things that didn't matter. Dorsey and Reid deserve a lot of credit for getting everyone to fall in line behind them. Everyone has the same goals now. Reid has persuaded some players to put aside personal goals for the greater good. A lot of Chiefs players were tired of the losing and the sideshow stuff and were ready to be led in a positive direction. Reid walked through the doors with some impressive credentials and they listened to him. As far as personnel changes, most of the Chiefs' better players are ones who were here when Reid and Dorsey arrived. The only new guy in what you could call a key role is QB
Alex Smith
. Otherwise, most of their key players (
Jamaal Charles
,
Branden Albert
,
Dontari Poe
,
Tamba Hali
,
Justin Houston
,
Derrick Johnson
and
Eric Berry
) have been around.
Smith was sacked six times against Cleveland last week and 24 times this season, so pass protection has been a problem for the Chiefs. The Bills are doing a good job getting after the opposing quarterback. What have teams done to try to counter
Mario Williams
, and do the Bills have anyone else consistently putting pressure on the quarterback?
Rodak
: I think the best job an opposing offense has done against Mario Williams was in Week 6, when the Bengals took down the Bills in overtime. They caught the Bills off guard by opting for a shorter passing game, forgoing the chance to attack a shaky (at the time) Bills secondary with
A.J. Green
. Instead,
Marvin Jones
had a 34-yard end-around run and a 42-yard catch-and-run in the first seven minutes of the game that set the tone. Williams finished with just one tackle and a half-sack, even with the extra period. The Bills don't have a player putting up 11 sacks like Williams, but their pair of defensive tackles --
Kyle Williams
and
Marcell Dareus
-- are among the better duos in the league. Each has four sacks. Overall, Mike Pettine's defense thrives on generating pressure from many different sources, including the defensive backs. Andy Reid is a veteran coach and knows his offense will have to be ready for the blitz from start to finish Sunday.
Adam, would you say the Chiefs are effective in spite of Alex Smith this season -- he has posted just an 82.1 QB rating -- or because of him? Is their success through the first half of the season sustainable even with Smith at quarterback?
Teicher
: There are things Smith can be doing better, but they're 8-0 because of him, not in spite of him. Among the things Smith has done exceedingly well are protect the ball and run from trouble. Smith has thrown only four interceptions, so he's not forcing the ball into tight situations or otherwise taking risks with it. He's fumbled just once, and the Chiefs even recovered on that one. For him to handle the ball on every offensive play and have only four turnovers is amazing. When he's been sacked, he's holding on to the ball. Smith is the Chiefs' second-leading rusher and has scrambled out of trouble a number of times. It's fair to say they wouldn't be 8-0 without his running ability. It's been that valuable. That said, Smith needs to complete a higher percentage of his passes. Right now, he's only at about 59 percent. Getting that into the low to mid 60s would make a big difference for the passing game. The Chiefs also have trouble getting touchdowns in the red zone. That can't all be blamed on Smith, but he can be more efficient inside the 20.
I can't figure out why the Bills aren't better defensively. They've been solid against the run, have strong pass-rush capability, create a good number of turnovers, yet still have allowed 20 or more points in every game. I know they've allowed some big pass plays. Is that the only reason they haven't been better defensively?
Rodak
: I think the big plays are part of it, Adam. The Bills have allowed 14 receptions of 35 yards or more, the most in the NFL. But the Chiefs have allowed 12, the second-most, so there's more to it than that. I think the first place to look is on the other side of the ball, where the Bills' offense averages just 27:41 in time of possession. That's the fourth-lowest mark in the league and is putting stress on the defense. The Bills have a creative mind in defensive coordinator Mike Pettine and talent at all three levels of their defense. But their offense, between injuries and inexperience, has been so ineffective at some stretches that the defense just can't hold up. This is a defense that has put pressure on opposing quarterbacks and forced some turnovers, but they'll need to prevent the big play and have their offense pick up some slack going forward.
Adam, what do you think it will take for the Chiefs to lose Sunday?
Teicher
: Opponents have started to give the Chiefs their best shots. Houston did two weeks ago and Cleveland did last week, and each team came close to knocking off the Chiefs at Arrowhead Stadium. So if the Texans and Browns can keep things close in Kansas City, it reasons that the Bills can beat them in Buffalo. The Chiefs have played the past couple of weeks, and particularly against Cleveland, as if they're weary of the burden of being the NFL's remaining unbeaten team. They took a 13-0 lead against the Browns, then looked like they ran out of energy. They'll need to bring more Sunday in Buffalo or they certainly could be in trouble. The Bills could make things easier on themselves by getting an early lead. The Chiefs have led much of the time this season and have been able to play the games on their terms. When they've been behind, it's never been by more than a touchdown. Kansas City has trailed in the fourth quarter in just one game, that being by four points early in the final period on Oct. 6 in Tennessee. That deficit didn't last long, so it would be interesting to see how they do if they need to play catch-up late in a game.
.