Buffalo Bills:

New Orleans Saints
March, 13, 2014
3/13/14
8:00
AM ET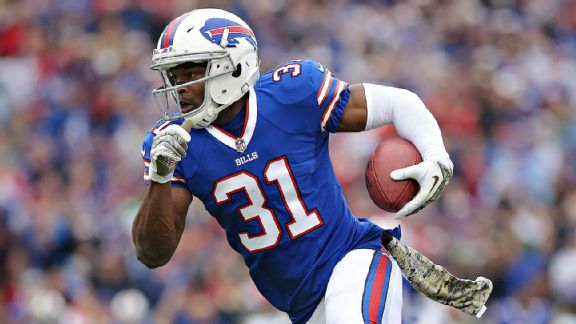 Tom Szczerbowski/Getty ImagesThe Saints were aggressive early in free agency by striking a deal with Pro Bowl safety Jairus Byrd.
None other than
Seattle Seahawks
safety
Earl Thomas
himself nailed it on Tuesday night when he tweeted the words, "Copy cat league ..#NFL"
Teams around the NFL spent big Tuesday on safeties who might be able to make the kind of impact that Thomas has made with the reigning Super Bowl champs. None more so than the
New Orleans Saints
, who agreed to a six-year deal with former
Buffalo Bills
safety
Jairus Byrd
.
The deal is worth $9 million per year – a hefty price, indeed. But Byrd was rated by several media outlets as the No. 1 free agent available in the NFL, regardless of position.
Byrd has made three Pro Bowls in his five seasons with the Bills, racking up 22 interceptions and 11 forced fumbles.
ESPN Saints reporter Mike Triplett and Bills reporter Mike Rodak break down the move from both perspectives:
Triplett:
So how much of a game-changer did the Saints get in Byrd?
Rodak:
There's potential for him to be one, Mike. Byrd's absence early last season hurt the Bills. Their secondary stumbled its way through a Week 3 loss to the
New York Jets
, which wound up being one of
Geno Smith
's best games of the season. He tossed two long touchdown passes, exposing a weakness at safety when Byrd was injured. Overall, opposing quarterbacks had a 46.0 QBR and a 7.19 yards per attempt when Byrd was out. When he came back, that dropped to a 30.1 QBR and a 6.18 yards per attempt. Had he played the full season, Byrd statistically projected to have seven interceptions, which would have been the second-best mark of his career.
Mike, how the heck did the Saints manage to fit Byrd under their cap? I think that's what surprised Bills fans the most -- that a team with about $2 million in cap space at the start of this week managed to nab one of the top free agents on the market.
Triplett:
Where there's a will, there's a way, right? Especially when it comes to salary-cap management.
I was a little surprised that the Saints aimed THAT high. But I fully expected them to make one or two aggressive moves, like when they signed cornerback
Keenan Lewis
last year under similar cap constraints. The Saints are bona fide Super Bowl contenders as long as quarterback
Drew Brees
remains in his prime. And they've shown that they're willing to keep pushing salary-cap costs into future years as long as they're in this window (
Byrd's deal only counts $3.5 million against the cap in 2014
).
Of course, it has meant releasing a ton of beloved veterans this offseason, when the Saints feel like their values no longer match up with the price tag. But the Saints clearly figured that Byrd could make a bigger impact going forward.
So I'll ask you the flip side, Mike. Why do you think the Bills let Byrd get away? Any reason to worry that he won't continue at this pace for another four or five years?
Rodak:
I think that the Bills had reached a point with Byrd where they felt like there wasn't going to be much of a future. They had been negotiating with him for over a year and once they decided not to franchise him, the writing was on the wall for his departure. Why didn't they franchise him? I think that's a decision that can be debated for years. General manager Doug Whaley said that they wanted "more amicable" negotiations, but it never seemed like talks changed course in the final week before free agency. Ideally, I think the Bills would have liked to franchise and trade him, but Whaley admitted that was a difficult proposition.
As for Byrd's future, there are two concerns: his speed and his feet. ESPN NFL analyst Bill Polian gave Byrd a B-minus for his free-agent tracker, calling him a "speed-deficient safety." As Byrd gets into the later years of his Saints deal, that could become a greater concern. There's also plantar fasciitis, a chronic foot condition that kept Byrd out of the first five games last season. He's said that's something he dealt with even before last season, and it's something to monitor going forward.
Mike, do you think the pairing of Byrd and
Kenny Vaccaro
is now the best safety tandem in the NFL?
Triplett:
Maybe outside of Seattle, anyway. Vaccaro showed a lot of promise as a rookie last year, and I think this frees the Saints up even more to use him as an attacker all over the field while trusting Byrd to help from the back end. Throw in Lewis, whom I thought deserved to go to the Pro Bowl as a No. 1 cornerback last year, and it's quite the secondary the Saints are putting together. Not a bad complement to the Saints' offense, obviously.
Hopefully it winds up as a win-win, with the Bills spending wisely on their future. I don't mind saying that having covered Doug Marrone here in New Orleans, he's one of my absolute favorites in the league.
October, 24, 2013
10/24/13
5:00
AM ET
ORCHARD PARK, N.Y. -- It's been five years since Doug Marrone served as the offensive coordinator in New Orleans, but when he heard the familiar voice of
New Orleans Saints
coach Sean Payton on a conference call with
Buffalo Bills
reporters Wednesday, he couldn't resist the chance to poke fun at his former boss.
"This is Doug Marrone from the Bronx Times," the now-Bills head coach said, leaning into the speakerphone.
"I recognize that voice," Payton responded. "They just let anybody in there, don't they?"
Earlier in the call, Payton noted that Marrone -- along with
Oakland Raiders
head coach Dennis Allen -- were among coaches who helped get the "program" off the ground in New Orleans. The Saints wound up winning a Super Bowl the year after Marrone departed for Syracuse in 2009, but the two maintain close ties.
"Sean and [general manager] Mickey [Loomis] and the guys there made me feel more a part of [the Super Bowl win] than I probably was," Marrone said. "They called me, invited me, come to the Super Bowl. Asked me if I needed anything. 'Miss you, you're a big part of this, we want you to know.' I think that's the type of people they are. They're just good people. They didn't have to call; they didn't have to say anything. They didn't have to make me feel that way. Those are the types of people they are and I have a great appreciation for that."
Marrone said he couldn't make the trip for the Saints' win over the
Indianapolis Colts
because he was on the recruiting trail, but had he had time, he would have joined Payton in Miami.
Shortly after Payton and Marrone joined the Saints in 2006, they invested heavily in
Drew Brees
, who arrived via a free-agent deal from San Diego. Brees has gone to six Pro Bowls since and is held in highest regard by his former coach, Marrone.
"[The success of the Saints offense] starts with Drew. I think he's an outstanding competitor. I was very fortunate to be around him," Marrone said. "Many people don't know that he defeated Andy Roddick in tennis when he was in high school. That's the type of athlete and competitor that he is."
Now running the show in Buffalo, Marrone has taken on the challenge of developing a rookie quarterback,
EJ Manuel
. In doing so, he hopes to draw the experience of coaching Brees from 2006-2008.
"When you think about it, people like Drew, and I can't speak for
Tom Brady
and
Peyton Manning
because I haven't been around them in that type of setting, but when you look at what does a quarterback need to do to get himself ready, how does he handle his business off the field as well as on the field, how about his leadership?" Marrone said. "I always feel fortunate to be with someone like that because at least you know how it should be done."
With an injury sidelining Manuel for the next several weeks, Marrone must prepare
Thad Lewis
, in just his fourth career start, to go head-to-head with Brees in the Superdome.
It's not an easy task, but for Marrone, whatever success he achieves as a head coach he will one day trace back, in part, to his days in New Orleans.
"I always appreciated, one Mr. Benson and I were kind of back to back, I always appreciated what he did for me," he said. "Sean and I, we had a working relationship and we had a close friendship. To be close to him and see what he went through as a head coach was obviously very helpful. ... I was very fortunate to have that and it's been a big part of who I am today and what I've learned."
October, 23, 2013
10/23/13
9:35
PM ET
METAIRIE, La. –
Buffalo Bills
coach Doug Marrone was once declared "
America's friendliest football coach
" by ESPN The Magazine, when he agreed to record two personalized voice-mail messages for a fictitious fan while working at Syracuse. And Marrone has always had a friendly rapport with the New Orleans media – including a humorous conference call on Wednesday.
But "friendly" is not the first word that comes to mind when the
New Orleans Saints
' veteran offensive linemen think back to Marrone's years as their offensive coordinator and offensive-line coach from 2006 to 2008. When asked if he used to think Marrone was too nice to become an NFL head coach, Saints offensive tackle
Zach Strief
practically did a spit take.
"Too nice?!" Strief said. "There's a lack of perception right there."
[+] Enlarge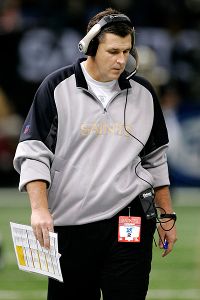 AP Photo/Ann HeisenfeltDoug Marrone was on the coaching staff that rebuilt the Saints in the wake of Hurricane Katrina. He'll return to New Orleans on Sunday as the Buffalo Bills' head coach.
He was at least partly joking.
Both Strief and guard
Jahri Evans
remain close with Marrone and insist he was instrumental in their development during those years. They both described him as a great teacher and great coach.
"It's hard to say enough good things about what he meant to me and to Jahri," Strief said.
But they also remember Marrone as a "grinder" who worked around the clock and never let up on his players – especially in that first year of the team's rebuilding project under new coach Sean Payton in 2006, in the wake of Hurricane Katrina.
"Yeah, we must have been a steppingstone for him," Evans said, laughing, when asked about Marrone's "nice guy" reputation.
Evans also credited Marrone for teaching him the technique and fundamentals that helped turn him into a four-time first-team All-Pro.
"He was a good coach for me, telling me, 'Hey, you're doing good out there. But imagine how much better you could be if your technique was sound, if you took this step and not that step,' and just not really letting you slide on it," said Evans, who became a starter as a rookie out of Division II Bloomsburg in 2006. "The best way I can explain him – and not all coaches are like this – you could make a great block but something technical was wrong. Your first step, your second step, your hand placement. And he wouldn't talk about the good block you had, but talk about the technique which could have not allowed you to have a good block.
"So just that mind frame of him knowing in Year 6 or 7, that might not work. Or late in the fourth quarter of a game, when you're tired and not as athletic as your first snap, you'll rely on your technique."
Strief compared Marrone to his college coach at Northwestern, Randy Walker, who Strief said had the perception of being a "mean, tough guy."
"Ultimately, a lot of times those guys that are tough want you to be good, and they want to push you, and they want to drive you," Strief said. "As a young guy in this league, I think I kind of saw it as, 'Man, this guy's rough, he's really hard on me.' And yet [Marrone] walks away, and the same as when I left Northwestern, you realize, 'Boy that guy made me a lot better by pushing me to points that maybe I wouldn't have done on my own.'"
Strief continued: "Then when he goes to Syracuse and gets that job, you immediately see that different personality, you know, his character kind of come[s] out. And I think he really thrived in that role. Honestly, it was probably a better fit for him than being a coordinator. I think he's a natural kind of leader. And it's good to see him succeed."
Payton said it "absolutely" struck him early in his relationship with Marrone that he might become a head coach one day. And he said he was very fortunate to land Marrone on that first staff. Marrone had to get out of his contract as the New York Jets' offensive-line coach to take the promotion to offensive coordinator in New Orleans.
"That initial staff, a lot of those guys came with promotions. We weren't winning many jump balls, if you will, in the hiring process," Payton said – again, only half-joking. "He was very involved in our talent evaluation. He was very thorough and is a great worker. … He was a big part of us having early success, and it's good to see him doing the same there."
Naturally, Marrone also looks back on those years in New Orleans fondly. He spoke very highly of the relationships he developed with people such as Payton and general manager Mickey Loomis, and he marveled at what it was like to be a part of the city in the wake of Katrina.
"I say this all the time, having gone down there post-Katrina and having really been a part of something that special is always going to be a special part in my life and in my family's life," Marrone said. "What everyone did and the resiliency of the people to build back a region, and I tell that to people all the time, was just an unbelievable, incredible experience."