Buffalo Bills:

2013 Week 7 BUF at MIA
October, 20, 2013
10/20/13
7:29
PM ET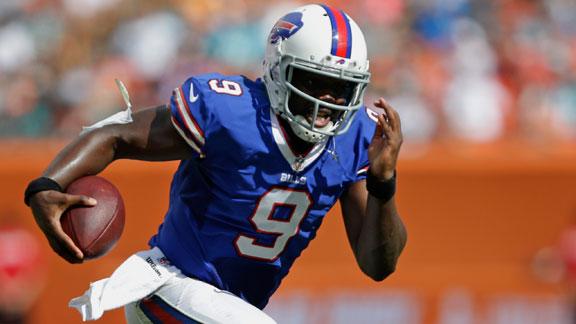 MIAMI -- When
Buffalo Bills
kicker
Dan Carpenter
trotted onto the Sun Life Stadium field to attempt a second-quarter field goal Sunday, he was greeted by boos from his former home crowd.
Carpenter is the most accurate kicker in Dolphins history, completing 81.9 of his field goals from 2008-12. But it was two big misses last season -- leading to Miami losses to the
New York Jets
and
Arizona Cardinals
-- that cost him the confidence of fans and ultimately his team.
Oddly enough, it was the Jets and Cardinals who picked up Carpenter for brief stints following his release this summer. The Bills later signed him to replace an injured
Dustin Hopkins
prior to the season opener.
Carpenter nailed
a 31-yard field goal
with 33 seconds remaining Sunday, giving the Bills a 23-21 lead and silencing those who had jeered him.
"I think Dan is well respected," Marrone said. "He had a great career here. I don't think anyone needs any extra motivation in this league to come back and kind of say 'Hey, I told you so.' But I guarantee you this: knowing Dan, he's a whole lot happier that our team won than he is anything else."
Marrone couldn't have been be more right.
"There was nothing special about it," Carpenter said of his return to Miami. "I have no hard feelings with what happened with the Dolphins. I'm glad to be in Buffalo right now and doing anything I can to help this team win."
The story was different for quarterback
Thad Lewis
, who made his second consecutive start with the Bills on Sunday. Lewis grew up a few miles from Sun Life Stadium in Opa-Locka, Fla. and drew extra motivation from playing in his old back yard.
"I kept telling him to calm down and relax," Marrone said. "He was all fired up. So immediately, my antennas go up and I say, 'Hey, just because you came home doesn't mean you got to go off the deep end on me.' He said, 'No coach, I'm fine.' And he calmed down."
The problem for Lewis was that his play on the field also calmed down from his impressive start last week in Cincinnati. He completed 21 of 32 passes for 202 yards, but was intercepted once, sacked four times, and forced to pull out big plays in third-and-long situations.
"We made some big third downs," Marrone said. "As we progressed through the game we made some plays. We really weren't in sync like we should be."
At one point in the third quarter, Lewis was drilled by Dolphins
Jelani Jenkins
after a completed third-and-11 pass, Lewis' helmet flying off in the process. After flags flew and receiver Stevie Johnson was taken down after a 17-yard gain, Lewis got up and pumped his fist in celebration.
"I'm not a rah-rah guy but when you're down and out you feel like you have to do something to get the team going," Lewis said.
Lewis said it was the first time he's won in Sun Life Stadium, dating back to his career at Duke.
"It was awesome," he said. "I had about 16, probably more people that I know, but I only had 16 tickets so they didn't hit me too hard."
Despite his local ties, Lewis said he was rarely able to afford Dolphins tickets growing up, an upbringing that his coach and teammates said helped build his character as an NFL player.
"When you look at him being out there on that field, it's perseverance throughout his background," Marrone said.
"He's a guy we have a lot of faith in," running back
Fred Jackson
said. "We love what he brings to the table. Hopefully he can continue to play well."
October, 20, 2013
10/20/13
6:56
PM ET
MIAMI --
Fred Jackson
lied face-first in front of his own bench, his knee having bent awkwardly as he was tackled near the sideline.
The 60,592 fans who had just settled into Sun Life Stadium for the
Buffalo Bills
'
23-21 victory
against the
Miami Dolphins
on Sunday all had the same reaction: a collective gasp as the video board played a replay of the injury.
While on the ground, the 32-year old team captain was quickly surrounded by medical staff, fellow running backs
C.J. Spiller
and
Tashard Choice
, and head coach Doug Marrone.
"I was scared," Marrone said. "I saw it happen. He went down in a quick movement. At first, I was concerned."
The Bills were concerned enough to bring out the cart for Jackson, but after a few moments, Jackson was able to get to his feet and return to the bench, with the cart waved off.
Jackson, who said he aggravated a sprained MCL in his left knee on the play, was back on the field for the next drive, later capping it off with a 3-yard touchdown.
"He's a legend. He's a real life legend. I don't even know what to say," receiver Stevie Johnson said. "He got injured, came back. His leg was messed up and he still was running for first downs and touchdowns."
One of those first downs was a key third-and-4 run late in the fourth quarter, extending a Bills drive to set-up a go-ahead field goal.
"We needed it," he said. "We had the opportunity to ice the game. You play for those types of moments and coach called my number. It was a great team effort on the offensive side of the ball."
Jackson finished with just 36 yards on 11 carries, but no statistic would capture the toughness he displayed in the game.
"A lot of times people talk about age and years," Marrone said. "But Fred, shoot, he's as strong and tough as any rookie we have."
Going forward, Jackson falls into the same category as Spiller, who has a nagging ankle injury. The season is long, the bye week is a month away, and both players will need to fight through it.
"It's just going to be something I have to deal with," Jackson said. "I don't know how long, but it's going to be something I have to manage and I hope I can keep it under control."
October, 20, 2013
10/20/13
6:35
PM ET
MIAMI -- Through three quarters of the
Buffalo Bills
'
23-21 win
over the
Miami Dolphins
, something wasn't adding up.
The Dolphins had struggled to protect quarterback
Ryan Tannehill
all season, while the strength of the Bills' defense had been putting pressure on opposing passers. Yet entering the fourth quarter Sunday, the Bills were still without a sack.
That all changed with a thump and a thud when defensive end
Mario Williams
slammed Tannehill to the turf to stall a Dolphins drive in Bills territory.
A sleeping giant having been awakened, Williams took Tannehill down again three plays later, forcing a fumble that was recovered by teammate
Kyle Williams
to set-up a go-ahead field goal.
[+] Enlarge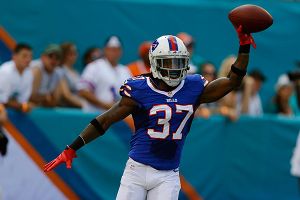 AP Photo/Lynne SladkyRookie Nickell Robey made his first interception count, returning it for a touchdown.
"They were big plays in the game," Dolphins coach Joe Philbin simply said. "Big plays."
It was just what the doctor ordered for the Bills' defense, which had allowed some big plays to the Bengals in an overtime loss last week.
Williams' strip-sack and a pick-six by
Nickell Robey
in the first quarter bookended what was an otherwise uninspiring performance by both teams.
It was a breakthrough moment for Robey, who jumped in front of a Tannehill pass on the third play of the game and trotted 19 yards for the touchdown. The undrafted rookie, off to a strong start, had come close to making his first career interception in previous games but wasn't able to reel one in until Sunday.
"He's been really close," head coach Doug Marrone said. "I'm out there while you guys are saying '[Wow], great play' and I'm saying, 'Shoot. It's about time.'"
Robey said he was anticipating the throw on a "pivot" route by Dolphins receiver
Brandon Gibson
.
"It was on film plenty of times," Robey said. "I've seen it, I believed it, and I jumped it."
The USC product is the youngest and smallest player on the Bills' roster, but despite his lack of size and experience he has carved a role as the nickel cornerback.
"You need to have great technique and leverage against taller receivers. That's what I'm always faced with. I'm 5-foot-7," he said. "You just need to know how to play these guys. You can't use your hands a lot like in college. You have to use your feet, and I think that fits perfectly into my game. I'm quick, I'm fast, and I can move. I try to use that as an advantage in my game."
Meanwhile, Williams' two sacks give him 10 for the season, surpassing Bruce Smith (who had nine in 1997) as the most for a Bills player in the first seven games of the season.
"My opportunity presented itself," he said. "Being able to have everybody beside me, and play off each other, it came through."
October, 20, 2013
10/20/13
4:11
PM ET
MIAMI -- A few thoughts on the
Buffalo Bills
'
23-21 win
over the
Miami Dolphins
:

What it means:
On a day when
Thad Lewis
and the Bills' offense struggled to consistently move the ball, the Bills' defense came up with big plays. Undrafted rookie
Nickell Robey
returned a first-quarter interception for a touchdown, while
Mario Williams
strip-sacked
Ryan Tannehill
in the fourth quarter to set up the Bills' go-ahead score. After losing a 14-0 lead and trailing in the fourth quarter, the Bills come away with their first division win and first road victory of the season.
Carpenter gets revenge:
Kicker
Dan Carpenter
was released by the Dolphins in August after five seasons with the team, but he kicked the go-ahead field goal Sunday against his former team. Carpenter, who was booed by the Sun Life Stadium crowd, hit a 31-yarder to put the Bills up 23-21 with 33 seconds left. Carpenter has made his last 15 field goals, the fourth-longest streak in Bills history.
Jackson toughs it out:
With
C.J. Spiller
already hobbled, the Bills got a big scare in the first quarter when
Fred Jackson
's leg bent awkwardly as the veteran was hit running out of bounds. The cart came out for Jackson, but it was waved off as he rose to his feet and eventually returned to the game, running for a 3-yard touchdown. Jackson finished with 36 yards on 11 carries, while Spiller gained 11 yards on six carries. Both are playing through injuries.
Stock watch:
Bills' pass rush (first three quarters). The Bills, who entered the game with the NFL's fourth-most sacks, failed to register a sack until the fourth quarter. Part of it may have been a more running-based game plan for a Miami offensive line that has struggled to keep Tannehill upright this season; the Dolphins had allowed the second-most sacks of any NFL team before Sunday. But for a Mike Pettine-coached defense that thrives on generating pressure, the Bills failed to do that in this game until late, getting it cranking just in time to pull out the win.
What's next:
The Bills improve to 3-4 but remain in fourth place in the AFC East. Their slate doesn't get any easier as they'll travel to face the
New Orleans Saints
next weekend. They'll need to play better in the Superdome than they did in Miami.