Buffalo Bills:

Andre Reed
August, 3, 2014
Aug 3
12:30
AM ET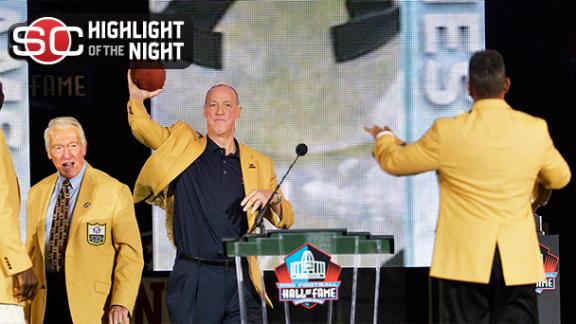 CANTON, Ohio -- The
Buffalo Bills
finally had their night.
[+] Enlarge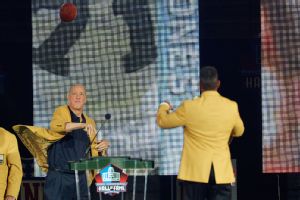 AP Photo/David RichardHall of Famers Jim Kelly and Andre Reed connected on one last reception at Reed's induction into the Pro Football Hall of Fame.
Following an arduous offseason that saw franchise icon Jim Kelly diagnosed with a recurrence of cancer and the death of owner Ralph Wilson days later, the induction Saturday of Andre Reed into the Pro Football Hall of Fame was a long-awaited and much-needed celebration of the franchise's golden era.
In front of thousands of Bills fans who made the three-hour trip from Western New York and filled the stands at Fawcett Stadium, Reed captivated the crowd with a tribute to the ailing Kelly, who sat nearby on stage.
"I was known for my toughness, going across the middle, making that catch, breaking tackles," Reed said. "But the toughest individual I've ever met in my life was Jim Kelly, No. 12."
Following his acceptance speech, Reed turned to Kelly on the middle of the stage and caught one more pass from his former quarterback. The two then hugged on the front of the stage in front of Reed's newly unveiled bust -- nearly 20 years after their final game together.
It was a fitting, emotional moment.
"Jim, you have endured a lot in your life. The loss of a son and, most recently, your battle with cancer. You're an inspiration to all of those you touch," Reed said during his speech. "I'm honored to call you my teammate, my friend, and my family member and, now, my fellow Hall of Famer. I love you, man."
Saturday night brought a sense of completion to the Bills squad that went to four consecutive Super Bowls in the early 1990s. Reed was joined on stage by four of his teammates already with gold jackets -- Kelly, running back Thurman Thomas, defensive end Bruce Smith and receiver James Lofton -- and was presented by Hall of Fame coach Marv Levy.
The flood of Bills greats in Canton, Ohio, was joined by a crowd that made it clear where they stood on the franchise's uncertain future.
Reed thanked Wilson for being "the greatest owner in sports history" and then added a line that drew some of the loudest cheers of the night from the crowd, including some who held a "Thank you, Mr. Wilson" banner from the upper reaches of the bleachers.
"And, oh yeah, the Bills
will
stay in Buffalo, too," Reed said.
At a time when the franchise's future is uncertain and Kelly's is fighting cancer, Saturday night gave Bills fans not only a chance to honor Reed, but also to take center stage in the NFL's annual celebration of its history.
This was the Bills' night.
July, 29, 2014
Jul 29
11:30
AM ET
PITTSFORD, N.Y. -- The potential for Jon Bon Jovi to be part of a group owning the
Buffalo Bills
continues to be a sore subject for the team's fans.
Count former wide receiver Andre Reed, who will enter the Pro Football Hall of Fame this Saturday, among those irked by Bon Jovi's likely bidding on the franchise.
In a feature piece published Tuesday by New York Magazine, Reed offered a strong opinion on the rock star who is part of a Toronto-based group that also includes Maple Leaf Sports & Entertainment chairman Larry Tanenbaum.
"Man, f--- Bon Jovi!" Reed said. "You might as well just take this city, throw it in the river, and let it go down Niagara Falls."
Since Bon Jovi's group has close Toronto ties, there is a fear among Bills fans that it would try to relocate the team to Canada.
Reed's comments were apparently part of a conversation with the co-founders of the "Buffalo Fan Alliance," a fan group with the aim of keeping the Bills in the region. The magazine later provided more details from the conversation.
"Now, I ain't gonna lie to you," Reed said. "One year I went up to Toronto, and man, I had a good-ass time up there."
"Off the record," [Buffalo Fan Alliance co-chairman Matt] Sabuda said.
"Off the record -- I had a great time," Reed said.
A representative for Reed told ESPN that Reed had no further comment on the subject.
While the Toronto Sun reported recently that the Bon Jovi-fronted group
wouldn't relocate
the Bills to Toronto, the Associated Press reported last week that the group had
commissioned a study
of possible stadium sites in the Toronto area.
February, 28, 2014
Feb 28
5:00
AM ET
The snow may still be flying, but February -- the second month of the offseason -- is coming to a close today.
Four weeks ago, we asked what we would learn about the
Buffalo Bills
this month.
Here are the answers to most of those questions, along with some other developments:
[+] Enlarge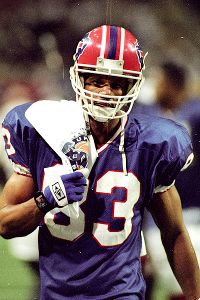 AP Photo/NFL PhotosAndre Reed is the latest member of the Bills to be elected to the Pro Football Hall of Fame.
Reed elected to Hall of Fame:
After eight consecutive years as a finalist, former Bills receiver
Andre Reed
was elected to the Pro Football Hall of Fame this month and will be inducted on Aug. 2. He becomes the 10th Bills player, coach, or contributor to be enshrined in Canton, and the first since owner Ralph Wilson and defensive end
Bruce Smith
were inducted in 2009. Reed will be presented by former coach and fellow Hall of Famer Marv Levy. The current Bills will be in town for the festivities, beginning their preseason against the
New York Giants
in the Hall of Fame game.
New York State forms committee:
Included in the Bills' 10-year lease with Erie County is a provision to form a 21-member committee that will explore options for a new stadium. Earlier this month, New York State named the first five members to the group, but the Bills or the county have yet to announce any appointments. The Bills released a statement saying that they were "appreciative" of the state's efforts but that their focus remained on a major renovation to Ralph Wilson Stadium. There are concerns if building a new, modern NFL stadium is viable in Buffalo -- one of the NFL's smallest markets -- while the uncertain future of Bills ownership could stall any efforts of the committee.
No cuts, yet:
All NFL teams could begin releasing players the Monday after the Super Bowl. The Bills are one of many teams that have yet to make any moves. In terms of cap space, the Bills should be comfortable; they have one of the NFL's highest carry-overs of unused cap space from last season. The future of quarterback
Kevin Kolb
remains something to watch as the new league year approaches in mid-March.
Coaching staff set:
The Bills rounded out their coaching staff this month, hiring Rob Moore as wide receivers coach and promoting Jason Rebrovich to assistant defensive line coach. Both were assistants for Doug Marrone at Syracuse. The Bills don't have any vacancies remaining among position coaches, but could still add quality-control coaches to their staff later this spring.
No ROY for Kiko:
Linebacker
Kiko Alonso
finished second in voting for the Associated Press' Defensive Player of the Year Award, which was announced on Feb. 1. The honor instead went to
New York Jets
defensive tackle
Sheldon Richardson
. Alonso still took home the Pro Football Writers of America's version of the award in January, becoming the first Bills rookie defender honored since
Shane Conlan
in 1987.
February, 27, 2014
Feb 27
2:00
PM ET
Sharing some thoughts on the NFL's
announcement Thursday
that the
Buffalo Bills
will play the
New York Giants
in the annual Hall of Fame game:

Reed
Not a shocker:
The Hall of Fame game, held annually in Canton, Ohio, the day after induction ceremonies, is typically played between an AFC and NFC team who have former players being inducted. Of the five modern-era enshrinees -- Andre Reed, Michael Strahan, Aeneas Williams, Walter Jones, and Derrick Brooks -- Reed was the only player who spent most of his career with an AFC team.
Earlier start in July:
The Bills were one of the last teams to start training camp last season, as they began their preseason on a Sunday instead of a typical Thursday, Friday, or Saturday night game. That won't be the case this year. The Hall of Fame game is held a week ahead of the first full preseason weekend, meaning the Bills might also start training camp a week early. It's not a requirement that they do, but expect coach Doug Marrone to take advantage of the extra time to get his team prepared. That means a shorter July vacation for players and the coaching staff.
Longer haul in camp:
With training camp starting early and five preseason games on the slate, this will be a longer summer than usual for players. The Bills were hit with a rash of injuries last preseason, with several key players --
EJ Manuel
(knee),
Kevin Kolb
(concussion),
Stevie Johnson
(hamstring), and
Stephon Gilmore
(wrist) -- sidelined. For Manuel in particular, the longer camp could be beneficial from a development standpoint, but it also presents more risk for injury, especially with Manuel's knees already under the microscope. It wouldn't be surprising if Marrone works more rest days and walk-throughs into the camp schedule to keep players fresh.
Ideal road trip:
From a fan standpoint, the combination of Reed's induction (on Aug. 2) and the Bills-Giants game (on Aug. 3) make for an ideal summer road trip. With Buffalo-to-Canton less than a four-hour drive, expect plenty of Bills fans in the stands. The Bills last played in Canton in 2009, falling to the
Tennessee Titans
, 21-18.
February, 7, 2014
Feb 7
5:00
AM ET
When former
Buffalo Bills
receiver
Andre Reed
is inducted into the Pro Football Hall of Fame this summer, he'll be joining several of his teammates, including quarterback
Jim Kelly
and running back
Thurman Thomas
.
But it won't be a teammate who will present Reed at the ceremony. Instead, introducing Reed will be Marv Levy, who coached the Bills in each of their four Super Bowl appearances.
Levy, who was inducted into Canton in 2001, appeared on SiriusXM NFL Radio this week, along with Reed.
"Marv, I love you, man," Reed told Levy. "We were like family, and we know we wouldn't be where we are without each other."
Reed's induction ceremony will be held Aug. 2.
February, 1, 2014
Feb 1
5:00
AM ET
On Friday, we asked the following question: What did we learn about the
Buffalo Bills
in January?
Now we'll ask this: What do we expect to learn about the Bills in February?
As the Bills move into the second month of the offseason, here's what on the radar:
Alonso
Does Alonso win rookie honors?
On Saturday, the NFL will reveal the Associated Press' NFL Defensive Rookie of the Year at their annual awards show in New York City. Bills linebacker
Kiko Alonso
could be the favorite, having been awarded the Pro Football Writers of America's version of the award last month. Alonso played every snap his rookie season and finished third in the NFL with 159 tackles. Alonso's top competition could be a pair of defensive tackles:
Star Lotulelei
(
Carolina Panthers
) and
Sheldon Richardson
(
New York Jets
).
Does Andre Reed make the Hall of Fame?
For the eighth consecutive year, former Bills receiver Andre Reed is a finalist for election into the Pro Football Fame. On Saturday, the 46 voters will meet to decide the latest class to be inducted into Canton. The feeling on this end is that Reed is a longer shot to finish in the top five of the voting. Among wide receivers, he faces stiff competition from
Tim Brown
and
Marvin Harrison
.
Byrd
Does Byrd get franchise tag?
Teams have from Feb. 17 to March 3 to assign the franchise tag to player set to become an unrestricted free agent. Realistically, the only Bills player who could get tagged is safety
Jairus Byrd
, who was also franchised last season. Because of the back-to-back tags, the Bills would need to tender Byrd at $8.3 million, which is 120 percent of his salary this season. That amount would be guaranteed if Byrd signed the tender, which could happen at any time after he is tagged. From this perspective, the Bills could keep the franchise tag on the table if they feel (a) they feel they aren't making progress in talks with Byrd's representatives, and (b) they believe the $8.3 million figure is palatable to keep Byrd in Buffalo for one more season.
Does coaching staff get finalized?
The departure of defensive coordinator Mike Pettine has brought several changes to the Bills' coaching staff, which should continue into this month. The Bills hired two coaches Friday: Pepper Johnson (defensive line) and Fred Pagac (linebackers). It's possible that they hire another assistant to help with the front seven. They are also without a wide receivers coach.
Do Bills make any cap casualties?
It's difficult to pin down the Bills' exact salary cap position -- the NFL has yet to settle on a figure for the 2014 season -- but the expectation is that the Bills will be around the middle of the pack in cap space entering the new league year in March. Teams are allowed to release players as soon as Monday, following the Super Bowl, and it would not be a shock if the Bills trimmed their roster in order to free up extra cap space. We'll dive deeper into that topic Monday.
January, 10, 2014
Jan 10
2:30
PM ET
Will the eighth time be the charm for
Andre Reed
?
The former
Buffalo Bills
wide receiver was named Thursday as a finalist for the Pro Football Hall of Fame's 2014 class, but that's familiar territory for Reed. He has yet to be inducted despite being voted as a finalist the past eight years.
Enough is enough, former Bills general manager Bill Polian said Friday.
[+] Enlarge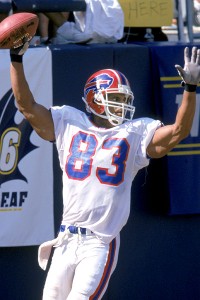 AP Photo/David StlukaFormer Bills general manager Bill Pollian insists that it's time for Andre Reed to be inducted into the Hall of Fame.
"It's time for Andre Reed," said Polian. "It's time that the voters recognize the greatness of Andre Reed, just as they have recognized the greatness of
Art Monk
, Steve Largent,
Cris Carter
and
Michael Irvin
."
Reed was the Bills' leading receiver in each of their Super Bowl seasons (1990-93) and ranks fifth in NFL history, behind
Jerry Rice
, Reggie Wayne, Hines Ward and Irvin, with 85 postseason receptions.
"Andre Reed does belong," Polian said. "It's his time. It's time for the voters to say 'This guy was a dominant receiver in the AFC during his time, during his 16 seasons in the league, during our time at the top of the AFC.' It's time for people to recognize that."
Several other Bills stars from Reed's era have been inducted into the Hall of Fame, including quarterback
Jim Kelly
(2002), running back
Thurman Thomas
(2007), defensive end
Bruce Smith
(2009) and coach Marv Levy (2001).
Polian, who is now an ESPN NFL analyst, has been left scratching his head for the past eight seasons when Reed has made the Hall of Fame's final cut but hasn't been selected for induction.
"I don't know why he's not been in. No one can tell me why," Polian said. "When I ask voters, why has Andre not been voted in, they all sort of pat me on the head and say, 'He'll get in. He'll get in,' as though there's some hidden reason why he hasn't thus far."
Irvin has three Super Bowl rings with the
Dallas Cowboys
, so one knock against Reed may be the Bills losing four consecutive Super Bowls from 1990 to 1993. Polian believes that both players are deserving for induction but that their championships shouldn't play a role.
"That should not count! If that's going to count, then the voters should come out and say publicly we should hold losses in the Super Bowl against you." Polian said. "
Marvin Harrison
, because he only won one Super Bowl, it's going to be held against him?
Peyton Manning
, because he won one Super Bowl, it's going to be held against him? They should come out and say it because there's no reason for Michael Irvin to be in there and Andre Reed not, other than the fact that you want to hold the Super Bowl losses against him."
Reed faces competition at receiver this year from Harrison, who is in his first year of eligibility, and
Tim Brown
, who is eligible for the fifth time. Polian, who served as general manager of the
Indianapolis Colts
for much of Harrison's career in Indianapolis, advocates more receivers being inducted, so he does not necessarily view this year's vote as a choice between the trio of receivers named as finalists.
"I believe it's time to get Tim Brown in too. It's time for the receivers. They've been left behind. For other people, particularly offensive linemen," Polian said. "I've made this argument for years. The modern era of football is a passing game, and it's time to rectify that."
The 46-member selection committee will vote Feb. 1 in New York, with a minimum of 80 percent required for induction.
"Here's a guy -- think about this -- a self-made player from Kutztown State who barely had a scholarship who becomes the dominant receiver in the AFC for 15 years," Polian said about Reed. "That's what the NFL is all about. This is Andre's time. He needs to get in.
"It would make me as happy as happy can be. Next to Andre Reed and his family, I'd be the happiest guy in Canton."
January, 9, 2014
Jan 9
10:45
PM ET
Former
Buffalo Bills
wide receiver
Andre Reed
was named a finalist for the Pro Football Hall of Fame's Class of 2014 on Thursday night.

In 15 seasons in Buffalo, Reed made seven Pro Bowls and led the Bills in receiving yards in each of their AFC championship seasons (1990-1993). He finished his NFL career with 951 receptions for 13,198 yards and 87 touchdowns.
This is the eighth consecutive season that Reed has been named a finalist for election. His chances of making the cut this year are a toss-up; Reed faces competition from a strong class of first-year eligible players, including another wide receiver,
Marvin Harrison
. Former
Oakland Raiders
receiver
Tim Brown
, who is in his fifth season of eligibility, is also a finalist.
The Class of 2014 will be selected Feb. 1, the day before the Super Bowl.