Buffalo Bills:

Buffalo Bills
December, 15, 2013
Dec 15
10:00
AM ET
By
ESPN.com staff
| ESPN.com
Join our ESPN.com NFL experts as they break down the Buffalo Bills' visit to the Jacksonville Jaguars. Contribute your thoughts and questions beginning at 1 p.m. ET. And, be sure to visit our
NFL Nation Blitz page
for commentary from every game, as well as fan photos and the latest buzz from Twitter. See you there.
December, 13, 2013
Dec 13
10:00
AM ET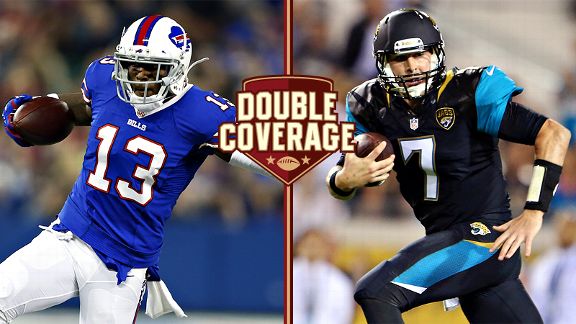 USA TODAY SportsStevie Johnson's Bills and Chad Henne's Jaguars are both 4-9, but the teams appear headed in opposite directions.
It has been a different second half for the
Jacksonville Jaguars
and
Buffalo Bills
.
Both teams are 4-9 but they're on opposite wavelengths. The Jaguars have won four of their past five games and are currently riding a three-game winning streak for the first time since 2010. The Bills have lost four of their past five and are coming off an abysmal performance in Tampa Bay.
Jaguars coach Gus Bradley is talking about making sure his players treat prosperity the same way they treated the adversity they faced in the first half of the season. Bills coach Doug Marrone is talking about scaling back the offense to help rookie quarterback
EJ Manuel
.
The teams meet Sunday at EverBank Field. ESPN.com Bills reporter Mike Rodak and Jaguars reporter Michael DiRocco break down the matchup:
DiRocco:
Manuel is pretty familiar to fans in Jacksonville from his time at Florida State. He has had an up-and-down season, but what have you seen from him that leads you to believe the Bills made the correct choice in deciding to build the franchise around him?
Rodak:
I think the jury is still out on whether the Bills made the correct choice in Manuel. In Sunday's loss to the Buccaneers, Manuel posted a 3.8 QBR, which ranks 415 out of 426 single-game performances in the NFL this season. It's dangerous to give too much weight to what's most recent, but in this case, Sunday had to be alarming for the Bills. Manuel has the leadership and character traits that any NFL team wants in its quarterback, but his on-field performance has left a lot to be desired. These last three games will be critically important to determining which direction Manuel is heading.
The Jaguars have gone on a surprising run lately, winning four of their past five games. Have they been doing anything different than early in the season? Or are things just simply starting to come together for Gus Bradley and his players?
DiRocco:
Schematically, no, other than just paring down the defensive game plan a bit and focusing more on the coverages and blitzes they do well. But three things stand out: better run defense, a better turnover ratio and better success in the red zone. In the first eight games -- all losses by double digits -- the Jaguars were allowing 161.8 yards per game rushing, were minus-7 in turnover ratio, and scored TDs on only 25 percent of red-zone possessions. The numbers in the past five games: 70.8 yards per game allowed, plus-5, and 66.7 percent. The offensive line has been much more consistent, quarterback
Chad Henne
is making few mistakes, and the defensive line has held up at the point of attack much better.
Kiko Alonso
is one of the candidates for defensive rookie of the year and is second in the NFL in tackles. Obviously a second-round pick is expected to produce, but has the kind of impact he has made on the defense been a surprise?
Rodak:
I think so. When I spoke to defensive coordinator Mike Pettine last month about Alonso, he indicated that the Bills inserted him into the starting lineup in the spring, but it was a wait-and-see deal. If it didn't work out, they were going to turn somewhere else, but Alonso has certainly fit well within this defense. He has drawn a lot of praise from coaches and veterans on this team for his work ethic and ability to pick up the scheme quickly. However, I do think that Alonso's play has tailed off slightly over the past several weeks after he had a hot start this season. He had four interceptions, one sack, and one forced fumble in the first month of the season. Since then, he has had one sack, no interceptions and no forced fumbles. Is that overly concerning for the Bills, though? Most likely not. I think Alonso will be a fixture in this defense for the foreseeable future.
What's the latest on
Maurice Jones-Drew
? I remember hearing some trade talk around him a few months ago, but once the deadline passed, he hasn't been on the radar as much. Does he have a future in Jacksonville?
DiRocco:
He does if he's willing to be realistic about a contract. No team is going to pay big money for a 29-year-old running back that has battled injuries the past two seasons, which is what he'll find out if he decides to test the free-agent market when his contract expires after this season. The Jaguars are interested in re-signing him and likely will offer him an incentive-filled two-year contract worth $6-10 million. Jones-Drew, who would like to finish his career in Jacksonville, is making $4.95 million this season so that would be a pay cut. If he's OK with that, then I'd be surprised if he's not around.
What do you think of the job Doug Marrone has done in his first season? And what do you think of his long-term future in Buffalo?
Rodak:
I think it has been a trying season for Marrone. It's not that there were high hopes for the team in his first season -- nobody realistically expected them to make the playoffs -- but I don't think everything fell into place as well as he would have liked. His hire of Mike Pettine as defensive coordinator has generally paid off well, but ultimately what's going to define Marrone's tenure in Buffalo will be the quarterback position. Coaches don't often get more than one chance to get it right at quarterback, so if Manuel doesn't work out in Buffalo, it may not work out for Marrone, either. That's just today's NFL. It's a brutal league.
What about for the Jaguars? Their roster was about as bare bones as it gets this past offseason -- in much worse shape than the Bills' entering this season -- and they've managed to put on a nice little run here. What's the next step that general manager David Caldwell needs to take?
DiRocco:
His No. 1 priority is to find a franchise quarterback. At the beginning of the season I would have told you the Jaguars would draft Teddy Bridgewater with the No. 1 overall selection, but since it now appears the Jaguars will be picking in the Nos. 5-7 range it seems unlikely Bridgewater will be around. Caldwell is going to have to figure out whether there's somebody else he likes just as much or if he's going to be willing to gamble that he can get a good QB a little later in the draft, whether it's A.J. McCarron, Aaron Murray or somebody else.
December, 6, 2013
Dec 6
10:00
AM ET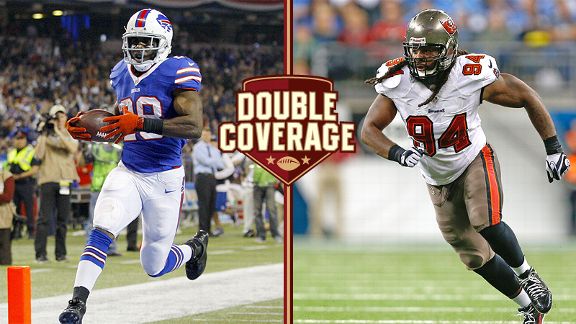 USA Today Sports; AP PhotoC.J. Spiller's Bills and Adrian Clayborn's Bucs are playing for pride -- with draft positioning at stake.
Aside from 2014 draft position, Sunday's game between the
Buffalo Bills
and
Tampa Bay Buccaneers
doesn't have a lot of obvious meaning.
At the moment, the Bucs (3-9) would hold the No. 5 overall pick in next year's draft, while the Bills (4-8) would hold the No. 9 pick. But Sunday's result could shake that order up.
ESPN.com Bills reporter Mike Rodak and Buccaneers reporter Pat Yasinskas examine the matchup.
Yasinskas:
Mike, this game features two rookie quarterbacks. Tampa Bay's
Mike Glennon
and Buffalo's
EJ Manuel
. Glennon is coming off his worst game of the season against Carolina. But, other than that, he has been fairly efficient. What's your assessment of how Manuel has played so far?
Rodak:
Manuel has been up and down, both before his knee injury and after it. The 16th overall pick of the 2013 draft missed four games in the middle of the season after he took a shot to the side of his knee against the Browns in Week 5. The Bills' brass has liked to say that Manuel was on the right track before the injury, but the reality is that he had a completion rate below 50 percent in Weeks 3 and 4 and had three turnovers in that Week 4 win over the
Baltimore Ravens
. When Manuel came back in Week 10, he had perhaps his worst game of the season, in Pittsburgh. Those have been the low points.
On the other end of the spectrum, Manuel led the Bills on a game-winning drive over the
Carolina Panthers
in Week 2 and posted a passer rating of 121.9 against the Jets in Week 11. Those have been the high points. But on average, he has been a below-average NFL quarterback to this point, posting a 45.5 QBR for the season.
Pat, the Bucs looked like a disaster about two months ago. Now they have won three of their past four games. What has changed for them?
Yasinskas:
The Bucs were in utter disarray at the start of the season. But, aside from Sunday's loss to Carolina, they've played much better over the past month or so. Part of it has to do with Glennon's steady improvement. He has shown signs he can be more than just a game manager. The other thing that has stood out has been how this team has stuck together. Despite some speculative reports to the contrary, coach Greg Schiano never lost the locker room. His players still believe in his system and have been playing hard for him. Finally, the defense, which has a lot of individual talent, has started to click and that coincided with the turnaround.
Speaking of defense, the Bills lead the league with 43 sacks, but they're allowing 25.6 points a game, which ranks 24th. What has gone wrong with this defense?
Rodak:
Earlier in the season, much of the problem was with the secondary. The Bills battled through some injuries -- safety
Jairus Byrd
and cornerback
Stephon Gilmore
both missed time -- and they got torched by some teams early. But they've been healthy back there for a while now, and the results have been better.
The problem recently has been with the run defense. The Bills rank 24th in the NFL, allowing 121.5 rushing yards per game, and allow 4.18 yards per carry. Some of that has to do with time of possession. The Bills' offense ranks 31st in the NFL, which has put some stress on the defense. More alarmingly for Buffalo, the run defense has gotten worse as the season has gone on. The Bills allowed 5.83 yards per carry to the Jets and 5.03 yards to the Falcons, including two long touchdown runs. There's a lot of talent on this defense, but the consistency isn't there.
Pat, there was a lot of talk this offseason about the moves the Buccaneers made in their secondary. They drafted
Johnthan Banks
in the second round, traded for
Darrelle Revis
and signed
Dashon Goldson
. How have those moves paid off?
Yasinskas:
The Bucs went overboard making moves in the secondary because they had the league's worst pass defense in 2012. There has been a noticeable improvement this year. But it hasn't been all roses. Banks has looked good at times, but also has had some rookie moments. Goldson missed two games due to injury and was suspended for another game for an illegal hit. Revis has been solid, although the Bucs brought him along slowly early in the year because he was coming off knee surgery. Overall, this is a decent secondary, but it has yet to approach its true potential.
Mike, what's your read on
C.J. Spiller
? He seems to be having an up-and-down season to this point. How much has his ankle injury been a factor?
Rodak:
He has been a tough one to pin down. This much is for certain: He hasn't lived up to the expectations many on the outside had for him entering this season, and his ankle is a big factor in that. But even after coach Doug Marrone removed Spiller from the injury report about a month ago, things still weren't right. He had disappointing games in Weeks 10 and 11, rushing a combined 21 times for 29 yards. But then, out of the blue, he broke open a 77-yard run Sunday, the longest of his career. He followed that with a 36-yard touchdown run and finished with one of the best games of his career, tallying 149 yards.
Going forward, I'm not really sure what to expect with Spiller. This could be his identity within this offense: a home run hitter who is prone to more strikeouts than the norm.
Pat, speaking of running backs,
Bobby Rainey
seems to have cooled off since his huge game against Atlanta a few weeks ago. What has happened to the Bucs' running game?
Yasinskas:
Rainey rushed for 163 yards against the Falcons, but has averaged just 49 yards in the two games since then. What's happening is that opposing defenses are loading the box to stop the running game. They're daring Glennon to beat them and he hasn't really done that. Until Glennon starts having more luck with the downfield passing game, defenses are going to continue to focus on bottling up the running game.
December, 3, 2013
Dec 3
3:45
PM ET
ORCHARD PARK, N.Y. -- The
Buffalo Bills
continued to shuffle their practice squad Tuesday, signing Jamaal Johnson-Webb to their practice squad and releasing offensive lineman Manase Foketi.
Johnson-Webb is a 6-foot-6, 306-pound guard from Alabama A&M. He went undrafted this season and has spent time with the
Arizona Cardinals
,
Chicago Bears
, and
Minnesota Vikings
.
Bills coach Doug Marrone, who has a background as an offensive line coach, has expressed a desire to get bigger up front. Several younger lineman have come through Buffalo in recent weeks as the team keeps an eye toward the future.
With four games remaining in the season and the Bills essentially out of the playoff hunt, it won't be surprising to see more developmental players come in and out, both on the 53-man roster and practice squad.
Here's the current Bills' practice squad:
QB
Dennis Dixon
WR Tommy Streeter
WR Cordell Roberson
OT Edawn Coughman
OG Jamaal Johnson-Webb
DL Ikponmwosa Igbinosun
LB Jacquies Smith
CB
Mario Butler
November, 10, 2013
Nov 10
10:00
AM ET
By
ESPN.com staff
| ESPN.com
Join our ESPN.com NFL experts as they break down the Buffalo Bills' visit to the Pittsburgh Steelers. Contribute your thoughts and questions beginning at 1 p.m. ET. And, be sure to visit our
NFL Nation Blitz page
for commentary from every game, as well as fan photos and the latest buzz from Twitter. See you there.
November, 8, 2013
Nov 8
11:00
AM ET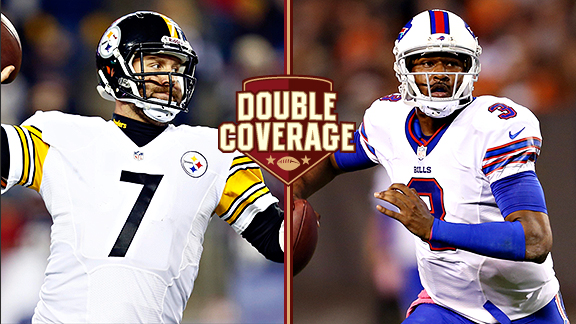 USA TODAY SportsBen Roethlisberger, left, and EJ Manuel are trying to guide their teams through difficult seasons.
Two teams that have combined for five wins and don't appear to be going anywhere this season meet Sunday at Heinz Field. The
Pittsburgh Steelers
will be angry after getting routed Sunday in New England, but the
Buffalo Bills
might be equally desperate after losing four of their past five games.
It looks like
EJ Manuel
will return for the Bills, but rookie quarterbacks have not fared well against Dick LeBeau defenses. But no rookie quarterback has faced the Steelers defense when it has been this vulnerable under LeBeau.
ESPN.com reporters Mike Rodak (Bills) and Scott Brown (Steelers) take an in-depth look at the first meeting between the teams since the Steelers won a 19-16 overtime game at Buffalo in 2010.
Brown:
Mike, is this team Pittsburgh North? There are a lot of Steelers connections there with general manager Doug Whaley and a handful of the players. The two I'm interested in hearing about are the starting guards --
Doug Legursky
and
Kraig Urbik
. How have the two played, and how has the offensive line played overall?
Rodak:
Scott, I think Whaley would like it to be Pittsburgh North, eventually. The Steelers are one of the most successful franchises, and Whaley comes from that background. Defensively, there are similarities between Mike Pettine's blitz-heavy scheme and much of the zone blitzing that LeBeau uses. And offensively, Manuel is a big, mobile quarterback with some speedy receivers, much like
Ben Roethlisberger
and his pass-catchers in Pittsburgh. Ultimately, though, I think the Bills want to forge their own identity, and the Steelers connections don't run much deeper than Whaley and a few others.
As far as Urbik and Legursky, they haven't been Pro Bowlers by any stretch. Returning from a knee injury last month, Legursky helped stabilize a left guard position that has been reeling since losing
Andy Levitre
in free agency last offseason. But as a whole, the offensive line has allowed more sacks -- the seventh most in the NFL, to be precise -- than it would prefer.
Looking at the Steelers' big picture, what has gone wrong this season? From an outside perspective, an aging defense appears to be part of it, but that can't tell the whole story. What are the biggest problem areas?
Brown:
Age is only part of the equation when looking at the Steelers' struggles. The other half is that the Steelers were so good for so long at developing younger players to step in for veteran stalwarts who retired or signed elsewhere. That hasn't happened in recent years, in part because the quality of Steelers' drafts has slipped.
The drop-off in talent hasn't been as severe as it would seem for a team that has lost 11 of its past 15 games, which leads me to perhaps the Steelers' biggest problem on the field: This team is simply allergic to momentum. The Steelers, when they were winning regularly, played so well off one another as far as the different units. This season, more often than not, the offense has not been able to bail out the defense and vice versa.
I'm curious what has held back the Bills, aside from the instability and inexperience at quarterback. This team seems to have its share of talent, so why aren't the Bills winning more?
Rodak:
The quarterback situation is a big part of it, like you said. No matter who's been out there -- Manuel,
Thad Lewis
or
Jeff Tuel
-- they haven't been able to make enough plays to win in the NFL. It's really been the defense that has picked up the slack in two of the Bills' three wins this season. Against the
Baltimore Ravens
, it intercepted
Joe Flacco
five times, and just when it looked like the
Miami Dolphins
were going to win a few weeks ago,
Mario Williams
came up with a game-changing strip-sack. So when dissecting why the Bills are 3-6, their quarterback play is the overriding factor.
Otherwise, I think the story is similar to Pittsburgh's. The defense has played well at times, but when it hasn't played well, the offense hasn't been up to snuff. And when the offense has started cranking -- and that's been rare -- the defense has dropped off. Doug Marrone referenced Wednesday the need for the defense to generate more turnovers -- it hasn't forced one in more than two games -- which has caused the Bills' turnover differential for the season to turn negative this week.
What has been the problem offensively for the Steelers? I've always counted Roethlisberger among the top 10 quarterbacks in the league, and at least on paper, there is some serious talent between
Le'Veon Bell
,
Heath Miller
and
Antonio Brown
. Is the offensive line really that bad to drag everyone down?
Brown:
The offense played without Bell and Miller for the first two games, and it showed as the Steelers managed just two touchdowns in those contests. Bell has stabilized the running game, and Miller's return has been huge considering his value in the running and passing game.
The offense's struggles stem most from the ongoing shuffling along the offensive line. The unit, for whatever reason, is consistently decimated by injuries, and this season is no different. Pro Bowl center
Maurkice Pouncey
went down with a season-ending knee injury in the opener. The Steelers even lost a lineman (
Levi Brown
) to a season-ending injury in pregame warm-ups. Those kinds of things have happened to the Steelers' offensive line, it seems, every season since Mike Tomlin took over as head coach in 2007.
The line has played better in recent weeks, and I thought it did fairly well in New England even with the crowd noise forcing the Steelers to use a silent snap count. It faces another challenge this week as the Bills have the kind of defensive line that can really give the Steelers fits.
Williams has been a beast, and the Steelers will probably have to give left tackle
Kelvin Beachum
some help with Williams. Mike, what about the two interior lineman,
Kyle Williams
and Marcell Dareus? They seem like they can be plenty disruptive.
Rodak:
They certainly can be, Scott. Each has four sacks this season, which puts both on pace for career highs. It seems like each week, when we talk to opposing head coaches, they start off by mentioning Dareus, Mario Williams and Kyle Williams. They're the strength of the team. Kyle Williams in particular has shown a knack for being disruptive in the backfield at the right time, while Dareus has improved from what some felt were subpar seasons since being drafted third overall in 2011. The Steelers' offensive line will need to hold its ground and allow Roethlisberger to take shots at the weaker points of the defense.
What do the Steelers need to do to turn this season around? Does any hope remain that they will make the playoffs?
Brown:
Believe it or not, the players still believe they have a shot at the playoffs given how mediocre the AFC has been aside from a few teams. But they are also realistic that their focus has to stay squarely on what is in front of them.
The biggest thing the Steelers need to do to turn around their season is get back to what has worked for them for so long. That starts with stopping the run. As much as some Steelers fans want to lay blame for the defense's failings on LeBeau -- and the fact that he is 76 -- the reality is this: LeBeau didn't suddenly forget how to coach. However, his defense doesn't work if the Steelers can't stop the run and force teams into obvious passing situations.
Offensively, the Steelers have been at their best this season when they have established balance. If they want to take better care of Roethlisberger, who is taking another beating this season, they need to limit his passing attempts. The best way to do that is establish the ground game and run Bell early and often. Sounds easy enough, no?
October, 31, 2013
Oct 31
12:00
PM ET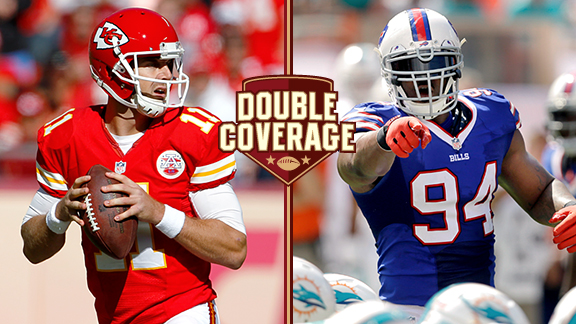 AP PhotosAlex Smith will face Mario Williams and a pass rush that have the second-most sacks in the league.
The 8-0
Kansas City Chiefs
have some big games upcoming, including showdowns for AFC West supremacy on Nov. 17 and Dec. 1 against the
Denver Broncos
. But first is Sunday's game against the 3-5 Bills in Buffalo.
ESPN Chiefs reporter Adam Teicher and Bills reporter Mike Rodak discuss the game:
Teicher
: With the exception of three lost fumbles, it looks like quarterback
Thad Lewis
is playing better than the Bills had a right to expect. For those of us who aren't familiar with his game, give us a little scouting report with regard to his strengths and weaknesses and things he might be able to do --
if he is able to play Sunday
-- that could give the Chiefs some trouble.
Rodak
: I think you nailed it. Even though Lewis is still in the bottom third of the league among quarterbacks, the Bills are more than happy with what they're getting from him. Most importantly, Lewis is a heady player with a real strong grasp of the offense. That's what impressed offensive coordinator Nate Hackett when they sat down with Lewis after
EJ Manuel
's injury and why they chose him. He's physically not the most gifted quarterback, but Hackett likes Lewis' arm strength. We've seen it on some deeper passes Lewis has completed in the past three games, and if he can get the protection, they're going to keep trying that. As a runner, Lewis isn't
Terrelle Pryor
, but he has the mobility to run the read-option the Bills like to mix in out of their no-huddle offense. The question is, how much will they run him? Lewis got drilled from behind on a designed run to begin the game Sunday, suffering bruised ribs, and his status against the Chiefs is still up in the air. If Lewis plays Sunday, the Chiefs shouldn't have to worry too much about him as a runner.
Adam, I'm sure you've been asked this plenty of times this season, but what has clicked for the Chiefs? Was it the move away from Scott Pioli and Todd Haley/Romeo Crennel to John Dorsey and Andy Reid, or were there personnel changes that made a bigger impact?
Teicher
: The coaching and administration moves were huge. For the previous four seasons the Chiefs had a lot of guys with their own agendas, pulling in different directions and focusing on things that didn't matter. Dorsey and Reid deserve a lot of credit for getting everyone to fall in line behind them. Everyone has the same goals now. Reid has persuaded some players to put aside personal goals for the greater good. A lot of Chiefs players were tired of the losing and the sideshow stuff and were ready to be led in a positive direction. Reid walked through the doors with some impressive credentials and they listened to him. As far as personnel changes, most of the Chiefs' better players are ones who were here when Reid and Dorsey arrived. The only new guy in what you could call a key role is QB
Alex Smith
. Otherwise, most of their key players (
Jamaal Charles
,
Branden Albert
,
Dontari Poe
,
Tamba Hali
,
Justin Houston
,
Derrick Johnson
and
Eric Berry
) have been around.
Smith was sacked six times against Cleveland last week and 24 times this season, so pass protection has been a problem for the Chiefs. The Bills are doing a good job getting after the opposing quarterback. What have teams done to try to counter
Mario Williams
, and do the Bills have anyone else consistently putting pressure on the quarterback?
Rodak
: I think the best job an opposing offense has done against Mario Williams was in Week 6, when the Bengals took down the Bills in overtime. They caught the Bills off guard by opting for a shorter passing game, forgoing the chance to attack a shaky (at the time) Bills secondary with
A.J. Green
. Instead,
Marvin Jones
had a 34-yard end-around run and a 42-yard catch-and-run in the first seven minutes of the game that set the tone. Williams finished with just one tackle and a half-sack, even with the extra period. The Bills don't have a player putting up 11 sacks like Williams, but their pair of defensive tackles --
Kyle Williams
and
Marcell Dareus
-- are among the better duos in the league. Each has four sacks. Overall, Mike Pettine's defense thrives on generating pressure from many different sources, including the defensive backs. Andy Reid is a veteran coach and knows his offense will have to be ready for the blitz from start to finish Sunday.
Adam, would you say the Chiefs are effective in spite of Alex Smith this season -- he has posted just an 82.1 QB rating -- or because of him? Is their success through the first half of the season sustainable even with Smith at quarterback?
Teicher
: There are things Smith can be doing better, but they're 8-0 because of him, not in spite of him. Among the things Smith has done exceedingly well are protect the ball and run from trouble. Smith has thrown only four interceptions, so he's not forcing the ball into tight situations or otherwise taking risks with it. He's fumbled just once, and the Chiefs even recovered on that one. For him to handle the ball on every offensive play and have only four turnovers is amazing. When he's been sacked, he's holding on to the ball. Smith is the Chiefs' second-leading rusher and has scrambled out of trouble a number of times. It's fair to say they wouldn't be 8-0 without his running ability. It's been that valuable. That said, Smith needs to complete a higher percentage of his passes. Right now, he's only at about 59 percent. Getting that into the low to mid 60s would make a big difference for the passing game. The Chiefs also have trouble getting touchdowns in the red zone. That can't all be blamed on Smith, but he can be more efficient inside the 20.
I can't figure out why the Bills aren't better defensively. They've been solid against the run, have strong pass-rush capability, create a good number of turnovers, yet still have allowed 20 or more points in every game. I know they've allowed some big pass plays. Is that the only reason they haven't been better defensively?
Rodak
: I think the big plays are part of it, Adam. The Bills have allowed 14 receptions of 35 yards or more, the most in the NFL. But the Chiefs have allowed 12, the second-most, so there's more to it than that. I think the first place to look is on the other side of the ball, where the Bills' offense averages just 27:41 in time of possession. That's the fourth-lowest mark in the league and is putting stress on the defense. The Bills have a creative mind in defensive coordinator Mike Pettine and talent at all three levels of their defense. But their offense, between injuries and inexperience, has been so ineffective at some stretches that the defense just can't hold up. This is a defense that has put pressure on opposing quarterbacks and forced some turnovers, but they'll need to prevent the big play and have their offense pick up some slack going forward.
Adam, what do you think it will take for the Chiefs to lose Sunday?
Teicher
: Opponents have started to give the Chiefs their best shots. Houston did two weeks ago and Cleveland did last week, and each team came close to knocking off the Chiefs at Arrowhead Stadium. So if the Texans and Browns can keep things close in Kansas City, it reasons that the Bills can beat them in Buffalo. The Chiefs have played the past couple of weeks, and particularly against Cleveland, as if they're weary of the burden of being the NFL's remaining unbeaten team. They took a 13-0 lead against the Browns, then looked like they ran out of energy. They'll need to bring more Sunday in Buffalo or they certainly could be in trouble. The Bills could make things easier on themselves by getting an early lead. The Chiefs have led much of the time this season and have been able to play the games on their terms. When they've been behind, it's never been by more than a touchdown. Kansas City has trailed in the fourth quarter in just one game, that being by four points early in the final period on Oct. 6 in Tennessee. That deficit didn't last long, so it would be interesting to see how they do if they need to play catch-up late in a game.
.
September, 22, 2013
Sep 22
2:30
PM ET
By
ESPN.com staff
| ESPN.com
Join our ESPN.com NFL experts as they break down the Buffalo Bills' visit to the New York Jets. Contribute your thoughts and questions beginning at 4:15 p.m. ET. And, be sure to visit our
NFL Nation Blitz page
for commentary from every game, as well as fan photos and the latest buzz from Twitter. See you there.
September, 20, 2013
Sep 20
12:00
PM ET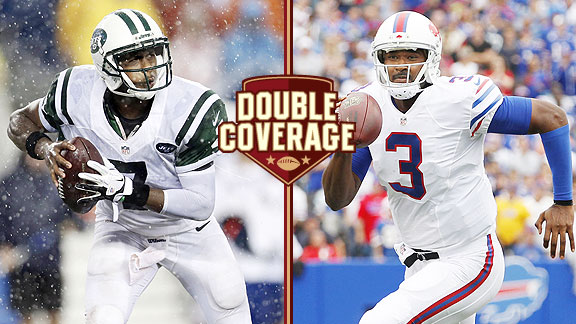 USA TODAY SportsAFC East rookie quarterbacks Geno Smith and EJ Manuel face each other for the first time.
The quarterback situation in the AFC East can be described this way:
Tom Brady
and the young guns. Two of the young guns will face each other Sunday at MetLife Stadium, where the
New York Jets
and
Buffalo Bills
-- both 1-1 -- will be battling to stay out of last place in the division.
The Bills had their choice of any quarterback in the draft, and they selected
EJ Manuel
with the 16th pick. The Jets, who had the ninth and 13th picks, rated
Geno Smith
over Manuel but waited until the 39th pick before taking him. So far, Manuel is off to a better start than Smith, at least from a statistical standpoint, but this rivalry could last years. Both teams are hoping for that, anyway.
This should be a competitive game, as both teams appear to be at similar stages of development. The Bills are rebuilding with a new coach, former Jets assistant Doug Marrone, and the Jets are rebuilding with the same old coach, Rex Ryan. They have other things in common: They both suffered close losses to the
New England Patriots
and they both beat a team from the NFC South -- the Bills the
Carolina Panthers
, the Jets the
Tampa Bay Buccaneers
.
ESPN Jets reporter Rich Cimini and ESPN Bills reporter Mike Rodak discuss the matchup:
Cimini
: Mike, New York is a quarterback-obsessed town, so I think there will be a lot of interest in Smith versus Manuel. If Smith becomes a bust and Manuel a star, the Jets will be second-guessed for passing on Manuel. Hey, that's the way it goes. The old-timers are still ticked off the Jets picked
Ken O'Brien
over
Dan Marino
. Smith has played well in stretches, but the early trend is that he'll hit a funk. In Week 1, it was the second quarter. In Week 2, it was the fourth quarter -- three interceptions. What about Manuel? I know he missed some time in the preseason. What do you like (and not like) about his game?
Rodak
: Rich, I've been impressed with Manuel's demeanor more than anything. He has the walk and talk of a franchise quarterback, and that sense has only grown for me since early in the preseason. The loss of
Kevin Kolb
was unfortunate for him and the Bills, but I think it was the best thing to happen to Manuel. The pressure is off and the job is his, and that's one of the reasons why I said in our ESPN.com preseason predictions that he will be Offensive Rookie of the Year. Here's the caveat for me, though: He needs to keep his bad mistakes in check. I think the most encouraging thing about his performance in the preseason and the regular-season opener was that he didn't commit costly turnovers. But Sunday, he was strip-sacked and threw a bad interception and was lucky to have his defense come up big both times and keep the game close. That might not happen against better opponents or on the road. Other than the quarterbacks, the biggest storyline coming out of this game is the return of Bills defensive coordinator Mike Pettine to MetLife Stadium to face his old team. What's the feeling like between Ryan and his former assistant, and what sort of chess match can you see developing between these defensive minds?
Cimini
: The Ryan-Pettine relationship is interesting. Basically, Ryan gave him his big break in the business, nurtured him for a decade, handed him the defense last season, and suddenly it was Splitsville. It was a curious departure, considering Pettine made a lateral move to the Bills. Deep down, I think they like and respect each other, but I think they both realized the relationship had run its course. As for the chess match, it will be fascinating. Let's put it this way: I wouldn't want to be a rookie quarterback, facing one of these guys. Ryan, the Jets' de facto coordinator, can confuse inexperienced quarterbacks with pressure and simulated pressure. Heck, he confused Brady last week. That Manuel faced a Ryan-like scheme all spring and summer will undoubtedly help him. Of course, the same could be said for Smith. I know this much: Ryan and Pettine are highly competitive, and there's more personal pride on the line than either one will admit. Ryan has a different challenge in that he'll have to face an up-tempo offense. Tell me more about the Bills' hurry-up.
Rodak
: It's been evident that the Bills want to move fast, but I think they still want to speed things up some more. The problem in the first game was not converting third downs. Regardless of how fast they got plays off on first and second downs, they were 4-for-13 on third down, which often took the up-tempo offense off the field quickly. They improved to 6-for-14 on third down in Week 2, but more importantly jumped from 15 first downs to 24 first downs, evidence of a better showing on early downs. Marrone also said Monday that there were problems with the coach-to-quarterback communications system, another factor in the offense not reaching its desired efficiency. So while we've seen glimpses of the pace the Bills want to run, it hasn't always been there.
September, 10, 2013
Sep 10
4:06
PM ET
The
Buffalo Bills
on Tuesday promoted cornerback Johnny Adams from the practice squad and waived defensive lineman
Jay Ross
.
Adams adds depth at cornerback, where the Bills have been thinned by injuries in recent weeks.
Stephon Gilmore
is out for several more weeks with a fractured wrist, while
Ron Brooks
is out indefinitely with a foot fracture.
An undrafted rookie, Adams played at Michigan State and was in training camp with the
Indianapolis Colts
.
Ross was a reserve defensive lineman who was inactive for the season opener.
September, 9, 2013
Sep 9
1:00
PM ET
By
Kevin Weidl
| ESPN.com
On Sunday, the
Buffalo Bills
fell just short off pulling the upset against the division-rival
New England Patriots
. The good news for Bills fans is that rookie QB
EJ Manuel
-- who showed well in the preseason before suffering a minor knee injury -- was impressive in his first regular-season start. Far from perfect, Manuel still managed the game and played well enough for Buffalo to win. The 6-foot-4, 237-pound quarterback was in command of the huddle and found a rhythm late in the first half that carried over into the second half. He finished the game with solid numbers, completing 18 of 27 passes for 150 yards and two touchdowns.
Last April, the Bills made Manuel the lone quarterback selected in the first round at No. 16. The pick was scrutinized as many felt the Bills reached for Manuel by taking him that high. We at Scouts Inc. gave Manuel
a fringe second-round grade
. We recognized Manuel's upside because of his size, athleticism and intangibles. He was a two-time captain who displayed natural leadership qualities and had the passion and work ethic to succeed at the next level. However, Manuel had some inconsistencies as decision-maker and displayed erratic accuracy at times, which prevented him from getting a first-round grade.
Every quarterback we evaluate gets broken down into four quarterback specific traits: mental makeup, accuracy, release/arm strength and pocket mobility. We grade on a scale of 1 to 5 with 1 being elite and 5 being poor. Below is a look at how we graded Manuel coming out of Florida State and how he performed in those areas in Sunday's game.
To continue reading this article you must be an Insider