Buffalo Bills:

Chris Hairston
August, 18, 2014
Aug 18
10:00
AM ET
We're reaching that time of the year, again. Roster cuts are on the horizon.
Teams must reduce their rosters to 75 players by Aug. 26 and select their final 53 players by Aug. 30. That gives general manager Doug Whaley and coach Doug Marrone less than two weeks to make decisions on the roster for the
Buffalo Bills
.
There are two ways to approach the moves: start from the bottom of the roster and trim players to get to the limit, or start from the top of the roster and pick players until you run out of space.
We posted our 53-man roster projection earlier Monday, and as a follow-up, we'll take the first approach in analyzing potential cuts. Let's break down the 35 moves -- not including
Kiko Alonso
's likely placement on the non-football injury list -- into four categories:
LONG-SHOTS AND FIRST CUTS (17):
These are mostly younger players who competed in training camp but saw less playing time than their peers in the preseason. They could return to the practice squad, find another team, or possibly never play in the league again. Although coaches stress that no cuts are ever "easy," these are the relatively easier cuts to make on the roster:
Quarterbacks (1):
Dennis Dixon
Running backs (1):
Ronnie Wingo
Wide receivers (4):
Chris Summers
,
Caleb Holley
,
Tori Gurley
,
Naaman Roosevelt
Offensive linemen (2):
J.J. Unga
,
Jared Wheeler
Defensive ends (2):
Ikponmwosa Igbinosun
,
Bryan Johnson
Defensive tackles (1):
Damien Jacobs
Linebackers (2):
Jimmy Gaines
,
Xavius Boyd
Cornerbacks (3):
Mario Butler
,
Kamaal McIlwain
,
Sam Miller
Safeties (1):
Derek Brim
TOUGHER CUTS (10):
These are players who have played more than their peers in the preseason and have made a stronger push to make the roster. They might be better candidates to return to the practice squad:
Wide receivers (1):
Kevin Elliott
Tight ends (1):
Dominique Jones
Offensive linemen (3):
Macky MacPherson
,
Antoine McClain
,
Edawn Coughman
Cornerbacks (1):
Bobby Felder
Safeties (3):
JaJuan Harley,
Kenny Ladler
,
Deon Broomfield
Punters (1):
Jake Dombrowski
ON THE BUBBLE (6):
These players might draw the most debate in the room when the final 53-man roster is selected. In some cases, they are more established players and might draw interest on the waiver wire or hook on with other teams:
Fullbacks (1):
Evan Rodriguez
Wide receivers (1):
T.J. Graham
Offensive linemen (1):
Chris Hairston
Defensive ends (1):
Jacquies Smith
Defensive tackles (1):
Landon Cohen
Kickers (1):
Dustin Hopkins
RUSTED LOCKS (2):
These are players who were considered roster locks in the offseason but have suffered from poor performance in training camp and/or the preseason. Like the bubble players, they may draw interest on the open market if released or waived:
Quarterbacks (1):
Thad Lewis
Defensive tackles (1):
Alan Branch
August, 11, 2014
Aug 11
10:36
AM ET
Earlier Monday, we released our
latest 53-man roster projection
for the
Buffalo Bills
.
For a second consecutive week, there were no changes among the 53 players making the cut. While some players are making a push, we'll need to see more before swapping out any of the current players on the projection.
However, our list of the "last five" cuts has changed since our first projection. Here's our take on the five toughest cuts of our latest projection:
August, 1, 2014
Aug 1
8:55
PM ET
PITTSFORD, N.Y. -- A daily review of the hot topics coming out of
Buffalo Bills
training camp:
July, 31, 2014
Jul 31
4:00
PM ET
PITTSFORD, N.Y. -- Buffalo Bills guard Chris Williams left Thursday's practice early with a toe injury.

Williams, who signed a four-year deal with the Bills as a free agent this offseason, did not return to practice.

In his place, the Bills used a rotation of Cyril Richardson , Antoine McClain and J.J. Unga at left guard. Richardson saw time at right guard early in the practice, before Williams' injury.

The Bills were also without Chris Hairston , who left Wednesday's practice with a back injury. Hairston had been competing with Kraig Urbik for the starting right guard spot.

Tight end Lee Smith also missed Thursday's practice with a "lower body" injury. He joined top tight ends Scott Chandler (groin) and Tony Moeaki (hamstring) as those out of action, leaving only Chris Gragg and Dominique Jones healthy at the position.
July, 30, 2014
Jul 30
8:00
PM ET
PITTSFORD, N.Y. -- A daily review of the hot topics coming out of
Buffalo Bills
training camp:
Thunderstorms in the area caused a rain delay about in hour into practice. That lasted about an hour before players came back onto the field to complete the full-length session. Players were in full pads for the seventh consecutive practice, highlighting what has been a physical training camp for the Bills. It will be interesting to see if coach Doug Marrone dials it back at all in the final two practices before the preseason opener in Canton, Ohio.
The offensive line carousel continued to spin Wednesday with Chris Hairston leaving practice with a back injury. Hairston had been in the mix at right guard, where there is an open competition that includes incumbent Kraig Urbik. That battle added another participant Wednesday when fifth-round rookie Cyril Richardson received some reps with the first team. Urbik continues to get the majority of reps in team drills, but for a player whom the Bills signed to a four-year extension in 2012, he can't feel comfortable lining up alongside younger players on the second team, as he did at one point Wednesday.
The Bills have picked up the pace in the red zone. Marrone has implemented a 7-on-7 period at the end of practice dedicated to red-zone work, and results were impressive Wednesday. Although it was against the second-team defense, EJ Manuel completed four touchdowns in his five reps. Two went to Robert Woods, and tight ends Chris Gragg (returning from a week-long absence) and Lee Smith snagged the others. Jeff Tuel then stepped in and completed his first two passes for touchdowns. With some success in the 7-on-7 look, it might be time for Marrone to switch to an 11-on-11 drill and add a pass-rush element for Manuel to face in the red zone.
Tight end Scott Chandler (groin) remained out of practice for a second straight day, as did tight end Tony Moeaki (hamstring). Their injuries don't appear to be serious, but it has thinned the position for practices. The key for both players -- Moeaki especially, given his injury history -- will be to stay healthy once the regular season begins.
Chris Hogan continues to get significant playing time with the first-team offense and has become a reliable player in the slot. The Bills got in some 11-on-11 third-down work Wednesday and Hogan cut across the middle of the field for Manuel's biggest gain of the drill. Secondary coach Donnie Henderson, always vocal from behind the play, made it a point for his safeties to keep an eye out for No. 15.
July, 30, 2014
Jul 30
8:00
AM ET
PITTSFORD, N.Y. -- Remember training camp last summer, when there was a true quarterback competition between
EJ Manuel
and Kevin Kolb?
Those were the days. With Manuel virtually entrenched as the starter entering his second season, the
Buffalo Bills
have surprisingly few position battles brewing as they progress through their second week of training camp.
[+] Enlarge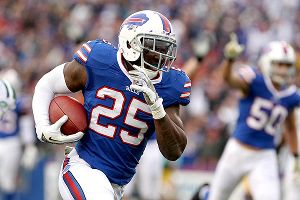 Timothy T. Ludwig/USA TODAY Sports Da'Norris Searcy seems to have the upper hand in the race for the Bills' open safety spot.
How many starting spots are up for grabs? Here's our rundown:
Right guard:
Coach Doug Marrone confirmed last week that there was a competition at this position.
Kraig Urbik
started 16 games last season, but with an influx of depth players along the offensive line this offseason his job isn't safe. His main competition is
Chris Hairston
, who began to see some reps with the first-team late in spring practices. Through the first eight practices of training camp, we'll peg Urbik's reps with the first team at around 70 or 80 percent. Hairston is getting some time, but it's not an even split. We'd expect Urbik to be the starter in preseason games.
Right tackle:
This was our top competition of the spring but it's barely been a contest. Second-round pick
Cyrus Kouandjio
hasn't received any time with the first team and looks to be coming along slower than the Bills would have hoped. Marrone had praise last week for
Erik Pears
' play through the early part of camp, noting that Pears was healthy after apparently being banged up last season. The real competition for Pears might be seventh-round pick
Seantrel Henderson
, who has held up fairly well at left tackle in place of
Cordy Glenn
. If Glenn returns soon then Henderson could get a crack at the right tackle spot.
Third receiver:
There might not be a clear-cut winner of this battle. The Bills have used a variety of receiver groupings through the first eight practices.
Mike Williams
,
Chris Hogan
, and
Marquise Goodwin
have all seen time alongside
Sammy Watkins
and
Robert Woods
. How each of those players are used in the regular season could be determined by the situation.
T.J. Graham
, who we considered part of this mix in the spring, has barely seen any time with the first-team offense. He's fighting for his job.
Weakside linebacker:
This spot opened up when
Kiko Alonso
suffered a season-ending knee injury.
Nigel Bradham
has seen the most reps with the first-team defense, but we've also seen the Bills mix-and-match their personnel here.
Preston Brown
,
Jimmy Gaines
,
Stevenson Sylvester
, and
Randell Johnson
have all rotated through in different groupings. We'd still put our money on Bradham but like the third receiver spot, this could depend on the situation and the offensive style of the opponent.
Safety:
This has been Da'Norris Searcy's job to lose since the spring. The Bills have almost exclusively used
Aaron Williams
and Searcy as their top pairing at safety, which is a notable step down from the Williams-
Jairus Byrd
combo from last season. The key for the Bills is not putting Searcy in a spot where offenses can expose a weakness in the defense. He's not a rangy ball-hawker like Byrd. Ideally, the Bills would like for
Duke Williams
to grow into a larger role, but he hasn't shown it yet in training camp. Williams and fellow second-year safety
Jonathan Meeks
should see plenty of time in the preseason, and they will need it.
July, 28, 2014
Jul 28
4:00
PM ET
PITTSFORD, N.Y. -- Earlier Monday, we released our latest
53-man roster projection
for the
Buffalo Bills
.
What about the players who didn't make the cut?
Here are some thoughts on the "last five" cuts for the Bills:
July, 23, 2014
Jul 23
6:00
PM ET
PITTSFORD, N.Y. -- A daily review of the hot topics coming out of
Buffalo Bills
training camp:
June, 20, 2014
Jun 20
2:00
PM ET
(Continuing a month-long series analyzing players who are on the roster bubble and where they may potentially fit in 2014.)
Name:
Chris Hairston
Position:
Offensive lineman
Age:
25
2013 stats:
None; spent entire season on Non-Football Illness list.
Chance of making 53-man roster:
50 percent
Why he should make it:
Hairston is one of the more intriguing names on the roster. He missed all of last season, so we never got a feel for how he was viewed by Doug Marrone, who has a keen eye for offensive linemen. After starting out on the second team early in organized team activities, Hairston received more time with the top unit by minicamp this week. At the moment, he should be in the discussion to start at right guard or right tackle. If he can take over one of those roles, then his roster spot is secure. Hairston could also be valuable as a backup swing guard or tackle.
Why he shouldn't make it:
While Hairston has shown upside this spring, he faces competition from younger players on the roster. The Bills drafted three lineman in May --
Cyrus Kouandjio
,
Cyril Richardson
, and
Seantrel Henderson
-- and if they keep all three on their 53-man roster, there may not be room for Hairston. If the Bills don't want to expose Richardson or Henderson to waivers then Hairston could be cut. It will be a numbers game.
Closest competition:
Henderson,
Erik Pears
,
J.J. Unga
June, 18, 2014
Jun 18
3:00
PM ET
ORCHARD PARK, N.Y. -- The
Buffalo Bills
continued to shift their offensive line Wednesday, moving rookie
Seantrel Henderson
from the third-team to the first-team at left tackle.
Glenn
Henderson stepped in for
Cordy Glenn
, who did not participate in team drills Wednesday. Glenn missed Tuesday's practice with an illness, but was replaced by
Chris Hairston
with first-team. On Wednesday, Hairston split reps at right guard with
Kraig Urbik
.
Henderson, a seventh-round pick, did not practice Tuesday because of travel-related issues, but was thrown into the fray Wednesday.
Tight end
Scott Chandler
(excused for family matter) remained out of practice, the only player on the Bills' 90-man roster not spotted Wednesday. Cornerback
Darius Robinson
, wide receivers
Cordell Roberson
,
Marcus Easley
, and
Ramses Barden
, and defensive end
Bryan Johnson
were all limited in practice.
The highlight of Wednesday's practice was the two-minute drill that ended the session.
EJ Manuel
looked sharp, completing consecutive passes for first downs to
Robert Woods
and
Chris Hogan
, pushing the first-team offense to the 20-yard line with 30 seconds left.
However, the offense struggled from there with two sacks setting up a third-and-11, and Hogan couldn't get a hold of a pass across the middle. On fourth down, Manuel fired a well-thrown pass into the corner of the end zone, intended for Woods, but cornerback
Nickell Robey
leaped in front of it for an interception.
Robey briefly remained on the ground before walking off the field with trainers. He appears to have dodged a serious injury on the play.
The Bills stayed in a three-receiver look with
Sammy Watkins
, Woods, and Hogan for that two-minute drill. With Chandler out, they turned to
Tony Moeaki
at tight end for the drill.
April, 14, 2014
Apr 14
3:00
PM ET
As we step away on vacation, we'll provide a position-by-position preview of next month's draft from a Buffalo Bills perspective:
Position:
Offensive tackle
Current personnel:
Cordy Glenn
(signed through 2015),
Erik Pears
(2014),
Chris Hairston
(2014),
Edawn Coughman
(2015)
Draft need:
High
State of the position:
There is little doubt the Bills will target this position in the draft. Pears is 32, entering the final year of his deal, and showed at points last season that the Bills could use an upgrade at right tackle. Hairston probably isn't the answer. While he started 15 games for the Bills between 2011 and 2012, Hairston spent all of last season on the reserve/non-football illness list. The last update from coach Doug Marrone and general manager Doug Whaley was that Hairston still had medical hurdles to clear before returning, and even then, it's not known how Marrone -- who has a keen eye for offensive linemen -- views the former fourth-round pick. That's not to say Hairston couldn't contribute if healthy, but it shouldn't preclude the Bills from drafting an offensive tackle.
The Bills have a good shot at plucking one of the top three tackles off the board when they select at ninth overall. If they do so, will he play left tackle or right tackle? Glenn performed well at left tackle last season and moving him to right tackle to accommodate a rookie at left tackle seems like a risky move. The safer option would be to start the first-round pick at right tackle and keep Glenn at left tackle until performance dictates otherwise. Of course, that raises a debate over whether right tackle is a position worthy of selecting early in the first round. A case can be made either way, but it's important to note that even a second-round or third-round tackle should be able to compete with Pears and Hairston for the starting job.
Sweet spot:
Any round, especially first round.
Possible targets:
Greg Robinson
(Auburn),
Jake Matthews
(Texas A&M),
Taylor Lewan
(Michigan)
February, 3, 2014
Feb 3
5:00
AM ET
With Super Bowl XLVIII in the books, Monday is the first official day of the 2014 NFL offseason.
It's also the first day teams can release players who are under contract for next season. In some cases, teams might release players to free up salary-cap room. In other cases, the team might determine the player isn't valued as highly in a new scheme.
Both scenarios could come into play with the
Buffalo Bills
. The NFL hasn't announced an exact salary cap for next season, but the Bills are currently projected to be in the middle of the pack in terms of cap space.
While the Bills will have sufficient cap space to make free-agent moves this offseason, it's typical for some players to be released for financial purposes. Here's our best guess which players could be on the outs in Buffalo:
Kolb
QB Kevin Kolb:
What's not clear is how Kolb has recovered from an August concussion that ended his season. What is clear is that the Bills view
EJ Manuel
as their starting quarterback entering next season, so Kolb -- even if healthy -- would enter the offseason as a backup. With a $3.6 million cap number, including a $1 million roster bonus, it's hard to see that happening. It would be a surprise if Kolb remains on the roster at the start of the 2014 league year in March.
WR Stevie Johnson:
Johnson could be one of the toughest calls the Bills make this offseason. He's under contract through 2016, so by releasing him now, the Bills would have to absorb significant "dead money" this season. The true savings in releasing Johnson would come in 2015 and 2016. If the Bills feel like Johnson isn't a fit within their offense, they could make the decision to cut ties with him now. He's due a $1.75 million roster bonus in March that essentially sets a deadline for that decision to happen. Unless they want to take a larger "dead money" hit, they can't wait until May to see if Sammy Watkins, the top receiver in the draft, is still on the board at ninth overall.
Moeaki
TE Tony Moeaki:
Once Moeaki recovered from a preseason injury last season, he signed a two-year contract with the Bills. He's due a $1 million base salary, a $250,000 roster bonus, and a $100,000 workout bonus this offseason, which suggests the Bills had competition in signing him. Still, Moeaki did not play an offensive snap after being signed in early December. If the Bills feel like things will come together with Moeaki by next season, perhaps he'll stay in the fold under his current deal. If not, it's possible they cut ties with him.
OT Erik Pears:
Pears started 16 games this season for the Bills, but there have been indications that the Bills want to upgrade along their offensive line. The journeyman right tackle turns 32 in June and has a $3.75 million cap number. The Bills could deem that too rich for a position they could target in May's draft. This could be a case where the Bills could ask Pears to restructure in order to remain in Buffalo.
OT Chris Hairston:
Hairston, who spent all of last season on the non-football illness list, has a cap hit of about $750,000. That's not significant on its own, but it's also not clear where Hairston stands health-wise. If he can't pass a physical or can't participate in the offseason program, he could be released. Hairston started 15 games between 2011 and 2012, but it's not known how the current coaching staff views the former fourth-round pick.
OLB Manny Lawson:
The potential for Lawson to be released moves onto the radar under new defensive coordinator Jim Schwartz. Lawson is considered to better fit in Mike Pettine's defensive scheme, where the 'Sam' linebacker plays closer to the line of scrimmage and is used more as a blitzer. In Schwartz's system, both outside linebackers typically play off the line of scrimmage and are used 'in space,' requiring better athleticism. Lawson will turn 30 this summer and doesn't have excellent range as an off-the-line player. Even though Lawson brought a veteran presence to the locker room, it's possible the Bills look to restructure his contract or release him. He has a $3.1 million cap number this season, but is signed through 2016, so like Johnson, the cap savings would come down the road.
August, 24, 2013
8/24/13
4:45
PM ET
Buffalo Bills
wide receiver
Steve Johnson
will make his preseason debut on Saturday against the
Washington Redskins
.
Johnson had missed the first two preseason games with a hamstring injury, but was not among those players the Bills announced as inactive for Saturday's game.
The following players will not be in uniform for Buffalo:
Safety
Jairus Byrd
is not expected to play, but was not included in the Bills' announcement of inactives. If Byrd plays on Saturday, the team will lose its roster exemption for him, which is set to begin Tuesday and run through next Friday.
Other Bills expected expected to play for the first time this preseason are cornerbacks
Leodis McKelvin
and
Justin Rogers
.