Buffalo Bills:

Chris Hogan
March, 6, 2014
Mar 6
12:45
PM ET
The Bills are hosting linebacker
Jasper Brinkley
on a visit Thursday.
Brinkley, 28, was released by the
Arizona Cardinals
last month. In 15 games last season, he made three starts, tallying 27 tackles. He spent the first four seasons of his career with the
Minnesota Vikings
after being drafted in the fifth round out of South Carolina.
At 6-foot-1, 252 pounds, Brinkley is similar in size to
Jameel McClain
, whom the Bills hosted on a free-agent visit Wednesday. Both players project to middle linebacker in a 4-3 scheme but also have experience as inside linebackers in a 3-4 scheme.
Both visits suggest that the Bills are taking a hard look at the free-agent market at linebacker, where their depth was thin last season.
Arthur Moats
is scheduled to be an unrestricted free agent, leaving
Kiko Alonso
and
Nigel Bradham
as the top options on the roster for middle and weakside linebacker.
Other news:
The Bills took care of some free-agent housekeeping Thursday, re-signing cornerback
Brandon Smith
to an undisclosed deal. Smith was scheduled to become an exclusive-rights free agent. Meanwhile, the Bills tendered contracts to their other three exclusive-rights free agents: fullback
Frank Summers
, wide receiver
Chris Hogan
, and guard
Antoine McClain
. All three are expected to sign their tenders and join the Bills' offseason roster.
January, 6, 2014
Jan 6
8:00
AM ET
Back in September, we broke down the Buffalo Bills' 53-man roster, position-by-position. Now that the Bills' season has ended, we'll review those grades:
Position:
Wide receiver (
preseason grades
)
SNAP COUNTS
Robert Woods
-- 78.4 percent
T.J. Graham
-- 70.9 percent
Stevie Johnson
-- 60.4 percent
Marquise Goodwin
-- 27.0 percent
Chris Hogan
-- 16.1 percent
Marcus Easley
-- 5.3 percent
DEPTH
Preseason take:
Absent Woods or Goodwin being a major disappointment, the Bills are deep at receiver. The one question mark lies in the No. 2 receiver: Is it Woods or Graham? Since the Bills anticipate playing a majority of three-receiver sets, that may not necessarily matter on paper. However, if an opponent's top cornerback is able to take away Johnson, then Woods or Graham will need to step up and put defenses on notice. Grade: A-
Postseason review: Neither Woods nor Goodwin was a disappointment, but the oversight here may have been with Graham. In terms of snap counts, Woods and Graham wound up as the top two receivers. However, if Stevie Johnson played a full 16 games -- he missed four games -- then Graham's playing time would have slipped. For being on the field nearly three-quarters of the time, finishing with 23 receptions was a disappointment for the second-year receiver. Had Graham picked up more slack for Johnson's absence, then the depth at this position would have been better, but this grade was too generous.
RELIABILITY
Preseason take:
Johnson has played three consecutive 16-game seasons, but missed time this training camp with a hamstring injury. Another tweak could always keep him out a game or two, but that isn't a major concern. As with most receivers coming out of the draft, there will be questions with Woods and Goodwin until they prove themselves on a consistent basis. Dropped passes in particular are something to look out for with Woods. Grade: B
Postseason review: Johnson did miss two games after tweaking his lower back, and later, his hip. He also battled through hamstring and groin issues for parts of the season, so injuries were more than a minor concern for the Bills' top receiver. Meanwhile, Woods missed time with an ankle injury and Goodwin broke his hand before dealing with hamstring, elbow, and knee injuries later in the season. When they were on the field, both rookies made strides towards proving themselves, but because of the rash of injuries at this position, this grade should have been lower.
October, 7, 2013
10/07/13
5:00
AM ET
CLEVELAND -- A look at snaps played by
Buffalo Bills
skill-position players in Thursday's loss to the
Cleveland Browns
, while analyzing how the totals reflect the way players were utilized (totals provided by the NFL):
WR
Robert Woods
-- 73 of 77
TE
Scott Chandler
-- 65 of 77
WR
T.J. Graham
-- 61 of 77
RB
Fred Jackson
-- 50 of 77
QB
EJ Manuel
-- 46 of 77
WR
Chris Hogan
-- 38 of 77
TE
Lee Smith
-- 34 of 77
QB
Jeff Tuel
-- 31 of 77
RB
Tashard Choice
-- 14 of 77
FB
Frank Summers
-- 14 of 77
WR
Steve Johnson
-- 13 of 77
RB
C.J. Spiller
-- 13 of 77
WR
Marcus Easley
-- 8 of 77
ANALYSIS:
Injuries took their toll here, with Spiller (17 percent of total snaps), Johnson (17 percent) and Manuel (60 percent) all limited. Going forward, Spiller and Johnson figure to see an uptick in snaps as they get back to full health, and Manuel is expected to be out for several weeks. ... Johnson's injury, in particular, led to an increase in playing time for Graham and Hogan. They were each targeted five times, making two catches each. ... Woods continues to be among the iron men of the team, playing nearly every snap after going wire-to-wire the past two weeks. ... Jackson stepped in 65 percent of the time, a gutsy performance from the veteran who sprained his MCL just four days prior. He has been among the NFL's better all-around running backs this season.
September, 16, 2013
9/16/13
9:45
AM ET
ORCHARD PARK, N.Y. -- A look at snaps played by
Buffalo Bills
skill-position players in Sunday's win over the
Carolina Panthers
, while analyzing how the totals reflect the way players were utilized (totals provided by the NFL):
QB
EJ Manuel
-- 75 of 75
WR
Steve Johnson
-- 75 of 75
TE
Scott Chandler
-- 71 of 75
WR
Robert Woods
-- 71 of 75
WR
T.J. Graham
-- 47 of 75
RB
C.J. Spiller
-- 44 of 75
RB
Fred Jackson
-- 30 of 75
FB
Frank Summers
-- 22 of 75
TE
Lee Smith
-- 11 of 75
WR
Chris Hogan
-- 3 of 75
RB
Tashard Choice
-- 1 of 75
WR
Marcus Easley
-- 0 of 75
ANALYSIS:
For the second consecutive game, Spiller played 59 percent of offensive snaps. This time, he was much more productive, averaging 6.4 yards per carry, up from a 2.4-yard average last week. Jackson's playing time remained virtually the same, down from 41 percent to 40 percent. ... The biggest jump in snaps came from Summers (zero to 29 percent) and Graham (95 percent to 63 percent), reflecting a different offensive game plan, as well as Graham's position as third receiver on the depth chart. ... Hogan earned fourth receiver duties over Easley, something that could come more into play when the Bills go back to more receiver-heavy packages.
September, 14, 2013
9/14/13
5:00
AM ET
ORCHARD PARK, N.Y. -- Ask most sports fans in the Northeast, especially the mid-Atlantic, and they'll tell you this much: Lacrosse is a big deal.
It doesn't come as much of a surprise, then, that
Buffalo Bills
receiver
Chris Hogan
-- a native of Wyckoff, N.J. -- chose lacrosse over football. The two-sport athlete, an all-state selection in football at Ramapo High School in Franklin Lakes, was also the 2006 New Jersey Midfielder of the Year in lacrosse.
But after four seasons on Penn State's lacrosse team, it was time for a change. Hogan transferred to Monmouth University, back home in New Jersey, to play football, and later entered the NFL as an undrafted free agent.
Hogan is just one of a few to make the switch from college lacrosse to an NFL career. Former
Atlanta Falcons
and
Seattle Seahawks
defensive end Patrick Kerney (who played lacrosse at Virginia) was a two-time Pro Bowler, while
Miami Dolphins
guard
Will Yeatman
(Notre Dame and Maryland lacrosse) and Seahawks kicker
Steven Hauschka
(Middlebury lacrosse) have also found a home in the NFL.
[+] Enlarge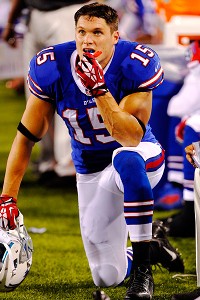 AP Photo/Bill WippertChris Hogan played four years of college lacrosse before transferring and switching back to football.
After a strong preseason that earned him a spot on the active roster, Hogan has settled into Buffalo. Here is his full Q&A with ESPN.com this week:
Early roots in football:
"I started playing soccer when I was little. The coaches told me I was too aggressive, so I started to play football. I started when I was in sixth grade, playing Pop Warner. I played running back, quarterback, cornerback ... all over the place. With soccer, I was out there just kicking a ball around on the field. Football was more fun for me."
Favorite memory at Ramapo High School:
"We went to the state championship my sophomore year. We played at Giants Stadium. I got my first start that game and was player of the game. I had four catches for 100-plus yards, and a touchdown that won the game. That was one of my best memories from high school."
Family attending Bills at Jets in Week 3:
"Everyone's down there. There'll be about 50 people at the game. I'll have a good crowd there."
Role models growing up:
"When I grew up I was a huge Michael Jordan fan. That's not very unusual for people to like him, but I just liked reading his books, especially where he came from, getting cut from his high school team. I thought he was a good person, a good role model to look up to."
Choosing lacrosse over football:
"I had offers from Rutgers, Temple, UConn, Akron. Lacrosse was my bigger thing. I had offers from Maryland, Penn State, Syracuse. I was looking at North Carolina, and all those other schools. That was a tough decision I had to make. I chose lacrosse just because no one was telling me, 'Hey, five years from now you'll be playing football in the NFL.' Penn State was an awesome school. When I went and visited there, I was like 'Alright, I want to spend four years of college here.'"
Transferring to Monmouth University:
"When I decided to play football again, I had a redshirt year. I was kind of tired of lacrosse. I had done it for four years. Someone stuck the idea in my head to play football. I ran with it, did all I needed to do. Transferring was a pain, but Monmouth was the end result, which was awesome."
Favorite memory at Monmouth:
"My first play, first catch was a touchdown. We played Colgate. Just being back out there was awesome. I was playing both sides of the ball again. It was like I was back in high school."
Choosing to pursue an NFL career:
"Professional lacrosse isn't very lucrative. I was done with lacrosse. I obviously have ties to that, coaching and doing stuff in the summer, but football is my main focus and I put all my energy towards trying to do this."
Making the 53-man roster:
"There's no other feeling like that, especially after going to San Francisco, the Giants, then Miami, now here. All on the practice squad. Making the 53 is a pretty unbelievable achievement for me, from where I came from. It's just something I'm working hard at, and have to continue to work hard at it, because it's not like I'm a starter. I have to keep going."
Experience on HBO's "Hard Knocks" last summer:
"It was cool. I tried not to pay attention to it. Obviously it's hard not to when they're there every single day. But the "Hard Knocks" thing was a good experience for me. It obviously gave me a lot of exposure going forward, after I got cut. I look at it as a positive thing, because teams had a good idea of who I was already just from the show."
If teammates still call him "7-11:"
"Yeah. It's not a bad nickname. It's not like it's dissing my game at all. I'll take it. It's my first nickname."
August, 22, 2013
8/22/13
11:00
AM ET
The third preseason game typically serves as the final tune-up for any NFL team's starters. The few dozen players who are locks to make the 53-man roster figure to see action into the third quarter, before taking it easy in the preseason finale.
For those players still battling for roster spots, the extended action for starters leaves them with their last, limited opportunity to make an impression.
The
Buffalo Bills
play their third preseason game on Saturday against the
Washington Redskins
. That will lead into a hectic final week of August, with the 75-man cutdown (Aug. 27), preseason finale (Aug. 29) and 53-man cut-down (Aug. 31) rapidly approaching.
Here's a look at three players on offense for the Bills who are squarely on the roster bubble and may need a strong performance Saturday to survive final cuts. On Friday, we'll take a look at three defensive players in the same situation:
Marcus Easley
The fourth-year receiver led all Bills receivers with 43 snaps in last Friday's preseason win over the
Minnesota Vikings
. The top four receivers for the Bills are set, but Easley could still earn a joint role on offense and special teams. He did his part on special teams on Friday night, playing 12 snaps in that phase of the game. However, the Bills could still choose to go with
Brad Smith
(who projects to have a larger role on special teams) or
Chris Hogan
(who has shown good route running and catching ability), leaving Easley off the roster.
Dorin Dickerson
Dickerson is a bit of an enigma, having spent parts of his career as a wide receiver, H-back/fullback and tight end. The Bills' new coaches tried him at wide receiver this offseason, but he approached the staff with concerns about shedding weight to play that position. He later returned to tight end and has been in the mix for a roster spot. Dickerson's best hope for making the squad, though, is his versatility. A strong showing on Saturday could put him in line for a role as a "utility player" on offense.
Kendall Gaskins
An undrafted rookie from Richmond, Gaskins is a "tweener." At 238 pounds, he played fullback in college but has taken snaps at running back this preseason. He showed some burst last Friday against Minnesota, gaining 16 yards on just three carries. Similarly, he'll have to make the most of the few carries he'll likely see on Saturday. Gaskins is battling
Frank Summers
, who is a true blocking fullback, and
Zach Brown
for the final spot in the Bills' backfield. Getting involved on special teams on Saturday would help Gaskins' case to make the roster.