Buffalo Bills:

Dan Carpenter
October, 20, 2013
Oct 20
7:29
PM ET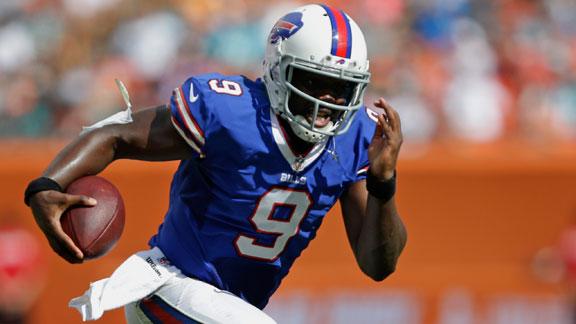 MIAMI -- When
Buffalo Bills
kicker
Dan Carpenter
trotted onto the Sun Life Stadium field to attempt a second-quarter field goal Sunday, he was greeted by boos from his former home crowd.
Carpenter is the most accurate kicker in Dolphins history, completing 81.9 of his field goals from 2008-12. But it was two big misses last season -- leading to Miami losses to the
New York Jets
and
Arizona Cardinals
-- that cost him the confidence of fans and ultimately his team.
Oddly enough, it was the Jets and Cardinals who picked up Carpenter for brief stints following his release this summer. The Bills later signed him to replace an injured
Dustin Hopkins
prior to the season opener.
Carpenter nailed
a 31-yard field goal
with 33 seconds remaining Sunday, giving the Bills a 23-21 lead and silencing those who had jeered him.
"I think Dan is well respected," Marrone said. "He had a great career here. I don't think anyone needs any extra motivation in this league to come back and kind of say 'Hey, I told you so.' But I guarantee you this: knowing Dan, he's a whole lot happier that our team won than he is anything else."
Marrone couldn't have been be more right.
"There was nothing special about it," Carpenter said of his return to Miami. "I have no hard feelings with what happened with the Dolphins. I'm glad to be in Buffalo right now and doing anything I can to help this team win."
The story was different for quarterback
Thad Lewis
, who made his second consecutive start with the Bills on Sunday. Lewis grew up a few miles from Sun Life Stadium in Opa-Locka, Fla. and drew extra motivation from playing in his old back yard.
"I kept telling him to calm down and relax," Marrone said. "He was all fired up. So immediately, my antennas go up and I say, 'Hey, just because you came home doesn't mean you got to go off the deep end on me.' He said, 'No coach, I'm fine.' And he calmed down."
The problem for Lewis was that his play on the field also calmed down from his impressive start last week in Cincinnati. He completed 21 of 32 passes for 202 yards, but was intercepted once, sacked four times, and forced to pull out big plays in third-and-long situations.
"We made some big third downs," Marrone said. "As we progressed through the game we made some plays. We really weren't in sync like we should be."
At one point in the third quarter, Lewis was drilled by Dolphins
Jelani Jenkins
after a completed third-and-11 pass, Lewis' helmet flying off in the process. After flags flew and receiver Stevie Johnson was taken down after a 17-yard gain, Lewis got up and pumped his fist in celebration.
"I'm not a rah-rah guy but when you're down and out you feel like you have to do something to get the team going," Lewis said.
Lewis said it was the first time he's won in Sun Life Stadium, dating back to his career at Duke.
"It was awesome," he said. "I had about 16, probably more people that I know, but I only had 16 tickets so they didn't hit me too hard."
Despite his local ties, Lewis said he was rarely able to afford Dolphins tickets growing up, an upbringing that his coach and teammates said helped build his character as an NFL player.
"When you look at him being out there on that field, it's perseverance throughout his background," Marrone said.
"He's a guy we have a lot of faith in," running back
Fred Jackson
said. "We love what he brings to the table. Hopefully he can continue to play well."
October, 7, 2013
Oct 7
4:55
PM ET
ORCHARD PARK, N.Y. -- The
Buffalo Bills
placed kicker
Dustin Hopkins
on injured reserve Monday, clearing a roster spot they filled by promoting quarterback
Thad Lewis
from the practice squad.
Hopkins had been sidelined since prior to the regular-season opener with a right groin strain. He was replaced by veteran
Dan Carpenter
, who is 11 of 12 on field goals this season, hitting from a long of 55 yards.
Head coach Doug Marrone said Monday that Hopkins was having trouble kicking off in practice.
"The problem was, we were bringing him along and we were one step in kicking field goals, and the bigger issue was once we did the kickoff, which is obviously a much different type of movement," Marrone said. "Once we started doing the kickoff, it was like, that movement is far behind."
Hopkins was a sixth-round pick this season out of Florida State.
Other injury updates Monday from Marrone:
Wide receiver Stevie Johnson will be "day-to-day" with a lower back injury.
Cornerback Ron Brooks, who fractured his foot in the season opener, will test the injury Tuesday and could be back at practice Wednesday.
Cornerback Stephon Gilmore, who fractured his wrist in the preseason, will also work out Tuesday and should be back on the practice field Wednesday.
Marrone says "he feels good about" cornerback Leodis McKelvin, who played extensively against Cleveland but has been nursing a hamstring injury.
Wide receiver Marquise Goodwin, who fractured his hand in the season opener, will practice. Marrone said "we'll just have to see" if Goodwin is healthy enough to play Sunday.
Running back C.J. Spiller, who is still dealing with an ankle injury, may get a day or two off during practice this week.
September, 16, 2013
Sep 16
11:42
AM ET
ORCHARD PARK, N.Y. -- Offering unit-by-unit grades following the
Buffalo Bills
' 24-23 win Sunday over the
Carolina Panthers
:
Coaching: B
(Last week: C) There's one call that stands out here. After
Dan Carpenter
missed a 42-yard field goal in the first quarter, the coaching staff showed faith in their fill-in kicker, and it paid off. Carpenter was able to drill a 55-yarder in the second quarter, putting the Bills on the scoreboard. Otherwise, there weren't any challenges or clock management issues to dissect here. Seven penalties, including some in critical situations, is not a great reflection on the coaching, but cleaning up the two 12-men flags from last week was a positive.
Run Offense: B-plus
(Last week: C) A week after the Bills could not muster any plays of more than 20 yards,
C.J. Spiller
provided a spark with two big "chunk plays" Sunday. His 46-yard run in the fourth quarter set up a Carpenter field goal that kept the Bills within striking position after going down 20-14. There were times, though, when Spiller got bottled up and looked like the Spiller of Week 1: seven of his 16 carries went for 3 yards of less, including three for negative yardage. But taken as a whole, it was a good bounce-back game for him.
Pass Offense: B-minus
(Last week: C-minus)
EJ Manuel
showed an ability to open up the passing game Sunday, finding
Steve Johnson
for 45- and 19-yard gains, as well as
Robert Woods
for 28- and 19-yard gains. He talked about getting "chunk plays" going into the week, and he was able to make some of those happen. On the downside, there were times when he struggled. Headlining that list is his fourth quarter interception, but misfires to
T.J. Graham
(down the right sideline) and tight end
Scott Chandler
(in the end zone) are also notable. Pass protection, which factors into this grade, also slipped from last week, with Manuel strip-sacked in the third quarter.
Run Defense: B-plus
(Last week: D-plus) Big-time improvement from this unit after struggling to stop the Patriots' ground game in the opener.
DeAngelo Williams
never got into a rhythm, finishing with 85 yards on 22 carries, a 3.9-yard average. Solid performance by the Bills. Two big plays here: Stopping Williams for no gain at the Bills 9-yard line early in the fourth quarter, and again for no gain on 2nd-and-5 on the Panthers' final drive, helping to force a field goal.
Pass Defense: B
(Last week: B-minus) There were times when
Cam Newton
let loose some bad throws, helping a wounded Bills secondary. But a lot of his struggles in the game can be attributed to a consistent pass rush, headlined by a 4.5-sack performance by
Mario Williams
. There were some breakdowns by the safeties, notably on a 40-yard pitch-and-catch touchdown from Newton to
Ted Ginn
. Also have to flag this unit for unnecessary roughness penalty by
Aaron Williams
that was, well, unnecessary. Not the way to get off the field on third down.
Special Teams: B-minus
(Last week: B-plus) Shaky first half for this unit. Ginn opened the game with a 29-yard return and added a 36-yard return in the second quarter. Carpenter's missed 42-yarder in the first quarter also knocks this grade down. In the second half, though, the unit did what it needed to do to put the Bills in position to win.
September, 4, 2013
Sep 4
7:35
PM ET
Veteran
Dan Carpenter
will take over kicking duties for rookie
Dustin Hopkins
in the
Buffalo Bills
' opener on Sunday, head coach Doug Marrone said.

Carpenter was signed on Tuesday after Hopkins suffered a strained right groin in Monday's practice.
"I thought it was a high-level (strain) and he'd be out some time, but it's not so I think it's going to be a condition thing," Marrone said. "I think if he was a position player I'd be able to tell you a couple days, but I think because he uses that leg I think it's just a matter of when he gets out there and starts swinging it and see how he feels."
After five seasons with the
Miami Dolphins
, Carpenter has bounced around in recent weeks, joining Buffalo after being cut by the
Arizona Cardinals
and
New York Jets
.
Hopkins was in uniform for Wednesday's practice but did not participate.
Here is the full Bills' participation report from Wednesday's practice:
DID NOT PRACTICE
CB
Stephon Gilmore
(wrist)
K Dustin Hopkins (right groin)
OL
Doug Legursky
(knee)
LIMITED IN PRACTICE
S
Jairus Byrd
(foot)
FULL PARTICIPATION IN PRACTICE
QB
EJ Manuel
(knee)
September, 4, 2013
Sep 4
12:28
PM ET
ORCHARD PARK, N.Y. --
Buffalo Bills
kickers
Dustin Hopkins
and
Dan Carpenter
were both in uniform for Wednesday's practice, although it was unclear if Hopkins was participating in the session.
Hopkins suffered a groin injury in Monday's practice, according to ESPN NFL Insider Adam Schefter, causing the Bills to sign the veteran Carpenter on Tuesday.
Both kickers, along with punter
Shawn Powell
and long-snapper
Garrison Sanborn
, emerged on the outdoor practice field toward the end of the media portion of the session. The specialists were likely practicing inside Ralph Wilson Stadium, so it is not immediately known if Hopkins was healthy enough to kick on Wednesday.
Meanwhile, defensive end
Alex Carrington
and right tackle
Erik Pears
both returned to practice Wednesday. The pair of starters had missed Monday's session with ankle soreness.
Cornerback
Stephon Gilmore
(fractured wrist) and offensive lineman
Doug Legursky
(knee) were the only two players not spotted.
September, 3, 2013
Sep 3
5:00
AM ET
ORCHARD PARK, N.Y. -- Walking off the practice field Sunday,
Buffalo Bills
head coach Doug Marrone was asked if the team had any immediate plans to fill the open spot on its 53-man roster.

Marrone's answer? Let's wait and see.
"I've been talking to (general manager) Doug (Whaley) about it. Obviously we've been meeting," he said. "I think we have a lot of flexibility with it and we'll see where it goes."
As it turned out, the spot will be filled sooner rather than later. With rookie
Dustin Hopkins
suffering a groin injury in Monday's practice, the Bills are signing kicker
Dan Carpenter
to fill in, according to ESPN NFL Insider Adam Schefter.
But before Hopkins' injury came to light, Marrone gave insight on one position where they felt the spot may be used.
"Right now the natural position would gravitate probably to the offensive line," Marrone said.
The Bills have eight offensive linemen on their active roster, but their top interior backup, veteran
Doug Legursky
, is out indefinitely with a knee injury. That leaves Buffalo with just two reserve linemen --
Thomas Welch
and
Sam Young
-- and both are primarily tackles.
But Marrone cautioned against overlooking Young's versatility.
"I would probably label Sam Young as versatile to all four (positions)," he said, referring to Young's ability to play both guard and tackle spots. "Rather than just saying we only have three (interior linemen)."
In three seasons, Young has played 18 games, including four starts (all last season).