Buffalo Bills:

Darrelle Revis
February, 18, 2015
Feb 18
1:35
PM ET
Buffalo Bills
coach Rex Ryan enters his seventh consecutive season as an AFC East head coach. As such, he continues to be a target for questions about the
New England Patriots
.
In fact, three of the first four questions directed to Ryan during his news conference Wednesday at the NFL combine in Indianapolis were about the Patriots, including a question off the top about how he felt about the Patriots' recent Super Bowl win.
"It was terrible. Next question," Ryan deadpanned. "Nah, you know what? That was a great game. Obviously a great game. I think it was anticipated that it was going to be a great game. You had two outstanding teams, both of them really well coached, and obviously it was an outstanding game."
Revis
The highlight from Ryan's news conference, though, was his baseball references. He began with a two-minute monologue about a trip to see the Buffalo Bisons and later stepped away from the podium and pretended to stand in the batter's box when asked about Patriots cornerback
Darrelle Revis
.
"I was waiting [for that question]," Ryan said. "I knew it would come from somebody. See, my first year I would have done this and swung at that pitch and probably been fined for tampering or something like that. This time, no way am I going to talk about somebody else's player. So I refuse to do that."
The Bills have
interest in luring
Revis to Buffalo this offseason, sources told ESPN NFL Insider Adam Schefter. The Patriots, however, have already filed
tampering charges
against the Jets after owner Woody Johnson made comments about Revis in December.
Ryan stepped away from the podium again when asked about a possible reunion with
Mark Sanchez
, who will become a free agent next month, in Buffalo.
"All right, here we go, I'm gonna bat right-handed on this one," Ryan said, drawing laughter. "I'm gonna let that bad boy go, too. Nah, he's on somebody else's team, I think."
January, 12, 2015
Jan 12
6:00
AM ET
As we await the final touches being put on Rex Ryan's deal to become the
Buffalo Bills
' head coach, it's a good time to analyze what
Ryan's impending arrival
will have on the team's roster-building strategy this season.
In particular, this thought from ESPN's
New England Patriots
reporter Mike Reiss'
weekly Sunday notes
caught my attention:
5. I've been following Ryan's next step closely because I've thought that if he takes a head-coaching job instead of going into broadcasting that could mean significant competition for the Patriots to retain Darrelle Revis in free agency. If I'm the Bills, that's something I definitely explore this offseason in free agency, especially given Revis' history with Ryan. It could be a help-yourself-while-hurting-the-opposition situation.
The Patriots and Revis might agree to a deal before he ever hits the open market, but the potential for Revis to join an already talented Bills defense is intriguing, especially since Ryan enjoyed some of his best seasons when Revis roamed the
New York Jets
' secondary.
Any reunion between Ryan and Revis in Buffalo would be costly but with the Bills' cap space -- general manager Doug Whaley roughly estimated it at $16 million for next season -- it's a workable proposition.
Realistically, the Bills would probably need to choose between signing Revis and re-signing defensive end
Jerry Hughes
, who projects to earn one of the richer deals on the free-agent market this spring.
With that in mind, I posed the question Sunday on Twitter.
There are sound arguments for both sides. The Bills' pass rush would take a hit without Hughes, who accounted for 20 sacks over the past two seasons. At 26, he's also a younger option than Revis, 29.
Yet if Mike Pettine's approach in 2013 was any indication, Hughes might not have a full-time role in Ryan's defense -- assuming Ryan sticks with his own scheme in Buffalo. In fact, Ryan's defense works best when he can rely on strong cover cornerbacks (like Revis) and create pressure from blitzing linebackers and safeties.
That could make Revis something to consider for the Bills, who already have a rising cornerback in
Stephon Gilmore
. Losing the
Mario Williams
-Jerry Hughes pairing would be tough, but what about that duo in the secondary?
The responses on Twitter came fast and furious and fell all over the map:
@mikerodak Revis. Hands down. Hughes is great but lots of guys would be in that scheme playing alongside Dareus, Mario, Kyle

— Max Gershberg (@MaxGersh) January 11, 2015
@mikerodak Hughes is younger, cheaper, and at a position of greater need.

— Aaron Horwitz (@AaronTheH) January 11, 2015
@mikerodak A young and ascending DE versus an old and ineffective CB? Is that a serious question?

— Campy Campbell (@CampyVB) January 11, 2015
@mikerodak Revis. Him and Gilmore would be SCARY!

— Michael Thomas (@MichaelThomas82) January 11, 2015
December, 6, 2013
12/06/13
10:00
AM ET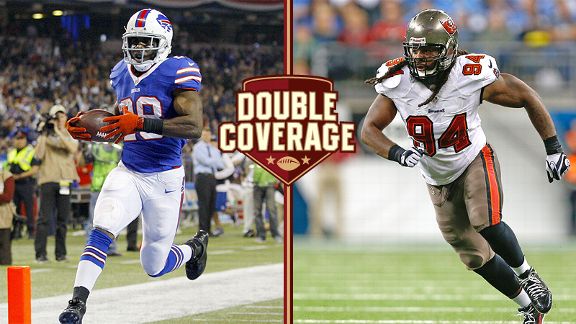 USA Today Sports; AP PhotoC.J. Spiller's Bills and Adrian Clayborn's Bucs are playing for pride -- with draft positioning at stake.
Aside from 2014 draft position, Sunday's game between the
Buffalo Bills
and
Tampa Bay Buccaneers
doesn't have a lot of obvious meaning.
At the moment, the Bucs (3-9) would hold the No. 5 overall pick in next year's draft, while the Bills (4-8) would hold the No. 9 pick. But Sunday's result could shake that order up.
ESPN.com Bills reporter Mike Rodak and Buccaneers reporter Pat Yasinskas examine the matchup.
Yasinskas:
Mike, this game features two rookie quarterbacks. Tampa Bay's
Mike Glennon
and Buffalo's
EJ Manuel
. Glennon is coming off his worst game of the season against Carolina. But, other than that, he has been fairly efficient. What's your assessment of how Manuel has played so far?
Rodak:
Manuel has been up and down, both before his knee injury and after it. The 16th overall pick of the 2013 draft missed four games in the middle of the season after he took a shot to the side of his knee against the Browns in Week 5. The Bills' brass has liked to say that Manuel was on the right track before the injury, but the reality is that he had a completion rate below 50 percent in Weeks 3 and 4 and had three turnovers in that Week 4 win over the
Baltimore Ravens
. When Manuel came back in Week 10, he had perhaps his worst game of the season, in Pittsburgh. Those have been the low points.
On the other end of the spectrum, Manuel led the Bills on a game-winning drive over the
Carolina Panthers
in Week 2 and posted a passer rating of 121.9 against the Jets in Week 11. Those have been the high points. But on average, he has been a below-average NFL quarterback to this point, posting a 45.5 QBR for the season.
Pat, the Bucs looked like a disaster about two months ago. Now they have won three of their past four games. What has changed for them?
Yasinskas:
The Bucs were in utter disarray at the start of the season. But, aside from Sunday's loss to Carolina, they've played much better over the past month or so. Part of it has to do with Glennon's steady improvement. He has shown signs he can be more than just a game manager. The other thing that has stood out has been how this team has stuck together. Despite some speculative reports to the contrary, coach Greg Schiano never lost the locker room. His players still believe in his system and have been playing hard for him. Finally, the defense, which has a lot of individual talent, has started to click and that coincided with the turnaround.
Speaking of defense, the Bills lead the league with 43 sacks, but they're allowing 25.6 points a game, which ranks 24th. What has gone wrong with this defense?
Rodak:
Earlier in the season, much of the problem was with the secondary. The Bills battled through some injuries -- safety
Jairus Byrd
and cornerback
Stephon Gilmore
both missed time -- and they got torched by some teams early. But they've been healthy back there for a while now, and the results have been better.
The problem recently has been with the run defense. The Bills rank 24th in the NFL, allowing 121.5 rushing yards per game, and allow 4.18 yards per carry. Some of that has to do with time of possession. The Bills' offense ranks 31st in the NFL, which has put some stress on the defense. More alarmingly for Buffalo, the run defense has gotten worse as the season has gone on. The Bills allowed 5.83 yards per carry to the Jets and 5.03 yards to the Falcons, including two long touchdown runs. There's a lot of talent on this defense, but the consistency isn't there.
Pat, there was a lot of talk this offseason about the moves the Buccaneers made in their secondary. They drafted
Johnthan Banks
in the second round, traded for
Darrelle Revis
and signed
Dashon Goldson
. How have those moves paid off?
Yasinskas:
The Bucs went overboard making moves in the secondary because they had the league's worst pass defense in 2012. There has been a noticeable improvement this year. But it hasn't been all roses. Banks has looked good at times, but also has had some rookie moments. Goldson missed two games due to injury and was suspended for another game for an illegal hit. Revis has been solid, although the Bucs brought him along slowly early in the year because he was coming off knee surgery. Overall, this is a decent secondary, but it has yet to approach its true potential.
Mike, what's your read on
C.J. Spiller
? He seems to be having an up-and-down season to this point. How much has his ankle injury been a factor?
Rodak:
He has been a tough one to pin down. This much is for certain: He hasn't lived up to the expectations many on the outside had for him entering this season, and his ankle is a big factor in that. But even after coach Doug Marrone removed Spiller from the injury report about a month ago, things still weren't right. He had disappointing games in Weeks 10 and 11, rushing a combined 21 times for 29 yards. But then, out of the blue, he broke open a 77-yard run Sunday, the longest of his career. He followed that with a 36-yard touchdown run and finished with one of the best games of his career, tallying 149 yards.
Going forward, I'm not really sure what to expect with Spiller. This could be his identity within this offense: a home run hitter who is prone to more strikeouts than the norm.
Pat, speaking of running backs,
Bobby Rainey
seems to have cooled off since his huge game against Atlanta a few weeks ago. What has happened to the Bucs' running game?
Yasinskas:
Rainey rushed for 163 yards against the Falcons, but has averaged just 49 yards in the two games since then. What's happening is that opposing defenses are loading the box to stop the running game. They're daring Glennon to beat them and he hasn't really done that. Until Glennon starts having more luck with the downfield passing game, defenses are going to continue to focus on bottling up the running game.
December, 4, 2013
12/04/13
5:15
PM ET
ORCHARD PARK, N.Y. --
Buffalo Bills
receiver
Steve Johnson
generally isn't one to shy away from a little pre-game banter.
On Wednesday, though, Johnson didn't bite the first time a reporter asked about his looming matchup with
Tampa Bay Buccaneers
cornerback
Darrelle Revis
on Sunday.
"I feel like Revis is Revis. I don't need to say too much about him. He's an elite corner," he said. "My main concern is getting a win. I'm not worried about the matchup."
Asked how much he anticipates lining up from Revis, the Bills' top receiver threw in a little color.
"Who knows? I know we'll be competing. I feel like we'll match up more times than not, and when we do, we'll see who's the better man throughout the game," Johnson said. "But once again, my concern is about getting the win, not an individual person."