Buffalo Bills:

E.J. Manuel
January, 28, 2015
Jan 28
4:00
PM ET
After two lackluster seasons for the
Buffalo Bills
, it is clear that former first-round pick
EJ Manuel
must have competition at quarterback. Based on what I saw at the Senior Bowl, the Bills will have trouble finding that player if they look for him in this year's NFL draft.
Quarterback is one of this draft's thinnest positions, with a significant drop-off after underclassmen
Jameis Winston
and
Marcus Mariota
are selected in the top 5.
The Bills don't have a
first-round pick
. They have a variety of needs to consider in the second round, so they could be looking at third-round quarterback prospects, at best. That's the territory of
Bryce Petty
,
Sean Mannion
and
Garrett Grayson
. I watched all three have an inconsistent week at the Senior Bowl; it's unlikely any of them are ready to immediately lead a team.
Buffalo's best option will be to explore the free-agent market. There are interesting veterans capable of pushing Manuel, including
Matt Moore
,
Nick Foles
and
Mark Sanchez
, who has strong ties to new Bills head coach Rex Ryan. (Former
San Francisco 49ers
quarterback and free agent
Blaine Gabbert
also knows new offensive coordinator Greg Roman's system well, but I think that's asking for trouble.)
The easiest solution for Buffalo is for Manuel to turn the corner in his third season. But the Bills, who have playoff aspirations, cannot go into the season expecting it. Quarterback insurance is a must-have for Buffalo this year.
December, 13, 2013
12/13/13
10:00
AM ET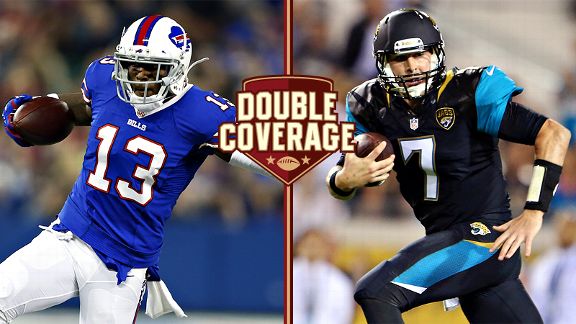 USA TODAY SportsStevie Johnson's Bills and Chad Henne's Jaguars are both 4-9, but the teams appear headed in opposite directions.
It has been a different second half for the
Jacksonville Jaguars
and
Buffalo Bills
.
Both teams are 4-9 but they're on opposite wavelengths. The Jaguars have won four of their past five games and are currently riding a three-game winning streak for the first time since 2010. The Bills have lost four of their past five and are coming off an abysmal performance in Tampa Bay.
Jaguars coach Gus Bradley is talking about making sure his players treat prosperity the same way they treated the adversity they faced in the first half of the season. Bills coach Doug Marrone is talking about scaling back the offense to help rookie quarterback
EJ Manuel
.
The teams meet Sunday at EverBank Field. ESPN.com Bills reporter Mike Rodak and Jaguars reporter Michael DiRocco break down the matchup:
DiRocco:
Manuel is pretty familiar to fans in Jacksonville from his time at Florida State. He has had an up-and-down season, but what have you seen from him that leads you to believe the Bills made the correct choice in deciding to build the franchise around him?
Rodak:
I think the jury is still out on whether the Bills made the correct choice in Manuel. In Sunday's loss to the Buccaneers, Manuel posted a 3.8 QBR, which ranks 415 out of 426 single-game performances in the NFL this season. It's dangerous to give too much weight to what's most recent, but in this case, Sunday had to be alarming for the Bills. Manuel has the leadership and character traits that any NFL team wants in its quarterback, but his on-field performance has left a lot to be desired. These last three games will be critically important to determining which direction Manuel is heading.
The Jaguars have gone on a surprising run lately, winning four of their past five games. Have they been doing anything different than early in the season? Or are things just simply starting to come together for Gus Bradley and his players?
DiRocco:
Schematically, no, other than just paring down the defensive game plan a bit and focusing more on the coverages and blitzes they do well. But three things stand out: better run defense, a better turnover ratio and better success in the red zone. In the first eight games -- all losses by double digits -- the Jaguars were allowing 161.8 yards per game rushing, were minus-7 in turnover ratio, and scored TDs on only 25 percent of red-zone possessions. The numbers in the past five games: 70.8 yards per game allowed, plus-5, and 66.7 percent. The offensive line has been much more consistent, quarterback
Chad Henne
is making few mistakes, and the defensive line has held up at the point of attack much better.
Kiko Alonso
is one of the candidates for defensive rookie of the year and is second in the NFL in tackles. Obviously a second-round pick is expected to produce, but has the kind of impact he has made on the defense been a surprise?
Rodak:
I think so. When I spoke to defensive coordinator Mike Pettine last month about Alonso, he indicated that the Bills inserted him into the starting lineup in the spring, but it was a wait-and-see deal. If it didn't work out, they were going to turn somewhere else, but Alonso has certainly fit well within this defense. He has drawn a lot of praise from coaches and veterans on this team for his work ethic and ability to pick up the scheme quickly. However, I do think that Alonso's play has tailed off slightly over the past several weeks after he had a hot start this season. He had four interceptions, one sack, and one forced fumble in the first month of the season. Since then, he has had one sack, no interceptions and no forced fumbles. Is that overly concerning for the Bills, though? Most likely not. I think Alonso will be a fixture in this defense for the foreseeable future.
What's the latest on
Maurice Jones-Drew
? I remember hearing some trade talk around him a few months ago, but once the deadline passed, he hasn't been on the radar as much. Does he have a future in Jacksonville?
DiRocco:
He does if he's willing to be realistic about a contract. No team is going to pay big money for a 29-year-old running back that has battled injuries the past two seasons, which is what he'll find out if he decides to test the free-agent market when his contract expires after this season. The Jaguars are interested in re-signing him and likely will offer him an incentive-filled two-year contract worth $6-10 million. Jones-Drew, who would like to finish his career in Jacksonville, is making $4.95 million this season so that would be a pay cut. If he's OK with that, then I'd be surprised if he's not around.
What do you think of the job Doug Marrone has done in his first season? And what do you think of his long-term future in Buffalo?
Rodak:
I think it has been a trying season for Marrone. It's not that there were high hopes for the team in his first season -- nobody realistically expected them to make the playoffs -- but I don't think everything fell into place as well as he would have liked. His hire of Mike Pettine as defensive coordinator has generally paid off well, but ultimately what's going to define Marrone's tenure in Buffalo will be the quarterback position. Coaches don't often get more than one chance to get it right at quarterback, so if Manuel doesn't work out in Buffalo, it may not work out for Marrone, either. That's just today's NFL. It's a brutal league.
What about for the Jaguars? Their roster was about as bare bones as it gets this past offseason -- in much worse shape than the Bills' entering this season -- and they've managed to put on a nice little run here. What's the next step that general manager David Caldwell needs to take?
DiRocco:
His No. 1 priority is to find a franchise quarterback. At the beginning of the season I would have told you the Jaguars would draft Teddy Bridgewater with the No. 1 overall selection, but since it now appears the Jaguars will be picking in the Nos. 5-7 range it seems unlikely Bridgewater will be around. Caldwell is going to have to figure out whether there's somebody else he likes just as much or if he's going to be willing to gamble that he can get a good QB a little later in the draft, whether it's A.J. McCarron, Aaron Murray or somebody else.
December, 6, 2013
12/06/13
10:00
AM ET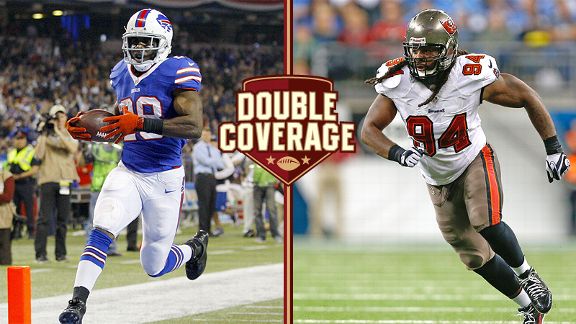 USA Today Sports; AP PhotoC.J. Spiller's Bills and Adrian Clayborn's Bucs are playing for pride -- with draft positioning at stake.
Aside from 2014 draft position, Sunday's game between the
Buffalo Bills
and
Tampa Bay Buccaneers
doesn't have a lot of obvious meaning.
At the moment, the Bucs (3-9) would hold the No. 5 overall pick in next year's draft, while the Bills (4-8) would hold the No. 9 pick. But Sunday's result could shake that order up.
ESPN.com Bills reporter Mike Rodak and Buccaneers reporter Pat Yasinskas examine the matchup.
Yasinskas:
Mike, this game features two rookie quarterbacks. Tampa Bay's
Mike Glennon
and Buffalo's
EJ Manuel
. Glennon is coming off his worst game of the season against Carolina. But, other than that, he has been fairly efficient. What's your assessment of how Manuel has played so far?
Rodak:
Manuel has been up and down, both before his knee injury and after it. The 16th overall pick of the 2013 draft missed four games in the middle of the season after he took a shot to the side of his knee against the Browns in Week 5. The Bills' brass has liked to say that Manuel was on the right track before the injury, but the reality is that he had a completion rate below 50 percent in Weeks 3 and 4 and had three turnovers in that Week 4 win over the
Baltimore Ravens
. When Manuel came back in Week 10, he had perhaps his worst game of the season, in Pittsburgh. Those have been the low points.
On the other end of the spectrum, Manuel led the Bills on a game-winning drive over the
Carolina Panthers
in Week 2 and posted a passer rating of 121.9 against the Jets in Week 11. Those have been the high points. But on average, he has been a below-average NFL quarterback to this point, posting a 45.5 QBR for the season.
Pat, the Bucs looked like a disaster about two months ago. Now they have won three of their past four games. What has changed for them?
Yasinskas:
The Bucs were in utter disarray at the start of the season. But, aside from Sunday's loss to Carolina, they've played much better over the past month or so. Part of it has to do with Glennon's steady improvement. He has shown signs he can be more than just a game manager. The other thing that has stood out has been how this team has stuck together. Despite some speculative reports to the contrary, coach Greg Schiano never lost the locker room. His players still believe in his system and have been playing hard for him. Finally, the defense, which has a lot of individual talent, has started to click and that coincided with the turnaround.
Speaking of defense, the Bills lead the league with 43 sacks, but they're allowing 25.6 points a game, which ranks 24th. What has gone wrong with this defense?
Rodak:
Earlier in the season, much of the problem was with the secondary. The Bills battled through some injuries -- safety
Jairus Byrd
and cornerback
Stephon Gilmore
both missed time -- and they got torched by some teams early. But they've been healthy back there for a while now, and the results have been better.
The problem recently has been with the run defense. The Bills rank 24th in the NFL, allowing 121.5 rushing yards per game, and allow 4.18 yards per carry. Some of that has to do with time of possession. The Bills' offense ranks 31st in the NFL, which has put some stress on the defense. More alarmingly for Buffalo, the run defense has gotten worse as the season has gone on. The Bills allowed 5.83 yards per carry to the Jets and 5.03 yards to the Falcons, including two long touchdown runs. There's a lot of talent on this defense, but the consistency isn't there.
Pat, there was a lot of talk this offseason about the moves the Buccaneers made in their secondary. They drafted
Johnthan Banks
in the second round, traded for
Darrelle Revis
and signed
Dashon Goldson
. How have those moves paid off?
Yasinskas:
The Bucs went overboard making moves in the secondary because they had the league's worst pass defense in 2012. There has been a noticeable improvement this year. But it hasn't been all roses. Banks has looked good at times, but also has had some rookie moments. Goldson missed two games due to injury and was suspended for another game for an illegal hit. Revis has been solid, although the Bucs brought him along slowly early in the year because he was coming off knee surgery. Overall, this is a decent secondary, but it has yet to approach its true potential.
Mike, what's your read on
C.J. Spiller
? He seems to be having an up-and-down season to this point. How much has his ankle injury been a factor?
Rodak:
He has been a tough one to pin down. This much is for certain: He hasn't lived up to the expectations many on the outside had for him entering this season, and his ankle is a big factor in that. But even after coach Doug Marrone removed Spiller from the injury report about a month ago, things still weren't right. He had disappointing games in Weeks 10 and 11, rushing a combined 21 times for 29 yards. But then, out of the blue, he broke open a 77-yard run Sunday, the longest of his career. He followed that with a 36-yard touchdown run and finished with one of the best games of his career, tallying 149 yards.
Going forward, I'm not really sure what to expect with Spiller. This could be his identity within this offense: a home run hitter who is prone to more strikeouts than the norm.
Pat, speaking of running backs,
Bobby Rainey
seems to have cooled off since his huge game against Atlanta a few weeks ago. What has happened to the Bucs' running game?
Yasinskas:
Rainey rushed for 163 yards against the Falcons, but has averaged just 49 yards in the two games since then. What's happening is that opposing defenses are loading the box to stop the running game. They're daring Glennon to beat them and he hasn't really done that. Until Glennon starts having more luck with the downfield passing game, defenses are going to continue to focus on bottling up the running game.
October, 17, 2013
10/17/13
12:00
PM ET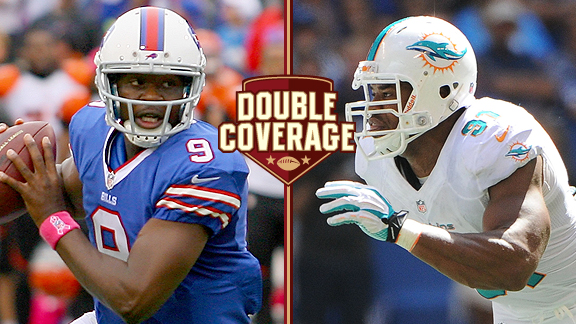 Getty Images, AP PhotoBanged-up Bills QB Thad Lewis will feel pressure from Miami pass-rusher Cameron Wake.
Sunday's matchup at Sun Life Stadium involves AFC East teams on a pair of two-game losing streaks.
The
Miami Dolphins
(3-2) will host the
Buffalo Bills
(2-4) in a game with several interesting storylines. Miami and Buffalo split their season series in 2012.
Can the Dolphins get on track at home? Will Buffalo get its act together and win its first game on the road?
ESPN.com Bills reporter Mike Rodak and Dolphins reporter James Walker weigh in:
James Walker:
Mike, let's begin by discussing this past week. The Dolphins enjoyed their bye and got a chance to recuperate from their injuries. This will probably be as healthy as Miami has been since Week 1, especially on defense. The Dolphins are still reeling after back-to-back losses against the
New Orleans Saints
and
Baltimore Ravens
. But Miami should feel good about itself heading into Sunday's game against the Bills, who are also on a two-game losing streak. After facing
Andrew Luck
,
Matt Ryan
,
Drew Brees
and
Joe Flacco
the past four games, the Dolphins' defense feels better about its chances against Buffalo. Bills quarterback
Thad Lewis
played a solid game in Week 6 against the
Cincinnati Bengals
, but he also has a sprained foot. What are your expectation of Lewis and what challenges will he present?
Mike Rodak:
The expectation is that Lewis will play Sunday. Head coach Doug Marrone said Monday that tests on Lewis' foot were clean. However, he was in a walking boot after Sunday's loss to the Bengals, and when he took it off, Lewis was heavily labored in trying to walk across the locker room. If that doesn't fully clear up in the next few days, Lewis might be limited in what he'll be able to do against the Dolphins. Lewis was billed as a mobile quarterback with a strong arm, and although it was just one game, he lived up to those expectations against Cincinnati. With the injury, I don't think the Dolphins have to worry too much about Lewis' scrambling ability, but they will need to watch out for the deep ball, as the Bills have a speedy group of receivers.
James, I saw a statistical comparison the other night between Luck and
Ryan Tannehill
, two of the top quarterbacks in the 2012 draft. Luck has more career yards (5,720) than Tannehill (4,677) and also has a better touchdown-to-interception ratio (30-to-21 for Luck; 18-to-18 for Tannehill). But Tannehill has a better completion percentage (59.5) than Luck (55.8), and their QB ratings are nearly identical. Luck has received most of the national publicity, but what's the feeling in Miami about Tannehill in his first season-plus?
Walker:
It's mostly optimistic in South Florida. The Dolphins have lost two in a row but Tannehill is not the problem. Miami has two major issues on offense that could help Buffalo: The Dolphins' running game is ranked 29th in the NFL and their pass protection is horrid. Tannehill has been sacked 24 times in five games. That's inexcusable if Miami wants its QB to last all 16 games this season. But Tannehill has shown toughness and poise through it all. When he has time, Tannehill has made some stellar throws. He looks the part of the franchise quarterback thus far. Although Tannehill's statistics aren't through the roof, I've actually beaten the drum that he is performing above expectations in Year 2 because of the adversity he is facing.
Mike, it looks like the Bills certainly have their running game figured out with tailbacks
C.J. Spiller
and
Fred Jackson
. Why has Buffalo been so successful on the ground despite a rotating door at quarterback?
Rodak:
I think a lot of it stems from the toughness of Spiller and Jackson. Spiller got off to a slow start and then was hit by back-to-back injuries in Weeks 3 and 4. But he showed guts in Week 5 against Cleveland, limping his way to a 54-yard touchdown, and also had a strong performance against Cincinnati. Meanwhile, Jackson is having a career season, even at 32 years old and despite battling a sprained MCL in recent weeks. He's third in the NFL behind
Ben Tate
and
Alfred Morris
in yards gained after contact. I think what's troubling, though, for the Bills is that they are third in the NFL in rushing (149 yards per game) but 27th in time of possession. That's an unusual combination, the result of a fast-paced offensive philosophy that might not be getting the most out of Spiller and Jackson's production.
James, what's the latest on
Cameron Wake
? The Dolphins' foes in the AFC East know all too well how dangerous he can be when he's healthy. Will he be a full go on Sunday? And if not, can we expect
Dion Jordan
to make any sort of impact? Some gushed about his talent back in the spring, but it doesn't seem like he has been a factor thus far.
Walker:
A big smile was back on Wake's face this week, which is a good indication that he's feeling closer to 100 percent. I think the bye did wonders for Wake and several ailing players on Miami's defense. This will be as healthy as this group has been in about a month. Wake plays so hard and so violent that it's difficult for him to play at 70 percent or 75 percent. That's what we saw in the last game against Baltimore when he tried to play on a bum knee for just one series. I expect Wake to be much closer to full strength on Sunday. As far as Jordan, I blame Miami's coaching staff for keeping the kid gloves on too long with the rookie. The Dolphins use Jordan only on special teams and as a situational pass-rusher. But Jordan has made several impact plays in limited playing time. He had a tipped ball against Flacco in Week 5 that caused a pick-six. Jordan has earned more playing time, and I'm curious to see if the Dolphins oblige following the bye.
Finally, Mike, Buffalo is winless on the road and within the AFC East. Both factors are in play here. What Bills team do you expect to show up Sunday in Miami?
Rodak:
I think we'll see a competitive game Sunday. Despite their 2-4 record, the Bills have hung tight in every game they've played. More than anything, I'll look for the way Lewis handles himself on the road. I thought
EJ Manuel
struggled against both the Jets and the Browns, prior to his injury. Maybe Lewis, in his fourth season, will be steadier when away from Ralph Wilson Stadium. I also think that the Bills are starting to get healthier. If they are ever able to get back to full strength, or close to it, they can be dangerous. They've shown as much at points this season.
.