Buffalo Bills:

Jim Schwartz
March, 20, 2014
3/20/14
10:00
AM ET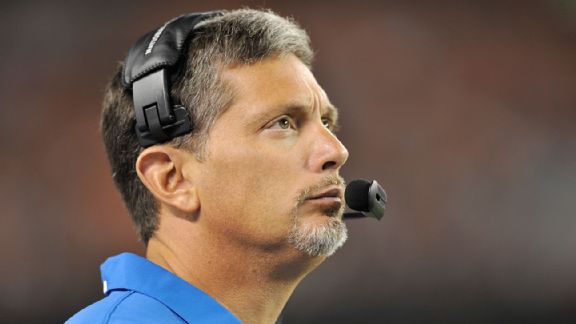 AP Photo/David RichardDefensive coordinator Jim Schwartz arrived in Buffalo after five seasons as Detroit's head coach.
Even the
Cleveland Browns
haven't had it this bad.
The
Buffalo Bills
have run through more defensive coordinators over the past four years than any other team in the NFL, complicating their player-acquisition process through both free agency and the draft.
While their defensive schemes have changed each offseason since 2011, it's not all bad news. In hiring Mike Pettine last winter and Jim Schwartz to replace him in January, the Bills are sacrificing long-term coaching stability to help win now.
It's the right approach. Schwartz has extensive experience as a coordinator and head coach, while Pettine is a riser in the NFL coaching ranks, having recently been hired to lead the Browns. They're both talented defensive minds and better than the alternative, which would have been to promote from within or to poach an up-and-coming position coach from another team.
Schwartz is already putting his mark on the Bills defense. General manager Doug Whaley revealed last week that
Kiko Alonso
, who finished second in voting for the Associated Press' Defensive Rookie of the Year award, will move to weakside linebacker as part of yet another defensive overhaul.
Replacing Alonso at middle linebacker will be newly signed
Brandon Spikes
. The Bills also signed
Keith Rivers
, a former first-round draft pick, to potentially start at strongside linebacker.
It will be a whole new look, but one that presents some challenges for the Bills.
It was only a year ago when Buffalo signed linebacker
Manny Lawson
to a four-year, $12 million deal. The lanky veteran proved a strong fit in Pettine's system, starting 15 games and posting his best statistical marks since 2009.
Now Lawson is a man without a home. Under Pettine, Lawson could play close to the line of scrimmage, setting the edge against the run and blitzing on occasion. Things will be different with Schwartz, who rarely blitzes his linebackers and requires sturdier defensive ends than the 240-pound Lawson.
[+] Enlarge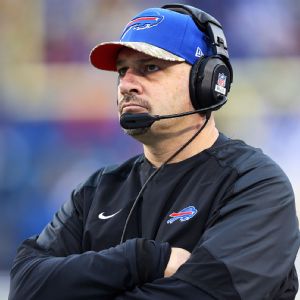 AP Photo/Paul SpinelliThe Bills' defense improved in a number of areas during Mike Pettine's lone season as coordinator.
With three years left on Lawson's contract, the Bills wouldn't have received much of a salary-cap benefit by releasing him. Instead, they paid Lawson his $500,000 roster bonus last week and will try to find him a place among their new furniture.
"I think he's going to be a hybrid player. He's going to be able to bring us something as an outside linebacker but also come off the edge as a defensive end," Whaley told WGR 550 last week. "His versatility is going to be utilized within this system. That we think is going to be very valuable for us."
Translation: We like you Manny, but we don't really know what to do with you.
Lawson might find a situational role at defensive end, where
Mario Williams
and
Jerry Hughes
are the top two options. It also could be a position where the Bills try to add depth in the draft.
What about
Alan Branch
, who started 13 games at defensive end last season? Pettine's system required three big bodies along the defensive line. At 325 pounds, Branch fit that bill.
Without waiting to see how things would unfold with Pettine, the Bills jumped the gun in late December and gave Branch a three-year extension worth more than $3 million per season, with nearly $4 million in guaranteed money.
Under Schwartz, Branch figures to have a lesser role. The Bills already have a pair of defensive tackles in
Kyle Williams
and
Marcell Dareus
-- who both made the Pro Bowl last season -- and Branch will be a capable but likely overpaid backup.
The Bills were smarter in doling out contracts last week. Spikes received a one-year deal and Rivers signed for two years. Both contracts included little guaranteed money.
After all, who knows where Schwartz will be by next January?
It took Schwartz eight seasons as the
Tennessee Titans
' defensive coordinator to earn his first head-coaching job, with the
Detroit Lions
. He's known as a prideful coach who, when introduced in Buffalo, came off miffed about the way things ended after five seasons in Detroit.
"I think if you look around, just about every coach has been in that position. Every coach has had some situation," he said. "There are some great ones that have been fired."
At 47, Schwartz might not have to wait long for another head-coaching opportunity, but that doesn't make him a bad investment by the Bills.
The Bills gambled when they hired Pettine last winter. It was among the NFL's worst-kept secrets that Pettine wanted to become a head coach. He was on the fast track. Unusual circumstances may have led to his hire by the Browns, but the departure from Buffalo was inevitable.
Likewise with Schwartz. The Bills might rebuild and grow with Whaley, Doug Marrone and
EJ Manuel
, but it's unlikely that Schwartz will stick around long enough to see that process through.
In Pettine and Schwartz, the Bills hired the best options on the market. Pettine boosted several areas of the Bills defense, helping it improve from 22nd in yards allowed per game in 2012 to 10th in 2013, while seeing the red zone defense jump from 31st to sixth last season. The Bills finished second in opposing QBR, second in sacks, second in interceptions and first in opposing completion percentage.
Meanwhile, Schwartz's defenses were typically strong in Tennessee, especially against the run. The Titans finished in the top six in rushing yards allowed in five of Schwartz's eight seasons as defensive coordinator.
Most important, both coaches are confident and experienced, allowing Marrone to focus his attention where it's needed the most: on offense. Had the Bills turned to a younger, less experienced defensive coordinator than Pettine or Schwartz, it would have created more continuity with scheme but also would have stretched Marrone thin.
Whaley and his scouting staff might get headaches trying to keep up with the defensive changes, but for a city that desperately needs a winning team, this is the right way to go.
February, 4, 2014
2/04/14
5:00
AM ET
What's the skinny on Schwartz?
We recently chatted with ESPN
Detroit Lions
reporter Michael Rothstein about Jim Schwartz, who was introduced last week as the defensive coordinator of the
Buffalo Bills
.
Here's Rothstein's perspective, having covered Schwartz in his final season as Lions head coach:
Mike Rodak:
Jim Schwartz told reporters last Monday that he couldn't put a label on his defensive scheme and that it would be opponent-specific. Did that hold true in Detroit? Or did they follow the same general strategy each week?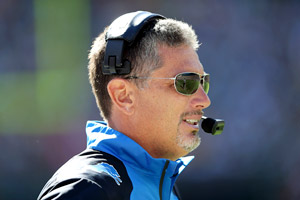 AP Photo/Paul SpinelliDon't expect the Bills to blitz much under Jim Schwartz.
Michael Rothstein:
They appeared to stick with the same strategy most weeks. They only blitzed 19.6 percent of the time -- third-least in the NFL. A lot of that had to do with Detroit's front four and the talent the Lions had up there, though. That said, the run defense was superb this season. Other than a couple of big plays early in the season and
LeSean McCoy
's snow-filled day of fun on the ice in Philadelphia, the Lions' run defense was incredibly stout. Despite it being Gunther Cunningham's defense, I really believe Schwartz had a major hand in that.
Rodak:
The expectation is that the Bills will blitz significantly less under Schwartz than they did under Mike Pettine. How well did the front line generate pressure without help from linebackers?
Rothstein:
The front line did a decent job of generating pressure, but didn't actually register quarterback sacks all that much. Toward the end of the season, Detroit began to blitz some more with linebackers and safeties, but if Schwartz thinks he has the talent up front to generate pressure, he'll use the front four to try and dominate the game. Having
Mario Williams
certainly is a start. If fans want to get an idea of the best-case scenario for the Schwartz defense, check out the Thanksgiving game this season against Green Bay. The Lions were at their best defensively in that game. But they weren't consistent enough.
Rodak:
What kind of personality are the Bills getting in Schwartz? Do you see him easily making the transition back to being a coordinator?
Rothstein:
Schwartz is a fiery personality, something that came through over and over again during his tenure as a head coach -- from chasing Jim Harbaugh after a handshake-gone-awry to yelling at the fans during the final home game in Detroit. That said, he is a very intelligent man and a good coordinator. My guess is he will be out to prove he is a good coach -- you got that feeling in his news conference -- and I expect you'll see that the next couple of years. I'd imagine the two games in Detroit this season will be a bit extra for him, as well. But I'd bet he'll be working harder so he can get another head coaching shot.
Rodak:
What went wrong for Schwartz with the Lions? What is the general view of him among fans and reporters?
Rothstein:
The obvious is the team didn't win enough, but it went beyond that with a franchise that hardly ever wins. It was the way his teams fell apart at the end of seasons -- again, that is not an issue exclusive to Schwartz among Lions coaches -- but it did him in. If Detroit had made the playoffs, he'd likely still be the Lions' coach.
That said, his personality could rub some people the wrong way and that certainly didn't help him toward the end. Yelling at fans in the home finale essentially sealed how they felt about him, and they won't forget that. It's a shame for him because in some ways he did what he was supposed to do in Detroit. He took over a team that went 0-16 the year before, gave them confidence and swagger, took them to the playoffs and turned expectations around a bit. So in that way, his tenure was a success. He just couldn't do enough to take the Lions beyond that point.
February, 1, 2014
2/01/14
5:00
AM ET
On Friday, we asked the following question: What did we learn about the
Buffalo Bills
in January?
Now we'll ask this: What do we expect to learn about the Bills in February?
As the Bills move into the second month of the offseason, here's what on the radar:
Alonso
Does Alonso win rookie honors?
On Saturday, the NFL will reveal the Associated Press' NFL Defensive Rookie of the Year at their annual awards show in New York City. Bills linebacker
Kiko Alonso
could be the favorite, having been awarded the Pro Football Writers of America's version of the award last month. Alonso played every snap his rookie season and finished third in the NFL with 159 tackles. Alonso's top competition could be a pair of defensive tackles:
Star Lotulelei
(
Carolina Panthers
) and
Sheldon Richardson
(
New York Jets
).
Does Andre Reed make the Hall of Fame?
For the eighth consecutive year, former Bills receiver Andre Reed is a finalist for election into the Pro Football Fame. On Saturday, the 46 voters will meet to decide the latest class to be inducted into Canton. The feeling on this end is that Reed is a longer shot to finish in the top five of the voting. Among wide receivers, he faces stiff competition from
Tim Brown
and
Marvin Harrison
.
Byrd
Does Byrd get franchise tag?
Teams have from Feb. 17 to March 3 to assign the franchise tag to player set to become an unrestricted free agent. Realistically, the only Bills player who could get tagged is safety
Jairus Byrd
, who was also franchised last season. Because of the back-to-back tags, the Bills would need to tender Byrd at $8.3 million, which is 120 percent of his salary this season. That amount would be guaranteed if Byrd signed the tender, which could happen at any time after he is tagged. From this perspective, the Bills could keep the franchise tag on the table if they feel (a) they feel they aren't making progress in talks with Byrd's representatives, and (b) they believe the $8.3 million figure is palatable to keep Byrd in Buffalo for one more season.
Does coaching staff get finalized?
The departure of defensive coordinator Mike Pettine has brought several changes to the Bills' coaching staff, which should continue into this month. The Bills hired two coaches Friday: Pepper Johnson (defensive line) and Fred Pagac (linebackers). It's possible that they hire another assistant to help with the front seven. They are also without a wide receivers coach.
Do Bills make any cap casualties?
It's difficult to pin down the Bills' exact salary cap position -- the NFL has yet to settle on a figure for the 2014 season -- but the expectation is that the Bills will be around the middle of the pack in cap space entering the new league year in March. Teams are allowed to release players as soon as Monday, following the Super Bowl, and it would not be a shock if the Bills trimmed their roster in order to free up extra cap space. We'll dive deeper into that topic Monday.
January, 31, 2014
1/31/14
9:25
PM ET
Former
New England Patriots
assistant coach
Pepper Johnson
agreed to join the
Buffalo Bills
' coaching staff Friday, the Bills announced.
Johnson will serve as defensive line coach and work under defensive coordinator Jim Schwartz, who was hired last week.
The Bills previously granted the Cleveland Browns permission to interview defensive line coach
Anthony Weaver
, but the Browns have yet to announce his hire.
Johnson, 49, spent the past 14 seasons as an assistant coach for the Patriots, serving as an assistant linebackers coach (2000), inside linebackers coach (2001-2003), defensive line coach (2004-2011), and linebackers coach (2012-2013). He decided to leave the team earlier this month.
Patriots coach Bill Belichick
said in a statement
that he was "proud and honored to have spent more years of my career with Pepper Johnson than any other player or coach." Johnson played under Belichick as a linebacker with the
New York Giants
(1986-92), Cleveland Browns (1993-95) and
New York Jets
(1997-98).
Schwartz served as a personnel scout for the Browns from 1993-95.
Johnson had expressed desire for a coordinator post in the past and this move might give him a better chance. Schwartz, a veteran coach who was fired after five seasons with the Detroit Lions, could be back in line for a head coaching job as soon as the 2015 season.
January, 31, 2014
1/31/14
2:00
PM ET
Believe it not, the
Buffalo Bills
are already one month into their offseason.
There's still nearly six months until training camp, but it's worth taking a look back at the last month and asking this question: What did we learn about the Bills in January?
Here's our recap:

Pettine
Bills' fears of losing Mike Pettine realized:
We
first explored
the possibility of former defensive coordinator Mike Pettine becoming a head coach late in the season, following a 19-0 shutout win over the
Miami Dolphins
. Several teams filled their head coaching vacancies early in January without interviewing Pettine, but as the
Cleveland Browns
' coaching search dragged on, Pettine became a top candidate. The Browns hired Pettine on Jan. 23, leaving the Bills without the coach who turned around their defense this season.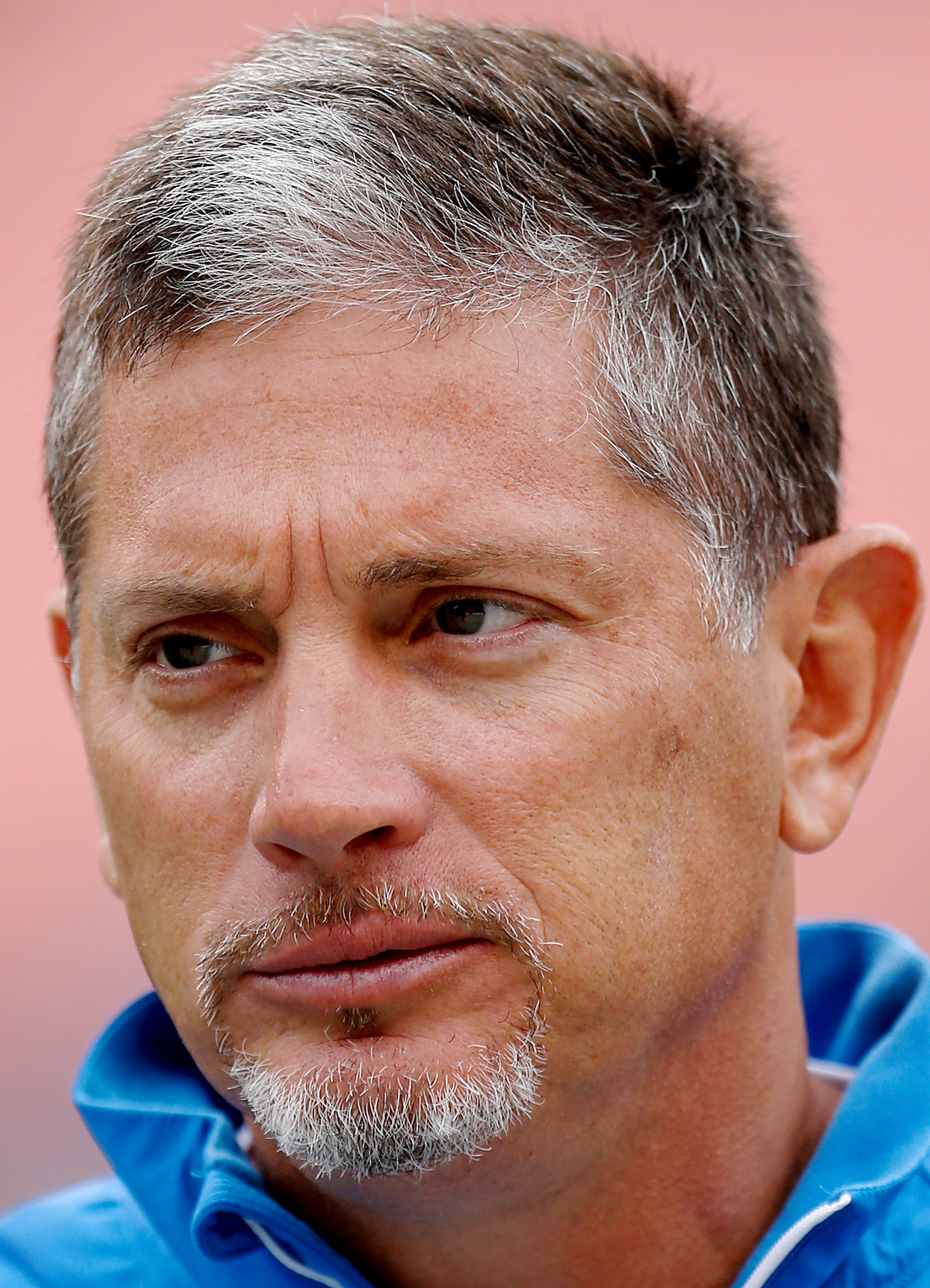 Schwartz
Bills didn't waste time replacing Pettine:
Just one day after Pettine departed for Cleveland, the Bills executed their contingency plan, moving swiftly to hire Jim Schwartz. Among the options on the coaching market, it's hard to view Schwartz as anything but the top choice. While Schwartz may not have a long-term future in Buffalo -- he could be back in the mix to become a head coach as soon as next offseason -- he is a veteran coach who could help maximize the talent the Bills have on defense.
Help on its way for Hackett:
The Bills have effectively acknowledged that they needed more help on their offensive coaching staff after that unit struggled for most of this season. While offensive coordinator Nate Hackett assumed the role of quarterbacks coach this season, the Bills added Todd Downing in that role, helping to tutor
EJ Manuel
next season. They also hired former
Baltimore Ravens
receivers coach Jim Hostler as a "senior offensive assistant," adding another veteran coach to their staff.
Ike Hilliard
, who held the role of receivers coach last season, was fired immediately after the season and has yet to be replaced.
Manuel
Continued concern over Manuel's knees:
After missing the final two games of the season with a sprained LCL in his left knee, Manuel underwent a "minor procedure" after the season and is currently rehabbing. "Minor" or not, Manuel's knees are a major concern for the Bills. His three knee injuries -- including a meniscus tear in August, he revealed this week -- limited him to 10 games this season. That can't happen again next season if the Bills want to take a step forward. Manuel's rehab and development will be in the spotlight throughout the offseason.
Moorman re-signed:
There's still over a month until free agency begins and the Bills' free-agent class is among the smallest in the NFL. They already made one decision on a player with an expiring contract, re-signing punter
Brian Moorman
to a one-year deal at the veteran minimum. The Bills' special teams units
were ranked 31st
by well-respected Dallas Morning News writer Rick Gosselin, so it would not be surprising if the Bills brought in competition for Moorman, who turns 38 next week.
January, 27, 2014
1/27/14
6:15
PM ET
ORCHARD PARK, N.Y. -- Introduced to reporters Monday, new
Buffalo Bills
defensive coordinator Jim Schwartz wasn't willing to divulge much about his scheme, calling it opponent-specific.
"I don't know if you can put it in a box like that, we've never put a label on it," Schwartz said. "Whatever anybody wants to tag the system as far as a name, it won't be us. We're just going to try to do whatever we can every week to do the best to have the game plan."
[+] Enlarge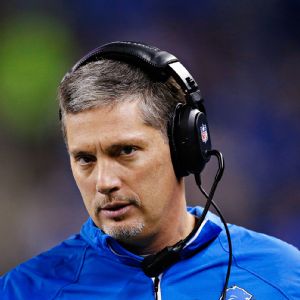 AP Photo/Paul Sancya"We'll be fast, we'll be physical, and we'll attack," Buffalo's new defensive coordinator Jim Schwartz said. "We are not going to be a reading defense."
Schwartz, however, did offer a little more than that.
"We're an attack scheme, it's a scheme built on the guys up front getting after the quarterback," he said. "As much as you want to be multi-dimensional with personnel groups, this league comes down to one on one and I think we have some guys that can do that."
That should be music to Bills' fans ears. Just like in Buffalo, the strength of the
Detroit Lions
was in their defensive line. If Schwartz is able to maximize the Bills' front-line talent like Mike Pettine did last season, it will set a solid foundation for the rest of the defense.
"We'll be fast, we'll be physical, and we'll attack. We are not going to be a reading defense," Schwartz said. "There's going to be a lot of defensive lineman that will be real happy to play in a system like that."
Schwartz and his long-time defensive line coach with the
Tennessee Titans
, Jim Washburn, have been associated with the "wide nine" defense, which uses defensive ends aligned in a "9-technique" -- a few yards off where the tight end typically aligns on offense. On Monday, Schwartz downplayed the importance of that concept within his defense.
"Mostly that's thrown around by people that couldn't line it up if they wanted to. That's no disrespect to those people," he said. "I'll say this, there's 32 teams in the NFL and all 32 line up in a wide nine. Not all of them are called wide nine teams, but that's just the way it goes.
"That's what it developed into because it fit our personnel and it fit what our opponents did. You can dictate something your opponents did and it makes it hard on offense. There's some things that you need to constantly work because like anything it has strengths and weaknesses. It will certainly be part of our scheme here, but that won't define our scheme."
While Schwartz didn't get into the specifics Monday, his defensive scheme is known as more of a true "4-3" look than that used by Mike Pettine, who has roots in the "46" defense. How much Schwartz will meld his system into what players have known under Pettine will come to light as the offseason progresses.
"First of all, Mike and I are different guys. Even though I think continuity is important and there is something to be said for that, we're going to look very hard at ways over the next few months to keep continuity as much as we can," Schwartz said.
January, 25, 2014
1/25/14
8:00
AM ET
Offering some follow-up thoughts after the
Buffalo Bills
hired
Jim Schwartz as their defensive coordinator Friday
:
1. In hiring a veteran coach like Schwartz, the Bills are showing an urgency to win now, which should appeal to most fans. Their other option was to hire a less-experienced position coach -- either from their own staff or another team's -- and have him grow into the role over time. In this case, I feel like level of talent on the Bills' defense calls for a more established coach like Schwartz.
2. With that said, the downside of replacing Mike Pettine with Schwartz is the potential for more instability. Schwartz is the Bills' fourth defensive coordinator in as many seasons, and if he performs well could be back on the head-coaching market next winter. That could begin the cycle over again for the Bills, creating more turnover and uncertainty. There might not be as appealing an option as Schwartz available next offseason.
3. Schwartz's arrival means that the Bills will not promote Jim O'Neil or Donnie Henderson to defensive coordinator. ESPN NFL Insider Adam Schefter reported Thursday that the
Cleveland Browns
have requested permission to interview O'Neil, who remains under contract with the Bills. From this perspective, it would be poor form for the Bills to try to keep O'Neil in Buffalo with an unfamiliar boss (Schwartz) when he has an opportunity to advance his career under Pettine in Cleveland.
4. The second paragraph of the Bills' news release announcing Schwartz's hire brings to light his success in run defense during his tenure with the
Tennessee Titans
, when the Titans finished in the top 10 in rushing yards allowed per game five times in Schwartz's eight seasons. That stands in contrast to the Bills' 28th-ranked run defense this season.
In discussing the potential of Pettine leaving this week at the Senior Bowl, one head coach offered this thought to me: If the Bills' run defense was better, would their passing defense --
it ranked
first in completion percentage, second in opposing QBR and fourth in passing yards allowed per game -- have shown as well statistically? It's a good point, but it's also worth noting that offenses relying less on passing would give a defense less chances to sack the quarterback. The Bills finished second this season in sacks, with 57.