Buffalo Bills:

Kevin Kolb
March, 11, 2014
Mar 11
4:15
PM ET
In an expected move, the
Buffalo Bills
released quarterback
Kevin Kolb
on Tuesday.
General manager Doug Whaley said Kolb received the "failed physical" designation with his release.
Kolb
Kolb, 29, suffered a season-ending concussion last preseason, which put the future of his playing career in doubt. Kolb was due a $1 million roster bonus Thursday, which the Bills avoid paying by releasing him.
In total, the Bills will save $3 million against their salary cap by releasing Kolb.
Kolb joined the Bills last April and began training camp competing with then-rookie
EJ Manuel
for the starting job. Without Kolb, the Bills turned to
Thad Lewis
as their top backup to Manuel. It's unclear if Lewis will continue in that role next season.
March, 10, 2014
Mar 10
12:05
PM ET
Happy Monday. We've arrived at what is typically the busiest week of the NFL offseason.
Since Saturday, teams have been able to enter into talks with opposing teams' free agents. Starting Tuesday at 4 p.m., deals can become official.
Until then, let's recap what we've learned over the past few days:
1. The Bills will need to make a decision on several players who are due large roster bonuses this week. Quarterback
Kevin Kolb
($1 million) and linebacker
Manny Lawson
($500,000) are both due roster bonuses on Thursday. On Saturday, the Bills owe wide receiver
Stevie Johnson
a $1.75 million roster bonus. Last week, Bills general manager Doug Whaley
addressed Kolb's situation
with John Kryk of the Toronto Sun. "It's a tricky situation," Whaley told Kryk. "We're going to be very careful how we handle this, and the foremost consideration in the whole equation is him being healthy." It would be a surprise if Kolb remains with the team past this week. Lawson and Johnson are longer shots to be released but their situations still bear watching.
2. Last week, the Bills hosted linebackers
Jameel McClain
and
Jasper Brinkley
, who were both released by their former teams. Brinkley could be off the market soon, as Fox Sports' Mike Garafolo
reported Sunday
that the
Minnesota Vikings
will bring back Brinkley on a one-year deal. Meanwhile, McClain
will still meet
with the Vikings on Monday, reports 1500 ESPN's Darren Wolfson. We ranked linebacker as the
Bills' top free-agent need
and we wouldn't be surprised if the Bills made a play to sign one of the top free-agent linebackers available.
Jon Beason
and
Karlos Dansby
are among those who are hitting the open market this week.
3. ESPN.com
Miami Dolphins
reporter James Walker
reported Monday
that safety
Jairus Byrd
is seeking a deal that pays him at least $9 million per season. That would make Byrd the highest-paid safety in the NFL, at least in terms of average salary per season. The NFL Network reported over the weekend that the Miami Dolphins and
St. Louis Rams
have expressed interest in Byrd.
4. While Tuesday is the start of the free-agent signing period, it's also the first day that teams can complete trades. At this point, don't rule out activity on that end from the Bills.
March, 3, 2014
Mar 3
2:30
PM ET
On Friday, we asked the following question: What
did we learn
about the
Buffalo Bills
in February?
Now we'll ask this: What do we expect to learn about the Bills in March?
As the Bills move into the third month of the offseason, here's what is on the radar:
[+] Enlarge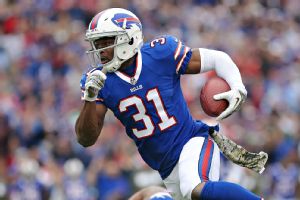 Tom Szczerbowski/Getty ImagesSafety Jairus Byrd likely will be testing the free-agent market later this week.
Does Byrd stay grounded in Buffalo?
We'll get a better sense for this later Monday, when the NFL's deadline to assign the franchise tag passes. If the Bills don't tag
Jairus Byrd
, then he can begin negotiating with other teams Saturday. The Bills, according to the Associated Press, are no longer negotiating with Byrd after offering him a deal that would have paid him $30 million over the first three seasons. Regardless of the Bills' offer, Byrd has waited a long time to hit the open market and will soon get his chance. His days in Buffalo could be numbered.
What will happen to the Toronto series?
The Bills have played a regular-season game in Toronto for the past six seasons, but that could soon come to an end. The Bills have delayed sending invoices to their season-ticket holders, which are typically sent in early February. The delay could be related to the team needing to make a decision on hosting an eighth home game, which would be added to the slate if the Toronto series is ended. In January, CEO Russ Brandon said the team would "evaluate" the game after concerns about game atmosphere and dwindling attendance.
Where do Bills turn in free agency?
With the NFL salary cap set at $133 million and the Bills carrying over almost $18 million of unused cap space, they are in relatively good cap health entering the start of the free-agent signing period. If they do not franchise Byrd and do not give him a lucrative extension, they will have greater spending power on the open market. As of Saturday, the Bills were $25 million under their adjusted 2014 salary cap. Where may that money go? The Bills will need help at safety if Byrd leaves, while they could add veteran help at wide receiver, tight end, and offensive line to supplement potential draft choices at those positions.
Testing the trade market:
General manager Doug Whaley used the trade market to his advantage last offseason, dealing linebacker
Kelvin Sheppard
to the
Indianapolis Colts
for defensive end
Jerry Hughes
. That move paid dividends for the Bills' defense and could open the door for similar deals to happen this offseason. The NFL allows trades beginning March 11.
Cap cuts:
Even with $25 million in cap space, the Bills could create more room by releasing quarterback
Kevin Kolb
. At 29, the future of his NFL career is in doubt after a season-ending concussion last August. Kolb is due a $1 million roster bonus this month and the Bills would avoid paying it -- and his $2 million base salary -- by releasing him.
February, 28, 2014
Feb 28
5:00
AM ET
The snow may still be flying, but February -- the second month of the offseason -- is coming to a close today.
Four weeks ago, we asked what we would learn about the
Buffalo Bills
this month.
Here are the answers to most of those questions, along with some other developments:
[+] Enlarge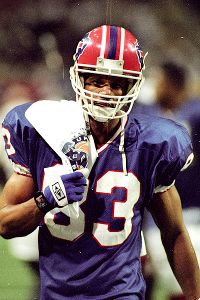 AP Photo/NFL PhotosAndre Reed is the latest member of the Bills to be elected to the Pro Football Hall of Fame.
Reed elected to Hall of Fame:
After eight consecutive years as a finalist, former Bills receiver
Andre Reed
was elected to the Pro Football Hall of Fame this month and will be inducted on Aug. 2. He becomes the 10th Bills player, coach, or contributor to be enshrined in Canton, and the first since owner Ralph Wilson and defensive end
Bruce Smith
were inducted in 2009. Reed will be presented by former coach and fellow Hall of Famer Marv Levy. The current Bills will be in town for the festivities, beginning their preseason against the
New York Giants
in the Hall of Fame game.
New York State forms committee:
Included in the Bills' 10-year lease with Erie County is a provision to form a 21-member committee that will explore options for a new stadium. Earlier this month, New York State named the first five members to the group, but the Bills or the county have yet to announce any appointments. The Bills released a statement saying that they were "appreciative" of the state's efforts but that their focus remained on a major renovation to Ralph Wilson Stadium. There are concerns if building a new, modern NFL stadium is viable in Buffalo -- one of the NFL's smallest markets -- while the uncertain future of Bills ownership could stall any efforts of the committee.
No cuts, yet:
All NFL teams could begin releasing players the Monday after the Super Bowl. The Bills are one of many teams that have yet to make any moves. In terms of cap space, the Bills should be comfortable; they have one of the NFL's highest carry-overs of unused cap space from last season. The future of quarterback
Kevin Kolb
remains something to watch as the new league year approaches in mid-March.
Coaching staff set:
The Bills rounded out their coaching staff this month, hiring Rob Moore as wide receivers coach and promoting Jason Rebrovich to assistant defensive line coach. Both were assistants for Doug Marrone at Syracuse. The Bills don't have any vacancies remaining among position coaches, but could still add quality-control coaches to their staff later this spring.
No ROY for Kiko:
Linebacker
Kiko Alonso
finished second in voting for the Associated Press' Defensive Player of the Year Award, which was announced on Feb. 1. The honor instead went to
New York Jets
defensive tackle
Sheldon Richardson
. Alonso still took home the Pro Football Writers of America's version of the award in January, becoming the first Bills rookie defender honored since
Shane Conlan
in 1987.
February, 3, 2014
Feb 3
5:00
AM ET
With Super Bowl XLVIII in the books, Monday is the first official day of the 2014 NFL offseason.
It's also the first day teams can release players who are under contract for next season. In some cases, teams might release players to free up salary-cap room. In other cases, the team might determine the player isn't valued as highly in a new scheme.
Both scenarios could come into play with the
Buffalo Bills
. The NFL hasn't announced an exact salary cap for next season, but the Bills are currently projected to be in the middle of the pack in terms of cap space.
While the Bills will have sufficient cap space to make free-agent moves this offseason, it's typical for some players to be released for financial purposes. Here's our best guess which players could be on the outs in Buffalo:
Kolb
QB Kevin Kolb:
What's not clear is how Kolb has recovered from an August concussion that ended his season. What is clear is that the Bills view
EJ Manuel
as their starting quarterback entering next season, so Kolb -- even if healthy -- would enter the offseason as a backup. With a $3.6 million cap number, including a $1 million roster bonus, it's hard to see that happening. It would be a surprise if Kolb remains on the roster at the start of the 2014 league year in March.
WR Stevie Johnson:
Johnson could be one of the toughest calls the Bills make this offseason. He's under contract through 2016, so by releasing him now, the Bills would have to absorb significant "dead money" this season. The true savings in releasing Johnson would come in 2015 and 2016. If the Bills feel like Johnson isn't a fit within their offense, they could make the decision to cut ties with him now. He's due a $1.75 million roster bonus in March that essentially sets a deadline for that decision to happen. Unless they want to take a larger "dead money" hit, they can't wait until May to see if Sammy Watkins, the top receiver in the draft, is still on the board at ninth overall.
Moeaki
TE Tony Moeaki:
Once Moeaki recovered from a preseason injury last season, he signed a two-year contract with the Bills. He's due a $1 million base salary, a $250,000 roster bonus, and a $100,000 workout bonus this offseason, which suggests the Bills had competition in signing him. Still, Moeaki did not play an offensive snap after being signed in early December. If the Bills feel like things will come together with Moeaki by next season, perhaps he'll stay in the fold under his current deal. If not, it's possible they cut ties with him.
OT Erik Pears:
Pears started 16 games this season for the Bills, but there have been indications that the Bills want to upgrade along their offensive line. The journeyman right tackle turns 32 in June and has a $3.75 million cap number. The Bills could deem that too rich for a position they could target in May's draft. This could be a case where the Bills could ask Pears to restructure in order to remain in Buffalo.
OT Chris Hairston:
Hairston, who spent all of last season on the non-football illness list, has a cap hit of about $750,000. That's not significant on its own, but it's also not clear where Hairston stands health-wise. If he can't pass a physical or can't participate in the offseason program, he could be released. Hairston started 15 games between 2011 and 2012, but it's not known how the current coaching staff views the former fourth-round pick.
OLB Manny Lawson:
The potential for Lawson to be released moves onto the radar under new defensive coordinator Jim Schwartz. Lawson is considered to better fit in Mike Pettine's defensive scheme, where the 'Sam' linebacker plays closer to the line of scrimmage and is used more as a blitzer. In Schwartz's system, both outside linebackers typically play off the line of scrimmage and are used 'in space,' requiring better athleticism. Lawson will turn 30 this summer and doesn't have excellent range as an off-the-line player. Even though Lawson brought a veteran presence to the locker room, it's possible the Bills look to restructure his contract or release him. He has a $3.1 million cap number this season, but is signed through 2016, so like Johnson, the cap savings would come down the road.
December, 18, 2013
12/18/13
8:00
AM ET
It seems ages ago that the
Buffalo Bills
had quarterback
Kevin Kolb
in training camp, taking first-team reps over rookie
EJ Manuel
.
The veteran suffered a concussion in the third preseason game and was later placed on injured reserve. At the time, ESPN NFL Insider Adam Schefter reported that the Bills were
taking it slow
with Kolb, who has a history of concussions.
On Monday, coach Doug Marrone was asked for an update on Kolb.
"I haven't seen Kevin," he said.
Marrone said he has yet to speak to doctors about Kolb potentially returning to the team. Kolb, 29, is under contract through next season, at a base salary of $2 million.
October, 7, 2013
10/07/13
2:25
PM ET
Expressing his desire to be transparent with reporters and fans,
Buffalo Bills
head coach Doug Marrone gave a nearly eight-minute explanation Monday about the Bills' quarterback situation and why
Thad Lewis
will start Sunday against the
Cincinnati Bengals
.
Here is the full explanation from Marrone:
Need for transparency:
"I think it's important for everyone, when you get into this situation, that you answer the questions that you get asked. Sometimes, I've been trying to be proactive with philosophy and thoughts, and things like that, so everyone can get an understanding of what goes on, because the one thing that I always have is an appreciation, at least from the media's perspective, of being able to give the message of what you're trying to do to the fans. I have a great appreciation for that and I think that's what important when we get together."
[+] Enlarge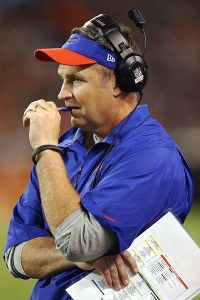 Paul Spinelli/AP PhotoFollowing the Bills' Week 5 loss to the Browns, head coach Doug Marrone defends the team's process for developing another quarterback.
Philosophy on developing quarterbacks:
"As far as the quarterback situation, I want to (go to) the beginning a little bit. I want to talk about the thought process that was involved. Obviously when I took the job, I understand that we were going to go ahead and draft a quarterback. I don't think that was a secret. The process from the beginning was that we were going to draft one and then we start looking at, OK, if we're going to draft one, what's the best way to develop him? I think there's two ways, when you look around the league, how quarterbacks are developed. If you look at some of the recent quarterbacks, they played early, really struggled in the first games, then they separated themselves in the last eight [games]. Like
Peyton Manning
,
Troy Aikman
, who were really thrown in there early. I think the next tier after those are the quarterbacks that have been able to sit behind a veteran player and are really playing very well right now, like
Drew Brees
and
Tom Brady
and
Aaron Rodgers
. I think those are the two ways to go about developing the player."
On signing Kevin Kolb:
"What we wanted to do, when we knew that we were going to draft a quarterback, is to make sure that we did have a veteran on the team. At that point, it was a process of trying to go out and get the best veteran possible that had the ability to play and win, that was the best fit for the team. At that time, right, wrong, or different, we obviously went with Kevin Kolb."
On carrying three quarterbacks into training camp:
"The next situation that came in was how many we were going to go to camp with. Now we had a young quarterback [Manuel], we liked
Jeff Tuel
, and we had Kevin Kolb with us. So the situation went back to, how do we develop the young quarterback, how fast we bring him along. So we went to camp with three [quarterbacks]. And again, if someone was to tell me that we were going to have these injuries, I would have went to camp with four. But that's difficult to know, because our goal was developing the quarterbacks."
On Kolb and Manuel's injuries:
"Obviously what happens is, Kevin gets injured, EJ goes in and really develops faster than we expected, in that short period of time. Now where in the decision of 'Hey, this guy's going to play. He's going to be our quarterback.' Then we get an injury to EJ. And that's where Jeff had been playing and playing very well. Jeff at the time, when Kevin Kolb was injured and EJ was injured, was the only guy that really knew the system of what we were doing. That's why we didn't play him in the Detroit game [preseason finale]."
On signing Leinart; trading for Lewis:
"So what we did is we went out and brought in two veterans [
Matt Leinart
and
Thad Lewis
], who in our opinion were veteran guys, even though Thaddeus may have been a younger guy and Leinart may have been around longer. And really put them in a tough situation, to come in here and play on a short week and go in there. We made a decision to go with Thaddeus. We're fortunate at that time that Thaddeus had practice squad eligibility."
On keeping Tuel on the 53-man roster:
"What (we) didn't want to do, if you look at it at from the standpoint of Jeff Tuel, the way he played in the preseason -- if you look at his numbers, really outside of EJ probably, he played as well as any young quarterback in the league -- what we didn't want to have happen was someone to go ahead and take away a young, developing quarterback from under us. We made a decision to go with two on the roster, with EJ and Jeff, and then having Thaddeus on our practice squad. In doing so, we're working the reps going in."
On latest injury to Manuel:
"Then I think what happened the other night was, obviously an injury occurs to EJ. We put Jeff in there, which was a tough situation. You always look at yourself, and I brought Jeff in and spoke with him and said 'Hey, it's a tough situation with a short week. Very difficult to go in there. We feel that you're a good, young, developing quarterback. We're very excited about having you.' And Jeff's response to me was 'Coach, I appreciate it, but my job is to go in there and win the game,' and that's the way he went about it. I talked to him about it."
On working out Pat White, Dennis Dixon:
"The next process after that is obviously, at first, what you want to do is you want to make sure, at any position, nevermind the quarterback one also, is you want to go out and say 'OK, is there anyone outside that is out there that's better?' And I think you're doing that all the time. So you want to look there and see if anyone is better. Then what we did is we went out and we had conversations with some quarterbacks. Again, it's [CEO] Russ Brandon, [general manager] Doug Whaley, myself, [director of player personnel] Jim Monos, [offensive coordinator] Nate Hackett were involved in what we're trying to do. And then all the sudden, all this stuff starts going out, [that] you're talking to this person and that person. We wound up bringing in two quarterbacks for a workout. I think that was well-documented. We brought in Pat White and [Dennis] Dixon. They were the best available to us at the time."
On deciding on Lewis as the starter:
"We thought after working them out, it was best for us to move on and play with Thaddeus. He will start."
On releasing information to team, public:
"What happened today was, this has been going on, obviously a long thought process. I'm one guy that tries to make sure that as soon as I get information, I get it out. A decision was going through tonight, sleeping on it, waking up this morning. I had a team meeting. I wanted to make sure that they knew as soon as I knew. As soon as the team found out, fortunately or unfortunately, I had a media session [with WGR 550] that I was planning on not answering that question, unless I was asked. I was asked that question, and I just shot them straight. [Senior Vice President of Communications] Scott [Berchtold] didn't know about it until after I came out of the meeting. Russ, and Doug, and myself, we knew about it prior to that meeting and then I had to get with the players because I showed up two minutes late to the meeting because I was still talking to Thaddeus and I wanted to talk to Jeff. Whether it's right, wrong, or different, I'm trying to give you guys the time frame and the thought process of everything we've done."
August, 24, 2013
8/24/13
9:30
PM ET
When
Buffalo Bills
rookie quarterback
Jeff Tuel
went 19-for-23 passing for 212 yards in a win over the
Indianapolis Colts
two weeks ago, it was one of those preseason headlines that wrote itself.
"Tuel time," some called it. Nice little ring to that one.
But after
Kevin Kolb
left Saturday's game with a possible concussion, "Tuel time" has a whole new meaning for Bills fans:
"Uh-oh."
[+] Enlarge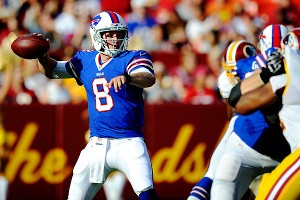 AP Photo/Nick WassWith injuries to EJ Manuel and, on Saturday, Kevin Kolb, the Bills could be looking at undrafted rookie Jeff Tuel, above, at quarterback.
The Bills are officially in a bind. An undrafted rookie from Washington State, Tuel is now the lone healthy quarterback on Buffalo's roster.
It's a nightmare scenario for first-year general manager Doug Whaley, who
told the Buffalo News
after Saturday's
30-7 loss
to the
Washington Redskins
that the Bills will now need to search the free-agent market for another quarterback.
The options out there are limited (
Tyler Thigpen
, anyone?), and with just more than two weeks until the regular-season opener, it won't be easy for any new quarterback to learn the offense and be ready for game action.
Still, the Bills have scheduled a workout on Sunday with former first-round pick Matt Leinart, and will also host John Beck on a free-agent visit, ESPN NFL Insider Adam Schefter confirmed. Leinart or Beck would have the advantage of experience over Tuel if the Bills needed to make that decision for their opener.
The next 10 days could be crucial in deciding the early course of the Bills' regular season. Rookie
EJ Manuel
is recovering from a "minor" procedure on his left knee, while Kolb will be evaluated for a possible concussion. The Bills' game plan for their opener against the
New England Patriots
will be in place by Sept. 4, and they will need to pick a quarterback by then.
If it's Tuel, the Bills are in a real tough spot. Performing well in the second half of a preseason opener is one thing, but once the regular season starts, it's the real deal. Having an undrafted rookie as your starting quarterback, even out of necessity, is playing with fire in the NFL.
Tuel's performance on Saturday (10-for-17, 63 yards) is along the lines of what you could expect against New England, if it comes down to him starting. He's shown the poise to handle the situation without making it a disaster, but the game will need to be won another way.
When the Bills began training camp nearly a month ago, the team's brass liked to talk about how offensive coordinator Nathaniel Hackett would bring an up-tempo philosophy to the offense that would keep defenses on their toes.
But now, it's the Bills on their heels. With Tuel, they would have likely the NFL's worst starting quarterback.
And that's not the Bills' fault. It's not Tuel's fault. It's just bad luck.
August, 24, 2013
8/24/13
7:56
PM ET
Observations from the
Buffalo Bills
'
30-7
preseason loss to the
Washington Redskins
on Saturday:

Kolb has possible concussion:
With rookie
EJ Manuel
sidelined following knee surgery, Saturday's game was supposed to be veteran
Kevin Kolb
's chance to make his mark in the quarterback competition. However, Kolb left in the first quarter with a possible concussion. On a third-and-5 run on the second offensive drive, Kolb scrambled for 8 yards -- and the first down -- but was kneed in the back of his helmet by a Redskins defender. He stayed in the game for four plays but departed for the locker room soon after. Kolb finished 2-for-4 passing for 16 yards.
Tuel's time:
Once Kolb left the game, the Bills were down to just one healthy quarterback. Undrafted rookie
Jeff Tuel
saw his most extensive action of the preseason, which was valuable playing time for the Washington State product. Tuel completed 10 of 17 passes for 63 yards, an underwhelming performance on just about any other day. But for Tuel and the Bills, the most important statistic was that Tuel did not throw any interceptions. If the Bills are without Manuel and Kolb for the regular-season opener -- a possibility the Bills must now consider -- then avoiding critical mistakes is what the team will need more than anything from Tuel.
Gilmore injured:
Flying under the radar Saturday was cornerback
Stephon Gilmore
leaving the game in the second quarter with a wrist injury. He did not return. Gilmore is the Bills' top cornerback and is another hit to a position that has seen several players hobbled this preseason. If Gilmore misses any extended action, it would be a big blow to Buffalo's defense.
Defense takes step back:
After a strong outing in their win over the
Minnesota Vikings
, the Bills defense did not have answers for the Redskins offense on Saturday. Buffalo allowed 452 total yards, 27 first downs and 208 yards rushing yards. Part of that can be attributed to an anemic offense -- the Bills were crushed 38:52 to 21:08 in time of possession -- but it was hardly an encouraging sign from Mike Pettine's group. Even without
Robert Griffin III
, the Redskins were able to get solid performances from
Rex Grossman
(11-for-21, 171 yards, one touchdown) and
Pat White
(7-for-14, 96 yards, one rushing touchdown) at quarterback.
Spiller's scare:
Running back
C.J. Spiller
was slow to get up after a 2-yard touchdown run in the first quarter and grabbed his right knee after the play. The injury, which brought coach Doug Marrone onto the field to check on Spiller, turned out not to be serious, and Spiller returned to the game. ESPN NFL Insider Adam Schefter reported that Spiller was simply cut on his knee after being spiked.
What's next:
The Bills will return to their practice facility in Orchard Park, N.Y., for the first time this preseason before hosting their preseason finale against the
Detroit Lions
next Thursday. They will have to cut down their roster to 75 players (Tuesday) and 53 players (Saturday) by the end of next week.
August, 24, 2013
8/24/13
6:12
PM ET
The
Buffalo Bills
trail the
Washington Redskins
20-7
at halftime of Saturday's preseason contest, but the game's first half has been defined by injuries.

Quarterback
Kevin Kolb
left the game in the first quarter with concussion-like symptoms and will not return, the team announced. Kolb had a chance to gain lost ground in the quarterback competition with
EJ Manuel
sitting out the rest of the preseason with an injury, but those plans were derailed by Kolb's head injury.
Undrafted rookie
Jeff Tuel
has been at the helm since Kolb departed. He's all the Bills have left at the position, so there's a feeling of Buffalo being on their heels for the remainder of this game. Even so, it's a prime opportunity for Tuel, who saw little action in last Friday's preseason game.
Meanwhile, running back
C.J. Spiller
gave the Bills their first injury scare of the game, grabbing for his right knee after a touchdown run in the first quarter. Spiller was initially limping, but he later returned to the game. ESPN NFL Insider Adam Schefter reports that Spiller simply cut his knee after being spiked.
In addition, cornerback
Stephon Gilmore
(hand) and safety
Da'Norris Searcy
(head) both left for the locker room for injury evaluation late in the first half.
The injuries have overshadowed what has been a rough outing for the Bills defense. The Redskins have gained 96 yards rushing in the first half, while quarterback
Rex Grossman
went 8-for-14 for 144 yards and a touchdown before handing the offense over to
Pat White
, who added a 14-yard touchdown run.
Bills wide receiver
Steve Johnson
, who is making his preseason debut after missing the first two games with a hamstring injury, lost a fumble early in the second quarter.
August, 23, 2013
8/23/13
4:32
PM ET
The
Buffalo Bills
continue their preseason Saturday afternoon against the
Washington Redskins
. They'll be back on the road, providing one final test for most of their starters before Thursday's preseason finale. Kickoff at FedEx Field in Landover, Md., is at 4:30 p.m. ET.
[+] Enlarge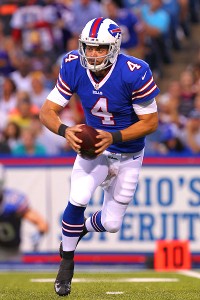 Timothy T. Ludwig/USA TODAY SportsThe Bills might need Kevin Kolb to start to begin the season.
Here's what to watch for:
Kolb gets his shot: The Bills' quarterback competition is still in full swing. After another solid outing Aug. 16 against Minnesota, rookie EJ Manuel underwent knee surgery, knocking him out for the remainder of the preseason. That gives Kevin Kolb his best chance yet to make his mark in the battle. If he performs well, the Bills can breathe a sigh of relief at quarterback if Manuel isn't ready for the regular-season opener. Now three weeks removed from his freak knee injury, perhaps Kolb will show signs of improvement after a rocky start to his preseason.

More Tuel time? Undrafted quarterback Jeff Tuel popped onto the radar after his impressive outing in the preseason opener, but he attempted only three passes in late-game action against Minnesota. It's hard to envision the Bills turning to Tuel as their starter, but he figures to see plenty of second-half snaps Saturday. A few weeks ago, he looked to be a top practice squad candidate, but now, with Manuel's injury, he is Kolb's only backup and is very much in the mix for a spot on the 53-man roster.

Cleaning up the laundry: After the ongoing situation at quarterback, the Bills' biggest storyline this preseason has been their high number of penalties. They led the NFL with 23 flags through two games, and some of those penalties -- namely taunting and unsportsmanlike conduct -- can be considered marks of an undisciplined team. That's not the message coach Doug Marrone wants to send to the rest of the NFL. Cleaning up the penalty issue will be one of the team's priorities going into Saturday's game.

Decision time at left guard, cornerback: The Bills entered training camp with an open competition at left guard. Veteran Colin Brown has started the first two preseason games at that spot and is the favorite to start again Saturday. Even so, it's too early to declare that battle over. Likewise, Leodis McKelvin looked to be settling in at cornerback opposite Stephon Gilmore before he missed the first two preseason games with an injury. The Bills have shuffled a number of candidates through that spot, and it will be worth monitoring who starts Saturday. Otherwise, very little intrigue remains at other positions; starting jobs are basically set.