Buffalo Bills:

Ralph Wilson
May, 22, 2014
May 22
2:00
PM ET
This week has seen several developments around the
Buffalo Bills
' sale process. From investment banks to prospective bidders to comments from current NFL owners, it's been a busy stretch.
If you are having trouble keeping track of it all, you probably aren't alone.
To summarize where things stand, let's answer some "frequently asked questions" about the process:
Where are the Bills in the process?
On Wednesday, the Bills announced that they had retained investment bank Morgan Stanley and engaged law firm Proskauer Rose to facilitate the sale process. The Bills need a valuation of their company -- including most of their financials -- and Morgan Stanley will handle that. Proskauer Rose will ensure compliance with the Bills' complicated stadium lease with Erie County and other legal aspects to the sale. Now that the Bills have both of these firms in place, the sale will proceed soon.
When will the Bills be put up for sale?
Prospective bidders are expected to be contacted within the next 30 days, which will essentially begin the process of bidding for the team. Reports have varied about when the sale will close. There are several steps before that can happen. Any potential owner must first be vetted by the NFL for financial and legal standing. That owner would then need to make sure his or her financing is in order -- it's almost impossible for this to be an all-cash transaction. Once all those ducks are in a row, NFL owners will have to approve a new member of their club by a three-quarters majority vote. NFL owners meet every few months. Their gathering in October would probably be the earliest chance to approve new Bills ownership.
Who will bid on the Bills?
No person or groups have publicly stated that they will bid on the team. However, the Toronto Sun reported Wednesday that former Buffalo Sabres owner Tom Golisano will make a bid. The newspaper also reported previously that rock star Jon Bon Jovi will join with Maple Leaf Sports & Entertainment for a Toronto-based group that is also expected to bid on the team. Businessman Donald Trump has also expressed interest in bidding, but hasn't confirmed that will happen. Another possibility is Jeremy Jacobs' family. Jacobs owns the Boston Bruins and would have to sell that team to purchase the Bills, but the Buffalo native's son, for example, could act as the lead bidder and avoid that NFL rule. This spring, Erie County executive Mark Poloncarz said he had heard from almost a dozen potential buyers, so expect there to be lesser-known groups emerge who have flown under the radar to this point.
Can a new owner relocate?
For a new owner to relocate before 2020, it would take legal maneuvering worthy of a "Law & Order" episode. The Bills' stadium lease with Erie County includes a non-relocation agreement with several terms that make it nearly impossible for the team to move elsewhere before a one-time buyout period in early 2020. Still, that doesn't prevent a new owner from "sitting" on the team for six seasons and then moving it elsewhere. Doing so would would require delaying efforts for a new stadium, which could cause problems on the local, state, and NFL level. But it's one possible strategy for an owner who wants to relocate.
What about a new stadium?
NFL commissioner Roger Goodell has made it clear he wants a new stadium in Buffalo. Other owners speaking at their meetings in Atlanta this week expressed similar viewpoints. The NFL just awarded a Super Bowl to Minnesota after a new stadium was built, which sent a message: The NFL is in the business of building new stadiums, not fixing up old ones. It's worth noting, though, that the league could use that stance as a way of getting more public funding from New York State and Erie County, which is what it was able to accomplish in Minnesota.
Who is AECOM and what are they doing?
New York State hired AECOM, an architectural and design firm, to study sites for a new stadium around Western New York. CEO Russ Brandon made it clear Wednesday on WGR 550 that New York State's efforts fall "outside the scope" of the "new stadium working group," so it doesn't appear the Bills and Erie County are on board with the state's efforts to find a new stadium site. AECOM is expected to deliver a report to New York State by July. How much it will matter, without the cooperation of the team and county, is in question. Brandon and Mark Poloncarz have been adamant about keeping a retrofit or renovation of Ralph Wilson Stadium on the table.
Will the team go to the highest bidder?
That is not certain. The Bills haven't disclosed Ralph Wilson's wishes for how the team will be sold. Wilson's widow, Mary Wilson, serves as the controlling owner of the team, but beyond that, no specifics have been announced about who will decide which party will purchase the team. If Wilson's estate must sell the team to the highest bidder, that opens the possibility of the team being sold to a group that might not want to keep it in the region.
May, 8, 2014
May 8
4:35
PM ET
The
Buffalo Bills
will wear a patch this season to honor former owner Ralph Wilson, who died in March.
"Ralph would be humbled to see such a tribute in his honor, worn proudly by a team that meant so much to him," said his widow Mary Wilson, controlling owner of the Bills. "The patch is a fitting acknowledgement of his commitment to the players, the team, and the Western New York area, and our family is touched by the outpouring of support and remembrance."
Here is the first look at the patch, courtesy of ESPN sports business reporter Darren Rovell:
FIRST LOOK: Bills to wear patch this season to honor memory of owner Ralph C. Wilson Jr. pic.twitter.com/arVQrKaE7g

— darren rovell (@darrenrovell) May 8, 2014
March, 25, 2014
Mar 25
10:30
PM ET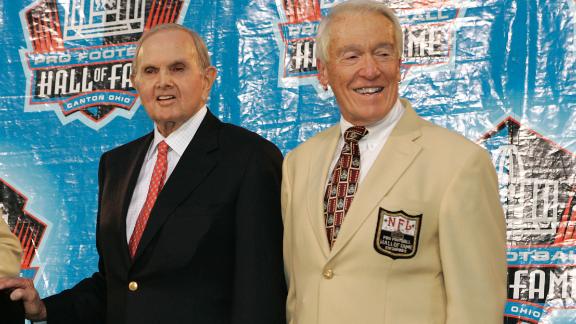 The
Buffalo Bills
family knew this day was coming, but that didn't make it any easier.
Ralph Wilson, who founded the Bills in 1960 and owned the team for 54 years,
died Tuesday at his home in Michigan
. He was 95.
Wilson was the third-longest tenured owner in NFL history, behind Chicago's George Halas (63 seasons) and Pittsburgh's Art Rooney (55 seasons).
"A lot of Bills fans have been standing on this cliff for a long time, but for those of us who played for him and knew him, we were hoping it would never come," former Bills special-teams ace Steve Tasker said. "I'm sad. I'm brokenhearted."
Tasker, who played for the Bills from 1986-1997 and was a member of each of their four AFC championship teams, was one of several Bills players who shared their memories Tuesday, hours after Wilson's death.
One of Tasker's teammates, running back Thurman Thomas, stepped to the podium and told reporters he might have been too emotional to take questions.
"I don't know if I'll be able to answer any questions or stay as long as those guys did," Thomas said. "My heart had been heavy the last 24-48 hours [and] with Mr. Wilson passing today, it hurts."
Thomas was noticeably shaken by what has become a difficult time for the Bills. Thomas and teammates Andre Reed and Bruce Smith recently visited quarterback Jim Kelly -- the face of the franchise for 11 Hall of Fame seasons -- who is
battling a recurrence of oral cancer
.
While the Buffalo community rallies around Kelly and his family, it must now also mourn the loss of Wilson, who brought professional football to the region and kept it there for over five decades.
Wilson was the last surviving member of the "Foolish Club," the group of businessmen who founded the American Football League in late 1959, who still owned his franchise. Barron Hilton, the original owner of the
San Diego Chargers
, is 86.
Former Bills guard Ruben Brown, a first-round draft pick in 1995 who played nine seasons in Buffalo, gave a passionate speech Tuesday about Wilson's contributions to the region.
"He brought you, Buffalo, an NFL franchise that has been here several, several years. I'm from Lynchburg, Va. -- really Paddington, Va. There's no football team there," Brown explained. "There's no pro team where Thurman Thomas can get off work and come over to my high school and inspire me. See what I'm saying? That's what Ralph Wilson gives Buffalo.
"There's a professional athlete, there's a professional business and one of the biggest business in the United States that's happening right now is NFL football and Ralph Wilson put it in your backyard. And not only did he put it in your backyard, but he kept it."
Yet it wasn't until the 1990 season that Wilson first tasted the Super Bowl. His Bills would lose that game in crushing fashion and also were defeated in the next three Super Bowls, but their success during that era propelled the Bills onto the national stage.
"His thrill about the Super Bowl: I could sense the glow and how proud he was," former head coach Marv Levy recalled Tuesday. "Here's a guy who had come into the beginning of the AFL so many years previously and really had never gotten there until the 1990 season. It wasn't just Ralph Wilson that was going to the Super Bowl; he saw to it that everybody in the organization [went]. He really set an example of total organization wins.
"Not just a great owner, not just a coach or a quarterback, it was total organization. We'd go to those Super Bowls and he took everybody, the security guards, everybody. The people that cleaned up at night, they were part of the Buffalo Bills at the Super Bowl."
The Bills have long been the NFL's underdogs, playing in an outdated stadium and a small market. But Tasker remembered Wilson as a man who was responsible for shaping the current landscape of the NFL, a league that has grown significantly since Wilson's day as an AFL owner.
"Ralph took a lot of criticism here in Buffalo when the team was 0 for the '70s against the Dolphins and we couldn't get into the playoffs. He took a lot of heat because he wouldn't spend money and all the things people say about owners everywhere," Tasker said. "I'll tell you this: The NFL is the 800-pound gorilla of professional sports leagues, and it's because of men like Ralph Wilson. He's not the only one. But he's certainly the template for the kind of man, the kind of leader that has made the NFL the institution on the American landscape that it is."
Tasker became emotional when he remembered Wilson's joy after some of the team's signature wins.
"Occasionally when we'd win a big one, it was great to see what it meant to him. He didn't fake his joy. He didn't put on a front of how happy it made him. He didn't make up any emotions to make it look good for any media or any fan. When the Bills won a big game, it was as if he was the only fan," Tasker said. "And sometimes, in the dark days, maybe he was. But this team mattered to him deeply. For all the criticism, for all the bad years and dark times and back to back 2-14 teams, let me tell you this, it wasn't because he didn't care. He cared deeply."
The Bills will hold a memorial for Wilson in the coming days, an event that figures to attract throngs of Bills fans.
It will be a celebration of Wilson's legacy, one that Brown tried to hammer home Tuesday.
"He brought you something to be excited about. He brought you something to root for. He brought you something for you to call your own and make your area, your home unique because he gave that to you," Brown said. "Yeah, there's no Super Bowl as of late, but I'm sure all of Buffalo fans can be proud of what the Buffalo Bills are -- a tough, gritty team, and Ralph Wilson was that, too."
March, 25, 2014
Mar 25
4:59
PM ET
March, 25, 2014
Mar 25
4:28
PM ET
NFL commissioner Roger Goodell released the following statement Tuesday following the death of Buffalo Bills owner Ralph Wilson:
"Ralph Wilson was a driving force in developing pro football into America's most popular sport. He loved the game and took a chance on a start-up league in 1960 as a founding owner of the American Football League. He brought his beloved Bills to western New York and his commitment to the team's role in the community set a standard for the NFL. As a trusted adviser to his fellow league owners and the commissioner, Ralph always brought a principled and common-sense approach to issues. His lifelong loyalty to the game was instrumental in his richly deserved induction into the Pro Football Hall of Fame. We are grateful for his many contributions to the NFL and offer our heartfelt sympathy to the Wilson family."
March, 25, 2014
Mar 25
3:38
PM ET
The following is
Buffalo Bills
CEO Russ Brandon's statement on the death of owner Ralph Wilson:
"I speak for everyone within the Bills organization when I say that we are all suffering a deep and profound sadness with the passing of our Hall of Fame owner Mr. Wilson. We have lost our founder, our mentor, our friend, and this is a very difficult time for us all. We extend our deepest sympathies to his wife Mary, his daughters Christy and Dee Dee [Edith], his niece Mary and his entire family.



[+] Enlarge

Mike RodakFlags were lowered to half-mast at the Buffalo Bills' facility in Orchard Park, N.Y., Tuesday in honor of the late Ralph Wilson.

Mr. Wilson had a relentless passion, a deep love for his Buffalo Bills, the City of Buffalo and the National Football League. He also loved the Bills fans and all of the people of Western New York who embraced the Bills.

This incredible man was the personification of the Buffalo Bills. His life was grit, determination and resolve. He was bigger than life in many ways and yet he was the everyday man, driving his Ford Taurus to the local store and greeting everyone as they called out "Hi Ralph!" He will be greatly missed by those in our community whose lives he touched.

Mr. Wilson was a man of true integrity, charisma and a hero in every sense of the word. His service to his country in the South Pacific in World War II is well documented. He was a pioneer in the American Football League. He was instrumental in forging the merger between the AFL and the NFL. Mr. Wilson will long be remembered as a man who was true to his word and did countless acts of kindness and generosity for so many, while never seeking the limelight in doing so.

More than anything, he wanted to bring a Super Bowl Championship to Western New York. He wanted it for the players, the coaches and the franchise. But mostly he wanted it for the fans. No owner has wanted a title more for these reasons than Mr. Wilson. In the end, he was extremely proud that his Bills are the only team to have played in four consecutive Super Bowls.

For those of us fortunate to have worked for him, we'll miss his kindness, his insight, his leadership, but mostly his sense of humor. He possessed the unique ability to turn a negative into a positive.

Our organization, our league, our community has lost a great man.

Right now all of us are absorbing this tremendous personal loss. We are performing our day-to-day functions as we normally would. We understand our fans' curiosity in wanting to know what the future holds for our organization and that will be addressed in the near future. But at this time, we are committed to honoring the life and legacy of Ralph C. Wilson, Jr., the man who delivered NFL football to Buffalo."