Buffalo Bills:

ryan fitzpatrick
June, 12, 2014
Jun 12
10:45
AM ET
With two head coaches, two general managers, and three defensive coordinators since the 2012 season, the
Buffalo Bills
are no strangers to personnel and scheme changes.
With shifts in philosophy will come collateral damage to the salary cap. It's no surprise, then, that the Bills' dead money against their cap is the second-most in the NFL this season.
[+] Enlarge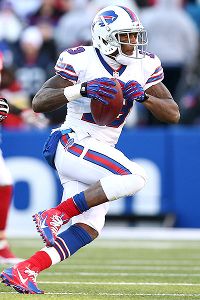 Tom Szczerbowski/Getty ImagesThe Bills were stuck with over $10 million in dead money when they traded Stevie Johnson in May.
ESPN NFL Insider Kevin Seifert breaks down each team's dead-money situation in
a recent piece
, noting that the Bills' $22.7 million in dead money ranks second behind the
Dallas Cowboys
($23.2 million).
"Dead money" is salary-cap charges for players who are no longer on the roster. When a player is released or traded, his yearly allocation of signing bonuses against the salary cap remains.
Most of the Bills' dead money comes from releasing quarterback
Ryan Fitzpatrick
($7 million) and trading wide receiver
Stevie Johnson
($10.225 million). Only quarterback
Matt Schaub
, who was traded by the
Houston Texans
earlier this offseason, counts more against his former team's cap.
Even though Fitzpatrick hasn't played for the Bills since 2012, his dead money charge ranks seventh in the NFL.
How much of a problem is dead money for the Bills? With $7.9 million in remaining cap space this season, it hasn't prevented them from doing business. It's doubtful that having less dead money would have increased the team's willingness to re-signing
Jairus Byrd
, for example.
However, the dead-money charges suggest that the Bills didn't make the wisest moves in extending either Fitzpatrick or Johnson.
After Fitzpatrick and the Bills began the 2011 season with a 4-2 record, with Fitzpatrick throwing 12 touchdowns in his first six games, the team gave him a six-year, $59 million extension with $24 million guaranteed. Fitzpatrick went 8-18 in the remainder of his career in Buffalo and was released after the 2012 season.
Following the 2012 season, Johnson received a five-year, $36.25 million extension. He enjoyed a productive 2012 season but ran into injury problems last season. Ultimately, the fit wasn't right for him in Doug Marrone's system, and Johnson was shipped out to make room for first-round pick
Sammy Watkins
.
Both cases serve as cautionary tales for more recent free-agent signings and contract extensions. Extending
Aaron Williams
for four seasons at $26 million, as one example, seems like a wise move now. But is Williams' level of play consistent with him being paid like top NFL safeties? That remains to be seen.
March, 24, 2014
Mar 24
3:30
PM ET
For the time being, the
Buffalo Bills
are avoiding any serious competition for
EJ Manuel
.
The Bills need their young quarterback to stay on the field and take a significant step forward next season. There's no guarantee that Manuel will stay healthy or improve from his up-and-down performances last season, but the Bills seem content without adding insurance beyond last season's fallback options,
Thad Lewis
and
Jeff Tuel
.
One potential backup plan was
Michael Vick
, who was available on the free-agent market before signing with the
New York Jets
last week.
Speaking to the Toronto Sun's John Kryk at the NFL owners meetings Monday, general manager Doug Whaley said the Bills
didn't even discuss
the option of bringing Vick aboard.
"We're secure with our quarterback position. Obviously we're all in with EJ [Manuel], and with Thad [Lewis] and
Dennis Dixon
and Jeff Tuel," Whaley said. "We're really excited with what we bring to the table at that position. We didn't venture into that subject."
What about
Ryan Fitzpatrick
, who hit the market last week after being released by the
Tennessee Titans
? Did the Bills discuss signing him?
"No," Whaley told Kryk.
Fitzpatrick and Vick both have extensive starting experience, including Fitzpatrick's four seasons with the Bills. If the Bills were to bring in a backup, Whaley said, he would need to pose no serious threat to Manuel's status as the starter.
"We wouldn't do it unless they knew they were coming in as a backup and a mentor to EJ, so it would have to be the right fit," Whaley said. "And they would have to come in knowing their slot."
The message is clear: The Bills don't want to rock the boat. Manuel's health may ultimately supersede those intentions, but as the third month of the offseason comes to a close, it's looking more and more like Lewis and Tuel will round out the Bills' depth chart next season.
Meanwhile, Kryk's interview with Whaley shed some light on some other topics:
Digging heels in at safety:
Whaley reiterated his stance from a March 14 interview with WGR 550 that the Bills are comfortable with a competition at safety between
Duke Williams
,
Da'Norris Searcy
, and
Jonathan Meeks
to replace
Jairus Byrd
's slot in the starting lineup. "We'll always keep our eyes open, but we're very confident with the guys we have on campus," Whaley said. "I know a lot of people have some question marks. We don't."
Potential for dual kickers:
The Bills re-signed
Dan Carpenter
but that doesn't mean
Dustin Hopkins
can't have a role with the Bills. Whaley told Kryk that the Bills will consider keeping both kickers on their roster next season. "You look at it this way: We're stressing special teams. So if you've got a kicker that can kick the ball out of the end zone, that eliminates one of your special teams. So if we've got Hopkins and an accurate field-goal kicker, that's a double bonus for us," Whaley said. Hopkins, who has a stronger leg, would handle kickoff duties under this scenario.
'Pretty secure' at wide receiver:
Asked about the potential for adding another wide receiver -- Kryk floated
DeSean Jackson
's name in the question -- Whaley seemed comfortable with the position as it stands. "We're pretty secure with our wide receiver position right now," Whaley said. "[B]ut we will do our due diligence on anybody that we think can make us better." Whaley later said the team could go just about any direction in the draft -- it would be shocking if he claimed otherwise -- so his comments don't necessarily mean the Bills wouldn't draft a receiver. The team also hosted
Kenny Britt
on a free-agent visit Friday, so the potential exists for more pieces to be added.