Buffalo Bills:

Shawn Powell
January, 14, 2014
1/14/14
8:00
AM ET
The
Buffalo Bills
had punting problems this season.
Whether it was
Shawn Powell
or
Brian Moorman
at punter, the Bills lagged behind the rest of the NFL. They finished 30th in net punting yards (36.1) and 31st in "Punt Expected Points Added," a metric that tracks punt team performance.
Punt EPA, as explained by ESPN Stats & Information's John McTigue, is a measure of the impact of each play on a team's potential points based on 10-plus years of NFL play-by-play data. If a team nets positive EPA on a play, that means they did something to improve their chances of scoring. If they net a negative EPA, that means they did something to hurt their chances of scoring and/or improve the other team's chances of scoring.
In this case, the Bills had a minus-19.6 EPA on punts, which meant that their opponents were expected to score 19.6 points more than they would on an average.
So how does that stack up in recent NFL history? The 2013 Bills rank 375 of 384 in Punt EPA since 2002, so only nine punt units over the past 12 seasons have hurt their team worse than the Bills did this season.
Nonetheless, the Bills extended the contract of longtime punter Brian Moorman last week.
It's a one-year deal at the minimum salary ($955,000) for a player of Moorman's experience. The Bills should receive a veteran minimum salary benefit for Moorman that would limit his cap hit to $570,000.
Either way, the Bills are expected to bring in competition for Moorman, who turns 38 next month. In terms of Punt EPA, Moorman offered little advantage over Powell, who was released after five games. The Bills were 32nd in Punt EPA with Powell punting. They were 30th with Moorman.
There was a turnaround in another statistic, though. With Powell punting, the Bills allowed 14.7 yards per punt return, the fourth-worst mark in the NFL. Over the final 12 weeks, with Moorman punting, the Bills allowed 7.6 yards per return, which was eighth-best.
October, 4, 2013
10/04/13
4:40
PM ET
A review of four hot issues from the
Buffalo Bills
' 37-24
loss
to the
Cleveland Browns
:
Johnson, Graham should be OK:
Bills wide receiver
Stevie Johnson
has a lumbar strain, head coach Doug Marrone said Friday. Johnson left in the second quarter of Thursday night's game and did not return. Marrone said Johnson is "already better than expected" and should be ready to play on Oct. 13 against the Bengals, following 10 days' rest. The Bills also appeared to dodge a bullet with wide receiver
T.J. Graham
, who briefly left the game with an apparent neck injury but later returned. Having a healthy group of receivers -- one that could also include rookie
Marquise Goodwin
-- will be a major factor in determining how the Bills' "interim" starting quarterback performs.
[+] Enlarge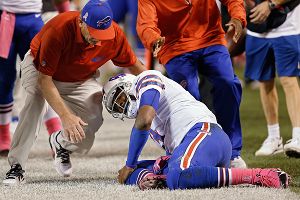 AP Photo/Tony DejakBuffalo center Eric Wood was upset with the some Browns players for the way they reacted when Bills QB EJ Manuel was injured in the third quarter.
Hang time an issue with Powell:
Marrone said hang time on punts hurt the Bills in their loss to the Browns, when Cleveland's
Travis Benjamin
returned one punt 57 yards and another 79 yards for a touchdown. "When you're covering balls that are under four seconds, it's very difficult to cover. It's only a matter of time in this league before you get exposed," Marrone said Friday. Benjamin set a Browns franchise record for punt-return yardage, and the Bills released their punter,
Shawn Powell
, on Friday. Buffalo will have 10 days to find another punter. No word yet on whether they're interested in bringing back longtime punter
Brian Moorman
, who is a free agent.
Marrone explains botched challenge:
The Bills were docked a timeout in the second quarter of Thursday night's game when Marrone tried to challenge a play that was nullified by an illegal-contact penalty against Buffalo. Marrone said Friday that it was "my mistake," saying that he saw an official's hat come off, signaling that Browns receiver
Jordan Cameron
had stepped out of bounds. However, Marrone explained that the rules only allow that sort of penalty to be reviewed when the receiver who stepped out of bounds makes contact with the ball. Since the pass never reached Cameron, the Bills couldn't challenge the call.
No taunting call against Browns:
Center
Eric Wood
was upset with the Browns on Friday, calling some of their players "classless" for how they acted after quarterback
EJ Manuel
was injured in the third quarter. Marrone was asked for his reaction Friday, and simply said that he can't control what the other team does. He did say, however, that he asked officials if there should have been a taunting call against them on the play and they told him no.
October, 3, 2013
10/03/13
11:40
PM ET
CLEVELAND -- A few thoughts on the
Buffalo Bills
'
37-24 loss
to the
Cleveland Browns
.

What it means for Bills:
The Bills lost their second road game and fell to 2-3 overall, but the big story is the health of rookie quarterback
EJ Manuel
. The 16th overall pick in April's NFL draft suffered a knee injury when he was hit by a Browns defender after scrambling for a first down in the third quarter. Manuel was replaced by undrafted rookie
Jeff Tuel
. Tuel and the Bills couldn't overcome their injuries against the Browns, despite their loss starting quarterback,
Brian Hoyer
, to a knee injury in the first quarter. With a chance to erase a six-point deficit late in the game, Tuel instead threw a pick-six, sealing the defeat. For the Bills, who have shaken off numerous injuries this season, Manuel's injury was one too many and bears watching in the coming days.
Johnson injures back:
Both Bills quarterbacks in this game were without their top receiver for much of the contest.
Steve Johnson
left the game in the second quarter with a back injury, initially staying on the sideline. He came back into the game later in the half but then departed for the locker room and did not return.
Stock watch:
Punter
Shawn Powell
and the Bills' punt-coverage unit had a tough time corralling Browns returner
Travis Benjamin
in the first half. After a 57-yard return set up a Browns field goal, Benjamin returned a punt 79 yards for a touchdown in the second quarter. He finished with 179 punt-return yards, setting a Browns team record.
Hobbled Spiller scores:
Running back
C.J. Spiller
, who entered the game nursing an ankle injury, was used sparingly in the first half, carrying just twice for 3 yards. But on the third play of the second half, Spiller broke off a 54-yard touchdown run, tying the game. He limped his way back to the sideline and had a member of the equipment staff keep the ball. Spiller gained just 7 yards after the touchdown.
What's next:
The Bills have nine days until their next game, when they will host another AFC North team, the
Cincinnati Bengals
, on Oct. 13 at Ralph Wilson Stadium.
September, 9, 2013
9/09/13
5:00
AM ET
ORCHARD PARK, N.Y. -- Offering unit-by-unit grades following the
Buffalo Bills
' 23-21 loss Sunday to the
New England Patriots
:

Coaching: C
There's a few decisions/lapses that stand out here: (1) Not burning more clock on their final offensive possession of the fourth quarter. Coach Doug Marrone said after the game that the Bills were more concerned with scoring points than anything else, and that the Patriots had three timeouts anyways. With a one-point lead and less than six minutes remaining, it's unlikely the Patriots would have used the timeouts to stop the clock, so why not burn some clock? (2) It was unclear as it happened, but if the Patriots recovered their own fumble on the opening drive, why challenge it? (3) Being called twice for having 12 men on the field does not reflect well on the coaching staff or the substitution operation.
Run Offense: C
The Patriots clearly made it a priority to stop
C.J. Spiller
, and they were successful in doing so. When he was on the field, he drew the attention of the defense, whether he was carrying the ball out of the backfield or in a pass pattern. Spiller finished with a 2.4-yards-per-carry average and 2.8-yards-per-completion average. Mission accomplished for the Patriots. On the flip side,
Fred Jackson
provided a spark, averaging 5.2 yards per carry. It will be worth monitoring how teams treat Spiller going forward. Even if Jackson has a productive game, it's not a good sign for the Bills' offense if Spiller can't get things going.
Pass Offense: C-
EJ Manuel
was sharp when he needed to be: connecting with
Robert Woods
on an 18-yard touchdown pass after a turnover, and later driving 80 yards for another touchdown at the start of the second half. Otherwise, it was a lot of dink-and-dunk from Buffalo. There were times when Manuel had receivers open over the middle of the field but looked slow to find them and release the ball, limiting the yards after catch. The Bills need their passing offense to start clicking soon, and it starts at the top of the depth chart.
Steve Johnson
(six targets, three catches),
T.J. Graham
(one target, no catches) and Woods (two targets, one catch) will need to develop better chemistry with Manuel. The Bills will be looking for more than 150 passing yards.
Run Defense: D+
Three of the Patriots' six longest plays were on rushes. Marrone noted after the game that the Bills held the Patriots to 4.5 yards per carry (compared to 4 yards per carry by the Bills), but if you subtract the 15 yards on seven carries from
LeGarrette Blount
-- he was in the game because of
Stevan Ridley
's unforced fumble -- then the statistics aren't as rosy. Ridley and
Shane Vereen
combined for 147 yards on 23 carries, a 6.4-yard average that was worse than the 5 yards per carry the Bills allowed last season. Yes, the Bills were able to stop the Patriots' running game several times for short gains or no gain, but the results were hardly consistent.
Pass Defense: B-
Tough to tell if this was more a result of
Tom Brady
not being on the same page with his new-look group of receivers. Brady was 29-for-52 passing for 288 yards, which for that volume of passing is not a terrible outcome for a defense. There were times when a combination of blitzing and strong coverage had Brady stymied. There were other times when receivers simply ran bad routes or dropped passes. Either way, the Bills will want
Stephon Gilmore
and
Jairus Byrd
back as soon as possible.
Special Teams: B+
Returners had a quiet day, with five touchbacks on kickoffs limiting the Bills. On punts,
Shawn Powell
averaged 45.8 yards on nine punts, including three downed inside the 20. Without any notable miscues, it's hard to knock this unit.