Buffalo Bills:

THomas Welch
March, 11, 2014
Mar 11
5:27
PM ET
In an expected move, the
Buffalo Bills
did not tender restricted free agent
Thomas Welch
on Tuesday.
Welch, 27, now becomes an unrestricted free agent and is free to sign with any team.
The 6-foot-7, 310-pound lineman served as a backup swing tackle for the Bills last season. He was one of their top reserve linemen last season, but the Bills could be looking to upgrade at the position this offseason.
Welch could still return to the team at a reduced cost. In order to retain his rights as a restricted free agent, the Bills would have needed to tender Welch a deal worth at least $1.3 million.
January, 7, 2014
Jan 7
8:00
AM ET
Back in September, we broke down the Buffalo Bills' 53-man roster, position-by-position. Now that the Bills' season has ended, we'll review those grades:
Position:
Offensive line (
preseason grades
)
SNAP COUNTS
Cordy Glenn
-- 100 percent
Eric Wood
-- 100 percent
Erik Pears
-- 100 percent
Kraig Urbik
-- 99.1 percent
Doug Legursky
-- 65.9 percent
Colin Brown
-- 34.1 percent
J.J. Unga
-- 0.9 percent
Thomas Welch
-- 0.7 percent
Sam Young
-- 0.7 percent
Mark Asper
-- no snaps
Antoine McClain
-- no snaps
DEPTH
Preseason take:
This is a significant concern for the Bills. With Legursky out of action for at least several weeks, they are dangerously thin along the interior of their line. Welch and Young are both younger pieces at tackle, but would be practice squad candidates on most other teams. The Bills sifted through upwards of 15 offensive linemen in training camp and did not come away with much. It'll be a position to address in the draft next spring. Grade: D+
Postseason review: The Bills were fortunate that their offensive line stayed almost fully healthy all season because depth was a significant concern. The Bills continued to sift through players, jettisoning Brown when Legursky returned, and later, swapping out Young for McClain. The Bills picked up Unga on their bye week and he could be a player to develop, but otherwise, the cupboards are mostly bare behind the top group. This grade was accurate and the Bills were fortunate.
RELIABILITY
Preseason take:
Glenn is the youngest starter on what is a relatively experienced position group for the Bills. They can expect consistent play out of Wood, Urbik and Pears. It remains to be seen if Brown can step in for Andy Levitre at left guard and provide a reliable presence over 16 games. Grade: B
Postseason review: From an injury standpoint, this position held up well all season. The age and experience of Wood, Urbik, and Pears came in handy for a young offense but there was still shaky play from the veterans along the line. Brown, of course, was not a reliable option in place of Levitre. He was released once Legursky returned and has been out of football since. This grade may have been a bit generous.
October, 12, 2013
10/12/13
1:00
PM ET
ORCHARD PARK, N.Y. -- The NFL has a way of bringing players -- like
Buffalo Bills
offensive lineman
Thomas Welch
-- far from home.
Growing up in Deltona, Fla., Welch moved to Tennessee in middle school. He stayed close by for college, attending Vanderbilt, but his NFL journey has taken him to five different teams since he was drafted by the
New England Patriots
in 2010.
Welch has bounced around from New England to Minnesota, back to New England, to Buffalo (in 2011), to St. Louis, then Philadelphia, before returning to Buffalo last season.
[+] Enlarge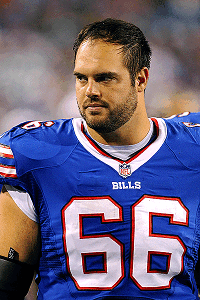 Timothy T. Ludwig/USA TODAY SportsBills offensive lineman Thomas Welch said he's high on the team's chemistry and coach Doug Marrone.
He sat down with ESPN.com this week to discuss his path to the NFL:
Beginnings in football:
"I first started playing football in seventh grade, when I moved to Tennessee. I was a quarterback in high school. I hurt my shoulder in my senior year and moved to tight end and defensive end."
Living near Nashville, Tenn.:
"I like everything about it. I want to move back there eventually. I love it. There's always something to do. Great food city. Always good music, great bars. It's a great place."
Favorite memory at Brentwood (Tenn.) High School:
"I blocked a game-winning extra point against our rival high school (Franklin). That was pretty sweet. Plus we won a state championship my sophomore year."
Choosing Vanderbilt:
"I was either going to go to Vanderbilt, Louisville, or Memphis. I decided to go to Vandy because it was close to home. Great school. Great to play in the SEC, play against the best. Worked out for me. I loved it there. I played tight end there. My sophomore year, I moved to offensive tackle. Started a bowl game, which was great."
Influence of coaches:
"My high school coach, Ron Crawford, is a great coach. He coaches at a different school now. He's a big influence. Also Les Steckel, who was head coach of the
Minnesota Vikings
a while back and then the offensive coordinator of the
Tennessee Titans
. His son went to high school with us. He really helped my development and mature as a player. He helped me get to where I am."
Being drafted by Patriots in 2010:
"Every place is different, obviously. Bill Belichick is the head guy in New England. He runs the show. It's a very tight ship. Everybody is super accountable about everything they do. All places are like that though. You're accountable. It's your job. You have to execute."
Spending time with Vikings in 2011:
"I was there the year everything went wrong that could have went wrong. The stadium collapsed. Coach [Brad Childress] got fired in the middle of the year. The Randy Moss situation. That was crazy."
Settling into Buffalo:
"Being here, I like Coach Marrone. He's doing a great job. I think everyone is buying it. Our locker room is extremely tight. That's a big thing you need to win in this league, is to have everybody be close knit."
Influence of Marrone:
"[The offensive line] does a drill with him at least every day, which is nice. Because he knows exactly what he's doing. He's been a line coach for years. It's cool to have a head man watching over you, knowing exactly what you need to do to get better. I like it a lot."
Off the field:
"I like to cook a lot. My wife is lucky. I enjoy it. It's fun creating different stuff. I'm actually living with [wide receiver]
Chris Hogan
right now, and he gets to reap the benefits of it. I love cooking risotto. That's probably my favorite."
September, 11, 2013
9/11/13
10:45
AM ET
The
Buffalo Bills
had an open competition at left guard during training camp to replace
Andy Levitre
, who departed through free agency.
Brown
After cycling several players through the position, fourth-year veteran
Colin Brown
was tabbed as the starter. He started all four preseason games and continued in that role for Sunday's loss to the
New England Patriots
.
But according to ProFootballFocus.com, which grades every player on each play, Brown finished with the
worst aggregate grade

of any in the NFL for Week 1.
When people said that the Bills' left guard spot was a problem area, they weren't lying, were they? Brown beat out Doug Legursky for the starting job (which isn't the hardest thing in the world to do) and promptly did his best to force his coaches to reconsider their decision. In a week that saw some terrible guard play, his took pride of place, giving up a hit and three hurries and being punished against the run. If you could see our grading sheet, you'd see a lot of "stood up at point of attack" next to the name of Brown, who was no match for Vince Wilfork.
If the Bills agree with the assessment -- it's worth noting that head coach Doug Marrone has a background as offensive-line coach and continues to work closely with that unit in practice -- they have few other options.
Legursky remains on the active roster but is out indefinitely with a knee injury. That leaves the Bills without a traditional backup guard/center option. Buffalo's lone reserve options on the offensive line are
Sam Young
and
Thomas Welch
, whose backgrounds are mostly at tackle.
September, 3, 2013
9/03/13
5:00
AM ET
ORCHARD PARK, N.Y. -- Walking off the practice field Sunday,
Buffalo Bills
head coach Doug Marrone was asked if the team had any immediate plans to fill the open spot on its 53-man roster.

Marrone's answer? Let's wait and see.
"I've been talking to (general manager) Doug (Whaley) about it. Obviously we've been meeting," he said. "I think we have a lot of flexibility with it and we'll see where it goes."
As it turned out, the spot will be filled sooner rather than later. With rookie
Dustin Hopkins
suffering a groin injury in Monday's practice, the Bills are signing kicker
Dan Carpenter
to fill in, according to ESPN NFL Insider Adam Schefter.
But before Hopkins' injury came to light, Marrone gave insight on one position where they felt the spot may be used.
"Right now the natural position would gravitate probably to the offensive line," Marrone said.
The Bills have eight offensive linemen on their active roster, but their top interior backup, veteran
Doug Legursky
, is out indefinitely with a knee injury. That leaves Buffalo with just two reserve linemen --
Thomas Welch
and
Sam Young
-- and both are primarily tackles.
But Marrone cautioned against overlooking Young's versatility.
"I would probably label Sam Young as versatile to all four (positions)," he said, referring to Young's ability to play both guard and tackle spots. "Rather than just saying we only have three (interior linemen)."
In three seasons, Young has played 18 games, including four starts (all last season).
August, 31, 2013
8/31/13
5:00
AM ET
Despite making the bulk of their roster cuts on Friday, the
Buffalo Bills
could still be in for a busy weekend.

Nearly 100 players hit the waiver wire or open market Friday evening, giving the Bills a chance to comb the free-agent landscape for help.
Buffalo's roster stands at 55 players entering Saturday, and while they must get down to 53 players by 6 p.m., it may not be as straightforward as releasing two players. Waiver claims, signings and trades all could be in the forecast.
At what positions might the Bills need a boost? Here's a look:
Cornerback: The Bills have battled injuries at this position since the start of training camp, and their most recent loss is their biggest. Top cornerback Stephon Gilmore is out six to eight weeks with a fractured wrist, creating a gaping hole in the secondary the Bills will try to fill. Outside of Gilmore, the Bills have veterans Leodis McKelvin, Justin Rogers and Ron Brooks under contract -- Brooks has been exclusively playing the slot -- while undrafted rookie Nickell Robey has also been retained to this point. It would be surprising if the Bills go into Week 1 with just those four players healthy. With Crezdon Butler released on Friday, they could use another option to try out at the position.
Interior offensive line: There hasn't been any word on the exact nature of Doug Legursky's leg injury in Thursday night's preseason finale that required him to be carted off the field. The Bills did not place Legursky on injured reserve on Friday, but perhaps that's only because they're waiting for more tests. If it's a season-ending injury, the Bills would be down to just two backups along their offensive line: Thomas Welch and Sam Young. Both play primarily tackle, but could slide inside to guard in an emergency. Still, the Bills are likely on the lookout for interior offensive line help, particularly a player who, like Legursky, can play both guard and center.
Quarterback: Quarterback was the biggest story of the Bills' preseason, and even with EJ Manuel closer to returning to play, they could still be in the market for a veteran backup. They released Matt Leinart on Friday after he posted a dismal 0.0 quarterback rating in Thursday's finale. Thad Lewis, acquired in a trade on Sunday, looks to have earned the No. 3 job, if only by default. The Bills would probably like a player with more experience than Lewis to join Manuel and fellow rookie Jeff Tuel in their quarterback meeting room.