Carolina Panthers:

Arizona Cardinals
January, 1, 2015
Jan 1
8:00
AM ET
When
: Saturday, 4:35 p.m. ET.
Where:
Bank of America Stadium, Charlotte, N.C.
TV:
ESPN
Two teams whose seasons are going in opposite directions collide in Saturday's NFC wild-card game at Bank of America Stadium.
The
Arizona Cardinals
(11-5) started the season 9-1, but they've lost two straight and four of their last six since their quarterback situation became decimated by injuries.
The
Carolina Panthers
(7-8-1) went seven straight games without a victory before winning their final four to capture the NFC South title for the second straight season with a 34-3 victory at Atlanta in the regular-season finale.
NFL Nation Cardinals reporter Joshua Weinfuss and Panthers reporter David Newton are here to break down this 4:35 p.m. matchup.
Newton:
Josh, I'm sure you get hit with the same question every week recently, but how much of a mess is the quarterback situation at Arizona?
Weinfuss:
It's definitely a mess, there's no doubt about that. But after last weekend's loss, it doesn't look to be as big of a catastrophe as once believed. It's unlikely, in my opinion,
Drew Stanton
starts against Carolina. If he does, that would put him at 23 days between games. With the Cardinals playing to survive and advance, I'm not sure it's the wisest decision to play him. If you would've asked me that question before Week 17, my response would've been different. But after watching
Ryan Lindley
play as well as he did, despite making a few costly mistakes, I think he's more capable of playing on this level. The biggest difference Sunday was how the offense was tailored down and the Cardinals slowed the game down. It worked. He didn't lose that game, that's for certain. But last week, the quarterback situation was definitely a sideshow with Cardinals coach Bruce Arians declaring
Logan Thomas
the starter, then saying he was playing at least a half, then backtracking on that, and then finally naming Lindley the starter. This week -- thus far at least -- seems a bit calmer.
David, there's really no other way to put this besides: What's gotten into the Panthers the last four weeks?
Newton:
It's twofold. First, everybody got healthy. The offensive line had been a mess due to injuries and inexperience. But the same five have started five games in a row, developing a continuity and consistency that wasn't there much of the season. That has allowed quarterback
Cam Newton
to do his thing as a runner and a passer. The fact that
Jonathan Stewart
has been one of the most productive runners in the NFL during that stretch has given that unit balance. Then there's the defense. The Panthers have been playing at a top-10 level the past nine games. But inserting more speed in the secondary with rookie cornerback
Bene' Benwikere
and rookie free safety
Tre Boston
has elevated that group to the level it was last season, when it was second in the NFL. The emergence of
Josh Norman
as a shutdown corner also has been key. The Panthers basically are using the same formula that worked last season: Pressure the quarterback, stop the run and create turnovers.
The Arizona defense has been stout at limiting points allowed this season. What has been the key, and is that group playing well enough to make the Cardinals a contender despite the quarterback issues?
Weinfuss:
The key was -- emphasis on was -- how well Arizona stopped the run this season and how many turnovers it was creating. Arizona's turnover margin was plus-11 as the Cardinals ran out to a 9-1 record. It has been minus-three in the six games since. Is it a coincidence that Arizona's defense began allowing 100-yard rushing games -- five in their last six -- right when it started losing? No. I think it's a direct reason why the Cardinals dropped four of their final six games. Through the first 10 games, the defense was playing well enough to make Arizona a contender regardless of who was at QB. Now? Not the case anymore.
The Panthers seem to be peaking at the right time, especially with their running game. How much can Cam Newton take credit for the running game taking that next step, and how effective can it be against a Cardinals defense that allowed more than 200 yards in its last two games?
Newton:
The threat of Newton as a runner certainly helps. But it's way more than that. As I mentioned above, Stewart is running better than at any point in his career now that he's completely healthy. And the line that was criticized for much of the season is winning the battle in the trenches. It starts with the inside group. Center
Ryan Kalil
has been steady all season, but the emergence of left guard
Andrew Norwell
and right guard
Trai Turner
has solidified that group, which was constantly making mistakes early in the season. Then there's right tackle
Mike Remmers
, who was on the Rams' practice squad the first half of the season. He's played so well that he's earned a right to start next season. That Newton is making smart decisions on the read-option makes it tough for teams to load up against the run as it did earlier in the season. The Panthers are averaging about 195 yards rushing the last five games, so this appears to be strength against weakness.
The Cardinals lost twice to a Seattle team that relies on a running quarterback.
Russell Wilson
had 88 yards on six carries in the second loss. What is Arizona doing to adjust to facing another running quarterback in Newton? And is stopping him the primary concern there?
Weinfuss:
You can't forget what
Colin Kaepernick
just did to them on Sunday, running for 63 yards. The Cardinals are focusing on staying gap-sound and true to their assignments this week, which is what hurt them most against those two quarterbacks -- that and missed tackles. The Cardinals have 27 missed tackles in the last two games, according to Pro Football Focus. If they can't wrap up Newton, then he's going to be running wild all over the field. Even with how tough the Panthers' running game is, and how much of a threat tight end
Greg Olsen
can become, I think stopping Newton is Arizona's top priority and concern. Once he begins running, the Cardinals' defense will be susceptible to an entirely different set of plays that'll put a lot of pressure on Arizona's front seven.
The Carolina defense has 14 of its 40 sacks and nine of its 26 turnovers in the last four games. Can they carry that momentum into the playoffs, and how important is it for them to have a home game?
Newton:
There's no reason to think they can't, particularly facing a quarterback in his first playoff game. They're flying around and playing at a level that is every bit as good as last year's defense, which carried the team. That the sacks finally are starting to come has been key. The pressure has made good quarterbacks such as
Drew Brees
and
Matt Ryan
look average. Defensive end
Charles Johnson
is playing at arguably his highest level of his career. The front four is getting such a big push that it disrupts what the opponent wants to do without having to commit other players to a blitz. Then there's
Luke Kuechly
and
Thomas Davis
, arguably the best pair of linebackers in the NFL. The front seven that was promoted as one of the best in the league before the season finally is playing as advertised. They've found a personnel grouping that really works, and they're having fun again. They're peaking at the right time.
December, 28, 2014
12/28/14
8:55
PM ET
»
Wild-Card Round
:
Schedule
»
AFC
:
BAL-PIT
|
CIN-IND
»
NFC
:
DET-DAL
|
ARI-CAR
Three things to know about the
Carolina Panthers
' matchup against the
Arizona Cardinals
in an NFC wild-card playoff game at Bank of America Stadium (4:35 p.m. ET Saturday on ESPN):
1. Hot team:
The Cardinals were one of the hottest teams through the first three-quarters of the season until being hit hard with injuries at quarterback. They enter the playoffs with four losses in their final six games. The Panthers finished as one of the hottest teams in the NFL, winning their final four games. If you're a believer in momentum, the Panthers have the edge. They also have an edge in this series with an 8-5 advantage, although the Cardinals have won the past two, including a 22-6 victory in Arizona last season.
2. Stability at quarterback:
Carolina's
Cam Newton
, as much as he has been through this season in terms of injuries and inconsistency, finished on a strong note. His ability to keep defenses honest with his ability to run and pass, along with stability on the offensive line with the same starting five over the final five games, have made Carolina dangerous. Arizona simply has been a mess at quarterback since
Carson Palmer
was lost for the season in Week 10 and backup
Drew Stanton
suffered a knee injury in Week 15.
Ryan Lindley
started the Cardinals' final two games, both losses.
3. Defensive showdown:
This will pit two of the better defenses in the NFL. The Cardinals have been stout all season, ranking fourth in points allowed heading into the regular-season finale. The Panthers have come on strong since moving on and accepting that defensive end
Greg Hardy
was not returning from the commissioner's exempt list. They have been a top-10 unit over the final nine games, stabilizing the secondary with a complete overhaul that included two rookies -- cornerback
Bené Benwikere
and free safety
Tre Boston
-- becoming starters.
December, 3, 2013
12/03/13
2:00
PM ET
A weekly examination of the Panthers'
ESPN.com Power Ranking
:
Preseason:
23 |
Last Week:
5 |
ESPN.com Power Ranking since 2002

Maybe wide receiver
Steve Smith
was right after a Week 1 loss to Seattle. Maybe the
Carolina Panthers
and Seahawks will meet again deep in January.
They certainly are on a collision course in ESPN.com's weekly Power Rankings.
The Panthers (9-3) moved up two spots to third after their eighth straight victory, a 27-6 win against Tampa Bay. They trail only the Seahawks (11-1) and
Denver Broncos
(10-2) in the rankings.
They have a chance to make an even bigger impression on the voters in Sunday night's game at No. 5 New Orleans (9-3), the first of two against the Saints in a three-week period that will go a long way in deciding the NFC South.
That the Panthers have a chance to win the division and possibly face Seattle in the playoffs were unlikely scenarios when they were 1-3 and ranked No. 26.
In my Power Rankings story that week, I actually said this was not a good team and debated whether Carolina, Tampa Bay and Atlanta were turning the NFC South into the worst division in the NFL.
I should have listened to Smith when he said the Panthers were a playoff team after a 12-7 loss to Seattle.
In case you forgot, here's exactly what Smith said: "I stand on this: I think we're going to see them again deep in January. If we continue to play like we're playing, eliminate some of the penalties, eliminate some of the mistakes ... for us to have played that team that is considered by all accounts the best team in the NFL ... if that's the best team, we came down to the [final minutes] and it was a well-fought game.''
The Panthers had a chance to beat the Seahawks (who dismantled New Orleans 34-7 on Monday night) until
DeAngelo Williams
fumbled at the Seattle 8-yard line late in the fourth quarter.
"Our season is not over,'' Smith said that day. "If that means the season is over, I'm not sure what kind of football y'all are used to around here. That's not a quitting team.''
Asked if Carolina was a playoff team, Smith responded, "I didn't stutter. There was no slur in my speech.''
Hearing you loud and clear now.
October, 3, 2013
10/03/13
12:00
PM ET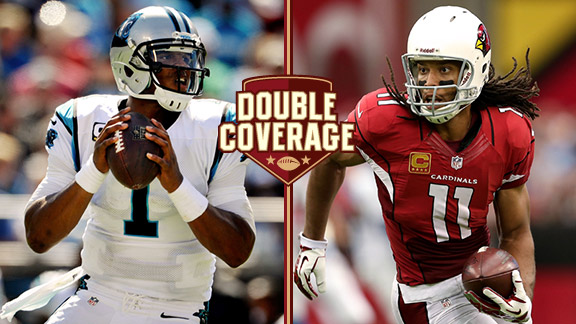 Getty ImagesPanthers QB Cam Newton, Cardinals WR Larry Fitzgerald aren't to blame for teams' mediocre starts.
Sunday will be a trip down memory lane for Carolina Panthers quarterback
Cam Newton
, who made his NFL debut at University of Phoenix Stadium in 2011, throwing for 422 yards and two touchdowns.
A confident Newton brings a 1-2 Panthers squad to the desert off a big win over the
New York Giants
to take on a 2-2 Arizona Cardinals squad that's facing a bit of turmoil. Its offense is sputtering, and the team made a significant move on the offensive line, trading left tackle
Levi Brown
to the
Pittsburgh Steelers
on Wednesday.
Cardinals reporter Josh Weinfuss and Panthers reporter David Newton talk about Sunday's game.
Weinfuss:
In his third season, has Newton matured into the type of quarterback the Panthers hoped he'd be? If he hasn't, what else needs to change?
Newton:
Josh, that seems to be the question on a lot of people's minds when Carolina comes to town. I have noticed a difference this season, whether you want to call it maturity or confidence or just growing into the position. Honestly, I think too much is made of his maturity and leadership. Winning is what is missing, and being surrounded by enough talent to do that is what needs to change. Newton still has only one receiver (
Steve Smith
) who would start on most NFL teams, and he's been missing a key weapon in running back
Jonathan Stewart
for most of the past year. And remember, he helped the offense score enough points to go into the fourth quarter with the lead in the first two games and the defense didn't come through. This team easily could be 3-0 with one or two fourth-quarter plays going the other way and people would be talking about Newton as a great leader. But it is true, as left tackle
Jordan Gross
said after the win over the Giants, that when Newton is hot, the Panthers are hot.
Since we're talking about quarterbacks, is
Carson Palmer
really the answer in Arizona?
Weinfuss:
Palmer is the short-term answer for a long-term issue plaguing the Cardinals' franchise. He's here, and he's the guy Arizona has to work with. He's a vast improvement from every quarterback the Cardinals have had since
Kurt Warner
, which doesn't say a whole lot but, at the same time, gives Palmer enough credibility in the locker room. He throws a pretty ball when he has time, and he has been able to fit it into areas to
Larry Fitzgerald
& Co. that haven't been seen here since, well, Kurt Warner. Palmer gets compared with Warner because he's most likely on his last stop. Palmer has some issues to work through and tends to rush his reads and get off his game after getting hit. The past two games, even though Arizona won one, have been frustrating for the receivers. If he doesn't improve soon, I fear a repeat of last year could be in the works.
Let me ask you about the Panthers defense. Is this front seven as good as the stats and rankings signify?
Newton:
Before the 38-0 victory over the Giants, former Carolina general manager and current ESPN analyst Bill Polian called this one of the best front sevens nobody knows. If these players keep playing like they have been, they won't be unknown for long. The front four is stout, with rookie defensive tackle
Star Lotulelei
already looking like a star. Teams that bypassed him in the first round have to be second-guessing themselves. He's really a disruptive force in the middle.
Greg Hardy
, who had three sacks against New York and earned the NFC Defensive Player of the Week award, is versatile enough to play end or tackle. What makes this unit so strong is that it gets pressure on the quarterback without having a lot of exotic blitz packages. The weakest link has been Pro Bowl linebacker Jon Beason, coming off microfracture knee surgery. Were it not for the lost step that kept him from making a couple of critical plays in the first two games, the Panthers might be 3-0. He was replaced by
Chase Blackburn
against New York and might have a hard time getting his job back. There's really not another weak link, and the depth is solid, as well.
Having said that, the Cardinals rank second in the NFL in rush defense. Will Carolina, ranked No. 3 in rushing, be able to run against them?
Weinfuss:
It depends on how well Carolina does two things: getting Cam out in space to run on his own and stretching the linebackers with the passing game. If the Panthers can do those two things, they'll gain some yards. If they can't, expect the Cardinals to make it a long day for Carolina's running game. Under new defensive coordinator Todd Bowles, the defensive line has become re-energized. Bowles eliminated the multi-gap scheme from last season and made it a one-gap system, basically letting these guys get a full head of speed and just do what they need to do to get to the quarterback without thinking. That has allowed the linebackers to get through the line and slow down running games. However, this game presents a couple of new challenges. If Cam starts running, I wouldn't be surprised if
Daryl Washington
-- fresh off his four-game suspension -- shadows him, which eliminates one linebacker. If the Panthers can stretch the field and force the Cardinals to go nickel or dime often, that's fewer guys up front, which will give the running game more room.
Will the bye week help Carolina, especially having to travel across the country, or did it slow any momentum after the big Giants win?
Newton:
The bye actually came at a good time for Carolina. The depleted secondary should be back to full strength with starting left cornerback
Josh Thomas
(concussion) now cleared and starting safety
Quintin Mikell
(ankle) potentially back. Starting defensive tackle
Dwan Edwards
(hamstring) also has a chance to return, so that front seven you asked about could be stronger and deeper. Rookie running back
Kenjon Barner
also is healthy now, so
DeAngelo Williams
will have somebody to spell him. You get the feeling coach Ron Rivera also needed the break after a week of speculation before the win over the Giants that he could be fired if Carolina started 0-3. This team appears hungry, so I don't see an interruption in momentum.
My last question for you: Are the Cardinals really "putrid" on offense, as coach Bruce Arian says?
Weinfuss:
Putrid might be a bit of an exaggeration, but, yes, it's bad. The offense is more complex than most of these players have seen, and they're simply not picking it up quickly enough. Actually, Arians has never seen a team take this long to learn his scheme. And what the players do know of it, they simply can't execute. Palmer gets rattled quickly, so, when he gets hit, the entire offense goes into quick mode and he doesn't allow it to open up as it should. Some of the lack of productivity comes from having to learn a huge playbook -- which is evident when you see Fitzgerald and
Andre Roberts
confused on where to line up -- and some comes from inexperience. Too many plays are coming up a yard short of a first down, if they get completed at all. Arizona can't seem to find the first-down marker on third down, converting just 14 of 48. And it's mainly because of that problem that the offense stalls more often than it should.
.