Carolina Panthers:

San Francisco 49ers
January, 30, 2014
Jan 30
3:25
PM ET
Carolina Panthers
quarterback
Cam Newton
hasn't forgotten that San Francisco quarterback
Colin Kaepernick
mocked his "Superman'' move during the NFC playoffs.
Newton
Kaepernick
"It's kind of a tender topic," Newton said light-heartedly on the NFL Network's "NFL AM" show on Thursday in New York City.
Newton went on to say in a playful way, "He hurt my feelings, and I think so highly of Mr. Kaepernick."
So will there be an answer to the mock that Kaepernick made after running for a touchdown in a 23-10 victory over the Panthers at Bank of America Stadium?
"It will," said Newton, who will appear with Kaepernick on Feb. 17 at The Cartoon Network's fourth annual Hall of Game Awards. "It will."
Newton couldn't get the Panthers to the Super Bowl, but he was in NYC on Thursday making the rounds as part of the Super Bowl week festivities.
One of his stops was on ESPN Radio's "
SVP and Russillo
"
show.
Among the topics was whether he really changed much in 2013 from his first two seasons when the Panthers were a combined 13-19 to how much winning had to do with the perception he'd changed.
"Winning has a lot to do with it," Newton said. "No one likes to lose, including myself. When losing is the reason, who knows what the scrutiny will come after. There are a lot of things that get swept under the rug if you're winning ... your demeanor, your approach to the game, are you even taking it serious.
"I've been questioned with a lot of things, some of it fair, some of it not fair. But that's the day and time that we live right now."
Newton said the way the year ended for a Carolina team that went from 1-3 to 12-4 and NFC South champions "was a salty ending to a great season."
"It is up to us as a team, as a coach, as an organization to get better from it," he said. "It will be shame on us if we don't make the best of our situation leading up to next season."
January, 12, 2014
Jan 12
11:35
AM ET
By
ESPN.com staff
| ESPN.com
Join our ESPN.com NFL experts for playoff football between the San Francisco 49ers and the Carolina Panthers.
Contribute your thoughts and questions beginning at 1:05 p.m. ET. See you there.
January, 10, 2014
Jan 10
10:00
AM ET
Perhaps no two teams in the NFC are more alike than the
Carolina Panthers
and
San Francisco 49ers
, who meet at 1:05 p.m. ET on Sunday at Bank of America Stadium for the right to advance to the NFC Championship Game.
They both have big, physical, mobile quarterbacks.
They both have offenses built around the running game.
They both rely on physical, highly ranked defenses built around stopping the run first.
Their regular-season meeting at Candlestick Park showed just how close they are. Carolina won 10-9 on Nov. 10 in one of the more physical games of the season.
The rematch has all the ingredients to be just as close and physical.
ESPN.com Panthers reporters David Newton and 49ers reporter Bill Williamson are here to break it down.
Newton:
Bill, hope you have thawed out from the trip to Green Bay. The first game between these teams was an old-fashioned NFC bruiser. Do you see the rematch being anything different?
Williamson:
You're right, David, the first 49ers-Panthers matchup was one of the most physical games of the 2013 NFL season. I think we are going to see a similar game. These teams are similar, and are both really good teams. So this is going to be another close, physical game.
I do think more points will be scored. A huge difference for the 49ers is they will have receiver
Michael Crabtree
this time, and you have to assume tight end
Vernon Davis
won't leave this game early, as he did in the Nov. 10 meeting. Crabtree has made this a different team since he returned Dec. 1 from a torn Achilles. He had his best game of the season last week at Green Bay with eight catches for 125 yards. David, do you think the Panthers are prepared to deal with Crabtree?
Newton:
They better be, or it could be a long day. I suspect they will take a similar approach to their Dec. 22 victory over New Orleans, which has talented receivers and Pro Bowl tight end
Jimmy Graham
. And remember, Crabtree was facing a Green Bay defense that was ranked 24th against the pass and 25th overall. Carolina's defense ranks sixth against the pass and second overall. That's a significant difference.
To me it doesn't come down to Crabtree as much as it does to the pass rush. Carolina led the league in sacks with 60 and has 15 in the past two games. The Panthers will try to push quarterback
Colin Kaepernick
out of his comfort zone like they did in the first meeting, when they sacked him six times. The secondary is a huge part of that. They mix things up with complicated zone coverages that make it difficult for receivers. They also are physical with them. To stand a chance, the Panthers have to duplicate the kind of effort they had in the first game. If they pressure Kaepernick that way again, Crabtree won't be as effective.
Speaking of quarterbacks, the 49ers did a nice job on
Cam Newton
in the first game. This will be Newton's first playoff game. Are the 49ers worried about him?
Williamson:
The 49ers certainly respect Newton and are wary of him. But I don't think they are overly fretting about him. The 49ers just beat
Aaron Rodgers
. He's the best quarterback in the NFL. So they can handle Newton.
I think what gives the 49ers confidence that they can continue to have success against Newton is that their defense is so athletic. So it matches up well against Newton. He did come up with some big third-down passes against the 49ers. So San Francisco has to find a way to keep him from making clutch plays. That means the 49ers have to keep pressure on him throughout the down. If Newton athletically beats the 49ers, they will have a tough day.
David, my last question for you is: What do you think the Panthers can do overall to ensure they move on to the NFC title game?
Newton:
Bill, because I see the defense doing its part, for me it all comes down to Newton. As left tackle
Jordan Gross
said this season, as Newton goes, so go the Panthers. This will be his biggest challenge on his biggest stage, but he's a lot more confident now than he was the first time these teams met. He has since engineered last-minute, game-winning drives to beat New England, Miami and New Orleans. I believe you'll see him throw caution to the wind when it comes to running. Having favorite receiver
Steve Smith
back will help as well. If Newton can handle the big-game atmosphere as he did in college, the Panthers have a chance. Having said that, what do the 49ers have to do?
Williamson:
San Francisco has to take advantage of what it has now, but didn't have when it last played Carolina -- and that's better offensive weapons. Crabtree has been back for six weeks, and the offense is much better. Having a healthy Davis makes the 49ers better in this game, as well. But they can't spoil those advantages. San Francisco must find the end zone a couple of times. The 49ers had just three field goals against the Panthers in November, and settling for field goals has been an issue all season.
Because points are going to be at such a premium, the 49ers have to do what it takes to find the end zone, at least two times in this game. If not, another close loss to Carolina might be on the horizon.
.
January, 5, 2014
Jan 5
8:45
PM ET
Three things to know about the
Carolina Panthers
' Jan. 12 playoff game against the
San Francisco 49ers
at Bank of America Stadium:

1. Mirror image:
The Panthers (12-4) proved they were legitimately good this season with a 10-9 victory at San Francisco on Nov. 10. To prove they are a legitimate Super Bowl contender, they must get past the 49ers again. This arguably was the toughest of the three opponents Carolina could have drawn, as the teams are almost mirror images of each other. Both have an athletic quarterback -- Carolina in
Cam Newton
and San Francisco in
Colin Kaepernick
-- who can beat you with his legs as well as his arm. Both have a solid running game, with Carolina eighth in the NFL and San Francisco third. Both have a stout defense, Carolina second and San Francisco fifth, built around stopping the run first. This one should be just as close and physical as the first.
2. Contain Colin:
Minutes after rushing seven times for 98 yards and throwing for 227 yards and a touchdown in a 23-20 victory over Green Bay, Kaepernick was asked what he thought about the rematch with Carolina. "That we owe them for the first time they came to our house," he told Fox Sports. The Panthers won at Candlestick Park in large part because they contained Kaepernick. They held him to 16 yards on four rushes and 91 yards passing. They sacked him six times. He was 0-for-6 on throws of more than 10 yards, the first time he's failed to complete a deep pass with multiple attempts in his career. For the first time this season, he was held without an official scramble, and he was 0-for-4 with two sacks when he did escape the pocket. San Francisco's 151 total yards were its fewest since Week 9 of 2006. The Panthers, who have 15 sacks in their past two games, likely will need to duplicate that to advance to the NFC Championship Game.
3. Flair controversy:
The Panthers have been using professional wrestler Ric Flair's famous "WOOOOOOO" chant as part of their locker room celebration much of the season. It's become so big that cornerback
Drayton Florence
, who started the chant with the defensive backs before it caught on with the rest of the team, has been looking for a way to get "The Nature Boy" to give a motivational speech before the upcoming game. Florence, safety
Mike Mitchell
and corner
Captain Munnerlyn
taped this past week a "WOOOOOOO" pump-it-up video to play on the giant video screen before the game. Now we find out that Flair, who lives in Charlotte, gave the 49ers a motivational speech in their hotel the night before the Green Bay game. During the speech, Flair said his heart was with the 49ers all the way to the end. This could get touchy. Fortunately for Carolina, it has won seven straight at home since a 12-7 loss to Seattle in the season opener, so it can depend on the home crowd more than the hometown Nature Boy.
November, 8, 2013
11/08/13
10:00
AM ET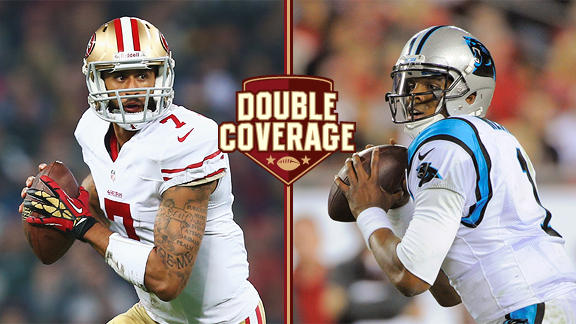 Getty Images, AP PhotoQuarterbacks Colin Kaepernick, left, and Cam Newton highlight a matchup of NFC playoff contenders.
SAN FRANCISCO -- A few weeks ago, this didn't appear to be a premier game.
But the
Carolina Panthers
kept on winning. Now, before the
San Francisco 49ers
have to tangle with potential playoff opponents New Orleans and Seattle in the coming weeks, looms another major NFC test in the form of the Panthers on Sunday at Candlestick Park.
This will be matchup featuring two of the hottest teams in the league. The 49ers have won five straight, the Panthers four straight. ESPN.com 49ers reporter Bill Williamson and Panthers reporter David Newton take a look at the intriguing matchup:
Newton:
These teams appear similar, built around a strong running game, a versatile quarterback and strong defense. Where do you believe the 49ers have the biggest advantage?
Williamson:
They totally believe in what they do. This is a confident team in all phases of the game. San Francisco is deep and focused, and it rarely misfires as a team. The 49ers stick to their plan and have confidence it will eventually wear opponents down. That is particularly true concerning the ground game on both sides of the ball. The 49ers know they are better than most opponents, and they just go out and try to prove it. I think they will try to stuff the Panthers early and get in their heads. David, the Panthers are certainly clicking themselves. Do you think they are up to this task?
Newton:
Because their five wins came against teams with a combined 8-33 record, the critics are wary. So, the Panthers are relishing the opportunity to prove that their winning streak isn't a fluke, that they deserve to be mentioned as a serious contender. The only team they have faced with a record currently above .500 is Seattle, which beat Carolina 12-7 in the season opener. The Panthers believe they should have won that game, too. Like San Francisco, this group is very confident. The Panthers have an attitude and hunger that, with a decent amount of talent, make them dangerous. They won't be intimidated by San Francisco's résumé, particularly Carolina's defense, which is playing as well as any in the league. Just ask the Seahawks, who struggled to score 12 on Carolina, then scored 29 against the 49ers in Week 2. This is a playoff-caliber defense that should keep the Panthers in most games. Their biggest challenge will be stopping
Colin Kaepernick
. He appears to have picked up where he left off last season. How has he improved?
Williamson:
He's a perfect fit for this coaching staff. What coach Jim Harbaugh and offensive coordinator Greg Roman excel at is taking what opposing defenses give them. They will run inside or outside, will use Kaepernick on the ground or through the air and can exploit defenses using receiver
Anquan Boldin
or tight end
Vernon Davis
, depending on what is given to them. Kaepernick plays along perfectly. He is patient and doesn't care about his own stats. He happily executes the game plan. David, do you think Panthers have a chance of frustrating Kaepernick by closing all those gaps?
Newton:
That's the game plan, whether it's a running quarterback such as Kaepernick or a pocket passer. The goal is to stuff the run and make a team one-dimensional, and they've done that well enough to rank second in the league against the run. But running quarterbacks are a concern. Seattle's
Russell Wilson
didn't put up huge numbers in the opener, but he kept the chains moving and completed a high percentage of throws (76 percent, 25 of 33). Buffalo's
EJ Manuel
did the same thing. Carolina had a combined three sacks in those games. The Panthers have averaged more than three a game since. What will the 49ers do to counter the play of
Cam Newton
?
Williamson:
The 49ers respect Newton. They have been talking about how physical Newton is and how they must respect his game. Again, the defense in San Francisco starts with stopping the run. Then, the 49ers tee off on the passing game. This has been a very stingy defense, but Newton is on a roll and will be the best quarterback this San Francisco defense has seen since
Andrew Luck
beat it at home in Week 3. David, do you see Newton succeeding in this game?
Newton:
Most of Newton's success this season has come against defenses ranked in the lower half of the league. Most of it has come because he has gotten comfortable taking what the other team gives him, mostly short stuff, so he's been completing a high percentage of passes the past month. San Francisco has one of the best pass defenses in the league, so I look for Newton to use his legs more early to get into a rhythm, and I look for the Panthers to try to run to take the pressure off Newton. His confidence is at an all-time high, but the 49ers have a defense that can change that quickly.
.