Carolina Panthers:

Tampa Bay Buccaneers
June, 26, 2014
Jun 26
10:00
AM ET
By
ESPN.com staff
| ESPN.com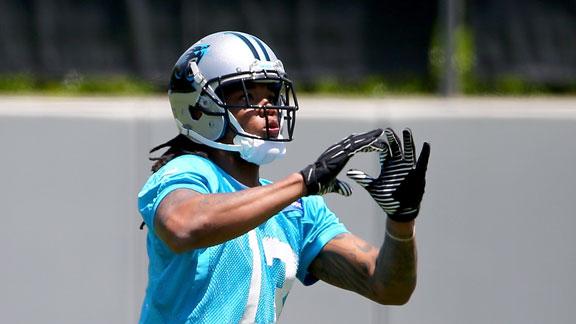 The NFC South too shall pass.
Three of the division's first-round picks in May were wide receivers:
Mike Evans
of the
Tampa Bay Buccaneers
(at No. 7),
Brandin Cooks
of the
New Orleans Saints
(No. 20) and
Kelvin Benjamin
of the
Carolina Panthers
(No. 28). And offensive tackle
Jake Matthews
, drafted sixth overall by the
Atlanta Falcons
, should give quarterback
Matt Ryan
more time to throw to his star wideouts.
The Bucs had a void opposite Pro Bowl veteran
Vincent Jackson
and filled it with Evans, giving the team a pair of 6-foot-5 receivers. The Saints parted with
Lance Moore
and
Darren Sproles
, two key components in their pass-happy offense. In steps versatile Cooks, who hauled in 128 receptions for 1,730 yards last season at Oregon State. The Panthers released their No. 1 receiver -- diminutive, 35-year-old
Steve Smith
-- and replaced him with 6-5 Benjamin.
First-round picks aren't the only NFC South rookies with a chance to make some noise. Keep an eye on Bucs tight end
Austin Seferian-Jenkins
, Falcons running back
Devonta Freeman
and Saints cornerback
Stanley Jean-Baptiste
.
The four writers who cover the division -- Vaughn McClure in Atlanta, David Newton for Carolina, Mike Triplett in New Orleans and Pat Yasinskas for Tampa Bay -- offered their insights on the division's rookies, among other topics. They also polled their Twitter followers to find out whether they saw the issues differently.

Which NFC South rookie will make the biggest impact this season?
Vaughn McClure: Tampa Bay receiver Mike Evans should get plenty of chances to show he was worthy of a top-10 selection. His size (6-5, 230 pounds) is enough to give opponents fits. Having a proven big receiver such as Vincent Jackson on the other side should help Evans make a smooth transition. Josh McCown is a smart quarterback who won't put Evans in bad situations. And Lovie Smith is the right head coach in terms of helping a rookie adjust to new surroundings. Evans has to overcome some of the knocks on him, including that he's too stiff and doesn't have great speed. It still will be hard to match up against him one-on-one, though, because the former basketball player will win the jump balls. And he has already impressed coaches with his range.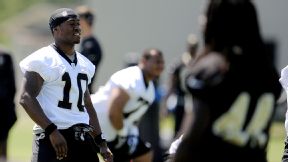 David Newton: This is a tough one because I really like the first-round picks for all four division teams. Each will make his team significantly better. But for me, it comes down to New Orleans' Brandin Cooks and Carolina's Kelvin Benjamin because both receivers will get plenty of opportunities. I'm going with Cooks because he has quarterback Drew Brees and a veteran unit around him. Rookie receivers often struggle. Cooks will break that trend with 60-plus catches.
Mike Triplett: I'll go with Saints receiver Brandin Cooks because I think he'll have the flashiest season. You could make a great case for all four first-round picks, and Jake Matthews will probably play the most vital role because of the Falcons' need at offensive tackle. But I think Cooks will make the biggest splash -- and even be a strong contender for NFL Offensive Rookie of the Year. Even though New Orleans spreads the ball around so much, I expect Cooks to catch a high volume of passes and hit some home runs with deep balls and a punt return or two.
Pat Yasinskas: That's an easy one. I'm going with Tampa Bay wide receiver Mike Evans. He's going to be an instant starter, and he's going to be active in the passing game. Vincent Jackson remains the top receiver, but Evans will be a nice No. 2 to start his career. Evans someday will be a No. 1 receiver, but for now he'll be a complement to Jackson. Evans and Jackson, both 6-5, will form one of the league's largest starting receiver tandems, and that's going to cause problems for opposing defenses.
@PatYazESPN Jake Matthews. He instantly makes the line bigger and more physical. Matt Ryan may actually have time to get rid of the ball.

— James Niemeyer (@jrniemeyer) June 10, 2014
---

What is your team's top position battle to monitor in training camp?
McClure: Although there will be plenty of competition among Falcons linebackers, I'm turning my attention to the running backs. Steven Jackson is the starter. He turns 31 next month and probably has one good season left in him -- but if he is slowed by nagging injuries, the Falcons will turn to someone else. They drafted Devonta Freeman in the fourth round with thoughts of grooming him as the three-down back of the future. If he looks as good in pads as he did in shorts, Jackson might have a battle on his hands. Even the battle for the third running back will be interesting with Jacquizz Rodgers and Antone Smith in the mix. The running backs, as a whole, have an improved offensive line to run behind. Let's see whether that helps them.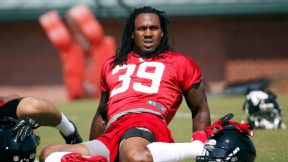 Newton: Most might say the left tackle battle between Byron Bell and Nate Chandler. And although finding a replacement for retired Jordan Gross is key, the Carolina competition that intrigues me the most will be between Charles Godfrey and Melvin White at cornerback. Godfrey is making the transition from safety to corner after missing most of last season with an Achilles injury. It's a homecoming of sorts, since Godfrey played cornerback for most of his college career at Iowa before the former Panthers coaching staff moved him to safety in 2008. Although White was adequate last season, Godfrey is a more physical player with the potential to be a shutdown corner. If he can win that battle, it's a huge upgrade for the league's No. 2 defense.
Triplett: The battle at cornerback is by far the most compelling on the Saints' roster. For one thing, it's a vital position in today's NFL. For another thing, the Saints are loaded with fascinating candidates behind No. 1 cornerback Keenan Lewis. Does surefire Hall of Famer Champ Bailey have enough left in the tank? Can former first-round pick Patrick Robinson bounce back from injury? Can third-year pro Corey White take that next step? Can rookie Stanley Jean-Baptiste make an instant impact? Can second-year pro Rod Sweeting or someone else emerge as a dark horse? And did I mention this is an important position?
Yasinskas: The best competition will be at tight end. The fact Austin Seferian-Jenkins was drafted in the second round probably means he'll get the first shot at the starting position, but don't overlook his competition -- theoretically, the Bucs have four guys who could end up as the starter. Free-agent pickup Brandon Myers can catch and block. Tim Wright had 54 catches last season and has worked to improve his blocking. Veteran Luke Stocker is returning from injury; he isn't a huge threat as a receiver, but he could play a big role as a blocker.
@DNewtonespn OG and OT, biggest concern on team IMO is protecting Cam

— William Harkness (@NCBillyHarkness) June 6, 2014
---

Which veteran on your team is poised for a breakout season?
McClure: I like safety William Moore taking on more of a leadership role and sparking the Falcons' defense, and I like receiver Roddy White rebounding from last year's injury-plagued campaign. But the guy I'm going to single out is return man Devin Hester. After his role diminished in Chicago, people forgot he was the greatest return man of all time. All Hester needed was a change of scenery: In watching him during organized team activities, it was evident he still has his quickness. With special-teams mastermind Keith Armstrong drawing up the blocking scheme, Hester could be the X factor in the Falcons' quest to return to playoff contention. Whatever Hester accomplishes on offense would be a bonus.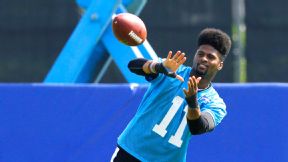 Newton: It feels strange calling wide receiver Tiquan Underwood a veteran since this is his first season with the Panthers, but the sixth-year player out of Rutgers was the first to come to mind with this question. Underwood was brought in to replace Ted Ginn Jr. as the speed receiver. Ginn went from two catches with San Francisco in 2012 to 36 for five touchdowns with the Panthers last season before moving on to Arizona. Underwood had 24 catches for four touchdowns in Tampa Bay last season. Offensive coordinator Mike Shula was high on him when they worked together in Jacksonville. Throw in what wide receivers coach Ricky Proehl will teach Underwood, I could see him doubling his production in 2014.
Triplett: I've been touting Saints defensive end/tackle Akiem Hicks all offseason. He's a third-year guy who's big and really powerful at 6-5, 324 pounds, but athletic for his size. A former third-round pick out of the University of Regina in Canada, he had 4.5 sacks last year in his first stint as a full-time starter. I'm not sure Hicks will post 10-plus sacks as an interior guy, which means he might not crack the Pro Bowl. But that's the level of impact he can have as someone who can both push the pocket and stuff the run. Opposing offensive linemen in the NFC South certainly know who he is.
Yasinskas: Middle linebacker Mason Foster is set up for a big season. Foster has had a decent career to this point, but he's about to get a lot better. Hardy Nickerson and Brian Urlacher excelled as middle linebackers in coach Lovie Smith's defense, and now it might be Foster's turn. Weakside linebacker Lavonte David is the star of this unit, but Foster has a chance to be a nice complementary player. Smith likes to have his middle linebackers call the defensive plays, and that means Foster will be putting on the radio helmet this year.
@vxmcclure23 I think William Moore will start getting Natl recognition after this season and appearance on Hard Knocks.

— Tootie Quivers (@TootieQuivers) June 13, 2014
---

What is your predicted order of finish in the NFC South standings?
McClure: That's a tough one. I see a lot of parity within the division, and the Buccaneers really have a chance to close the gap based on their offseason moves, including the hiring of Smith as coach. But I'm going to go with New Orleans, Atlanta, Tampa Bay, Carolina. As long as the Saints have Drew Brees in the lineup, they have a chance to be contenders. The Falcons bulked up on both sides of the line, which should bode well for them in terms of putting up points on offense and preventing big plays on defense. The Bucs' defense could be devastating. Carolina will sorely miss Jordan Gross and Steve Smith -- and it will show.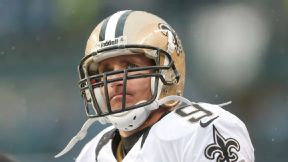 Newton: Since nobody has repeated as NFC South champion since the division was formed in 2002, it would seem a bit crazy to pick the Panthers, who edged New Orleans for the title last season. The Saints are considered the favorites by most, and it's hard to argue otherwise with Brees and tight end Jimmy Graham on offense. But I'm a believer that defense wins, and even with changes to the secondary, there's not a better defense in the division than Carolina's. I like what Atlanta has done in free agency and the draft, so I look for the Falcons to finish second with the Saints third and Tampa Bay fourth. Having said that, I could see the division winner going 9-7 or 10-6. It's going to be tight.
Triplett: I'm confident the Saints will finish first with at least 11 wins. Although their offense lost some key pieces, it's still one of the NFL's elite, and their defense is legit. After that it's a virtual three-way tie. I wouldn't be surprised to see any of the others flirt with a playoff run or finish last. I'll go with the Buccaneers second because they're on the rise. They have a great defense and run game and now seem to have a solid coach and quarterback. I'll pick Carolina third because it lost so much in the receiving corps and secondary. As much as I like the Falcons' passing attack, there are questions everywhere else.
Yasinskas: Saints, Falcons, Buccaneers and Panthers. This was a tough call because all four teams have a chance to be good. I gave the nod to the Saints because they have Brees, the best quarterback in the division. I think Atlanta will have a dramatic turnaround after last season's debacle. Tampa Bay is going to be much more competitive than last year. Carolina might have taken a step back with some of its offseason moves, but I still wouldn't count the Panthers out.
@MikeTriplett 1.Saints-more talent allaround 2.Bucs-sleeper, good coach, talent 3.Falcons-improved, still struggle 4.Panthers-lost too much

— Brad Powell (@PowellBrad) June 11, 2014
February, 11, 2014
Feb 11
2:19
PM ET
There's nothing like following a little offseason taunting between NFC South rivals over weather.
Unless, that is, your furnace has been broken since Thursday in the NFC South city that is being bombarded by Winter Storm Pax that at this moment has no rival.
It all began in Charlotte, three miles from my freezing abode. The person in charge of the
Carolina Panthers
' official Twitter site tweeted a picture of snow blanketing Bank of America Stadium.
Winter is coming. pic.twitter.com/2MdfyAme6i

— Carolina Panthers (@Panthers) February 11, 2014
Then the
Tampa Bay Buccaneers
, who perhaps are stinging from a couple of losses to the NFC South champion Panthers this past season, tweeted a picture of the entrance to One Buc Place.
We hear you @Panthers...here at One Buc Place, a cloud blocked the sun for a few minutes. It was AWFUL! #itsabucslife pic.twitter.com/fi9demTLeJ

— Tampa Bay Buccaneers (@TBBuccaneers) February 11, 2014
According to my trusty weather app, it is 72 degrees and sunny in Tampa. It is 30 and snowing in Charlotte.
And if anybody cares, it is 49 and dry in my house.
Not to be outdone, the
Atlanta Falcons
got into the mix by tweeting a picture of quarterback
Matt Ryan
, known as "Matty Ice."
.@TBBuccaneers @Panthers It's pretty icy here, guys. #RiseUp pic.twitter.com/wVVH9ZBzdC

— Atlanta_Falcons (@Atlanta_Falcons) February 11, 2014
Ryan did indeed have rather cold performances against Carolina and Tampa, going 1-3 against his rivals, including six interceptions in the three losses.
The Bucs apparently thought that was the message, reminding us in a tweet including a picture of cornerback
Darrelle Revis
.
Well played @Atlanta_Falcons - But it's always sunny here on #RevisIsland @Panthers @Revis24 #NFCSouth pic.twitter.com/9WxobOGCvM

— Tampa Bay Buccaneers (@TBBuccaneers) February 11, 2014
Revis, by the way, had no interceptions against Atlanta or Carolina this season. But don't let facts get in the way of a good tweet.
The Panthers retaliated in this now Twitter weatherfare by challenging the Bucs and Falcons to a snowball fight. They even brought New Orleans into the mix, suggesting the Saints and Falcons might have to carpool.
That could take a while if Atlanta becomes gridlocked for 24 hours like it was a few weeks ago when Winter Storm Leon passed through.
Sorry, that was cold.
.@TBBuccaneers Want to come over for a snowball fight? The @Atlanta_Falcons and @Saints might have to carpool. pic.twitter.com/vlIJw6isyo

— Carolina Panthers (@Panthers) February 11, 2014
Atlanta, in an attempt to forget a 4-12 injury-plagued season, began looking ahead to 2014 with a forecast tweet.
.@TBBuccaneers @Panthers 2014 Forecast: 100% chance of Julio Jones with accumulations exceeding 1,000 yards. #RiseUp pic.twitter.com/pUYw5Ei5gx

— Atlanta_Falcons (@Atlanta_Falcons) February 11, 2014
The Falcons forgot to mention their not-so-hot defense.
Sorry, cold again.
Not to be left out, the Tampa Bay mascot that refers to himself as @TheCaptainFear joined in.
I wanna join @Atlanta_Falcons & @Panthers' snowball fight.. but it hasn't snowed in Tampa since 1977. I could maybe get ice from the fridge?

— Captain Fear (@THECaptainFear) February 11, 2014
To which the Panthers tweeted -- and this may have been the best of all -- "Ice Up Son!"
In case you hadn't heard, this was the message Carolina wide receiver
Steve Smith
gave to New England cornerback
Aqib Talib
during a Monday night victory when Bank of America Stadium wasn't covered in snow.
Ice Up Son! RT @THECaptainFear I wanna join the snowball fight but it hasn't snowed in Tampa since '77. I could get ice from the fridge?

— Carolina Panthers (@Panthers) February 11, 2014
Yeah, baby, it's cold outside.
And if you're writing this blog, it's cold inside, too.
November, 29, 2013
11/29/13
10:00
AM ET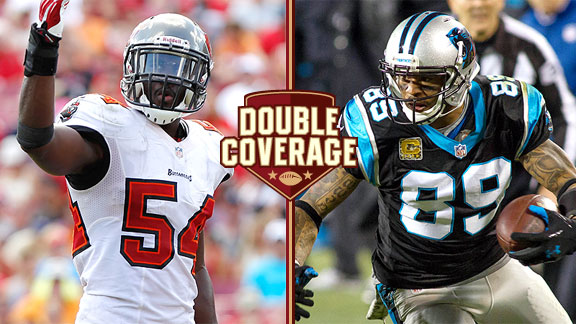 USA Today SportsLavonte David and the Bucs stand between Steve Smith's Panthers and an eighth straight win.
The
Carolina Panthers
have won seven straight games to set up a big NFC South showdown with New Orleans in two weeks, but they're not looking past Sunday's division game against Tampa Bay.
The Buccaneers (3-8) are also on a hot streak with three straight victories. Their only loss since a 31-13 setback to Carolina (8-3) on Oct. 24 was a 27-24 overtime thriller against the
Seattle Seahawks
, who at 10-1 have the best record in the NFC.
How will they do this time around? ESPN.com Panthers reporter David Newton and Buccaneers reporter Pat Yasinskas break down the rematch.
Newton:
So Pat, the Bucs finally seem like they're playing at the level many expected them to before the season. What has been the difference?
Yasinskas:
David, there have been a lot of different factors in the Bucs' surge. But I'd say the best thing to point to is the Bucs have been finishing games. That's something they weren't doing well at all early in the season. Beyond that, this team finally, firmly bought into coach Greg Schiano's system. You can see Schiano's philosophy -- play aggressive defense, run the ball well on offense and take some shots down the field in the passing game -- shining through. It took a lot longer than anyone would have liked, but the Bucs are clicking now and it might save Schiano's job.
Speaking of clicking, Carolina's on fire. What's been going right for the Panthers?
Newton:
Much the same, Pat. They're finishing games, and the play of quarterback
Cam Newton
is a big reason. He led them to three straight fourth-quarter comebacks and two straight last-minute comebacks. The fourth-quarter comebacks are one more than he had in his first 40 starts combined. He's consistently making big plays when he has to, like the fourth-and-10 pass to
Steve Smith
from his own 20 with 2:33 remaining against Miami. Those things didn't happen in the past. But you could see it even in the first game against Tampa, which on the surface looked like a blowout. Remember, it was only 14-6 midway through the third quarter. It's all about confidence and players believing in one another. Speaking of quarterbacks,
Mike Glennon
was just getting his feet wet the first time these teams met. How has he improved?
Yasinskas:
David, Glennon has improved every week since he's been the starter, and he's been a pleasant surprise. He may not be spectacular, but he's been solid. That's what Schiano wants out of a quarterback. Glennon doesn't need to be spectacular, but Schiano wants him to play mistake-free football and hit on a few deep passes. He's thrown only one interception in his past six games and he's getting better on the deep ball. Glennon hasn't shown he's elite yet, but he has shown he's a decent NFL quarterback. In Schiano's scheme, that might be enough.
As long as we're talking about quarterbacks and schemes, let's talk about Newton and offensive coordinator Mike Shula. Back when I was covering the whole division, I said Shula had gotten a bad rap in his previous stops in the NFL and at the University of Alabama. I thought Shula could be a big success with the talent he has to work with. Do you see that coming true?
Newton:
Very perceptive, and you're right. Shula's philosophy is deemed conservative by many, but it's highly successful with the right personnel. How ironic, the former Alabama quarterback needed a former Auburn quarterback (Newton) to get much deserved notoriety. What I like about Shula's offense is the rhythm and balance. He's not afraid to pound
DeAngelo Williams
and
Mike Tolbert
into the line for gains of two, three and four yards to keep the clock running and set up short third-down plays. He's also willing to turn a player like Newton loose enough to take advantage of his athletic abilities. I attribute much of Newton's sudden maturity to Shula's guidance and play calling. He's helped Newton learn it's not a one-man show, that it takes all the pieces working together to be successful.
Since we're on Carolina's offense, Pat, what will Tampa do differently this time to stop a unit that rushed for 129 yards and a quarterback who ran for 50 the first time they met?
Yasinskas:
David, one of the biggest problems Tampa Bay's defense has had this year is losing contain against mobile quarterbacks. They have to do a better job of that if they're going to have any chance at slowing down Newton. That means the defensive ends and linebackers will have to prevent Newton from getting outside. This defense is good against traditional running games so, Williams,
Jonathan Stewart
and Tolbert aren't a huge concern. That's not the case with Newton. The Bucs also have to be concerned about Newton as a passer, and the best way to solve that is to put pressure on him. Tampa Bay has done a good job of pressuring quarterbacks lately. I know Carolina had some problems on the offensive line early in the season. Have the Panthers solved that?
Newton:
They have for the most part, Pat.
Jordan Gross
is playing as well as any tackle in the league. So is center
Ryan Kalil
. But the running game -- outside of Newton -- has struggled of late as teams have stacked the box to stop it. Newton has led the team in rushing the past two games, and that's not what the coaches want even though the results have been good. Williams, who was third in the league in rushing early in the season, hasn't had more than 46 yards in six consecutive games. He's had only 45 combined the past two games. Overall, the Panthers are averaging more than 100 yards rushing between Williams, Tolbert, Stewart and Newton, but without Newton they wouldn't be close. So the Bucs may have to pick their poison. It should be interesting to watch.
October, 24, 2013
10/24/13
7:00
PM ET
By
ESPN.com staff
| ESPN.com
Join our ESPN.com NFL experts for Thursday night football between NFC South rivals the Carolina Panthers and the Tampa Bay Buccaneers.
Contribute your thoughts and questions beginning at 8:30 p.m. ET. See you there.
August, 27, 2013
8/27/13
11:10
AM ET
Last week, we made a big deal about how Tampa Bay quarterback
Josh Freeman
had taken so few snaps in the first two preseason games.
Well, that trend changed in the exhibition game against Miami on Saturday night. Freeman played 41 snaps (although he was ineffective for most of the game). That means he now has played 62 snaps this preseason. That leaves Freeman tied for 25th among
the presumed 32 starting quarterbacks
.
Freeman isn't even the least used NFC South quarterback anymore. That honor now belongs to
Drew Brees
, who is No. 27 with 60 snaps.
Carolina's
Cam Newton
is No. 11 with 80 snaps an Atlanta's
Matt Ryan
is tied for ninth at 81.