Carolina Panthers:

2013 Week 9 ATL at CAR
November, 3, 2013
11/03/13
8:30
PM ET
CHARLOTTE, N.C. --
Cam Newton
, by his recent standards, had a bad day on Sunday.
Yet the
Carolina Panthers
defeated the
Atlanta Falcons
34-10 despite the so-so performance of their quarterback.
That speaks volumes as to how far the Panthers (5-3) have come since a 1-3 start.
[+] Enlarge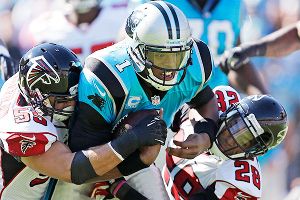 AP Photo/Bob LeveroneCam Newton's stats dipped, but the Panthers won.
"That's growth, and that's what you need to see,'' Newton said. "For us it's coming out each and every day and proving to ourselves that we're not going to play lights out each and every day, but we still can hold ourselves accountable.''
To be fair, Newton's performance wasn't horrible. He still completed 62.1 percent of his passes for 249 yards and a touchdown. He also ran for 22 yards and a touchdown.
But he's been playing at a level so high, a level higher than any quarterback in the league for three straight weeks with a completion percentage of 77.3 and passer rating of 130.3, that Sunday's numbers pale in comparison.
Most of his problems on this day involved overthrowing his receivers. He missed
Steve Smith
a couple of times on slant routs that could have gone for big yardage. He missed
Brandon LaFell
, who led the team in receiving with six catches for 74 yards, on what could have been a long touchdown. Same with
Ted Ginn
Jr.
He finished 1-for-9 on passes of at least 15 yards down field for 21 yards and two interceptions, his first turnovers after three games without one.
"He got a little carried away early on,'' coach Ron Rivera said. "He tried to make a couple of things happen. . . . I think he was a little anxious, pushed it a little bit. He's excited. He wants to do well. It's unfortunate that he didn't bring the ball down a little bit because there were some big plays that we left out there.''
Newton knows that.
"Whatever you want to call it, it was unacceptable,'' he said.
But on two of the biggest plays of the game, Newton was perfect. On the fourth-and-1 rollout pass in the second quarter he hit wide-open tight end
Greg Olsen
in stride for a touchdown.
On first-and-goal from the 8 in the fourth quarter he ran practically untouched around the right side for the touchdown.
He also managed the game well enough for Carolina to hold a 36:35 to 23:35 advantage in time of possession.
So as bad as his day may have looked compared to recent ones, it really wasn't all bad.
November, 3, 2013
11/03/13
7:50
PM ET
CHARLOTTE, N.C. --
Carolina Panthers
running back
Jonathan Stewart
stood no chance when quarterback
Cam Newton
handed him the football less than a minute into the second quarter on Sunday.
Atlanta linebackers
Akeem Dent
and
Joplo Bartu
hit him 2 yards behind the line of scrimmage and stopped him dead in his tracks. It was as if the entire defense knew Stewart would get the ball on his first carry in more than a year.
[+] Enlarge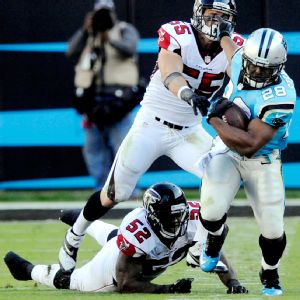 Sam Sharpe/USA TODAY SportsJonathan Stewart rushed nine times for a team-best 43 yards in his return.
"They played a good defense against what we had called," Stewart said with a laugh. "It's OK. We won the game. We built towards the first quarter, second quarter, third quarter. We just got momentum."
On his last carry in the
34-10 victory
, Stewart went off left tackle for 16 yards to the Atlanta 7. In between, he had enough quality touches to show just what he can mean to this offense.
Stewart, who missed the first seven games rehabilitating the right ankle that prematurely ended his 2012 season, rushed nine times for a team-high 43 yards. He also caught three passes for 22 yards.
He added another dimension to a backfield of
DeAngelo Williams
and
Mike Tolbert
that already had the eighth-best running attack in the NFL.
"I saw him getting more and more confident and comfortable, and then we saw the explosiveness at the end of the game," coach Ron Rivera said.
That's all anybody was looking for, really.
Stewart admittedly was nervous coming into the game.
"I'm pretty sure if you're not nervous your first carry you're not human," he said.
As Stewart addressed the horde of reporters surrounding his locker afterwards, Williams and Tolbert stood on each side of him and had fun cracking jokes.
"He's got to get back in the groove," Williams said with a laugh.
The chemistry these three had going into the game wasn't lost because one had more yards or touches than the other. They showed that together they can be a three-headed monster instead of the "Double Trouble" that Stewart and Williams were a few years ago when both were healthy.
Williams had 42 yards on 13 carries and Tolbert 24 on six carries. As a team, the Panthers rushed for 131 yards -- Newton added 22 yards on five carries -- to match almost exactly what they averaged without Stewart.
They did this even though the offensive line lost starting right guard
Chris Scott
(sprained knee) and backup
Jeff Byers
(foot) within a few plays of each other, moving swing tackle
Nate Chandler
into a somewhat unfamiliar role.
"A lot of people are doubting us and whatnot," Stewart said. "But we know how good we are, and we've just got to go out there every week and prove it. We are relevant, and all we've got to do is just worry about our assignment and worry about holding each other accountable day in and day out."
Stewart didn't stand a chance on his first play on Sunday.
Then again, the Panthers didn't stand a chance at being relevant at 1-3.
Now they both are proving worthy of attention.
November, 3, 2013
11/03/13
7:38
PM ET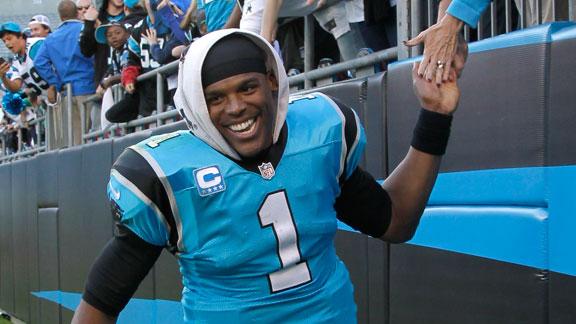 CHARLOTTE, N.C. -- Left tackle
Jordan Gross
was on the way to lunch with
Jake Delhomme
on Saturday, teasing the former
Carolina Panthers
quarterback about how even as an active player, his hair always seemed perfect. Then, the conversation took a serious turn.
"He said this team was special; this team has a good vibe,'' Gross said after Sunday's 34-10 victory over the
Atlanta Falcons
.
Winning will do that.
The Panthers (5-3) felt they had the potential to be special even before winning their fourth consecutive game and fifth in the past six. Carolina is now within a game of New Orleans in the NFC South after the Saints' 26-20 loss to the
New York Jets
.
Wide receiver
Steve Smith
certainly knew what he was talking about after a 12-7 loss to Seattle in the opener, when he predicted Carolina would see the Seahawks again deep in the NFC playoffs.
Few believed Smith then, and he didn't want to discuss that on Sunday. He didn't want to talk at all after this one, choosing to let his teammates who statistically had better games bask in the limelight that he has enjoyed for much of 13 seasons.
But when approached in the hallway outside the locker room about Delhomme's comments, Smith paused and said, "If Jake says it, I believe it."
Right now, these players believe in themselves. Even after playing what was the sloppiest of their five wins, they could feel the vibe Delhomme mentioned, that feeling that has been missing since 2008.
Former general manager Marty Hurney didn't use the word vibe, but he said something was missing in the locker room a year ago when he was released after a 1-5 start.
It's been found.
"This is a dangerous football team," Delhomme said before the game, the first time he'd been at Bank of America Stadium since being released after the 2009 season. "I don't think too many teams in the NFL want to play this football team."
The Panthers aren't just beating teams. They're destroying them. The average score in their five wins is 33.6 to 9.6.
They're doing this with the NFL's top-ranked offense in terms of time of possession -- a position they likely won't give up after a 36:25 to 23:35 edge against Atlanta -- and the league's No. 3-ranked defense.
They're doing it with quarterback
Cam Newton
, who is doing the little things it takes to win, even when he has an off day as he did on this one.
They're doing it with a relentless running game that began the day ranked eighth in the league and has the potential to get better with the return of
Jonathan Stewart
, who led the team in rushing (43 yards) in his first game after a year recovering from an ankle injury.
They mostly are doing it because they play as one team, not letting injuries or mistakes turn into disaster as they have for most of the past four years. When they lost starting right guard
Chris Scott
(sprained knee) and backup
Jeff Byers
(foot), swing tackle
Nate Chandler
stepped in and did yeoman's work.
[+] Enlarge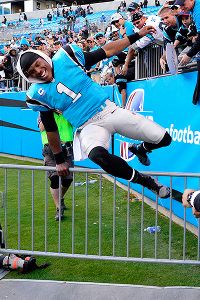 Bob Donnan/USA TODAY SportsCam Newton and the Panthers made a big leap in the standings over the past month.
"It's an indication as where we're starting to evolve as a football team," coach Ron Rivera said.
When Carolina was 0-2 and even 1-3, when critics were calling for him to be dismissed, Rivera said the team was close to turning the corner. He said the talent was here to be relevant.
He even mentioned turning this run into a playoff run.
Yes, the "P" word has been mentioned.
But this team believes it can achieve that goal. Delhomme certainly does. He said the talent is here to potentially do more than the 2003 team he took to the Super Bowl, losing on a last-second field goal to the
New England Patriots
.
He called Newton, who began the season under a cloud of uncertainty regarding his ability to lead and win, the right person to lead Carolina to a Super Bowl.
"He's 24 years old and let's see what happens the rest of the year, but I don't think there's any doubt this guy can certainly do it," Carolina's all-time leading passer said.
"He is talented and he throws the ball plenty good enough, and his legs are dangerous. That's what makes him so scary. ... Guys don't want to hit him. He's a freak of nature."
Newton wasn't spectacular with his legs on Sunday, but showed a sample of what Delhomme meant on an 8-yard touchdown run that made it 24-10 with nine minutes remaining.
What was most impressive was Newton didn't have to be clicking off completions at a 77.3 rate as he had the past three games for Carolina to win. In many ways, this was one of Carolina's most complete games because there were no stars.
"It's a team, man,'' Stewart said when asked about Newton's subpar performance. "It's not on Cam."
It's not a team that has arrived by any means. None of Carolina's five victims has a winning record. Atlanta (2-6) is a shell of the team that won the NFC South a year ago.
But, as Delhomme said, Carolina is a dangerous team. It is a team that will draw national attention this week when it travels West to face the
San Francisco 49ers
in what could be the marquee game of the NFC.
"Jake knows," Gross said. "He's been on some really good football teams. He said there's a good vibe to this team. You can't fabricate that. You can't draft that.
"It comes with success."
For the moment, the Panthers can't get enough of that.
November, 3, 2013
11/03/13
5:40
PM ET
CHARLOTTE, N.C. -- Observed in the locker room after the
Carolina Panthers
' 34-10
victory
over the
Atlanta Falcons
:
High-fives:
There must have been a season high for high-fives, from players high-fiving teammates to players high-fiving kids of teammates to players high-fiving managers to ... well, you get the picture.
Stewart
He's back:
Running back
Jonathan Stewart
doesn't particularly like doing interviews, but after leading the team in rushing with 43 yards in his first game since last November you barely could find him under the sea of television cameras and reporters.
The bling:
Cornerback
Captain Munnerlyn
had to put on a chain that would have made Mr. T proud before talking to reporters on camera. "If I don't," Munnerlyn said, "my son will kill me."
Chandler in spotlight:
It's a safe bet that swing tackle
Nate Chandler
hasn't done postgame interviews this season -- maybe ever. But after replacing injured right guards
Chris Scott
(sprained knee) and
Jeff Byers
(foot), who went down within a few plays of each other, he played the rest of the game and did quite well.
Quiet Smith:
Wide receiver
Steve Smith
, often outspoken, decided not to talk to reporters after this one. And he was approached several times. "No means no," he said.
November, 3, 2013
11/03/13
3:57
PM ET
CHARLOTTE, N.C. -- A few thoughts on the
Carolina Panthers
' 34-10
victory
over the
Atlanta Falcons
:

What it means:
The Panthers keep talking about being relevant. Winning four straight and five of their past six games has made them that. This wasn't as pretty as the others, but the end result was just as decisive. They beat a team that was down and took advantage of mistakes. That's what you have to do in the NFL to be relevant. Their five wins have come by the average score of 33.6-9.6. Now comes the toughest test of the season, a game at San Francisco.
Stock watch:
You knew quarterback
Cam Newton
couldn't keep up his unbelievable three-game pace of completing 77.3 percent of his passes and compiling a passer rating of just over 130. He wasn't close with a rating of 68.4, throwing two first-half interceptions and missing receivers high all day to take away big plays. But he made some big plays in the second half with his legs, rushing three times for 22 yards, including an 8-yard touchdown run with nine minutes left to seal this one.
Stock watch II:
Wide receiver
Brandon LaFell
had arguably the best game of his career, catching a season-best seven passes for 74 yards. Many were tough catches, too. He was a bit lucky as well, recovering his own fumble at the Atlanta 8 to set up a fourth-quarter touchdown.
Stewart debut:
Jonathan Stewart
's first carry since last November wasn't anything to write home about. The team's second all-time leading rusher, activated on Saturday from the PUP list after missing seven games with an ankle injury, was thrown for a 2-yard loss. His last play, a 16-yard carry around the left side, was. He finished with a team-best 43 yards on nine carries. He also contributed 22 yards receiving on three catches. He had quality touches like the Panthers wanted.
Riverboat Rivera:
This is starting to become a weekly staple here. Coach Ron Rivera gambled on fourth-and-1 for the seventh time since Week 2. It's really not a gamble anymore. The Panthers converted for the fifth time, this one for a 14-yard touchdown from Cam Newton to tight end
Greg Olsen
in the first half. The five conversions, according to ESPN statistics, were tied for the most in the league to that point.
What's next?
The Panthers travel to San Francisco to play the 49ers next Sunday at 4 p.m. ET.
November, 3, 2013
11/03/13
2:34
PM ET
CHARLOTTE, N.C. -- First-half observations as
Carolina Panthers
lead the
Atlanta Falcons
,
14-10
:

Flag football:
The Panthers got a couple of breaks thanks to Atlanta penalties. The first was a pass interference in the first quarter that set up
Mike Tolbert
's 4-yard touchdown run for Carolina. The second was a holding early in the second quarter that took away a 2-yard touchdown run by Atlanta running back
Steven Jackson
.
Riverboat Rivera:
Coach Ron Rivera continued to be aggressive on fourth-down calls. He went for it for the seventh time since not going for it at the end of the Buffalo game in Week 2, a play he said philosophically changed his thought process. Once again he was rewarded. Quarterback
Cam Newton
rolled to his right and found tight end
Greg Olsen
wide open for a 14-yard touchdown, the fifth successful play during this streak.
Halftime adjustment needed:
The Panthers triple-teamed tight end
Tony Gonzalez
early and came away with an interception by middle linebacker
Luke Kuechly
. Then it was almost like they forgot to cover the future Hall of Famer. He caught five passes for 77 yards, including a 17-yard touchdown with 1:55 left to let Atlanta get back in this one.