Carolina Panthers:

2014 NFL Combine
February, 24, 2014
Feb 24
8:00
AM ET
Remember on Friday when I wrote the
Carolina Panthers
should
consider drafting a backup quarterback
for
Cam Newton
? They are at least talking to prospects at the NFL combine.
Clemson's
Tajh Boyd
told reporters in Indianapolis the Panthers were one of about 20 teams he'd talked to.
He also told them he wasn't satisfied with the backup label he's been given.
History tells us that can change quickly. Seattle selected
Russell Wilson
in the third round of the 2012 draft as a backup to starter
Tarvaris Jackson
and
Matt Flynn
. He quickly became the starter and has since won a Super Bowl and been selected to two Pro Bowls.
This is not to suggest if the Panthers drafted Boyd he could beat out Newton. Carolina, which considered drafting Wilson as Newton's backup, has made it clear the first pick of the 2011 draft is their franchise quarterback.
But a player such as Boyd would be a good fit behind Newton in terms of his running ability. And as I said on Friday, Newton is one of only nine quarterbacks that has started every game since 2011, so having a quality backup with similar styles could be beneficial if he gets hurt.
The question is whether a player such as Boyd will fall to the latter rounds as ESPN draft analyst Mel Kiper has predicted. Boyd's career statistics definitely are worthy of a higher pick.
And he doesn't lack for confidence.
"I'm confident in my abilities. Game tape doesn't lie," Boyd said at the combine. "You can refer to the Senior Bowl [7-for-16, 31 yards, INT] if you want, but that doesn't take the place of three years''
In three years, Boyd was 32-8 at Clemson.
"Ultimately, man, I just feel like I win games,'' Boyd said.
. . . While we're on the subject of quarterbacks, Texas A&M's
Johnny Manziel
has sought out Newton for advice.
"Being another Heisman Trophy winner I got a chance to really reach out to him probably in the spring, this summer, sometime through there,'' he told reporters in Indianapolis. "I probably had a two-hour conversation just getting to talk about everything, just about the people he has around him, what has made him so successful.
"Very eager to listen to him. Very fun-loving, fun-natured guy. I'm really thankful to be able to pick up the phone and call him if I ever did need anything.'
February, 21, 2014
Feb 21
6:05
PM ET
Wide receiver
Steve Smith
spent the week before the
Carolina Panthers
played the
San Francisco 49ers
in a January NFC playoff game making up random percentages on whether his knee injury would allow him to play.
It did.
Smith
Now there's a mystery as to whether the team's all-time leading receiver will play again.
On consecutive days at the NFL scouting combine in Indianapolis, general manager Dave Gettleman and head coach Ron Rivera were vague on whether Smith would be back for his 14th season.
It apparently has nothing to do with the injury, which was minor. It apparently has everything to do with either money or whether Smith wants to play another two or three seasons to finish in the top 10 in the league in all-time receptions and receiving yards.
"Steve's had a great career. None of us are here forever," Gettleman told reporters in Indianapolis on Thursday. "He's part of the evaluation."
Asked about Smith's future on Friday, Rivera said, "I'm not quite sure."
"We're going through the process," he added. "We've got to see. He's a veteran guy that has played a lot of games for us. We'll see. I'm at the point where we're sitting here talking about something we don't know anything about."
Asked if he foresaw a scenario in which Smith wouldn't return, Rivera was equally vague, saying the organization would sit down next week after the combine and evaluate where it is headed.
Smith was emphatic during Carolina's playoff run that his goal was to play until he had 1,000 receptions and "close to" 14,000 receiving yards, which would put him in the top 10 all-time in both categories.
Smith had 64 catches for 745 yards this past season to run his career totals to 836 and 12,197.
A third-round pick out of Utah in 2001, Smith will turn 35 in May. He has three years left on his contract, carrying a cap number of $7 million for 2014.
The team has between June 1 and June 30 to exercise a 2016 option that carries a $1.5 million bonus. Also to be considered, Carolina will have to execute a $3 million non-exercise fee if Smith is on the roster on July 1 and does not pick up the option year.
Regardless of what happens with Smith, Rivera acknowledged the Panthers will be looking for a "dynamic" receiver in either the draft or free agency.
The draft is at least two rounds deep of quality receivers, which means Carolina could get a potential replacement or future replacement for Smith with the 28th pick or in the second round.
The Panthers also potentially could target free agents such as
Hakeem Nicks
or
Nate Burleson
should Smith retire. If that happened, they may also draft a quality second receiver.
Brandon LaFell
,
Ted Ginn
Jr. and
Domenik Hixon
, Carolina's No. 2, 3 and 4 receivers from 2013, all are free agents. Of the three, Ginn is the most valuable because he is a deep threat and one of the league's top kick returners.
LaFell has yet to step up as a consistent No. 2 receiver.
Asked what he would be looking for receiver-wise in the draft, Rivera said, "We're going to look for a guy that is very dynamic that can come in and contribute right away."
The Panthers will need that regardless of whether Smith returns or not. If it makes sense financially for Smith to return, his experience in teaching a young receiver would be invaluable.
As for now, it appears that's all up in the air.
"Steve's part of who we are," Rivera said. "We'll go from there."
February, 21, 2014
Feb 21
10:00
AM ET
Carolina Panthers
quarterback
Cam Newton
has started all 49 games of his NFL career. He's missed only a couple of snaps due to injury, and the few other times he's given way to backup
Derek Anderson
were at the end of runaway wins.
Anderson has thrown only four passes the past three seasons -- none this past season.
This is not the norm. Only eight other quarterbacks have started every game since 2011.
In other words, the Panthers have been lucky.
Not to project any bad luck on Newton, but eventually you have to figure "Superman" will get injured for at least a game or two in the next couple of seasons.
I say this because it may be time for Carolina to draft a quarterback to groom behind Newton, something it hasn't done since the former Auburn star was taken with the first pick in 2011.
Since 2006, the Panthers have drafted only two other quarterbacks --
Jimmy Clausen
in the second round and
Tony Pike
in the sixth round in 2010 -- and neither is on the roster now.
They considered drafting
Russell Wilson
as Newton's backup in 2012, but he went to the
Seattle Seahawks
in the third round before Carolina was willing to pull the trigger.
That turned out well for Wilson and Seattle.
Nothing against eight-year veteran Anderson, who is a free agent, but maybe the Panthers should spend a little time at the NFL combine evaluating some of the quarterbacks expected to go in the later rounds of this year's draft.
There aren't many who will match Newton physically (6-foot-5, 245 pounds), but there are some who pose more of a running threat than Anderson.
Not that it's essential that the backup have the same skills as the starter.
Nick Foles
certainly can't run like
Michael Vick
, but his 27 touchdown passes and league-best 119.2 rating as Vick's replacement were good enough to earn a trip to the Pro Bowl.
At the same time, having a backup who can do many of the same things as the starter could be a plus because it would require little adjustment to the offense. That's why Wilson was under consideration.
I'm not suggesting the Panthers shouldn't re-sign Anderson, either. It's hard to replace experience, particularly at a key position if the starter goes down.
But there are several quarterbacks with Newton-like skills who may be had in the late rounds. Clemson's
Tajh Boyd
(6-2, 220 pounds) has been projected by ESPN draft analyst Mel Kiper Jr. as being available in the fifth round.
His final game in the Orange Bowl definitely was Newton-like. He passed for 378 yards and five touchdowns and rushed for 127 yards and a touchdown.
That game alone may get Boyd drafted higher than the Panthers are willing to use a pick on.
But there are others who may be available, from Virginia Tech's
Logan Thomas
to South Carolina's
Connor Shaw
.
General manager Dave Gettleman comes from a
New York Giants
organization that often kept only two quarterbacks, and the Panthers kept only two this past season.
But after three years of defying the odds with Newton, it may be time to draft a backup who could at least be placed on the practice squad.
February, 19, 2014
Feb 19
12:00
PM ET
Carolina Panthers
general manager Dave Gettleman needed less than 90 seconds to select defensive tackle
Star Lotulelei
with the 14th pick of the 2013 draft.
Probably half of that time was spent in stunned amazement that the 6-foot-2, 315-pound giant he had rated near the top of his draft board still was available at a position the team considered a top priority.
Don't expect it to be that easy this year.
The Panthers head to the NFL scouting combine that begins Wednesday in Indianapolis with three huge needs -- wide receiver, offensive tackle and cornerback. It's more unlikely that a star such as Lotulelei will fall to them this year since their first pick isn't until No. 28 after a 12-4 season.
[+] Enlarge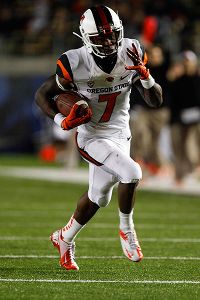 Kelley L Cox/USA TODAY SportsThe Panthers need to add a playmaker like Brandin Cooks who has the potential to eventually replace Steve Smith.
They'll have to be even more thorough with their homework at the combine and individual workouts to find players to fill major gaps.
And they were pretty thorough last season, making sure the heart condition that forced Lotulelei to pull out of last year's combine was not serious.
They may need to find the next
Greg Hardy
, a sixth-round pick in 2010 who developed into the team's sack leader (15) and a Pro Bowl selection this past season -- and into a player who could be lost to free agency if Carolina can't reach a new deal or use the franchise tag on him.
The good news is Gettleman & Co. appear pretty good at evaluating talent. Three of their first four picks -- Lotulelei, defensive tackle
Kawann Short
(second) and outside linebacker
A.J. Klein
(fifth) -- were huge successes as rookies.
Sixth-rounder
Kenjon Barner
never got to show what he could do because of a logjam at running back and fourth-round pick
Edmund Kugbila
spent the year on injured reserve.
"Of the three guys we got on the field, we're real pleased with,'' Gettleman said in his season review.
Which brings us to the combine, where the Panthers will be looking for players who can make similar contributions. Here's a closer look at their top three needs and why:
Wide receiver:
This is where many of the draft analysts have the Panthers focused, and with good reason. No. 1 receiver
Steve Smith
is heading into his 14th season and wideouts Nos. 2, 3 and 4 are unsigned in
Brandon LaFell
,
Ted Ginn Jr
. and
Domenik Hixon
. In all likelihood, the Panthers will re-sign one or two of their free agents. Ginn makes the most sense because he's a proven threat as a return specialist as well as a deep threat. But the Panthers need a solid No. 2 receiver who could develop into a No. 1 when Smith retires. LaFell hasn't done that. This is one of the deepest receiver classes in years, so this an attractive spot regardless of whether it's the first or second round.
Possible at No. 28
: Oregon State's
Brandin Cooks
, Florida State's
Kelvin Benjamin
, LSU's
Jarvis Landry
, UCLA's
Shaq Evans
.
Offensive tackle:
Gettleman loves to talk about the "hog mollies," his term for the men in the trenches. He also loves drafting them, as we saw last season when the Panthers went one-two with defensive tackles. He believes in building a team from the inside out, which is why I believe this is where the Panthers will go in the first round if the right player is there. Left tackle
Jordan Gross
is either going to return for his 12th season or retire. Either way, he's not getting younger and the Panthers need to find a future replacement for him. Ideally, they could find a starter at left tackle in the draft and move Gross to right tackle. Or groom a draft pick at right tackle as they did Gross for a year in 2003. The chances of finding a starter here is much greater in the first round.
Possible at No. 28:
Virginia's
Morgan Moses
, Tennessee's
Antonio Richardson
, Ohio State's
Jack Mewhort
.
Cornerback:
As I noted after the Super Bowl, the biggest difference between Carolina and Seattle was the secondary. The Seahawks simply were bigger and better. Carolina must upgrade this position even if it re-signs starter
Captain Munnerlyn
. While I believe this is third among priorities for a first-round pick, if one of the top three corners (
Justin Gilbert
,
Darqueze Dennard
and
Lamarcus Joyner
, according to Scouts Inc.) were to fall to 28 he would have to get serious consideration. It's definitely a position that should get attention in the top three rounds -- and at the combine.
Possible at No. 28:
Florida's
Marcus Roberson
, Virginia Tech's
Kyle Fuller
, Nebraska's Stanley Jean-Baptiste.
Other needs:
Don't be surprised to see Carolina go after a tight end to give quarterback
Cam Newton
another option there after
Greg Olsen
, a linebacker and a backup quarterback in the late rounds. Clemson quarterback
Tajh Boyd
could be an intriguing pick if he falls to the fifth round as ESPN draft analyst Mel Kiper has projected. He has many of the same qualities Newton has as a running quarterback and could learn a lot from Newton as he makes the transition into the NFL. Tight end actually was under consideration last year when Lotulelei became available.