Carolina Panthers:

Brandon LaFell
December, 4, 2013
Dec 4
7:07
PM ET
CHARLOTTE, N.C. --
Carolina Panthers
quarterback
Cam Newton
should be a defensive back the way he's gotten so good at deflecting attention when it's thrown at him.
It happened again on Wednesday when he was asked about finally getting to play in big games such as the one coming Sunday night at New Orleans for first place in the NFC South.
"Your question is great, but your question is trying to make it a 'me' thing,'' said Newton, whose suffered through 6-10 and 7-9 records his first two NFL seasons. "We all wanted this.''
Newton is a big reason the Panthers (9-3) have won a franchise-record eight straight games and are in the position of playing a big game at New Orleans (9-3).
[+] Enlarge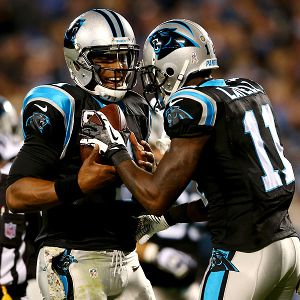 Streeter Lecka/Getty Images"At the end of last year, he started trusting us more as receivers," Brandon LaFell said of Cam Newton.
But he's not the only reason.
More importantly, he knows he's not.
Newton has developed a trust in his receivers, running backs, coaches -- in his entire offense -- that wasn't always there during his first two seasons. Wide receiver
Brandon LaFell
calls it trust, and says that's why the first pick of the 2011 NFL draft finally is living up to expectations.
"It started at the end of last year, when he started to trust everybody more,'' LaFell said. "When you've got the type of talent Cam has got, you can really take over a game at any second. You can't blame him for having that type of talent. God gave him that.
"At the end of last year, he started trusting us more as receivers, putting the ball up and letting us go make plays, and getting the ball in our hands quicker and let us run after the catch more.''
The Panthers won their final four games last season. After a 1-3 start this year, they have put together a league-best winning streak that has Newton coming up in MVP conversations and the Panthers in Super Bowl conversations.
Newton will tell you he's always had trust in his teammates. He'll also go out of his way to compliment those around him more, from receivers to offensive linemen who make some of his spectacular scrambles possible.
"With me realizing that, it just makes everything go smoother,'' he said, the key word being "realizing." "This is not a facade. This is not a fake. This is not something somebody is prepping me to say to deflect all the credit off yourself, because it's true. If I wasn't being honest with you guys, I wouldn't have the integrity go back in that locker room and look at those guys in the eyes.''
He can. And they look back at him with trust in their eyes.
Coach Ron Rivera understands. He studied Newton as much as anybody coming off the Heisman Trophy winner's 14-0 season at Auburn in 2010, in which the quarterback at times single-handedly carried the team. He watched Newton do amazing things during his first two seasons in the NFL.
"When he burst onto the scene, he was making plays because of his abilities more so than knowing what he was really truly doing,'' Rivera said. "Now he knows it, he feels it, he has confidence in himself and his teammates.''
It's trust. When asked about Newton feeling less pressure to make all the plays, Rivera quickly interjected, "I know where you're going.''
And he agreed.
"It's interesting,'' Rivera said. "When we were scouting Cam going way back when ... several of the SEC coaches that I talked to all said the same thing ... [that] without him, that was a 7-7 Auburn team. I just listened to what they had to say and why they said that, and it was pretty impressive.
"So as we went through this the last season and a half with him, you kind of got that sense that he was trying to do a lot and put a lot on his shoulders and tried to handle it all by himself. Brandon is right, he's learned to trust his teammates, the guys around him, and not feel pressed to do everything.''
Newton also has a better understanding of the offense and what coordinator Mike Shula is trying to accomplish. He and Shula drew up the play that turned into a 16-yard touchdown pass to LaFell in the first half of Sunday's 27-6 victory against Tampa Bay the night before. And the week before against Miami, Newton audibled out of a called quarterback keeper for a play that turned into a touchdown.
You don't hear Newton taking credit for it, though. He deflects the attention to everyone else.
"Maybe I just have the blinders on, like one of those horses downtown that goes around [pulling carriages with couples],'' he said. "I'm just trying to stay focused. Even though we're having a great season, it can be better. I don't want to take the credit for things I'm not doing, because it's just not No. 1 out there on the field.''
December, 3, 2013
Dec 3
3:30
PM ET
CHARLOTTE, N.C. -- If you want a great example of what makes
Carolina Panthers
wide receiver
Steve Smith
special, check out quarterback
Cam Newton
's 56-yard run in the first quarter of Sunday's 27-6 victory over Tampa Bay.
Newton was ready to settle for a first down around his own 40-yard line. You can see him lower his shoulder for a brief second for one of his patented head-first dives and a modest 10- or 11-yard gain.
Then he saw Smith, sealing off cornerback
Darrelle Revis
about five yards in from the left sideline. He quickly maneuvered around the block, which ultimately took out safety
Mark Barron
and impeded the progress of defensive tackle
Gerald McCoy
.
A short gain suddenly became a season-best 56-yarder.
Newton might have gone all the way had he not been tripped -- yes, upon further review and much to the chagrin of offensive coordinator Mike Shula in the ribbing department, he was tripped -- by
Dashon Goldson
.
This is why the Panthers (9-3) should expect to be successful offensively in Sunday night's NFC showdown against the
New Orleans Saints
(9-3) at the Louisiana Superdome.
If you watched Seattle's 34-7 dismantling of the Saints on Monday night, if you saw the way quarterback
Russell Wilson
gashed New Orleans for 47 yards on eight carries, you can imagine Newton doing the same thing.
The potential is there not simply because Newton can and likes to run. It is there because he has Smith,
Brandon LaFell
,
Ted Ginn
Jr. and
Domenik Hixon
, who block as well or better than any group of receivers in the league.
"We're trying to call his runs very judiciously,'' coach Ron Rivera said. "We're trying to put him in a situation where we can minimize the contact he has to make.
"But I will say this, one thing you do notice is all of our receivers blocking downfield. [They] have all put themselves in position where they're cutting people off, getting in the way of people and flat out knocking them down.''
That minimizes the contact Newton takes. It also allows him to turn little plays into big ones.
Making receivers buy into becoming blockers -- at least efficient ones -- isn't easy. Shula believes his group has because Newton's long runs keep drives alive and create more opportunities for them to catch passes.
Rivera says having a quarterback of Newton's ability makes it an easier sell because receivers know their block not only could turn into a first down, but a touchdown.
"Some guys don't want to put themselves at risk,'' Rivera said. "You know, 'Oh, the ball is going to run away from me so I'm not going to block on this play.'
"What you want is for them to do it consistently every time there is a run play called so that they're in a position to block or cut somebody off.''
Because they never know when Newton will tuck the ball and run, the receivers constantly are looking for opportunities to block. They're one of the reasons Newton has led the team in rushing the past three games and in four of the last six.
After watching the way Wilson consistently got outside of the New Orleans containment to make plays with his legs and arm is even more motivation. If Newton can do the same that should open up the rest of the offense as it did for Wilson, who also threw for 310 yards and three touchdowns.
"Over the last few weeks, what's unfolded has just been the unselfishness of our whole team in my opinion,'' Shula said. "But speaking of our offense, [wide receivers blocking is ] one example.'
November, 24, 2013
Nov 24
2:43
PM ET
MIAMI -- A look at the first half between the
Carolina Panthers
and
Miami Dolphins
:


Miami looked like the team on a six-game winning streak and Carolina the team facing a week's worth of distractions as it went into halftime with
a 16-6 lead
.
The Panthers were sluggish on offense and the secondary looked more like the one that began the season with a lot of questions marks instead of the one ranked fifth against the pass.
Here's how it unfolded:
•
Bad omen I:
First the Panthers failed to turn an interception into a touchdown on the game's first series. Then
Graham Gano
had a 50-yard field goal attempt blocked, the first this season and first for the Panthers since last season against Washington.
•
Bad omen II:
Quarterback
Cam Newton
was hit hard on Carolina's first play and was slow getting up, appearing to spit out blood. He was hit hard more times than the Panthers probably care to have in the first quarter.
•
Bad omen II:
Carolina's secondary, that has played exceptionally well the past two months, was beaten for a 21-yard completion and 53-yard touchdown pass during a three-play stretch midway through the first quarter. Cornerback
Melvin White
, who struggled against the Patriots, was beaten on the first. Corner
Captain Munnerlyn
was beaten badly by
Mike Wallace
on the second.
•
Bad omen III:
Newton was given a yard and first down on the last play of the first quarter. Miami challenged and it was ruled Newton's knee was down short of the first down.
•
Bad omen IV:
The Panthers challenged a 57-yard reception by Wallace, again against Munnerlyn, and lost. The Dolphins turned that into a 32-yard field goal and a 10-3 lead.
•
Bad omen V:
Newton threw an interception with just over two minutes left in the first half, setting up Miami for another field goal and a 16-3 lead.
•
Good omen I:
Newton dropped the snap on the next-to-last play of the first half, picked it up and found
Brandon LaFell
for a 29-yard gain that set up Gano's 46-yard field goal to end the first half.
November, 20, 2013
Nov 20
4:46
PM ET
CHARLOTTE, N.C. --
Carolina Panthers
wide receiver
Brandon LaFell
stopped the line of questioning before it began when it turned to Monday night's 24-20 victory against the
New England Patriots
.
"I wish I could talk about Monday night," LaFell said on Wednesday. "The coach just told us we can't talk about the game no more."

That would be coach Ron Rivera, who is working harder than ever to make sure the focus remains on what the Panthers have directly in front of them and not what already has happened.
Or what will happen in another month if Carolina reaches the playoffs.
Whether it's how well LaFell and the receivers played or what players thought about the controversial no-call on the final play, Rivera doesn't want them discussing it.
"No," he said. "It's over. ... If you lose focus of what's the next biggest game, and you go out and screw it up and lose, what you did those previous weeks no longer matters. We have to enjoy it for the amount of time we're allowed, and when we come in to start focusing on Miami, now it's time.
"Now everything we talk about, everything we want to do, is all about Miami. We don't want to get ahead of ourselves and we don't want to look back."
You can't blame Rivera. Carolina has won six straight and seven of its last eight games with that philosophy. No need to change.
As Rivera sees it, any time spent on the New England game is time that could be spent on the Dolphins.
"That's the way it is,'' Rivera said. "If they look at it any other way, and that's the reason why, then I didn't do a good enough job. So I'm not going to allow it.
"When we were in that team meeting room I told them, 'Get past it. People want to talk about what happened Monday night, it ain't going to change. Talk all you want, it's not going to change.'"
October, 22, 2013
Oct 22
5:20
PM ET
CHARLOTTE, N.C. -- At the end of an explanation of why quarterback
Cam Newton
has been so unbelievably consistent the past two games,
Carolina Panthers
coach Ron Rivera had this to say: "I really do think he has a better feel for what we're trying to do and just the fact that he has a lot of weapons that he can use."
[+] Enlarge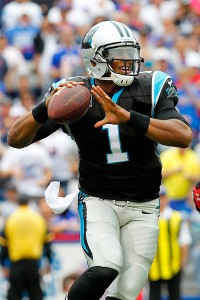 Timothy T. Ludwig/USA TODAY SportsCam Newton has a chance to climb above .500 for the first time in his career if his Panthers handle business Thursday against the Bucs.
The weapons portion is intriguing, considering much has been made over Newton's lack of weapons since training camp. So I dug through the statistics. Here's what I discovered:
In the season's first two games, Newton completed 62.1 percent of his passes to wide receiver Steve Smith and tight end Greg Olsen, which were known weapons. He completed only 21 percent to wide receivers Brandon LaFell and Ted Ginn Jr.

In the last four games, Newton has completed 45 percent of his passes to Smith and Olsen. LaFell and Ginn have increased their production to 35 percent.
The numbers indicate Newton has become more comfortable with the talent around him. He's taking time to get through his second and third reads because he realizes he has more weapons and now trusts them.
It's a big reason the Panthers (3-3) have won two straight and have a chance Thursday to get their record above .500 for the first time since 2008 at Tampa Bay (0-6).
"He's very comfortable in the system," Olsen said. "I don't think he's just throwing to one particular guy anymore based on the pre-set. He's letting the play kind of unfold the way it's designed and goes bang, bang, bang ... and it takes him to the right guy more times than not.
"That's when you're playing quarterback at a high level."
It shows.
Newton's passer rating the past two games -- 136.3 and 143.4 -- makes him the only quarterback in the NFL this season to go consecutive weeks with a rating of 136 or better.
The first pick of the 2011 draft is doing a better job of taking what the defense gives him than at any point in his brief career, and this from a player who passed for more yards in his first two seasons than any quarterback in NFL history.
His completion rate of 88.2 in Sunday's 30-15 victory over the
St. Louis Rams
was the best in team history, surpassing
Jake Delhomme
's 85.2 rate in a 2006 game. And one of Newton's two incompletions was a drop by Smith, his favorite target.
Smith told the NFL Network that Newton has gone from playing "checkers to chess," meaning he's thinking more and trusting his teammates more.
"It's not me," Newton insisted when told of the analogy. "It's the offense. We're playing more confident. We're doing the little things right."
He's right. Running back
DeAngelo Williams
spends so much time after practice working on catching that he's dubbed himself "Mr. Jugs Machine." Others are spending more time studying film and fine-tuning areas that they've overlooked.
But it all starts with Newton, who also is doing more of the little things in terms of film study and throwing.
Again, it shows.
"He's playing at a higher level," Tampa Bay coach Greg Schiano said. "He's still dangerous, yet he's playing smarter football. He's not turning the ball over, protecting the football, and they're making fewer mistakes than they did last year."
After Week 2, Newton's passer rating was 86.4, good for No. 20 in the NFL. It's now 95.0 and No. 10. He's particularly effective on third down with a rating of 114.3 that ranks second in the NFL to
Peyton Manning
at 125.7.
Ironically, much of Newton's improvement came after an 0-2 start when Rivera said too much pressure was being placed on his franchise quarterback.
"It's not nothing as far as confidence or the difference of plays," Newton said. "Guys are just stepping up. Whether you want to put the burden on me to say I've been feeding guys more, I would just rather say everybody has been accountable.
"If their number is called, they've been making plays."
No. 1 has made more than his share of plays, and it's a big reason Newton has a chance to be above .500 for the first time in his NFL career.
"Being 1-0 on Thursday will be great," said Newton, maintaining his team approach. "For us it's not about individual success, and I know everyone is trying to make it that. But there's a lot of people that could [not] care less about myself, including myself right now."
That shows as well.
October, 17, 2013
Oct 17
8:00
AM ET
CHARLOTTE, N.C. -- This may surprise you.
Carolina Panthers
running back
DeAngelo Williams
is a threat as a receiver. He's no
Darren Sproles
, but he caught all five of the passes thrown to him in Sunday's 35-10 victory at Minnesota for 53 yards.
Williams
He already has 11 catches for 94 yards, which in five games is two shy of what he had in 2012 and five shy of what he had in 2011. He's on pace to break his rookie mark of 33 catches.
"Something that went unnoticed in this game was the unbelievable play by DeAngelo," quarterback
Cam Newton
said of the team's leading rusher (394 yards). "Even though he didn't have 100 yards rushing, his execution or his performance in the pass game was excellent. He was catching passes that weren't accurate at all in my book.
"But ... he made catches to put us in second-and-4, second-and-6. That can obviously go unnoticed as a fan watching the game. If he continues to play like that, we'll be all right."
This won't surprise you: Williams, playfully one of the more outspoken players on the team, lets his coaches know he can catch.
"He understands he can be a weapon out of the backfield," said coach Ron Rivera, noting Williams has spent extra time after practice working on his receiving. "The one thing [he] wants you to know is he's now a receiving threat."
This may surprise you: While
Ted Ginn Jr.
and
Steve Smith
had huge blocks in the victory over Minnesota, the consensus is
Brandon LaFell
remains the best blocking wide receiver on the team.
He just hasn't made one that stood out like those by Ginn and Smith. Ginn knocked Minnesota cornerback
Xavier Rhodes
off his feet to free LaFell for a 79-yard touchdown in the third quarter. Smith took on a Vikings linebacker in the fourth quarter that also made the team highlight reel.
This won't surprise you: Rivera, when asked which block was more impressive, said, "You have to go with Ginn's just because it led to a touchdown. Smitty's was a little more physical because it was on a linebacker.''
Rivera is a former linebacker.
But overall, game to game, LaFell gets Rivera's vote.
"He's become an integral part of our run game,'' he said.
This may surprise you: Quarterback Cam Newton is on pace for a career low in rushing. At his current average of 30.6 yards a game, he'll finish with 489.6 yards. He had 741 yards last season and 706 as a rookie.
This may also surprise you: "How can I put this?'' Newton said with a laugh. "I could care less as far as career lows. My sole focus right now is trying to become 3-3 come Sunday."
October, 6, 2013
Oct 6
8:34
PM ET
CHARLOTTE, N.C. -- Observed in the locker room after the
Carolina Panthers
'
22-6 loss
to the
Arizona Cardinals
.
Smith
It's my fault:
Wide receiver
Steve Smith
doesn't usually drop touchdown passes or avoid answering questions after losses. He did both on Sunday. "Blame the loss on me," he said without answering questions. "I'm the scapegoat. It's all I got."
Life Savers moment:
Center
Ryan Kalil
had his arm around the shoulders of guard
Amini Silatolu
, whose right leg was wrapped and in a brace after a second-half injury that the Panthers are hoping isn't as serious as it appears.
Iceman cometh:
It looked worse than it is. Bandages were wrapped around wide receiver
Brandon LaFell
's upper torso to support a huge bag of ice on his back. He was hurting worse from a dropped first-down pass inside the Arizona 15. "It's bad, man," he said.
Lot going on:
Quarterback
Cam Newton
has a reputation for being a flashy dresser, but there was a lot to digest in travel attire that included a blue plaid jacket, blue sweater, red plaid shirt and red tie. It was kind of like his game that included three interceptions, a fumble and two tackles.
September, 23, 2013
Sep 23
12:30
PM ET
An examination of five hot issues from the
Carolina Panthers
' 38-0 victory over the
New York Giants
:
[+] Enlarge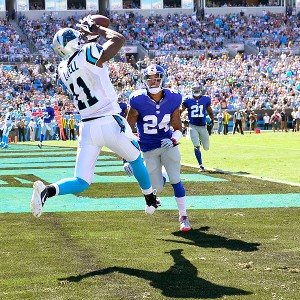 Bob Donnan/USA TODAY SportsComing in with just four catches on the season, Panthers wide receiver Brandon LaFell was a playmaker against the Giants with two touchdown grabs.
Playmakers make plays:
That was the mantra by coach Ron Rivera after the last-second loss to Buffalo. It apparently took. Defensive end
Greg Hardy
had three sacks after getting none in the first two games and the front four collected six of the team's seven sacks. The much-maligned secondary allowed a completion percentage of 52 percent after giving up 72.2 percent to Seattle and Buffalo. Quarterback
Cam Newton
rushed for a touchdown and threw for three. Wide receiver
Brandon LaFell
had two TD catches after coming in with four catches. You get the picture.
Fourth-and-what?
Rivera took a lot of grief last week for not gambling on fourth-and-1 from the Buffalo 21 with 1:42 remaining and a three-point lead. So when the Panthers went for it on fourth-and-1 from the New York 2 with 2:38 left in the first quarter of a 0-0 game, the fans cheered. What they didn't know was Rivera initially kept the offense on the field because he thought Carolina got the first down on the play before. But since the offense already was there and the defense was playing well, Rivera decided "we're going for it anyway." The Panthers not only got the first down, they got the touchdown. They also went for it on fourth-and-8 from the New York 31 with 4:02 remaining. They ran up the middle for a yard. It wasn't a gamble. It was a mercy play.
Inside the Chase:
For two weeks, linebacker
Chase Blackburn
wondered when he would get on the field for a defensive snap. It finally happened against his former team. Blackburn played 17 snaps, or 33 percent of the plays. That was good news for
Jon Beason
, who has been struggling coming off knee surgery. He played only one snap a week after playing 31. The Panthers also took advantage of Blackburn's knowledge of the Giants. "When you have a guy who knows the other team and you sit there and you listen to him when he is watching tape, before the play even happens he calls the play," Rivera said.
Don't forget DeAngelo:
Amidst Newton's four touchdowns and a stifling defense, Carolina running back
DeAngelo Williams
rushed for a season-high 120 yards on 23 carries. He's averaging 97 yards rushing in three games, which puts him on pace for 1,552 yards. The good news is he may not have to carry the load much longer. Rivera says
Jonathan Stewart
is on schedule to return from the PUP list after two more games. "Double Trouble" could be back.
Out of deep trouble:
Newton was 3-for-12 on passes of 15 yards or more before Sunday. After starting 0-for-5 against the Giants he completed his last five passes of that length for three touchdowns. Two went to LaFell, who has been criticized for not being more of a go-to guy as the No. 2 receiver. "It's great because it gets people to stop coming down on him, saying he's not doing his job," said
Steve Smith
, the No. 1 receiver.
September, 22, 2013
Sep 22
8:05
PM ET
CHARLOTTE, N.C. -- This has been a week of statements for
Carolina Panthers
quarterback
Cam Newton
.
On Wednesday, he opened his weekly press availability by announcing he wanted to make a statement, something he's never done. He said how great practice was and that he expected the preparation to lead to a great performance.
[+] Enlarge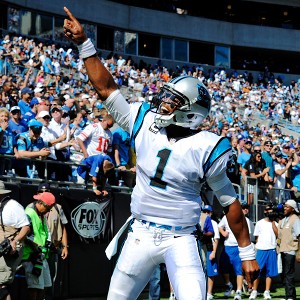 AP Photo/Mike McCarnCam Newton proved himself right Sunday, throwing for three touchdowns, rushing for another and leading the Panthers to a big win.
On Sunday, in a 38-0 dismantling of the
New York Giants
, Newton's legs and arm made a statement.
A loud one.
Newton completed 15 of 27 passes for 223 yards and three touchdowns, capped by a perfect 47-yard strike to
Ted Ginn Jr.
early in the fourth quarter. He also rushed seven times for 45 yards and a touchdown.
Newton has had better days statistically. But with so much on the line, from the risk of being forgotten in an 0-3 start to the future of coach Ron Rivera, none was more clutch.
"His pocket presence, his calling ... we ran some checks depending on where the safeties were ... he was just good with everything,'' left tackle
Jordan Gross
said. "When he's hot, we're hot.''
Much had to do with offensive coordinator Mike Shula, who called a few more running plays for his quarterback than he did the first two weeks. But most of it had to with Newton, who set the tone on Carolina's second possession when he scrambled 14 yards for a first down.
From then on he had the Giants off balance.
"Cam played the type of game he is capable of,'' Rivera said.
Funny, afterwards nobody was questioning Newton's leadership for a change. Winning tends to take care of that.
Newton, to his credit, credited everyone but himself. That is the sign of a leader.
"This was a big team win today," he said, "and there's nothing more for me to really say."
Newton far outplayed his counterpart, two-time Super Bowl MVP
Eli Manning
. That Newton didn't have to face a Carolina defense that registered seven sacks had something to do with that.
But what was encouraging for the Carolina offense was that the passing game didn't revolve around wide receiver
Steve Smith
.
Brandon LaFell
, who has held the position of No. 2 receiver even though his play hasn't warranted it, caught touchdown passes of 16 and 20 yards. Ginn caught three passes for 71 yards and a touchdown; his blazing speed is becoming a bigger weapon the more confidence he gains.
"You know, the tempo was just unbelievable,'' Newton said of the offense.
Newton was at his best on Carolina's final drive of the first half and first drive of the second. His touchdown passes to LaFell capped sustained drives that ended any chance this one would come down to another fourth-quarter collapse.
Newton took Rivera's words to heart.
"Coach Rivera made it known, made it very clear at halftime, that we're going to keep pushing, keep pushing,'' Newton said. "It wasn't like he did anything different, but it was personal for us.''
For Newton it was a statement, maybe the biggest one he's made since the Panthers made him the top pick of the 2011 draft.
September, 9, 2013
Sep 9
8:00
AM ET
CHARLOTTE, N.C. --
A examination of four hot issues from the Carolina Panthers' 12-7 loss to the Seattle Seahawks on Sunday at Bank of America Stadium:
[+] Enlarge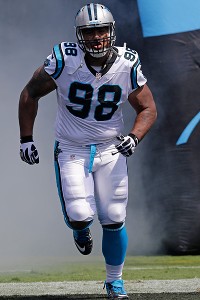 AP Photo/Chuck BurtonRookie defensive tackle Star Lotulelei had a strong first game.
As advertised:
The defensive front seven might be better than advertised. It held running back
Marshawn Lynch
to 43 yards on 17 carries and the ground game to 70 yards. Rookie tackle
Star Lotulelei
showed star potential with four tackles and good inside pressure. The secondary remains a question as advertised. Cornerback
Josh Thomas
lost containment on consecutive deep passes, the second resulting in a game-winning 43-yard touchdown in the fourth quarter. Quarterback
Russell Wilson
completed a gaudy 75 percent of his passes for 320 yards -- his first 300-yard passing game -- for a rating of 115.7. Holding the Seahawks to 12 points was solid overall, but not enough to overcome a worse-than-advertised offense.
Deep trouble?
Quarterback
Cam Newton
attempted only four passes beyond 10 yards, the second-lowest total of his career. He finished with a career-low 125 yards passing. Perhaps the play calling was conservative going against one of the best defenses in the NFL. Newton said the offense pretty much stuck to its game plan, but if this is the game plan of new offensive coordinator Mike Shula all season, the Panthers might be in deep trouble. They might be anyway with
Steve Smith
and the untouchables (only one player touched a pass outside of Smith) at wide receiver.
Brandon LaFell
, who was supposed to emerge as the second receiver, didn't catch a pass. He was targeted only once, and there was a hold on that play. Newton said Shula "did an unbelievable job calling plays," and the Panthers took what was given to them. He also said, "we have to be more aggressive and take the bull by its horns and go." The good news is they won't face many defenses as tough as Seattle's.
Close not good enough:
There's no such thing as a moral victory because you played arguably the best team in the NFC to within five points. Not when your record was 1-7 in games decided by seven or fewer points a season ago and when your head coach is 2-13 in games decided by a touchdown or less. Losing close games breeds more close losses. If this trend isn't reversed, it leads to a coaching search.
Missed opportunities and silly mistakes:
Marginal teams can't afford to miss opportunities or make silly mistakes. The Panthers, a marginal team, had both contribute to the loss. The most-glaring missed opportunity was
DeAngelo Williams
' fumble at the Seattle 8-yard line with the Panthers trailing 12-7 in the fourth quarter.
The silly mistakes? Backup defensive end
Frank Alexander
was disqualified for swinging at an offensive lineman after coach Ron Rivera warned his players the Seahawks get "chipper," his word for doing things to get you out of your game. Thomas had a punt go off his leg after
Ted Ginn Jr.
had called for a fair catch, which resulted in a turnover.
Armond Smith
was penalized twice -- yes twice -- for illegally going out of bounds and returning to the field on punt coverage. It all adds up to a loss if you're a marginal team.