Carolina Panthers:

Carolina Panthers
May, 28, 2014
5/28/14
10:00
AM ET
By
ESPN.com staff
| ESPN.com
ESPN.com
Carolina Panthers
reporter David Newton says
Byron Bell
and Carolina's revamped offensive line will be one area of focus during OTAs.
May, 1, 2014
5/01/14
10:01
AM ET
By
ESPN.com staff
| ESPN.com
The NFC South might have had the most dramatic offseason of any division in the NFL.
The
Tampa Bay Buccaneers
loaded up on enticing newcomers, starting with a new coach in Lovie Smith, a new quarterback in
Josh McCown
and a new pass-rusher in
Michael Johnson
, leading many analysts to believe they had the best offseason of any team in the league.
Meanwhile, the defending-champion
Carolina Panthers
lost several core players, including the face of their franchise,
Steve Smith
, leading many analysts to believe they had one of the worst.
And the
New Orleans Saints
did a little of both, parting ways with several longtime veterans while making a big splash with the addition of safety
Jairus Byrd
.
Throw in the
Atlanta Falcons
, who get star receiver
Julio Jones
back from injury and just plain get to start over with a clean slate and you can see why all four teams feel as if they have legitimate shots to make a playoff run in 2014.
The four writers who cover the division -- Vaughn McClure in Atlanta, David Newton in Carolina, Mike Triplett in New Orleans and Pat Yasinskas in Tampa Bay -- offered their insights on the division shakeup among other topics. They also polled their Twitter followers to find out whether they saw the issues differently.

Has any team made moves that could alter the balance of power in the NFC South?
Vaughn McClure: The Buccaneers made a significant move by hiring Lovie Smith as their coach. After seeing the Bucs demolish the Falcons at home last season, it was easy to tell they were a talented team that just needed better leadership. Smith is a proven winner who took the Chicago Bears to the Super Bowl behind a suffocating defense. One could argue Smith has even better defensive parts to work with in Tampa than in Chicago. If he can assemble a solid offensive attack behind coordinator Jeff Tedford, Smith could have his team in contention for the NFC South title immediately.

David Newton
: Tampa Bay made the most significant moves, from cutting
Darrelle Revis
to signing defensive end
Michael Johnson
, tackle
Anthony Collins
, quarterback
Josh McCown
and cornerback
Alterraun Verner
. The Bucs needed to make changes with a new head coach inheriting a team with a 4-12 record. I'm not ready to say that has altered the balance of power in the NFC South, though. I'm still not sold on McCown and what the Bucs will be offensively. If the balance of power shifts, I believe it will go to Atlanta. The Falcons should improve defensively with the addition of nose tackle
Paul Soliai
. With a healthy
Julio Jones
back at wide receiver and a revamped offensive line, they should return to the team that averaged 11.2 wins a season from 2008 to 2012.
Mike Triplett: All of them have, to some degree. But the teams that stood out most were the Buccaneers (for better) and the Panthers (for worse). I loved a lot of the moves Tampa Bay made, starting with a solid coach and quarterback. The Bucs already had a very good defense and run game. I could easily see an eight-win season. There won't be any easy wins in this division. The Saints should be the favorites to overtake Carolina now that their defense is even more stacked with Jairus Byrd. But both teams have new question marks after letting a lot of veterans go. The Panthers, especially, seemed to lose several guys who were key players last season.

Pat Yasinskas: Tampa Bay has been the division's most active team this offseason, and I think that will make the Bucs a lot better than they were a year ago. The Bucs have the ingredients to have an excellent defense, and that should keep them competitive. If the offense can be at least average, this team has a shot at being a playoff contender.

@DNewtonespn The #CarolinaPanthers jettisoned their entire WR corps and did little to replace the admittedly average production #FourDowns

- Andy Briggs (@ambriggs) April 18, 2014
---

Which newcomer to the NFC South will have the biggest impact?
McClure: The jury is still out because the Falcons and Bucs each have top-10 draft picks and could move up. If the Falcons secure a pass-rusher such as Jadeveon Clowney or Khalil Mack, either player could change the complexion of the defense. And if the Bucs land a receiver such as Sammy Watkins or Mike Evans to join Vincent Jackson, defensive backfields around the division could be in serious trouble. For now, I'll say safety Jairus Byrd from the Saints. A guy making $9 million a year had better make a strong impact. Byrd is a playmaker who showed a knack for intercepting the ball in 2009 as a rookie in Buffalo. He had a pretty good teacher over the years in Buccaneers cornerbacks coach Gill Byrd, his father.

Newton
: Lovie Smith. Greg Schiano never seemed to have the respect in the locker room that it takes to win. Smith should have that immediately, based on his success at Chicago that resulted in three NFC North titles and one NFC championship. But before anybody crowns the Bucs as NFC South champions, remember it took Smith a year to turn things around in Chicago. His first team was 5-11. He's facing many of the same issues in Tampa that he did with the Bears in rebuilding the offense. In his favor is the nucleus for a strong defense that should keep the team in most games. My newcomer pick might change if Atlanta can find a way to move up and get Jadeveon Clowney in the draft. I just don't see the Texans passing on him with the first pick.
Triplett: Josh McCown. I don't think he'll be the best player of all the newcomers in the division. And I doubt he'll even be as good as he was last year for the Bears. But the quarterback position is so vital -- and it was the one element the Buccaneers were really missing. McCown should provide some stability there. And, as I said, their defense and run game are both excellent. This is suddenly a well-rounded and dangerous team. If Julio Jones counted, I would have picked him instead. His return from injury will be huge for the Falcons.

Yasinskas: I'm not going with a player. I'm going with a coach: Lovie Smith. I view Smith's arrival as the best thing to happen to Tampa Bay in a very long time. Smith is exactly what this franchise needs -- a coach who stays on an even keel and knows how to win. After the Greg Schiano era, Smith should provide a lot of fresh air for the Bucs.

@vxmcclure23 Paul Soliai, going to be the anchor of this shift to a 3-4 hybrid. #FourDowns

- Matt de Lisle (@MdeLisle84) April 21, 2014
---

Which departing NFC South player leaves the biggest void?
McClure: Wide receiver Steve Smith, although the Panthers and Cam Newton are sure to feel the loss of tackle Jordan Gross, as well. Smith isn't the same player he used to be, but he's such a tough competitor. Although he's only 5-foot-9, he always does an outstanding job of securing the ball at its highest point. He has seven 1,000-yard seasons to his credit, and two of those came in the past three seasons with Carolina. I remember how Smith used to give Charles Tillman and the Bears fits whenever Chicago matched up with Carolina. The Panthers will realize how much they miss him when they face Smith and the Baltimore Ravens in the regular season.

Newton
: Jordan Gross, because his retirement in essence forces the Panthers to start over with new players at two positions if the team winds up moving right tackle
Byron Bell
to the left side. I'm not sold on Bell, which is why I believe Carolina will take a tackle with the 28th pick of the draft. But for a team that depends on a power running game, having solid tackles is a must. Replacing Smith's 64 catches won't be nearly as hard. He hasn't been a No. 1 receiver for a few years. If I had to pick a player other than Gross, it would be
Tony Gonzalez
. Replacing a tight end who caught 83 passes and eight touchdowns -- in his 17th season -- is a tall task. You easily could make the argument he'll leave the biggest void.
Triplett: Steve Smith because of everything he has meant to the Panthers. It feels as if they lost part of their identity -- and I don't see an obvious replacement plan in place. Carolina was already thin at receiver before it let him go. I also think the Panthers will miss Mike Mitchell and Captain Munnerlyn in their secondary quite a bit. I thought both of those guys were a big part of their defensive surge last year. Darrelle Revis and Darren Sproles are obviously worth noting, but Tampa Bay and New Orleans have good fallback options.

Yasinskas: It would be easy to point to some big names such as Tony Gonzalez, Steve Smith or Darrelle Revis. But I'm going with former Carolina player Jordan Gross. I think his retirement will have a huge impact on the Panthers. For years, Gross was a solid left tackle. Without him, the Panthers are going to have to scramble for a replacement.

@PatYazESPN Steve Smith. Was the heart of that team for a long, long time. Even as an opponent, we'll miss him in Tampa Bay.

- Matt Holden (@JaedenStormes) April 21, 2014
---

Which NFC South non-quarterback would you pick to start your own team?
McClure: Tough question, but I would have to go with Greg Hardy. Teams without a consistent pass rush can appreciate what Hardy brings to the table. He has 26 sacks over the past two seasons and seems impossible to stop at times, particularly when Charles Johnson is getting it done at the other defensive end spot. That's why the Panthers led the league with 60 sacks last season. Carolina rode a strong defense to the NFC South title, then kept Hardy in the fold by slapping the franchise tag on him. He'll get his big payday because he brings plenty of value to the team. For a non-quarterback, he would be a pretty solid cornerstone.

Newton
: Bucs defensive tackle
Gerald McCoy
. Hands down. Put him in the middle of any defense and that unit is going to be much improved. He's not only the best defensive tackle in the division, he's the best in pro football. He's stout against the run and can pressure the quarterback (9.5 sacks last season). He'll require double-teams, which will free up the ends. The only other player I considered here was Panthers middle linebacker
Luke Kuechly
, the reigning NFL Defensive Player of the Year. He really is, as advertised, a tackling machine. His 24-tackle performance against New Orleans last season was amazing. Like McCoy, he's going to make any defense much improved. McCoy got the vote from me here only because it's harder to find a tackle with that kind of game-changing ability.
Triplett: This was, by far, the most difficult question for me to answer. The first two names that came to mind were Jimmy Graham and Julio Jones. I think both of them rank among the top 10 playmakers in the NFL. But, man, this division is absolutely stacked with defensive talent, from linemen such as Greg Hardy, Cameron Jordan and Gerald McCoy to linebackers such as Lavonte David, Luke Kuechly and Thomas Davis to defensive backs such as Alterraun Verner, Jairus Byrd and Keenan Lewis. … OK, I'm hemming and hawing now. I'll go with Jones because I figure he'd earn the biggest contract on the open market. But Graham's an awfully nice fit for what the Saints like to do.

Yasinskas: I'm going to go with a guy who hasn't even started to get his due. That's Tampa Bay defensive tackle Gerald McCoy. He began his career with two injury-plagued seasons, but has followed that up with two stellar seasons. McCoy should only continue to get better because his position is so crucial in the Bucs' new defensive scheme. McCoy might be on the verge of being the league's best defensive tackle.

@MikeTriplett Keuchly. Already best defensive player IMO. Would be my first pick of any non-qb not named Calvin Johnson in entire NFL

- JetNet (@Bengeauxhornets) April 22, 2014
March, 24, 2014
3/24/14
12:00
PM ET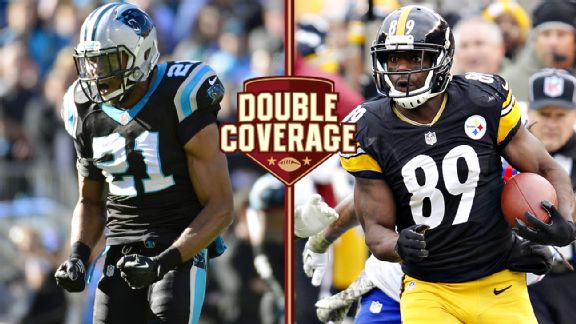 USA TODAY SportsThe swap of safety Mike Mitchell to the Steelers and receiver Jerricho Cotchery to the Panthers bring a veteran presence to each locker room.
It wasn't a trade but two of the biggest free-agent signings by the Steelers and Panthers amounted to two players switching teams. The Steelers signed former Panthers free safety
Mike Mitchell
on March 11, luring him away from Carolina with a five-year, $25 million contract. The Panthers finally added a wide receiver when they signed
Jerricho Cotchery
last Thursday to a two-year contract. ESPN.com Steelers writer Scott Brown and ESPN.com Panthers writer David Newton take a closer look at this de facto swap.
Scott Brown:
David, you reported that Cotchery's contract is worth as much as $5 million. I'm happy for Cotchery, a good player and an even better person, but I am a little surprised that the Panthers gave that much money to a complementary wide receiver who turns 32 in June. Is it a sign that the Panthers were desperate at wide receiver or do they really like Cotchery because he is still productive and gives them a veteran presence?
David Newton:
Maybe a little bit of both. After losing out on
Hakeem Nicks
and with other free agent receivers signing elsewhere, the market was pretty bare. Cotchery was one of the few veterans left, and the Panthers couldn't go into training camp without somebody to help bring along what likely will be the youngest receiving corps in the NFL -- the 31-year-old Cotchery aside. His value comes from his experience and the leadership. That he's played in a system similar to what offensive coordinator Mike Shula ran for five of his 11 seasons is a plus. That he can play all three receiver spots even though he has been labeled as a slot receiver also worked in his favor. Is he as good as
Steve Smith
, Carolina's all-time leading receiver, who was released? I don't think so, even though Smith soon will be 35. But everything else Cotchery brings seems to be a plus.
Having said that, Mitchell brought an aggressive attitude to Carolina's defense last season. Was that something the Steelers were looking for when they signed him?
Brown:
They really needed to get younger and faster in the secondary and the Steelers accomplished both by signing Mitchell. Adding another thumper to the back end of their defense is a bonus and it looks like Mitchell has the range to cover a lot of ground. He will need to do that playing with
Troy Polamalu
. The eight-time Pro Bowler moves around the field, sometimes leaving the Steelers with a single safety as the last line of defense.
I really like this signing for the Steelers as Mitchell is only 27 and seems to be on the upswing of his career. He talked about his work ethic during his introductory news conference in Pittsburgh and seems to have the desire to be great. If he gives the Steelers a badly needed playmaker for their defense they will be very happy with this signing.
Since you covered Mitchell during the season in which he really blossomed what can you tell Steelers fans about one of the newest additions to the team?
Newton:
He's one of the best quotes on the locker room, mainly because he's brutally honest. It's refreshing. He's also one of the more fined players in the league, which he doesn't hesitate to remind commissioner Roger Goodell of. Beyond all that, he's a solid player in coverage and with the occasional pass rush. His numbers this past season were good enough to make the Pro Bowl. Just not a lot of people knew much about him. But the thing I liked the most, and the reason the Panthers wanted him back, was he brought an aggressive attitude to the secondary -- heck, the defense.
Having said that, was aggressiveness something the Steelers were looking for or needed when they signed him?
Brown:
They need the mindset because it lends itself to making game-changing plays and the Steelers could more of that from their defensive backs. They intercepted just 10 passes last season, ranking near the bottom of the league, and they were minus-four in turnover differential. If Mitchell builds on a season in which he intercepted four passes -- four fewer than the Steelers' defensive backs combined -- he will make for a good pairing with Polamalu.
The Mitchell signing got the Steelers off to a good start in free agency but they have since lost two of their top three wide receivers. I think losing Cotchery was bigger than
Emmanuel Sanders
-- even though the latter was a starter -- because it seemed so likely that he would re-sign with the Steelers. But the Panthers made Cotchery and offer he couldn't refuse, leaving the Steelers with little experience at wide receiver behind Pro Bowler
Antonio Brown
before they signed
Lance Moore
.
David, what was the reaction from Panthers' fans to the Cotchery signing? Relief more than anything that they finally brought in an established wide receiver?
Newton:
More astonishment that they let 34-year-old Steve Smith go and signed a 31-year-old that hasn't accomplished nearly what Smith has. I think a few were won over when Cotchery said out of respect he would not wear Smith's No. 89, the number he wore at Pittsburgh. He seems like a classy guy and people will appreciate that. There's still concern that he's not a No. 1 or maybe not even a No. 2 receiver. Many are calling for Carolina to trade for Philadelphia's
DeSean Jackson
, even though the price tag for Jackson would be prohibitive for a team in need of a true No. 1.
How do you see Cotchery fitting in on a team that is looking to take the next step in the playoffs after a 12-4 season? Does he have enough in the tank to be a No. 2 at least?
Brown:
Cotchery is class personified, and he is a consummate professional -- in his preparation, dealings with the media and mentoring younger players. Steelers rookie
Markus Wheaton
became Cotchery's shadow last year because he wanted to learn from such a respected veteran. Does that translate into Cotchery giving the Panthers the kind of production he enjoyed last season when he rejuvenated his career? I'm not sure that is the case if the Panthers are counting on him starting.
I think Cotchery would best serve Carolina as a No. 3 wide receiver, one who uses his smarts and experience to get open more than his speed. I can tell you this:
Ben Roethlisberger
trusted Cotchery more than any wide receiver on the roster last season and I think
Cam Newton
will also find that Cotchery is always where he is supposed to be and just as reliable with his hands. What Carolina has to though is keep adding reinforcements at wide receiver so they don't have to rely too heavily on Cotchery.
March, 6, 2014
3/06/14
11:00
AM ET
Todd McShay's third 2014 NFL mock draft for 2014 is out on ESPN Insider today.
There might not be a team that is in store for a rougher offseason than the Carolina Panthers. After placing the franchise tag on
Greg Hardy
, Carolina has plenty of salary-cap issues. Look at what defensive backs, wide receivers and offensive linemen (now minus the retired
Jordan Gross
) are presently under contract for the 2014 season ... and these weren't strong areas last season. Carolina is going to have to be very aggressive and thorough in all three of these areas on draft day. McShay had the Panthers selecting receiver
Kelvin Benjamin
in his second mock.
Whom does McShay have the Panthers drafting at No. 28?
Let's take a look

:
December, 31, 2013
12/31/13
2:50
PM ET
CHARLOTTE, N.C. --
Carolina Panthers
defensive coordinator Sean McDermott will interview for the head coaching position with the
Washington Redskins
this weekend, ESPN's Adam Schefter reported on Tuesday.
McDermott acknowledged on Monday that he was interested in being a head coach and believed he was ready to be one.
The 39-year-old said at the time he hadn't been contacted by any of the six teams with an opening. Among those was the Redskins, who fired Mike Shanahan on Monday.
That McDermott has been contacted shouldn't come as a surprise. He is the architect of the NFL's second-ranked defense, which played a big part in Carolina's 12-4 season.
"Those things happen as a result of good players and good coaches, and I've been fortunate to have both," McDermott said on Monday. "When you win, sometimes good things happen and people get opportunities. If that happens, so be it. That's part of the process."
But McDermott made it clear that his focus was on helping Carolina prepare for a January 12 playoff game against either Philadelphia, Green Bay or San Francisco.
"Listen, we've had a great year as a team, but right now my focus isn't there," he said of interviewing. "My focus is on helping this football team win games. I'm focused on who our next opponent is going to be and figuring out that whole mess."
November, 24, 2013
11/24/13
10:00
AM ET
By
ESPN.com staff
| ESPN.com
Join our ESPN.com NFL experts as they break down the Carolina Panthers' visit to the Miami Dolphins. Contribute your thoughts and questions beginning at 1 p.m. ET. And, be sure to visit our
NFL Nation Blitz page
for commentary from every game, as well as fan photos and the latest buzz from Twitter. See you there.
November, 21, 2013
11/21/13
10:00
AM ET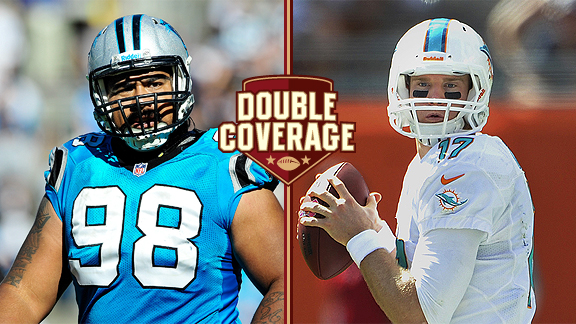 Getty ImagesStar Lotulelei and the Panthers' front four will bring pressure on Dolphins quarterback Ryan Tannehill.
Two teams battling for playoff positioning will face off Sunday when the
Carolina Panthers
travel to play the
Miami Dolphins
.
Carolina (7-3) is one of the hottest teams in the NFL behind a stout defense and improved play from quarterback and MVP candidate
Cam Newton
. The Dolphins (5-5) have fought through off-the-field distractions to win two of their past three games and are just a tiebreaker behind the
New York Jets
for the final wild-card spot in the AFC.
Who will prevail? ESPN Panthers reporter David Newton and Dolphins reporter James Walker weigh in.
James Walker:
This looks like a game of matchups. One that looks concerning from Miami's perspective is Carolina's aggressive, physical defense against the Dolphins' inconsistent offense. The Dolphins are still searching for an offensive identity 10 games into their season. There is nothing they do particularly well on that side of the football: Miami is ranked 20th in passing and 24th in rushing. In fact, the Dolphins haven't scored more than 27 points in a game all season.
Is Carolina's defense as good as advertised? What kind of challenge can Miami's offense expect?
David Newton:
It's hard to argue the numbers Carolina's defense has put up, particularly against the run, allowing just 84.5 yards per game. The front seven is as good as there is at making a game one-dimensional and forcing teams to pass; the defensive line can apply pressure on the quarterback, which allows seven, and sometimes eight, to drop back into coverage. It's really an unselfish group that is working as well together as any unit I've seen this season. The return of defensive tackle
Dwan Edwards
from a hamstring injury three weeks ago has added a more consistent third-down inside pass rush and made this unit even stronger. The defense that helped the 2003 Panthers get to the Super Bowl was good, but I believe this one is better.
The Dolphins bounced back from the loss to the
Tampa Bay Buccaneers
with a solid effort at San Diego. Has this team put the off-the-field issues behind it completely?
Walker:
I wouldn't say completely, because the investigation is ongoing. I don't see an end to the
Richie Incognito
-
Jonathan Martin
saga for at least several more weeks, if not longer. The NFL spent a lot of time at the Dolphins' training facility this week to try to get to the bottom of things, and the NFLPA will reportedly do its own investigation soon.
I thought Miami handled this situation better against San Diego, and it showed in the Dolphins' preparation. Miami put together a focused effort to pick up a big win. I think the team was a bit shell-shocked by the circumstances and the amount of media scrutiny leading up to the Tampa Bay game when everything first came out. It's really going to be a week-to-week scenario with the Dolphins as this investigation unfolds.
Carolina is coming off a short week of preparation after winning a thriller against the
New England Patriots
on "Monday Night Football." Is this a concern, especially going on the road, where the Panthers are 3-2?
Newton:
The short week shouldn't be a problem. They had a Thursday night game a few weeks ago at Tampa and played well for having only a few days of preparation. The coaching staff has really gotten into a groove with knowing when to go hard and when to back off in practice. From a defensive standpoint, because they don't rely on a lot of fancy formations with the front four so solid, it really just comes down to tweaking things for individual matchups.
The biggest issue might be from wear and tear. They played three games in a span of 12 days a few weeks ago, and they're coming off consecutive games against San Francisco and New England, elite teams that really get after you.
Speaking of physical teams, what problems will Miami's defense cause Newton and the Carolina offense?
Walker:
Miami's defense has been an enigma. There is talent and depth, especially in the front seven, but the defense hasn't lived up to its potential. The Dolphins' best chance to rattle Newton is to stop Carolina's running game and make the Panthers one-dimensional. That's a tall order. I thought Miami's defense had the talent on paper to be top 10 against the run, but that's far from the case. The Dolphins are 25th against the run.
But in games when the Dolphins have earned a second-half lead, their pass rush has been able to cause problems. Pro Bowl defensive end
Cameron Wake
is healthy again and back to his old self; he has four sacks in his past three games and 6.5 overall. Fellow defensive end
Olivier Vernon
(5.5 sacks) has been a pleasant surprise. The Dolphins have four players with three sacks or more this season. They have the ability to pin their ears back and get to the quarterback. But the Dolphins haven't had enough leads late in games.
David, one area in which Carolina has struggled is its 28th-ranked passing offense. How can the Panthers improve?
Newton:
Carolina's ranking is a bit misleading. The key number is Newton's efficiency. He's completing a much higher percentage of passes -- 63.2 -- than in his previous two seasons. He's also throwing more short passes as the offense goes with more ball control. He's more or less taking what defenses are giving him better than he has before. Because the Panthers are so balanced in rushing and passing, Newton's passing yards are down. But they have deep threats when they need them in
Steve Smith
and
Ted Ginn
. They just haven't needed them because, for most of the past two months, they've been getting big leads and running more.
James, my last question to you is, do you believe the Dolphins are a playoff team?
Walker:
The Dolphins feel confident because they are still in the hunt. They are just a tiebreaker behind the Jets, and the teams still have two games against one another. But I haven't seen any consistency from Miami since its 3-0 start. Since then, the Dolphins have gone 2-5, so there isn't much reason to believe they can go 5-1 or 4-2 down the stretch to get into the playoffs. Miami has a huge three-week stretch ahead, with Carolina and games at the Jets and at Pittsburgh. All of these games are going to be tough.
November, 9, 2013
11/09/13
8:01
AM ET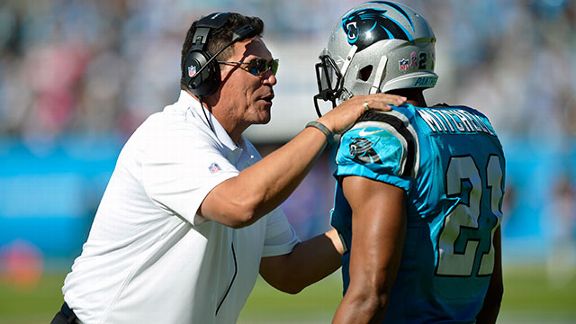 AP Photo/G. Newman LowranceRon Rivera has the Panthers treating San Francisco just like any other team.
CHARLOTTE, N.C. -- I tried my best to get Ron Rivera to back off this one-game-at-a-time approach. I tried to make the coach of the
Carolina Panthers
realize that Sunday's game against the
San Francisco 49ers
at Candlestick Park isn't just big because it's the next game on the schedule, that it's big because of the team records and what it could mean to the NFC playoffs.
I tried to get him to think like a fan, asking if he had a choice between the
New England Patriots
and 49ers or the
Tampa Bay Buccaneers
and
Jacksonville Jaguars
during an off day which he would watch.
He didn't bite.
"I'd watch them both,'' Rivera said with a laugh. "I would watch who we are about to play, first and foremost. Honestly, when I'm not here, I'm not watching football.''
This is why the Panthers (5-3) have won four straight and five of their last six games to make this West Coast trip big. They don't look ahead. They don't look at the 49ers (6-2), the defending NFC Champions, any differently than they do the winless Bucs.
It's admirable.
It's also frustrating.
You want somebody to say this game is huge, because it is. A win over San Francisco would make a statement that none of the other five games against opponents that are a collective 9-33 did. It would say the Panthers are a serious contender to not only make the playoffs, but possibly be relevant in the postseason.
The analysts might begin talking about them as a contender for the NFC South title instead of a wild card spot. They trail New Orleans by a game with two games left against the Saints.
But those, apparently, are the thoughts of analysts and fans who can let their minds wander into the future. Rivera has this group focused on the present like a fighter pilot on his target.
And when they appeared to lose that focus just a bit in Friday's practice, he reigned them back in and re-focused them. That's how Carolina became relevant. That's how it will remain relevant.
Asked how he personally was handling being relevant, Rivera didn't waiver from what he tells the team.
"The big thing, we're trying to maintain this as a one game at a time attitude,'' he said. "This is a big game, but it's the next big game.''
I get it. So have the players. They've bought into this lock, stock and barrel. Rivera saw it happening towards the end of last season when the Panthers won their last four games and five of their last six.
"It's a very, very unique thing,'' safety
Mike Mitchell
said. "I've heard coaches say it in the past, but it's genuine in the way we prepare and the way [Rivera] teaches and coaches us.
"What he talks about in the meetings and the private settings on the team, he really believes the biggest game is the next game and it trickles it down to us.''
Rivera doesn't have to look hard for examples as to why you can't treat the 49ers differently from the Buccaneers. Most of them saw the same Tampa Bay they dismantled the week before go up 21-0 on NFC powerhouse Seattle before losing in overtime.
"That's why you have to prepare for the next game as your biggest game,'' Mitchell said "If you don't, you're going to get your butt beat.''
Player by player, each said the same thing. Nobody diverted. Defensive end
Greg Hardy
is so focused he claimed not to be aware of all the controversy going on in Miami.
"Something going on?'' he said. "What happened?''
The blinders definitely are on. The closest anybody came to saying this is a big game was wide receiver
Steve Smith
, but he did it in a snarky way.
"We haven't played in a game in November of relevance since 2008,'' he said. "Luke (Kuechly, starting middle linebacker) was just graduating high school. That statistic is the most irrelevant statistic according to this locker room of the current players that you could possibly pull out of your ass.''
Rivera has willed his mentality onto the team well. But he does understand a win over the 49ers would be big.
"That would be big,'' he said. "As you guys like to remind me, they have a winning record. That would be really good. First and foremost, who they are as a football team. They're defending NFC Champs. Secondly, their style of play. They're a very physical football team.
"This also is a very talented football team, so you want to be able to beat teams like. You want to be able to beat teams that have a lot, because you're measuring yourself against them. That, I think, is important. It's a great opportunity for us to find out exactly who we are and where we're headed.''
But it's only big because it's the next game.
I get it.
November, 8, 2013
11/08/13
10:00
AM ET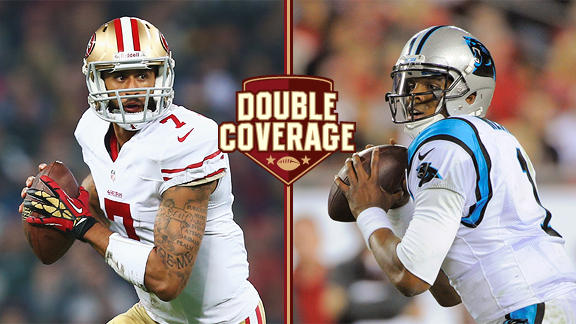 Getty Images, AP PhotoQuarterbacks Colin Kaepernick, left, and Cam Newton highlight a matchup of NFC playoff contenders.
SAN FRANCISCO -- A few weeks ago, this didn't appear to be a premier game.
But the
Carolina Panthers
kept on winning. Now, before the
San Francisco 49ers
have to tangle with potential playoff opponents New Orleans and Seattle in the coming weeks, looms another major NFC test in the form of the Panthers on Sunday at Candlestick Park.
This will be matchup featuring two of the hottest teams in the league. The 49ers have won five straight, the Panthers four straight. ESPN.com 49ers reporter Bill Williamson and Panthers reporter David Newton take a look at the intriguing matchup:
Newton:
These teams appear similar, built around a strong running game, a versatile quarterback and strong defense. Where do you believe the 49ers have the biggest advantage?
Williamson:
They totally believe in what they do. This is a confident team in all phases of the game. San Francisco is deep and focused, and it rarely misfires as a team. The 49ers stick to their plan and have confidence it will eventually wear opponents down. That is particularly true concerning the ground game on both sides of the ball. The 49ers know they are better than most opponents, and they just go out and try to prove it. I think they will try to stuff the Panthers early and get in their heads. David, the Panthers are certainly clicking themselves. Do you think they are up to this task?
Newton:
Because their five wins came against teams with a combined 8-33 record, the critics are wary. So, the Panthers are relishing the opportunity to prove that their winning streak isn't a fluke, that they deserve to be mentioned as a serious contender. The only team they have faced with a record currently above .500 is Seattle, which beat Carolina 12-7 in the season opener. The Panthers believe they should have won that game, too. Like San Francisco, this group is very confident. The Panthers have an attitude and hunger that, with a decent amount of talent, make them dangerous. They won't be intimidated by San Francisco's résumé, particularly Carolina's defense, which is playing as well as any in the league. Just ask the Seahawks, who struggled to score 12 on Carolina, then scored 29 against the 49ers in Week 2. This is a playoff-caliber defense that should keep the Panthers in most games. Their biggest challenge will be stopping
Colin Kaepernick
. He appears to have picked up where he left off last season. How has he improved?
Williamson:
He's a perfect fit for this coaching staff. What coach Jim Harbaugh and offensive coordinator Greg Roman excel at is taking what opposing defenses give them. They will run inside or outside, will use Kaepernick on the ground or through the air and can exploit defenses using receiver
Anquan Boldin
or tight end
Vernon Davis
, depending on what is given to them. Kaepernick plays along perfectly. He is patient and doesn't care about his own stats. He happily executes the game plan. David, do you think Panthers have a chance of frustrating Kaepernick by closing all those gaps?
Newton:
That's the game plan, whether it's a running quarterback such as Kaepernick or a pocket passer. The goal is to stuff the run and make a team one-dimensional, and they've done that well enough to rank second in the league against the run. But running quarterbacks are a concern. Seattle's
Russell Wilson
didn't put up huge numbers in the opener, but he kept the chains moving and completed a high percentage of throws (76 percent, 25 of 33). Buffalo's
EJ Manuel
did the same thing. Carolina had a combined three sacks in those games. The Panthers have averaged more than three a game since. What will the 49ers do to counter the play of
Cam Newton
?
Williamson:
The 49ers respect Newton. They have been talking about how physical Newton is and how they must respect his game. Again, the defense in San Francisco starts with stopping the run. Then, the 49ers tee off on the passing game. This has been a very stingy defense, but Newton is on a roll and will be the best quarterback this San Francisco defense has seen since
Andrew Luck
beat it at home in Week 3. David, do you see Newton succeeding in this game?
Newton:
Most of Newton's success this season has come against defenses ranked in the lower half of the league. Most of it has come because he has gotten comfortable taking what the other team gives him, mostly short stuff, so he's been completing a high percentage of passes the past month. San Francisco has one of the best pass defenses in the league, so I look for Newton to use his legs more early to get into a rhythm, and I look for the Panthers to try to run to take the pressure off Newton. His confidence is at an all-time high, but the 49ers have a defense that can change that quickly.
.
October, 19, 2013
10/19/13
8:00
AM ET
CHARLOTTE, N.C. -- Wide receiver
Steve Smith
didn't seem interested in addressing the attitude the
Carolina Panthers
had for home games during their playoff seasons.
"You asking me? The guy with attitude, home and away?" he said.
Well, yes.
[+] Enlarge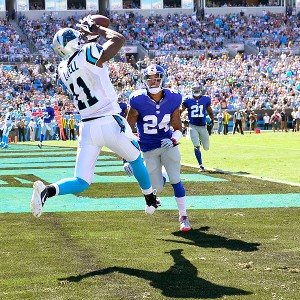 Bob Donnan/USA TODAY SportsThe Panthers' lone home win this season came against the New York Giants on Sept. 22.
"Hey, the Super Bowl is not played at home, is it?" Smith retorted.
Well, no.
"So it doesn't matter," Smith said.
Well, yes it does.
According to ESPN Stats & Info, teams that made the playoffs the past two seasons averaged 6.2 wins at home. Four had a perfect 8-0 record. The 2011 Broncos (3-5) were the only playoff team with a sub-.500 home record.
Twenty of 24 playoff teams the past two years were 5-3 or better at home.
The Panthers (2-3) haven't come close to reaching the playoffs during that span, going 3-5 at home both years under coach Ron Rivera.
They are 1-1 at home this season. If they plan to reach their goal of making the playoffs for the first time since 2008, they need to start protecting their home turf in Sunday's 1 p.m. ET game against the
St. Louis Rams
(3-3).
"When you can win at home, that gives you a chance to get into the playoffs," defensive coordinator Sean McDermott said. "Just being around the players, I know there's a sense of pride in playing out here in front of our fans."
Strong home records have been key to Carolina's playoff history, as brief as it is. They were 8-0 at home in 1996 and 2008, advancing to the NFC championship in '96. They were 6-2 at home when they reached the Super Bowl in 2003 and 5-3 in 2005 when they lost in the NFC Championship against Seattle.
If you can break even on the road and go 6-2 at home, that guarantees you a 10-6 record that will make the playoffs in most years.
"We want to win every game, period," defensive end
Charles Johnson
said. "But when it's home, you definitely want to protect your house."
That was the message up and down a locker room that has yet to achieve home success here.
A lot of it comes down to attitude. It allows home teams with less talent to pull upsets. Carolina, for whatever reason, has lacked that under Rivera.
That must change if Rivera plans to be here beyond this season.
So yes, Steve Smith, attitude at home is important.
"Sorry, can't help you," he said as he walked away.
September, 15, 2013
9/15/13
1:30
PM ET
By
ESPN.com staff
| ESPN.com
Join our ESPN.com NFL experts as they break down the Carolina Panthers' visit to the Buffalo Bills. Contribute your thoughts and questions beginning at 1:00 p.m. ET. See you there.
September, 12, 2013
9/12/13
12:00
PM ET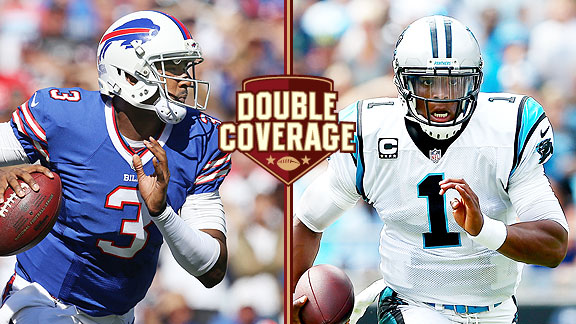 Getty ImagesRookie QB EJ Manuel guides rebuilding Buffalo; Cam Newton's under pressure to win now in Carolina.
Following tough home losses Sunday, the
Buffalo Bills
and
Carolina Panthers
look to get back on track in Week 2.
This game offers an intriguing quarterback battle between Bills rookie
EJ Manuel
, selected 16th overall this year, and the Panthers'
Cam Newton
, the top overall pick in 2011.
We'll hit on that matchup and more in our weekly "Double Coverage" conversation, so let's get it started:
Mike Rodak:
David, it seemed like the Bills and the Panthers opened their seasons in similar ways. Both teams faced superior opponents: The Patriots and Seahawks are near the top of the AFC and NFC, respectively, while the Bills and Panthers are bottom-dwellers in their conferences. Yet, both teams kept it close. The Bills lost by two points on a late field goal, while the Panthers kept it within five points. There is a cautious sense of optimism around the Bills locker room right now. Is that also true down in Charlotte?
David Newton:
Definitely optimism, which wasn't necessarily the case a year ago. The team feels it has more of an identity, an awareness of where it can go from here. Much of that identity is based around the defense, which established itself as one of the more solid units in the league by holding the potent Seattle offense to 12 points. Wide receiver
Steve Smith
, whether he was trying to inspire the rest of the team or because he actually believes it, set the tone by predicting that the Panthers will face Seattle again deep in January. I still don't see Carolina as a playoff team based on what its offense showed, but there is potential.
So both teams played top opponents close and lost. Now what? Is this a must-win for both if they have any hopes of being playoff contenders?
Rodak:
I think it's more of a must-win for Carolina. You look at the NFC South, and it's stacked. If the Panthers want a shot at a wild-card spot, they might need to finish ahead of either Atlanta or New Orleans, and that's a tall task. The Bills are in a weaker division, where an 0-2 start could have less of an impact. But still, not a good sign for Buffalo if it drops its first two, both at home.
The Bills spent a first-round pick this season on a quarterback in Manuel. The Panthers selected a quarterback, Newton, first overall in 2011. He's now entering his third season. How does the team (and fans) feel about Newton's development?
Newton:
Agreed, it's much more of a must-win game for Carolina. An 0-2 start after getting out of the gate 1-6 a year ago will have the vultures swarming for coach Ron Rivera. It will have the critics pounding on Newton. As new general manager Dave Gettleman said before the season, it's time for Newton to win. Buffalo can write this off as a rebuilding season with a rookie quarterback; Carolina can't do that with Newton. I said before the season the Panthers had to start no worse than 2-1 to have a chance to be successful. The Seattle loss, as close as they came to pulling it out, wasn't unexpected. Sunday's is one of those winnable road games they can't afford to lose. There aren't many out there.
So what do you see this game coming down to?
Rodak:
I think the Bills will need a better game out of
C.J. Spiller
. If he can get it going -- the Patriots shut him down Sunday, holding him to less than 3 yards per carry and per catch -- it opens up the Bills offense and gives Manuel a chance to take more shots downfield. The Panthers held the Seahawks to just 70 yards rushing and have one of the better defensive lines in the NFL, so it won't be easy. If Spiller has another quiet day, not only will it upset his fantasy owners, but it will also be tough for the Bills to win.
What about for the Panthers?
Newton:
It's going to come down to the Carolina offensive line and whether it can establish the run as well as New England did in Week 1 against the Bills. Right guard
Garry Williams
is gone for the year with an ACL/MCL tear. His replacement,
Chris Scott
, played well against Seattle. But Scott started on the left side, where
Amini Silatolu
was out with a hamstring injury. Silatolu is expected back this week, so if he holds up, the Panthers should be OK. But Carolina has to run effectively to make the offense under new coordinator Mike Shula click.