Carolina Panthers:

Colin Cole
August, 27, 2014
Aug 27
2:30
PM ET
It's easy to point to a five-game stretch on the
schedule
, beginning in Week 6 with trips to Cincinnati and Green Bay, followed by home games against Seattle and New Orleans and a visit to Philadelphia. Those teams were a combined 53-26-1 last season, with four winning their division and all five making the playoffs. However, I'm going to go with the first four games, at Tampa Bay, home against Detroit and Pittsburgh and at Baltimore. The
Carolina Panthers
have started 1-3 in each of their past three seasons. Another slow start followed by the five-game stretch above and they're done.
Complete Panthers season preview
.
August, 6, 2014
Aug 6
8:00
AM ET
SPARTANBURG, S.C. -- Apparently,
Greg Hardy
isn't the only member of the
Carolina Panthers
defense with lofty -- and perhaps farfetched -- sack goals.
Defensive tackle
Colin Cole
says the focus after Carolina collected a team-record 60 sacks last season is to set an NFL single-season record in 2014.
Asked if he knew what that was, the 34-year-old player Cole wiped the sweat off his face and admitted he didn't. Neither did I for sure until I looked it up. It was the 1984 Chicago Bears.
[+] Enlarge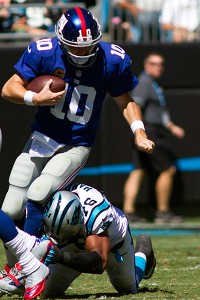 Jeremy Brevard/USA TODAY SportsGreg Hardy and the Panthers led the NFL with 60 sacks last season, but have their sites on a larger number this year.
They had 72.
Now collecting 13 more sacks than last season may not sound insurmountable. It's certainly not as unrealistic as Hardy setting his personal goal for 50, which is more than twice the NFL single-season record of 22.5 that Michael Strahan had in 2001.
But when you consider over the last 10 years that only the 2006
San Diego Chargers
with 61 had more than Carolina last season, and that NFL rules changes give offensive linemen more leeway in their using hands to protect the passer, 13 more might as well be 130 more.
What the Bears did in 1984 is considered by some to be one of those records that never will be broken. But the Panthers are talking about it, and as Cole said, "If you don't talk about it, you don't bring it into fruition.''
Carolina coach Ron Rivera is very familiar with the record. He was a rookie linebacker with the Bears in '84, so he saw firsthand how it was accomplished even though he didn't contribute directly to it.
He reminded how the Bears were implementing Buddy Ryan's innovative "46 defense'' that blitzed ... well, a lot. Then there were the great players on that defense like Richard Dent, Dan Hampton, Steve McMichael, Mike Singletary and Wilber Marshall.
Dent led the way with 17.5 sacks, followed by Hampton with 11.5 and McMichael with 10. Thirteen players had at least one sack, with eight getting three or more -- including Singletary with 3.5.
The Bears also had a talented secondary that included former
Minnesota Vikings
coach Leslie Frazier. Rivera noted how Ryan set a goal for that unit to give the front seven at least 2.4 seconds to get to the passer.
"It was really the perfect storm in terms of personnel,'' Rivera said.
Rivera also noted how the rules have changed to favor the blockers.
But if Cole and his teammates want to set their sights on breaking the record, he's not going to tell them they can't do it.
"The nice thing is our guys have that kind of confidence,'' Rivera said. "We have some good pass-rushers. That's what it is. You have to have a combination.''
Sixteen different Panthers had at least one sack last season. Pro Bowl defensive end Greg Hardy led the way with 15, followed by
Charles Johnson
with 11.
Cole had only one.
But if Cole can improve his total by one and everybody else does as well, then the record would fall. That Carolina has its entire front seven back with the addition of second-round draft pick
Kony Ealy
as another threat makes Cole even more optimistic.
"The goal is to surpass that and get up there with the big dogs of the past years,'' he said. "We want to set records as well.''
A few teams have come close. The 1989 Minnesota Vikings had 71 sacks and the 1987 Bears had 70.
Rivera actually contributed in '87 with one sack, but that wasn't his responsibility in Ryan's scheme.
"I was what they called the sacrificial lamb,'' he said. "I was the one that ran right into the double team. I was the magnet. I would just run into this big pileup and get blowed up.''
The Panthers don't blitz nearly as much as the Bears. Many of their sacks came out of the base defense.
That makes 72 seem even more unattainable.
"For us as a defensive line, that's where our goal is,'' Cole said. "Maybe that's just me talking on my behalf. But if you don't shoot for the stars, you'll never reach the moon.''
July, 21, 2014
Jul 21
8:00
AM ET
A look at the defensive tackle position in my series on where the money is for the
Carolina Panthers
:
Total position spending:
$8,282,148
Spending vs. league average:
16
Breakdown:
Analysis:
Here's why general manager Dave Gettleman selected defensive tackles
Star Lotulelei
and
Kawann Short
in the first two rounds of the 2013 NFL draft. He got an immediate starter out of Lotulelei and a potential 2014 starter in Short -- for bargain prices. Together they count just over $3 million under the salary cap. To put that in perspective, Tampa Bay's
Gerald McCoy
, arguably the best defensive tackle in the league, counts $15.6 million this season. The Panthers are spending $8.2 million on the entire tackle unit that was considered among the league's upper tier a year ago. In addition to the draft, getting veterans
Dwan Edwards
and
Colin Cole
at bargain rates was key. This has allowed the team to overspend at end while it gets the salary cap in order. By the time that's done over the next two years, Carolina will be in position to give Lotulelei and Short the big raises they will command.
April, 8, 2014
Apr 8
6:59
PM ET
The
Carolina Panthers
will have back the entire starting front seven of the defense that ranked second in the NFL in 2013.
Cole
The last missing link was 33-year-old defensive tackle
Colin Cole
, who according to an ESPN.com source, has agreed to a one-year deal.
Cole started 13 games last season beside rookie tackle
Star Lotulelei
. They were part of a rotation with
Dwan Edwards
and
Kawann Short
that was key to Carolina ranking second in the league against the run.
The rest of the starting front seven includes ends
Greg Hardy
and
Charles Johnson
, and linebackers
Luke Kuechly
,
Thomas Davis
and
Chase Blackburn
.
Several key backups also will return in linebacker
A.J. Klein
, end
Mario Addison
and end
Frank Alexander
.
The secondary remains a work in progress with free-agent signee
Roman Harper
expected to start at strong safety, but no other position is guaranteed.
The free safety spot could go to
Charles Godfrey
, who is coming off an Achilles injury, second-year player
Robert Lester
or a free agent yet to be signed. The Panthers had Atlanta free agent
Thomas DeCoud
in for a visit on Monday.
Free-agent signee
Antoine Cason
is expected to compete for one cornerback spot.
Melvin White
, who started 11 games as an undrafted rookie last season, will compete for the other.
April, 8, 2014
Apr 8
11:00
AM ET
Carolina Panthers
defensive tackle
Colin Cole
didn't get consideration for NFL comeback player of the year in 2013, even though he started 13 games for the league's No. 2 defense after being out of football for two years.
But the Panthers would like Cole to come back for another year if the price is right.
Cole
The Charlotte Observer reported this past weekend that Carolina was negotiating with Cole. Re-signing Cole, 33, for another year makes sense and he likely would come at the bargain price that general manager Dave Gettleman wants, having played last season for the veteran minimum.
He would provide a big body (6-2, 335) for a defense that begins with stopping the run last season. And he'll provide veteran leadership for a team that relied heavily on rookie tackles
Star Lotulelei
and
Kawann Short
in 2013.
He's also a good story. After starting 26 games for the
Seattle Seahawks
in 2009 and 2010, Cole suffered an ankle injury that put him on injured reserve and ultimately required four surgeries to repair.
He began the 2011 training camp on injured reserve, and was released at the end of training camp. No team signed him that season or in 2012 even though Cole was healthy.
Last year, Cole cold-called the Panthers and asked if they needed a tackle. He scheduled his own workout, negotiated his own deal and became the first player signed under Gettleman.
Cole didn't have to go far for the workout, either. He and his wife, from Aiken, S.C., were already living in the Charlotte suburbs.
"Every rep that I get is a great opportunity," Cole said this past season. "The last two years I was sitting at home. I have the opportunity to be out on the field. And every chance on the practice field, in the weight room, in the classroom and obviously on game day, every chance I get to step on the field, I'm just ecstatic that I have the opportunity.
"I have a different perspective than most guys. And I'm going to take full advantage as much as I can."
What Cole lacked in statistics -- 15 tackles, one sack -- last season, he more than made up for in locker room and field presence.
That is the kind of role model that helped the Panthers to a 12-4 record last season. It should come as no surprise that they'd want to keep that kind of influence around this coming season.
February, 5, 2014
Feb 5
1:00
PM ET
CHARLOTTE, N.C. -- The World Champion
Seattle Seahawks
don't have much of an advantage over the
Carolina Panthers
when it comes to undrafted players.
Much was made prior to Sunday's Super Bowl blowout about how smart the Seahawks were in building the team, because they had 19 undrafted players, including five starters.
Well, the Panthers had 16, or 30.1 percent of their final 53-man roster. Seven -- offensive tackle
Byron Bell
, outside linebacker
Chase Blackburn
, guard
Nate Chandler
, defensive tackle
Colin Cole
, strong safety
Quintin Mikell
, fullback
Mike Tolbert
, and cornerback
Melvin White
-- were starters.
Add to that, defensive end
Mario Addison
started two games and safety
Robert Lester
started four.
Blackburn
And don't forget placekicker
Graham Gano
, long snapper
J.J. Jansen
, and linebacker
Jordan Senn
all were key contributors on special teams.
In the salary-cap era, finding diamonds in the rough has become more important than ever. It allows teams to fill the roster with solid role players -- some that become stars -- and give high-dollar contracts to key impact players.
It's why the next few months are important as teams evaluate players leading into the draft. Quarterback
Cam Newton
, for example, was the only player from Carolina's 2011 draft class on this year's final roster. Two players that were undrafted in 2011 were among the 53.
The Panthers didn't discover all 16 of their undrafted players, but they saw the value in each when building their roster.
Here's a closer look, and their contributions to this year's 12-5 record:
DE Mario Addison: Undrafted rookie by Chicago 2011
Comment:
Started two games when
Charles Johnson
was out with an injury. Finished the season with 21 tackles, 2.5 sacks and a forced fumble.
OT Byron Bell: Undrafted rookie by Carolina in 2011
Comment:
Started 14 games at right tackle. Helped anchor the line for an offense that averaged 126.6 yards rushing per game.
LB Chase Blackburn: Undrafted rookie by N.Y. Giants 2005
Comment:
Much of Carolina's success came after Blackburn was made the weakside starter over
Jon Beason
, who was traded to the
New York Giants
. Blackburn started seven games and was key to the team ranking second in the NFL in stopping the run. A foot injury sidelined him for three games.
TE Richie Brockel: Undrafted rookie by San Diego in 2010
Comment:
Used as part of Carolina's jumbo package.
OG Nate Chandler: Undrafted rookie by Carolina in 2012
Comment:
A former defensive tackle, he became a pleasant surprise when he took over the starting right guard position after
Chris Scott
suffered a knee injury in the eighth game. Chandler kept the job when Scott was ready to return.
DT Colin Cole: Undrafted rookie by Minnesota in 2003
Comment:
Started 13 games at defensive tackle after missing nearly two full seasons after being cut by Seattle prior to the 2011 season. His veteran leadership and run-stopping ability was key.
C Brian Folkerts: Undrafted rookie by New Orleans 2012
Comment:
Backup to Pro Bowler
Ryan Kalil
.
PK Graham Gano: Undrafted rookie by Baltimore in 2009
Comment:
Had the league's highest touchback percentage (79.7) and converted 24 of 27 field goal attempts, including all six from 50-plus yards.
DE Wes Horton: Undrafted rookie by Carolina in 2013
Comment:
Had two sacks as a backup end.
LS J.J. Jansen: Undrafted rookie by Green Bay in 2008
Comment:
A coach's selection to the Pro Bowl.
SS Robert Lester: Undrafted rookie by Carolina in 2013
Comment:
Elevated from the practice squad after Week 2 because of injuries and started four games. Had three interceptions and a fumble recovery.
SS Quintin Mikell: Undrafted rookie by Philadelphia in 2003
Comment:
Started 13 games. Finished sixth on the team in tackles with 62. Also had two fumble recoveries.
LB Jordan Senn: Undrafted rookie by Indianapolis in 2008
Comment:
One of the leaders on special teams.
FB Mike Tolbert: Undrafted rookie by San Diego in 2008
Comment:
Selected to his first Pro Bowl. Rushed for 361 yards and five touchdowns, the most by a Carolina running back. Also caught 27 passes for 184 yards and two scores. A key to the offense because of his ability to play fullback, running back and H-back.
CB Melvin White: Undrafted rookie by Carolina in 2013
Comment:
Started 11 games at left cornerback. Finished eighth on the team with 45 tackles. Had two interceptions, including one returned for a touchdown that was key to Carolina winning the NFC South in the season finale at Atlanta.
TE Brandon Williams, Undrafted by Carolina in 2013
Comment:
Was discovered in one of the NFL's nine regional combines.
January, 24, 2014
Jan 24
8:00
AM ET
CHARLOTTE, N.C. -- We'll wrap up the first week of my ranking and evaluation of the 21
Carolina Panthers
scheduled to become unrestricted free agents with a pair of interior linemen.
Meet No. 12 guard
Travelle Wharton
and No. 13 defensive tackle
Colin Cole
.
Both were starters for much of the 2013 season, but both are getting up there in age and are at positions where the Panthers have a lot of young talent they want to explore.
In case you missed the others in this ranking, they were: No. 21 quarterback
Jimmy Clausen
, No. 20 wide receiver
Brandon LaFell
, No. 19 cornerback
Drayton Florence
, No. 18 guard
Geoff Hangartner
, No. 17 linebacker
Dan Connor
, No. 16 linebacker
Jason Williams
, No. 15 tackle
Bruce Campbell
and No. 14 cornerback
James Dockery
.
Here's a closer look at Nos. 12 and 13:
12.
Travelle Wharton:
The 32-year-old wasn't re-signed until right before the season with starting left guard
Amini Silatolu
and fourth-round pick
Edmund Kugbila
nursing injuries. Both eventually went on injured reserve. Both also will be back next season. The Panthers also have
Nate Chandler
and
Chris Scott
at guard. So Wharton may be expendable for the same reason the Panthers waited so long to sign him. The team wants to move forward with young players. The good news is Wharton lives in the area and likely will be available if needed in an emergency situation again.
13.
Colin Cole:
At 33, he was a steal this past season after being out of the league for almost two years. He was a big reason the team ranked No. 2 in the league at stopping the run. But with last year's first-round pick
Star Lotulelei
anchoring one tackle spot, with the emergence of second-round pick
Kawann Short
late in the season ready to step forward in the other and
Dwan Edwards
under contract, re-signing Cole will come down to money and the value of his experience versus developing another young player. But remember, one of the strengths of the tackles last season was the luxury to rotate four players. I could see Cole coming back as a backup at a bargain price.
January, 3, 2014
Jan 3
2:00
PM ET
CHARLOTTE, N.C. -- Coach Ron Rivera is confident he'll have a majority, if not all, of his injured players back for the
Carolina Panthers
' Jan. 12 playoff game at Bank of America Stadium.
Hartsock
Ben Hartsock
, a big part of the running game in a two tight end set, is the biggest concern. Hartsock reinjured his knee in Sunday's 21-20 victory at Atlanta and has missed practice all week.
Rivera said Hartsock will be re-evaluated on Monday.
Wide receiver
Steve Smith
(knee), running back
Jonathan Stewart
(knee) and defensive
Colin Cole
(thigh) all are expected to be available on Wednesday when the Panthers begin game-planning for their opponent.
"They've been getting treatment, things are very positive,'' Rivera said on Friday. "The idea is to integrate them on Wednesday.''
Carolina (12-4) will face third-seeded Philadelphia if the Eagles beat the
New Orleans Saints
at home on Saturday night. If New Orleans wins, the Panthers will face the winner of Sunday's game between San Francisco at Green Bay.
January, 1, 2014
Jan 1
3:50
PM ET
CHARLOTTE, N.C. --
Carolina Panthers
wide receiver
Steve Smith
, who missed Sunday's 21-20 victory over Atlanta with a sprained knee, did not participate in Wednesday's light practice and will be held out all week.
Smith
Running back
Jonathan Stewart
, who has missed the past three games with a knee injury, did participate.
Both are expected to play when the Panthers (12-4) play host to Philadelphia, Green Bay or San Francisco in a Jan. 12 playoff game.
Coach Ron Rivera is confident tight end
Ben Hartsock
(knee), defensive tackle
Colin Cole
(calf) and "all of our guys'' will be ready for the playoffs.
Smith is the most significant. The passing game struggled without him at Atlanta as wide receivers had only four catches for 22 yards.
Earning a first-round bye was key. Smith said he likely could not have played this weekend.
"Steve is right on schedule,'' Rivera said. "He's doing a great job. He's feeling better every day, at least that's what he's telling me. You know Steve. He's going to do everything he can.
"I really think Steve will be where he needs to be when it's time.''
December, 27, 2013
12/27/13
1:42
PM ET
CHARLOTTE, N.C. -- No surprise,
Carolina Panthers
wide receiver
Steve Smith
would try to play in Sunday's regular season finale at Atlanta if it were left up to him.
Smith
"Steve said if I had to, I'd play," coach Ron Rivera said on Friday. "He probably couldn't, but he'd try."
It won't be left up to Smith (knee).
Rivera ruled the team's all-time leading receiver out for the 1 p.m. ET game, that with a victory gives Carolina (11-4) the NFC South championship and a first-round bye in the playoffs.
He also ruled out running back
Jonathan Stewart
(knee) and defensive tackle
Colin Cole
(calf).
Of the three, Rivera said Smith likely would be available for a first-round playoff game if the Panthers lost to Atlanta and had to play next week as a wild-card team.
"Believe me, don't bet against him," Rivera said.
Ted Ginn Jr.
and
Domenik Hixon
will rotate in Smith's role as the X receiver.
Marvin McNutt
will be activated as the fourth receiver and will play a role on special teams.
Quarterback
Cam Newton
remained on the injury report as a full participant in practice with an ankle injury. Rivera does not expect the ankle to be a factor in the team's game plan when it comes to running Newton.
"We are going to do what we have to win this football game," he said. "We're going to be smart about it, but we've got to put ourselves in position to win."
Asked if he would rest key starters such as Newton if the game becomes a blowout, Rivera said, "We'll get to that when we cross that [bridge]."
September, 6, 2013
9/06/13
1:57
PM ET
CHARLOTTE, N.C. -- The
Carolina Panthers
could start a defensive tackle who has been out of the NFL since 2010, a safety who was signed on Monday and an offensive lineman who never has started -- all in Sunday's opener against the
Seattle Seahawks
.
Let's break it down:
• Starting defensive tackle
Dwan Edwards
(thigh) missed Friday's practice with a thigh injury. He is listed as questionable. If he can't go, the Panthers will turn to
Colin Cole
, an eight-year veteran who has been out of the league the past two seasons.
Cole last played for the Seahawks in 2010 before injuring an ankle toward the end of the season. He was the first player signed by new general manager Dave Gettleman.
"He had a great camp and really dedicated himself to getting back," Carolina coach Ron Rivera said on Friday. "We have that confidence he can be that guy again.''
• Strong safety
Mike Mitchell
(calf) is "definitely doubtful," according to Rivera. If he can't go, Carolina will start
Quintin Mikell
, who joined the team on Monday after being released by the Rams earlier this year for salary cap reasons.
Rivera is upbeat because Mikell is a veteran who has played in a similar scheme before.
"But also because of the guys that are around him," Rivera said. "One of the things I really like is how [free safety]
Charles Godfrey
has really stepped it up. The corners have gravitated towards him. And then all the linebackers [have stepped up].
"It's one of those classic things when somebody comes in to replace somebody the other 10 guys pick it up. That has been outstanding.''
• Starting left guard
Amini Silatolu
(hamstring) also remained sidelined and is listed as questionable. Journeyman
Chris Scott
and
Travelle Wharton
will share the load even if Silatolu can play some. Scott has begun each of the last two practices with the first unit.
Out for Sunday are reserve backup running back
Kenjon Barner
(foot) and backup cornerback
James Dockery
(thumb).
Domenik Hixon
(hamstring), in the mix for the third receiver spot, is questionable.
Starting fullback
Mike Tolbert
(hamstring) and weakside linebacker linebacker
Jon Beason
(knee), as well as backup tight end
Ben Hartsock
(foot), are good to go.