Carolina Panthers:

Derek Anderson
February, 21, 2014
Feb 21
10:00
AM ET
Carolina Panthers
quarterback
Cam Newton
has started all 49 games of his NFL career. He's missed only a couple of snaps due to injury, and the few other times he's given way to backup
Derek Anderson
were at the end of runaway wins.
Anderson has thrown only four passes the past three seasons -- none this past season.
This is not the norm. Only eight other quarterbacks have started every game since 2011.
In other words, the Panthers have been lucky.
Not to project any bad luck on Newton, but eventually you have to figure "Superman" will get injured for at least a game or two in the next couple of seasons.
I say this because it may be time for Carolina to draft a quarterback to groom behind Newton, something it hasn't done since the former Auburn star was taken with the first pick in 2011.
Since 2006, the Panthers have drafted only two other quarterbacks --
Jimmy Clausen
in the second round and
Tony Pike
in the sixth round in 2010 -- and neither is on the roster now.
They considered drafting
Russell Wilson
as Newton's backup in 2012, but he went to the
Seattle Seahawks
in the third round before Carolina was willing to pull the trigger.
That turned out well for Wilson and Seattle.
Nothing against eight-year veteran Anderson, who is a free agent, but maybe the Panthers should spend a little time at the NFL combine evaluating some of the quarterbacks expected to go in the later rounds of this year's draft.
There aren't many who will match Newton physically (6-foot-5, 245 pounds), but there are some who pose more of a running threat than Anderson.
Not that it's essential that the backup have the same skills as the starter.
Nick Foles
certainly can't run like
Michael Vick
, but his 27 touchdown passes and league-best 119.2 rating as Vick's replacement were good enough to earn a trip to the Pro Bowl.
At the same time, having a backup who can do many of the same things as the starter could be a plus because it would require little adjustment to the offense. That's why Wilson was under consideration.
I'm not suggesting the Panthers shouldn't re-sign Anderson, either. It's hard to replace experience, particularly at a key position if the starter goes down.
But there are several quarterbacks with Newton-like skills who may be had in the late rounds. Clemson's
Tajh Boyd
(6-2, 220 pounds) has been projected by ESPN draft analyst Mel Kiper Jr. as being available in the fifth round.
His final game in the Orange Bowl definitely was Newton-like. He passed for 378 yards and five touchdowns and rushed for 127 yards and a touchdown.
That game alone may get Boyd drafted higher than the Panthers are willing to use a pick on.
But there are others who may be available, from Virginia Tech's
Logan Thomas
to South Carolina's
Connor Shaw
.
General manager Dave Gettleman comes from a
New York Giants
organization that often kept only two quarterbacks, and the Panthers kept only two this past season.
But after three years of defying the odds with Newton, it may be time to draft a backup who could at least be placed on the practice squad.
February, 21, 2014
Feb 21
8:00
AM ET
Last but certainly not least, Part 9 of my position-by-position analysis of the
Carolina Panthers
' roster focuses on the position where the starter likes to mock Superman after touchdowns.
Yes,
Cam Newton
.
Next up:
Quarterback
2013 grade: B-minus.
This was Newton's coming out party as a winning NFL quarterback. Although his total yards passing and rushing were down, he had a career-best 24 passing touchdowns and became much improved at game management.
Newton
Under contract (2014 salary cap number):
Cam Newton ($7,008,113).
Total:
($7,008,113).
Key free agents:
Derek Anderson
.
Good news:
Newton has emerged into a group of the top quarterbacks behind the elite group of
Peyton Manning
,
Tom Brady
,
Drew Brees
and
Aaron Rodgers
. He matured as a player who is capable of leading the team to last-minute, game-winning touchdowns as he did against Miami, New England and New Orleans. General manager Dave Gettleman and coach Ron Rivera don't hesitate to call him their franchise quarterback. He should only get better when surrounded by more weapons.
Bad news:
That Newton's contract situation is getting so much attention. He still has a year left on his initial deal, although he is eligible for an extension and deserves one based on performance. A tight salary cap makes it difficult, but regardless the focus should be on improving and not money. I can't really say there's bad news that Newton's backup (Anderson) is a free agent, because Anderson barely has gotten on the field the past three seasons. And it appears the Panthers will be able to re-sign Anderson to a reasonable deal if he wants to return.
The draft:
It may be time to use a late-round pick to groom behind Newton. There's nothing wrong with Anderson, but his style is completely different because of the running element Newton brings. A player such as Clemson's
Tajh Boyd
is projected to be around in the fifth round. He has many of the same qualities Newton has as a runner. Or maybe a
James Franklin
of Missouri, although he wasn't quite as prolific as a runner at Missouri.
January, 28, 2014
Jan 28
8:00
AM ET
We move into the top 10 of my ranking and evaluation of the
Carolina Panthers
' 21 players eligible to become unrestricted free agents with a player who hasn't started a game since 2010.
Quarterback
Derek Anderson
.
You may be surprised to see his name here, but when you read below it hopefully makes sense.
To rehash the rankings so far: No. 21 quarterback
Jimmy Clausen
, No. 20 wide receiver
Brandon LaFell
, No. 19 cornerback
Drayton Florence
, No. 18 guard
Geoff Hangartner
, No. 17 linebacker
Dan Connor
, No. 16 linebacker
Jason Williams
, No. 15 tackle
Bruce Campbell
, No. 14 cornerback
James Dockery
, No. 13 defensive tackle
Colin Cole
, No. 12 guard
Travelle Wharton
and No. 11 linebacker
Jordan Senn
.
Now to No. 10:
10. Derek Anderson:
You can't enter training camp without a proven backup quarterback. Well, you can, but it's risky. Anderson has been in Carolina's system for three seasons since last starting nine games for Cleveland in 2010. He understands what offensive coordinator Mike Shula wants and he's been a positive influence on starter
Cam Newton
. With Newton averaging 122 rushes in his first three seasons, the team has been fortunate he hasn't been injured enough to start. At some point it could happen, and it makes sense to have Anderson ready when it does. It also makes sense for Carolina to bring a young quarterback into camp to challenge for the backup role, but you have to have Anderson in place in case that doesn't pan out. He seems content being Newton's backup and he shouldn't come at a high price. It just makes sense.
October, 7, 2013
10/07/13
12:30
PM ET
CHARLOTTE, N.C. -- An examination of five hot issues from the
Carolina Panthers
' 22-6
loss
to the
Arizona Cardinals
:
Bench Newton:
I was asked on Twitter if it was time to bench
Cam Newton
in favor of
Derek Anderson
after the franchise quarterback had three interceptions and a fumble against the Cardinals. The answer is no. Do that and you might as well trade the first pick of the 2011 draft. While Newton made more than his share of poor decisions, he started the game 5-for-5 for 70 yards and would have been 6-for-6 for 74 yards and a touchdown had
Steve Smith
not dropped a 4-yard touchdown pass. As badly as this turned out, Newton still gives the Panthers the best chance to win. And he had a streak of 10 straight games without multiple interceptions before this one.
[+] Enlarge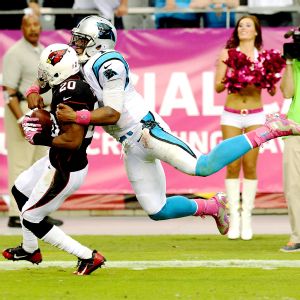 Photo by Norm Hall/Getty ImagesCam Newton tracks down Antoine Cason after Cason picked up a Newton fumble.
Hardy har har on me:
I predicted defensive end
Greg Hardy
would have another stellar game facing second-year tackle
Bradley Sowell
, a former college teammate making his first NFL start. Oops. Hardy didn't have a sack and made only three tackles, one more than quarterback Cam Newton trying to atone for mistakes. Carolina's defensive front that had six of the seven sacks against the Giants had 1½. End
Charles Johnson
's only tackle was his sack of
Carson Palmer
. Not what one would expect out of a unit that prior to the game was being called one of the best in the NFL.
Blood, sweat and tears:
Criticize if you want Newton for throwing three interceptions and fumbling. But few if any quarterbacks in the league would have run down two defenders -- one after an interception and another after a fumble -- to make the tackle as he did. "He was wiping blood off his hand one time in the huddle," left tackle
Jordan Gross
said. "I don't have any problems with him. There's not a whole lot of quarterbacks that are going to chase down the guy he threw an interception to. Those plays shows you how bad he wants to win."
Miscommunication:
In case you thought
Travelle Wharton
was at fault on the sack and safety that came one play after he replaced injured (knee) left guard
Amini Silatolu
, think again. That one was on All-Pro center
Ryan Kalil
, who admittedly had a communication issue on the play as the pressure came right up the middle. Kalil thought he was going to have help, but took credit for not getting that information to the help. Newton didn't stand a chance as end
Calais Campbell
came in almost untouched for the tackle. That made it 12-6 and ignited the fourth-quarter meltdown.
Ups and downs:
As bad as this one looked in the final score, the Panthers did a few things right. They rushed for 95 yards against a team that had been allowing 75. Newton passed for 308 yards and the Panthers led in total offense 353 yards to 250. As Gross said, "I know we're good and talented because we can get 270 yards of offense in the first half. We're just not an efficient machine here if that makes sense. Too many ups and downs." Makes perfect sense. But more downs than ups, which tends to make for down seasons.
August, 29, 2013
8/29/13
10:41
PM ET
CHARLOTTE, N.C. -- Starting quarterback
Cam Newton
wore some form of skull cap instead of his signature towel Thursday night as he played spectator in the
Carolina Panthers
'
25-10 victory
over the
Pittsburgh Steelers
.

Well, it was terribly humid for a towel.
Otherwise, here are my thoughts on the preseason finale.
Two quarterbacks enough. Derek Anderson proved why he is the easy choice to back up Newton and why third-stringer Jimmy Clausen is expendable. Anderson completed his first five passes and finished an efficient 10-for-15 for 220 yards and two touchdowns. He even had an ill-advised scramble for 9 yards.
Who are these guys? There may be more depth at wide receiver than expected. Ted Ginn Jr. and Domenik Hixon made good cases to be the third receiver behind Steve Smith and Brandon LaFell. Ginn caught five passes for 149 yards and two touchdowns, including an 87-yarder in which he blistered the Pittsburgh secondary. Hixon caught four passes for 44 yards, including a nice 23-yard third-down grab on the sideline.
Secondary question. Carolina needs its front seven, most of whom barely played, to have a big season to cover up soft spots in the secondary. Most of those spots are in the middle, where reserve Steelers tight end David Paulson looked like a Pro Bowler in the first half.
Who needs camp? Travelle Wharton moved right into the lineup at left guard after only three practices and held his own. Not bad for the former and now current Panther who hadn't played in more than a year while recovering from a knee injury.
Playmaker: Corner Josh Norman needs to be on the field. He had his fourth interception of the preseason, returning this one 70 yards.
What it all means: Absolutely nothing. Except Carolina has its first winning preseason record (3-1) since 2006.
What's next: Roster cuts to 53 on Saturday, but don't expect a major surprise -- unless you consider Clausen a surprise. Time to get ready for the Sept. 8 opener against the Seattle Seahawks, who will give Carolina a big test on both sides of the ball right away.
August, 28, 2013
8/28/13
9:57
AM ET
CHARLOTTE, N.C. -- Whether
Jimmy Clausen
makes the final 53-man roster for the
Carolina Panthers
remains in doubt.
Clausen
But Clausen has nothing to be ashamed of, at least when you compare him to the top four quarterbacks selected in the 2010 NFL draft --
Sam Bradford
No. 1,
Tim Tebow
No. 25 (1st), Clausen No. 48 (2nd) and
Colt McCoy
No. 85 (3rd).
It's less than stellar.
Of those four selected in the first three rounds -- we could look deeper but it doesn't get any better -- only Bradford with the
St. Louis Rams
is a starter. Only Clausen remains with the team that drafted him.
The combined record of these four is a dreadful 30-56-1. Tebow, 9-7 including a playoff win with Denver, is the only one with a winning record, and he's in danger of not making the cut at New England. Bradford is 15-26-1.
Again, less than stellar.
But let's focus on Clausen. Carolina coach Ron Rivera made it clear that veteran
Derek Anderson
will be
Cam Newton
's backup for the third straight season. Rivera was vague when asked if Clausen would remain the third quarterback again, saying it will come down to numbers.
The numbers put Clausen at risk because of injuries on the offensive line and a group of unproven players behind the top two receivers which is likely to force the Panthers to keep more numbers there.
Then there's new general manager Dave Gettleman. He came from a
New York Giants
organization that had a history of keeping only two quarterbacks.
None of this bodes well for a third-string quarterback with a 1-9 record as a starter.
"All I can ask for is an opportunity," said Clausen, who has completed 9 of 17 pass attempts for 93 yards and no touchdowns in the preseason. "When my name gets called to go out there, I have to be ready to execute. That's the biggest thing is to execute, make good decisions and move the chains."
Clausen likely will get that chance in Thursday night's preseason finale against the
Pittsburgh Steelers
. With starter Cam Newton unlikely to play more than one or two series -- if at all based on last year's finale in which he didn't dress -- Clausen and Anderson will carry the bulk of the load.
Unfortunately for Clausen, that will come with backups and backups to backups. So it's doubtful anything he does will make a huge difference regarding whether Carolina keeps him or not.
"That's a question for the GM and the head coach," Clausen said. "That's not for me to decide. All I'm worried about is practicing and trying to help the team get better, and just play my role on the team."
Whether Clausen will be on the team remains to be seen.
August, 27, 2013
8/27/13
8:40
AM ET
CHARLOTTE, N.C. -- If you were looking for a battle for the job to hold quarterback
Cam Newton
's clipboard, sorry.

Anderson
There isn't one.
Derek Anderson
will begin his third season as the backup for the
Carolina Panthers
. There really never was a serious competition between the 2007 Pro Bowl selection at Cleveland and
Jimmy Clausen
.
Anderson is a veteran who has a stabilizing effect on Newton. He started 43 games from 2006 to 2010 between Cleveland and Arizona, so if Newton were to go down, he has experience to step in and lead.
In three preseason games, Anderson has completed 57.7 percent of his passes, close to what the Panthers are looking for. Newton has struggled at 47.8 percent.
"Our backup quarterback situation has really shaped itself out to what it was last year," coach Ron Rivera said. "As we're going forward, we've got a good crop of quarterbacks and we feel very strong about those guys."
The only remaining question is will the team keep three quarterbacks or two? Stay tuned on that one.
August, 22, 2013
8/22/13
11:02
AM ET
Three things to watch as the
Carolina Panthers
play the
Baltimore Ravens
on Thursday at 8 p.m. ET in a game that will be broadcast on ESPN:


Cam Newton and Jimmy Clausen.
Newton will get his most extensive playing time of the preseason, and the Panthers hope he and the offense can get in a rhythm. Newton has led only one touchdown drive this preseason. Clausen is expected to play with the second team. That's not a sign that Clausen has a chance to beat out
Derek Anderson
for the backup job. It's more of a sign that the Panthers want to take a good look at Clausen before deciding if they want to carry two or three quarterbacks on the roster.
The receivers.
Armanti Edwards
,
Domenik Hixon
and
Joe Adams
aren't expected to play due to injuries. That means more playing time for
Ted Ginn Jr.
and
David Gettis
, who are having strong preseasons and have a chance to be among the top backups at receiver.
Garry Williams.
He's been getting the first-team work at right guard since the team released veteran
Geoff Hangartner
. Williams needs a strong showing because it still is possible the team could bring in a veteran as other teams trim their rosters.