Carolina Panthers:

Geoff Hangartner
December, 6, 2013
Dec 6
8:00
AM ET
CHARLOTTE, N.C. -- The text arrived at 5:08 p.m. on Monday. It said: "My wife. 'Sooooooo, how long is this thing going to be around?' So who's the winner?''
Carolina Panthers
center
Ryan Kalil
was kind -- or mischievous -- enough to share the message he and other teammates got from left tackle
Jordan Gross
.
Those who were on the team bus two weeks ago when members of the offensive line decided to grow playoff beards apparently made a lunch bet on when Dana Gross would suggest that her husband's attempt might need to go.
Guard
Geoff Hangartner
didn't believe it would last a week. He had Nov. 30. Tackle
Byron Bell
had Dec. 2. Kalil had Dec. 3. Tight end
Richie Brockel
had Dec. 4. Linebacker
Jordan Senn
had Dec. 6. Quarterback
Cam Newton
had Dec. 7, 8 and 9.
[+] Enlarge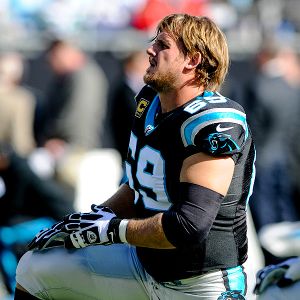 AP Photo/Mike McCarnJordan Gross' beard, such as it is, has been a source of enjoyment for his Panthers teammates.
If it went past Dec. 10, Gross won.
It didn't come close.
Bell won.
Teams in sports often grow beards as a sign of unity. The Boston Red Sox rode them all the way to the World Series. In 2010, the San Francisco Giants created a "Fear the Beard'' phenomenon en route to a World Series title. The New York Islanders started a long-standing tradition of playoff beards in hockey in the early 1980s, when they traded their razors for four Stanley Cups. It's been a tradition since way before there was a "Duck Dynasty."
But what makes Gross' adventure in facial hair unique is this is his first. He's tried to grow beards before, but they'd get so splotchy -- or "crusty," as he and his teammates like to say -- that he'd shave before it had a whisker of a chance to fill in.
This two-week growth might be evidence that it never will happen.
"I can't grow facial hair and these guys all have beards, and so they told me I need to grow my hair and a beard for the playoffs,'' Gross said as the 9-3 Panthers were preparing for a Sunday night NFC South showdown against the 9-3
New Orleans Saints
.
"So, being the team guy I am, I said, 'Sure, I'll be the brunt of all your jokes.'"
Trust me, there have been jokes. Many have come from Gross, who doesn't mind making fun of himself.
But it's obvious Gross never will have a beard in the same class as Kalil, who would look like the Santa Claus in the 1994 remake of "Miracle on 34th Street'' if you dyed his thick, black hair white.
"When this started I said, 'Kalil, what are you doing [for this unity]?'" Gross said. "He said, 'I'm growing my beard longer.' I said, 'Oh, that's real daring. A thick beard to a long beard.'
"So he's growing his beard longer, and I have to grow a whole crusty beard with big spots in it."
A few of Gross' teammates declined to talk about his beard. Running back
DeAngelo Williams
said, "I've already let him know what I think of his beard. We've had that conversation."
It didn't sound like he was a fan.
Kalil apparently is a beard aficionado, having read a book about the advantages of having a beard, a book he shared with Jordan.
"There's actually scientific benefits," Kalil said. "They protect you from UV rays. It's a natural filter to any carcinogens in the air."
It also collects food if you're a messy eater.
As for Gross' beard, Kalil said, "It's all genetics-based, so it's not an effort on his part. But I respect the commitment to it."
Gross laughed. He's just glad the Panthers are good enough this season to warrant a playoff beard.
"I'm not afraid to look crusty if it makes the guys happy and boosts the team spirit," he said.
Then he walked away.
Then Kalil got a devilish look in his eyes and shared the text.
"He's probably going to be upset I told you this," he said. "But it's going to be hilarious."
November, 7, 2013
Nov 7
8:00
AM ET
CHARLOTTE, N.C. -- Imagine you're fired by your long-term employer. Out of the blue. No warning whatsoever.
Now imagine two months later the employer calls and asks you to come back. Says he needs you even though he basically said he didn't need you when you were let go.
Do you swallow your pride?
Welcome to
Geoff Hangartner
's world.
The
Carolina Panthers
cut the nine-year veteran during training camp in August. He got the news about a year after signing a three-year, $4.85 million deal. He said at the time he was blindsided.
But he wasn't bitter, at least not enough that when the Panthers (5-3) called on Sunday he didn't jump at the opportunity to return.
"Football is a cutthroat business,'' said Hangartner, affectionately known as "Piggy'' in the locker room. "I was disappointed when I was cut, but it's always a reality.
"I've been watching all the games and rooting for the guys. I had played here long enough where it wasn't going to sour my experience with the Panthers.''
On Sunday Hangartner was hanging out at his Austin, Texas home watching the Panthers dismantle the
Atlanta Falcons
34-10 -- following the team that selected him in the fifth round of the 2005 draft.
He wasn't totally surprised when his phone rang because he watched firsthand as starting right guard
Chris Scott
(knee) and backup
Jeff Byers
(foot), two players that made him expendable in the first place, went down with injuries.
Two days later, he was on a plane for Charlotte to take a physical. On Wednesday, he was back on the field as if he'd never left.
"If we had some guy come in today that we were going to count on and none of us knew and didn't know the offense, there would be a stress level," left tackle
Jordan Gross
said. "But when it's [Hangartner], he's the smartest football player that I've ever played with on the O-line.
"He could teach us the offense probably right now."
Hangartner is smart. He reportedly scored 47 out of 50 on the Wonderlic Personnel Test given during the NFL combine to measure a player's intelligence.
When released, he was smart enough to know it wasn't because of his salary. With a reasonable cap value of $1.575 million, he knew it had more to do with his play in 2012 and the Panthers moving forward with younger players.
The Panthers had to put four guards on injured reserve --
Amini Silatolu
,
Edmund Kugbila
,
Garry Williams
and Byers -- before calling him.
"I would have been happy being retired," Hangartner said. "There were probably six or eight teams I would have played for and this was No. 1 on my list, so as soon as they called, I was coming back."
Hangartner won't be the starter when Carolina takes its four-game winning streak to San Francisco (6-2) on Sunday. But he'll be first up if
Nate Chandler
, a defensive lineman moved to backup tackle during offseason workouts, struggles.
No hard feelings here.
November, 5, 2013
Nov 5
2:28
PM ET
CHARLOTTE, N.C. -- For the second time this season, the
Carolina Panthers
are turning to a veteran they cut during training camp to help an injury situation.
The Panthers flew guard/center
Geoff Hangartner
into Charlotte on Tuesday to take a physical, and then he was signed Tuesday afternoon.
Hangartner is being brought in to help at right guard. Starter
Chris Scott
is day-to-day with a sprained knee suffered in the second quarter of Sunday's
34-10 victory
over Atlanta.
Backup
Jeff Byers
was placed on injured reserve after he had season-ending Lisfranc surgery on his left foot on Monday that he also injured in the second quarter.
That left the Panthers with former defensive lineman-turned-backup tackle
Nate Chandler
playing 41 snaps at guard.
Coach Ron Rivera said on Monday that Chandler will begin the week working with the first team, but acknowledged the team was thin at that spot.
Hangartner appeared to be the starter until he was cut in August so the Panthers could focus on younger players. He started 12 games last season and every game in 2011.
Earlier this season, the Panthers brought back veteran cornerback
Drayton Florence
after suffering multiple injuries at the position during a Week 2 loss at Buffalo. Florence returned an interception for a touchdown on Sunday.
August, 22, 2013
Aug 22
11:02
AM ET
Three things to watch as the
Carolina Panthers
play the
Baltimore Ravens
on Thursday at 8 p.m. ET in a game that will be broadcast on ESPN:


Cam Newton and Jimmy Clausen.
Newton will get his most extensive playing time of the preseason, and the Panthers hope he and the offense can get in a rhythm. Newton has led only one touchdown drive this preseason. Clausen is expected to play with the second team. That's not a sign that Clausen has a chance to beat out
Derek Anderson
for the backup job. It's more of a sign that the Panthers want to take a good look at Clausen before deciding if they want to carry two or three quarterbacks on the roster.
The receivers.
Armanti Edwards
,
Domenik Hixon
and
Joe Adams
aren't expected to play due to injuries. That means more playing time for
Ted Ginn Jr.
and
David Gettis
, who are having strong preseasons and have a chance to be among the top backups at receiver.
Garry Williams.
He's been getting the first-team work at right guard since the team released veteran
Geoff Hangartner
. Williams needs a strong showing because it still is possible the team could bring in a veteran as other teams trim their rosters.