Carolina Panthers:

Hakeem Nicks
March, 24, 2014
Mar 24
12:00
PM ET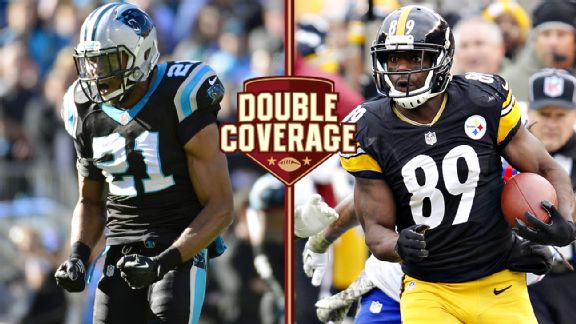 USA TODAY SportsThe swap of safety Mike Mitchell to the Steelers and receiver Jerricho Cotchery to the Panthers bring a veteran presence to each locker room.
It wasn't a trade but two of the biggest free-agent signings by the Steelers and Panthers amounted to two players switching teams. The Steelers signed former Panthers free safety
Mike Mitchell
on March 11, luring him away from Carolina with a five-year, $25 million contract. The Panthers finally added a wide receiver when they signed
Jerricho Cotchery
last Thursday to a two-year contract. ESPN.com Steelers writer Scott Brown and ESPN.com Panthers writer David Newton take a closer look at this de facto swap.
Scott Brown:
David, you reported that Cotchery's contract is worth as much as $5 million. I'm happy for Cotchery, a good player and an even better person, but I am a little surprised that the Panthers gave that much money to a complementary wide receiver who turns 32 in June. Is it a sign that the Panthers were desperate at wide receiver or do they really like Cotchery because he is still productive and gives them a veteran presence?
David Newton:
Maybe a little bit of both. After losing out on
Hakeem Nicks
and with other free agent receivers signing elsewhere, the market was pretty bare. Cotchery was one of the few veterans left, and the Panthers couldn't go into training camp without somebody to help bring along what likely will be the youngest receiving corps in the NFL -- the 31-year-old Cotchery aside. His value comes from his experience and the leadership. That he's played in a system similar to what offensive coordinator Mike Shula ran for five of his 11 seasons is a plus. That he can play all three receiver spots even though he has been labeled as a slot receiver also worked in his favor. Is he as good as
Steve Smith
, Carolina's all-time leading receiver, who was released? I don't think so, even though Smith soon will be 35. But everything else Cotchery brings seems to be a plus.
Having said that, Mitchell brought an aggressive attitude to Carolina's defense last season. Was that something the Steelers were looking for when they signed him?
Brown:
They really needed to get younger and faster in the secondary and the Steelers accomplished both by signing Mitchell. Adding another thumper to the back end of their defense is a bonus and it looks like Mitchell has the range to cover a lot of ground. He will need to do that playing with
Troy Polamalu
. The eight-time Pro Bowler moves around the field, sometimes leaving the Steelers with a single safety as the last line of defense.
I really like this signing for the Steelers as Mitchell is only 27 and seems to be on the upswing of his career. He talked about his work ethic during his introductory news conference in Pittsburgh and seems to have the desire to be great. If he gives the Steelers a badly needed playmaker for their defense they will be very happy with this signing.
Since you covered Mitchell during the season in which he really blossomed what can you tell Steelers fans about one of the newest additions to the team?
Newton:
He's one of the best quotes on the locker room, mainly because he's brutally honest. It's refreshing. He's also one of the more fined players in the league, which he doesn't hesitate to remind commissioner Roger Goodell of. Beyond all that, he's a solid player in coverage and with the occasional pass rush. His numbers this past season were good enough to make the Pro Bowl. Just not a lot of people knew much about him. But the thing I liked the most, and the reason the Panthers wanted him back, was he brought an aggressive attitude to the secondary -- heck, the defense.
Having said that, was aggressiveness something the Steelers were looking for or needed when they signed him?
Brown:
They need the mindset because it lends itself to making game-changing plays and the Steelers could more of that from their defensive backs. They intercepted just 10 passes last season, ranking near the bottom of the league, and they were minus-four in turnover differential. If Mitchell builds on a season in which he intercepted four passes -- four fewer than the Steelers' defensive backs combined -- he will make for a good pairing with Polamalu.
The Mitchell signing got the Steelers off to a good start in free agency but they have since lost two of their top three wide receivers. I think losing Cotchery was bigger than
Emmanuel Sanders
-- even though the latter was a starter -- because it seemed so likely that he would re-sign with the Steelers. But the Panthers made Cotchery and offer he couldn't refuse, leaving the Steelers with little experience at wide receiver behind Pro Bowler
Antonio Brown
before they signed
Lance Moore
.
David, what was the reaction from Panthers' fans to the Cotchery signing? Relief more than anything that they finally brought in an established wide receiver?
Newton:
More astonishment that they let 34-year-old Steve Smith go and signed a 31-year-old that hasn't accomplished nearly what Smith has. I think a few were won over when Cotchery said out of respect he would not wear Smith's No. 89, the number he wore at Pittsburgh. He seems like a classy guy and people will appreciate that. There's still concern that he's not a No. 1 or maybe not even a No. 2 receiver. Many are calling for Carolina to trade for Philadelphia's
DeSean Jackson
, even though the price tag for Jackson would be prohibitive for a team in need of a true No. 1.
How do you see Cotchery fitting in on a team that is looking to take the next step in the playoffs after a 12-4 season? Does he have enough in the tank to be a No. 2 at least?
Brown:
Cotchery is class personified, and he is a consummate professional -- in his preparation, dealings with the media and mentoring younger players. Steelers rookie
Markus Wheaton
became Cotchery's shadow last year because he wanted to learn from such a respected veteran. Does that translate into Cotchery giving the Panthers the kind of production he enjoyed last season when he rejuvenated his career? I'm not sure that is the case if the Panthers are counting on him starting.
I think Cotchery would best serve Carolina as a No. 3 wide receiver, one who uses his smarts and experience to get open more than his speed. I can tell you this:
Ben Roethlisberger
trusted Cotchery more than any wide receiver on the roster last season and I think
Cam Newton
will also find that Cotchery is always where he is supposed to be and just as reliable with his hands. What Carolina has to though is keep adding reinforcements at wide receiver so they don't have to rely too heavily on Cotchery.
March, 17, 2014
Mar 17
8:00
AM ET
The
Carolina Panthers
made an offer to
Hakeem Nicks
thinking they had a legitimate shot to sign the former
New York Giants
receiver.
That was until the
Indianapolis Colts
stepped in and not only offered Nicks a one-year contract worth up to $5.5 million, but also an opportunity to be on the receiving end of passes from quarterback
Andrew Luck
and be a part of a team that could be one of the best in the AFC next season.
ESPN.com Panthers reporter David Newton and Colts reporter
Mike Wells
talk about Nicks' decision to sign with Indianapolis
[+] Enlarge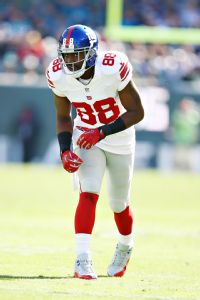 Al Bello/Getty ImagesHakeem Nicks chose the Indianapolis Colts over the Carolina Panthers.
Wells:
David, Carolina quarterback
Cam Newton
proved last season that he's one of the best young quarterbacks in the league. But Luck has proven in just two years -- with 22 victories -- that he has the complete package: arm, foot speed and mental toughness. So it seems Nicks made the right decision to sign with the Colts. What are your thoughts?
Newton:
Totally agree. When Nicks picked Indy over Carolina I mentioned one of the reasons may have been Luck was the more proven quarterback. It didn't sit well with Carolina fans. My argument was simple. Two trips to the playoffs to one. But the bigger reason is Nicks will be surrounded by proven receivers in Indy. Maybe that would have happened at Carolina, but at the time of the decision the Panthers didn't have a receiver on its roster with an NFL catch. When
Brandon LaFell
signed with New England on Saturday that guaranteed Newton won't have any of his top four wide receivers from last season. At Carolina, Nicks risked the possibility of being double-teamed because there wasn't anybody proven to take coverage away. He would have been the clear-cut No. 1, and I'm not sure he's a No. 1. Luck also has a more established offensive line. So when I said Luck was more proven there were other factors around that.
Having said that, if you were starting a team from scratch would you pick Luck or Newton?
Wells:
I like how Newton played last season, but I've still got to give Luck the edge over him and players such as Seattle's
Russell Wilson
and San Francisco's
Colin Kaepernick
. Luck's résumé speaks for itself. He led the Colts to an 11-5 record during a rookie season when his coach, Chuck Pagano, missed 12 games while battling cancer. He repeated that record last season while losing five offensive starters by Week 7. Luck has led the Colts on 11 fourth quarter or overtime game-winning drives in his young NFL career. Should I continue? It also helps that Luck's Colts have already beaten the Seahawks and 49ers. Maybe you and I can corner Rob Chudzinski somewhere after the season and ask him his thoughts because he obviously coached Newton in Carolina and he's about to coach Luck with the Colts next season.
It seems like the Panthers don't seem to know which direction they're headed with players like receiver
Steve Smith
being released. Am I wrong to think that could sway a free agent's decision?
Newton:
It would have to cast doubt. It certainly casts doubt in my mind. It'll all come down to how convincing general manager Dave Gettleman is on selling his plan. And yes, there's a plan.
Jerricho Cotchery
is coming in for a visit on Monday and
James Jones
says he'd like to play for Carolina. If the Panthers can get a couple of solid veterans -- even if they aren't bona fide No. 1s, and select a dynamic receiver with either their first- or second-round pick, the receiving corps potentially could be better than last season. Even Smith admitted he's not a No. 1 anymore. So for all the grief I've given Gettleman for making a mistake in dumping Smith, in the long run it could work out. I mean, the beef on LaFell last season was he wasn't a bona fide No. 2.
Ted Ginn
Jr. had a nice season, but he had only two catches the year before.
Domenik Hixon
had only one catch that impacted a game. So big picture, they didn't really lose a lot.
So how do you expect Nicks to fit in at Indianapolis? Can he help put Indy over the top?
Wells:
Colts fans are a little leery because there was high hope last year when
Darrius Heyward-Bey
, the No. 7 pick in the 2009 draft, signed a one-year contract the same way Nicks did. Heyward-Bey, to put it as nice as possible, was brutal last season. So brutal that he ended up being demoted to special teams where he actually did a great job downing punts inside the 20-yard line. I think Nicks will fit in nicely because he doesn't have the pressure of being the No. 1 receiver. He simply has to just fit in alongside of fellow receivers
Reggie Wayne
and
T.Y. Hilton
. Tight ends
Dwayne Allen
and
Coby Fleener
are also receiving options for Luck. The fact that Nicks had almost 900 yards receiving last season and that was considered a down year for him is a good thing for the Colts. Luck will find him as long as he can get open.
Newton needs somebody to throw the ball to. What are the Panthers going to do since Smith is gone and Nicks decided playing with the Colts was a better option?
Newton:
As I mentioned above, Cotchery is coming in for a visit and I still believe they'll get Jones. The plan is to find a few bargains and blend them in with a draft pick. Smith would have made a nice No. 2 receiver in this package in my opinion. But from everything I gather Newton won't be heartbroken to see his top receiver gone. Smith has gotten in Newton's face more than a few times the past few years. As much as that may have been needed, there is a belief on the team that Smith might have been a distraction to Newton as the central leader of the offense. It will be interesting to hear how Newton spins it when we finally hear from him.
Now that the Colts have Nicks, what's the rest of their free-agency plans?
Wells:
General manager
Ryan Grigson
has put an emphasis on defense so far. They still need to find a safety to replace
Antoine Bethea
, who signed with San Francisco last week. The interior part of the offensive line could use some help, too. They signed former Dallas center
Phil Costa
last week. The Colts haven't completely shut the door on Cleveland center
Alex Mack
even though it is a longshot that they'll be to get him because the Browns used the transition tag on him. Adding another guard wouldn't be a bad idea, either.
March, 10, 2014
Mar 10
8:30
AM ET
Now we know
Hakeem Nicks
' hometown
Carolina Panthers
are one of three teams the soon-to-be-former
New York Giants
wide receiver would be interested in playing for in 2014.
He said so
Sunday in an interview
with ESPN's Josina Anderson, listing Carolina, Indianapolis and San Diego as possible destinations in free agency, which begins Tuesday.
[+] Enlarge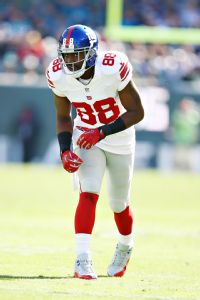 Al Bello/Getty ImagesHakeem Nicks caught 56 passes for 896 yards this past season.
"Ideally, this is what I want," Nicks told Anderson. "I want to go to a team where I'm the missing link. There are a number of teams now that I have my eye on once I hit the market. I know if I went to a place like Indianapolis I would be dangerous with a quarterback like
Andrew Luck
. I can see myself catching passes from
Cam Newton
or even
Philip Rivers
."
Nicks, contrary to a report on Saturday, also said he wants a long-term deal.
What he didn't say is how he could make a deal work with the salary-cap-strapped Panthers, assuming they want Nicks.
You would have to assume there is interest, considering general manager Dave Gettleman was with the Giants prior to last season and he's made it clear upgrading wide receiver is a priority.
Here are four things that could help:
Hometown discount: If Nicks really wants to return to Charlotte, where he starred at Independence High, one option would be to bite the bullet on a large number in his first year or two. That would be the "hometown discount" that defensive end Greg Hardy kept talking about before being hit with the franchise tag. With only about $7 million left under the cap, Carolina can't sign Nicks and shore up the secondary and offensive line.

Smith factor: The Panthers still haven't said whether or how 34-year-old receiver Steve Smith fits into their future. If they decide Smith can play nice and accept the role of No. 2 receiver, the best way Smith can show his good faith would be to restructure his contract that will count $7 million against the cap this season. If they decide Smith can't play nice, then trading or cutting him would be an option, even though it makes little sense financially. Cutting Smith would save only about $2 million, and the Panthers still would have to pay him $5 million. Regardless of what happens with Smith, the Panthers will draft a receiver in the first or second round. Putting a young star with Nicks and/or Smith would be a huge upgrade.

Other restructures: Defensive end Charles Johnson still has a high cap number of $16.4 million, as does free safety Charles Godfrey at $7.1 million. Restructuring one or both of those could clear room to sign Nicks. This needs to happen regardless for the Panthers to improve the overall team.

Cam factor: If Newton wants new toys -- and he definitely needs them to take his game to the next level -- then he has to be patient on a long-term deal. The Panthers still have until May to use the fifth-year option that would guarantee Newton is on the roster through 2015. They can use the extra time to negotiate a long-term deal. It just probably can't happen this year with so many holes to fill and so little money to do it.
The good news for Carolina is Nicks isn't coming off 1,000-yard receiving seasons such as he had in 2010 and 2011. He had 56 catches for 896 yards and no touchdowns last season and 53 catches for 692 yards and three touchdowns the year before. Smith can put up those numbers in his sleep. He had 64 catches for 745 yards and four touchdowns last season despite missing the regular-season finale with a knee injury.
Although reportedly good to go, past knee and ankle injuries also could keep Nicks' salary down. Perhaps he would be willing to take a low number for the first year loaded with incentives based on performance.
We don't really know. All we know is that Carolina is one of the teams Nicks would like to join, and the Panthers desperately need help at wide receiver.
March, 9, 2014
Mar 9
10:30
AM ET
A few observations that could impact the
Carolina Panthers
as teams began talking to representatives of free agents from other NFL teams on Saturday:
Nicks

New York Giants wide receiver Hakeem Nicks is willing to consider a one-year deal to prove he's better than his statistics have shown the past two seasons, according to ESPN's Chris Mortensen. Nicks still probably will cost more than the Panthers are willing to pay with only about $7 million left under the cap. But what better place to start over than in the city where you were born.

Nicks attended Charlotte's (N.C.) Independence High School. At 26, he still has a lot of good years ahead of him. And don't forget Carolina general manager Dave Gettleman has a history with him as the former director of pro personnel for the Giants.

That Nicks is expected to have several options with Denver and Baltimore among teams that could be interested will only drive up the price.
Wide receiver Sidney Rice, recently released by the Seattle Seahawks, was back in the Carolinas judging from this Saturday tweet: "Back home for 15 hours and I've seen 1 thousand Gamecock fans. Lovin it! #gamecocknation."

Rice is from Gaffney, S.C., about an hour from Charlotte. He played at the University of South Carolina, about 90 miles from Charlotte.

Like Nicks, he's looking for a fresh start. He missed most of last season with an ACL injury, but according to several reports he should be fully recovered to begin training with his new team in April.

At 6-foot-4 and 202 pounds, the 27-year-old still can be dynamic when healthy. The Panthers need dynamic. The problem is he has trouble staying healthy, which could make him a bargain.
The Panthers remain interested in re-signing free safety Mike Mitchell and wide receiver Ted Ginn Jr., two of their 18 remaining unrestricted free agents.

Both are drawing interest from other teams, Mitchell in particular.

Don't be surprised if Carolina takes the same approach with them that it did with cornerback Captain Munnerlyn a year ago in letting him test the market to set the price.

Munnerlyn, who turned down a three-year deal worth $5 million to test the market, eventually settled on a one-year deal to return to Carolina.

Gettleman appears willing to play that game again. Keeping Mitchell, judging from early interest, could be difficult.