Carolina Panthers:

Jadeveon Clowney
April, 2, 2014
4/02/14
4:58
PM ET
COLUMBIA, S.C. -- Between the ponytail that hung from the back of his helmet to the imaginary six-shooters he pulled after big plays, Steve Taneyhill became quite good at wowing the fans during his freshman season of 1992 at the University of South Carolina.
But he never had a "wow" moment quite like he witnessed on Wednesday at Williams-Brice Stadium.
Taneyhill, his hair much shorter and his physique much fuller, was only a few feet away when a coach lined up six blocking bags for defensive end
Jadeveon Clowney
to jump flatfooted during a drill at
South Carolina's pro day
.
Clowney did it with ease.
So the coach lined up a seventh, saying he'd never seen anybody jump flatfooted over that many.
Clowney did.
He made it look easy.
The 6-foot-6, 266-pound defensive end then swooped up a pair of tennis balls and completed that drill as effortlessly as he did every other drill with representatives from 30 of 32 NFL teams looking on.
Taneyhill, now the head coach of Union (S.C.) High School, stood there and shook his head.
"Just wow!" he said.
Every team in the NFL needs a "wow" player, but none more than the
Houston Texans
, who have the first pick of the draft. As Clowney reminded, he has never been a part of a losing team and South Carolina never won more than 10 games before he arrived.
The Gamecocks were 11-2 every year he was there.
The
Atlanta Falcons
would like Clowney to fall to them at No. 6, but that seems like a long shot at best. And if he does, there may be five teams regretting the decision a few years from now.
Clowney seems like the most sure thing in this draft. He is a freak of nature as a pass-rusher, even though his three sacks this past season after 21 in his first two sent up red flags.
The Texans would like Clowney to play outside linebacker in their 3-4 scheme. Having him line up in a three-point stance in front of a tackle or tight end is scary enough. Having him line up with a running start would be downright terrifying.
Former
Carolina Panthers
guard
Travelle Wharton
, a starting left tackle his senior season at South Carolina in 2003, was among those wowed by Clowney's workout.
At 32, Wharton is leaning toward retirement. The thought of facing Clowney playing outside linebacker might speed up the process.
"That's going to be tough for a lot of tackles," Wharton said. "He's got the raw talent. If he stays healthy, he's going to be a big-time player in the league."
And that poor-work-ethic thing that people keep questioning Clowney about? Wharton didn't see any signs of it.
"I've been through this process," he said. "If you're not in shape, it will show."
Former NFL quarterback Donovan McNabb has been through it, too. Working as a television analyst on this sun-splashed day, he said the work ethic questions are "garbage to me."
He said Clowney has the "wow" factor teams are looking for.
"He has the speed, the tenacity," McNabb said. "When he wants to turn it on he can be the most dominant guy in the league."
Clowney is so excited about the future that he wished they had been in pads on Wednesday so he could hit somebody.
He had to settle for jumping over pads.
And even that created a wow moment.
April, 2, 2014
4/02/14
8:00
AM ET
The first time I saw
Jadeveon Clowney
play football in person he was a freshman defensive lineman at South Pointe High School in Rock Hill, S.C. That also was the last time I saw my youngest son, then a freshman at Fort Mill High, play quarterback.
The two are connected.
Clowney
On what my son says was a busted play, he took off running to get what he could. Clowney took off running, too. A man among boys back then, he sent my freshman hard to the ground with cracked ribs and a back injury that still gives him issues.
He never played quarterback again, and for all practical purposes never played football again.
"I did all that? Oh, man!" Clowney recently told me during an interview as part of a promotion for Gillette.
I'll get my second look at Clowney in person Wednesday at the University of South Carolina pro day in Columbia, where the 6-foot-6, 266-pound defensive end will try to convince the
Houston Texans
he should be the first pick of the May draft.
Clowney wants to be the first pick just as he was the top college prospect coming out of Southside. He's not worried about those who question his work ethic, saying, "People are going to say whatever they want."
Clowney's mom may secretly want her son to play for the
Carolina Panthers
. She has been a fan of the NFL team that is about 30 minutes from Rock Hill for a long time.
But the Panthers have no shot at Clowney with the 28th pick. And even if they were to trade into the top two or three -- which they won't -- they already are stacked at end with
Greg Hardy
and
Charles Johnson
.
"It would be fun," Clowney said of playing so close to home. "But I don't think I'll be down that far."
He won't. He shouldn't fall outside of the top three.
Clowney didn't grow up a Carolina fan, but he did study former Panthers defensive end
Julius Peppers
.
Peppers and Clowney are similar in build. Peppers also had a reputation for not having the best work ethic coming out of the University of North Carolina in 2002.
[+] Enlarge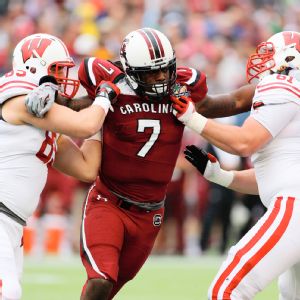 Scott Halleran/Getty ImagesJadeveon Clowney drew a crowd on the field. He'll get plenty of attention at pro day, too.
The Texans, coincidentally, had the top pick that year as well. They passed on Peppers and took quarterback
David Carr
, who went on to become one of the biggest quarterback draft busts of the past 30 years.
The Panthers got Peppers at No. 2. He had three sacks in his second NFL game and finished his rookie season with 12 to win the league's Defensive Rookie of the Year award.
He made the Pro Bowl five times during his eight-year career at Carolina, where his 81 sacks remain a team record.
The Texans once again are debating whether to take a quarterback or perhaps Clowney.
Clowney has the same type of potential as Peppers. He wowed coaches with a 4.53 time in the 40-yard dash at the NFL scouting combine in Indianapolis. That's faster than all but Washington's
Robert Griffin III
among current starting quarterbacks.
Clowney likes to compare his style to
DeMarcus Ware
, who had 117 career sacks with the
Dallas Cowboys
before being signed by the
Denver Broncos
during free agency. But his work ethic will be debated following a junior season in which he had only three sacks after collecting 21 in his first two years.
"In my heart, I'm No. 1 in the draft," Clowney said.
He definitely was the best player on the field the first time I saw him in person.