Carolina Panthers:

Jerry Richardson
May, 15, 2014
May 15
11:30
AM ET
On Monday evening Wofford College dedicated a bronze sculpture of
Carolina Panthers
owner Jerry Richardson in recognition of the upcoming 20th year in which the team has trained at the Spartanburg, South Carolina campus.
Richardson was an All-American receiver at the school in the late 1950s.
The ceremony occurred in front of a small gathering of the school's board of trustees and close friends of Richardson. There was no media and no fanfare, which typifies the way Richardson has conducted business since he brought the NFL to the Carolinas in 1995.
The sculpture fittingly depicts Richardson overlooking Gibbs Stadium, where the Terriers play football and the three practice fields built to give the Panthers a suitable home for camp.
It stands on the patio of the Harley Room in the Richardson Physical Activities Building that is named after Richardson, who began his business empire in Spartanburg after helping the 1959 Baltimore Colts win the NFL championship.
"I have said many times that the friendships I was fortunate to build at Wofford in the 1950s have led directly to whatever success I may have enjoyed," Richardson said at the event. "Without Wofford's influence on my life, I would not have been able to achieve what I have."
I was covering the team on that hot, muggy day -- typical in Spartanburg -- in 1995 when players such as
Sam Mills
,
Mark Carrier
,
Frank Reich
,
Don Beebe
and
Pete Metzelaars
walked onto the field with then-coach Dom Capers.
The thousands of fans that showed for the historic moment didn't care that the air was so thick you could hardly breathe or that the players weren't NFL superstars or that the team wasn't expected to win right way.
They were there to celebrate the arrival of the NFL to a small, Southern town that Richardson helped put on the map.
The imposing figure the sculpture captures will be a constant reminder to all of what Richardson has done.
The unveiling was so discreet that it didn't become public until Tuesday. By then the media world was embroiled in covering
Greg Hardy
's arrest on charges that he assaulted his girlfriend, Nicole Holder.
I can only imagine the pain that brought Richardson, who has worked tirelessly to ensure the product he puts on the field meets the same integrity and standards he demands from all off the field.
It's been a rough stretch for Richardson, one of the more influential owners in the league. He had a heart transplant in 2009, fired long-time head coach John Fox after the 2010 season, and last year lost his son, Jon, to a long battle with cancer.
The 2013 team that went 12-4 gave him hope of fulfilling his dream to bring a Super Bowl champion to the Carolinas, something he came close to doing when the 2003 team lost to New England by three points in the championship game.
Richardson will take Hardy's arrest personally even though he shouldn't. He also shouldn't let it spoil the moment that occurred on Monday.
That shouldn't be lost.
January, 17, 2014
Jan 17
2:30
PM ET

CHARLOTTE, N.C. --
Carolina Panthers
founder and owner Jerry Richardson took out a full-page ad in Friday's Charlotte Observer to say thanks to all involved in a turnaround season for the organization.
A nice touch, he did it with a handwritten note on his personal stationery.
Here's what he said:
Thank you Panthers fans, players, coaches and organization for a memorable season.
We fell short of our ultimate goal of winning the Super Bowl, but not for a lack of effort. Progress was made and we now have an opportunity to build upon it.
A 12-win season, NFC South championship and a playoff berth have laid the foundation. None of this would have been possible without a complete team effort.
Thank you,
Jerry Richardson
December, 17, 2013
12/17/13
5:08
PM ET
I wrote earlier today about how
Carolina Panthers
linebacker
Thomas Davis
was making a
big impact off the field
as well as on it.
The Panthers obviously felt that as well.
[+] Enlarge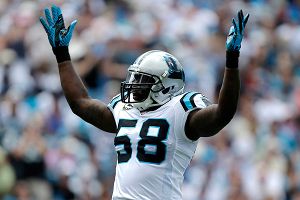 AP Photo/Bob LeveronePanthers owner Jerry Richardson says linebacker Thomas Davis is a "leader who is unselfish with his time and energy to help those around him."
On Tuesday, the team nominated Davis as one of 32 players -- one from each team -- for the Walter Payton Man of the Year award. Players are selected for their community service as well as excellence on the field.
Davis exudes both.
As a player, the team captain already has a career-high four sacks and 128 tackles for the league's second-ranked defense. He was named the NFC Defensive Player of the Week for his performance at Minnesota in Week 6 and the Defensive Player of the Month for November in helping Carolina to a 4-0 record.
He's not only a leader on the field, he's a leader in the locker room.
Off the field, Davis and his wife Kelly run the Thomas Davis Defending Dreams Foundation that has promoted programs that enhanced the quality of life for more than 2,000 underprivileged children and their families.
Davis spent his off day on Tuesday giving toys to about 300 children who might normally not get a Christmas present. This past summer, he put a $60,000 playground in his hometown of Shellman, Ga., to help give kids a direction.
Davis also is actively involved with the team's community outreach efforts -- including the NFL Play60 programming -- and makes regular visits to the local children's hospital. He is a strong advocate for hunger relief efforts and a spokesperson for a heart health testing program for local student-athletes.
"I have had the pleasure of watching Thomas Davis grow into the confident mature, caring man he is today," Panthers owner Jerry Richardson said in the team release. "No one takes his position of influence more seriously than Thomas on the field or in the community.
"He is a leader who is unselfish with his time and energy to help those around him, whether that is the younger players on the team or the youth in the Carolinas. He is committed in to his profession, his family and his charity work. and that is why he has made our community a better place to live."
"Thomas Davis lives his life the way that Walter Payton did -- family and community first," said Carolina coach Ron Rivera, who was a teammate of Payton's with the
Chicago Bears
. "His commitment as a husband and father reflects Walter's loving spirit.
"Thomas' strength to come back from three knee surgeries is indicative of Payton's toughness on the football field. I can think of no other Panthers player who is as deserving as Thomas."
Davis wasn't given serious consideration for the NFL's comeback player of the year last season after coming back from three ACL surgeries on the same knee in three years. He's spoken openly how that bothered him, even though he understands why
Peyton Manning
won the award.
Perhaps if he wins this award it will somehow make up for that. It will be announced at the Super Bowl, which is his ultimate goal for the 10-4 Panthers.
September, 19, 2013
9/19/13
4:55
PM ET
CHARLOTTE, N.C. --
Carolina Panthers
owner Jerry Richardson doesn't come to practice often, but when he does it's a welcome sight for players and coaches.

Thursday was no different as Richardson roamed the practice fields in his golf cart, stopping to visit with coach Ron Rivera, general manager Dave Gettleman and players.
"It's uplifting,'' said Rivera, whose team is 0-2. "It shows the players that he cares, that he has a genuine concern for us and who we are as a football team. He did it last year several times. This is nothing new, and it's always good to have him out. For the players, it's a good thing because they know he cares beyond [that] they're on the team.''
Don't read too much into the visit with speculation Rivera could be ousted during the upcoming bye week if the Panthers fall to 0-3 on Sunday against the winless
New York Giants
.
Richardson appeared in a really good mood despite his franchise's struggles, stopping to crack a joke with me about returning to cover the team after a seven-year hiatus.
Meanwhile, Rivera wouldn't even discuss speculation about his status.
"I'm not going there,'' he said. "I have no concern about that. We play the Giants this week.''