Carolina Panthers:

Josh Norman
November, 24, 2013
11/24/13
9:00
PM ET
MIAMI --
Carolina Panthers
coach Ron Rivera didn't say he was going to make changes to his secondary after Sunday's 20-16 victory over the
Miami Dolphins
, but don't be surprised if he does.
The week after starter
Josh Thomas
was beaten deep on a couple of plays against the
St. Louis Rams
, including a 63-yard touchdown that was nullified by a penalty, the cornerback was inactive.
Rivera and defensive coordinator
Sean McDermott
also sat cornerback
Josh Norman
this season after he missed some plays.
After watching Miami wide receiver
Mike Wallace
torch cornerback
Captain Munnerlyn
for a 53-yard touchdown and a 57-yard catch that set up a field goal, and after watching him get behind safety
Mike Mitchell
near the goal line on the next-to-last-play, Rivera hinted something had to change.
Or he could make more changes.
"Getting over the top,'' Rivera said. "Your job is to keep it in front of you and you have to. And we're going to address that and make sure it gets corrected. We're going to play the guy that does things that we ask them ... to do it the right way.''
Rivera didn't mention names. It's highly unlikely he would make a change with Munnerlyn, who has been Carolina's steadiest corner all season. He has pointed to Mitchell on several occasions as the inspirational leader of the secondary, so a change there would come as a surprise.
But Rivera obviously wasn't happy, to the point he almost couldn't enjoy the win.
"It almost certainly has to be corrected,'' Rivera said. "We cannot allow those things. That's disappointing. A couple of things we're going to address and get corrected. We have to because we can't allow that. We don't give ourselves a chance to win games. We've got to play smart.''
Munnleryn, who for the past few weeks has argued Carolina's secondary that came into the season as a weak link wasn't getting respect, took responsibility for Wallace's big plays in the first half.
"It's my fault,'' he said. "I sat on his route and thought a comeback was coming, but I stuck to the route and lost him. I have a sharp memory and I'll pick my game back up.''
Mitchell didn't seem concerned that Wallace was going to catch the last deep pass and spoil Carolina's comeback.
"No way I was going to let him catch the ball,'' he said.
And no way will Rivera sit back and watch deep passes get behind his secondary.
Stay tuned.
September, 19, 2013
9/19/13
5:45
PM ET
CHARLOTTE, N.C. -- There's nothing like a two-week vacation without pay.
That pretty much sums up what happened to veteran cornerback
Drayton Florence
, who was re-signed by the
Carolina Panthers
on Wednesday night after being cut following the final preseason game in August.
That pretty much sums up the injury-riddled Carolina secondary.
Florence has gone from taking his son to swim lessons to possibly starting at left corner in Sunday's 1 p.m. game against the
New York Giants
.
Then there's rookie
Robert Lester
, who went from the practice squad to definitely starting at strong safety.
When they say next man up in the NFL, they mean it. Florence is just happy for the opportunity after being at home on opening day for the first time since he was selected in the second round of the 2003 draft.
Now he has a couple of days to get ready for the Giants, who lead the league in passing.
"I'm ready,'' Florence said. "This is my opening day.''
Florence most definitely will play. Whether he starts depends on
Josh Thomas
being cleared by doctors after suffering a concussion in Sunday's 24-23 loss to the
Buffalo Bills
.
Thomas practiced on a limited basis on Thursday, as did backup
Josh Norman
(thigh bruise), and is optimistic he'll be cleared.
But as head coach Ron Rivera said, the signing of Florence "was a very prudent move.''
He's insurance.
He's also a veteran who may be able to help a young group that even before the rash of injuries against Buffalo -- the most severe free safety
Charles Godfrey
lost for the year with a torn Achilles -- struggled to stop the pass.
Opposing quarterbacks have completed 72.2 percent of their attempts, a big reason for the 0-2 start. Only the
Washington Redskins
at 73.1 are worse.
"It's like he never left,'' Rivera said of Florence. "He did a nice job of understanding what we're doing, the concepts we're using for this game, and he just fit right in. It was good to have him back in the meetings and the practice field. It was kind of neat watching him work with some of the younger guys, too.''
The Panthers need experience even though they are excited about the young, athletic potential of Thomas and Norman. Of the starters without Florence, no member of the secondary has been in the league more than five seasons.
"I always thought it was very athletic,'' Florence said of the secondary before he was cut. "We were taking the underdog approach. It was something we kind of established in training camp.
"[But] those things don't mean much until you start winning games.''
The Panthers need Florence almost as much as he needs them. After several weeks of taking the kids to school in Jacksonville, Fla., his wife "was a little bit tired of me hanging around the house.''
"We're all happy now,'' said Florence, who has offers from right cornerback
Captain Munnerlyn
and defensive tackle
Dwan Edwards
to sleep on their couch or spare bed. "I'm just coming here to help the team out anyway I can.''
September, 19, 2013
9/19/13
4:30
PM ET
CHARLOTTE, N.C. --
Carolina Panthers
coach Ron Rivera is concerned that starting defensive tackle
Dwan Edwards
won't be ready for Sunday's game against the
New York Giants
.
Edwards missed his second straight day of practice on Thursday with a thigh injury. It is the same injury that had Edwards limited the week before the opener, in which he played.
"Yes there is [a concern],'' Rivera said. "He's an older guy. Nagging thing. He was limited as far as running around. What you're hoping for is tomorrow he runs around and tells you it doesn't grab.''
The good news is cornerbacks
Josh Thomas
(concussion) and
Josh Norman
(deep thigh bruise) returned to practice on a limited basis. Thomas still hasn't been cleared by doctors to play, but he remains optimistic.
Rivera indicated that if Thomas isn't cleared,
Drayton Florence
will start at left cornerback. The veteran was among the final cuts in training camp after starting most of the preseason, but re-signed on Wednesday night.
Rivera said strong safety
Quintin Mikell
and backup running back
Kenjon Barner
are out for the Giants. He said rookie
Robert Lester
will start at strong safety with
Mike Mitchell
moving from strong to free safety to replace
Charles Godfrey
, who was put on injured reserve with a torn Achilles.
September, 17, 2013
9/17/13
8:00
AM ET
CHARLOTTE, N.C. --
Carolina Panthers
coach Ron Rivera didn't sound convinced that cornerback
Josh Norman
never got the signal for a switch on Buffalo's game-winning touchdown with two seconds left on Sunday.
In case you missed it, nickelback
D.J. Moore
signaled Norman to switch on a rub rout. Norman didn't, and rookie quarterback
EJ Manuel
found a wide-open
Stevie Johnson
in the left side of the end zone.
Final score: Buffalo 24, Carolina 23.
Here's what Norman had to say about it.
"Oh, no,'' he said when asked if he heard the call. "We were both in man. It was just a combo call where me and the nickel switch positions, switch off guys. I never looked inside. I was locked in. I was zoned in. He gave a call and he expected me to do something.
"We've just got to be more on the same page. We will next time. It just sucks that it had to come down to that."
Here was Rivera's take.
"Apparently, Josh Norman didn't play it,'' Rivera said of the switch. "It's a critical situation. You get a communication. ... You'd like to believe when the call is made you execute the call and you're in position to make the play."
Told Norman said he didn't hear the switch, Rivera said: "That's something we're going to get to the bottom of. That's something that most certainly will be discussed.''
Cornerback
Captain Munnerlyn
said Moore definitely made the call.
"I [saw] him give Josh a combo call,'' he said. "I don't know that Josh ever [saw] it. He did call it. Just miscommunication on their part.''
Carolina's bigger concern with Norman is his health. With starting corner
Josh Thomas
possibly out this week against the pass-happy but winless
New York Giants
, the Panthers could use him.
But Norman suffered a sprained MCL on his right knee and a deep thigh bruise on his right leg. He was in extreme pain on Monday and doesn't know what his status will be.
"We'll see Wednesday,'' Norman said.
It would be another blow to a secondary that already will be without starting free safety
Charles Godfrey
, who suffered a season-ending Achilles injury in the loss, and possibly without starting strong safety
Quintin Mikell
(ankle).
"I don't know what we're going to do right now,'' said Munnerlyn, the only member of the starting secondary not injured. "Kind of lost. Hopefully, we'll know by Wednesday.''
September, 11, 2013
9/11/13
8:00
AM ET
CHARLOTTE, N.C. -- The
Carolina Panthers
' secondary is picking up where it left off last season -- and that's not a good thing.
Carolina had the league's worst opponent-completion percentage last season at 66.8. One week into this season, after Seattle's
Russell Wilson
completed 25-of-33 attempts for a 75.8 success rate, the Panthers are ahead of only Chicago (78.8) and Oakland (78.3).
Buffalo Bills
rookie quarterback
EJ Manuel
must be licking his chops in anticipation of Sunday's game visit from the Panthers.
And Manuel wasn't that bad in his debut against New England, going 18-for-27 for a 66.7 percentage.
The good news for Carolina after the 12-7 loss is that starting strong safety
Mike Mitchell
(calf) may be back this week. The Panthers also are considering using cornerback
Josh Norman
more -- perhaps over starting left corner
Josh Thomas
, who was burned for the 43-yard game-winning touchdown.
"We've just got to work on that on defense,'' cornerback
Captain Munnerlyn
said of reducing opposing quarterbacks' efficiency. "I think we only had one break-up in the back, and that's not good being in the secondary.
"We've got to work on that, continue trying to get the ball out and make plays on the ball."
September, 10, 2013
9/10/13
4:00
PM ET
CHARLOTTE, N.C. -- As well as the
Carolina Panthers
played defensively in Sunday's 12-7 loss to the
Seattle Seahawks
, there were areas they must improve.
The most glaring? What defensive coordinator Sean McDermott calls the four-minute defense.
Carolina had Seattle pinned at the 3-yard line with 4:42 remaining. But on second-and-15 quarterback
Russell Wilson
was able to connect with running back
Derrick Coleman
on a short pass that turned into a 12-yard gain because linebacker
Jon Beason
missed a tackle.
On the next play, Seattle converted for a first down and the Seahawks were able to run out the clock.
The easy explanation for what happened is the Panthers were gassed, but that's just an excuse. Was Beason tired? Well, yes. It was his first full game after missing a year recovering from a knee injury. But again, he'll tell you tired is no excuse.
Were others tired? Yes. The four-man rotation at defensive end was reduced to three when
Frank Alexander
was ejected for taking a swing at a Seattle lineman after a big sack by safety
Charles Godfrey
. He'll be fined later in the week, and coach Ron Rivera already has given him an earful for hurting the team.
But again, those are excuses.
"It's unfortunate we played such a good game but we couldn't finish at the end,'' Beason said. "It's a tough pill to swallow.''
Carolina's secondary also gave up too many plays as quarterback Wilson passed for 320 yards, his first 300-yard game, including a game-winning 43-yard touchdown pass over cornerback
Josh Thomas
.
As well as Thomas played against the run, look for Carolina to use
Josh Norman
more this week against Buffalo.
But there were far more positives than negatives. The Panthers held running back
Marshawn Lynch
to 43 yards on 17 carries and the Seahawks had only 70 total rushing yards. They sacked the elusive Wilson two times and pressured him countless others without using a lot of exotic blitzes.
As fellow ESPN NFL Nation colleague Terry Blount said after watching the stout Seattle defense all preseason, "The Panthers' front seven is really good.''
How good?
"Probably as good as I've been around,'' said McDermott, who was involved with some pretty good defenses at Philadelphia. "They're not there yet, but probably as good as I've been around.
"Now that people have seen how good they can be, how disruptive they can be -- I'll give you another word for potential, because I don't like that word -- [but] they have a chance to be pretty darn good.''
But there is room for improvement.
September, 5, 2013
9/05/13
9:30
AM ET
Carolina Panthers
cornerback
Captain Munnerlyn
was a freshman at the University of South Carolina in 2006 when the coaching staff lined him up against hotshot wide receiver
Sidney Rice
in practice.
Munnerlyn
Keep in mind, at 5-foot-8 Munnerlyn was dwarfed by the 6-4 Rice, who was on his way to breaking the school record for receiving touchdowns.
"Everybody was like, 'Uh, oh!' '' Munnerlyn recalled.
Here's where the story gets good. The South Carolina quarterback threw a jump ball to take advantage of Rice's superior height and leaping ability. Munnerlyn, not intimidated at all, surprised everybody by coming down with the ball.
Gasps followed.
"That's how I [made] my name down there in Columbia,'' Munnerlyn said with a smile. "I don't know if you remember, but I wore No. 30. The next day I was No. 1.''
I share this story because a couple of young members in Carolina's secondary have a chance to make names for themselves in Sunday's 1 p.m. opener against Rice and the high-powered
Seattle Seahawks
.
Most of the talk his week is how big and physical the Seattle's cornerbacks are, and how young and inexperienced Carolina's are. That's fair considering Seattle corner
Brandon Browner
is a Pro Bowler, and
Richard Sherman
was on the cover of Sports Illustrated in July.
The Seattle cornerbacks are surrounded by Pro Bowl safeties as well.
Carolina's cornerbacks are Munnerlyn and, according to Seattle quarterback
Russell Wilson
, the "Josh guys'' --
Josh Thomas
and
Josh Norman
. None are big, and Thomas (5-11) has only four career starts.
On paper it looks like an "uh oh'' moment.
But as Munnerlyn reminded, this is an opportunity.
"We know they've got good corners on the other side of the field,'' the fifth-year player said of Seattle. "I've been preaching all week to JT and Josh [Norman] that when we are on the field to show what we've got.
"They're always talking about the Seattle corners, (how) they're physical. But we have a physical group, too. We'll see on Sunday who has the best game. If we outplay their secondary, I feel we'll be pretty good and win this game.''
This game indeed could come down to the secondary for both teams. Carolina quarterback
Cam Newton
must find a way to be more efficient against Seattle. In Week 5 last season, he completed only 45.4 percent of his passes in a 16-12 loss to the Seahawks.
The Panthers must find a way to slow Wilson, who was 19-for-25 for 221 yards and a touchdown against them last season. They must find a way to improve over last season's NFL-high 66.85 completion percentage against them.
Having a front seven that stacks up against most in the league will help if it can pressure Wilson. And as Munnerlyn reminded, last season Carolina intercepted Wilson twice -- including Munnerlyn's 33-year return for a touchdown.
So, while Carolina appears to be the forgotten secondary in this matchup, there is an opportunity to change that.
"We've just got to make plays,'' Munnerlyn said.
September, 4, 2013
9/04/13
8:09
AM ET
CHARLOTTE, N.C. --
Josh Thomas
is listed as the starter at left cornerback over
Josh Norman
on the
Carolina Panthers
' first depth chart of the regular season.
This shouldn't come as a complete surprise since Thomas is more sound at many of the little things in coverage, particularly zone coverage, that cost Norman the starting job a year ago.
But don't be surprised to see Norman, who led the NFL with four preseason interceptions (two more than any other player), on the field a lot.
Coach Ron Rivera said when explaining the release of veteran
Drayton Florence
on Saturday that the team needed to get its two young defensive backs playing time. He gave reasons both will be on the field not only in Saturday's opener against Seattle but all season.
"They're both good, solid, young football players and they need to get on the football field, both of them," Rivera said. "They are different style football players. Thomas is more compact, physical. Norman is more long range. He has good poise.
"What I'd love is to have those two guys develop into full-time starters.''
Amini Silatolu
is listed as a starter at left guard on offense, but that will depend on how he goes through the next couple of days with the hamstring injury that sidelined him at the end of training camp.
The same goes for strong safety
Mike Mitchell
. If he can't go, veteran
Quintin Mikell
, signed as a free agent on Monday, will step in.
September, 2, 2013
9/02/13
4:44
PM ET
CHARLOTTE, N.C. -- It's not ideal to have question marks among multiple starters less than a week before the opener, but that's what the
Carolina Panthers
are dealing with heading into Sunday's game against the
Seattle Seahawks
. Let's break it down:
Strong safety
: A calf injury to starter
Mike Mitchell
in practice last week and concussion to backup
Haruki Nakamura
(waived injured) forced the team to sign free agent veteran
Quintin Mikell
on Monday.
Mitchell sat out of Monday's practice and will be re-evaluated on Wednesday, so Mikell potentially could start after being unemployed since the
St. Louis Rams
released him in March.
The good news is Mikell has spent the past two seasons with the Rams, so he played the Seahawks four times as an NFC West opponent. Mitchell sounded optimistic he would be ready to go by Wednesday, saying he's the starter "until somebody tells me I'm not.'' Long-term, this could be a good thing because Mikell is an improvement over Nakamura.
"The league is about competition, so the more competition they add at every spot the better we're going to be, the deeper we're going to be,'' Mitchell said. "Maybe I was so far ahead of the competition they had to bring somebody else in.
"I'm not taking it in a negative way at all."
Left guard
: Good news here as
Amini Silatolu
(hamstring) returned to practice on Monday. He looked so good that coach Ron Rivera backed down from last week's expectation that the second-year player wouldn't be ready for the Seahawks.
"I don't feel that way anymore, especially after seeing him today,'' Rivera said.
Rivera said Amini will start if he doesn't show signs on Wednesday that the hamstring is bothering him and gets through the rest of the week without backsliding. If he can't go, then
Travelle Wharton
and
Chris Scott
will play the position by committee.
Left cornerback
: Veteran
Drayton Florence
's release left either
Josh Thomas
or
Josh Norman
as the starter. Rivera wouldn't say which he'll go with on Monday even though Thomas took a majority of the first-team snaps.
"They're both good, solid young football players and they need to get on the field,'' Rivera said in addressing why Florence was released after working most of the preseason with the first team.
In all likelihood you'll see both Norman and Thomas on the field at different times. Rivera said the team needs a rangy back like Norman to cover many of the tall receivers they'll face in the NFC South. Norman showed his ability in the preseason with a league-high four interceptions.
Rivera also said the Panthers need more compact, physical corners like Thomas. So it could come down to matchups.
Running back
: More good news as fullback
Mike Tolbert
(hamstring) returned to practice and took the full load. Rivera remains optimistic he'll be ready by Sunday.
He'll need him with
DeAngelo Williams
the only experienced back left after
Jonathan Stewart
was placed on the physically unable to perform list last week.
Extra point
: Rivera said the staff considered adding a quarterback to the practice squad to run the scout team after
Jimmy Clausen
was released. That didn't happen, so backup
Derek Anderson
will get the scout team snaps.
September, 1, 2013
9/01/13
8:00
AM ET
CHARLOTTE, N.C. -- The decision to release veteran cornerback
Drayton Florence
on Saturday was a good thing if your first name is Josh and you play cornerback for the
Carolina Panthers
.
As in
Josh Norman
and
Josh Thomas
.
With Florence gone on the left side, one will step into the starting lineup for the Sept. 8 opener against the
Seattle Seahawks
. The likely and popular choice is Norman, who led the NFL in preseason interceptions with four, two more than any other player.
[+] Enlarge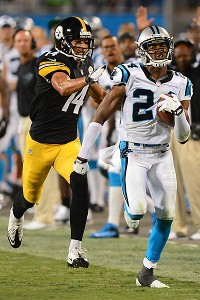 Jeff Siner/Charlotte Observer/MCT via Getty ImagesPanthers cornerback Josh Norman picked off four passes during the preseason.
While ESPN's statistics department isn't aware of an official preseason record for interceptions, it was able to determine that Norman is the only player with at least four since 2000. There have been 13 with three.
Is Norman ready to return to the position he lost after starting the first 12 games a year ago? It appears so.
Asked how he felt after the preseason finale, a 25-10 win over Pittsburgh in which he returned an interception 70 yards before being tackled, Norman said, "comfortable."
"I can sit out there now and just read stuff, just play off guys, and my eyes got a whole lot better,'' he continued. "I can see the field a lot better. Instead of hesitant to make a play, I'm going to make a play. I feel like that every time I get out on the field."
What has kept the second-year player from Coastal Carolina out of the starting lineup since his mistake-riddled performance against Kansas City last season has been little things such as discipline and reading his keys.
It didn't help that Carolina won its final four games after Norman was benched.
Norman knows all this, and believes his performance in training camp has proven he's ready to contribute. Coach Ron Rivera has been impressed, but hedges by saying Norman needs to continue to "learn to play within the confines of the defense.''
"I kind of get like sporadic out there sometimes,'' Norman admitted. "I see stuff faster than other guys and I want to pick up on it, but I [miss] my keys and what I know I'm not supposed to do. It comes with understanding and learning and getting out of my habits and ways.''
The good news is Carolina has a solid front seven that will cover up a lot of mistakes in the secondary because quarterbacks should have less time to throw. That makes getting a big playmaker such as Norman on the field more important.
"I'll just continue to do what I've been doing and I'll be in a good spot,'' Norman said.
The Panthers need Norman to help put a secondary, which gave up the highest opponent completion percentage (66.8) of any team in the league last season, in a good spot.
Preseason returns look promising. Although there remain some soft spots in the middle, Carolina's defense led the league with 10 preseason interceptions -- the most by a team since the 2000 Cardinals.
Yes, there's bad news. The Cardinals went on to a 3-13 regular-season record and intercepted only 10 passes. Only two teams had fewer.
But like Norman, the potential is there for Carolina to avoid that pitfall.
"We're good right now,'' said Norman, who began proving his point with two interceptions in the preseason opener against Chicago. "We just need to continue to do the little things to get us to where we are. We'll propel ourselves into being in a good spot at the end of the year."
Norman already has propelled himself to a better spot.
August, 31, 2013
8/31/13
6:28
PM ET
Most significant move
: In the world of perception that quarterback is the most important position, the most significant move would be cutting third-stringer
Jimmy Clausen
, simply because the 2010 second-round draft pick out of Notre Dame was brought in to replace
Jake Delhomme
. He was waived injured after hurting his shoulder in the preseason finale, but would have been waived regardless.

But in reality it's cornerback
Drayton Florence
. He was signed to add veteran leadership and experience to a young secondary. He worked with the first team for most of training camp. But the re-emergence of
Josh Norman
, who led the league with four preseason interceptions, and the solid play of
Josh Thomas
made the aging defensive back expendable even though he returned an interception 71 yards for a touchdown against Baltimore. Norman put himself in position to reclaim a position he lost after starting the first 12 games of his rookie season in 2012. He is an exceptional talent who just needs to refine the little things to potentially become a star. The good news is Carolina's front seven is strong, which should give quarterbacks less time to throw and cover up some of the mistakes the second-year player undoubtedly will make.
Survivor 2011
: Defensive tackle
Sione Fua
was voted off Panther island, leaving quarterback
Cam Newton
as the only remaining member of Carolina's 2011 draft class on the active roster. That doesn't speak well for what the staff thought of former general manager Marty Hurney's selections.
The others from that class were: DT
Terrell McClain
, third round pick, released in 2012; CB
Brandon Hogan
, fourth-round pick, waived from IR in 2012; WR
Kealoha Pilares
, fifth-round pick, on injured reserve; LB Lawrence Wilson, sixth-round pick, released in 2011; G Zack Willliams, sixth-round pick, released 2013.
Team moves
: Waived injured -- QB Jimmy Clausen, S
D.J. Campbell
, WR
David Gettis
, S
Anderson Russell
. Waived -- OT
Garrett Chisolm
, DT Sione Fua, TE
Zack Pianalto
, WR
James Shaw
, WR
Brenton Bersin
, G Hayword Hicks, LB
Doug Hogue
, S
Robert Lester
, LB
Ben Jacobs
, RB
Tauren Poole
, TE
Dominique Curry
, WR
Taulib Ikharo
, G
Tori Mobley
, DE
Craig Roh
, DT
Casey Walker
. Terminated vested veterans -- OT
Patrick Brown
, CB Drayton Florence, LB
Jason Williams
.
What's next
: Depth remains an issue on the offensive line and secondary, so general manager Dave Gettleman will be scanning the waiver wire for help in both areas. Gettleman also might be on the lookout for a serviceable running back with
Jonathan Stewart
on PUP for at least five games. The release of Tauren Poole leaves
DeAngelo Williams
and fullback
Mike Tolbert
(hamstring) as the only experienced backs. After that you're down to rookie
Kenjon Barner
and second-year player
Armond Smith
. But to narrow this to any position might be unwise. Gettleman has a reputation of going with the best players regardless of position.
August, 29, 2013
8/29/13
10:41
PM ET
CHARLOTTE, N.C. -- Starting quarterback
Cam Newton
wore some form of skull cap instead of his signature towel Thursday night as he played spectator in the
Carolina Panthers
'
25-10 victory
over the
Pittsburgh Steelers
.

Well, it was terribly humid for a towel.
Otherwise, here are my thoughts on the preseason finale.
Two quarterbacks enough. Derek Anderson proved why he is the easy choice to back up Newton and why third-stringer Jimmy Clausen is expendable. Anderson completed his first five passes and finished an efficient 10-for-15 for 220 yards and two touchdowns. He even had an ill-advised scramble for 9 yards.
Who are these guys? There may be more depth at wide receiver than expected. Ted Ginn Jr. and Domenik Hixon made good cases to be the third receiver behind Steve Smith and Brandon LaFell. Ginn caught five passes for 149 yards and two touchdowns, including an 87-yarder in which he blistered the Pittsburgh secondary. Hixon caught four passes for 44 yards, including a nice 23-yard third-down grab on the sideline.
Secondary question. Carolina needs its front seven, most of whom barely played, to have a big season to cover up soft spots in the secondary. Most of those spots are in the middle, where reserve Steelers tight end David Paulson looked like a Pro Bowler in the first half.
Who needs camp? Travelle Wharton moved right into the lineup at left guard after only three practices and held his own. Not bad for the former and now current Panther who hadn't played in more than a year while recovering from a knee injury.
Playmaker: Corner Josh Norman needs to be on the field. He had his fourth interception of the preseason, returning this one 70 yards.
What it all means: Absolutely nothing. Except Carolina has its first winning preseason record (3-1) since 2006.
What's next: Roster cuts to 53 on Saturday, but don't expect a major surprise -- unless you consider Clausen a surprise. Time to get ready for the Sept. 8 opener against the Seattle Seahawks, who will give Carolina a big test on both sides of the ball right away.