Carolina Panthers:

Kyle Fuller
May, 8, 2014
May 8
8:00
AM ET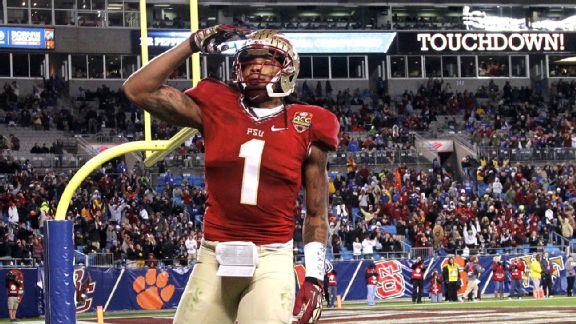 AP Photo/Bob LeveroneFlorida State receiver Kelvin Benjamin could be an option for the Panthers in the first round.
It's no secret the
Carolina Panthers
have big needs at left tackle and wide receiver entering tonight's first round of the NFL draft.
But general manager Dave Gettleman won't reach for a player at either position when the Panthers pick at No. 28 if there are players on the team's board who rank higher.
There is also a slim chance, though he covets having picks, that he will trade up for a player at one of those positions.
This is about taking the best player available, not filling a need. If Gettleman can do both as he did last year with defensive tackle
Star Lotulelei
at No. 14, that is a bonus.
But as Gettleman showed last season in picking defensive tackle
Kawann Short
in the second round, he will stick with value over potential even if it means going with the same position in consecutive rounds.
"I've said this before, when you reach, when you have made up your mind, you're locked in and you're going to take a position because you feel a need to fill that spot, more often than not you're going to make a mistake," Gettleman said.
Gettleman says there are a combined nine to 10 tackles and wide receivers he considers worthy of a first-round pick. That there is enough depth at both positions to get value in the second and possibly third rounds opens the possibility that Carolina takes what Gettleman calls a "blue goose" pass-rusher in the first.
He "wouldn't be mad if a corner was there."
In other words, don't be surprised by whom the Panthers take sometime around 11 p.m.
With that, here are 10 players (alphabetical order) who could be there for Carolina at No. 28:
Davante Adams, WR, Fresno State: Adams says he's the best wide receiver in the draft, so he's not lacking confidence. A playmaker with decent size at 6-foot-2, 216 pounds. Led the nation in receptions (131) and touchdown catches (24) this past season. Caught a touchdown pass in 22 of his 26 games and had 38 career touchdowns. Can be dynamic at times and has some of that Steve Smith flair for the dramatics. Not nearly as strong physically as Smith, though. Definitely a player the Panthers have talked to and worked out.

Kelvin Benjamin, WR, Florida State: One of the more imposing receivers in the draft at 6-5, 240 pounds. A physical player who has the ability to use his size to create space. Doesn't have elite speed, and doesn't always finish plays. Still, he had 15 touchdowns last season, including the game-winner in the national championship game. Has the raw talent teams are looking for, but gets a lot of second-round grades because he is still developing.

Ealy

Kony Ealy, DE, Missouri: With Greg Hardy unsigned long term and Charles Johnson showing some age with a late-season knee injury, the Panthers might be tempted to go for this athletic pass-rushing specimen. He had 14.5 tackles for loss and 9.5 sacks last season. He might be what Gettleman meant when he referred to a "blue goose" pass-rusher.

Dee Ford, DE, Auburn: Another potential "blue goose." Had 10.5 sacks this past season and doesn't lack for confidence. He called South Carolina defensive end Jadeveon Clowney, expected to be the top player taken in the draft, a "blind dog in a meat shop" during the NFL combine. At 6-2 and 252, Ford might be a bit undersized for a 4-3 end, but still a good value at 28.

Kyle Fuller, CB, Virginia Tech: At 6-0, 190 he's a strong, physical player who can be an every-down cornerback or play in the slot, both needs for Carolina. Played linebacker, safety and cornerback at Virginia Tech, where he was a three-time All-ACC player. Considered by many to be the most ready NFL corner in the draft.

Ra'Shede Hageman, DT, Minnesota: Gettleman said he wouldn't pass on a "blue goose" defensive tackle even though Carolina drafted Lotulelei and Short in the first two rounds a year ago. At 6-6, 310, Hageman might be too good to pass up if the top wide receivers and offensive tackles are gone.

Kouandjio

Cyrus Kouandjio, OT, Alabama: Before his knees became a medical issue, many had this 6-6, 322-pound left tackle as a top 10 pick. A bad workout at the NFL combine didn't help. But if the Panthers cleared him medically, Kouandjio could be a steal at 28 the way Lotulelei was with his with medical concerns (heart).

Morgan Moses, OT, Virginia: This is a popular pick for Carolina by many because he is expected to be around at 28 and because he fills a big need. But not everyone has the 6-6, 314-pounder rated as a first-round pick. He definitely has the size and wingspan (35 3/8-inch arms) to make NFL defensive ends run a long way to get around him. It's just a matter of whether the Panthers have him listed as a first-rounder. Not so sure they do.

Ryan Shazier, OLB, Ohio State: You might be surprised to see an outside linebacker here, but Gettleman said he would take the best player available -- particularly if he was a pass-rusher. Shazier has blazing speed and reacts well to the ball. He had 23.5 tackles for loss last season, but sometimes has issues with his tackling technique. The consideration here is that Carolina outside linebackers Chase Blackburn and Thomas Davis are in their 30s, so this could be a pick for depth and the future.

Jason Verrett, CB, Texas Christian: If he was 6-1 instead of 5-9 he might be a top-five pick. Considered by many to be the best pure cover corner in the draft. That the Panthers were comfortable with Captain Munnerlyn at 5-8 last season means they likely wouldn't hold the size against Verrett. He had six interceptions in 2012 and nine in three seasons. With Carolina's front seven in front of him, he would make the league's second-ranked defense in 2013 better.
April, 30, 2014
Apr 30
8:00
AM ET
Let's say
Carolina Panthers
general manager Dave Gettleman is right and there are only a combined nine or 10 offensive tackles and wide receivers worthy of going in the first round of the upcoming NFL draft.
Now let's say there are about 12 (at least by my count) teams interested in drafting a player at one of those positions ahead of Carolina at No. 28. And one or two teams without a primary need at those spots might go there because the player is too good to pass up among the top five.
Do the math.
[+] Enlarge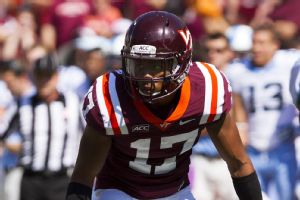 Lee Coleman/Icon SMIDon't be surprised if the Panthers draft a defender like Virginia Tech cornerback Kyle Fuller rather than reach to fill a need on offense.
There is a very good chance a first-round worthy wide receiver or tackle -- both great needs for the reigning NFC South champion -- won't be around when Carolina picks.
This is why Gettleman isn't married to a position with his first pick. This is why the man who introduced us to "hog mollies" a year ago when he drafted defensive tackles in the first two rounds, introduced us on Tuesday to the term "blue goose" when referring to pass-rushers and defensive tackles with a talent as rare as the bird.
Gettleman didn't spend the past few months sending his scouts all over the country looking at players and racking up frequent flier points just so he could select in the first round a player the staff rated as a second- or third-rounder.
So when he says he'll take the best player available, bank on it.
To reach for a player at a position just because you have a need to fill, Gettleman reminded over and over, "more often than not you're going to make a mistake." General managers that make mistakes, particularly with first-round picks, often lose their jobs.
What we don't know is how many of those nine to 10 players Gettleman has at tackle or wide receiver. Does he have six wide receivers and four tackles, or five of each?
What if it's really a combined nine and not 10?
For the sake of argument, let's go on the conservative side and say five wide receivers and four tackles. Based on what most of the so-called draft experts project, the surefire first-rounders at wide receiver would be:
Sammy Watkins
, Clemson;
Mike Evans
, Texas A&M;
Odell Beckham Jr.
, LSU;
Marqise Lee
, Southern Cal; and
Brandin Cooks
, Oregon State.
The surefire offensive tackles would be:
Greg Robinson
, Auburn;
Jake Matthews
, Texas A&M;
Taylor Lewan
, Michigan; and
Zack Martin
, Notre Dame.
And many project Martin as a guard.
If you want to stretch it to five each, add Alabama tackle
Cyrus Kouandjio
, whose stock has been downgraded by many because of medical reports on his knees.
Now let's look at the competition. Among the teams that appear to be looking at wide receiver: Pittsburgh, New Orleans, New York Jets, San Francisco, St. Louis, Tampa Bay, Jacksonville and Philadelphia. Those interested in tackle help: Baltimore, Kansas City, Miami, New Orleans and Cincinnati.
There is overlap here as you can see.
But if each of those teams goes for a tackle or receiver, where do the Panthers turn? They could get a top cornerback. Gettleman said he wouldn't be "sad" to see one of those fall to him.
Among the possibilities could be
Kyle Fuller
of Virginia Tech or
Jason Verrett
of Texas Christian.
Missouri defensive end
Kony Ealy
could be there if Carolina decides to go with a "blue goose" defensive end. There is no guarantee the Panthers sign
Greg Hardy
to a long-term deal, and
Charles Johnson
is going into his eighth season. Johnson also had knee issues last season.
You never can have too many great pass-rushers.
Or what if there is a top defensive tackle on the board such as Notre Dame's
Louis Nix III
? Or Minnesota's
Ra'Shede Hageman
?
Dwan Edwards
and
Colin Cole
both are getting up there in age and have deals that expire after this season.
"If there's a great player there [defensive tackle] were going to take him," Gettleman said. "Everybody's got a philosophy of how they're going to construct their team, and you guys have figured out that we believe in defense."
They also believe in taking the best player available in the draft, and this one will be no different, no matter how great the needs are at tackle and wide receiver.
Bank on it.