Carolina Panthers:

Mike Evans
May, 8, 2014
5/08/14
11:30
AM ET
Here is why the
Carolina Panthers
aren't worried if they don't get a wide receiver with the 28th pick of Thursday's NFL draft.
Jarvis Landry
.
Not that general manager Dave Gettleman and company are counting on getting the LSU wide receiver in the second or third round. That will be the luck of the draw.
But there are enough receivers of Landry's talent level to make it worth going in a different direction from a big need in the first round if the top six or seven rated receivers are gone, which well could happen based on many mock drafts.
[+] Enlarge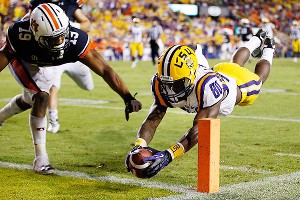 Chris Graythen/Getty ImagesJarvis Landry had 137 catches for 1,809 yards and 15 touchdowns in three seasons at LSU.
History tells us waiting might be smart, too.
Of the 78 receivers drafted in the first two rounds in the past 10 years, only 18 (23 percent) have made at least one Pro Bowl, according to ESPN Stats and Information.
Only 16 (20.5 percent) have had at least 50 receptions in their rookie season. Less than half (32) have had at least 40 receptions in their first year.
Of the top 30 wide receivers in receiving yards last season, only 16 were taken in the first two rounds.
In other words, receivers are risky business if you're looking for an immediate impact in the draft. The only time Carolina took a receiver in the first round was 1997, when it got Rae Carruth at No. 27.
Though the Colorado product had a decent first season with 44 catches for 545 yards and four touchdowns, he caught only 18 passes in the next two seasons before his career ended with a murder charge and later conviction.
Which brings me back to Landry.
Landry had 137 career catches for 1,809 yards and 15 touchdowns in three seasons. He had 77 catches for 1,193 yards and 10 touchdowns this past year.
His teammate,
Odell Beckham Jr.
, had 143 receptions for 2,340 yards and 12 touchdowns in three years. He had 59 catches for 1,152 yards and eight touchdowns this past season.
Yet because Beckham (6-foot, 187 pounds) is considered faster and slightly more physical, many have him rated as a mid first-round pick and Landry (6-1, 195) a second-round pick. That Landry had the slowest 40-yard dash time (4.77 seconds) among all receivers at the NFL combine because of a pulled right hamstring and Beckham ran a 4.43 contributed to the differential.
But when you get right down to it, there is not much difference in the two.
After the top two receivers in Clemson's
Sammy Watkins
and Texas A&M's
Mike Evans
, there is a pretty big gap to the next four or five. But the gap between that four or five and the next half dozen or more is small.
So if the top four or five tackles are gone at 28 and it comes down to taking a wide receiver versus a top pass-rushing end or cornerback, it could work in Carolina's favor to wait on a receiver, though it is a big need.
"Personally, I think I'm one of the better receivers in my class," Landry told ESPN.com. "My production has spoken for itself over the last couple of years. I played alongside another dominant receiver, and he put up 1,000 yards also."
To Landry's point, Watkins had 101 catches for 1,464 catches, which clearly separates him from most of the field. Clemson's second receiver,
Martavis Bryant
, had 42 catches for 828 yards.
Evans had 69 catches for 1,394 yards last season. Malcome Kennedy was second at Texas A&M in catches with 60 for 658 yards.
"If it comes down to a guy running a 4.4 or 4.3 (40), I didn't run that," Landry said. "But if you look at the body of work, I have what it takes to have a long and successful career."
The Panthers sent wide receivers coach Ricky Proehl to Baton Route, La., to work out Landry and Beckham on April 15. While Proehl was probing the players over dinner, Landry had a question for Proehl.
"I asked him what would it take for a guy like me and Odell to play in this league 17 years like he did," Landry said of Proehl, who was a part of two Super Bowl winning teams during his lengthy career. "One of his things was just beating a different challenge every day ... winning small battles and being prepared."
That is what Proehl did as a player. He was considered marginal in size and speed, but was known as one of the best route runners in the league. He also had memorable clutch plays, such as a game-winning touchdown catch in the 1999 NFC Championship Game that sent the
St. Louis Rams
to the Super Bowl.
Landry is that kind of player. Beyond his production, he was a team captain, has a high football IQ and has a reputation for being a good blocker and hitter on special teams.
There are others like him in that second-tier range.
"Absolutely," Landry said. "I can't control what I can't control. I'm just ready to lace up wherever they draft me."
So when you start to panic that the Panthers didn't select a wide receiver in the first round, do this.
Think of Jarvis Landry.
May, 2, 2014
5/02/14
8:00
AM ET
Dave Gettleman was the pro personnel director for the
New York Giants
when general manager Jerry Reese asked him what it would take to get wide receiver
Jeremy Maclin
in the 2009 NFL draft.
Gettleman said the Giants, who had the 29th pick, would have to trade into the mid-teens to have a shot at the All-American out of Missouri.
Maclin went to Philadelphia at No. 19.
[+] Enlarge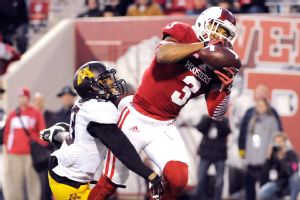 AP Photo/Alan PetersimeThe Panthers seem more likely to wait for a receiver like Indiana's Cody Latimer rather than trade up in the first round to fill that need.
Reese stayed pat and got North Carolina wide receiver
Hakeem Nicks
.
"He felt comfortable enough, obviously, that if Hakeem would fall, we would take him," Gettleman recalled this week.
Gettleman, heading into his second draft as the general manager for the
Carolina Panthers
, mentioned this story when asked about his philosophy of trading up.
It's a great example in that Gettleman has the 28th pick and has a great need at wide receiver in arguably the deepest draft at that position since 2009.
It's also telling.
If you read between the lines, this is why the Panthers won't trade up even if one of the top wide receivers -- or even offensive tackles -- slides within 10 or so picks of Carolina.
Gettleman is from the school of you don't give up a "boatload" of draft picks for one, and you don't get focused on believing you're one specific player from being a Super Bowl team.
"It's almost like I've told you guys: When you're in free agency, the biggest danger is when you think you're one player away, and it's that guy," Gettleman said. "If it's unrestricted free agency, maybe you screw your cap up. It's going to get you in trouble. Thinking that you're one player away is as bad as reaching for a guy [in the draft].
"It really is, because you're more than one player away. ... That one player that you get, what happens if he gets hurt and you've traded away three draft picks? It's nothing different. It's about value. Is it possible [the Panthers trade up]? Anything's possible."
But it's not likely.
Gettleman knows he can't get one of the top two receivers -- Clemson's
Sammy Watkins
and Texas A&M's
Mike Evans
-- who are almost guaranteed to have an immediate impact without mortgaging the farm.
He also knows the gap between LSU's
Odell Beckham Jr.
and Oregon State's
Brandin Cooks
, likely to go in the mid-teens, and Penn State's
Allen Robinson
or Indiana's
Cody Latimer
in the second round, probably isn't enough to give up give up a second-, third- or fourth-round pick.
The same goes for the tackle position.
Gettleman also is from the school of taking the best player available. That is why he wouldn't be "sad" if one of the top cornerbacks falls to 28, and he wouldn't hesitate to pick up a "blue goose" pass-rusher or defensive tackle.
If anything, Gettleman is more likely to trade down from 28 if he can get additional picks in the second and third rounds. The value of getting an additional wide receiver or tackle from this year's class in that range would be far more than the gamble of trading up.
But in all likelihood, Gettleman will do what Reese did in 2009 and be comfortable with the player who falls to 28.
It's a smart strategy. The 2009 draft is a good example again. Let's take a look at the six receivers taken in the first round that year:
No. 7 Darrius Heyward-Bey, Oakland: Had nine catches as a rookie and 29 in his second season. Had a career-best 64 receptions for 975 yards and four touchdowns in 2011. Had 29 catches for Indianapolis last season and was recently acquired by Pittsburgh.

No. 10 Michael Crabtree, San Francisco: Had 48 catches in 11 starts as a rookie. Had a career-best 85 catches for 1,105 yards and nine touchdowns in 2012.

No. 19 Maclin, Philadelphia: Had 56 catches as a rookie and a career-best 70 in his second season for 964 yards and 10 touchdowns. Missed last season with a torn ACL.

No. 22 Percy Harvin, Minnesota: Had 60 catches as a rookie and a career-best 87 for 967 yards and six touchdowns in his third season. Spent last season at Seattle, where he was injured most of the year.

No. 29 Nicks, N.Y. Giants: Had 46 catches as a rookie, followed by 79 catches for 1,052 yards and 11 touchdowns in his second season and 76 catches for 1,192 yards and seven touchdowns in his third.

No. 30 Kenny Britt, Tennessee: Had 42 catches in each of his first two seasons. Off-the-field issues have by far overshadowed anything he's done on the field.Nicks at the 29th pick has been just as productive as Maclin at 19. He's been more productive than Heyward-Bey at No. 7. Further reason why the Giants made the right move in standing pat: Let's say they traded their second-round pick. At No. 60, they took Will Beatty, now their starting left tackle.

"It's how much you're willing to give up in this day and age," Gettleman said. This is why the Panthers aren't likely to move on draft day. Gettleman is more into getting than giving. That is the environment from which he developed his philosophy.
April, 30, 2014
4/30/14
8:00
AM ET
Let's say
Carolina Panthers
general manager Dave Gettleman is right and there are only a combined nine or 10 offensive tackles and wide receivers worthy of going in the first round of the upcoming NFL draft.
Now let's say there are about 12 (at least by my count) teams interested in drafting a player at one of those positions ahead of Carolina at No. 28. And one or two teams without a primary need at those spots might go there because the player is too good to pass up among the top five.
Do the math.
[+] Enlarge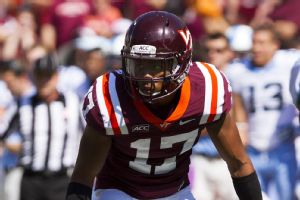 Lee Coleman/Icon SMIDon't be surprised if the Panthers draft a defender like Virginia Tech cornerback Kyle Fuller rather than reach to fill a need on offense.
There is a very good chance a first-round worthy wide receiver or tackle -- both great needs for the reigning NFC South champion -- won't be around when Carolina picks.
This is why Gettleman isn't married to a position with his first pick. This is why the man who introduced us to "hog mollies" a year ago when he drafted defensive tackles in the first two rounds, introduced us on Tuesday to the term "blue goose" when referring to pass-rushers and defensive tackles with a talent as rare as the bird.
Gettleman didn't spend the past few months sending his scouts all over the country looking at players and racking up frequent flier points just so he could select in the first round a player the staff rated as a second- or third-rounder.
So when he says he'll take the best player available, bank on it.
To reach for a player at a position just because you have a need to fill, Gettleman reminded over and over, "more often than not you're going to make a mistake." General managers that make mistakes, particularly with first-round picks, often lose their jobs.
What we don't know is how many of those nine to 10 players Gettleman has at tackle or wide receiver. Does he have six wide receivers and four tackles, or five of each?
What if it's really a combined nine and not 10?
For the sake of argument, let's go on the conservative side and say five wide receivers and four tackles. Based on what most of the so-called draft experts project, the surefire first-rounders at wide receiver would be:
Sammy Watkins
, Clemson;
Mike Evans
, Texas A&M;
Odell Beckham Jr.
, LSU;
Marqise Lee
, Southern Cal; and
Brandin Cooks
, Oregon State.
The surefire offensive tackles would be:
Greg Robinson
, Auburn;
Jake Matthews
, Texas A&M;
Taylor Lewan
, Michigan; and
Zack Martin
, Notre Dame.
And many project Martin as a guard.
If you want to stretch it to five each, add Alabama tackle
Cyrus Kouandjio
, whose stock has been downgraded by many because of medical reports on his knees.
Now let's look at the competition. Among the teams that appear to be looking at wide receiver: Pittsburgh, New Orleans, New York Jets, San Francisco, St. Louis, Tampa Bay, Jacksonville and Philadelphia. Those interested in tackle help: Baltimore, Kansas City, Miami, New Orleans and Cincinnati.
There is overlap here as you can see.
But if each of those teams goes for a tackle or receiver, where do the Panthers turn? They could get a top cornerback. Gettleman said he wouldn't be "sad" to see one of those fall to him.
Among the possibilities could be
Kyle Fuller
of Virginia Tech or
Jason Verrett
of Texas Christian.
Missouri defensive end
Kony Ealy
could be there if Carolina decides to go with a "blue goose" defensive end. There is no guarantee the Panthers sign
Greg Hardy
to a long-term deal, and
Charles Johnson
is going into his eighth season. Johnson also had knee issues last season.
You never can have too many great pass-rushers.
Or what if there is a top defensive tackle on the board such as Notre Dame's
Louis Nix III
? Or Minnesota's
Ra'Shede Hageman
?
Dwan Edwards
and
Colin Cole
both are getting up there in age and have deals that expire after this season.
"If there's a great player there [defensive tackle] were going to take him," Gettleman said. "Everybody's got a philosophy of how they're going to construct their team, and you guys have figured out that we believe in defense."
They also believe in taking the best player available in the draft, and this one will be no different, no matter how great the needs are at tackle and wide receiver.
Bank on it.