Carolina Panthers:

Mike Shula
January, 17, 2014
Jan 17
8:00
AM ET
CHARLOTTE, N.C. -- There was a gasp from some of you when
Carolina Panthers
coach Ron Rivera said earlier in the week he was keeping his staff intact for next season.
[+] Enlarge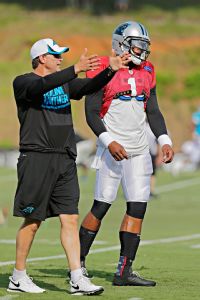 AP Photo/Chuck BurtonYou don't change offensive coordinators such as the Panthers' Mike Shula based on one bad game.
The gasp was aimed primarily -- maybe completely -- at offensive coordinator Mike Shula returning.
Perhaps it was an overreaction to the dismal showing in Carolina's 23-10 loss to the
San Francisco 49ers
in Sunday's NFC divisional playoff game. Perhaps it was an overreaction to the offense's inability to score a touchdown on eight plays inside the 10-yard line.
Whatever it was, it was an overreaction.
Rivera doesn't need to run Shula off. Here's why:
Continuity:
One of the reasons Rivera moved Shula from quarterbacks coach to coordinator when Rob Chudzinski left to become the head coach at Cleveland was to maintain the momentum the team established at the end of the 2012 season. He also knew Shula and quarterback
Cam Newton
had a solid relationship, which led to a lot of maturity and much more consistent play this season for the first pick of the 2011 draft. To change would destroy all that.
Chudzinski:
If you remember, wide receiver
Steve Smith
and running back
DeAngelo Williams
took shots at their former coordinator this season. They felt he was all about putting on a show to get a head coaching position, which he got -- for one season before being fired. They couldn't say enough good things about Shula and how he helped the offense develop an identity.
Injuries:
Three players were used at left guard because of injuries before
Travelle Wharton
became the regular in the fourth game. Four players were used at right guard due to injuries before former defensive lineman
Nate Chandler
became the regular after midseason. Running back
Jonathan Stewart
missed all but six games, first with an ankle injury and then with a knee injury. There were others, but when you lose players you were counting on in the line that makes any coordinator's life tough.
Talent:
Outside of Smith, Newton didn't have a consistent go-to wide receiver. No doubt finding more firepower there will be a priority during the offseason, likely the draft but perhaps in free agency as well. As solid as running back DeAngelo Williams was with 843 yards, he's still on the wrong side of 30 for backs. If you can argue Newton needs more weapons to take Carolina to the next level, then you can argue Shula does.
Production:
The Panthers averaged 22.9 points a game this season, which is slightly more than the 22.3 average in 2012. They were third in the NFL in third-down efficiency, 11th in rushing and fifth in time of possession (31:54 minutes per game), areas that win you a lot of games when you have the league's second-best defense. You can argue Newton's 585 yards was a big reason for the rushing rank, but his legs are one reason the Panthers drafted him.
Just because:
You just don't shake things up because the last game left a sour taste in your mouth. You remember this is an offense that was good enough to help the team win 12 games and the division title.
November, 27, 2013
11/27/13
8:00
AM ET
CHARLOTTE, N.C. -- Asked how he balances keeping three running backs happy while sticking with the hot hand,
Carolina Panthers
offensive coordinator Mike Shula needed only one word.
"Delicately,'' he said with a smile.
Perhaps the more delicate situation is how to resist the temptation to give quarterback
Cam Newton
more carries.
[+] Enlarge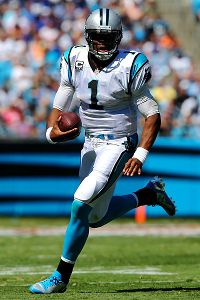 Streeter Lecka/Getty ImagesAlthough his passing stats may not wow you, the Panthers say QB Cam Newton is worthy of league MVP consideration.
The lack of huge numbers from running backs
DeAngelo Williams
,
Mike Tolbert
and
Jonathan Stewart
has raised questions about the health of Carolina's running game lately. It's been well documented that Newton has led the team in rushing the past two weeks and three of the past five.
Much of the focus of concern has been on Williams. He ranked third in the NFL in rushing with 291 yards after three games (97 yards per game), but has only 319 yards over the last eight (39.9 ypg). Some see the addition of Stewart to the mix in those eight games as part of the problem.
But is there really a problem? Consider this: Newton has averaged 4.3 carries and 26 yards a game in Carolina's three losses. He has averaged 8.1 carries and 37.6 yards in the eight wins.
During their current seven-game win streak, one that has them 8-3 heading into Sunday's game against Tampa Bay, the Panthers have gained more than 100 yards each week. So what if Newton is a big reason for that?
The key numbers are 7 wins and 0 losses.
"I know the quarterback had to run a little more ... but again, it shows that if you pile up on us, you do certain things, we have another weapon," coach Ron Rivera said. "Is it disconcerting? Yeah. I'd like to see us have more success [with the backs]. But when we had to, we ran the ball, and we had some big runs at the right time."
That doesn't mean Shula and his staff don't keep track of how many times Newton runs. For his well-being, they would prefer the running backs to carry the load.
But when teams stack the defense to stop the run, Newton's two best options often are to pass or run it himself. When the Panthers are playing from behind, as they have the past three weeks, there also are fewer opportunities to run.
When you think about it that way, the Panthers have struck a decent balance. Newton is on pace to have 113 carries, 14 fewer than he had last season. Throwing, he is completing a career-best 61.7 percent of his passes and his touchdown-to-interception ratio, 17 versus 9, is better than it has ever been.
So while Shula may have to delicately handle the balance of touches his running backs get, he has the comfort of knowing his quarterback will touch the ball on every play.
November, 1, 2013
11/01/13
3:30
PM ET
CHARLOTTE, N.C. -- Mike Shula hemmed and hawed to practically every question involving the efficiency of his quarterback and offense, giving a lot of "I don't know" type answers. He deflected most of the attention away from what he has done in his first season as offensive coordinator for the
Carolina Panthers
and toward the players -- on both sides of the ball.
[+] Enlarge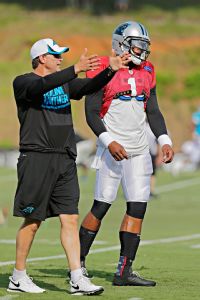 AP Photo/Chuck BurtonPanthers offensive coordinator Mike Shula has eliminated confusing plays and terminology, allowing Cam Newton to better focus.
"I don't know if I brought anything to the table, other than as a staff we were hoping to keep things very similar to what we had built," Shula said. "We felt we had done a lot of good things at the end of the year."
That, in a nutshell, is why Shula was promoted from quarterbacks coach to coordinator.
Head coach Ron Rivera liked the direction the offense was headed at the end of last season when the Panthers won five of their last six games. He liked that the running game had become more prominent, better fitting the style and attitude he wanted.
He could have gone outside to hire a replacement for Rob Chudzinski, who left to become the head coach of the
Cleveland Browns
. But his fear was an outsider's ideas might push aside much of what had been built.
"I didn't want that," Rivera said. "I wanted to keep the continuity. And Mike gave us the best opportunity."
So Shula was the right choice. He was the only choice. His style that sometimes is criticized for being too conservative was just what quarterback
Cam Newton
needed to take his game to the next level.
That has helped take the Panthers (4-3), winners of three straight games and four of their last five heading into Sunday's game against Atlanta, to the next level.
Shula saw that potential. When he made his pitch to Rivera he came simply with a playbook documenting the best of what Carolina did at the end of last season and how he would add to that.
"Mike's presentation was tremendous," Rivera said. "He did a heck of a job of showing what our offense was capable of."
Since then, Shula has been doing just what he promised. He's taken the best from an offense that averaged 30.5 points and 183.7 yards rushing the last four games of 2012 and done away with much of what didn't work during the first 12 when Carolina averaged 19.5 points and 112.7 yards rushing.
Newton has reached a comfort level that has allowed him to average an NFL-best 130.3 passer rating over the last three games, completing 77.3 percent of his passes for six touchdowns and no interceptions.
"The thing with Shula that has been different is probably holding everybody to a standard," Newton said.
More than one player noted that. But another key to Shula's success -- and maybe more significant -- has been giving players the freedom to voice an opinion and actually building the play-calling around those opinions.
"I love the way he listens to guys that are on the field," wide receiver
Steve Smith
said. "He will listen to in-the-game reports, and he'll ask directly [for input] at halftime and in the game. But the part that is phenomenal is when we go in the next series, he doesn't just listen to us and disregard us. He actually implements it and puts it in the game."
Best example: On fourth-and-1 from the Minnesota 2-yard line Shula changed the play to one Smith suggested. The result was a 2-yard touchdown pass from Newton to Smith.
"Some of our biggest plays this year have come by making adjustments in the game," Smith said.
Shula also has changed some of the terminology. Not a lot, but enough that Newton doesn't go to the huddle, in his words, stuttering out the plays like he sometimes did under Chudzinski.
"He has done a good job cutting out some of the verbiage, cutting out some of the fringe plays and really focused in on what our core specialty is," tight end
Greg Olsen
said.
That core begins with the running game. It's not complicated or fancy. It's simply a continuation of what the Panthers did at the end of last season.
And now he gets another toy to play with in running back
Jonathan Stewart
, the team's second all-time leading rusher who will come off the physically unable to perform list Saturday.
So when Shula hems and haws on taking credit, it's because he really does believe the success is just a continuation of what was started last year.
"I'm not trying to sidestep," he said. "I just think we tried to get back to last year and just take the good stuff and just kind of build on that, try to fine tune the offense."
September, 12, 2013
9/12/13
12:00
PM ET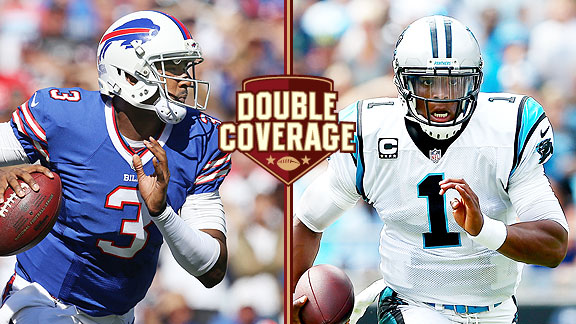 Getty ImagesRookie QB EJ Manuel guides rebuilding Buffalo; Cam Newton's under pressure to win now in Carolina.
Following tough home losses Sunday, the
Buffalo Bills
and
Carolina Panthers
look to get back on track in Week 2.
This game offers an intriguing quarterback battle between Bills rookie
EJ Manuel
, selected 16th overall this year, and the Panthers'
Cam Newton
, the top overall pick in 2011.
We'll hit on that matchup and more in our weekly "Double Coverage" conversation, so let's get it started:
Mike Rodak:
David, it seemed like the Bills and the Panthers opened their seasons in similar ways. Both teams faced superior opponents: The Patriots and Seahawks are near the top of the AFC and NFC, respectively, while the Bills and Panthers are bottom-dwellers in their conferences. Yet, both teams kept it close. The Bills lost by two points on a late field goal, while the Panthers kept it within five points. There is a cautious sense of optimism around the Bills locker room right now. Is that also true down in Charlotte?
David Newton:
Definitely optimism, which wasn't necessarily the case a year ago. The team feels it has more of an identity, an awareness of where it can go from here. Much of that identity is based around the defense, which established itself as one of the more solid units in the league by holding the potent Seattle offense to 12 points. Wide receiver
Steve Smith
, whether he was trying to inspire the rest of the team or because he actually believes it, set the tone by predicting that the Panthers will face Seattle again deep in January. I still don't see Carolina as a playoff team based on what its offense showed, but there is potential.
So both teams played top opponents close and lost. Now what? Is this a must-win for both if they have any hopes of being playoff contenders?
Rodak:
I think it's more of a must-win for Carolina. You look at the NFC South, and it's stacked. If the Panthers want a shot at a wild-card spot, they might need to finish ahead of either Atlanta or New Orleans, and that's a tall task. The Bills are in a weaker division, where an 0-2 start could have less of an impact. But still, not a good sign for Buffalo if it drops its first two, both at home.
The Bills spent a first-round pick this season on a quarterback in Manuel. The Panthers selected a quarterback, Newton, first overall in 2011. He's now entering his third season. How does the team (and fans) feel about Newton's development?
Newton:
Agreed, it's much more of a must-win game for Carolina. An 0-2 start after getting out of the gate 1-6 a year ago will have the vultures swarming for coach Ron Rivera. It will have the critics pounding on Newton. As new general manager Dave Gettleman said before the season, it's time for Newton to win. Buffalo can write this off as a rebuilding season with a rookie quarterback; Carolina can't do that with Newton. I said before the season the Panthers had to start no worse than 2-1 to have a chance to be successful. The Seattle loss, as close as they came to pulling it out, wasn't unexpected. Sunday's is one of those winnable road games they can't afford to lose. There aren't many out there.
So what do you see this game coming down to?
Rodak:
I think the Bills will need a better game out of
C.J. Spiller
. If he can get it going -- the Patriots shut him down Sunday, holding him to less than 3 yards per carry and per catch -- it opens up the Bills offense and gives Manuel a chance to take more shots downfield. The Panthers held the Seahawks to just 70 yards rushing and have one of the better defensive lines in the NFL, so it won't be easy. If Spiller has another quiet day, not only will it upset his fantasy owners, but it will also be tough for the Bills to win.
What about for the Panthers?
Newton:
It's going to come down to the Carolina offensive line and whether it can establish the run as well as New England did in Week 1 against the Bills. Right guard
Garry Williams
is gone for the year with an ACL/MCL tear. His replacement,
Chris Scott
, played well against Seattle. But Scott started on the left side, where
Amini Silatolu
was out with a hamstring injury. Silatolu is expected back this week, so if he holds up, the Panthers should be OK. But Carolina has to run effectively to make the offense under new coordinator Mike Shula click.