Carolina Panthers:

Philly Brown
August, 22, 2014
Aug 22
12:00
PM ET
The
Carolina Panthers
(1-1) face the
New England Patriots
(1-1) at 7:30 p.m. at Gillette Stadium.
Here are three things to watch for:
1. Timing:
It was obvious that quarterback
Cam Newton
needs more time working with his new receivers after he made his preseason debut in Sunday night's 28-16 victory over Kansas City. He started 1-for-5, missing rookie wide receiver
Kelvin Benjamin
wide open down the left sideline at one point. The Panthers have increased Newton's reps in practice, but as coach Ron Rivera acknowledged, you can't simulate game speed. Newton will play the first half. It will be his last significant tune-up for the regular season with starters expected to play sparingly -- if at all -- in the final preseason game. He has shown chemistry with Benjamin and his other receivers in practice, but now needs to do that in a game. The Patriots should be a good test. They had two forced fumbles and two interceptions that they turned into 21 points in last week's 42-35 exhibition win over Philadelphia.
2. Time to step up:
The Panthers signed free agent wide receiver
Tiquan Underwood
to a two-year deal after losing their top four receivers from 2013. You don't do that unless you expect him to make the roster. As of now he's on the outside looking in. The top three are Benjamin,
Jerricho Cotchery
and
Jason Avant
. If the season started today, because of his return duties, undrafted rookie Philly Brown would be the fourth.
Brenton Bersin
would be the fifth in the team activated five. Odds are Carolina won't keep more than six receivers on their 53-man roster. Rivera continues to harp that he wants to see one or two outside the top three step up. Underwood is one of those because of his elite speed, something the top three don't have and another reason Brown's stock has risen. That the opponent is New England is a bit ironic because the Patriots released him the night before their Super Bowl loss to the Giants during the 2011 season. Rivera is going to give the young receivers more opportunities. If Underwood doesn't step up, he could be in danger of being cut for the ninth time in his career.
3. Time to start fast:
The Carolina defense has started slowly in each of the first two preseason games, giving up big chunks of yardage early. The Panthers were outgained 114-1 at one point during the first quarter, but to their credit gave up only a pair of field goals. Many of those yards were surrendered due to mistakes or communication breakdowns in the secondary. Some of that has to do with a new group of defensive backs learning each other.
Melvin White
and
Antoine Cason
appear to have nailed down the starting corner jobs, and
Charles Godfrey
appears set as the nickelback in his transition from safety. But starting strong safety
Roman Harper
(turf toe) has yet to play in a preseason game and won't again tonight, leaving unheralded
Anderson Russell
and
Robert Lester
fighting for the backup job. Free safety
Thomas DeCoud
is in his first season with Carolina, so he's still adjusting to the system. Facing Future Hall of Fame quarterback
Tom Brady
should give this group a good idea of where they are.
August, 19, 2014
Aug 19
12:00
PM ET
CHARLOTTE, N.C. -- Most of the focus was on the throw when
Carolina Panthers
quarterback
Cam Newton
overshot
Kelvin Benjamin
deep down the left sideline during Sunday's preseason win against the
Kansas City Chiefs
.
Overlooked was how wide open the rookie wide receiver was.
So I asked: Are you faster than most people think?
"Oh, I know I'm faster than they think," Benjamin said with a smile. "They just don't know it."
[+] Enlarge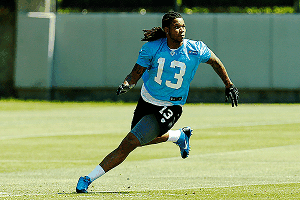 AP Photo/Chris KeanePanthers rookie Kelvin Benjamin isn't shy when it comes to bragging about his speed on the field.
One of the knocks on Benjamin in May's NFL draft was he lacked elite speed. His official time in the 40-yard dash at the NFL scouting combine was 4.61, which was slower than the time of the top four outside linebackers in Indianapolis.
Because he's 6-foot-5 and 240 pounds, Benjamin doesn't look like he's moving fast. But when he makes a good move as he did against the Chiefs' cornerback, he's deceptively fast.
He's far from the fastest Carolina wide receiver, though. The one thing the top three -- Benjamin,
Jerricho Cotchery
and
Jason Avant
-- lack is elite speed.
And the Panthers have a need for speed.
That's why they are giving
Philly Brown
, an undrafted rookie out of Ohio State, a shot to make the team as a receiver/punt returner. When you talk about raw speed, this 5-11, 180-pound dynamo has it.
His official 40 time at the combine wasn't impressive. It was listed as 4.51 seconds, which he disputes. He believes he's closer to the unofficial time of 4.37, and insists he's in the record book at Ohio State with a 4.3.
That might unofficially make him the fastest Carolina receiver -- or player. Wide receiver
Tiquan Underwood
was clocked at 4.31 in the 40 coming out of Rutgers, but you have to believe he's lost a step or two since 2009.
To be fair, since I asked Benjamin about his speed, I asked Brown if he was Carolina's fastest player.
"Absolutely," he said.
He smiled, too. Players apparently smile a lot when talking about their speed.
You're probably more familiar with Benjamin since Carolina made him the 28th selection of the draft. You're probably not as familiar with Brown.
Here are a few things you should know. Only his mother calls him Corey. Everyone else calls him Philly, the name given to him as a freshman at Ohio State by then-coach Jim Tressel because he had two other Corey Browns on the roster. Since he was from Philadelphia, it stuck.
He led the Big Ten in punt-return average (12.3 yards) as a junior, a number Carolina coach Ron Rivera mentioned before giving Brown a chance to return punts against the Chiefs.
He's also versatile.
"I'm a guy that can punt return, kick return, play offense and do whatever else you want me to do," Brown said. "I can hold up the gunner and I can play the gunner. I think they like that I'm versatile, and I'm willing to do it. Wherever they put me, I'm just going."
But what Brown brings to the table more than anything is speed. The Panthers need speed, particularly at the wide receiver spot despite Benjamin being so sneaky fast.
"Those guys are great receivers, they do all the other things that I'm trying to learn how to do," Brown said. "They know how to control their speed, get in and out of breaks. But obviously, any team can use speed.
"Speed kills at any level."
August, 17, 2014
Aug 17
12:00
PM ET
The
Carolina Panthers
(0-1) face the
Kansas City Chiefs
(1-0) on Sunday at 8 p.m. ET at Bank of America Stadium.
Here are three things to watch for during the game:
Quarterback watch: Cam Newton will get his first test of the preseason after sitting out the opener. He will play at least the first quarter and into the second if the offensive line is giving him adequate protection. He is showing no ill effects from offseason surgery on his left ankle and was turned loose to run the read-option a week ago in practice. He won't run the read-option against the Chiefs. He will do as little running as possible as the Panthers want to remain cautious. The key is to take the chemistry Newton has shown with his new receivers in practice into the game -- particularly with first-round draft pick Kelvin Benjamin. Their college teams aside, Newton and Benjamin have developed a close bond off the field, and they're anxious to establish that in games. Benjamin is a big target at 6-foot-5, and Newton has had no hesitation giving him chances to make catches in practice.
Double trouble: Starting running back DeAngelo Williams was given the night off for the preseason opener, and backup Jonathan Stewart was nursing a hamstring injury. Both will play Sunday, the first time they have both been this healthy at the same time in a few seasons. Because they give Carolina a nice change of pace with their running styles, Williams more the outside threat and Stewart the power runner, it will be interesting to see how they work behind basically a new offensive line. The Panthers want to establish the ball control offense that was a big part of last season's success. These two will be key to that.
Got a nickel: Safety-turned-cornerback Charles Godfrey was exposed big time in the preseason opener, surrendering a 32-yard catch on Buffalo's first possession. He and cornerback Antoine Cason say there was a breakdown in communication and that it has been fixed. Godfrey is key to the defense playing at the level it did a season ago when it ranked second in the league. If he can make the transition from safety to nickelback and effectively shut down the opponent's big receiver in the slot -- not to mention bring the heat on blitzes -- there shouldn't be a drop-off. In practice he is still showing inconsistency in coverage, and he hasn't done well on one-on-one drills rushing the passer.
August, 16, 2014
Aug 16
8:00
AM ET
CHARLOTTE, N.C. -- The first round of cuts are more than a week away and
Carolina Panthers
quarterback
Cam Newton
has yet to play in his first preseason game, so questions remain. I'm here to answer them for you. Let's get straight to my Saturday mailbag:
@DNewtonespn For Cam...What would mean more? MVP or Super Bowl visit and win! #PanthersMailbag

— Jan Foster (@jgo2409) August 15, 2014
@DNewtonESPN:
Can't he test his left ankle in his first preseason game Sunday night against the
Kansas City Chiefs
before we talk either? Guess not. I think I get where you're going with this, and as Newton would say, "I'm not going there." Listen, Newton is all about winning. Going 6-10 and 7-9 in his first two seasons left a taste in his mouth he never wants to experience again. He understands you get more attention with victories than you do with losses. I'm not suggesting he wouldn't be thrilled by an MVP trophy, but given the choice I can say without doubt he would want to get to the Super Bowl and win. I'll go so far as to say he'd rather get to the Super Bowl and lose than get the MVP. Does that mean he doesn't have a big ego as you might have been hinting at in the question? Not at all. Few who play the game at a high level don't have a big ego. But losing humbles you, and Newton doesn't care to be humbled again. The best indication of that is he's not making a big deal about a new contract. He would rather the team spend money and effort to surround him with players that can help him win instead of breaking the bank and losing.
@DNewtonespn #PanthersMailbag how should the Panthers go about rebuilding the receiving corp over the next few years?

— Derrick Quanz (@SportsTrain77) August 15, 2014
@DNewtonESPN:
Well, they're off to a solid start with 2014 first-round pick
Kelvin Benjamin
. From what I've seen in training camp and his first preseason touchdown, he is going to be special. As the Panthers said when they drafted him, you can't coach 6-5, 240. Free-agent acquisitions
Jerricho Cotchery
and
Jason Avant
are 31, to they're stopgaps as the Nos. 2 and 3 receivers. But they're good stopgaps, particularly surrounded by Benjamin with tight ends
Greg Olsen
and
Ed Dickson
. What Carolina needs is a speed guy, somebody to stretch the field and run those quick underneath routes. They were hoping
Tiquan Underwood
would fill that role. He hasn't been consistent enough. Undrafted rookie wideout Philly Brown has shown potential, but he's a year or two away from being dependable. That guy could be a target for next year's draft or free agency.
@DNewtonespn notwithstanding injuries, best guess at which position(s) will have starters that aren't yet on the team? #panthersmailbag

— KKonradt (@3000Ft2Glory) August 15, 2014
@DNewtonESPN:
I really don't see one as there were last year when the team signed safety
Quintin Mikell
and guard
Travelle Wharton
late in camp, and those were forced by injuries. The only position would be a punt returner/fifth-or-sixth receiver. Everything else appears set.
@DNewtonespn Can Godfrey be moved back to free safety? #Panthersmailbag

— Chocolate wonderland (@PantherNasty) August 15, 2014
@DNewtonESPN:
Certainly, but that is not the plan. Carolina likes the speed
Charles Godfrey
brings to the nickel corner spot, and the potential he has blitzing out of that. Now that could change if the turf toe that has kept strong safety
Roman Harper
out of practice for most of the preseason threatens to sideline him for regular-season games. Even then, the Panthers have a young player in
Robert Lester
they like.
@DNewtonespn With kick-offs having such a high touchback %, what makes most think that Pilares will stay on the roster? #PanthersMailbag

— RyanPendley (@RyanPendley) August 15, 2014
@DNewtonESPN:
I'm not convinced wide receiver
Kealoha Pilares
will make the roster simply as a kickoff returner. If he doesn't step it up as a receiver, I suspect he won't. That's why Philly Brown will get a good audition against Kansas City on punt and kickoff returns. He's shown flashes as a receiver. The Panthers need somebody with his speed who can stretch the field. They can spend time grooming him there if he proves worthy of returning kicks.
@DNewtonespn Do you think the Panthers will be active searching for a kickoff/punt return specialist after cuts? #PanthersMailbag

— Garron B (@garron_b) August 15, 2014
@DNewtonESPN:
Sunday night's game will tell us a lot. As I mentioned above, Philly Brown is a player the team wants to check out. If he doesn't prove worthy, you very well could see that position filled by somebody on another team's roster.
August, 12, 2014
Aug 12
3:30
PM ET
SPARTANBURG, S.C. -- A daily review of the hot topics coming out of the
Carolina Panthers
training camp from Wofford College:
Rookie wide receiver Kelvin Benjamin went high over the middle and hauled down yet another touchdown from quarterback Cam Newton in the final red-zone drills. The first-round pick out of Florida State clearly established himself as the top receiver coming out of training camp. If you ask me, he's the MVP of this camp because Carolina needed somebody to step forward and replace Steve Smith as a big-time weapon. Benjamin did.
Defensive end Frank Alexander was coach Ron Rivera's unofficial camp MVP. Entering his fourth season, Alexander has been suspended for the first four games for violating the league's substance abuse policy. He looked like a player fighting for his future, practicing harder and more consistently than ever. Rivera's second pick for MVP was defensive end Greg Hardy, whose well-documented off-the-field troubles have him playing for his future. Hardy was everywhere in the final practice, unstoppable on one-on-one pass rush drills against the tackles and guards. He also had two knockdowns in pass coverage, one more than 20 yards deep against tight end Greg Olsen.
Rivera might have second-thoughts about being the pretend quarterback during one-on-one pass-rushing drills. At one point on Tuesday linebacker Thomas Davis blew up his defender and then took a friendly shot at the coach that might have been harder than he intended. "Yes, he did,'' Rivera said. "I told him, 'If I bruise, he and I will have a conversation tomorrow." He liked the intensity Davis showed, though.
Much has been made about the close relationship between Benjamin and Newton. Add Davis and middle linebacker Luke Kuechly to that seemingly inseparable list of couples. "In all honesty, that's almost been since day one,'' Rivera said. "They do spend a lot of time together, and it's almost kind of scary, because as you watch them, you watch the rapport that they develop. And this is what you look for, is the unsaid communications. A guy can look or point, and the other guy knows what the other one's going to do. That type of relationship is key to being successful, whether it's on the offensive side or the defensive side."
Don't be surprised if undrafted wide receiver Philly Brown makes a late push to make the 53-man roster as a receiver and return specialist. Both Rivera and general manager Dave Gettleman mentioned him as a player to watch moving forward, particularly as a return specialist. Gettleman still hasn't ruled out that the returners might not be on the roster.
The Panthers returned to Charlotte where they will complete the rest of the preseason preparation. They are off on Wednesday then resume practice on Thursday.
August, 9, 2014
Aug 9
11:45
AM ET
CHARLOTTE, N.C. -- "Smoo" or "Schmoo" or whatever
Carolina Panthers
quarterback
Cam Newton
called rookie wide receiver
Kelvin Benjamin
after Friday night's amazing catch, it's a keeper.
Think about it. Every time Benjamin makes a big catch the crowd can shout "Smoooooooooo" or "Schmooooooo." It will sound like a boo just like it does when the crowd screams "Luuuuuuuuuu-ke'' when middle linebacker
Luke Kuechly
makes a big play.
[+] Enlarge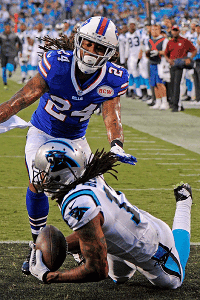 AP Photo/Mike McCarnKelvin Benjamin showed the ability to make key catches on Friday.
And if Friday night and training camp are good indicators, Benjamin will make plenty of big catches.
If you missed the one in the 20-18 preseason loss to the
Buffalo Bills
, the former Florida State standout stepped on the heel of cornerback
Stephon Gilmore
as he approached the goal line, stumbled to the ground, gathered himself and sprawled his 6-foot-5, 240-pound body out as he went to the ground for the catch.
"Smooooooooooo!!!"
"Schmooooooooo!!!"
We may never know what "Smoo" or "Schmoo" means. Benjamin has no idea and Newton says "the world may never know."
When pressed if perhaps it could be short for "Smooooooth," Newton replied to the reporter, "Mr. Newton, you are too impatient."
No arguments here.
Regardless, "Smoo" or "Schmoo" is a keeper.
Here are a few other leftover thoughts from Carolina's preseason opener:
Third-string quarterback Joe Webb did about everything the Panthers imagined when they signed him to imitate starter Cam Newton. He completed 16 of 28 pass attempts for 180 yards and a touchdown. He led the team in rushing with 30 yards on four carries. Unfortunately, when all is said and done I just don't see the Panthers keeping three quarterbacks even though coach Ron Rivera says it's a possibility.

With Benjamin, Jerricho Cotchery and Jason Avant locks at wide receiver, the other two or three spots remain up for grabs. Tavarres King helped his stock with four catches for 50 yards. He had another long reception negated by a holding call. Undrafted rookie Philly Brown caught three passes for 23 yards. Marcus Lucas had a costly drop. Brenton Bersin, who has impressed in camp, was targeted four times but caught only one pass for 19 yards. Stay tuned.

Tight end Brandon Williams deserves a spot on the final roster. The former college basketball player has been impressive in camp, and he backed that up with three catches for 50 yards and a touchdown against Buffalo.

Cornerback Josh Norman continues to be a training camp phenom. The former Coastal Carolina star, who had four interceptions during one practice in 2012 and led the Panthers in picks during the 2013 preseason, had another in the end zone against Buffalo to draw praise from Rivera.

How valuable is kicker Graham Gano, who did not play with a sore lower back? His replacement, Jordan Gay, missed the first extra point from 33 yards. That forced Carolina to go for two after its next two touchdowns. Had Gano played and made the first, Carolina kicks the last two and wins 21-20.

Newton didn't get the "official" word he was being held out until he was getting treatment before kickoff even though Rivera and company never had serious plans to play him. As I said on Friday, it was the right call. No need to rush him back until he's turned fully loose to run in practice, which should be soon. "It's not how I felt, it's about my progression," Newton said. "It's a plan that's in place for me to be back there. Do I want to be out there? Absolutely I do. But have to be smart. Have to be coachable, too."

Sunday's 6:10 p.m. ET practice at Wofford College in Spartanburg, S.C., has been moved to 3:10 p.m. The 3:10 p.m. Monday and Tuesday practices will be moved to 9:25 a.m. as the Panthers wrap up camp.
August, 6, 2014
Aug 6
4:30
PM ET
SPARTANBURG, S.C. -- A daily review of the hot topics coming out of the
Carolina Panthers
training camp from Wofford College:
Breaking news: Rookie wide receiver Kelvin Benjamin didn't catch a pass in team drills for the first time in training camp -- aside from the days he was out nursing a bruised left knee. He didn't drop one, either. Benjamin hasn't dropped a pass in any of the team drills. The 28th pick of the draft just wasn't targeted on Wednesday as defensive coordinator Sean McDermott mixed up his schemes a bit to focus on the 6-foot-5 receiver. Many times Benjamin was pressed, and other times he was part of a zone coverage that left him blanketed. The good news: When Benjamin was covered, others were open.
It raised a red flag among reporters when quarterback Cam Newton didn't take snaps during the first few sessions of team drills. That he spent that time working with trainers and coaches apart from the pack while backup Derek Anderson took snaps with the first team appeared to suggest he would not play in Friday's exhibition opener against Buffalo. That still might be the case, as the Panthers are being cautious with Newton in his comeback from March ankle surgery. But as coach Ron Rivera noted, Newton was doing exactly what had been scripted for him days in advance. When Newton finally got into team drills, he completed his first six pass attempts and finished 8-for-10. The two incompletions were spikes because of a misread by the quarterback or his receivers. Newton's plan for Friday will be determined on Thursday. If he plays, it won't be for more than two series, and most of those plays will be runs. Rivera doesn't want Newton reacting to potential pressure from the Bills' pass rush and instinctively putting stress on the ankle when it isn't necessary.
It was a big day for undrafted rookie wide receiver Philly Brown. He got open deep on safety Robert Lester for a long touchdown catch from Newton and made at least two other nice catches. Once he went up and over safety Tom Nelson for a sideline catch. He actually landed awkwardly on Nelson. Brown is one of a handful of receivers fighting for the last spot or two, depending on whether the Panthers keep five or six receivers. As Rivera noted, Brown has been "hot and cold'' as far as consistency. He'll likely need to impress as a punt returner as well to make the final roster.
Wide receiver Kealoha Pilares, for now, has solidified himself as the top kickoff returner. That might be his best chance of making the team because he hasn't stood out as a receiver. He also plays on coverage teams.
Rivera said defensive end Charles Johnson will not play Friday if he doesn't practice Thursday. Johnson has missed the last three practices with a hamstring injury. ... Running back Kenjon Barner (leg) returned after missing four practices and looked good. ... Wide receiver Tavarres King (leg) returned after missing two practices and made a nice, one-handed catch. He is the fourth of five receivers at this point.
Thursday's practice is scheduled for 9:25 a.m.
July, 27, 2014
Jul 27
7:15
PM ET
SPARTANBURG, S.C. -- A daily review of the hot topics coming out of the
Carolina Panthers
training camp from Wofford College:
If you were looking for something definitive at the left tackle position after the first practice in pads, sorry. Byron Bell and Nate Chandler both got opportunities there and both did well in giving quarterback Cam Newton time to throw. Bell started off on the left side during 7-on-7 drills and Chandler began team drills there. In one-on-one drills Chandler did a nice job of taking defensive end Charles Johnson to the ground once. The Panthers will continue to use both players there for the next few weeks as they look to replace retired Jordan Gross, who has lost so much weight he could play tight end or wide receiver. Coach Ron Rivera wants to make a decision on the starter after the second preseason game. The Panthers will face some good pass-rushers in Buffalo end Mario Williams and Kansas City linebackers Justin Houston and Dee Ford from a 3-4 set. Williams had 4.5 sacks in Week 2 against Carolina last season with most coming against Bell playing right tackle. Stay tuned. Too close to call, but both are showing potential.
Tight end Greg Olsen was wide open on a touchdown catch down the left sideline. Tight end Ed Dickson made a diving catch on a slant pattern. Tight end Brandon Williams made a nice over-the-shoulder catch deep in traffic. Tight end Mike McNeill made a tough catch in traffic over the middle. Tight end D.C. Jefferson made a solid catch in stride about 25 yards deep. Notice a theme here? The Panthers have more than enough choices to complement Olsen as they go to a two-tight end set. It's a luxury they haven't had since Jeremy Shockey was here in 2011. And I haven't mentioned Richie Brockel, who is listed as a TE/FB. The team kept four tight ends last season, and Rivera says there is a scenario where it could keep five this year. This definitely softens the blow of losing the top four wide receivers from last season.
Rookie wide receiver Kelvin Benjamin made an acrobatic, twisting catch on a high pass from Cam Newton on the first play of 7-on-7 drills. He snagged a somewhat high bullet over the middle on the first play of team drills. He caught a nice out pattern on the first series of another team session. In other words, the 28th pick of the draft is becoming quite comfortable with Newton in a hurry. A lot of this may have to do with the two staying in Charlotte, North Carolina, to work out together while the team was off from June 19 through last Thursday. If they continue to develop this chemistry people may forget Steve Smith, the team's all-time leading receiver who was cut during the offseason.
Philly Brown went to the ground and did what appeared to be 20 pushups after having a punt bounce off his chest early in practice. There were drops by a few other returners as the Panthers attempt to replace Ted Ginn Jr., who signed with Arizona in free agency. Don't think Rivera didn't notice it. "The thing we have to understand is first and foremost we have to catch the ball. I could care less if we fair catch it every time, but we've got to catch it.'' The leader in the clubhouse for the job might be Antoine Cason, who returned punts at San Diego while Rivera was there. It's interesting that speedster Tiquan Underwood hasn't been given a chance there yet, but Rivera said others could be added to the mix that so far includes Cason, Kenjon Barner and Brown. Bottom line, the Panthers will miss Ginn much more here more than they will at receiver.
Carolina holds its first morning practice on Monday after two night practices and a 3:10 p.m. session. Sunday's workout was somewhat sloppy, and Rivera reminded players of that afterwards, telling them he "expected a better practice tomorrow.''
May, 31, 2014
May 31
8:00
AM ET
This isn't an ordinary Saturday mailbag, but it will begin with an extraordinary person.
Sandra Kay Hill.
The mother of
Carolina Panthers
running back
DeAngelo Williams
lost a long battle to breast cancer on May 16. She was, as
Williams said in a first-person piece for Sports Illustrated's MMQB
, the "biggest reason I've been able to enjoy eight NFL seasons."
"The byline on this column reads DeAngelo Williams, but they aren't my words alone," Williams wrote. "Everything I say here is an extension of her voice, her strength and her courage."
Williams wrote the piece not only as a tribute to his mother, but to let the world know he continues her fight against breast cancer. He began it like this: "My mom didn't tell me she had breast cancer before she got a double mastectomy. That was kept a secret, from me at least, because she didn't want me worrying about her and getting distracted because, well, I'm a mama's boy."
Those that know Williams, who have seen the pictures of him with Hill or witnessed them together firsthand, understand.
Williams ended the piece like this:
"On Saturday, May 24th, at 3 p.m. CST, we buried my mother at Crosslawn Cemetery in Wynne, Arkansas. My mother's fight is over now, but mine is just beginning. While I am so thankful for all that goes on during October to raise awareness for breast cancer, I want to ask one small favor of each of you.

"Well, two actually.

"First, wear a pink shirt at least once a month, and make it a point to tell people that you're doing so to help remind everyone that breast cancer awareness is 365 days a year. Second, it's true that early detection is the best prevention, so please call, text, email, tweet or Facebook five women you care about (in honor of my mom and her four sisters) and ask them if they've gotten a mammogram lately. Do this for five people, and ask them to do it for five more, and then five more after that. Keep it going, and keep doing this for all of the women around the world who live with and die from this disease -- and for my mom, who lived to love."
It is a touching piece from a loving son about an extraordinary woman.