Carolina Panthers:

Rob Gronkowski
November, 19, 2013
11/19/13
11:45
AM ET
CHARLOTTE, N.C. -- Would the outcome of Monday night's game have changed had officials stuck with the initial pass interference call on the final play of the
Carolina Panthers
' 24-20 win over the
New England Patriots
?
[+] Enlarge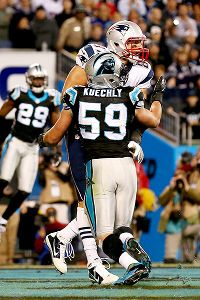 Streeter Lecka/Getty ImagesEven if a pass interference call on Luke Kuechly stands, the Patriots have scored a touchdown on plays from the 1-yard line just 33.3 percent of the time this season.
According to statistics accumulated by the Elias Sports Bureau, there was anywhere from a 33.3 to 51 percent probability that it could have.
In case you missed it, Carolina rookie
Robert Lester
intercepted a pass intended for
Rob Gronkowski
near the back of the end zone on the final play. A flag was thrown for pass interference because linebacker
Luke Kuechly
was draped all over the New England tight end.
The officials gathered to discuss the penalty and waved off the flag, saying the ball that came up several yards short of Gronkowski was uncatchable.
Even if the penalty had been called and New England was given one more play from the Carolina 1-yard line, the Patriots still needed a touchdown to win.
According to Elias, the Patriots had run 15 plays on first, second or third down from the opponent's 1 this season. They scored five times, which means they had a 33.3 percent probability of pulling out the win if those numbers held true.
Since 2001, teams down four to eight points on the opponent's 1 with five seconds or less remaining scored a touchdown on five of 10 plays, which would have increased New England's probability of scoring to 50 percent.
This season, there have been 101 touchdowns on 198 snaps from the 1 on first, second and third down. That's 51 percent.
So while a pass interference penalty would have added more drama to the finish, it may not have changed the outcome.
Also from Elias, Carolina's
Cam Newton
became only the second quarterback to throw a go-ahead touchdown pass in the final minute of the fourth quarter against Bill Belichick's Patriots (2000-present).
Newton's game-winning 25-yard pass to
Ted Ginn
Jr. came with 59 seconds to play.
The only other player to do that against New England during the Belichick era was New York's
Eli Manning
. He did it twice, in the regular season in 2011 and in Super Bowl XLII on Feb. 3, 2008.
One more interesting statistic: Newton surpassed 10,000 career passing yards in his 42nd career game. He now has 10,099 passing yards and 1,775 rushing yards.
Randall Cunningham
is the only other player in league history to have accomplished that feat over a three-season span. He passed for 10,674 yards and ran for 2,187 from 1988 to 1990 at Philadelphia.
November, 17, 2013
11/17/13
8:00
AM ET
CHARLOTTE, N.C. --
Five keys for the Carolina Panthers as they prepare for Monday's 8:30 p.m. showdown against the New England Patriots at Bank of America Stadium:
Brady
Pressure Brady:
The
New York Jets
and
Cincinnati Bengals
each sacked quarterback
Tom Brady
four times and kept constant pressure on him in the pocket. Each time Brady had a passer rating below 56. Each time the Patriots lost. Pittsburgh didn't keep the pressure constant in New England's last outing. Brady had four touchdown passes and a passer rating of 151.8. Simple math.
Brady and Gronkowski:
You're starting to see a Brady theme here, right? There's a reason. Brady connected with tight end
Rob Gronkowski
nine times for 143 yards and a touchdown in their last outing. The Panthers have struggled at times to cover the tight end, most recently the first half against Atlanta when
Tony Gonzalez
caught five passes for 77 yards and a touchdown. They'll probably do some of the things they did to hold him to one catch for four yards in the second half. Middle linebacker
Luke Kuechly
could play a big role.
Ball control:
The Panthers should be able to run against New England's 30th-ranked run defense with a heavy dose of
DeAngelo Williams
,
Jonathan Stewart
and
Mike Tolbert
. That should open up the short passing game, allowing the NFL's No. 1 team in time of possession to -- you guessed it -- keep the ball out of the hands of Brady.
Cam in the spotlight:
Funny, quarterback
Cam Newton
has taken somewhat of a backseat since the performance of the defense in last week's 10-9 victory at San Francisco. He'll be front and center in this one against a New England defense that, despite its deficiencies against the run, typically finds a way to take a way strengths. The Panthers need Newton to return to the consistency he showed during the first three games of this five-game winning streak. He may even find some running room against this group.
Adjust, adjust, adjust:
Patriots coach Bill Belichick is going to throw a few wrinkles at the Panthers they're not expecting. Give the man 15 days to prepare and he's almost impossible to beat. But Carolina has done a good job during this winning streak of making in-game adjustments. That will be more important than ever in this one.
November, 15, 2013
11/15/13
8:00
AM ET
CHARLOTTE, N.C. -- The X factor for the
Carolina Panthers
on Monday night is the same as it is for almost every team that faces the
New England Patriots
.
Tom Brady
.
The Patriots' quarterback has the innate ability to exploit weaknesses and mismatches in a defense like few others in the NFL. Getting back tight end
Rob Gronkowski
, one of his primary targets, makes him that much more of a threat.
[+] Enlarge
AP Photo/Ben MargotThe Panthers brought Colin Kaepernick to earth. On Sunday they'll try to do the same to Tom Brady.
The Panthers know that. "Tom Brady is one of the most dangerous quarterbacks in the league," linebacker
Thomas Davis
said.
Brady is particularly dangerous on "Monday Night Football," where he is 13-4, and has won five straight and 10 of his past 11. He has thrown three or more touchdowns in Monday night's showcase nine times.
But Brady will encounter his own X factor: the Panthers' defense, which has given up only seven touchdown passes and made 13 interceptions, and is holding opposing quarterbacks to a QBR of 30.3 -- the second-lowest figure in the league. The league average is 51.2. Brady's mark is 56.9.
The average passer rating against Carolina is 74.6, fifth-lowest in the league. The league average is 86.4. Brady's mark is 82.7.
So while Brady versus most defenses is a mismatch, the Panthers have a chance to negate that if they play at the level they have been during a five-game winning streak -- and really most of the season.
"Tom Brady sets up everything when it comes to their offense," rookie defensive tackle
Star Lotulelei
said. "If we take away that, we have a much better chance."
Carolina has its own quarterback on defense in middle linebacker
Luke Kuechly
, named the NFC defensive player of the week for his effort in Sunday's 10-9 victory at San Francisco. Kuechly helped the Panthers hold
Colin Kaepernick
to a QBR of 7.7, his worst of the season, more than 50 points below his average and more than 90 points lower than what he'd put up in each of his previous two games. They sacked him six times and held him to 91 passing yards.
Kuechly doesn't look at the challenges Brady presents any differently, although Kaepernick is much more mobile. That's because the game plan is pretty much the same -- stop the run, pressure the quarterback and force turnovers.
"I look at it just as a team that has a good quarterback that is going to be a challenge for us," Kuechly said. "[Brady's] a smart guy. He's like
Peyton [Manning]
in the aspect he's going to get his team in a situation that is going to be beneficial for them. We need to do a good job of playing in our defense and not showing stuff too early so he can get a bead on what we've got."
If that happens, Brady will do to Carolina what he does to every other defense.
"If he finds out what we're in, he'll pick us apart," cornerback
Captain Munnerlyn
said.
One of Carolina's strengths is not showing what is in. The defense can do that because it can disrupt the run and rush the quarterback with four down linemen most of the time.
The X factor within the X factor is Gronkowski. Since returning from back and arm injuries, he has been targeted 10.7 times per game, the most in his career. He had nine catches for 143 yards and a touchdown in the 55-31 victory over Pittsburgh. Brady, by no coincidence, had his highest QBR (97.7) and passer rating (151.8) of the season in that game.
The previous time the Panthers faced a tight end of this caliber was two games ago, when Atlanta's
Tony Gonzalez
had five catches for 77 yards and a touchdown in the first half. He had one catch for 4 yards in the second half.
"Just straight adjustments," said Gronkowski, who has studied the Atlanta film. "They know how to adjust on the fly. They know how to adjust coverage. They're overall a great defense."
That shows up in the statistics. So while the Patriots have a quarterback who can adjust as well or better than any in the league, the Panthers have a defense that can do the same.
X factor versus X factor.
Maybe they should call this the X Game.