Carolina Panthers:

Russell Wilson
September, 11, 2013
Sep 11
3:45
PM ET
It's hard for me to argue with the coaches, scouts and front-office personnel who ranked
Cam Newton
of the
Carolina Panthers
last among the young quarterbacks in
Wednesday's Hot Read
on ESPN.com.
I'll be the first to admit I'm not an expert evaluator of talent, even though former Carolina general manager Marty Hurney began his career as a sports writer.
However -- Indianapolis'
Andrew Luck
, Washington's
Robert Griffin
III, Seattle's
Russell Wilson
and San Francisco's
Colin Kaepernick
are surrounded by a better supporting cast than Newton has had in his first two-plus seasons.
Even our experts admitted that, ranking Newton fifth in that category.
Who knows what Newton would have done with a decent second wide receiver to
Steve Smith
. Or had his offensive line and defenses been better.
Wilson and Kaepernick, in particular, had better supporting casts. According to our evaluation, the Seahawks and 49ers both had defenses and rushing attacks that ranked in the top five in the NFL last season.
Carolina ranked 10th in defense and ninth in rushing.
The ranking also has Newton fourth in durability, ahead of only Griffin. I'd argue Newton should have been first in durability, based on how many plays he missed versus how many times he carried the ball and was hit.
Among these five young QBs, Newton ranks second behind Griffin with 5.8 yards per carry since 2011, according to ESPN Stats & Info. In most yards per drop-back, he ranks third behind Kaepernick and Griffin with a 7.0 average.
The experts ranked Newton fifth in accuracy even though he had a better completion percentage -- 57.7 to 54.1 -- than Luck did last season. Even though Luck threw 18 interceptions to Newton's 12.
The survey also should take into consideration that Newton had 741 yards rushing, second only to Griffin with 833, and that his eight rushing touchdowns were the most among the five.
Where Newton loses big is in wins and losses. He is 13-20 and hasn't made the playoffs. The other four have.
But nobody knows what Newton would have done in another system any more than we know what the four he's being compared to would have done in Carolina's.
Apples and oranges, I say.
September, 7, 2013
Sep 7
8:00
AM ET
CHARLOTTE, N.C. -- On paper, Sunday's 1 p.m. game between the
Carolina Panthers
and
Seattle Seahawks
looks like a mismatch.


Here are five things that will determine if that's the case:
Newton vs. Wilson -- Carolina quarterback Cam Newton was the league poster boy going into last season. But after two straight losing seasons that honor has shifted to Seattle's Russell Wilson. For the Panthers to avoid another slow start Newton must steal the spotlight back from his counterpart and show the poise and efficiency that Wilson did in leading Seattle to the playoffs a year ago. The Seahawks say they have to force Newton to beat them with his arm. Newton has to prove that he can.
The line of fire -- Carolina left guard Amini Silatolu has been limited the past two weeks with a hamstring injury and is a long shot to play. Carolina appears ready to go with a committee of journeyman Chris Scott, who hasn't started an NFL game, and veteran Travelle Wharton, who hasn't played in a year. How well they do against a tough defensive front could determine the effectiveness of the offense.
Double Trouble? -- Carolina running back DeAngelo Williams came up with the nickname "Double Trouble'' for himself and Jonathan Stewart after they combined for 2,351 rushing yards and 28 touchdowns in 2008. But with half (Stewart, ankle, PUP) of trouble out, Williams must cause the Seahawks enough problems that they can't fire off on Newton every play. If they can, Carolina is in double trouble.
Secondary, but not really -- Seattle's secondary that features three Pro Bowlers is considered by some as the best in the league. Carolina's secondary that allowed opponents to complete a league-high 66.8 percent of their passes a year ago is a major question mark even though the defense had a league-high 10 interceptions during the preseason. Starting strong safety Mike Mitchell (thigh) remains a question mark. This group has to step up in a big way.
Intangibles -- All the pressure, really, is on the Seahawks. They are the team picked by many to go to the Super Bowl. Carolina is the team with tempered expectations and ranked 23rd in ESPN's preseason rankings. A team with nothing to lose and out to prove the critics wrong could be dangerous in front of a home opening crowd.
September, 6, 2013
Sep 6
12:00
PM ET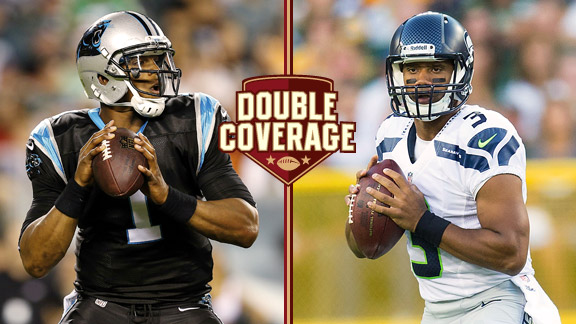 AP Photo, USA TODAY SportsCarolina puts Cam Newton's athleticism on the line versus confident Seattle QB Russell Wilson.
The
Seattle Seahawks
are the sexy pick to win the Super Bowl, with the hot quarterback featured in GQ magazine. The
Carolina Panthers
are the wannabe team with the once-hot quarterback who has lost some of the luster off his cover-boy status.
But there's one thing these teams have in common as they prepare to open the 2013 NFL season on Sunday at 1 p.m. ET.
Slow starts.
Carolina has the worst opening-day record in the league at 6-12. Seattle ranks 30th, with only the
New Orleans Saints
and Panthers behind them. The winner will at least emerge with a chance to change that.
So how do they stack up in what appears a mismatch? Panthers team reporter David Newton and Seahawks reporter Terry Blount are here to tell you.
Let's get right to the question most people are asking: Who is the better quarterback? Carolina's
Cam Newton
or Seattle's
Russell Wilson
?
Newton:
I know Wilson and the Seahawks are the sweethearts of the league after making the playoffs last season. But if I were starting a team, I'd take Newton, and not because we share the same last name. I know the Panthers would. They talked last season about drafting Wilson to back up the first pick of the 2011 draft before Seattle got him in the third round. Backup! Look, Wilson is a solid player who is surrounded by a better supporting cast than Newton has had in his first two seasons and has again this year. Wilson does some great things with his arm and legs. He makes good decisions. Newton would kill for his completion percentage of 64.1 last season. But Newton is one of those special players who, at 6-foot-5 and 245 pounds, can do things the 5-11, 206-pound Wilson can only dream of. Go back and look at the 72-yard touchdown run Newton capped with a flip into the end zone in a 30-20 victory against a one-loss Atlanta team last season and you'll see what I'm talking about. Wilson's biggest edge comes in leadership, and I believe you'll see Newton step it up in that department this year. I see his stock on the rise. Of all the first-year quarterbacks who made the playoffs last year, Wilson is my choice to have a sophomore slump.
Blount:
Newt, I honestly tell you that the Seahawks coaches and players would take Wilson every day of the week, and frankly, I think so would most NFL coaches. In the more than 30 years I've covered sports, I've never met a more impressive young man than Wilson. He's just one of those once-in-a-generation-type athletes who you look at him and listen to him, then you say, "This guy is going places in life." Yes, Cam has more experience, and, obviously, more size. He's an exceptional athlete, a man that Seattle coach Pete Carroll called "a phenomenal talent." But he isn't the team leader that Wilson is, and won't make as many good decisions at key moments as Wilson will.
Let's turn to a team question. Which team will show more improvement this season? Not the better record, but bigger step forward? The Seahawks, who were 11-5 and a playoff team? Or the Panthers, who were 7-9?
Blount:
That's a tough one. I think Carolina could finish with a winning record this season and possibly make the playoffs, which would be a nice improvement over 2012. But since I picked Seattle to go 12-4 and reach the Super Bowl this year, I'll have to go with the Seahawks.
Newton:
Definitely a tough one. I don't see Carolina making the playoffs, but I do see the Panthers coming close to a winning record. And they will improve on defense with the return of
Jon Beason
at linebacker and more talent at tackle. How much they improve overall depends on the progression of the offensive line, which didn't look good during the preseason. Seattle has all the pieces to make a Super Bowl run, but I still think the Seahawks are the second-best team in their division, behind San Francisco. They did so many good things last year it's hard to see them making a substantial improvement. If they do, it really will be Super Bowl or bust.
Now to the game. Last year, Seattle won 16-12 in a defensive struggle in Week 5. Do you see this game being similar?
Newton:
Definitely. And if it's not, Seattle could make it ugly, because Carolina can't win a shootout. The strength of both teams is defense. We're probably looking at two of the top 10 units in the league. Both are used to practicing against the run-option that Newton and Wilson ran well at the end of last season, so they'll be prepared to handle it. The key for Carolina to make this a defensive battle will be the secondary. Will it be the unit that had a league-high 10 interceptions during the preseason, or the one that was soft most of last season?
Blount:
The defenses typically are ahead of the offenses at the start of the season, so that could play into a matchup with two strong defensive units. However, I do expect this game to have a little more scoring than the one last year, because I think both quarterbacks will play better than they did in that game. You're spot-on about the secondary, Newt. I think both secondaries are the key. Seattle might have the best defensive backs in the league and the Panthers looked much improved. But no secondary can cover these receivers forever. What this could come down to is which defensive unit does a better job rushing the passer and which is better able to contain two of the best running quarterbacks in the league.
September, 4, 2013
Sep 4
5:44
PM ET
CHARLOTTE, N.C. --
Cam Newton
was asked if the
Carolina Panthers
had named team captains as he wrapped up his Wednesday afternoon media availability.
"No, we haven't,'' the quarterback said matter-of-factly. "Have no clue. I'm not worried about captains right now. There's other bigger fish in the sea right now for me.''
You get the feeling Newton has a chip on his shoulder as he begins his third NFL season. You can't blame him if he does, particularly entering Sunday's opener against the
Seattle Seahawks
with quarterback
Russell Wilson
.
Newton's counterpart is getting all the magazine covers and media attention that he did two years ago as the reigning Heisman Trophy winner and No. 1 pick of the draft. Russell is the cover boy, the one featured in GQ magazine this year. He's the trendy pick to lead his team to a Super Bowl.
[+] Enlarge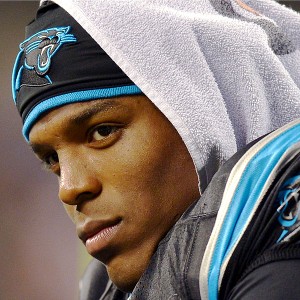 Drew Hallowell/Philadelphia Eagles/Getty ImagesCam Newton has not made the postseason after two seasons in the NFL.
Newton's biggest 2013 spread so far may be the Humane Society of Charlotte calendar project in which he's pictured holding a puppy and calico kitten. He's the one being questioned whether he can be a leader and simply help the Panthers to a winning record. Asked about his personal goals for the year, Newton again said matter-of-factly, "To be 1-0 at the end of Sunday when I lay my head down. That's about as personal as it gets."
Another chip?
Again, you can't blame him. The player used to winning at every level has a 13-19 record at Carolina. He hasn't come close to sniffing the playoffs. Wilson already has a playoff victory, and he was a late field goal away from being the hero of a miraculous comeback against Atlanta that would have sent the Seahawks to the NFC Championship.
Newton has heard about Wilson all week and will continue to.
"This is not something new for him," Newton said when asked how he thinks Wilson is handling his notoriety. "He is a quarterback that has excelled in the collegiate level as well as in the pros.
"Stardom, that's nothing new for a quarterback of that magnitude. I'm not about to handicap him or feel sorry for him to a degree when we're almost in the same boat."
It's that almost part that brings on the chip, that creates the perception one quarterback is playing at one level and the other a notch below.
Newton has a chance to change that on Sunday. He's spent the offseason and training camp focusing on doing the little things that will take his game and the Carolina offense to another level.
The talent is still there. Just ask Seattle coach Pete Carroll.
"He can do everything,'' Carroll said. "I felt like that from Day 1 he walked onto the field.''
Newton just needs to win, as general manager Dave Gettleman said during camp.
Last year's loss to the Seahawks was a microcosm of Newton's pro career. He struggled most of the game, leading the offense to one field goal. He then drove Carolina 79 yards to the 1-yard line late in the fourth quarter, but his fourth-down pass fell incomplete in the end zone.
"Execution, that's what it comes down to,'' Newton said. "For us on offense, I feel as if there was things with pitching and catching we were just off a little bit. With running the ball, we were just off a little bit.
"Those plays linger, linger, linger. We look up and now it's the fourth quarter and now we need to drive. We can't put ourselves in that situation and expect for something good to happen at the end when we had multiple opportunities the whole time.''
This season is about opportunities for Newton. Will he be able to capitalize so some of the attention Wilson is getting gravitates back to him?
"Come game time when the bullets start flying we'll see how well I have evolved and matured with my game plan,'' Newton said when asked to compare his game today to what it was this time a year ago.
Chip? It sure seems that way.
David Newton is the Carolina Panthers team reporter for ESPN.com. He can be reached at dnewtonespn@aol.com