Carolina Panthers:

Sean McDermott
December, 31, 2013
12/31/13
2:50
PM ET
CHARLOTTE, N.C. --
Carolina Panthers
defensive coordinator Sean McDermott will interview for the head coaching position with the
Washington Redskins
this weekend, ESPN's Adam Schefter reported on Tuesday.
McDermott acknowledged on Monday that he was interested in being a head coach and believed he was ready to be one.
The 39-year-old said at the time he hadn't been contacted by any of the six teams with an opening. Among those was the Redskins, who fired Mike Shanahan on Monday.
That McDermott has been contacted shouldn't come as a surprise. He is the architect of the NFL's second-ranked defense, which played a big part in Carolina's 12-4 season.
"Those things happen as a result of good players and good coaches, and I've been fortunate to have both," McDermott said on Monday. "When you win, sometimes good things happen and people get opportunities. If that happens, so be it. That's part of the process."
But McDermott made it clear that his focus was on helping Carolina prepare for a January 12 playoff game against either Philadelphia, Green Bay or San Francisco.
"Listen, we've had a great year as a team, but right now my focus isn't there," he said of interviewing. "My focus is on helping this football team win games. I'm focused on who our next opponent is going to be and figuring out that whole mess."
December, 2, 2013
12/02/13
3:16
PM ET
CHARLOTTE, N.C. -- For months, almost every time a member of the
Carolina Panthers
' defense has been complimented, the response has been how they won't be satisfied until the unit is ranked No. 1.
They might have to come up with a new answer.
Hello No. 1.
The Panthers (9-3) moved into the top position in average yards allowed -- the measuring stick the NFL uses to rank the No. 1 defense -- after Sunday's 27-6 victory against Tampa Bay.
[+] Enlarge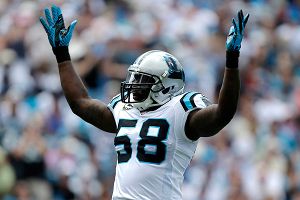 AP Photo/Bob LeveroneThomas Davis and the Carolina defense moved into the No. 1 spot in the NFL's team rankings.
It is the first time they have held that distinction since Weeks 4 and 5 in 2002, when that unit finished the season No. 2 overall according to Elias.
OK, so they held that spot for 24 hours three weeks ago after previous No. 1 Kansas City gave up 427 yards in a Sunday night 27-17 loss to the
Denver Broncos
. But the Panthers gave it up after surrendering 390 yards in a 24-20 Monday night victory against New England.
This time it should stick. The Panthers have given up 3,478 yards, an average of 289.8 per game. Their position won't change unless the
Seattle Seahawks
, ranked second at 293.3 yards per game, hold a New Orleans team averaging 415 yards to less than 252 on Monday night.
Carolina players were given Monday off after running their league-best winning streak to a franchise-record eight straight, so they weren't around to talk about the ranking.
But you can imagine their answer would be much like that of head coach Ron Rivera and defensive coordinator Sean McDermott.
Basically, it's nice, but let's see where we are after the season.
You can't blame them, particularly with two of the next four games against the Saints (9-2).
"I feel good about it," McDermott said of the ranking. "I'm not going to lie about it. At the same time, you've got
Drew Brees
and the Saints offense staring you right in the face.
"Another big challenge for us."
The Panthers, 9-3 heading into a battle for the NFC South lead, have handled big challenges well so far this season. They held the
San Francisco 49ers
to 151 total yards and nine points on the road. They held a New England team averaging 27 points a game to 20 in a prime time game. They have shut out four of their past five opponents in the second half.
But in terms of complete offenses, New Orleans will be the toughest challenge. The Saints entered Monday night's game averaging 27.7 points and -- as noted above -- 415 yards a game.
Still, getting to No. 1 is a nice acknowledgment for how well the Panthers have played defensively. That they rank first in points allowed (13.08) might be more significant. You don't lose many games when teams score fewer than two touchdowns.
"It does mean they're playing very well," Rivera said. "They're doing a lot of good things, and they deserve some credit."
He then reverted to his standard "figures lie and liars figure, cause it's a stat" routine.
"The only one that really does matter is wins and losses," Rivera added. "But I'm happy for the guys, because the players play hard. That's one of their goals, to be the No. 1 defense and be a playoff caliber defense."
The Panthers have been a playoff-caliber defense since a Week 1 12-7 loss to Seattle. Every time someone asks how good this team is, my first response is the defense is built well enough to win a Super Bowl.
But again, the biggest challenges are ahead. That's why Rivera and McDermott temper their enthusiasm about the ranking.
"They have done a great job, deservedly so, to get some credit, to be acknowledged for what they've accomplished so far," Rivera said. "But again, we still have four more left to play."
And the ultimate goal is to play three or four more after that.
November, 19, 2013
11/19/13
3:25
PM ET
CHARLOTTE, N.C. -- You can debate all day whether the officials made the correct decision to pick up the flag on the final play of the
Carolina Panthers
' 24-20 victory Monday over the
New England Patriots
.
[+] Enlarge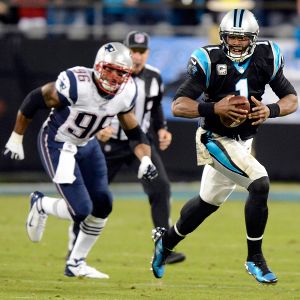 David T. Foster III/Charlotte Observer/MCT via Getty ImagesControversial calls aside, the Panthers played well enough to earn a victory over an elite Patriots team.
You can't debate that it's a win for Carolina. Six straight, to be more precise. And it shouldn't taint anything.
If you believe the no-call on linebacker
Luke Kuechly
interfering with tight end
Rob Gronkowski
taints the outcome, then you probably believe the no-call on Patriots tackle
Marcus Cannon
leg-whipping defensive end
Charles Johnson
would have tainted a New England victory.
Had a penalty been called there, a 12-yard run by
LeGarrette Blount
would have been negated and a 15-yard penalty implemented. Instead of first down at their own 43 yard line, the Patriots would have had first-and-25 at the 16.
Quarterback
Tom Brady
's 9-yard touchdown pass to Gronkowski eight plays later that tied the score 10-all may have never happened, and the final play dramatics may not have been an issue.
Sure, the final no-call makes for great debate. But this game wasn't won or lost on one no call.
And it doesn't change the fact that the Panthers (7-3) are playing at a level good enough to beat teams of New England's caliber. They defeated the
San Francisco 49ers
the previous week on the road with no controversy.
"You go with what is called and how it's called," Carolina coach Ron Rivera said Tuesday. "It's good for us to get the call like that. Believe me, I'm biased. I think you feel very fortunate. It's tough. What those men, the referees, have to do out there is tough. It's a game played by humans and refereed by humans. There are human errors and decisions and we live by them."
What has been lost in all this is that Rivera and defensive coordinator
Sean McDermott
basically predicted what the Patriots were going to do on the final play, second-and-3 from the Carolina 18 with three seconds left.
They remembered the Patriots were in a similar situation in the final seconds of an Oct. 13 game against the
New Orleans Saints
. In that one, Brady found
Kenbrell Thompkins
for a 17-yard touchdown with five seconds left in a 30-27 victory.
The Panthers had the outside covered but were more focused on the middle of the field, where they anticipated Brady would go to Gronkowski.
They had rookie strong safety
Robert Lester
, who made the interception to end the game, in the middle of the end zone where it would have been nearly impossible for a pass to get through. They had free safety
Mike Mitchell
positioned to handle anything on the outside and pinch the play inside.
They had Kuechly in the face of Gronkowski.
"So all we had to do was get in position to cut him off like we did," Rivera said. "Robert was right where he was supposed to be."
Without admitting there was interference, McDermott said the only thing he would change about the way Gronkowski was covered was better technique by Kuechly.
Also lost in all of this is how many times the Panthers have lost games when the calls went the other way. In Week 2, Kuechly was called for a controversial interference against Buffalo wide receiver Stevie Johnson to negate a game-winning interception with 14 seconds left.
Two plays later, Johnson caught a 2-yard touchdown pass with two seconds left to give the Bills a 24-23 victory.
The Panthers lost a game against Tampa Bay last season that involved a controversial penalty.
Those games and others rushed through Rivera's mind as officials gathered before picking up the flag on the final play.
"As far as I'm concerned that was the decision, the decision we live with," Rivera said. "No matter how much people want to talk about it and rehash, rehash, it's not going to change."
So while analysts and fans debate the no-call, Rivera is moving on to the next challenge -- a road game at 5-5 Miami. He's not apologizing for anything, although he admits if he were on the other end of the decision he would have been displeased.
"For 59 minutes and 57 seconds, we did exactly what we hoped to do," Rivera said. "We're going to move on from that, because after we get done with this we're talking about the next important game and that's Miami."
There's no debating that, either.