Carolina Panthers:

Travelle Wharton
July, 29, 2014
Jul 29
5:27
PM ET
SPARTANBURG, S.C. -- Not many football players can say they played every regular-season snap of their career -- pee wee league, junior high, high school, college and NFL -- within two hours of his home.
Travelle Wharton can.
He was born in Greenville, South Carolina, played high school football in nearby Simpsonville, played college football at the University of South Carolina in Columbia and spent 10 seasons with the
Carolina Panthers
in Charlotte, North Carolina.
He almost broke his string in 2012 after signing with Cincinnati, but suffered a season-ending knee injury in training camp and never played a regular-season down for the Bengals.
The Panthers picked Wharton up last season in an emergency situation because of injuries and he started 12 of 16 games at left guard.
Now he's calling it quits.
It was no secret. Wharton hinted soon after the season, after watching good buddy
Jordan Gross
announce his retirement as Carolina's longtime left tackle, that he was done. That the Panthers didn't seriously pursue him for another season made the decision that much easier.
Fortunately the player who never got the credit he deserved was given an appropriate sendoff. His "official'' retirement was announced on Tuesday at the Richardson Building during a break in Carolina's training camp.
In attendance was team owner Jerry Richardson -- making his first appearance at camp -- head coach Ron Rivera, general manager Dave Gettleman, Gross, many of the current players and lots of family.
They paid tribute to a player whose 115 games played and 111 starts ranks second among Carolina offensive linemen, to a player who had the versatility to start at left guard and left tackle, to one who showed class in everything he did and said.
Gross fittingly introduced Wharton and admitted as a going-away present that Wharton beat him in a 40-yard dash after their last practice together before the NFC Divisional playoff loss to San Francisco.
Good thing Wharton did that before Gross lost 70 pounds to look more like a tight end.
Wharton capped the event with a moving speech about how lucky he was to have played his entire career so close to home, and to have been surrounded by so many players and coaches that remain friends.
I know this has nothing to do with speculation on when wide receiver
Kelvin Benjamin
will return from a bruised left knee or when
Cam Newton
's left ankle will be 100 percent.
I know this has nothing to do with anything that will factor into how the Panthers will do this season -- aside from the fact the character Wharton always displayed is what Richardson wants the organization to be about.
But it was a moment that was worth sharing as the team prepared for an off Wednesday before resuming practice on Thursday.
"It was an awesome experience playing in the NFL,'' Wharton said. "But to do it at home was amazing."
February, 27, 2014
Feb 27
2:45
PM ET
CHARLOTTE, N.C. -- It was fitting that construction at Bank of America Stadium forced the
Carolina Panthers
to hold Wednesday's retirement news conference for left tackle
Jordan Gross
in the visitor's locker room.
As the landscape of Carolina's playground changes, so does the landscape of the team -- particularly the offensive line.
There's a chance in 2014 that center
Ryan Kalil
is the only starter at the same position he was when last season ended. It's not an enviable position for a team looking to get back to the playoffs, but it easily could happen.
Here's how looking at last year's starters:
Left tackle -- Gross. We know he's gone. Coach Ron Rivera said his replacement could come from one of three players on the existing roster in right tackle
Byron Bell
, fifth-year player
Bruce Campbell
or
Nate Chandler
, a backup tackle before injuries forced him into the lineup at right guard. If it's not one of those, then it'll be a free agent or draft pick. Regardless, a new starter.
Left guard --
Travelle Wharton
. He started the final 14 games there, including the playoffs. But he was signed after starter
Amini Silatolu
was injured in training camp. There's a good chance the 32-year-old Wharton, a free agent, won't be re-signed. And even if he is it's likely a healthy Silatolu will get first dibs on the starting job. Or maybe it'll be
Chris Scott
, who started there in the opener before moving to the right side to replace the injured Gary Williams (ACL). Don't count out Williams, either.
Center -- Kalil. Four Pro Bowls since 2008. He's not going anywhere.
Right guard -- Nate Chandler. He played well, starting most of the final nine games after Scott suffered a knee injury in the first Atlanta game. He kept the job even after Scott was healthy. But suppose Scott beats him out in camp? Or Chandler gets the left tackle job. Or
Edmund Kugbila
, last year's fourth-round pick that spent the season on injured reserve, could take the job. Don't forget as I said above Williams, who started there the first game before the season-ending knee injury. Don't count on
Geoff Hangartner
. He plans on riding into the sunset with Gross unless something dramatically changes last minute.
Right tackle -- Bell. He took a lot of heat last season for allowing sacks, and according to Gross much of it was undeserved. Gross, like Rivera, said Bell should have a shot at left tackle. If he gets that job, there's an opening on the right side. There could be anyway if the coaching staff feels that heat was deserved and an adequate replacement can be found.
And don't forget, the Panthers certainly will sign a free agent offensive lineman or two and draft at least one. General manager Dave Gettleman likes to build from the inside out with what he called "hog mollies'' after taking a pair of defensive tackles with Carolina's first two picks in the 2013 draft.
I often am wary of teams with a new front line. But like Bank of America Stadium, it could be better when the renovations are completed.
Let Gross explain.
"I always said I don't want to leave until I felt like things were in good order, and they are,'' he said on Wednesday. "They should be for a long time, and that's going to be regardless of whether I am here or not.
"And that's a beautiful thing.''
January, 24, 2014
Jan 24
8:00
AM ET
CHARLOTTE, N.C. -- We'll wrap up the first week of my ranking and evaluation of the 21
Carolina Panthers
scheduled to become unrestricted free agents with a pair of interior linemen.
Meet No. 12 guard
Travelle Wharton
and No. 13 defensive tackle
Colin Cole
.
Both were starters for much of the 2013 season, but both are getting up there in age and are at positions where the Panthers have a lot of young talent they want to explore.
In case you missed the others in this ranking, they were: No. 21 quarterback
Jimmy Clausen
, No. 20 wide receiver
Brandon LaFell
, No. 19 cornerback
Drayton Florence
, No. 18 guard
Geoff Hangartner
, No. 17 linebacker
Dan Connor
, No. 16 linebacker
Jason Williams
, No. 15 tackle
Bruce Campbell
and No. 14 cornerback
James Dockery
.
Here's a closer look at Nos. 12 and 13:
12.
Travelle Wharton:
The 32-year-old wasn't re-signed until right before the season with starting left guard
Amini Silatolu
and fourth-round pick
Edmund Kugbila
nursing injuries. Both eventually went on injured reserve. Both also will be back next season. The Panthers also have
Nate Chandler
and
Chris Scott
at guard. So Wharton may be expendable for the same reason the Panthers waited so long to sign him. The team wants to move forward with young players. The good news is Wharton lives in the area and likely will be available if needed in an emergency situation again.
13.
Colin Cole:
At 33, he was a steal this past season after being out of the league for almost two years. He was a big reason the team ranked No. 2 in the league at stopping the run. But with last year's first-round pick
Star Lotulelei
anchoring one tackle spot, with the emergence of second-round pick
Kawann Short
late in the season ready to step forward in the other and
Dwan Edwards
under contract, re-signing Cole will come down to money and the value of his experience versus developing another young player. But remember, one of the strengths of the tackles last season was the luxury to rotate four players. I could see Cole coming back as a backup at a bargain price.
January, 17, 2014
Jan 17
8:00
AM ET
CHARLOTTE, N.C. -- There was a gasp from some of you when
Carolina Panthers
coach Ron Rivera said earlier in the week he was keeping his staff intact for next season.
[+] Enlarge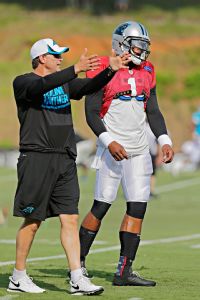 AP Photo/Chuck BurtonYou don't change offensive coordinators such as the Panthers' Mike Shula based on one bad game.
The gasp was aimed primarily -- maybe completely -- at offensive coordinator Mike Shula returning.
Perhaps it was an overreaction to the dismal showing in Carolina's 23-10 loss to the
San Francisco 49ers
in Sunday's NFC divisional playoff game. Perhaps it was an overreaction to the offense's inability to score a touchdown on eight plays inside the 10-yard line.
Whatever it was, it was an overreaction.
Rivera doesn't need to run Shula off. Here's why:
Continuity:
One of the reasons Rivera moved Shula from quarterbacks coach to coordinator when Rob Chudzinski left to become the head coach at Cleveland was to maintain the momentum the team established at the end of the 2012 season. He also knew Shula and quarterback
Cam Newton
had a solid relationship, which led to a lot of maturity and much more consistent play this season for the first pick of the 2011 draft. To change would destroy all that.
Chudzinski:
If you remember, wide receiver
Steve Smith
and running back
DeAngelo Williams
took shots at their former coordinator this season. They felt he was all about putting on a show to get a head coaching position, which he got -- for one season before being fired. They couldn't say enough good things about Shula and how he helped the offense develop an identity.
Injuries:
Three players were used at left guard because of injuries before
Travelle Wharton
became the regular in the fourth game. Four players were used at right guard due to injuries before former defensive lineman
Nate Chandler
became the regular after midseason. Running back
Jonathan Stewart
missed all but six games, first with an ankle injury and then with a knee injury. There were others, but when you lose players you were counting on in the line that makes any coordinator's life tough.
Talent:
Outside of Smith, Newton didn't have a consistent go-to wide receiver. No doubt finding more firepower there will be a priority during the offseason, likely the draft but perhaps in free agency as well. As solid as running back DeAngelo Williams was with 843 yards, he's still on the wrong side of 30 for backs. If you can argue Newton needs more weapons to take Carolina to the next level, then you can argue Shula does.
Production:
The Panthers averaged 22.9 points a game this season, which is slightly more than the 22.3 average in 2012. They were third in the NFL in third-down efficiency, 11th in rushing and fifth in time of possession (31:54 minutes per game), areas that win you a lot of games when you have the league's second-best defense. You can argue Newton's 585 yards was a big reason for the rushing rank, but his legs are one reason the Panthers drafted him.
Just because:
You just don't shake things up because the last game left a sour taste in your mouth. You remember this is an offense that was good enough to help the team win 12 games and the division title.
January, 10, 2014
Jan 10
8:00
AM ET
CHARLOTTE, N.C. --
Jordan Gross
and
Travelle Wharton
ended the
Carolina Panthers
' practice on Thursday with a 50-yard dash that a pair of offensive linemen approaching their mid-30s probably shouldn't engage in as they prepare for a playoff game.
Apparently, instant replay will be needed to decide the winner.
But it was Gross' way of saying you can be serious in your preparation for a big playoff game as the Panthers have on Sunday against the
San Francisco 49ers
, but it's OK to have a little fun.
[+] Enlarge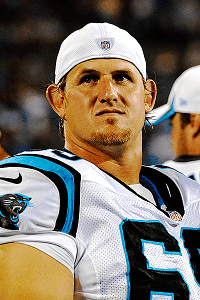 Sam Sharpe/USA TODAY SportsJordan Gross is aiming to play in his second Super Bowl with the Carolina Panthers.
It also was the left tackle's way of saying he's going to make the most of this experience, knowing the next game could be his last because his contract is up and the team hasn't indicated whether they want him to return for a 12th season.
Or if he wants to return.
Gross, 33, said a lot of players should be playing as if the next game is the last. He reminded the Panthers haven't been back to the Super Bowl since his rookie year of 2003 or the playoffs since 2008.
"You never know what could happen," Gross said. "People have asked me a lot what I'm doing. I say, 'I don't know, but I do know there's a good chance this could be my last game here.'"
He means Bank of America Stadium, where even if the second-seeded Panthers win they will need a loss by top-seeded Seattle against New Orleans in the other NFC playoff game to play another home game.
For the Panthers to advance Gross will play a key role in several ways. First, he'll have to help block San Francisco linebacker
Aldon Smith
, who was making his first start back after rehabilitation for alcohol abuse when the Panthers won 10-9 at Candlestick Park.
Smith was on the field for only 12 plays that day, but in 11 games he still has 8.5 sacks.
"He's a great player," Gross said. "He's had a little hiatus this season, but still his sack numbers are good. Young, athletic, strong, fast ... everything you would want a pass-rusher to be. Definitely going to have my hands full."
Gross is up to it. He's had one of his better seasons even though he was snubbed in Pro Bowl and All-Pro balloting.
Gross also is a motivational leader. Many teammates credit his "Highlanders" speech before the Oct. 13 game at Minnesota as a catalyst for the team's turnaround from a 1-3 start to 12-4.
He gave a "Hoosiers" speech earlier this week.
"Of it's still football, it's still the same size hoop, it's still the same size free throw line," Gross said. "For us it's the same size field and it's a team we've already played once. It's big, but we've been in a lot of pressure games this year.
"We haven't had the luxury of losing a game for almost three months, so the guys are used to playing with the season on the line."
No Gene Hackman imitations for Gross, though.
"I can't do a Gene Hackman voice, but I can get out my tape measure," he said.
His race with Wharton may need a laser to determine a winner.
"It was real close," Gross said of what was less than a sprint with his left guard and best friend. "Have you ever seen the movie 'Cars?' He's probably Lightning McQueen. I'm probably Chick Hicks."
For good or bad, there was a sequel to 'Cars.' Maybe there will be a sequel to this season for Gross.
September, 9, 2013
9/09/13
2:25
PM ET
CHARLOTTE, N.C. -- The mood in the
Carolina Panthers
' locker room on Monday was unusually upbeat for a team that 24 hours earlier lost its opener and its starting right guard for the season.

Rivera
There was a sense of confidence, a sense the team still can have a successful season. That wasn't fully there a year ago.
"Yes, there is disappointment in themselves,'' coach Ron Rivera said as he evaluated the 12-7 loss to the
Seattle Seahawks
. "I really felt in talking to a lot of guys they were disappointed in how certain things went on.
"The thing I told them is as we watch this tape, be honest. If you played 59 plays well and you played one play bad that one play should really eat at you. I think a lot of guys are going to respond the right way.''
Center
Ryan Kalil
said players understand more of what they have to do to be a winning team than they did this time a year ago during a 1-6 start.
"There's more of a feeling of what our identity is and what we can do and what we're capable of moving forward,'' he said. "The last couple of years [we were] still kind of unsure of where we're going, what we're doing.
"It doesn't feel like that this year. Obviously, it's not the ideal start to what we want to get done, but there were a lot of good things on film and a lot of things we saw that I'm not so sure we kind of knew what was going on early on last year.''
Losing right guard
Garry Williams
to a torn ACL/MCL in his left knee won't help. But the good news is
Amini Silatolu
, the starting left guard who missed the opener with a hamstring injury, is set to return to practice without restrictions on Wednesday.
And
Chris Scott
, who started at left guard before moving over to replace Williams, is more natural at right guard. He graded out perfectly in pass protection against Seattle from the right side.
So Carolina, with veteran
Travelle Wharton
in the mix, has a decent three-player rotation.
That Scott and Wharton helped the Panthers rush for 134 yards on 26 carries also was encouraging.
What disappointed Rivera was the number of mistakes and that they didn't come from one person that easily could be replaced.
"When you have 45 players and there is 130 plays, that means there is 45 bad plays,'' Rivera said. "Those are things we have to correct. The disappointment is not necessarily that we lost, but how we lost, that we didn't play smart football.
"That's what bothers me more than anything else, and I just expressed that to the players.''
They seemed to get it, because the mood was surprisingly upbeat.
September, 6, 2013
9/06/13
8:00
AM ET
CHARLOTTE, N.C. -- Apparently,
Carolina Panthers
general manager Dave Gettleman was dropping a hint earlier this week when he said the media was overlooking
Chris Scott
in the battle at left guard.
Scott
Scott worked with the first-team offense during Thursday's warm-ups, a good indication of what the staff thinks of him. He was ahead of veteran
Travelle Wharton
as
Amini Silatolu
-- the projected starter who is nursing a hamstring injury --watched.
If Silatolu is a no-go -- and coach Ron Rivera called him a long shot -- for Sunday's opener against the
Seattle Seahawks
, Scott may get his first NFL start.
Quite an accomplishment for a player who isn't listed in the team media guide.
"He's a guy who has really come in -- I don't want to say skyrocketed up the depth chart,'' left tackle
Jordan Gross
said. "But [he] kind of came in as a body after (Geoff) Hangartner got let go, and now he is getting reps with the ones.
"If you haven't noticed, maybe he has been overlooked.''
Scott is a physical 6-foot-4, 320-pound player with his sixth team since the
Pittsburgh Steelers
drafted him in the fifth round of the 2010 draft out of Tennessee. The Panthers signed him in August after he was waived by Buffalo.
"Chris Scott is solid,'' Rivera said. "He's done a lot of good things for us, and he's a little bit of a find for us.''
Even if Scott doesn't start, Rivera said he and Wharton will rotate against Seattle's tough defensive front.
Apparently, that's what Gettleman was trying to say when he said Scott was being overlooked as questions loomed about the injury-plagued offensive front.
"I don't think there's any issue," Gettleman said of the line.
In other injury updates:
Starting strong safety Mike Mitchell did not practice on Thursday as he recovers from a calf injury. Rivera called it a setback, but said he likes what he's gotten out of veteran Quintin Mikell who was signed on Monday.
Weakside linebacker Jon Beason, who missed most of last season after undergoing microfracture knee surgery, returned to practice on Thursday after getting Wednesday off. Rivera expects Beason to play 25 to 35 snaps against Seattle.
Starting defensive tackle Dwan Edwards did not practice on Thursday because of a tight hamstring. Rivera said Edwards will be re-evaluated on Friday, but he didn't seem overly concerned.
August, 31, 2013
8/31/13
8:00
AM ET
CHARLOTTE, N.C. -- Good pass protection. Decent run blocking. A quick touchdown.
Who were those guys on the offensive line in the
Carolina Panthers
' preseason finale?

You probably needed a roster to keep track since most of the starters got Thursday night off or moved to a different position in an effort to develop depth and flexibility during the 25-10 victory over Pittsburgh. And it wasn't like they were facing the "Steel Curtain'' of yesteryear.
But the end result was promising for a unit that has been much maligned throughout the preseason due to injuries. Even though only left guard
Travelle Wharton
started at the position, he'll likely play on opening day.
"There were a lot of good things that went on and a lot of real positives for us,'' coach Ron Rivera said.
Rivera hasn't said that often during the preseason, and it's still too early to tell whether this unit will be an improvement over last season's that wasn't highly thought off.
The line definitely will get a large dose of attention as general manager Dave Gettleman and the staff trim the roster to 53 on Saturday. Expect them to keep nine players, with two -- guard
Amini Silatolu
and guard/center
Jeff Byers
-- nursing injuries that could sideline them for the opener.
Veteran
Jordan Gross
is set as the left tackle, with Wharton likely to start beside him as he did for many of his first eight seasons in the league at Carolina before being waived. Three-time Pro Bowl selection
Ryan Kalil
is again at center, with
Garry Williams
expected to start at right guard and
Byron Bell
at right tackle.
After that, depth becomes a concern, so the thinking on cut day is strength in numbers.
"We're in a lot better spot than we were in a couple of weeks ago,'' observed Gross, one of those who was given Thursday night off.
One reason is Wharton. Signed on Sunday as a free agent, the former and now current Panther played six snaps against Pittsburgh, the first time he'd been in a game in a year after suffering a knee injury. He more than held his own and the drive ended with a 35-yard touchdown pass from
Derek Anderson
to
Ted Ginn
, so that was a positive.
"He's a big addition for us,'' Gross said of Wharton. "As soon as he came in the building everybody knew he was a guy we could count on.''
Whether quarterback
Cam Newton
can count on this group to give him the protection he needs to take the offense to another level remains unclear.
"We're getting better,'' Anderson said. "Obviously, Travelle's going to help us a lot. Every year is different. You've got to evolve and fit guys in where they fit.''
August, 29, 2013
8/29/13
10:41
PM ET
CHARLOTTE, N.C. -- Starting quarterback
Cam Newton
wore some form of skull cap instead of his signature towel Thursday night as he played spectator in the
Carolina Panthers
'
25-10 victory
over the
Pittsburgh Steelers
.

Well, it was terribly humid for a towel.
Otherwise, here are my thoughts on the preseason finale.
Two quarterbacks enough. Derek Anderson proved why he is the easy choice to back up Newton and why third-stringer Jimmy Clausen is expendable. Anderson completed his first five passes and finished an efficient 10-for-15 for 220 yards and two touchdowns. He even had an ill-advised scramble for 9 yards.
Who are these guys? There may be more depth at wide receiver than expected. Ted Ginn Jr. and Domenik Hixon made good cases to be the third receiver behind Steve Smith and Brandon LaFell. Ginn caught five passes for 149 yards and two touchdowns, including an 87-yarder in which he blistered the Pittsburgh secondary. Hixon caught four passes for 44 yards, including a nice 23-yard third-down grab on the sideline.
Secondary question. Carolina needs its front seven, most of whom barely played, to have a big season to cover up soft spots in the secondary. Most of those spots are in the middle, where reserve Steelers tight end David Paulson looked like a Pro Bowler in the first half.
Who needs camp? Travelle Wharton moved right into the lineup at left guard after only three practices and held his own. Not bad for the former and now current Panther who hadn't played in more than a year while recovering from a knee injury.
Playmaker: Corner Josh Norman needs to be on the field. He had his fourth interception of the preseason, returning this one 70 yards.
What it all means: Absolutely nothing. Except Carolina has its first winning preseason record (3-1) since 2006.
What's next: Roster cuts to 53 on Saturday, but don't expect a major surprise -- unless you consider Clausen a surprise. Time to get ready for the Sept. 8 opener against the Seattle Seahawks, who will give Carolina a big test on both sides of the ball right away.
August, 28, 2013
8/28/13
5:32
PM ET
CHARLOTTE, N.C. -- It won't mean anything in the annals of NFL history, but the
Carolina Panthers
have a chance to do something in Thursday night's preseason finale against the
Pittsburgh Steelers
they haven't since 2006.
Have a winning preseason record.


Only twice during the past six years have the Panthers (2-1) escaped with even a .500 record. So maybe from a confidence standpoint the 7:30 p.m. game will mean something.
Remember, in 2003 Carolina went 4-0 during the preseason coming off a 7-9 record as it is this year, and went 11-5 during the regular season, then advanced to the Super Bowl before losing to New England.
But in 2004 and 2006 the Panthers went 4-0 during the preseason, then 7-9 and 8-8 during the regular season. And the 2008 team went 2-2 in the preseason, then 12-4 in the regular season.
So the preseason record really determines nothing, particularly if you're a starter like quarterback
Cam Newton
, who may or may not even play.
But it will mean something to players trying to make the roster before it is trimmed from 75 to 53 on Saturday.
Here are three things that may keep your interest:
Who will be the third receiver? It's safe to say Steve Smith

and

Brandon LaFell

are the top two. A lot of eyes will be on

Domenik Hixon

, who has been sidelined with a hamstring injury. He has gone from the player most likely to be No. 3 to on the bubble. The main competition has been between

Armanti Edwards

and

David Gettis

, with return specialist

Ted Ginn

Jr. figuring into the mix. So this could be Hixon's coming out party -- or sendoff.

Where's Wharton? Free agent guard Travelle Wharton

was brought back on Sunday night to shore up the injury-plagued offensive line. In his first practice he already was working some with the first team, mostly on the left beside tackle

Jordan Gross

as he did for much of his first seven seasons. Wharton hasn't played since suffering a season-ending knee injury during a 2012 preseason game with the Bengals, so he'll need a few snaps. So will the entire unit that struggled before the arrival of Wharton, so it will be interesting to see if he has a stabilizing effect.

Cam Newton vs. himself? There's a chance Newton won't dress like a year ago. But with the first-team offense struggling to score touchdowns -- one on a short field -- and the changes on the offensive line, the staff has to be tempted to give the franchise quarterback a series or two to get into a rhythm.

"We're going to be careful and be smart,'' coach Ron Rivera said. "We're banged up in a couple of places. We want to expose these guys as little as possible.''
August, 26, 2013
8/26/13
5:23
PM ET
CHARLOTTE, N.C. -- Offensive guard
Travelle Wharton
had an old but familiar chauffeur drive him into Charlotte on Monday for his first day back with the
Carolina Panthers
.
Wharton
Looks like he'll line up next to his high-priced chauffeur, left tackle
Jordan Gross
, again as well.
Wharton worked some with the first team at left guard less than 24 hours after signing a one-year deal. It is the position he played for most of his first seven seasons (2004-2011) -- many next to Gross -- at Carolina before being released.
It is the likely position he will occupy when the season opens on Sept. 8 against the
Seattle Seahawks
.
Coach Ron Rivera said
Amini Silatolu
, the starting left guard before injuring his hamstring, likely will miss the opener. With Wharton on his natural left side, Rivera said
Garry Williams
will move to the right side and rotate with
Chris Scott
.
"I really like the way it's shaping up,'' Rivera said of his line. "That was the one concern."
It should have been. The running game and protection have been average at best through the first three preseason games. Rivera admitted there were worries, primarily because of the injuries.
He feels better with the addition of Wharton, who missed all of last season after suffering a knee injury during the preseason at Cincinnati.
"When you can bring a guy in that can play multiple positions, you've got to do those things,'' Rivera said of Wharton, who can play right guard as well as tackle if needed.
Wharton said several other teams were calling. But being a native of neighboring state South Carolina and owning a house in the same neighborhood as Gross on nearby Lake Wylie, this was where he wanted to be.
"I'm back home," said Wharton, who was waiting with his knee brace when Gross picked him up at about 6 a.m. "I can't ask for anything to be better than to be right here."
Playing beside Gross will speed up Wharton's progress because the two are used to working together and understand the terminology. Gross and Rivera were impressed by the way the 32-year-old lineman picked up the system with little preparation.
"Anytime you can add a veteran guy that everybody knows is a good thing," said Gross, who also gets back one of his best friends. "It provides some security, a sense of comfort and calmness in the room.
"They gave a lot of guys a lot of chances up to this point to earn some spots. They must have felt it was time. I don't disagree with it."
Wharton was well received by everyone. At one point during the day there was a chant of ''Travelle! Travelle!"
"He's loved in the locker room," Gross said. "You don't get to come back for a second tour of duty if the organization and the staff doesn't feel good about you. That's just a testament to who he is."
There is one thing Gross will change moving forward.
"He's driving tomorrow,'' he said with a laugh.
August, 25, 2013
8/25/13
10:15
PM ET
CHARLOTTE, N.C. --
Travelle Wharton
has an opportunity to make an instant impact on the
Carolina Panthers
' injury-plagued offensive line after the team signed the 6-foot-4, 316-pound free agent Sunday to a one-year deal.

Wharton likely will compete with
Garry Williams
for the starting spot at right guard, but he also could factor in at left guard, where starter
Amini Silatolu
already has been ruled out of Thursday's preseason finale against Pittsburgh with a hamstring injury. Fourth-round draft pick
Edmund Kugbila
also is back on the sideline with a strained hamstring the day after his first practice after missing most of spring drills and training camp.
Coach Ron Rivera said after Sunday's practice that
Chris Scott
would start at left guard against the Steelers.
This is a homecoming for Wharton. A third-round pick in 2004, he spent his first eight seasons with Carolina, starting 99 games at guard and tackle.
He was released in 2012 and picked up by Cincinnati, where he suffered a season-ending knee injury. He hasn't played since.
The Panthers have struggled on the line in their three preseason games. Leading rusher
DeAngelo Williams
is averaging only 2.9 yards per carry.
Kenjon Barner
, second on the team in rushing, has a 2.8 average. The first-team offense has scored only one touchdown.
Wharton gives Carolina 79 players on its roster, meaning four players must be cut by Tuesday afternoon.