Carolina Panthers:

Tre Boston
October, 31, 2014
Oct 31
10:20
AM ET
CHARLOTTE, N.C. --
Carolina Panthers
coach Ron Rivera insisted cornerback
Antoine Cason
wasn't benched late in the first half of Thursday night's
28-10 loss
to New Orleans.
Cason
The snap counts don't support that.
Cason didn't return after being called for pass interference against
Robert Meachem
in the end zone with six seconds left in the half. He was replaced by
Melvin White
, who played the rest of the game and finished with 41 snaps.
Rivera called that two-minute drive in which Cason also gave up receptions of 17 and nine yards to wide receiver
Kenny Stills
as the turning point in the game. The Saints scored with three seconds left for a 14-0 halftime lead.
"Antoine Cason was in good position [on the pass interference],'' Rivera said. "You would like him to get his head around a little sooner and make the play on the ball. Unfortunately, we didn't.''
The Panthers are looking for answers in the secondary that has been victimized all season. White was benched in Week 4 after losing containment on former Panther
Steve Smith
. He was replaced by
Josh Norman
, but got the job back for a few games after Norman suffered a concussion.
White didn't play a defensive snap on Sunday against Seattle.
For Cason, according to Pro Football Focus, it was the ninth time in nine games the former first-round draft pick had a negative grade in pass coverage.
"As we went through the game and got into the third quarter, there were some things the coaches wanted to try and do a little different and get Melvin White on the field, too,'' Rivera said in explaining why Cason didn't return.
Cason wasn't the only defensive back who was pulled after giving up a big play. Rookie cornerback
Tre Boston
, starting for the injured
Thomas DeCoud
(hamstring), was replaced by
Robert Lester
in the fourth quarter after tight end
Jimmy Graham
caught a 27-yard pass over the middle.
Solving Carolina's secondary woes should be a major focus as the Panthers (3-5-1) get a lengthy break before a Nov. 10 Monday night game at Philadelphia.
The possible return of rookie
Bene' Benwikere
at the nickel cornerback position should help some.
October, 27, 2014
Oct 27
7:26
PM ET
CHARLOTTE, N.C. -- Strong safety
Roman Harper
said he wasn't hurt on the play that cost the
Carolina Panthers
a timeout with 47 seconds left in Sunday's
13-9 loss
to the
Seattle Seahawks
.
Harper
Harper said he simply needed a few seconds to gather himself after Seahawks tight end
Luke Willson
caught the game-winning 23-yard touchdown pass between him and free safety
Tre Boston
.
"And a little bit I was pissy, too," Harper said. "It kind of happens. It's part of the game, and part of my emotions."
Harper said he wasn't even aware Carolina had been assessed the mandatory timeout when a player is injured in the final two minutes. He said none of the coaches said anything to him about it, either.
But he insisted he was not hurt, although he looked a little wobbly after sticking his head and shoulders into Willson's chest.
Harper also was not listed on Monday's injury report that included left tackle
Byron Bell
(knee), right guard
Trai Turner
(knee), wide receiver
Philly Brown
(concussion), linebacker
Chase Blackburn
(knee), safety
Thomas DeCoud
(hamstring), nickel corner
Bene' Benwikere
(ankle) and running back
Fozzy Whittaker
(quad).
Harper said he would have gotten up faster had he known he was costing Carolina a timeout.
October, 27, 2014
Oct 27
12:00
PM ET
CHARLOTTE, N.C. –
David Foucault
. Thirty snaps.
That the undrafted rookie out of Canada played half of the offensive snaps in Sunday's 13-9 loss to Seattle speaks volumes.
The Panthers weren't counting on Foucault to play that big of a role when they left training camp. He simply was a project with potential that they didn't want to expose on the practice squad for fear another team would snatch him up.
That the project had to play that many snaps between left and right tackle due to injuries to starters
Byron Bell
and
Nate Chandler
says a lot about why Carolina was so inconsistent on offense.
That
Andrew Norwell
played all 60 snaps due to injuries also is glaring. The undrafted rookie spent the first six games on the inactive list, but with starting left guard
Amini Silatolu
(calf) out he earned his first career start.
Other things that stood out in the snap count:
Rookie Tre Boston, who missed most off offseason workouts and much of training camp because of a sports hernia, played 18 snaps at free safety after starter Thomas DeCoud suffered a hamstring injury. Boston was trailing the tight end on the game-winning 23-yard touchdown catch with 47 seconds remaining.
Backup safety Colin Jones got the start at nickel cornerback but played only 14 snaps. James Dockery played 31 snaps. But combined they appeared more effective than veteran Charles Godfrey, released earlier in the week.
Cornerback Melvin White, who began the season as the starter opposite Antoine Cason and started last week, didn't play one defensive snap. His only play came on special teams. Josh Norman, returning from a concussion, replaced White and played every snap.
August, 30, 2014
Aug 30
8:00
AM ET
Carolina Panthers
first-round draft pick
Kelvin Benjamin
jammed his middle finger and let a touchdown pass slip through his hands during Thursday night's exhibition finale at Pittsburgh.
Otherwise, the 6-foot-5, 240-pound wide receiver out of Florida State had a strong preseason and established himself as the No. 1 target the Panthers were looking for when they released
Steve Smith
in March.
The finger doesn't appear to be anything that will be an issue, and Benjamin played longer than he was scripted to because he wanted more time on the field. Two of his four catches for 56 yards were in traffic over the middle.
[+] Enlarge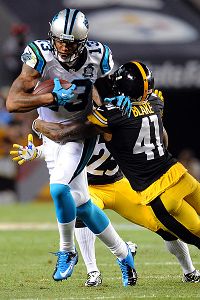 AP Photo/Don WrightKelvin Benjamin has been everything the Panthers were expecting when they drafted him in the first round.
"We wanted Kelvin to get some good reps,'' coach Ron Rivera said after the 10-0 victory that gave Carolina a 2-2 preseason record. "We wanted to give him the opportunity to get good plays. He is still young and is still learning, but is still a valuable part.''
As the Panthers begin preparing for the Sept. 7 opener at Tampa Bay, let's take a look at the entire 2014 draft class and how it will impact this season:
August, 26, 2014
Aug 26
4:42
PM ET
CHARLOTTE, N.C. --
Charles Godfrey
's value went up when
Carolina Panthers
quarterback
Cam Newton
fractured his ribs.
Even though Newton is expected to start in the Sept. 7 opener at Tampa Bay, the Panthers appear set on keeping three quarterbacks on their final 53-man roster.
Godfrey
That means somebody at another position has to go. In this case, that means a defensive back, which is why Godfrey was back working at strong safety on Tuesday after spending all of the preseason at cornerback.
Because Godfrey can play cornerback, nickel and both safety positions, Carolina can juggle the defensive back numbers to keep one less player -- most likely a safety.
"When you've got a guy that can play all three positions, you might as well keep him up on everything," Godfrey said. "You never know what will happen."
Godfrey was a starting safety for his first six years with the Panthers before suffering a season-ending Achilles injury in Week 2 against Buffalo last September.
Because of his high salary-cap figure and the uncertainty of his return to full strength, the Panthers moved him to cornerback and renegotiated his contract to save more than $4 million in cap space.
But with the Panthers planning to keep Newton,
Derek Anderson
and
Joe Webb
at quarterback and the injuries at strong safety -- starter
Roman Harper
just returned from turf toe, backup
Robert Lester
is out with an ankle injury and rookie
Tre Boston
has been slowed by a sports hernia -- it was time to reintroduce Godfrey to safety.
He will take reps there in Thursday night's exhibition finale at Pittsburgh as well.
"That adds value to who Charles is," coach Ron Rivera said. "He can play corner, he can play nickel. Because of the slow progression of Tre, knowing that [Godfrey] is one of our guys that makes the 53, what are we going to do if we get that situation? That's why we did what we did.
"That's out of necessity. If we were to keep five safeties and those guys aren't up, that only gives us three. Knowing that Charles has that ability, we wanted to get a couple reps with him this week just to make sure on that."
Godfrey will continue to work at corner, primarily as a nickel with the top three every down corners spots belonging to
Antoine Cason
,
Melvin White
and
Josh Norman
.
Rivera made it clear the move to safety was not permanent.
"We've put a lot on his plate, but he seems to be handling it very nicely," he said.
Godfrey said the return to safety wasn't difficult and he likes the challenge of playing different positions.
"Like I said before we went to camp, I can play pretty much any position right there," he said. "Just keeps me polished up on things. I did a great job at corner. I'm still corner, still nickel. Just keeping me polished up on safety."
May, 11, 2014
May 11
1:00
PM ET
CHARLOTTE, N.C. -- The
Carolina Panthers
needed a dynamic wide receiver. They got one in first-round draft pick
Kelvin Benjamin
. They needed a left tackle to replace the retired
Jordan Gross
. They didn't get one. They needed a cornerback. They got a potential starter at nickel back, but the need for a starting every-down player wasn't quite as big as many thought with the news that safety
Charles Godfrey
has moved to corner.
That my quick assessment of how the Panthers did in the NFL draft.
Overall, I'd give this class a C-plus based on need. The plus is the Godfrey factor that nobody outside the organization was aware of.
Based on value and potential impact, I'd give it a B-minus. I really like the addition of Missouri defensive end
Kony Ealy
in the second round. He adds another pass-rusher to a defense that led the league in sacks last season with 60 and gives general manager Dave Gettleman flexibility for the future in dealing with the big contracts of
Charles Johnson
and
Greg Hardy
.
I also like the selection of LSU guard
Trai Turner
in the third round. He may not fill the void at tackle, but he gives the team a huge (6-foot-2 1/2, 310 pounds) player with a nasty attitude that could start at right guard.
ESPN draft analyst Mel Kiper Jr.
gave the Panthers a C-minus

based on need and a C based on value. He wasn't quite as high on Benjamin and the failure to get a tackle played a role in his evaluation.
It really doesn't matter what either of us think. It's what Gettleman and head coach Ron Rivera think that matters the most. Rivera believes the post-draft roster has the potential to be better than it was last season when Carolina went 12-4 and won the NFC South.
"I like the potential in a lot of different phases of our offense and defense, and I think we added some free agents who are going to help us on the field," Rivera said. "I told Dave a few days ago that I really liked the way we set up our board, and I liked what they had come up with. I loved the targets that we had.
"Especially in the first three rounds, we had a pod of guys that we felt comfortable drafting and then feeling very good about who the number one guy was in each round. We can be better than we were and we are going to work and strive to get better."
Some of that might be coach speak. It will be tough for this team to improve in terms of wins and losses even if the overall talent is improved.
But the defense has the potential to be at least as good as the unit that ranked second in the league last season.
For all that was made of the losses on offense, it ranked 24th in the league last season. There needed to be an overhaul. That the Panthers didn't take a tackle shouldn't impact the grade of this class.
As Gettleman noted, after the first four there was a drop-off and the Panthers felt the talent already on the roster was better than anybody they could have selected. Looking at it that way, not taking a tackle with the top four gone before Carolina picked at No. 28 was the smart move.
Here's a look at my thoughts on Carolina's entire draft class:
WR Kelvin Benjamin, Florida State, 1st round, No. 28: Will be a huge target (6-5, 240) for Newton in the red zone and will keep teams from stacking eight players in the box, which should help the new offensive line and the running game.
DE Kony Ealy, Missouri, 2nd, No. 60: This wasn't considered a big need because of Hardy and Johnson, but keeping Johnson fresh will only make the defensive front that already was among the best in the NFL better.
OG Trai Turner, LSU, 3rd, No. 92: Never a bad thing to have a quality player who can strengthen the interior line, particularly for a team that wants to run as much as Carolina does.
S Tre Boston, North Carolina, 4th, No. 128: Carolina needed a young player to develop behind Thomas DeCoud and Roman Harper.
CB Bene' Benwikere, San Jose State, 5th, No. 148 (traded fifth and seventh with Minnesota to move up 20 spots): Can compete for the nickel back spot that was left open when Captain Munnerlyn went to Minnesota.
RB Tyler Gaffney, Stanford, 6th, No. 204: This seems like a reach for a team stacked with backs, but he's a good blocker for a college back and can play special teams. It's not a sexy class, but it has the potential to be slightly better than average.