Carolina Panthers:

Tyler Gaffney
January, 22, 2015
Jan 22
2:00
PM ET
CHARLOTTE, N.C. -- Upon further review, ESPN draft analyst Mel Kiper Jr. gives the
Carolina Panthers
an A-minus for their 2014 draft class.
It is a significant upgrade from the "C" he gave them immediately after the draft.
Benjamin
Kiper Jr. liked that Carolina hit on first-round draft pick
Kelvin Benjamin
(No. 28 overall) to replace
Steve Smith
as its No. 1 receiver. Benjamin had 73 catches for 1,008 yards and nine touchdowns during the regular season. He added 11 catches for 108 yards and two touchdowns in the postseason.
As Kiper Jr. correctly noted, Benjamin was inconsistent, particularly in terms of dropped passes. But overall the selection of Benjamin was solid.
Kiper Jr. applauded the selection of San Jose State cornerback
Bene' Benwikere
in the fifth round, calling him one of the best sleepers in the draft. He also liked the selection of fourth-round pick
Tre Boston
, a free safety out of North Carolina. He called third-round pick
Trai Turner
, a guard out of LSU, one of his favorite players in the draft. He also liked the upside of defensive end
Kony Ealy
, a second-round pick out of Missouri.
Where Kiper Jr. has an issue with the draft class is no tackle was selected to protect quarterback
Cam Newton
. There is a good reason. There wasn't a can't-miss left tackle at No. 28 or beyond.
Also, the Panthers believed
Byron Bell
or
Nate Chandler
could play left tackle. Bell won the job, but ultimately didn't pan out. He ranked next-to-last among tackles rated by Pro Football Focus.
Still, to select a left tackle at No. 28 or beyond would have been a reach.
I'd argue Carolina's class should get a solid A.
My reasons? Four of the six players -- Benjamin, Turner, Boston, and Benwikere -- started the final six games when Carolina went 5-1. Ealy was a key contributor on the defensive front playing end and tackle.
The only miss was sixth-round draft pick
Tyler Gaffney
, a running back out of Stanford. He was a miss only in that he suffered a season-ending knee injury in training camp and was claimed off waivers by New England.
Leaving Gaffney exposed was perhaps the biggest mistake with this class.
Four members of Carolina's draft class went in the first round in a recent Sports Illustrated re-draft. The magazine had Benjamin going No. 18 to the
New York Jets
, Benwikere No. 21 to Green Bay, Ealy No. 25 to San Diego, and Boston No. 26 to Philadelphia.
Carolina was given Vanderbilt receiver
Jordan Matthews
.
Four first-round picks is pretty strong.
Here's a complete look at Carolina's 2014 draft class:
Click here

for Kiper Jr.'s complete re-grading of the draft.
January, 17, 2015
Jan 17
8:00
AM ET
CHARLOTTE, N.C. -- Welcome to the first installation of the
Carolina Panthers
Saturday mailbag for the 2015 offseason.
I apologize up front for not getting to all the questions. There were more I had space to answer, so don't let that discourage you from submitting for future mailbags.
Having said that, let's get to the ones that made it:
@DNewtonespn How would you grade last years draft class? After a full season it appears DG might have hit a home run #PanthersMailbag

— Alex Zander (@AlexHanby) January 15, 2015
@DNewtonESPN: Not sure a home run, but at least a bases-loaded triple when you look at the entire class. Let's go one by one. I'd say first-round draft pick
Kelvin Benjamin
was at least an inside the park homer with 11 touchdowns and more than 1,000 yards receiving. Were it not for the drops he would have been a grand slam. Second-rounder
Kony Ealy
, a defensive end from Missouri, steadily improved throughout the season and showed he has potential for the future. Third-rounder
Trai Turner
, after overcoming injuries, proved he could be an anchor at guard for years to come. Fourth-rounder
Tre Boston
, a free safety from North Carolina, and fifth-rounder Bene' Benwikere, a cornerback from San Jose State played big roles in Carolina's late-season surge. Injuries, particularly to Boston (sports hernia), kept them from contributing all season. The only miss was sixth-round draft pick
Tyler Gaffney
, who suffered a season-ending injury in training camp and then was claimed off waivers by New England. He never got a chance to prove himself. Still, four out of six starters at the end of the season is exceptional. Arguably the best class in team history.
@DNewtonespn the way Ron was talking, if Hardy gets proven innocent, what's his chances returning to Carolina?#PanthersMailbag

— justin Mason (@Masonjt24) January 14, 2015
@DNewtonESPN: I'd say 10 percent. Ron Rivera likes what
Greg Hardy
brings to the team in terms of production and the way he prepares week in and week out. But this won't be the coach's decision. It will have to have the stamp of owner Jerry Richardson, and I just don't see him giving it.
What do the Panthers do with all three of their RB's? #PanthersMailbag @DNewtonespn

— Chance Casas (@Karaoke_Jesus) January 14, 2015
@DNewtonESPN: Assume you are talking
Jonathan Stewart
,
DeAngelo Williams
and
Mike Tolbert
, and not including
Fozzy Whittaker
in the conversation. It's hard to imagine Carolina bringing Williams back. He'll be 32 this season and Stewart has proven he can bear the load of 20 carries a game. He was one of the league's top rushers at the end of the season. The Panthers also need to start prepping young running backs for the future, and there wouldn't be enough carries for that if all three stayed on the roster. Plus, cutting Williams would free up still much-needed room on the salary cap.
@DNewtonespn #PanthersMailbag any chance in FA we go after Randall Cobb, Michael Crabtree, Demaryius Thomas or any other big names?

— Luke Haker (@lukehaker17) January 15, 2015
@DNewtonESPN: I don't really see Carolina going after the ones you mentioned. While general manager Dave Gettleman is looking beyond the "Dollar Store,'' he'll still be looking for good value. If the Panthers spend big money in free agency on one position it will be a left tackle or a defensive lineman. Gettleman loves his "hog mollies.''
@DNewtonespn will carolina sign a top end playmaker in free agency? #PanthersMailbag

— MadChad (@chad18williams) January 14, 2015
@DNewtonESPN: First, let me ask how the restoration of the Big Peach water tower is going? As for big-name free agents, as I mentioned above, not too big. Gettleman said they wouldn't be shopping at Tiffany's, remember.
@DNewtonespn any chance Cam can train this offseason throwing to Mugsy Bogues? That can solve his overthrow problem fast. #panthersmailbag

— Greg Cook (@gregorycook10) January 14, 2015
@DNewtonESPN: I love mailbag humor. I'd suggest putting landmines behind him so he'll stop throwing off his back foot and step into his throws more. Seriously, he was throwing as well as I've ever seen him during training camp before the fractured ribs. The time spent not being allowed to run because of the ankle surgery forced him to focus more on fundamentals. I suspect he'll get back to that during the offseason.
@DNewtonespn #PanthersMailbag Any news on the Duron Carter front after his visit today?

— Will Prosser (@UknowabtMicah6) January 15, 2015
@DNewtonESPN: As I wrote on Thursday, Duron Carter had a good visit that included dinner with Rivera and Gettleman, and a workout with receivers coach Ricky Proehl. He went from Carolina to Cleveland. I'm hearing the Panthers stepped up with a potential offer, but Minnesota remains the favorite for the son of former Vikings star Cris Carter. Still, the opportunity to play with
Cam Newton
and opposite Benjamin has to be enticing. A decision is expected next week.
August, 30, 2014
8/30/14
8:00
AM ET
Carolina Panthers
first-round draft pick
Kelvin Benjamin
jammed his middle finger and let a touchdown pass slip through his hands during Thursday night's exhibition finale at Pittsburgh.
Otherwise, the 6-foot-5, 240-pound wide receiver out of Florida State had a strong preseason and established himself as the No. 1 target the Panthers were looking for when they released
Steve Smith
in March.
The finger doesn't appear to be anything that will be an issue, and Benjamin played longer than he was scripted to because he wanted more time on the field. Two of his four catches for 56 yards were in traffic over the middle.
[+] Enlarge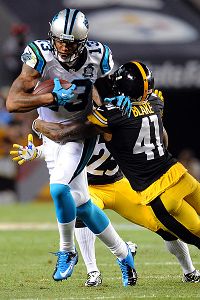 AP Photo/Don WrightKelvin Benjamin has been everything the Panthers were expecting when they drafted him in the first round.
"We wanted Kelvin to get some good reps,'' coach Ron Rivera said after the 10-0 victory that gave Carolina a 2-2 preseason record. "We wanted to give him the opportunity to get good plays. He is still young and is still learning, but is still a valuable part.''
As the Panthers begin preparing for the Sept. 7 opener at Tampa Bay, let's take a look at the entire 2014 draft class and how it will impact this season:
May, 31, 2014
5/31/14
8:00
AM ET
This isn't an ordinary Saturday mailbag, but it will begin with an extraordinary person.
Sandra Kay Hill.
The mother of
Carolina Panthers
running back
DeAngelo Williams
lost a long battle to breast cancer on May 16. She was, as
Williams said in a first-person piece for Sports Illustrated's MMQB
, the "biggest reason I've been able to enjoy eight NFL seasons."
"The byline on this column reads DeAngelo Williams, but they aren't my words alone," Williams wrote. "Everything I say here is an extension of her voice, her strength and her courage."
Williams wrote the piece not only as a tribute to his mother, but to let the world know he continues her fight against breast cancer. He began it like this: "My mom didn't tell me she had breast cancer before she got a double mastectomy. That was kept a secret, from me at least, because she didn't want me worrying about her and getting distracted because, well, I'm a mama's boy."
Those that know Williams, who have seen the pictures of him with Hill or witnessed them together firsthand, understand.
Williams ended the piece like this:
"On Saturday, May 24th, at 3 p.m. CST, we buried my mother at Crosslawn Cemetery in Wynne, Arkansas. My mother's fight is over now, but mine is just beginning. While I am so thankful for all that goes on during October to raise awareness for breast cancer, I want to ask one small favor of each of you.

"Well, two actually.

"First, wear a pink shirt at least once a month, and make it a point to tell people that you're doing so to help remind everyone that breast cancer awareness is 365 days a year. Second, it's true that early detection is the best prevention, so please call, text, email, tweet or Facebook five women you care about (in honor of my mom and her four sisters) and ask them if they've gotten a mammogram lately. Do this for five people, and ask them to do it for five more, and then five more after that. Keep it going, and keep doing this for all of the women around the world who live with and die from this disease -- and for my mom, who lived to love."
It is a touching piece from a loving son about an extraordinary woman.
May, 22, 2014
5/22/14
8:00
AM ET
CHARLOTTE, N.C. -- Running back
Tyler Gaffney
spent the week in the classroom, but not the kind the
Carolina Panthers
had wanted for their sixth-round draft pick.
[+] Enlarge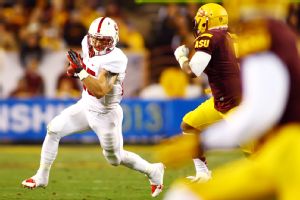 Kevin French/Icon SMIThe Panthers are excited about the blocking and physical play of Stanford tailback Tyler Gaffney.
Gaffney is back at Stanford. Because the university is on a quarter system, he will miss almost four weeks of offseason classroom and field instruction with the Panthers while he completes his double major in sociology and psychology.
Many wonder why the Panthers took Gaffney at all, because they have a crowded backfield with
DeAngelo Williams
,
Jonathan Stewart
,
Mike Tolbert
and 2013 sixth-round pick
Kenjon Barner
.
Here is why: Williams, 31, is on the wrong side of 30 for a running back, and Stewart has had a combined 141 carries the past two seasons because of injuries. Tolbert is more of a fullback and Barner is still in the developmental stages.
Plus, Gaffney can hit.
I'm not talking baseballs, although he is pretty good at that as he showed when he took the 2012 season off from football to focus on a professional baseball career. In 38 games for the Pittsburgh Pirates' Class A team he had a .297 batting average.
But it's the kind of hitting a running back does as a blocker that impressed Carolina general manager Dave Gettleman, who said before the draft that fewer backs were being selected because they couldn't pick up blitz packages.
"That year I took off for minor league baseball, I knew when I came back [blocking] was something I needed to strengthen in my game," Gaffney said. "I took advantage of it."
The 5-foot-11, 227-pound Gaffney also likes to hit as a runner. In Stanford's power rushing game that is similar to Carolina's, he rushed for 1,709 yard and 21 touchdowns on 330 carries last season.
"Three hundred and thirty carries and he's as healthy as a horse," Gettleman said. "He just really fits. Again, the biggest problem with young running backs is with the blitz pickups. I was up in New York and
Ahmad Bradshaw
struggled with it.
Brandon Jacobs
struggled with it early.
"It takes time. This kid knows it now. He's smart."
That is one reason Gettleman isn't in the panic he normally might be in because Gaffney is missing OTAs.
It's not ideal, but Gaffney will continue to work in the weight room and has all of the Carolina playbooks.
"I know their philosophy of running the ball is what we did at Stanford, and it's what I'm all about," he said. "They picked me for a reason. I'm just trying to find my spot and where I fit in."
And no, Gaffney has no plans to return to the minor leagues, where he set a team record and led the New York-Penn League in being hit by a pitch 20 times.
"I might try to throw out a first pitch," he said jokingly. "I'm happy with where I'm at."
And so are the Panthers, even though they would prefer he was back in offseason workouts.
May, 11, 2014
5/11/14
1:00
PM ET
CHARLOTTE, N.C. -- The
Carolina Panthers
needed a dynamic wide receiver. They got one in first-round draft pick
Kelvin Benjamin
. They needed a left tackle to replace the retired
Jordan Gross
. They didn't get one. They needed a cornerback. They got a potential starter at nickel back, but the need for a starting every-down player wasn't quite as big as many thought with the news that safety
Charles Godfrey
has moved to corner.
That my quick assessment of how the Panthers did in the NFL draft.
Overall, I'd give this class a C-plus based on need. The plus is the Godfrey factor that nobody outside the organization was aware of.
Based on value and potential impact, I'd give it a B-minus. I really like the addition of Missouri defensive end
Kony Ealy
in the second round. He adds another pass-rusher to a defense that led the league in sacks last season with 60 and gives general manager Dave Gettleman flexibility for the future in dealing with the big contracts of
Charles Johnson
and
Greg Hardy
.
I also like the selection of LSU guard
Trai Turner
in the third round. He may not fill the void at tackle, but he gives the team a huge (6-foot-2 1/2, 310 pounds) player with a nasty attitude that could start at right guard.
ESPN draft analyst Mel Kiper Jr.
gave the Panthers a C-minus

based on need and a C based on value. He wasn't quite as high on Benjamin and the failure to get a tackle played a role in his evaluation.
It really doesn't matter what either of us think. It's what Gettleman and head coach Ron Rivera think that matters the most. Rivera believes the post-draft roster has the potential to be better than it was last season when Carolina went 12-4 and won the NFC South.
"I like the potential in a lot of different phases of our offense and defense, and I think we added some free agents who are going to help us on the field," Rivera said. "I told Dave a few days ago that I really liked the way we set up our board, and I liked what they had come up with. I loved the targets that we had.
"Especially in the first three rounds, we had a pod of guys that we felt comfortable drafting and then feeling very good about who the number one guy was in each round. We can be better than we were and we are going to work and strive to get better."
Some of that might be coach speak. It will be tough for this team to improve in terms of wins and losses even if the overall talent is improved.
But the defense has the potential to be at least as good as the unit that ranked second in the league last season.
For all that was made of the losses on offense, it ranked 24th in the league last season. There needed to be an overhaul. That the Panthers didn't take a tackle shouldn't impact the grade of this class.
As Gettleman noted, after the first four there was a drop-off and the Panthers felt the talent already on the roster was better than anybody they could have selected. Looking at it that way, not taking a tackle with the top four gone before Carolina picked at No. 28 was the smart move.
Here's a look at my thoughts on Carolina's entire draft class:
WR Kelvin Benjamin, Florida State, 1st round, No. 28: Will be a huge target (6-5, 240) for Newton in the red zone and will keep teams from stacking eight players in the box, which should help the new offensive line and the running game.
DE Kony Ealy, Missouri, 2nd, No. 60: This wasn't considered a big need because of Hardy and Johnson, but keeping Johnson fresh will only make the defensive front that already was among the best in the NFL better.
OG Trai Turner, LSU, 3rd, No. 92: Never a bad thing to have a quality player who can strengthen the interior line, particularly for a team that wants to run as much as Carolina does.
S Tre Boston, North Carolina, 4th, No. 128: Carolina needed a young player to develop behind Thomas DeCoud and Roman Harper.
CB Bene' Benwikere, San Jose State, 5th, No. 148 (traded fifth and seventh with Minnesota to move up 20 spots): Can compete for the nickel back spot that was left open when Captain Munnerlyn went to Minnesota.
RB Tyler Gaffney, Stanford, 6th, No. 204: This seems like a reach for a team stacked with backs, but he's a good blocker for a college back and can play special teams. It's not a sexy class, but it has the potential to be slightly better than average.
May, 10, 2014
5/10/14
6:20
PM ET
»
NFC wrap-ups
:
East
|
West
|
North
|
South
»
AFC
:
East
|
West
|
North
|
South
CHARLOTTE, N.C. -- A wrap-up of the
Carolina Panthers
' draft.
Click here
for a full list of Panthers draftees.
[+] Enlarge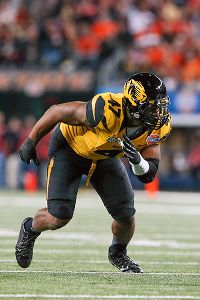 Kevin Jairaj/USA TODAY SportsDefensive end Kony Ealy was a steal in the second round for the Panthers.
Best move:
Adding another pass-rush threat to a team that led the league in sacks (60) with Missouri defensive end
Kony Ealy
at No. 60. He was rated a first-round pick by many teams, including the Panthers, which is why he was invited to New York City for the draft. He has freaky athletic ability at 6-foot-4 and 273 pounds. If he can play inside and out the way he and the Panthers say, he'll be a steal for a second-rounder. And as I wrote on Friday, if Ealy performs, he gives general manager Dave Gettleman the flexibility to move on after this season without the big contract of at least one of his star ends --
Charles Johnson
($16.4 million) or
Greg Hardy
($13.1 million) -- as he attempts to get the payroll under control and sign quarterback
Cam Newton
and linebacker
Luke Kuechly
to long-term deals. Many might argue taking Florida State wide receiver
Kelvin Benjamin
in the first round was the best move, but the pick of Ealy has the potential for a more long-term and big-picture impact.
Riskiest move:
Not taking an offensive tackle in the first two rounds. With the retirement of left tackle
Jordan Gross
, that leaves the starting job between right tackle
Byron Bell
and
Nate Chandler
. Bell was considered adequate at best on the right side. Chandler is a former defensive lineman who was being groomed to make the switch to tackle before injuries at guard last season forced him in the starting lineup on the right side. It seems like a big gamble to leave Newton's blind side that unsettled, but the Panthers believed after the first four tackles went in the draft, the value on their roster was better than using a pick on one.
Most surprising move:
I could say that Gettleman went to his son's graduation in Massachusetts on Saturday and worked with the team via Skype, but I'm on the record as saying that was the right move. According to Gettleman, it worked great. He even had a GM from another team text that it was the right move. The biggest surprise for me was the selection of Stanford running back
Tyler Gaffney
in the sixth round. Carolina already has three highly paid backs in
DeAngelo Williams
,
Jonathan Stewart
and
Mike Tolbert
. They selected
Kenjon Barner
in the sixth around a year ago and barely got him on the field because the backfield was so crowded. Gaffney just crowds it more.
File it away:
I said when Gettleman released wide receiver
Steve Smith
and let his next top three receivers sign with other teams in free agency that the Panthers really didn't lose that much. They represented less than 10 catches per game in reality. An experienced No. 1 receiver aside, the team might be in better shape going into this season with Benjamin,
Jerricho Cotchery
,
Jason Avant
,
Tiquan Underwood
,
Marvin McNutt
and Tavarres King than they were a season ago. Smith wasn't a true No. 1 anymore, and I was never sold on
Brandon LaFell
as a No. 2. Benjamin will draw extra coverage simply because of his size (6-foot-5, 240 pounds) and ability to go up for passes. He has a chance to be a legitimate No. 1 even though rookie receivers tend to struggle. Cotchery and Avant are solid possession receivers and good leaders who will help Benjamin's transition. One of the others has the ability to stretch the field with speed. Moves that looked questionable a few months ago are starting to look smart now.