November, 27, 2014
Nov 27
7:26
PM ET
DETROIT -- There were times this week when
Detroit Lions
wide receiver
Corey Fuller
wasn't sure if his brother, Kyle, would play for the
Chicago Bears
.
Kyle Fuller
, a cornerback, had been injured Sunday against Tampa Bay, and it seemed like there was a good chance that the first on-field meeting of the Fullers might not happen on Thursday. But Kyle ended up active, and the Fuller brothers lined up across from each other for a few plays.
Fuller
They were lined up opposite one another during
Calvin Johnson
's first touchdown reception in the Lions' 34-17 win over Chicago, but they also went against each other for a few plays at the end of the game.
And when they did, Corey did exactly what he said he was going to. He laughed.
"It was a lot of fun," Corey said.
Corey said Kyle was talking, trying to get quarterback
Matthew Stafford
to throw at him toward the end of the game for a real Fuller vs. Fuller moment. That didn't happen, but it still became a nice moment for a family that had custom jerseys made for the occasion and planned on spending Thanksgiving dinner at Corey's place in Michigan on Thursday night -- Kyle included.
Corey, who talks trash with his brother often, got his teammates involved as well. Johnson, who was Fuller's assignment a good portion of the game, had 11 catches for 146 yards. After the game, Johnson was asked if Corey had asked Johnson to apologize to his brother for having a big game on him.
Nah, Johnson said, Corey told him to keep going at him. Johnson did -- but Corey was still impressed what he saw from his brother.
"I did," Corey said. "I told him to pour it on him. You know, for Kyle to travel and cover Calvin Johnson, that's big. That says a lot for a rookie.
"So he can only get better. So he had a great year. I actually think he did a pretty good job today. He was just covering Megatron, and he didn't get the name Megatron for nothing."
November, 27, 2014
Nov 27
6:10
PM ET
DETROIT --
Matt Forte
almost made it out, but once again, his path was blocked.
As reporters huddled at different lockers trying to make sense out of a desultory
34-17 loss
to the
Detroit Lions
, Forte put on his sports coat and grabbed a camouflage rolling bag and headed toward the door.
But one reporter stopped him, and then the rest piled on, and Forte had to talk about a game in which he had little impact aside from a nifty 22-yard screen catch-and-run on the first drive of the game, which just happened to be the only good one of the game.
[+] Enlarge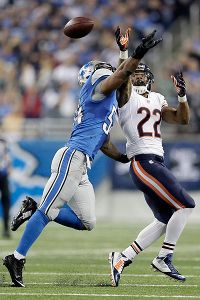 AP Photo/Duane BurlesonIt was a tough day for Chicago's Matt Forte, who had with five carries for six yards in Detroit.
Forte finished with five carries, which tied a career low, for six yards. He also caught six passes for 52 yards.
Was it too tough to run the ball against the Lions' front four?
"I don't know," Forte said. "Because we didn't run it."
The Lions came in with the No. 1 rushing defense, allowing 70.7 yards per game, so the Bears knew it wasn't going to be a ground-and-pound game. But five carries for Forte puts a lot of pressure on the quarterback,
Jay Cutler
, who now has 20 turnovers for the season.
"It's hard," Cutler said. "You know, I think we went into the game thinking some of these shorter passes would be an extension of our run game, some longer handoffs. It worked early on, and then we had to try and push the ball down the field a little bit."
He's right, though it seemed like the screen passes stopped working before the Bears got behind by double digits.
"That's what defenses do, they adjust," Forte said.
As it often happens, coach Marc Trestman sent in run-pass options, but the Bears scuttled run calls at the line. That's normal.
"Forte only had five runs, but we probably called 15 for him," left tackle
Jermon Bushrod
said. "When we got up there to run these plays, it wasn't a correct look or we had too many people in the box or they dropped a safety or they did this. It's a lot that goes into these plays that we run. If it doesn't look good to the quarterback, we've got to go out to the edge."
Forte said he didn't know exactly how many runs were called, but said they shifted some to "smoke throws," screens to
Brandon Marshall
and
Alshon Jeffery
.
"Brandon and Alshon did a good job on that, scored on one of them," he said.
That would be Jeffery's first of two touchdowns in the first quarter, a screen he took 10 yards for the score.
After 12 games, Forte leads the Bears in rushing attempts and yards (201 for 828), and catches (78 for 650). His eight total touchdowns ties him with Marshall for the team lead.
Though running backs always lose carries when a team is behind, when your best player becomes a forgotten man in a must-win game, it's a sure sign of fundamental problems on a fundamentally poor football team.
"The talent we have on the team, we're definitely underachieving right now," Forte said. "Some guys got to do some soul-searching for the rest of the season to plan on how they're going to play the rest of these games."
As for the offense, which continues to disappoint, Forte said he didn't have the time to explain.
"I could stand here all day and talk about it," he said. "I'm not going to point the finger or nothing like that. There's a thousand things you can talk about, penalties, all kind of stuff, shooting ourselves in the foot a lot of times."
With four games remaining, it's obvious all the talk about the potential of the Bears' high-powered offense was just that, talk. The Bears are averaging just 21 points per game.
"We've talked about it all year long," Forte said. "We got a lot of talent, but talent only gets you so far. You can look at it like that, you can have the most talent in the world, but if you don't put it to work out there, you ain't going to do anything with it."
November, 27, 2014
Nov 27
5:40
PM ET
November, 27, 2014
Nov 27
5:32
PM ET
By
ESPN Stats & Information
AP Photo/Rick OsentoskiCalvin Johnson lived up to his Megatron nickname against the Bears
The
Lions
spotted the
Bears
an 11-point first quarter lead, but outscored Chicago 31-3 from the second quarter on to win 34-17. It's a familiar story for the Lions, who have three double-digit comebacks this season, tied for the most in the NFL.
The win gives the Lions back-to-back wins on Thanksgiving for the first time since winning four straight from 1997-2000. The Lions are now 8-4 for the first time since 2000.
For the Lions, this game represented a return to form for the
Matthew Stafford
-to-
Calvin Johnson
connection. Meanwhile, for the Bears, it was more of the same away from Soldier Field.
Megatron is Back
After combining for 117 yards the last two weeks, Johnson tallied 146 yards and two touchdowns on a season-high 11 receptions.
The performance gives Johnson 10,052 career receiving yards. He became the fastest player in NFL history to reach 10,000 career receiving yards (115 games), passing Torry Holt, who accomplished the feat in 116 games.
Johnson was a weapon for Stafford against the blitz. Stafford, who had a season-high 390 passing yards, completed 14 passes for 200 yards against the blitz, both career highs. Ten of those completions went to Johnson for 137 yards and both touchdowns.
The Stafford-to-Johnson connection had struggled in the previous three weeks. Stafford completed just 43 percent of his passes when targeting Johnson since the star receiver returned from an ankle injury. Thursday, Johnson was targeted a season-high 16 times and he caught 69 percent of those targets.
What went wrong for the Bears
The Bears started off strong, leading 14-3 after the first quarter. It was the first time the Bears had scored in the first quarter since week five. However, it all fell apart in the second quarter when they were outscored 21-0.
Chicago's defense continued its road struggles. In the Bears last three road games, they allowed a combined 140 points (46.7 points per game), including being outscored 80-7 in the second quarter.
The 10-point halftime deficit led to the Bears abandoning their run game. The Bears attempted just one rushing play in the second half and finished with 13 rushing yards. That ties the fewest rushing yards by a Bears team since the 1970 merger.
Without a running game, the Bears' offense failed to make big plays.
Jay Cutler
attempted a career-high 13 screen passes, while he completed three of 12 passes at least 11 yards down the field. The approach put the Bears in five third downs of at least 18 yards, the most by any team in the last two seasons.
November, 27, 2014
Nov 27
5:18
PM ET
DETROIT -- Observed and heard in the locker room after Chicago's
34-17 loss
to Detroit at Ford Field:
Young
Inconsistency on defense played a major role in the Bears' loss to the
Detroit Lions
, and despite the club's 5-7 record, the players in the locker room seemed even-keeled, but that's a product of professionalism according to defensive end
Willie Young
.
"No frustration, no frustration," Young said. "I'm not frustrated one bit. You have to be a professional. If you get frustrated, to me that's like being a wimp."
Quick conversation:
Cornerback
Tim Jennings
and defensive end
Jared Allen
stood in one corner of the locker room discussing different aspects of the game. The conversation wasn't animated, and it appeared the two were talking strategy.
Marshall cuts it short:
Receiver
Brandon Marshall
spent less than two minutes addressing the media at his locker in the aftermath of the game, and the tenor of his remarks were of extreme disappointment as opposed to anger. Marshall caught six passes for 42 yards.
November, 27, 2014
Nov 27
4:22
PM ET
November, 27, 2014
Nov 27
3:56
PM ET
Associated Press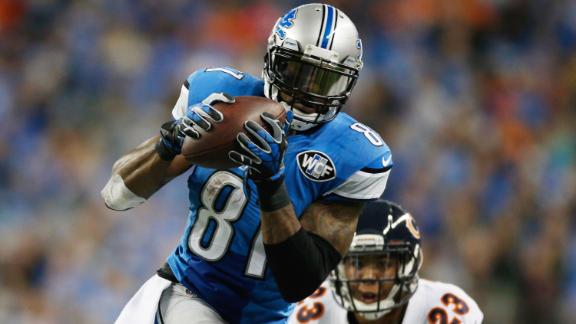 DETROIT -- Calvin Johnson caught 11 passes for 146 yards with a pair of first-half touchdowns, and the Detroit Lions boosted their postseason hopes with a 34-17 victory over the Chicago Bears on Thursday.
After losing at Arizona and New England and falling out of first place in the NFC North, the Lions (8-4) spotted Chicago a 14-3 first-quarter lead before rallying with relative ease in the second. Johnson had perhaps his best game of the season, and Detroit finally showed a bit of life offensively.
Joique Bell ran for two touchdowns for the Lions, and Jay Cutler threw two TD passes for Chicago (5-7). Detroit's Matthew Stafford went 34 of 45 for 390 yards with the two touchdown passes to Johnson.
The Lions have now won back-to-back games on Thanksgiving after losing their previous nine. They beat Green Bay 40-10 last year.
November, 27, 2014
Nov 27
3:51
PM ET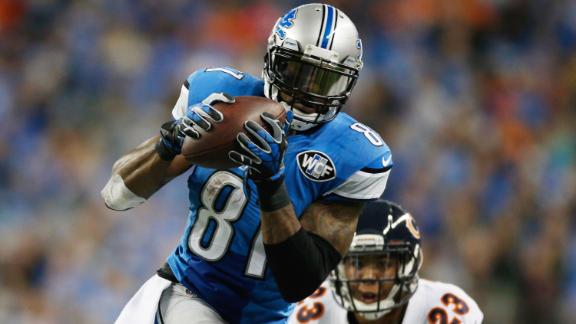 DETROIT -- A few thoughts on the
Chicago Bears'
34-17 loss
to the
Detroit Lions
at Ford Field:
What it means:
Chicago followed up a dominant defensive performance in its win against the Buccaneers last week with yet another stinker, just when it appeared this embattled unit was taking steps in the right direction. With this loss, the Bears squandered a perfect opportunity to move to within a game of the Detroit Lions in the NFC North standings while climbing back into the playoff race. That is all over now, as is this season for the Bears. With four games remaining, the Bears would need to win out to reach 9-7. That is probably not getting this team to the postseason.
Stock Watch:
Jay Cutler
seemed ripe for a turnover fest at Ford Field given the tenacity of Detroit's defensive line. But the quarterback played within the game plan by attacking the Lions with quick, short passes, and he didn't take unnecessary chances. Sure, Cutler displayed lapses in fundamentals at times, which is expected. But Cutler never let the game get totally away from him, and for the most part took what the defense gave him. Cutler typically melts down when conditions aren't ideal, but he didn't in a difficult environment playing from behind, even though he did throw two interceptions in the fourth quarter, which extended his league lead for turnovers (20). The second interception came on the final play of the game.
Speaking of Cutler:
The quarterback surpassed the 3,000-yard passing mark for the season in the third quarter. Cutler has now produced four 3,000-yard passing seasons as a Chicago Bear, which is significant considering all the franchise's other quarterbacks have combined for a total of four 3,000-yard passing seasons since the 1970 merger. Cutler finished the game with 280 yards passing and two touchdowns.
Game ball:
Alshon Jeffery
caught two touchdown passes in the first half against the Lions, and has three scoring receptions in his past two outings. Jeffery caught a team-high nine passes for 71 yards. He is on pace to finish the season with 1,138 yards, which would mark his second consecutive 1,000-yard season.
What's next:
The Bears plan to take off Friday and Saturday before returning to Halas Hall to begin preparations for another Thursday matchup, this time against the
Dallas Cowboys
at Soldier Field.
November, 27, 2014
Nov 27
2:37
PM ET
DETROIT -- Chicago Bears safety Chris Conte was escorted to the locker room in the first quarter of Thursday's 34-17 Thanksgiving Day loss to the Detroit Lions and trainers determined after an evaluation for a concussion that the veteran would not be able to continue due to an eye injury.
The club also announced defensive end Cornelius Washington would miss the rest of the game due to a chest injury.
This latest setback tops off a litany of injury issues for Conte, who had been diagnosed with two concussions this season in addition to missing time with sprains on both shoulders.
Conte suffered the eye injury in the first quarter after a collision with Lions receiver Calvin Johnson. The team announced it was evaluating Conte for a concussion when he left the field before saying later the safety suffered an eye injury.
Conte left the field after the play, and Brock Vereen replaced him in the lineup. Initially, it appeared as if Conte had something lodged in his eye. Conte continuously wiped at his left eye with a towel while athletic trainers attended to him.
Bears coach Marc Trestman on Tuesday complimented Conte for the adversity he's overcome this season. In the team's win over the Tampa Bay Buccaneers last week, Conte picked off a pass to run his season total to three.
November, 27, 2014
Nov 27
1:40
PM ET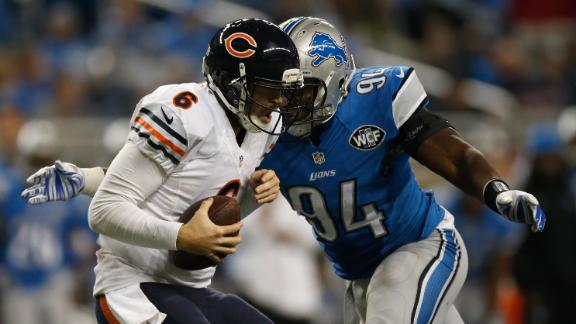 DETROIT -- After a Thanksgiving drubbing, Brandon Marshall wasn't in the mood to make headlines and provide sound bites.
Marshall was the first player into the Chicago Bears' locker room, striding through the open doors by himself not long after Jay Cutler's second pick of the day ended a desultory 34-17 loss to the Detroit Lions.
When Marshall met with reporters in a quiet, almost resigned gathering Thursday, he was cooperative, but terse.
What's left to say? What's left to yell about?
"I think the emotion you see is always disappointment," said Marshall, who played on a bum ankle and caught six passes for 42 yards, with a couple drops. "However it comes off, it always come from a place of disappointment."
The days of a fiery, loquacious Marshall challenging the team after a bad loss are probably over.
But fans will still want heads on a pike. After the consecutive New England and Green Bay losses, there were virtual pitchforks in the streets. Two victories over last-place teams staved off some of that anger, but it's sure to return with Dallas coming to Soldier Field next Thursday night.
While the Bears talk about playing out the string with a sense of purpose, no one is lying about the promise of this flawed, broken team anymore.
Could they finish with a winning record? Yes. Will they? Not a chance.
The Bears defense isn't good enough to keep a working offense in check, and the Bears offense often feels like it's run by a Madden novice. But I'll have to look at the tape to be sure.